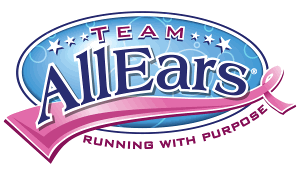 What is Team AllEars 2012?
It is nothing less than a group of friends who for the last several years have set out to do some important things with joining the fight against breast cancer at the top of their list.
Team AllEars was founded in 2009 and spent that initial year raising funds for Deb Wills' Avon Walk for Breast Cancer. By the time the 2010 Walt Disney World Marathon Weekend had arrived, the team had raised over $26,000 dollars.
Beyond that the team had raised breast cancer awareness throughout the year and along the way, found themselves getting healthier and stronger as they trained for the big weekend.
In 2010 this team continued to add to their still young legacy by growing in number and, despite a challenging economy, surpassed their fund-raising total during their first year of existence.
As Walt Disney World Marathon Weekend 2011 approached the team worked hard, in both training and fund-raising efforts.
When the smoke had cleared the team had truly accomplished what no member could have ever dreamed they would see. The team not only surpassed the total they had raised their first year but had come oh so close to doubling that figure. Later in February, when all donations had been counted, the Team Raised $50,535 to fight breast cancer!
Team AllEars also includes Team AllCheers who support the Team AllEars runners and their efforts by attending the Walt Disney World Marathon Weekend and cheering them on.
The Walt Disney World Marathon Weekend is the culmination of all their efforts and is filled with celebratory events"¦meets"¦dinners"¦breakfasts, and other special get togethers to celebrate the team success and to re-energize for the upcoming year.
Beyond the Walt Disney World Marathon Weekend in January, team members join up throughout the year to run in other races around the country to enjoy friendship and support. Through the last two years the team has grown into a family with a major goal in mind.
As the team moves into its third year momentum continues to grow.
As each year comes and goes, the expectation is that at the least, the team will continue to bring breast cancer awareness to as many people as it can touch, and along the way, find themselves getting healthier and healthier as they train and run to defeat this demon Cancer.
Listen to the Live Show when we Kicked Off Team AllEars 2012!~!!
How to Join
For you to join the Team AllEars 2012 you must first be registered for one of the 2012 Walt Disney World Marathon Weekend races.
Secondly, you are asked to committing to raising $500 or more to Deb Wills' Avon Walk for Breast Cancer Fund, along the way raising breast cancer awareness as well.
Member Benefits
Team members will receive official AllEars Running Team Newsletters that will feature special articles along with some tips and hints on preparing for the big race.
Team members will be encouraged and welcomed to contribute to the team newsletter with questions regarding training and to share their success stories in the team blog.
Team members are encouraged to participate in the Team AllEars Facebook page (open to members only).
All team members will be invited to special team events during the 2012 WDW Marathon Weekend.
If you would like to become a member of the Team AllEars Running team please send an email to Team AllEars Co-Captain Michelle Scribner-MacLean at [email protected].
Remember, the only way to run is to run with purpose.