Team AllEars 2011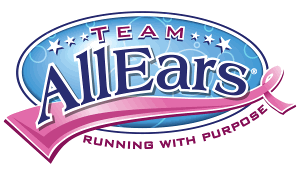 We made a commitment to participate in the January 2011 WDW Marathon Weekend. We trained, we got healthier, we raised awareness and funds in the first against breast cancer, we laughed, we cried, we were injured, we had triumphs and setbacks, we made new friends, found unexpected support, and we gave it our all.
We are Team AllEars Running with Purpose.
Here are final reflections on this amazing journey – Part 2!

Brad Garfinkel
My race memories began when I arrived at BWI and first met fellow team members Dan, Tim and Kerry who were all on the same flight to WDW.
I arrived at WDW and immediately went to the race expo where I ran into fellow team member, and fraternity big brother Rob. A special highlight was the time spent talking with Eric as we reminisced about meeting in the half marathon corral during our first race 2 years prior and how far we have each come with our improved health and and focus on running.
Arriving at Port Orleans, it was like coming home and seeing family when I got to catch up with Jamison, Melanie, Julie, Jessica, Holly & Dave, Amanda as well as our leaders Deb, Mike and Michelle. It was a thrill to run the 5K on Friday and get the first taste of crossing the finishing line which I would repeat two additional times over the weekend. A highlight of the 5K was seeing a smiling Stephanie cross the finish line to earn her well deserved medal.
The camaraderie of the 4am pre half-marathon team gathering, photo and pep talk really got the adrenaline flowing for the 13.1 journey ahead. It was a thrill to see Team AllCheers stationed throughout the race course and to be cheered by complete strangers rooting for Team Allears. Saturday's meet at Fort Wildness was exciting as we got to congratulate first time half-marathon finishers who were already planning ahead for their next personal challenge.
The unveiling of the fundraising total really got the emotions flowing and for those of us running on Sunday, this was the motivation we needed to tackle 26.2 miles. Sunday's 4am pre full marathon team gathering again helped bond team members who were running 26.2 miles or capping off their Goofy or Dopey weekends of 39.3 or 42.4 miles. Once again seeing Team AllCheers out on the course really gave the runners something to look forward to.
The final race highlight for me was heading down Hollywood Blvd at the Studios and running into Josh and Dominic. It was great to share part of the final leg of the marathon with several Team Allears teammates as we headed towards the finish line. The weekend went by way to quickly. While the weekend was about running and raising funds for a terrific cause, the relationships and friendships that were developed are what I will remember and cherish the most. It is amazing that a group of like-minded strangers can do when they join a team "Running with Purpose."

Julie Olson
Team All Ears means so much to me. For the last two years I have been able to meet some incredible people who helped me through the hardest parts of training and made me laugh when I needed it most. I loved getting to run side-by-side with my teammates and hear people scream out our names! Most of us started out as strangers but we ended up a family. I'll see you next year!

Stan Harris
I had such a blast being part of the team for this year. Made some fantastic new friends, teammates & memories. I was blown away by the team meet we had on Saturday afternoon. Can't express enough how much I enjoyed being involved in a such a worthy cause, Thanks so much for letting me participate. I enjoyed running the Goofy challenge so much, I think I will do it again.
1st one is me,Dominic Abram & Gording Harvey after the 1/2 marathon, 2nd one is me, Dominic & Josh Gidlewski during the full marathon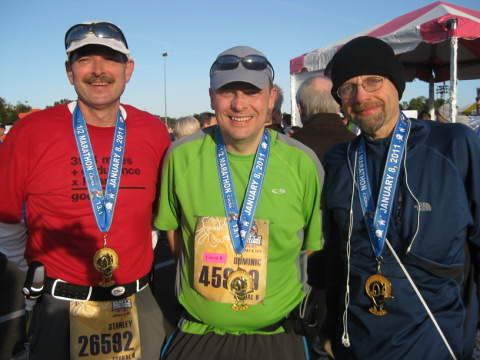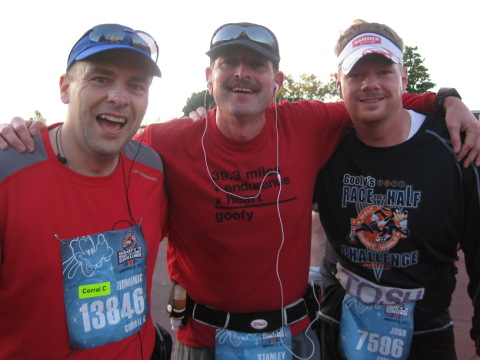 Holly Aulen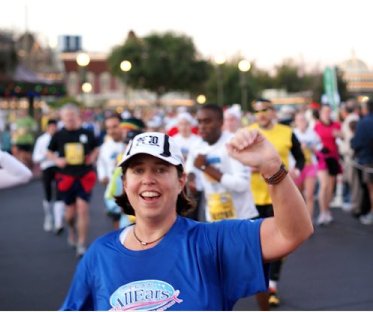 Being a part of Team All Ears once again in 2011 was such a rewarding experience. The people I have met through the Team are now life long friends. I received 4 medals for running the weekends races but the 5th medal I received for being a part of Team All Ears is the one that means the most to me. It represents so much. Strength, courage, friendship and most of all a huge step to end breast cancer. I can't wait to be a part of the team again in 2012.

Scott Lebeau
Here's a picture I had taken somewhere around mile 20-22. A supporter was holding the sign and it summed up how I felt. The feeling of crossing that finish line was worth the torture I put myself through to reach it. I look at the pictures from the race, and my medal, with pride and I don't even remember the sore legs anymore. It was an honor to run as a member of Team AllEars and to raise money for your cause. The pride associated with that equals crossing the finish line.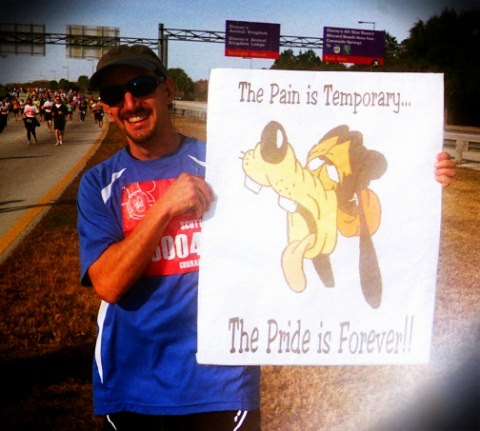 Shawn Moffett
When I signed up for Team AllEars, I was a Disney Fan, but not a runner. I thought it sounded like fun to run through the parks. But, since I was 39 years old, I figured it was now or never. Although I had never met any of my other Teammates, I felt like I had known them for years. Anytime I was down, hurting or lost my motivation, they were there to boost me back up and steer me in the right direction.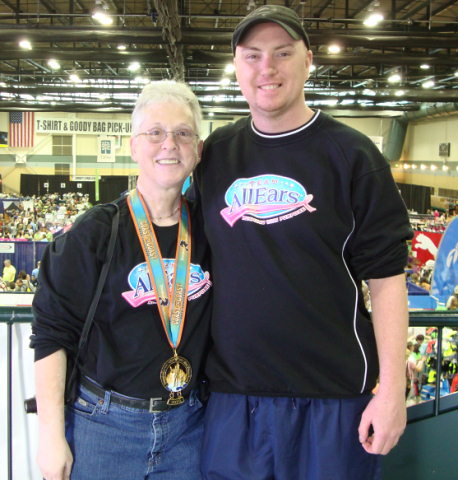 I did not get a chance to meet any of my Teammates until Marathon Weekend. Each and every person I met treated my wife and I like family. No matter what our finish time or pace was, they cheered us on along the way and hugged us at the end.
Since this was my first Half-Marathon, I had no idea what to expect.
Running at Disney is truly amazing. Not only are you running with thousands of other Disney fans, who motivate you along the way, but there are total strangers cheering for you and yelling your name. It's a great feeling to be running along, wondering why you decided to do this and how much it hurts, and then standing in the crowd is a group of people with a Team AllEars sign. You hear these people above everyone else (the cowbells helped) and for a brief time you forget the pain and you forget how tired you are.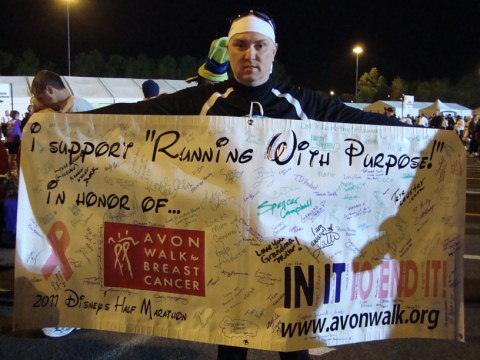 Team AllEars was a great experience. I have many new friends that I would not have met without this Team. Thanks to everyone for their support over the past year. I am planning on returning next year and I can't wait to see everyone again.
For those of you who supported Team AllEars and the Avon Walk for Breast Cancer, Thank You. We could not have done it without the support of all of you!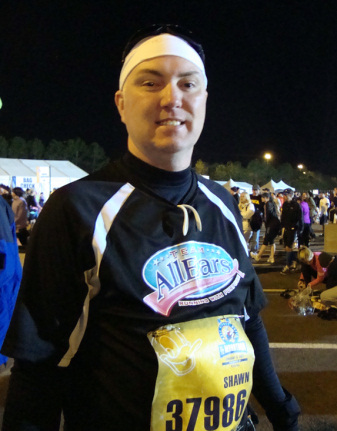 Debbie Belloli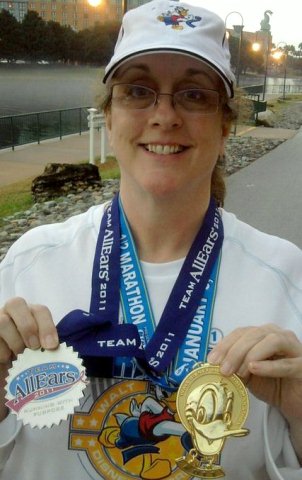 Joining Team AllEars was one of the best things I have ever done. It was the friendliest, kindest and most helpful group of people I have ever met. People that have never met me before I got to Florida for the rest gave me great advice and helped me make sure I had everything I needed for race day.
Many times I almost chickened out thinking I'm too old, inexperienced and out of shape to do the race. But with everyone's encouragement I was able to finish 10 miles of the race before being swept. I am very proud of myself and even prouder to have been part of Team AllEars! And the bonus…we raised lots of money for Breast Cancer! I can't wait for next year.

Eric Bouchet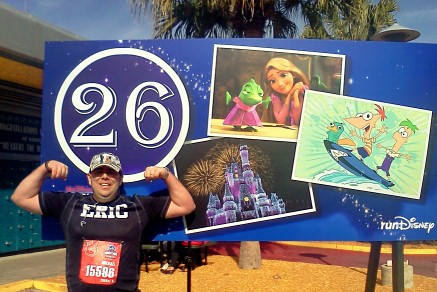 This year was my second year with Team AllEars. Words cannot describe the emotions that well up within me whenever I tell people about this magnificent group of people. The people I have met and the Friendships and memories that have been made will last a lifetime.
Becoming a runner was a very difficult thing for me but it has been such an overwhelming experience, and an absolutely incredible journey. In 2 and a half short years I have become a 7 time Half-Marathoner and a 2 time Marathoner with multiple smaller races in between. I look forward to many many more years of TEAM ALLEARS as we all continue TO RUN WITH A PURPOSE!!!!!!.

Jessica Cutler
After finishing my very first half marathon during the 2010 Marathon weekend I was hooked in this running thing. After seeing the fun times that my teammates during the Goofy Challenge that year had, I knew that's what the next step was for me.
On the very first day registration opened for 2011 Marathon weekend, I signed myself up for the Goofy Race and 1/2. The entire year of 2010 was spent getting ready for that Half Marathon and Full Marathon. Thanks to Team AllEars I had Friends, REAL friends who were training right along with me, going through the same things. I could ask questions and just have someone to talk to about how my training was going. It made the year speed by and before I knew it, it was January again, Time for the races!
Marathon weekend 2011 is a weekend I will never, ever forget. It is one of the best weekends I've had in my entire life. Seeing friends from my team before the race who shared my nervous energy, seeing teammates on the course cheering us on and going to the team meets were some of the most happy memories I have.
The best part of the weekend was running the Full Marathon with Holly and Rhonda. These two women are amazing and without them, I think I'd still be somewhere between the Magic Kingdom and Animal Kingdom. They were so supportive and happy, running with them really made the miles fly by.
The full marathon part of the Goofy Challenge was my first full marathon. It was an experience I cherish everyday, and it was "plussed" by running with two friends. Finishing the marathon and getting that Mickey medal and then walking over and getting a Goofy medal was so surreal. I'm still pinching myself because I'm still amazed that I could do it. I care so much for each person on Team AllEars and can't wait to see old friends and new ones next year. I'm such a lucky person to have met such wonderful people.