When vacationing at Disney World, breakfast can sometimes be an overlooked meal. Rushing to get to the theme parks early in the morning, many guests simply grab a snack on the run or a quick bite to eat at the food court of their resort. With so many guests planning to have a big meal at lunch or dinner, they do not want to also have a large breakfast and spoil their appetite. As a result, breakfast at Disney World does not usually receive the same notoriety as lunch or dinner.
One of the exceptions to this rule are the character dining experiences, such as the buffets at Chef Mickey's, Chrystal Palace, Cape May Café, or Tusker House. These restaurants are very popular for breakfast and reservations are needed well in advance. But what if you do not necessarily want to have a character meal and are looking for something other than a buffet? The reality is that Disney offers plenty of other breakfast options if you are looking for a nice, relaxing meal. Kouzzina at Disney's Boardwalk Resort is one such option and offers a breakfast unlike any other in Disney World.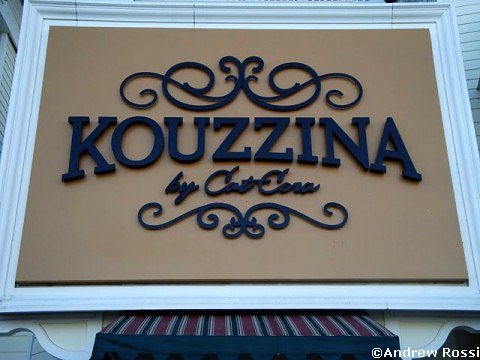 Overview:
In the Spring of 2009 it was announced that renowned chef Cat Cora would be partnering with Disney on a new restaurant venue and that August Kouzzina opened at the Boardwalk Resort replacing an existing restaurant known as Spoodles.
Spoodles, which featured a menu of Mediterranean cuisine, had been a very popular dining location among Disney guests and many were disappointed to see it go. Cat Cora's Kouzzina, however, is very much in the same vein and strongly reflects Cora's Greek heritage. Cat Cora, who is probably best-known for her role on Food Network's "Iron Chef America," has created a restaurant which celebrates classic Greek and Mediterranean dishes as well as some of her own personal favorite recipes.
The name "Kouzzina" is actually the Greek word for kitchen and examples of Cora's Greek roots can be found throughout the restaurant in the décor and especially the menu, which even includes some of her own special cocktail recipes. Greek cuisine features very distinct combinations of flavors and ingredients that people of other cultures may not be accustomed and the result is that Kouzzina offers a dining experience, for both breakfast and dinner, that is truly unique among Disney restaurants.
Atmosphere:
Kouzzina's atmosphere is simple, but elegant; it is at the same time upscale as well as warm and inviting. The restaurant's Mediterranean influences, as well as Cat Cora's Greek heritage, are evident as soon as you enter the restaurant, with the lobby area featuring a large wall mural depicting a map of the Mediterranean in addition to various black and white photographs of the Cora family.
The main dining area of the restaurant has a rustic Mediterranean feel with wood-plank flooring and dark wooden tables, chairs, and paneled walls.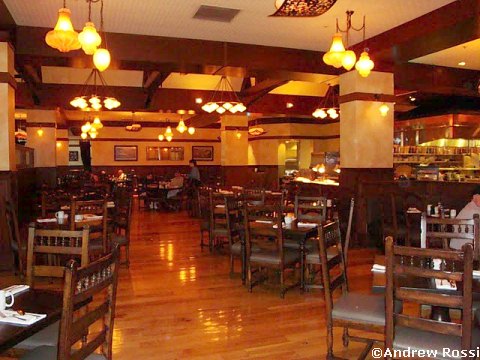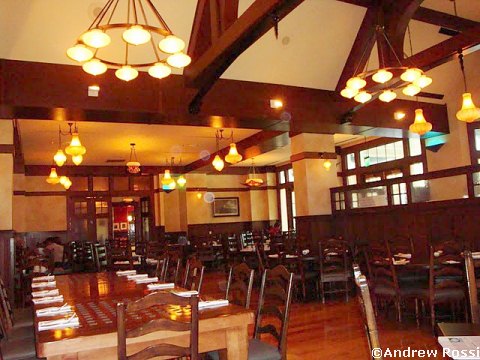 Despite its dark, earthy colors, the restaurant actually has a very open feel. Contributing to this is the fact that the dining room is just one large, open space and features high, vaulted ceilings.
The restaurant also has large windows that allow in plenty of natural light and add to the sense of openness.
The overall décor is very plain and without a lot of decoration. The walls do feature some black and white photographs of the Greek coastline and small fishing villages, which are just enough of a touch to tie-in the restaurant's Mediterranean theme.
The real allure of Kouzzina atmosphere, however, is its open show-kitchen that really helps to make guests more a part of the dining experience and see their food being prepared before them. While some might find the hustle, bustle and noise of the kitchen to be distracting, I found it to be extremely interesting and thought it really added some energy and excitement to the restaurant (while there was not too much action in the kitchen during breakfast I was told that things are much more lively at dinner time).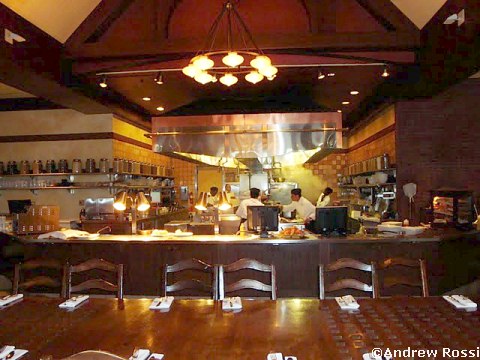 While Kouzzina certainly offers a more refined setting, I still found the atmosphere to be very welcoming and relaxing. It is an atmosphere which is definitely conducive to a nice quiet meal for adults, but I would not shy away from bringing families with children here as well. In Greek culture, spending time with family is very important and Kouzzina is a restaurant that offers a comfortable setting for families to enjoy a meal together.
The Menu:
Kouzzina's menu offers a selection of breakfast dishes the likes of which cannot be found at any other dining location in Disney World. If you are a person with simple tastes, this may not be the best restaurant for you. However, if you are someone more daring, then Kouzzina is truly an adventure for the taste buds and one which offers plenty of new and interesting dishes to try. Not only does the menu feature some unconventional breakfast dishes, but it also takes some traditional favorites and presents them with a Greek twist.
Greek flavors and ingredients are found throughout the entire menu. One example of this is the Stacked Kouzzina Breakfast ($11.99), featuring two poached eggs, kalamata olive toast, artichoke spread, and sweet potato hash with a choice of bacon or chicken sausage. There is also the Spinach, Tomato, and Feta Scrambled Eggs ($11.99) that come served with breakfast potatoes and a choice of bacon or chicken sausage. Similar to this is the Vegetable Flatbread ($11.99) topped with scrambled eggs, roasted red peppers, spinach, and feta. Yet another interesting dish is the Turkey-Sweet Potato Hash ($12.49) with two eggs and arugula salad.
For those less adventurous eaters, Kouzzina also offers some more conventional options. There is a Ham and Cheese Omelet ($12.49) served with breakfast potatoes, Challah Bread French Toast ($10.49) with a choice of bacon or chicken sausage, Blueberry Orange Granola Pancakes ($10.49) with a choice of bacon or chicken sausage, and the American Two Eggs ($11.99), which comes with breakfast potatoes and a choice of bacon or chicken sausage.
For my breakfast I chose the Classic Golden Waffle ($10.49) which comes topped with whipped mascarpone cheese, honey, and chopped pecans and is served with a choice of bacon or chicken sausage. While the price may seem a little steep for waffles, the portion size is absolutely huge and I was not even able to finish it all. The waffles had a light, fluffy texture and were nice and thick. They were cooked perfectly to have a golden brown color and were just slightly crispy on the outside but still soft on the inside. The waffles actually tasted very similar to the Mickey waffles that are found at restaurants across property, but what made this breakfast really stand out were the waffle's toppings.
The waffles came accompanied by a generous portion of whipped marscapone cheese, which is similar to cream cheese but lighter, softer, and sweeter in taste. The sweetness of the marscapone proved to be the perfect compliment to the waffles; it was not even necessary to add any butter or syrup on top. The waffles also came drizzled with honey, just enough to provide a little added flavor and sweetness to the dish.
The waffles were then topped with a good-sized helping of pecans, which really helped to add some additional texture to the dish and provided a nice contrast to the softness waffles and the sweetness of the marscapone and honey. I thought the combination of marscapone, honey, and pecans blended together perfectly so that no one ingredient dominated the others and each served to enhance the flavor of the waffles rather than draw attention solely to themselves. While certainly a little on the sweet side, I did not find the overall sweetness of the dish to be overwhelming by any means.
The waffles also were served with a side of chicken sausage, which I found to be relatively mild in flavor especially when compared with more common pork sausage. The sausage did have a little spiciness to it, adding just a little kick to the breakfast that provided a nice contrast to the sweetness of the waffles and their toppings.
As a side dish I really wanted to try the Sweet Potato Hash ($5.95) because it seemed like something unique; I had never seen anything like it on other breakfast menus before. The flavor of this dish really surprised me. I was expecting it to be a little on the sweet side, but the sweet potato came mixed with peppers and onions that gave it a little bit of a spicy flavor and proved to be a great contrast to the sweetness of the waffles. While the hash had a definite kick, I did not find it to be too spicy.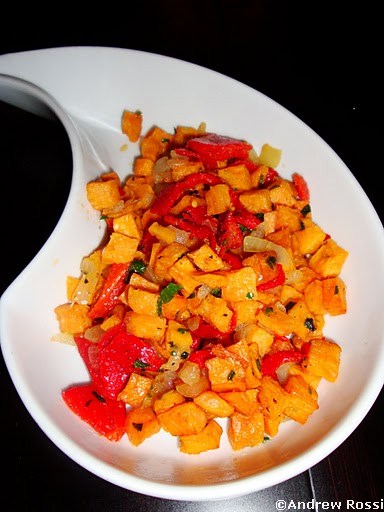 The Sweet Potato Hash really helps exemplify breakfast at Kouzzina as a whole. It may not be your traditional type of breakfast, but it is a meal with plenty of flavor the likes of which you cannot find at any other breakfast location in Disney World.
Service:
One thing that Kouzzina prides itself on is that every meal is served fresh and is made to order. As a result, this may not be the best restaurant for you if you are looking for a quick bite to eat. That being said, I did not find the service to be slow, but rather the meal progressed at a very relaxing pace. Unlike many other breakfast restaurants that look to get tables turned-over quickly in order to seat as many people as possible, I did not feel rushed at all. Adding to this was the fact that the restaurant was nearly empty. This is a great way to start the morning if you are looking for a calm and quiet breakfast option, especially since many of the breakfast buffets and food courts can be crowded and a little noisy.
Because the restaurant was not very busy, my server was able to be very attentive to my needs and frequently checked in with me to make sure everything was to my liking. However, with a menu featuring so many unconventional selections, I would have liked it if the server took a little time to describe the menu offerings.
Dining on a Budget:
Kouzzina may not be the cheapest breakfast location in Disney World, but you get good value for your money in terms of both quality and quantity. The portion sizes are all very large and if you were to go to Kouzzina for breakfast you could actually save money by not needing to get anything for lunch. When compared with other breakfast options, Kouzzina is actually very affordable.
For example, the breakfast buffet at Crystal Palace costs $20.99 while the buffets at Cape May Café and Chef each cost $26.99. Even breakfast locations that do not have characters can be more expensive, such as the Boma breakfast buffet for $18.99. While comparing a restaurant with an al a carte menu to that with a buffet is like comparing apples with oranges, breakfast at Kouzzina offers less expensive selections without sacrificing anything in terms of quality.

The Overall Experience:
I was extremely pleased with my breakfast at Kouzzina and will definitely be going there again. The restaurant offers a real change from the typical breakfast foods that you find at so many other dining locations around Disney World. If you are the type of person that likes to try new and different foods, then Kouzzina is must-do because you will experience a breakfast the likes of which you have never had before.
Not only does Kouzzina present a breakfast with a Greek flair, but it does so with dishes that have an incredible amount of flavor and portion sizes that are very generous; this is a really high-quality breakfast and you certainly get what you pay for. Kouzzina offers an escape from the crowds and congestion of the resort food courts and the popular character breakfast buffets. It is a nice, relaxing way to start your day and get you energized before heading out into the parks.
Read what others have to say about Breakfast at Kouzzina!
One important note: Kouzzina by Cat Cora will close for refurbishment from Monday, Nov 29 – Tuesday, Dec 14, reopening to guests on Wednesday, Dec. 15. Enhancements are planned for many areas of the restaurant, including the lobby and the dining area.
The pizza window will remain open during the refurbishment.
While Kouzzina by Cat Cora is undergoing refurbishment, guests can enjoy an a la carte breakfast from 7:30am – 11am at The Flying Fish as well as regular dinner offerings at Disney's Boardwalk Resort.