Okay. Here's the thing. You've been to the Magic Kingdom more times than you can count. You still love riding Space Mountain and the Haunted Mansion, the characters continue to charm you, and an ice cream cone tastes as yummy as ever. But you long for something new. What I'm going to offer here are some simple pleasures to experience if you've reached the point where you don't need to get "your money's worth" when you visit. These will be experiences that if Disney still used ticket books, might not even garner an "A" coupon. We'll start in the Main Street Train Station.
Years ago, before Disney merchandise filled every nook and cranny of Main Street, there was a Penny Arcade along this thoroughfare. Here, old time machines like a Kiss-O-Meter and Electric Handshake lined the walls. Sadly, this wonderful spot was removed to make room for more plush characters. But luckily, some of the old paraphernalia that once brought a smile to our faces was moved to the Main Street Train Station.
The first item of interest is a nickelodeon made by the J.P. Seeburg Company in 1927. The instrument contains a piano, mandolin, triangle, xylophone, and castanets which are activated by a paper roll. The machine no longer accepts coins, but there is a switch on the back that you can flip to start the music playing.
Also in the Train Station are several Mute-O-Scopes. These predecessors to the movie projector were first introduced in the early 1900's. They contained several hundred picture-cards attached to a wheel. Using a crank, a person can spin the wheel causing the cards to flip one by one and create the illusion of a moving picture.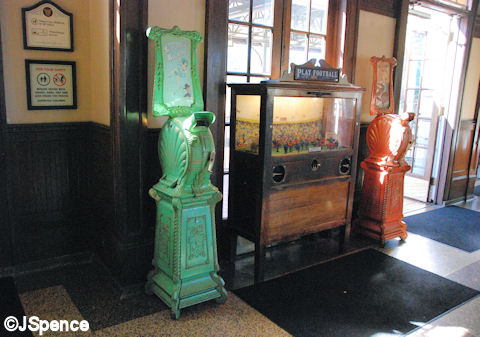 Need a little rest from a strenuous day in the Magic Kingdom? Then buy a box of popcorn and head over to Exposition Hall. At the back of the building you'll find that the old "Walt Disney Story" theater has been remodeled and now shows "Steamboat Willie" and "The Band Concert" cartoons. This is the perfect place to relax and enjoy a few simple laughs. Also in this area are several "cut out" photo opportunities.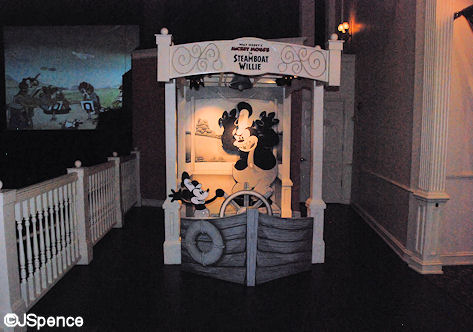 Across the street from Exposition Hall is The Chapeau Shop. Here you'll find one of the old time telephones that used to be located at the Market House. Lift the receiver and take a listen and you can eavesdrop on Mama, Anna, Mr. Dinglinger and Miss Flump as they carry on a three and a half minute conversation. The routine is corny by today's standards, but still worth your time.
Further down Main Street is the Crystal Arts Shop presented by Arribas Brothers. At the back of the store are several ovens, workbenches and tools. Each afternoon, a craftsman works magic with molten glass and creates pieces of art before your eyes. While doing this, he explains each step of the process, all of which is very interesting.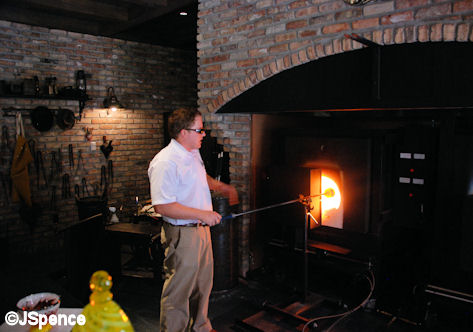 Here is a sample of some of the wonderful Mickey pieces created in this shop. Prices range from $50 and up.
Unfortunately, the Main Street Vehicles don't run as often as they once did. But if you ever see the jitney, fire engine or trolley stopped in The Plaza or on The Hub picking up passengers, be sure to hop aboard. The one-way trip is far from exciting, but it's worth every minute of your time. Somehow you feel special when riding in these old-fashioned vehicles.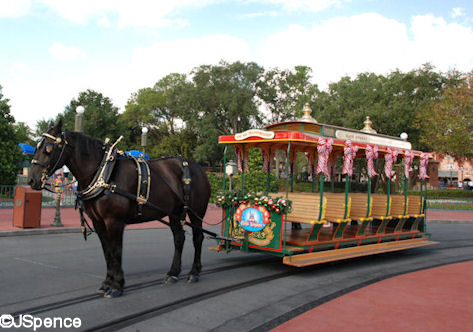 A perennial favorite ever since the Magic Kingdom opened is the piano player at Casey's Corner. Ragtime and oldies are the melodies du jour, sprinkled with some corny jokes and jovial banter. Grab a hotdog and Coke, take a seat nearby, and enjoy some great, live music.
Over in Adventureland you'll find Shrunken Ned's Junior Jungle Boats. This so called "attraction" is intended for kids. But hey, isn't that why you're visiting the Magic Kingdom – to feel like a kid again? So go for it. Spend a couple of bucks and pilot your own radio-controlled boat for a few of minutes. And if you can persuade someone else to join you, you can have sea battles as you ram each other's craft.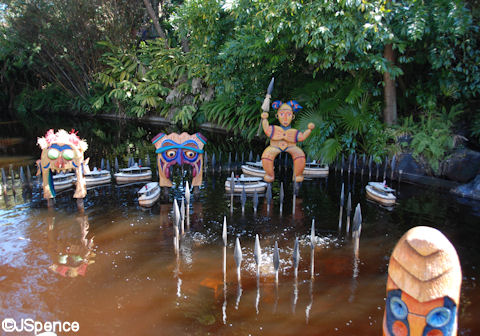 In Frontierland you'll find my all-time favorite people-watching spot at Walt Disney World, Splash Mountain. Position yourself on the outer bridge and watch the folks as they "splash down." As we all know, smiles and laughter are infectious and you'll see and hear plenty of both here. You can't leave this spot without feeling happier. I've been known to spend ten to fifteen minutes standing at this spot watching excited and often wet people having a good time.
This next Simple Pleasure is one of my secrets that I hesitate to tell, but being the great guy that I am, I'll share with you. At the Pinocchio Village Haus Restaurant you'll find one of the greatest spots to grab a bite, relax, and people watch. Few know that there is a second-story balcony that overlooks Fantasyland at this eatery. There are two staircases leading to this spot, one indoors and one out. There are only four tables up here, but you can usually secure one as most people haven't a clue this wonderful locale exists (well, until now).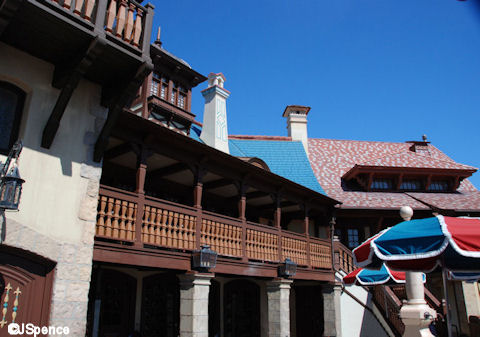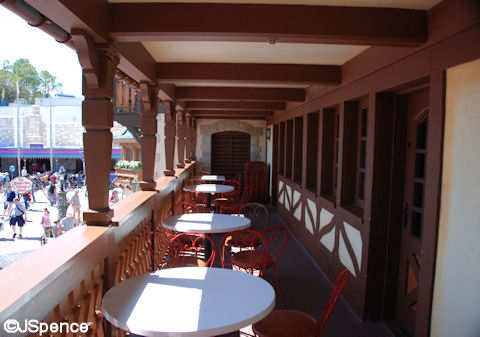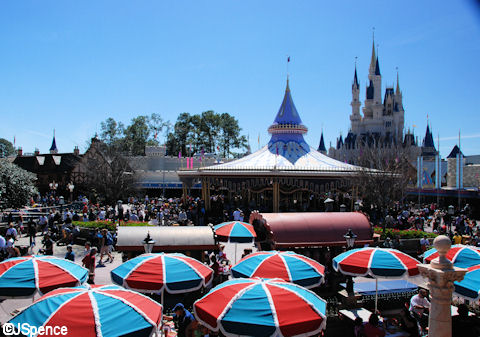 My final suggestion for an uncomplicated moment is to head over to Cosmic Ray's Starlight Café in Tomorrowland. Here you'll find Sonny Eclipse performing a 25 minute show. Sonny is a lounge-lizard, literally. He's meant to be background entertainment. But if you take the time to actually listen to his routine, you'll be delighted. He's funny and his show is definitely out of this world.
Disney parks have so much to offer besides rides. I've given you some of my Simple Pleasures, but I'm sure you have a few of your own. If you do, I'll be happy to print them in the Comments Section following this blog.
As nice as pictures are, they can't always tell the complete story. I've put together a six-minute video that gives you a sample of much of what I've talked about. I hope you enjoy it.