Ever wonder what it's like to be part of a TV production? Well today (December 3rd) my wife and I got to be part of the audience for the taping of the Disney Parks Christmas Day Parade that will be shown on ABC Christmas morning. A couple points of interest. First, the parade is no longer called the Walt Disney World Christmas Day Parade but instead the "Disney Parks" Christmas Day Parade. I assume that means they'll be a little less emphasis on Walt Disney World and include more Disneyland features. The second items of interest is that the taping at Walt Disney World is being done over three days. Today no actual parade segments were taped. Just two stage performances: Yanni (Yanni Voices) and Kris Allen. Both were excellent!
For those of you who don't know, Yanni has discovered four young and incredibly talented singers and they are called Yanni Voices. Those singers are: Nathan Pacheco, Ender Thomas, Leslie Mills and Chloe. They have done a PBS special as well as recorded a couple albums. Today they performed "Oh Holy Night" which just happens to be my favorite Christmas song. It was beautifully sung by Nathan Pacheco along with Chloe, Leslie and Ender. And of course Yanni doing a superb job playing the piano. Don't miss this performance Christmas morning!
Kris Allen, the 2009 American Idol winner, and his band played a really hip version of Rockin' Around The Christmas Tree. Kris has a great voice and I really like the arrangement of the song that he came up with. He is an outstanding entertainer who really connected with the crowd; which was filled with young, female Disney College Program Cast Members. He signed autographs and interacted with the crowd during the many breaks.
Alright, so how did I get to be selected to be in the audience for this taping? Well it started four or five weeks ago when I registered on the Disney's Wide World of Sports web site. Then a couple weeks ago I received an email telling me I was selected to attend this particular taping. I was directed to a site where I could print out my tickets. Tickets for this event where also park admission tickets into the Magic Kingdom.
We were asked to be there by 9:30 AM, to wear holiday colors and not to wear clothing with logos other than Disney.
My wife and I arrived at the Magic Kingdom gates around 8:30 AM and found quite a few people already in line. They had set up a separate bag check and entrance just for those with parade tickets. The line moved quickly and before we knew it our group was being escorted down to Cinderella Castle. When we arrived we could see all the production personnel getting their equipment all set up. We weren't allowed to get close to the stage at that point as there were still too many workers, wires and equipment all over the place.
As we waited we were greeted by Billy Flanagan. Now Billy is a 27 year Cast Member who has been part of Walt Disney World Entertainment for all that time. According to Billy he has played every (male) role except for the Luau over at the Poly. Now I think he exaggerated a little bit because I really don't think he ever played the lead singing role in the Festival of the Lion King at Animal Kingdom. Anyway, Billy did one FANTASTIC job keeping us entertained for the entire four hours we were there. I cannot praise Billy enough, because without him those four hours, standing all the time, would have been too much to bear.
Both Yanni and Kris Allen performed their number at least four times. So, it wasn't them performing and then leaving the stage. I didn't mind hearing these performances repeated; they were that good!
Our role, as the audience, was to ignore the camera, smile, look happy and cheer loudly. I must admit that we did a really outstanding job.
Here's a picture of my ticket that was used to enter the Magic Kingdom;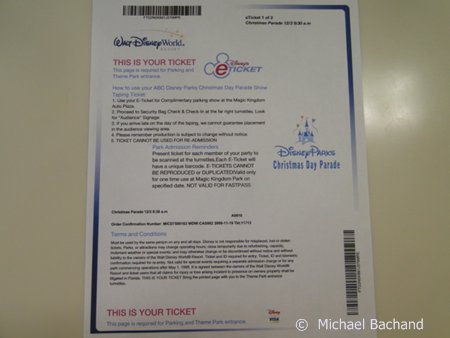 The one and only Billy Flanagan as he greets the audience:
Production crew getting ready.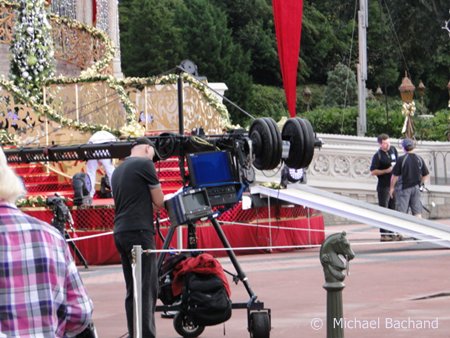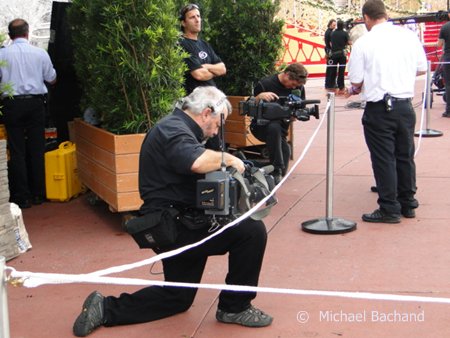 Cinderella Castle and stage decorated.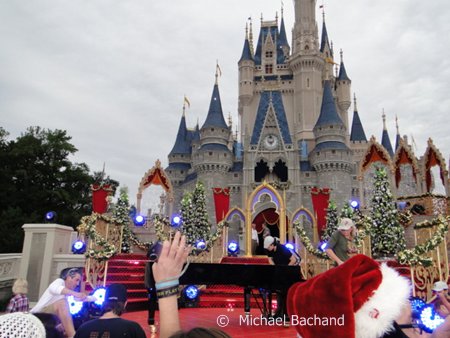 Billy talking giving us a run down of what to expect.
Yanni on stage going over the production elements.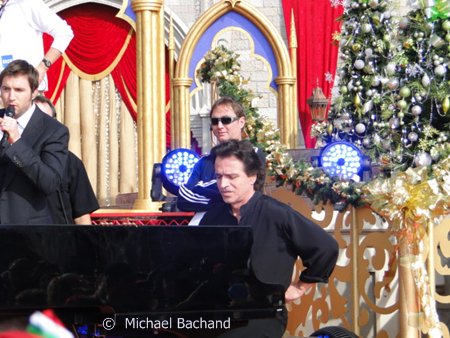 Ender Thomas, Leslie Mills getting ready.
Billy kidding with Chloe.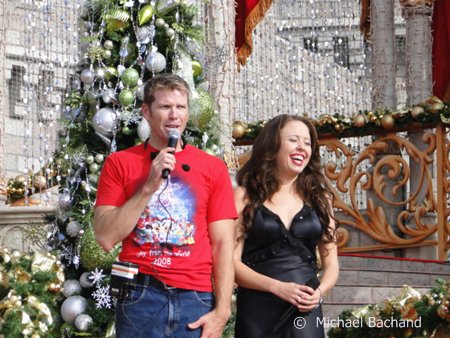 Nathan Pacheco warming up.
The actual performance of Oh Holy Night.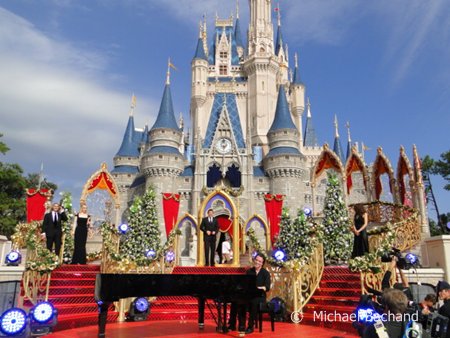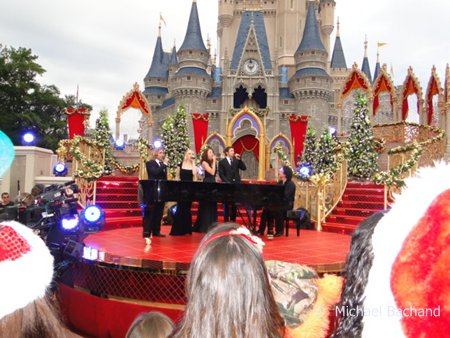 This is what they called the "wrap up". Wow give me a little knowledge and I'm dangerous. -:)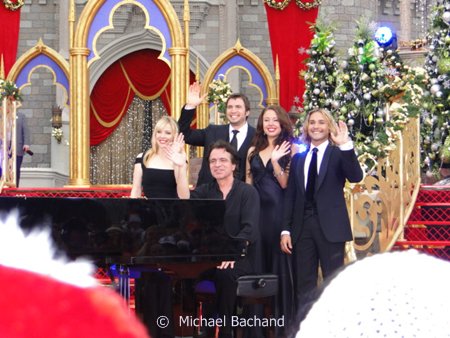 Now that's one really big camera. I glad I didn't have to lug that around today!
Billy on the stage where Kris Allen would be performing.
Billy getting us organized while Kris Allen and his band get ready.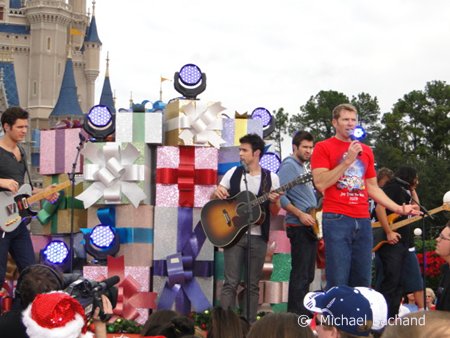 Here's a close up of Kris. Wonder why the young ladies like him (besides his great voice). -:)
Kris Allen and his band performing.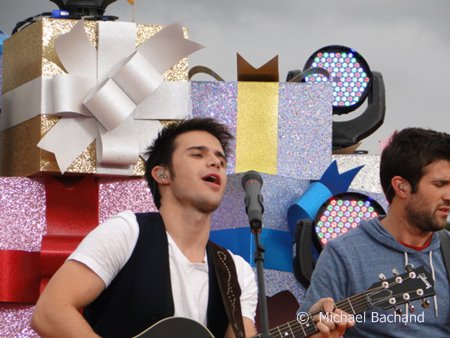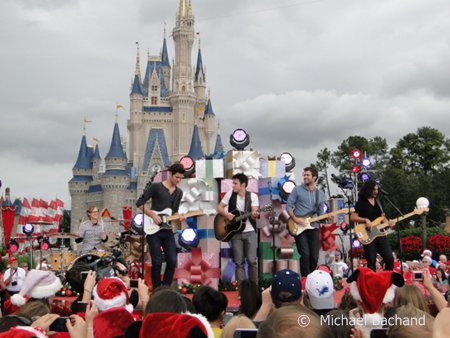 And that's a wrap!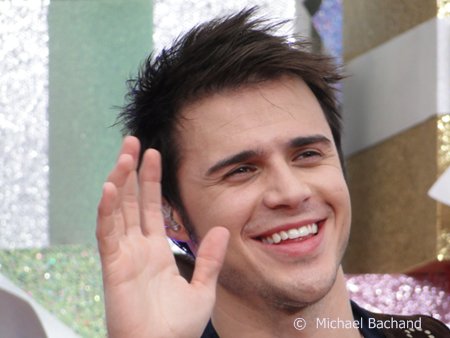 So, I went today not knowing what to expect. However, I did think that it would be a very long four hours. I was oh so wrong! I'm really glad I got to see these two wonderful performance (as many times as I did) and to watch the talented production crew in action. And as I said before, Billy did a great job entertaining us! He just kept coming up with things that kept our minds off the fact that we were standing, and not moving, for such long periods of time. Kudos to Billy!
As a bonus, I got to meet up at the end with two long time AllEars.net readers; Carolyn Musselman and Jill Dodson Linton. It was great getting a chance to talk with both of them. And while all of us were talking another AllEars.net reader joined us. So, that was the perfect end to a wonderful day!
Now make sure you watch the parade on Christmas morning and look for me. I'll be the good looking guy wearing red. -:)
Finally, be one of the first people to hear when my newest blogs go live on AllEars.net by joining "DisneyMike's World" Facebook group.
Well, that's all for now. As my good friend says "see ya real soon"…DizneyMike