Guest Blogger Jeff Onorato is back, this time with a review of Bluezoo!
Celebrity chef Todd English is the owner of 18 restaurants in the United States. He has hosted TV cooking shows such as "Cooking In With Todd English" and "Todd's Table". He has also appeared on nationally syndicated television programs such as Iron Chef USA and Martha Stewart Living. On top of all of this, he has also authored or co-authored 3 books.
In 2004, this culinary expertise was introduced to Walt Disney World via Bluezoo, an upscale seafood restaurant located in the Dolphin.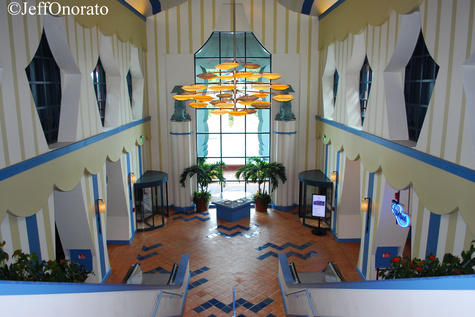 Bluezoo is, in my opinion, one of the most underrated restaurants in Walt Disney World. I have never had a problem booking reservations there on short-notice. In fact, on my most recent visit I didn't have one at all. My decision to dine there was on a whim at the last minute.
Nevertheless, I do recommend making Advanced Dining Reservations if you are planning to dine here. They can be made by calling (407) WDW-DINE or Online at http://disneyworld.disney.go.com/resorts/dolphin-resort/dining/todd-english-blue-zoo/reservations/.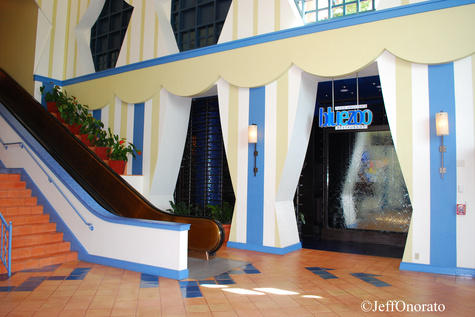 Upscale, chic, and elegant – diners are welcomed into the restaurant by a cascading waterfall which displays images of the wonderful food they are in-store for.
After checking in, you pass the beautiful bar area flanked by a school of "fish".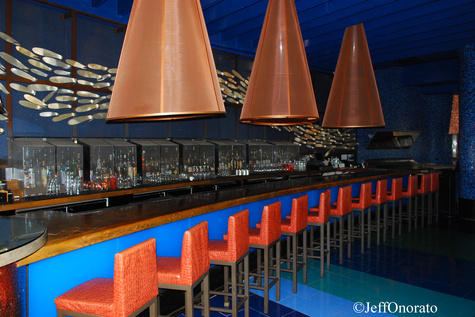 There is also a lounge area, ideal for kicking back and having a few drinks.
As you make your way to the Dining Room, you pass by the Raw Bar and Sous Chefs hard at work.
The main Dining Room is beautiful. The décor is sophisticated and subdued.
The color spectrum of the restaurant is soothing to the eye and perfectly fits in with the oceanic theme of the restaurant.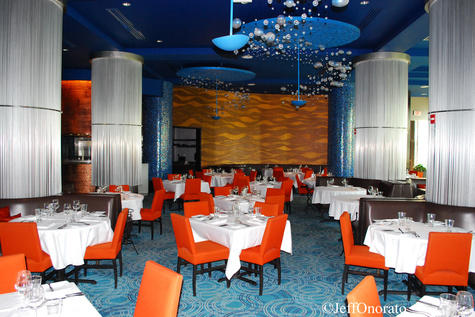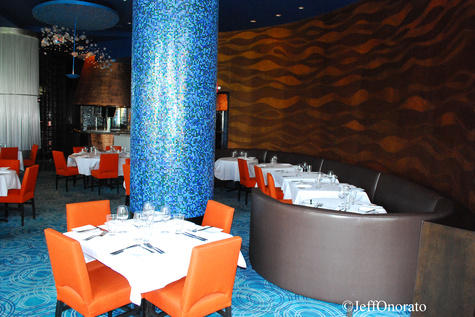 Look up at the "bubbles" floating near the ceiling. Gorgeous chandeliers evoke the feeling of being under the sea.
I have dined here about a half-dozen times since 2005 and have never left disappointed. The service has been wonderful each time. Gracious and attentive, the servers here are informative without being overbearing. Tonight was no exception. My server, Rachael, provided an in-depth tour of their ever evolving menu.
My meal began with the Chilled Lobster Tail. Sweet and tender, the appetizer was garnished with shaved fennel and oranges which accentuated the taste of the Lobster. An orange gel artistically decorated the plate.
A Bluezoo staple – New England Clam Chowder with salt-cured bacon. This was much lighter than I expected. Not as thick and hearty as other clam chowders I have had.
I chose the Dirty South Swordfish for my main course. The fish was mild, flakey, and served with clams atop a bed of risotto. Beware: this entrée is spicy (as evidenced in the name). I could also taste a hint of BBQ in the Cajun rub.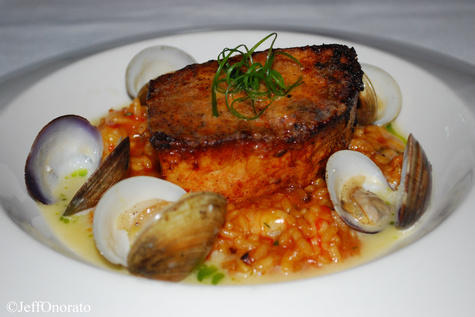 I followed up the meal with the Pavlova. This wonderful dessert consisted of Vanilla orange ice cream alongside a hard-shell raspberry filled meringue and paired with fresh raspberries. Desserts here are like works-of-art.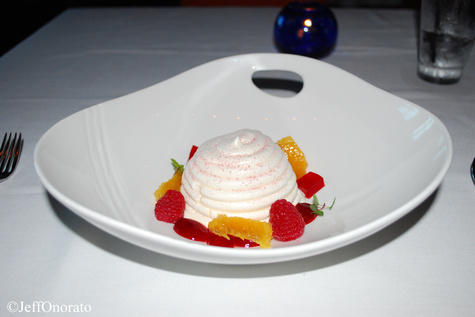 The Opera Rock is pictured below. This dessert consists of layered marshmallow nougat sandwiched between chocolate wafers and presented on a Popsicle stick with an Orange Liqueur chaser. The citrus of the Orange nicely contrasted the sweet taste of the chocolate and marshmallow.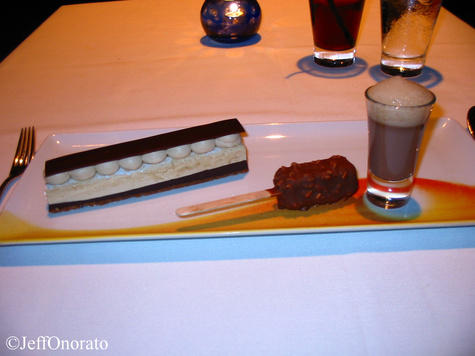 While I can't really recommend the Bluezoo for children, they are welcome here and a Kid's menu is offered. It includes Beef Tenderloin, Grilled Chicken, and Pizza.
I never fail to walk away satisfied after a meal at Bluezoo. I am a fan of fine dining and find the atmosphere, service, and food at the restaurant to be conducive to a wonderful evening. Bluezoo is an ideal choice for a celebratory meal or romantic night out. Do yourself a favor and give it a try on your next trip to Walt Disney World. It really is a hidden gem of the Sea.
Related Links:
Readers Rate and Review Bluezoo
About Jeff: I am 33 years old and from Gettysburg, PA. By day I work in the Accounting Department of a Newspaper Publishing Company. My first visit to WDW was at the age of 2, and have been back around 35 times since then. I often travel solo to WDW, as well as with family. I make good use of my Annual Pass, and trek to Orlando about 5 times per year to visit my favorite travel destination. My favorite resort is the Polynesian, but have stayed at all of the WDW resorts at least once. In fact, my favorite aspect of visiting the Walt Disney World Resort is trying out the different Resorts and Restaurants. I also enjoy the many restaurants and sampling different foods that I normally would never try at home! (such as Escargot at the France pavillion).
Read Jeff's other blog, a review of Paradiso 37 in Downtown Disney.