Avast ye mateys, Captain Jack Sparrow is on the lookout for additional crew members!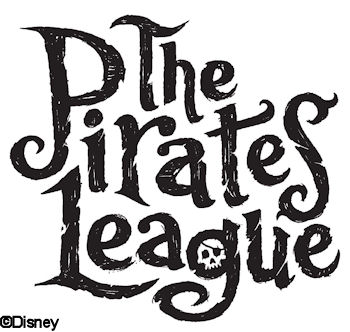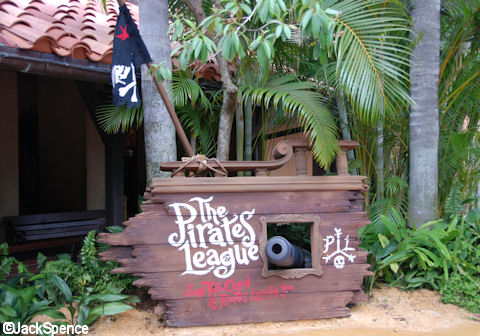 It seems that while some of Captain Jack's men were on a plundering raid, they came across the warehouse of the East India Trading Company. Deciding that this would be easy pickin's, they aimed their canon at the door. Unfortunately, they missed their target and their canon ball lodged itself into a stone wall. But their second shot was better directed and knocked down the door.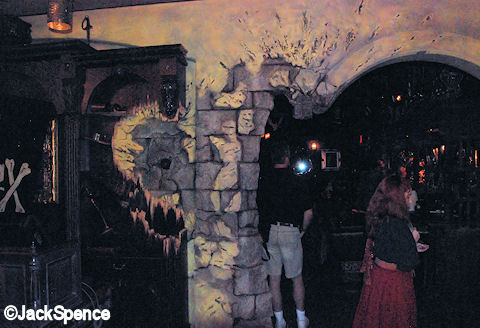 After the booty was safely stowed aboard there ship, Captain Jack surveyed the empty warehouse and decided that this would be the perfect spot to recruit and train new pirates. Being the hearty soul that I am, I signed up to become a swashbuckler.
My adventure began outside of the East India Trading Company – oops, The Pirates League. This is located near the entrance to Pirates of the Caribbean. It was here that I picked the pirate-look I would live with for all eternity. I was allowed to choose from the following: Cursed Pirate, Smokey-Eyed Jack, Multi-Eyed Jack, Black-Eyed Jack, and Captain Hook. If my sister had been along, she could choose from any of the above plus Empress for a more feminine look. I chose the Cursed Pirate.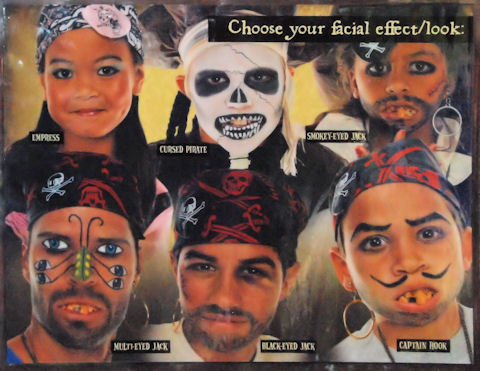 After making the necessary arrangements, I went inside. Here, some of Jack's pirate folk greeted me with a hearty "aargg." While looking around I found some pirate accoutrements for sale if I was inclined to part with some pieces of eight.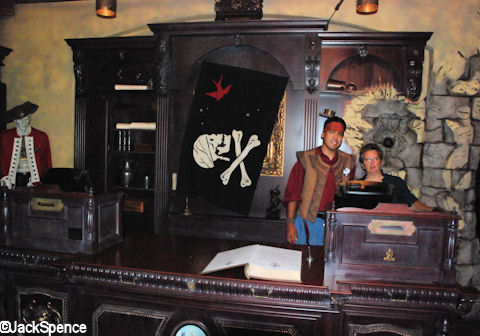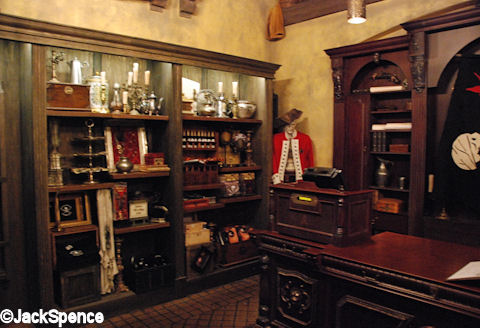 The first thing all shipmates-in-training must do is discard their old name for a new pirate identity. This is done with the greatest of skill and precision. First, I was asked to blow on two dice, one black and one white. Then these dice were carefully placed in a treasure chest that was attached to a ship's wheel. I was then asked to give this wheel two complete turns. When finished, the dice were removed and the numbers read aloud.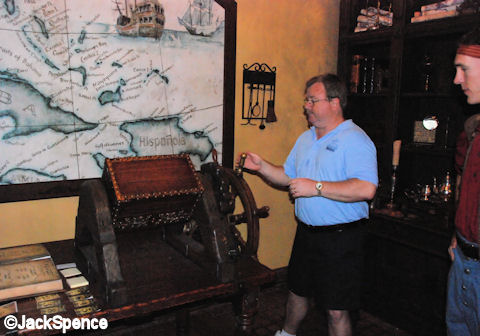 Another, nearby pirate took these numbers and consulted some ancient parchments associated with my birth month. After careful consideration, a name was chosen for me — Benjamin Damploather.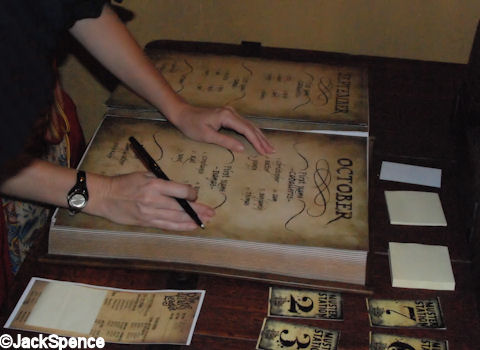 Next stop was one of the ten Muster Stations where I met my trainer. Her name was Brenna and she spoke perfect pirate-ese. I was seated in a chair and made comfortable. Brenna then reconfirmed my pirate selection and started to work on my makeover.
During the makeover, Brenna engaged me in conversation. But keep in mind, Brenna is an eighteenth-century pirate. She doesn't understand modern English words. When she asked why I wanted to become a pirate, I explained that I was here to experience the training program, then write a blog about it on my computer. This totally confused her. She had no idea what a blog or a computer were. So after some thought on my part, I told her that I would be using my quill pen to ink some scrolls which would be distributed to all of you using magic beyond her imagination. This seemed to satisfy her.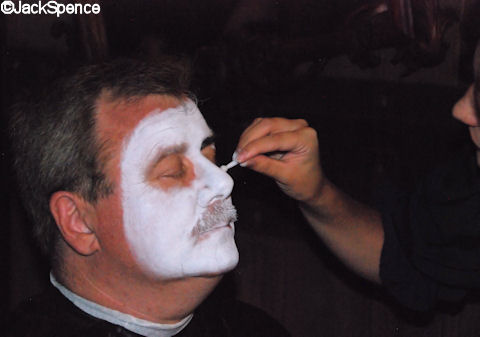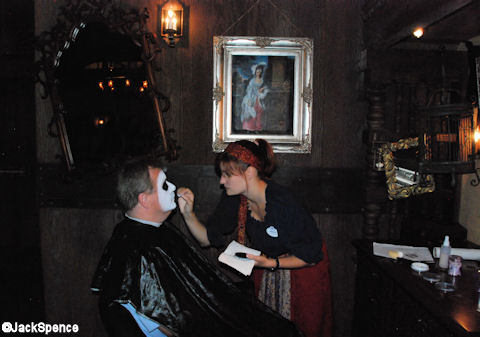 After the makeup had been applied, I was given a bandana and a painless tattoo.
Brenna told me that Captain Jack required her to take three weeks of training before allowing her to transform new recruits into swashbucklers.
When my makeover was complete, Brenna gave me a pirate's booty bag. In it, she placed my earring and false teeth as she isn't allowed to place these items on the trainees. However, a parent or friend can assist you if you'd like to don them for your upcoming portrait.
The makeover took about thirty minutes. At its completion, I pledged allegiance to Captain Jack and took the Pirate's Oath.
I was then escorted to another section of the warehouse where I was given my sash and sword by a different pirate. With the sword came a command that I was not to slash, poke, jab, prod, slice, cut, or carve my siblings, parents, strangers, birds, animals, or Disney property. After agreeing to this condition, I was asked if I'd like to see Captain Jack's secret treasure room with the condition that I would not take any pictures or ever reveal what took place inside this inner sanctum.
So if you want to know, you'll have to become part of Jack's crew.
After leaving the mysterious room, I was given a packet that contained my pirate's oath, complete with my pirate's name. Also included was my pirate photo.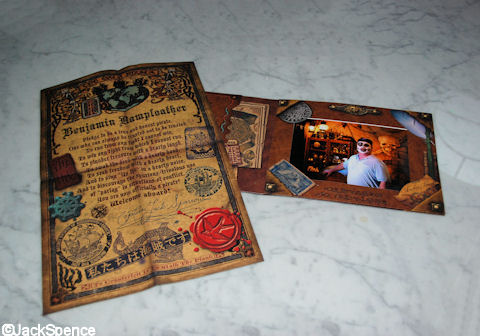 Reservations for Pirates League are strongly suggested. They can be made 90 days in advance by calling 407-WDW-CREW (939-2739). A credit card is needed at this time to secure the reservation, but is not charged until the actual event. Ten doubloons will be applied to your card if you cancel less than 24-hours in advance. Guests are requested to bring a brush, but this really isn't needed for boys and men with short hair. Captain Jack does not allow his trainers to have brushes but some Empresses require them in order to pull their hair back.
There are three packages available. The First Mate and Empress packages each cost 50 doubloons plus pirate tax. This includes a choice of one of the six facial treatments, a tattoo, a photo and an assortment of pirate accouterments. The Captain's package costs 125 doubloons plus pirate tax. It includes all of the above plus an appropriate costume. The age limit is 3 and above. Those 17 and under must be accompanied by an adult.
I asked if trainers accepted pieces of eight for their services. I was told that this is never solicited, but Captain Jack does allow his mates to accept doubloons if the trainee feels that he or she received a job well done.
While being made up, I saw three brothers as well as a father and son take the oath. They all seemed to be having a good time. I know I did. But this was just the beginning of my adventure. The subsequent walk through the Magic Kingdom is where my decision to become a pirate really began to sink in. You'd think these tourists had never seen a dead man walking before.