Cuando ustedes estan en EPCOT y quieren sentir algo rico en colores, comida con sabor, y el deseo de escapar el caluroso sol, vaya a Mèxico donde siempre es de noche. Hay tantas cosas para comprar, mucho mas que un sombrero o un poncho como joyerìa, dulces, arte y por supuesto, las maracas. Pueden tomar un bote y descubrir el pais junto a el Pato Donald, Panchito, y Josè Carioca. No olviden que pueden enviar un video a su familia y amigos completamente gratis y eso es una cosa que es muy raro Walt Disney World. Pues, que estas esperando? Vayan ya!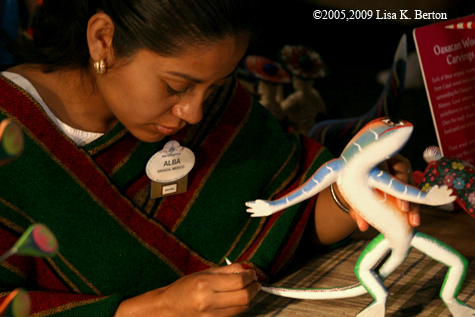 Handpainted Oaxacan wooden figures are created right in front of you.
When you're at EPCOT and you want to feel rich, warm colors, eat food packed with flavor and escape the hot sun, go to Mexico where it's always nighttime. There are lots of things to buy much more than a sombrero or a poncho, like jewelry, candy, and of course, maracas. You can ride a boat and discover the country alongside Donald Duck, Panchito and Jose Carioca. Don't forget that you can send a video to your family and friends absolutely free, something that's very rare in WDW. Well, what are you waiting for? Go already!
A special thanks to my "little sister" Jenniffer Vazquez for editing my Spanish.