I recently spent the night at the Caribbean Beach Resort in one of the new pirate themed rooms. In this blog, I'll be discussing the overall resort and describe this new experience in Disney accommodations.
When Michael Eisner was hired by shareholders Sid Bass and Roy E. Disney in 1984, he was given the directive to develop the Disney World property. One of the first things he did was order two new resorts be built, the deluxe Grand Floridian and the first moderately priced Disney hotel, the Caribbean Beach Resort.
Located south of Epcot, the Caribbean Beach Resort is comprised of 33 guest houses clustered together in villages. Each village represents a distinct Caribbean style inspired by and named after the Caribbean islands of Trinidad, Martinique, Barbados, Aruba, and Jamaica. Each two-story building has sixty-four, 300 square foot rooms. Each room has two double beds and can sleep four.
The first stop for guests when arriving at the Caribbean Beach Resort is the Custom House. This is where everyone checks in and receives a slew of interesting paperwork describing the resort and the rest of Walt Disney World. At this time, you'll be given your room keys and directions to your room. If you arrive before your room is ready, you'll be given a phone number to call to check on status.
The heart of activity at the Caribbean Beach Resort is Old Port Royale Centertown.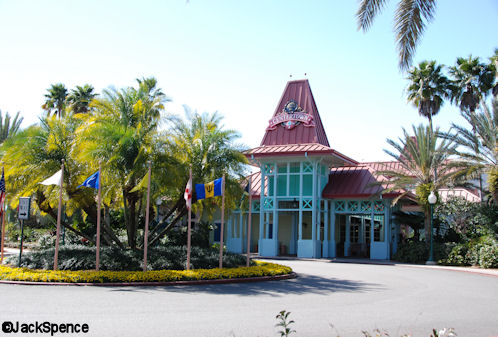 Shopping is available here at Calypso Trading Post. A large collection of Disney merchandise is on hand as are other tropical gifts. Adding to the already strong West Indies décor, pirate theming has been added.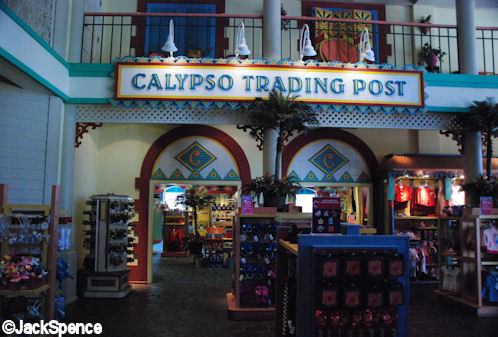 One of the truly unique items for sale here is a coconut, ready to be mailed to friends and family back home. This is the genuine article already stamped for delivery to anywhere in the U.S.. All you have to do is add the address.
Old Port Royale Centertown is also where you can grab a bite to eat. For counter service meals, try the Market Street Food Court. This festive avenue features a number of stalls selling everything from donuts to pizza to pan seared salmon. Seating is provided in one large and several smaller areas. Brightly colored walls and overhead fans help you believe you're in a tropical locale.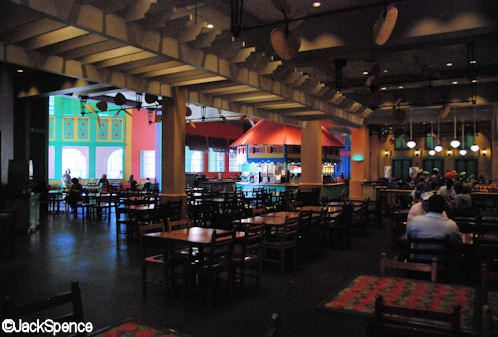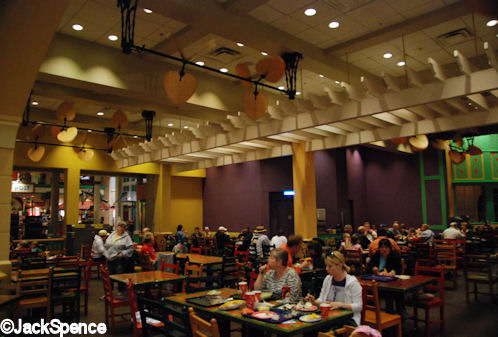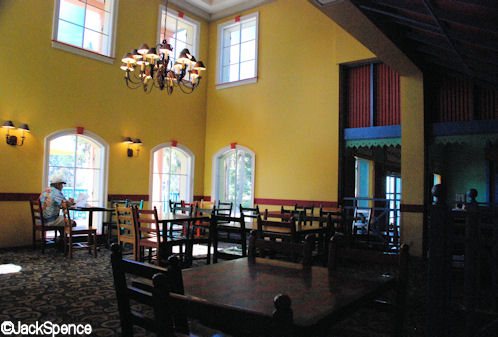 If you're in the mood for a slower paced supper, try Shutters. This table service restaurant is located at the far end of Market Street and offers a nice relaxing atmosphere in one of its several small dining rooms.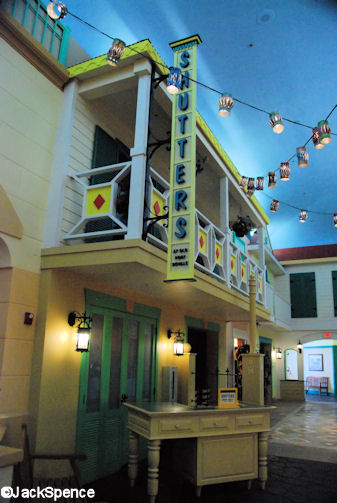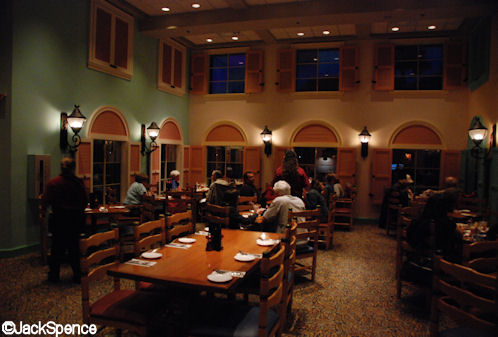 Just outside of Old Port Royale Centertown is a pleasant area where you can sit and enjoy a cocktail from Banana Cabana.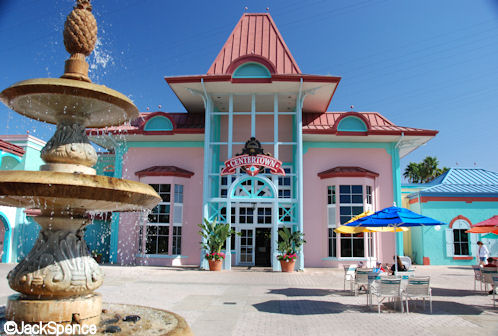 In the mood for some boating, then head for the Barefoot Bay Marina. Here you can rent a Sea Raycer for a zippy ride or a pontoon boat for a more relaxed experience. The pontoon boats, now decked out with a pirate theme, are especially nice for groups. Have your lunch packaged "to go" at the Market Street Food Court and enjoy a meal out on the water.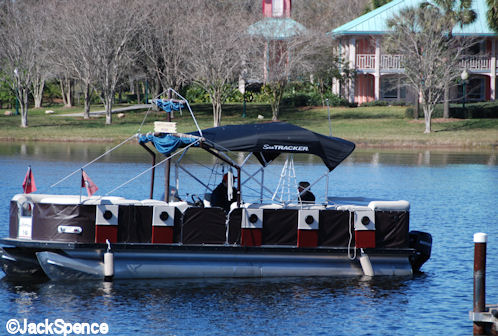 Also scattered around this 45 acre lake are a number of white sandy beaches. This is the perfect spot to work on your tan (don't forget the sunscreen) or read that best-seller everyone has been talking about. Beach chairs and hammocks are waiting for you.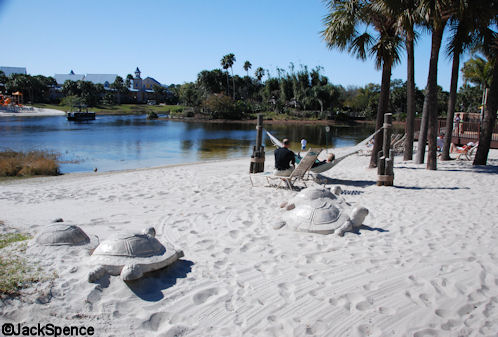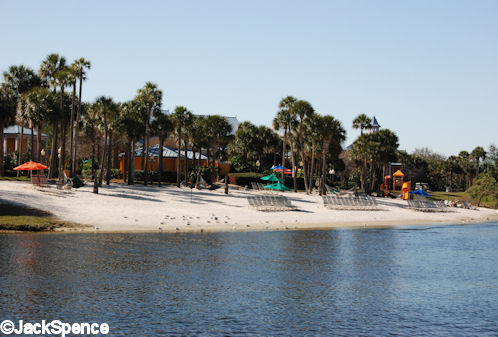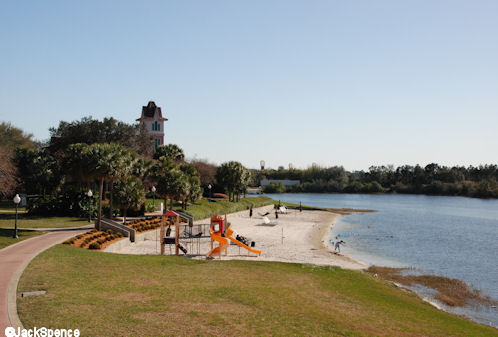 The swimming pool at the Caribbean Beach Resort was completely remodeled a couple of years ago. It now looks like a Spanish fortress guarding some far off tropical harbor. The pool also offers "zero-entrance" for easier access into the water. A separate area for the younger set is nearby. A mock shipwreck and slide is the centerpiece of this play area.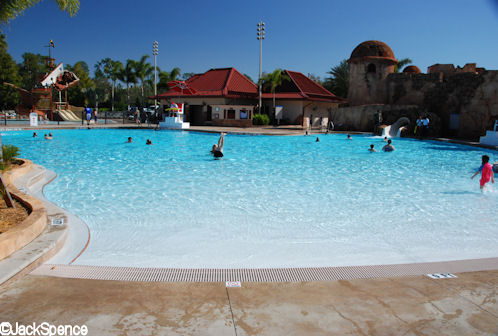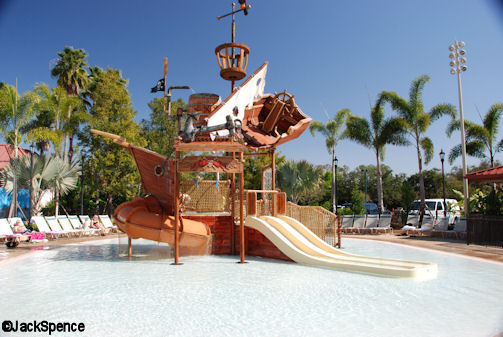 Each village has its own "quiet" pool. Although children are welcome, the area is sedate and meant for relaxing more than splashing. Also nearby each quiet pool is a laundry facility. This way you can sun and swim while taking care of this far from exciting chore.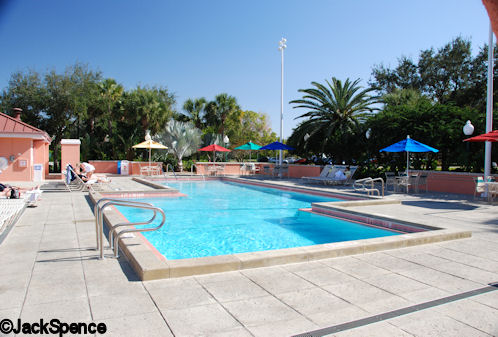 Each village has its own bus stop. It's here that you catch a motor coach to the various theme parks or Downtown Disney. The maximum wait should be no more than 20 minutes – less during busy times.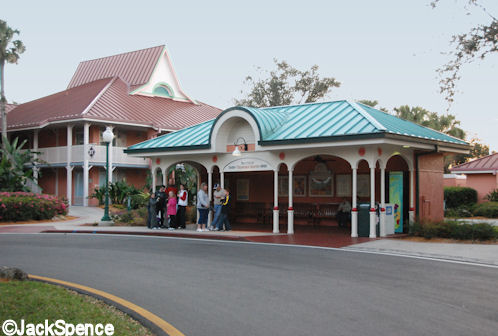 The Caribbean Beach Resort is large. So large that it has its own internal bus that continually circles the resort, stopping at each village and Old Port Royale Centertown. One complaint I've heard about this resort is that the Market Street Food Court is too far away from a number of the villages. If you find that's the case for your family, catching this bus might be the answer.
Here are some general pictures of the resort.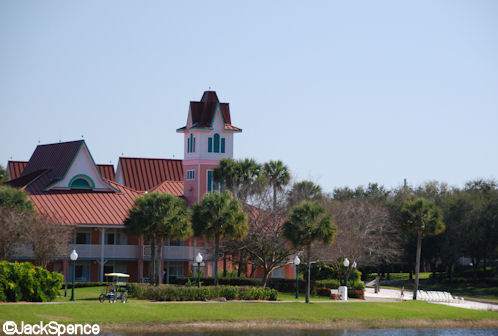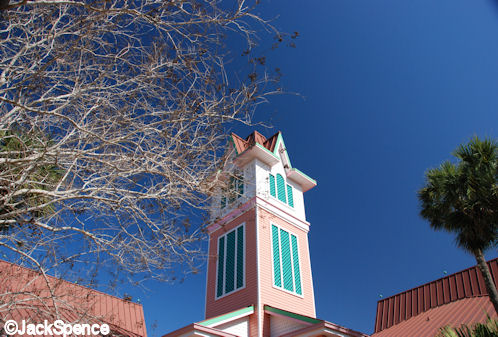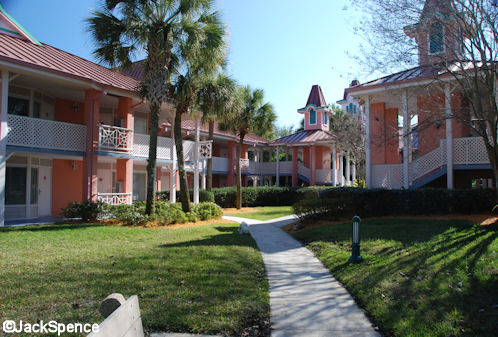 All of the rooms at the Caribbean Beach Resort are completely non-smoking, but a number of pleasant spots have been created for those of you who wish to light up.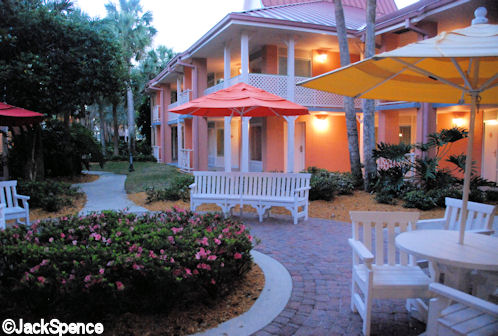 I booked this most recent trip just so I could stay in one of the new "Pirate" rooms. In case you haven't heard, Disney is redecorating a number of the rooms here with a pirate motif. Take a look and see what you think.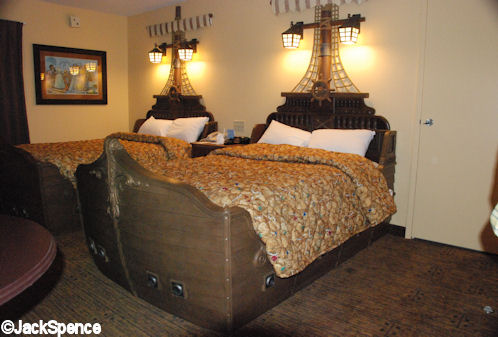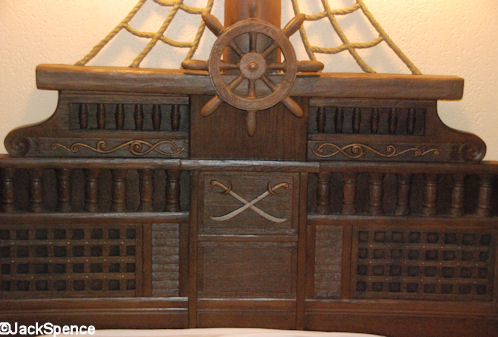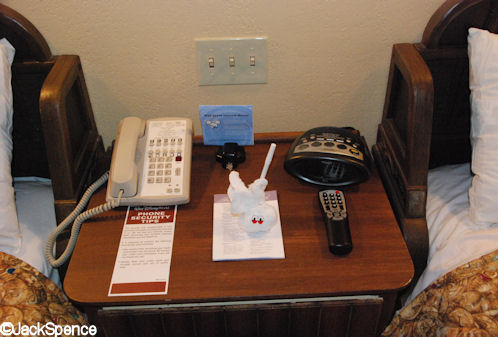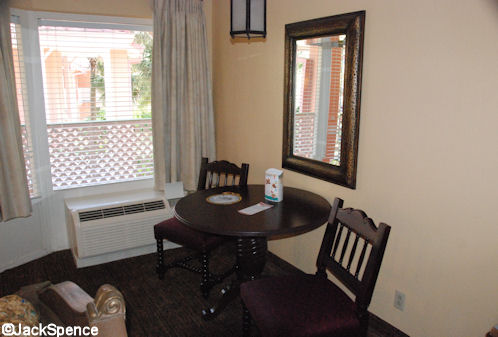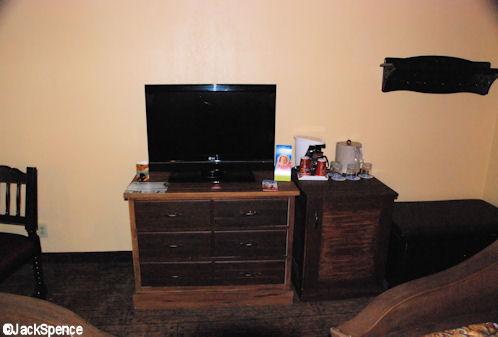 An artist's rendering of one of the new scenes added to the Pirates of the Caribbean attraction hangs on the wall.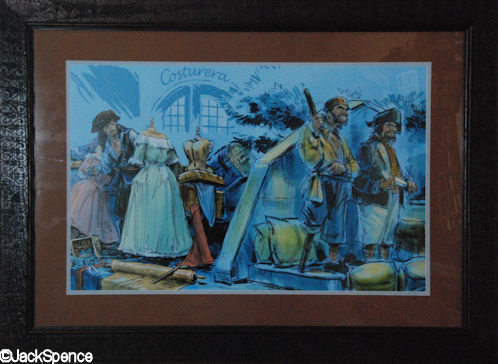 One thing I like is Disney has added a curtain between the lavatory and bedroom. The last time I stayed at a moderately priced Disney resort this was not offered. Now a family can have a little more privacy.
The bedspread design features gold coins and gem stones. The carpet looks like peg-and-groove planking.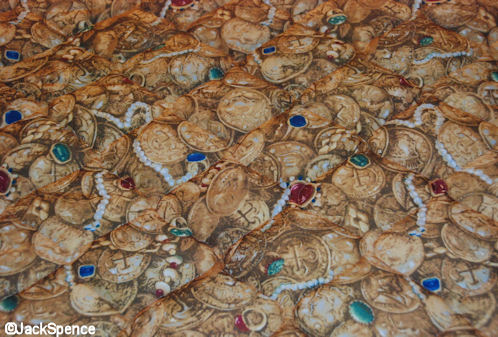 The refrigerator is housed in a wooden chest and extra pillows are available in a trunk.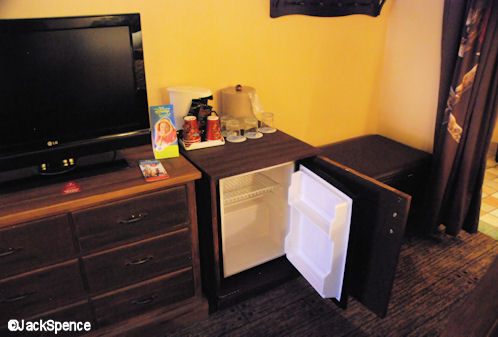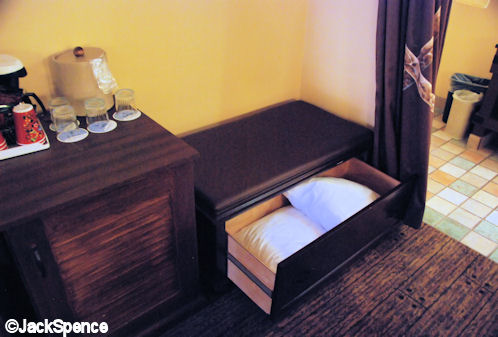 The vanity area is adequate with two sinks and an open closet. Six bath towels were on hand upon arriving. A tiny, key-locking safe, an iron, and ironing board are also available.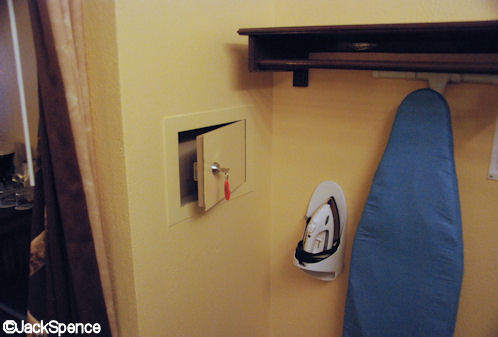 The shower curtain features sailing ships and the Flying Dutchman is etched into the shower wall.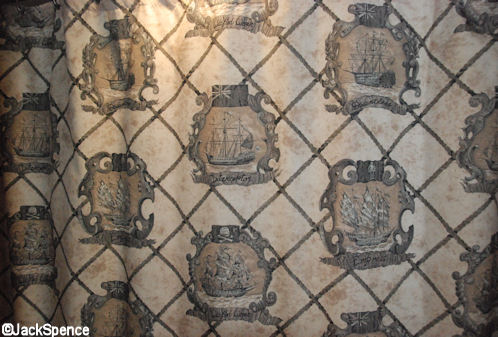 Last year I wrote a review about the Contemporary Resort. In it, I complained that the Mickey branding had all but been removed from the toiletries. I'm happy to report Mickey is back. But note, the plastic wrapping on the soap is so strong, I needed to use my car keys to break it open.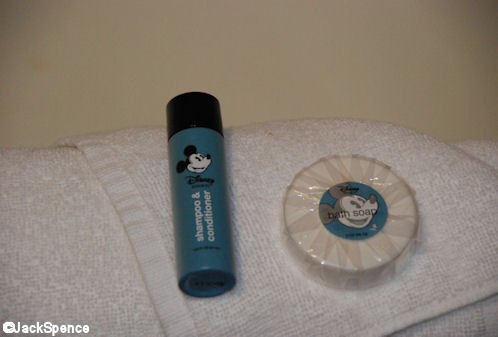 I did enjoy the new pirate theme. It's not too heavy handed, nor is it childlike. I feel Disney created a nice balance that both children and adults can enjoy. But I also must point out a few negatives.
First, if you can only sleep in a pitch-dark room, do not stay at the Caribbean Beach Resort. The way the drapes hang from the curtain rod, it is impossible to cover the windows completely. The windows do have plastic blinds, but light still leaks in. My room was only semi-dark and there was nothing I could do about it.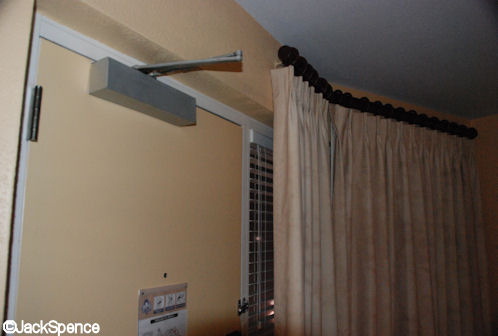 Also offered is a high-speed internet connection. But it is located on the nightstand between the two beds. That's perfect if you wish to recline while working. But if you're like me, I prefer to sit at the room's table. The internet cable will reach that far, but just barely. It was very taut. If anyone were to walk between the table and bed, they will run into the cord and pull your laptop to the floor.
The pirate rooms are a lot of fun, and I would recommend them to anyone with children. But there is an extra charge to stay in one of these fanciful rooms. Check the fact sheet for the Caribbean Beach Resort on Allears.net for current prices.
———————————-
After posting this blog, Allears.net received the following from Jenny Trahan:
We just returned from Caribbean Beach Resort and stayed in a new refurbished Pirates-themed room. Our Mousekeeping supervisor told us that the nightstands, dresser and refrigerator cubby (as pictured in your newly posted photographs) are temporary and that the new furniture has not yet arrived. They will be replaced with items that resemble barrels. No word on when the new furniture will be there.