This is a blog that almost didn't happen. I made an assumption (I know, a dumb thing to do), that what was obvious to me was obvious to everyone else. But when I would mention this upcoming fact to others, they had no idea what I was talking about. So I finally realized that I should share this interesting bit of Disney trivia with the world.
In the Animal Kingdom we find Expedition Everest sitting majestically on the shores of Discovery River. Across the river is a shrine built to pay homage to the mountains and the Yeti.
If you examine the shrine carefully, you can see all sorts of details. Offerings such and fruits and carved animals, incense burners, and chalices are all on hand.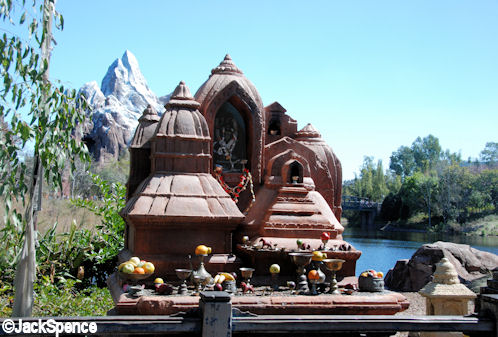 But the real magic of this shrine is in its shape. (Okay, here comes the good part.) If you stand back and position your line-of-sight so that the shrine is situated directly in front of the Himalayans, the temple exactly silhouettes the peaks in the distance.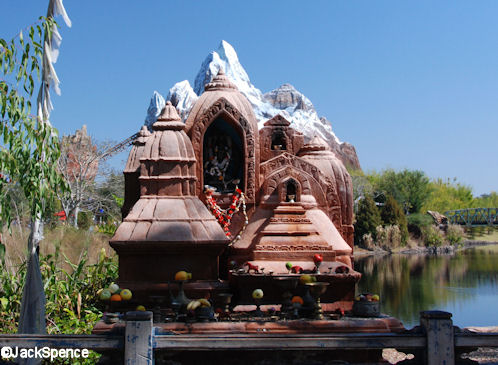 Cool, huh?
By the way"¦ Did you know that the tallest peak in this recreation of the Himalayans is not actually Everest? Everest is the mountain on the right.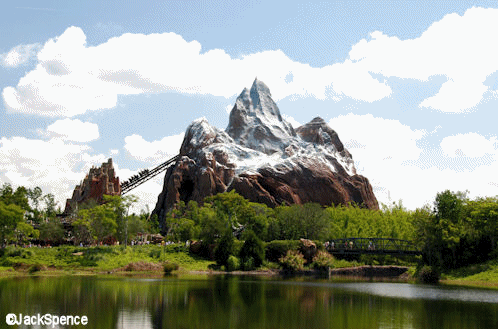 It was the Imagineers desire to create a mountain "range" and decided to put Everest further back to add to the illusion of distance and majesty. And in reality, there is another range of mountains in front of Everest. So it would be correct to see other peaks in the foreground.
—————————-
One of my readers, Rob, shared the following information with me:
The tallest visible peak is the "Forbidden Mountain" (hence the "Legend of the Forbidden Mountain" subtitle in the ride's name), which is guarded by the Yeti. Also note that the tallest peak of the shrine (that matches up with Forbidden Mountain) is the one with the Yeti figure inside.