It's not uncommon for many Orlando visitors to schedule time to visit parks in BOTH Walt Disney World and Universal Orlando Resort.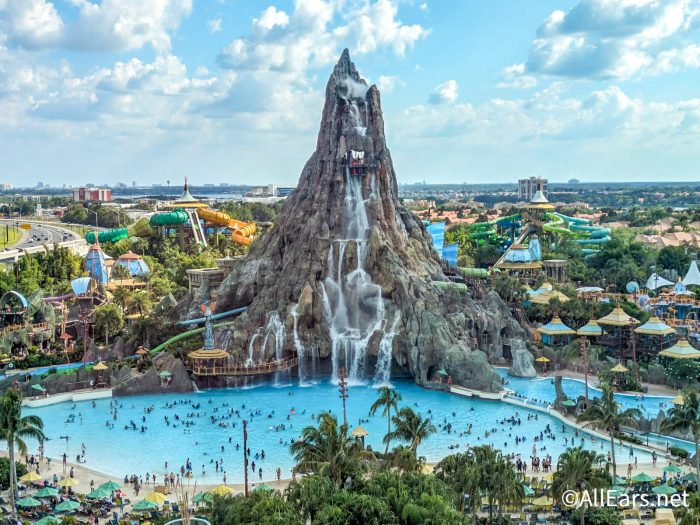 In addition to the major theme parks (Disney World's Magic Kingdom, EPCOT, Animal Kingdom and Hollywood Studios and Universal's Islands of Adventure and Universal Studios), both resorts also have terrific water parks that you can visit throughout the year. Today, we're comparing Disney World's Blizzard Beach Water Park and Universal's Volcano Bay so you can decide where you want to make a SPLASH on your next Orlando vacation!
An Overview of Blizzard Beach and Volcano Bay
Blizzard Beach
We're starting by diving in to Disney World's Blizzard Beach. One of the things that distinguishes Blizzard Beach from other water parks in the area is the fun backstory that goes along with the snow-covered theme.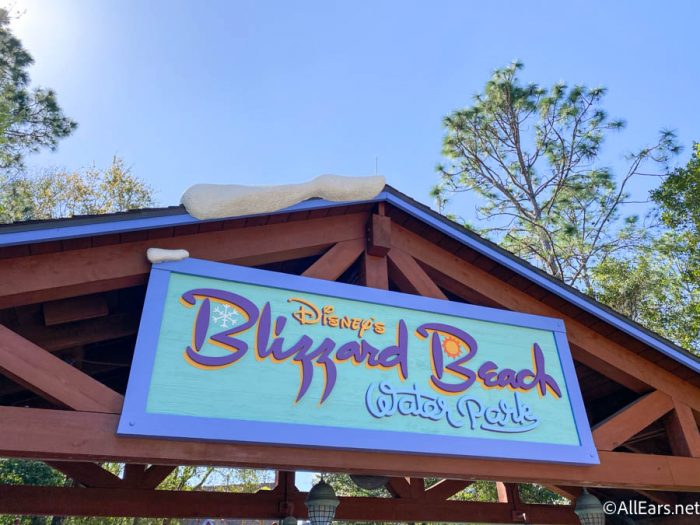 You see, Once Upon a Time 😉 … a truly unprecedented weather event came upon Florida resulting in artic temperatures… complete with a BLIZZARD that covered everything in SNOW!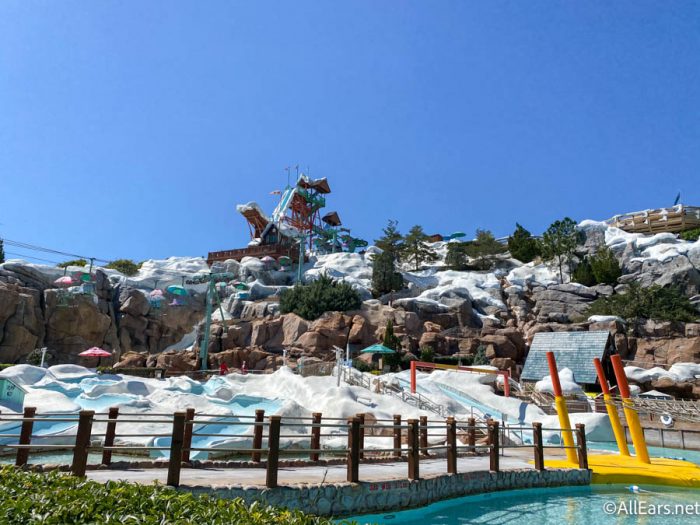 An idea formed to open a ski resort… but the thing is, the snow (as you might anticipate for Florida) didn't last all that long. ;)😉When the weather returned to normal, it seemed it was time to shut things down. But Ice Gator had other plans…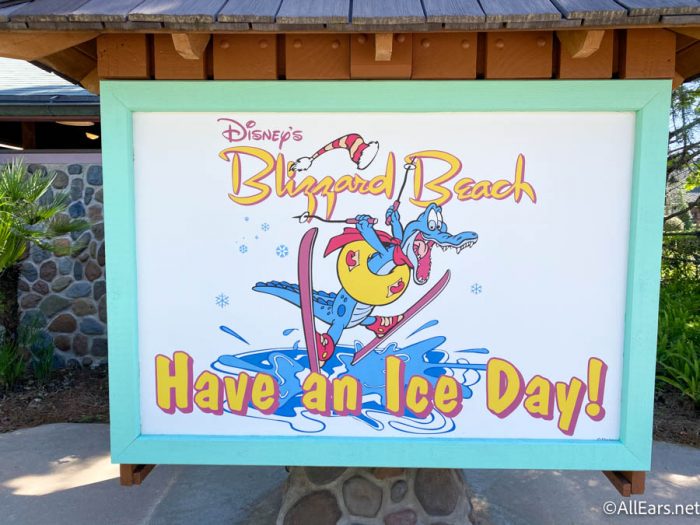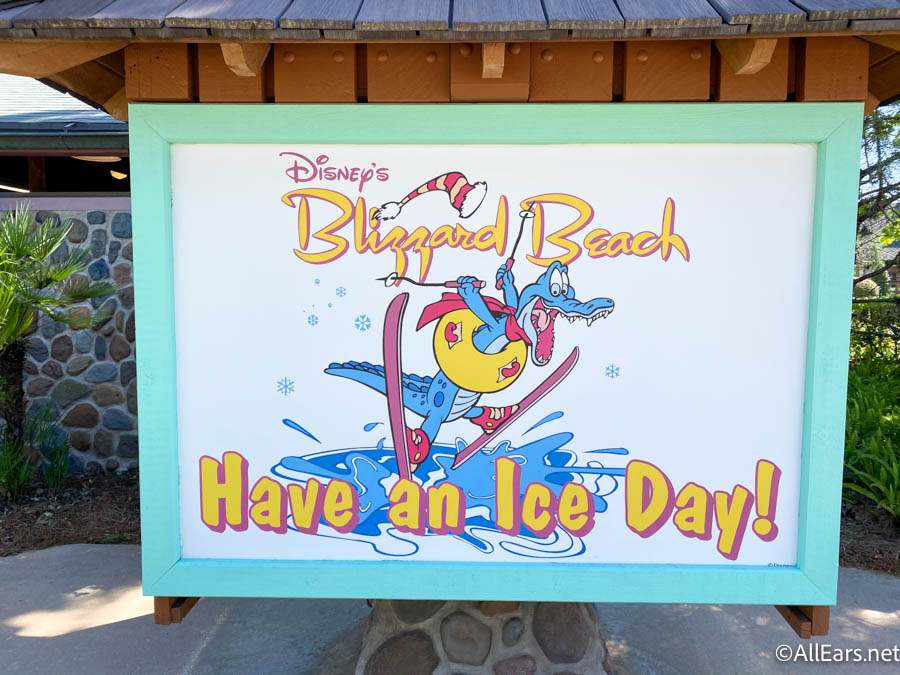 You'll spot images of the park's mascot, Ice Gator (just like the one you see above) in spots around Blizzard Beach. Why? Because he saw the old ski jump and thought it looked like a water slide!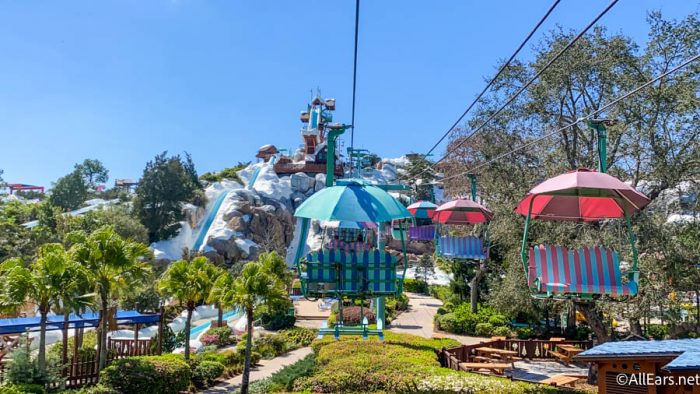 He slid on down and landed in a basin of melted snow and had himself a BLAST. And the rest, as they say, is HISTORY!
Blizzard Beach is divided into three different sections — known as "slopes — as well as the ground level.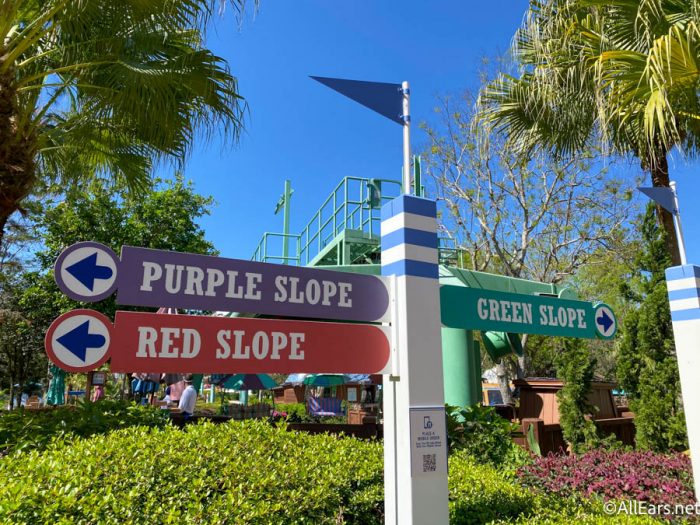 The Purple Slope boasts several waterslides and attractions designed for two participants (or teams of participants) to "race" each other downhill for the big splash.
The Green Slope features some of the park's best-known rides like Summit Plummet (which we'll talk more about a bit later) and the Teamboat Springs group slide.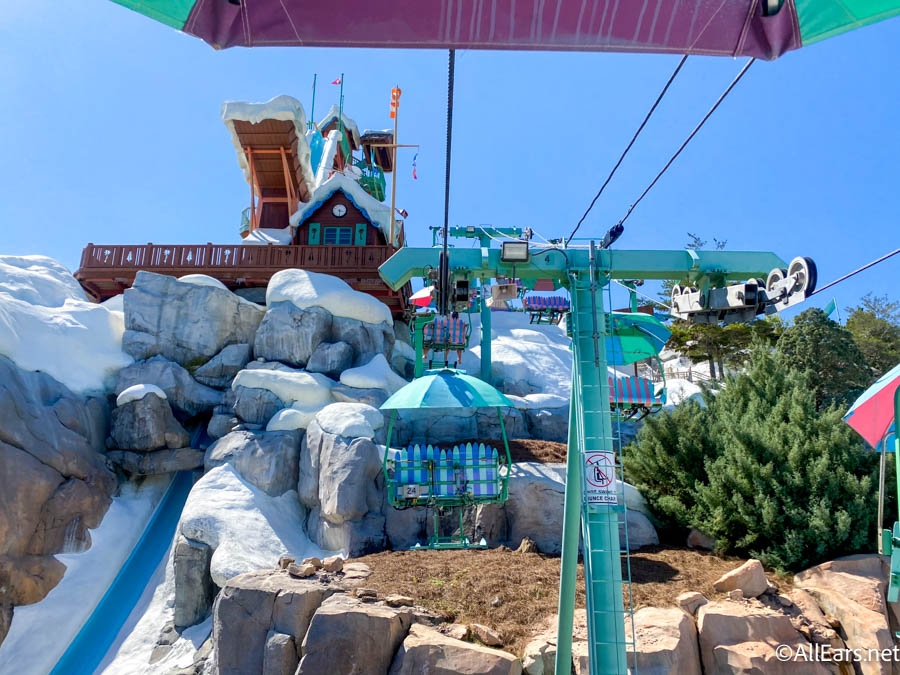 The Red Slope has only one attraction, but it's a BIG ONE: the multi-slide, 600-ft Runoff Rapids!
Volcano Bay
Universal's Volcano Bay opened in 2017 inside Universal Orlando Resort.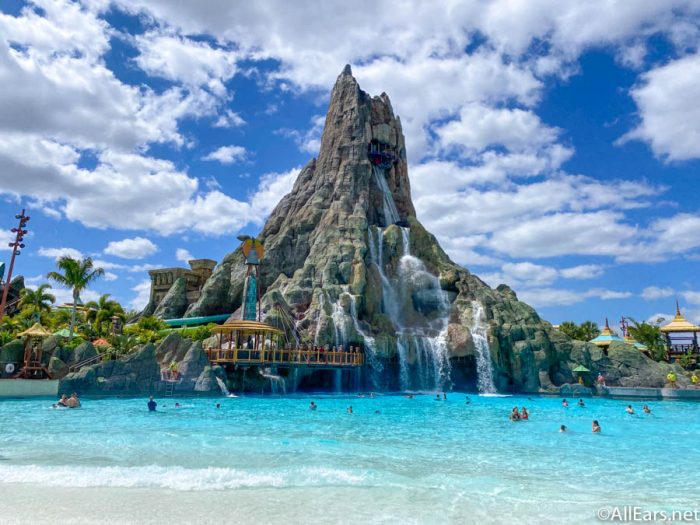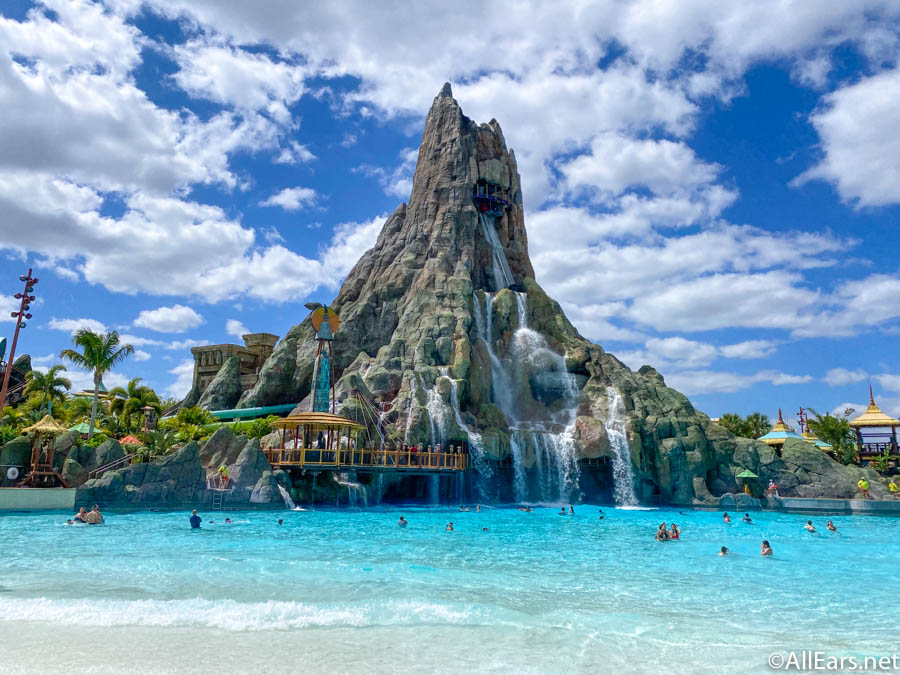 This South Seas-inspired water park features 19 total attractions… including an aqua coaster and 12 water slides!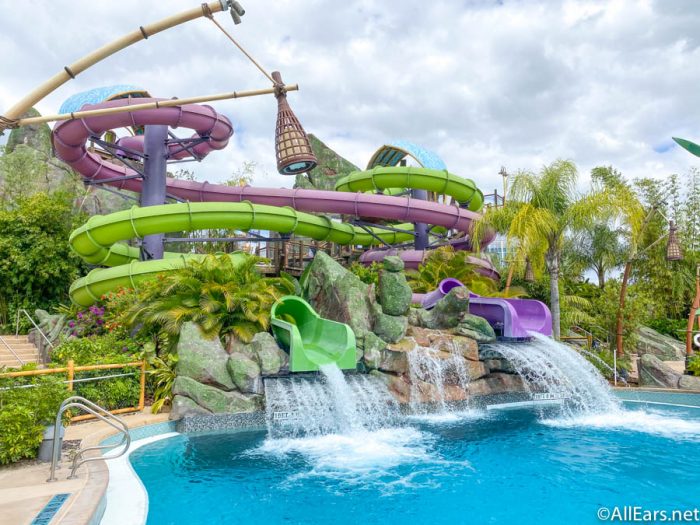 While this park is packed with some pretty intense thrills, it's also home to a relaxing lazy river and other calmer ways to make a splash.
Ticket Prices
Let's talk tickets! Blizzard Beach tickets start at $69.00 for one day for adults and $63.00 for one day for children ages 3 to 9.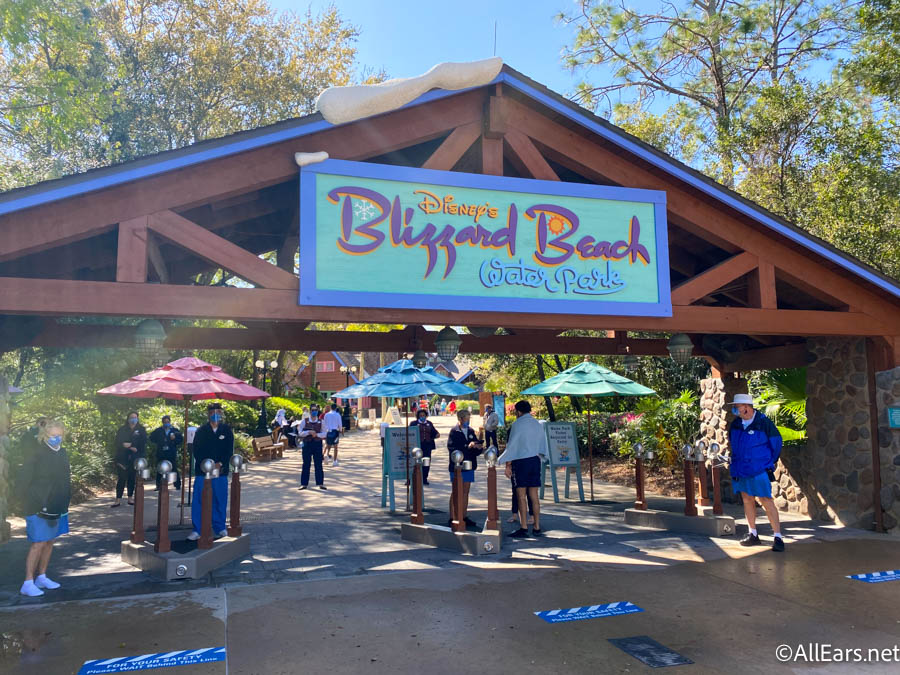 Volcano Bay tickets start at $80.00 for one day for adults, and $75.00 for one day for children ages 3 to 9. (Note that you can get a pre-arrival discount by purchasing online where tickets for adults start at $70.00 per day and tickets for children start at $65.00 per day.)
Breakdown: Water Slides and Other Water Features
If you LOVE water slides, let out a "WOO HOO!" Both Blizzard Beach and Volcano Bay boast a WHOLE BUNCH of 'em!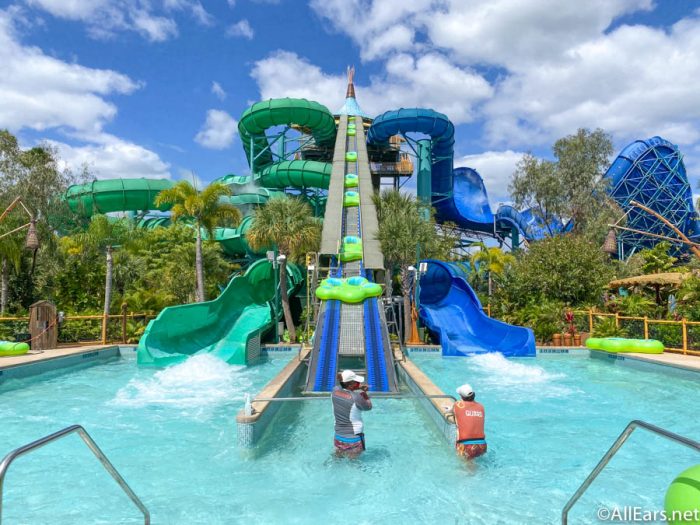 Volcano Bay, as you might anticipate, is similar to the Universal theme parks in that its water attractions in many ways favor more HUGE and thrilling slides.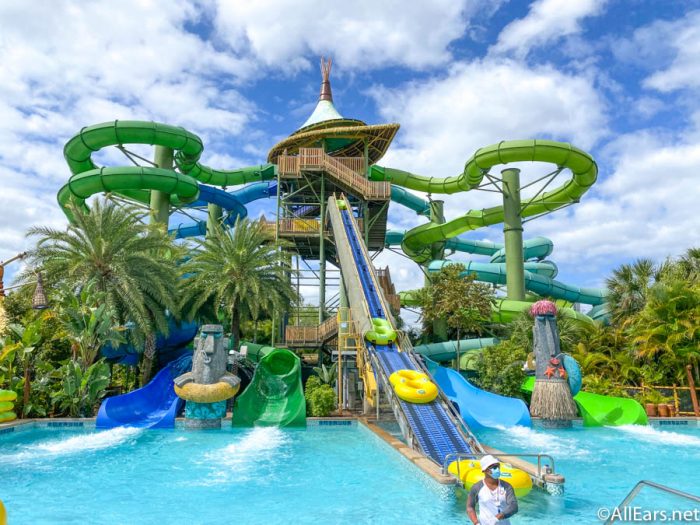 Blizzard Beach certainly offers a few thrills of its own (stay tuned for more on Summit Plummet!), but overall it offers a more relaxing experience.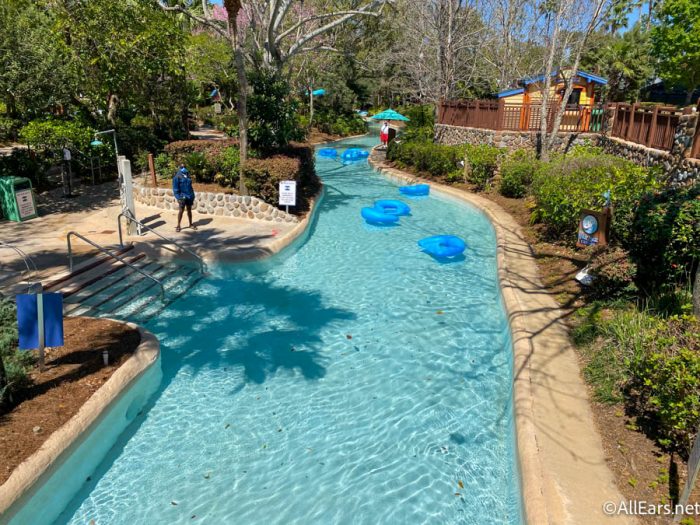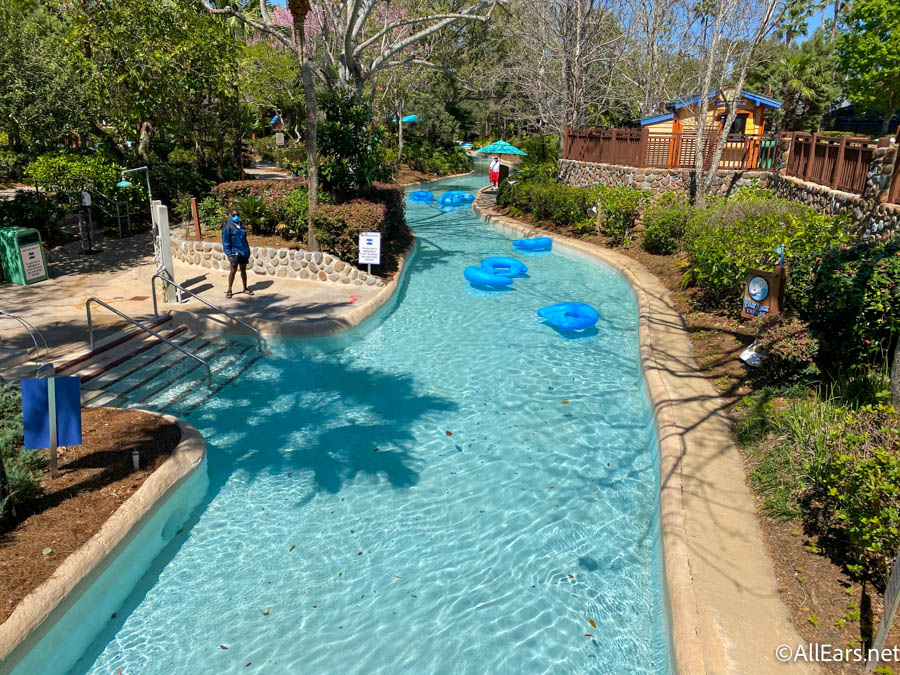 That said, both Volcano Bay and Blizzard Beach have options for guests who are more into chills than thrills.
Blizzard Beach
By the numbers, Blizzard Beach offers:
7 water slides
1 children's splash zone for kiddos under 48 inches tall including small slides (Tike's Peak with a NEW Frozen-theme!)
1 lazy river
1 wave pool
1 chair lift (left over from its days as a ski resort, of course!)
1 interactive water play area for kids with select features only for guests under 5 feet tall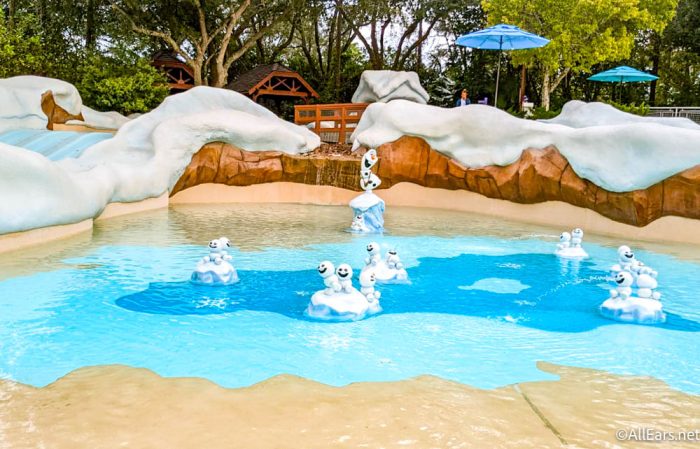 By far, the biggest and most intense thrill at Blizzard Beach is Summit Plummet.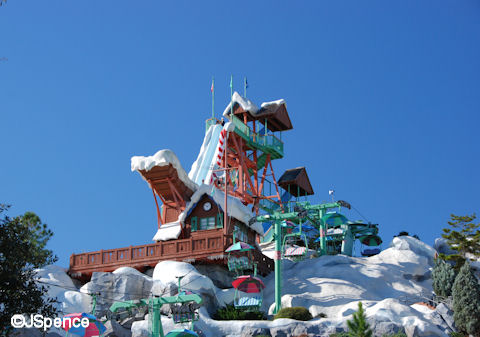 This slide — which is not for the faint of heart — plunges 12 stories almost straight down, zooming through a dark tunnel and ending in a HUGE splash!
Volcano Bay
By the numbers, let's check out the offerings at Volcano Bay:
12 water slides (including Body Plunges AND slides that end DROP-OFF style!)
1 small kids slide
2 children's splash zones
2 lazy rivers
1 wave pool
1 leisure pool
Back to that mention of Body Plunges… Volcano Bay's most intense ride just so happens to the the tallest body slide in America: the Ko'okiri Body Plunge!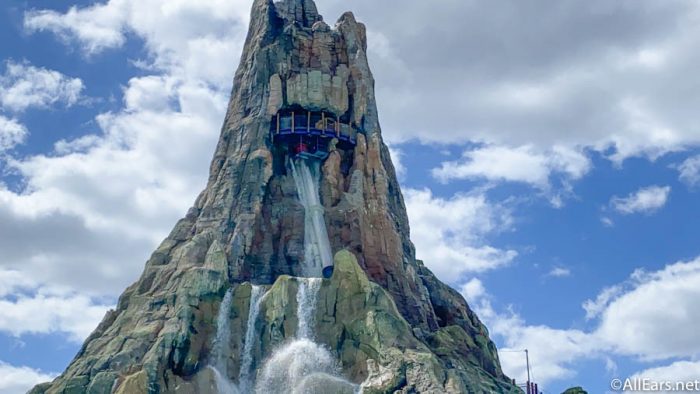 The fall begins through a drop door and is angled at 70 degrees. The 125-foot drop ends with a landing in a splash zone at the bottom of the park's Krakatau Volcano just after passing vertically beneath a pool of swimmers. We've experienced it, and let me tell you: it is NO JOKE, my friends.
There are a few unique logistics to know about Volcano Bay. All the rides at Volcano Bay feature a Virtual Line that changes how you wait.
Simply tap in with your TapuTapu wearable wristband to grab a ride time. (TapuTapu is free, but you return your wristband at the end of the day.) Then go float, swim, splash, eat, shop, or relax around the park. Your TapuTapu will tell you when it's your time to ride!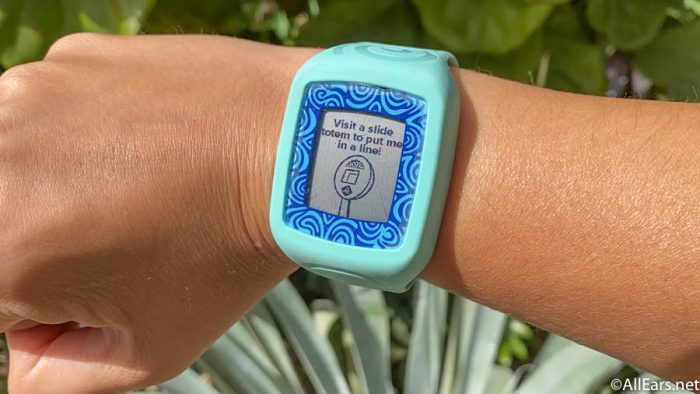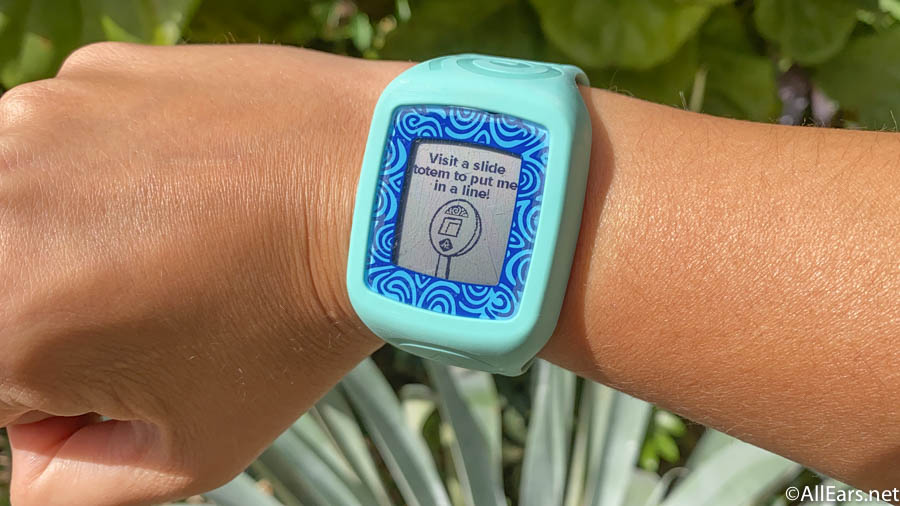 Volcano Bay also offers Universal Express Pass! This allows you to SKIP those waits in the Virtual Lines. Express Pass is an optional add-on for the price of $19.99 per person for the Express Pass (which includes select participating rides), or $39.99 per person for the Express Pass Plus (which includes ALL participating rides).
Food at Blizzard Beach and Volcano Bay
I don't know about you, but nothing makes me quite as hungry as a day of swimming and splashing! Both Blizzard Beach and Volcano Bay offer more than what you might expect from theme park food and drinks.
Blizzard Beach
Sure, you can tide yourself over with a hot dog or hamburger at Blizzard Beach. But you can also sip on beachy cocktails at spots like the Polar Pub, or nosh on dishes like Shrimp and Grits and MUCH more at Lottawatta Lodge or Shrimp Lettuce Wraps at the Warming Hut.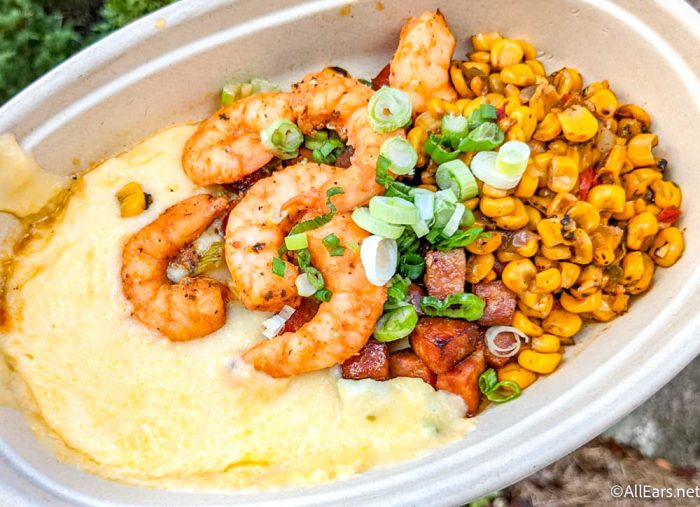 But the MUST-EATS at Blizzard Beach are Mini Donuts served with dipping sauces and the shareable Sand Pail Sundae served in — you guessed it! — a souvenir Sand Pail!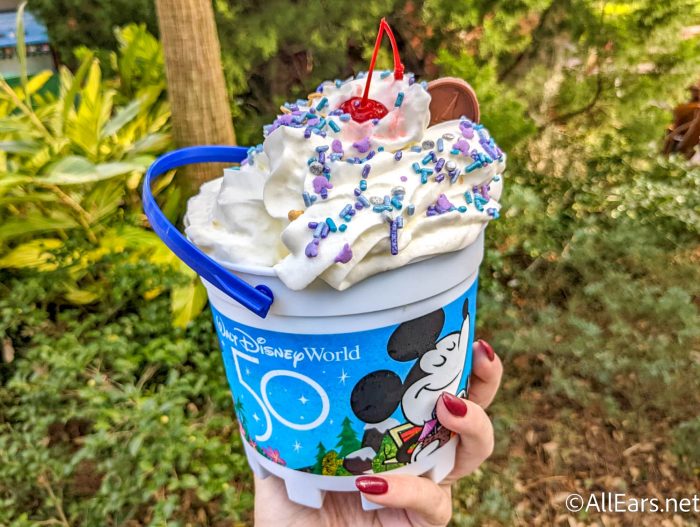 To quench your thirst throughout the whole day, you can purchase a Water Park Refillable Sipper.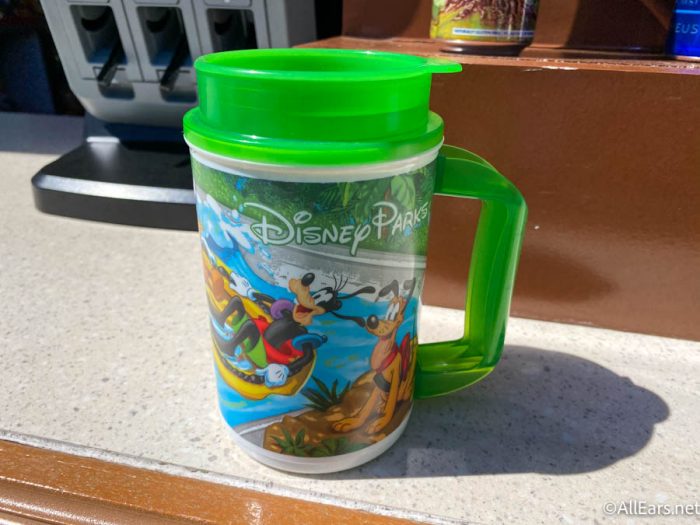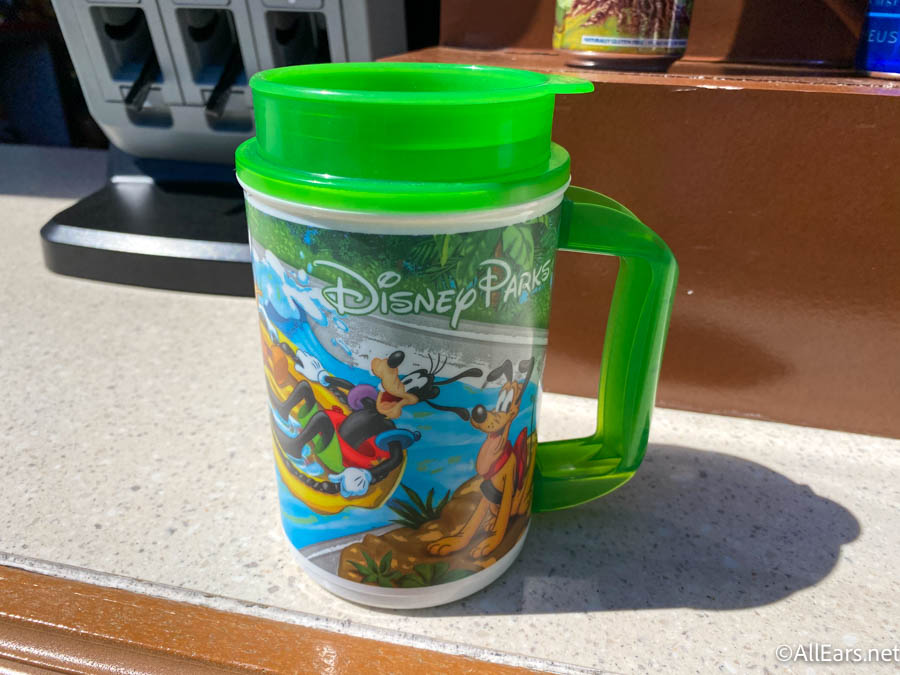 For $12.99, you receive a cup that's eligible for refills at Quick Service locations all over the park for your ENTIRE DAY at Blizzard Beach! (AND you can "recharge" that same mug for a lesser price for refills during an upcoming visit at either Blizzard Beach OR Typhoon Lagoon.)
Volcano Bay
Believe it or not, our very own Emma has shared that she thinks Volcano Bay has some of the best theme park food in Orlando! This is thanks to dishes like Waturi Fusion ice cream and delicious Coconut Fried Chicken. YUM!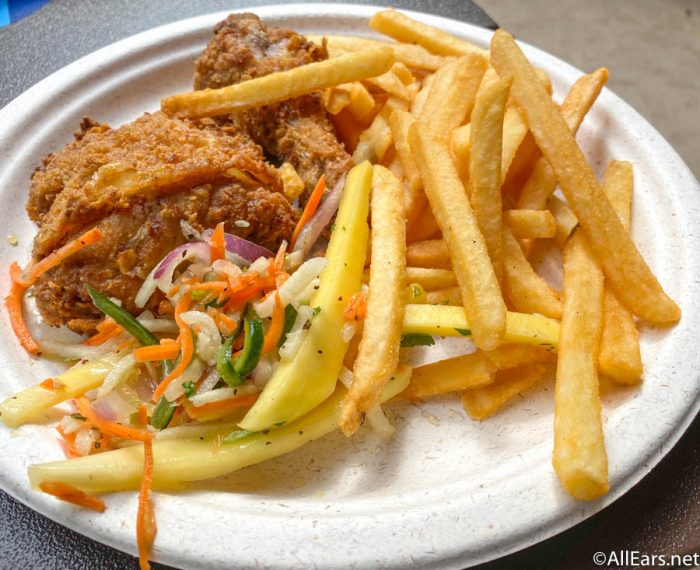 You can also purchase and use the popular Freestyle Cups at Volcano Bay!
These are reusable and you can visit any dining location to re-activate your cup. You can find a Coca-Cola freestyle machine to fill your cup at the following Volcano Bay locations:
Kohola Reef Restaurant and Social Club
Whakawaiwai Eats
Bambu
Group Sales Area
Options for EXTRA Relaxation
At both Blizzard Beach and Volcano Bay, you can enhance your visit with add-on options for an extra fee.
Blizzard Beach
You can reserve a Lodge Umbrella of your own at Blizzard Beach, which includes a beach umbrella, 2 reserved lounge chairs, 2 beach chairs (no searching for an empty seat on the beach!), a drink table, and towels. These can be reserved in advance through My Disney Experience.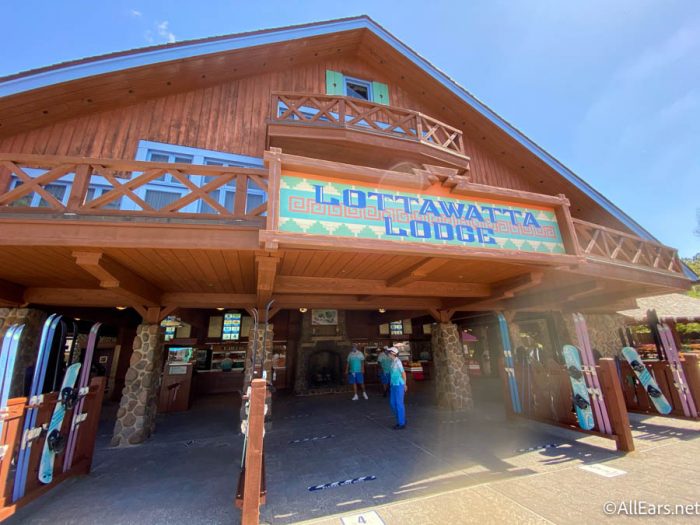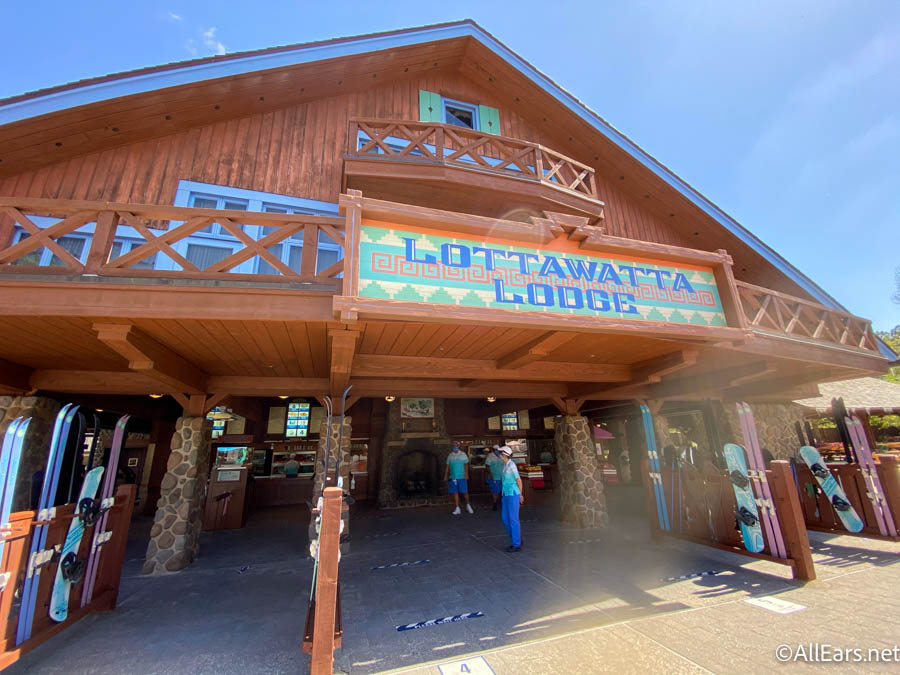 You can also splurge by reserving a Polar Patio. These start at $225 plus tax per day, and a Standard Polar Patio can accommodate up to 10 Guests (with seating for up to 6) and also includes towels, a locker, ice water for the full day, souvenir refillable mugs (as discussed above), and Concierge service with food and drink delivered directly to the cabana! (Food is an extra cost.) Guests can also upgrade to a Premium Polar Patio.
Volcano Bay
Private Cabanas are up for grabs at Volcano Bay, too! Guests may reserve a Single or Family Cabana which includes padded lounge chairs, a small refrigerator stocked with bottled water, a complimentary fruit and snack basket, and towel and locker service, plus Concierge service with an exclusive menu of food and drink delivered directly to the cabana. Pricing info and Cabana booking is available by calling 1-877-801-9720.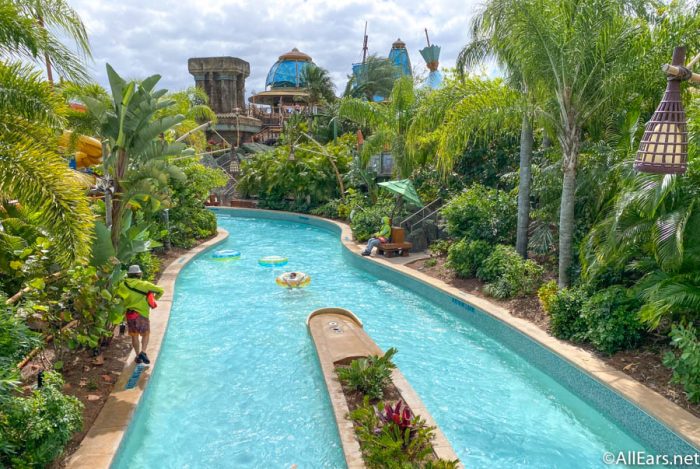 Premium Seating is also available at Volcano Bay. (That means no worrying about finding a chair thanks to your comfy premium seat!) Pricing information and booking is available by calling (877) 489-8068.
Which Water Park Should YOU Choose?
It's a common perception that water parks are all the same, but I think we can agree that Volcano Bay and Blizzard Beach offer two very distinct experiences.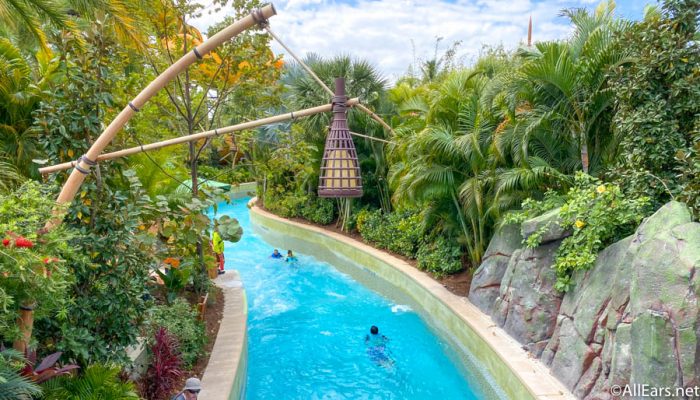 Volcano Bay is newer and features more attractions, including bigger waterslides. It does have a price tag to match, with tickets that'll cost more on busy days. You'll also have the option to purchase a line-skipping pass (the Express Pass), which is not required but can save you time waiting in Virtual Lines. (Though the Virtual Lines are a pretty sweet option on their own, as you can relax, splash, and dine around the park while you wait.)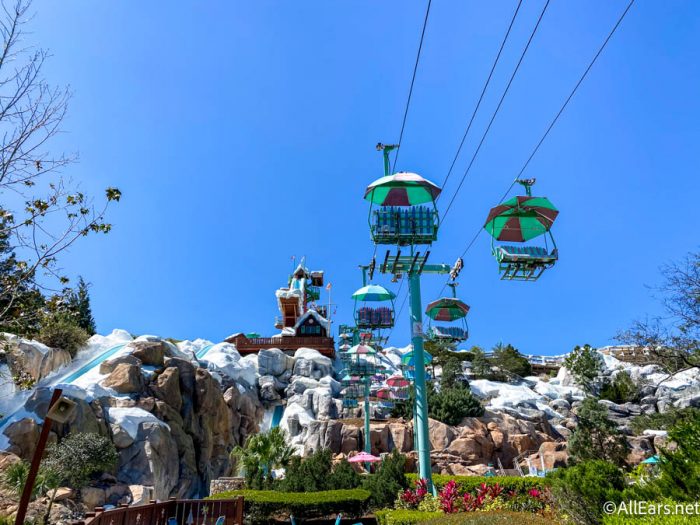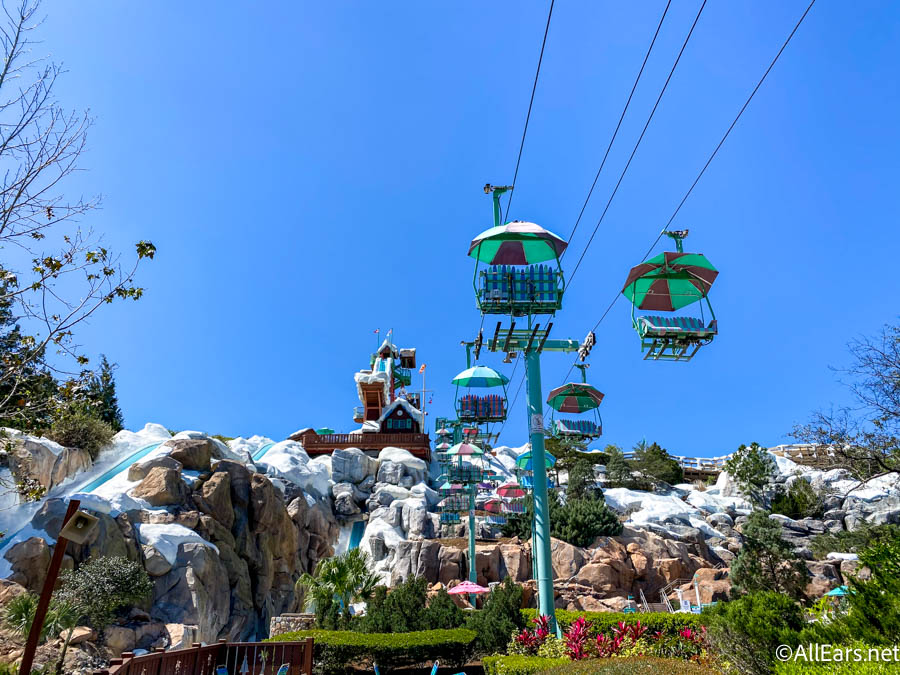 Blizzard Beach, while offering less in the way of thrills (with the exception of Summit Plummet) offers the more immersive experience by far, thanks to its unique and totally immersive theme. There is not a single ride at Blizzard Beach that does not somehow tie into its foundational story. And the recently rethemed Frozen splash zone is particularly fun for younger kids.
That said, the story behind Blizzard Beach may not appeal to you. If you're in Florida to soak in some serious sun after (or during) a long winter and you love that feel of a tropical getaway, being reminded of snow and ski lifts at every turn maaaay be less of what you're after. 😉
Whichever one you choose, you're sure to enjoy the cold water while catching those warm rays and riding those sparkling waves at these super fun Central Florida water parks!
So, the question is… who do YOU think does water parks better? Disney World or Universal?