There is an "Arrival and Departure" bulletin board on the ground floor of the Main Street Train Station.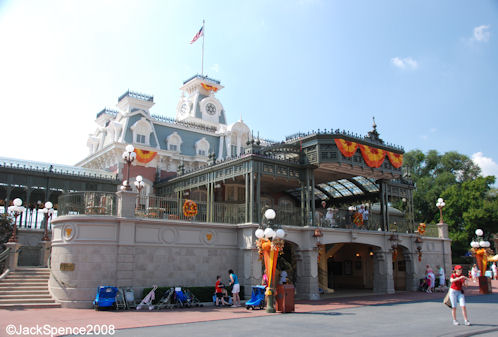 The locations depicted are not just random names, but have meaning.
Here they are: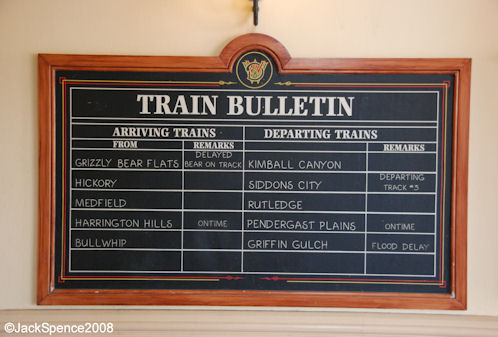 Grizzle Bear Flats:
The Grizzly Flats Railroad was the name of Ward Kimball's backyard railroad.
Kimball Canyon:
Animator Ward Kimball was one of the "Nine Old Men" and worked on such classics as "Pinocchio," "Dumbo," and the "Three Caballeros."
Hickory:
Hickory is the town depicted in the Disney movie, "Follow Me Boys" released in theaters on December 1, 1966.
Siddons City:
Lemuel Siddons was the character played by Fred MacMurray in the movie "Follow Me Boys."
Medfield:
Medfield College was the setting for a number of Disney movies including "The Absent Minded Professor," "Son of Flubber," and "The Computer Wore Tennis Shoes."
Rutledge:
Rutledge College was the rival school of Medfield College.
Harrington Hills:
Harrington was the town depicted in the Disney movie "Pollyanna," released in theaters on May 19, 1960.
Pendergast Plains:
Adolphe Menjou played the villain, Mr. Pendergast in the movie "Pollyanna."
Bullwhip:
From the Disney movie, "The Adventures of Bullwhip Griffin" starring Bryan Russell, Roddy McDowall, Suzanne Pleshette, and Karl Malden. It was released on March 3, 1967.
Griffin Gulch:
See above.
I was able to figure out most of these entries on my own, but Harrington Hills and Pendergast Plains had me stumped. While researching these names, I came across the following web-site:
http://www.2719hyperion.com/2006/11/deciphering-train-bulletin.html
I found that someone had already beaten me to the punch on this blog, but I felt it could be recycled.