What's wrong with this picture?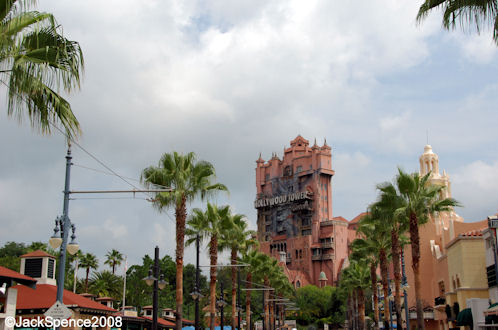 Come on. Look closely. You can figure it out.
No? Then take a closer look – specifically, the Tower of Terror. What's wrong with it?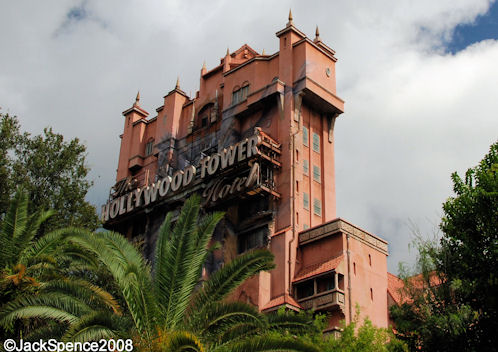 The Imagineers do an excellent job when detailing a restaurant, shop, or attraction. They never miss a trick. But this one slipped past them.
Take a look at this billboard located on Sunset Blvd. advertising the hotel and see if you can figure out the mistake.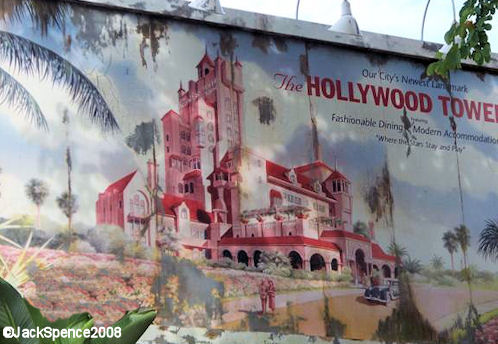 Where's the "Hollywood Tower Hotel" sign? If you look VERY closely, you can see it perched ABOVE the hotel wings. The same is true in the preshow movie narrated by Rod Serling. But in reality, the sign is much lower on the building.
When you look at the actual building, the sign would have been destroyed along with the wings when the lightning struck. Not only that, the sign is placed almost against the building. If the wings were still intact, the sign would be buried within them.
I don't know at what point Disney realized their mistake, but they did correct it on the Tower of Terrors in California and Paris (identical buildings). On these structures the "Hollywood Tower Hotel" sign is placed above the wings.
At Tokyo DisneySea the storyline is completely different and there are no wings. In fact, the hotel's name does not appear on the building as it does on its three cousins.
But let's not beat up on the Imagineers too much. They took great care when designing Disney World's Tower of Terror so it would fit into Epcot.
What does he mean, fit into Epcot?
When approaching the bridge that leads to Mexico in World Showcase, look across the lagoon toward Morocco. In the background, the Tower of Terror is plainly seen beside the minaret. It blends in quite nicely, thus not destroying the Moroccan theming (unlike the Swan and Dolphin behind Canada and the UK).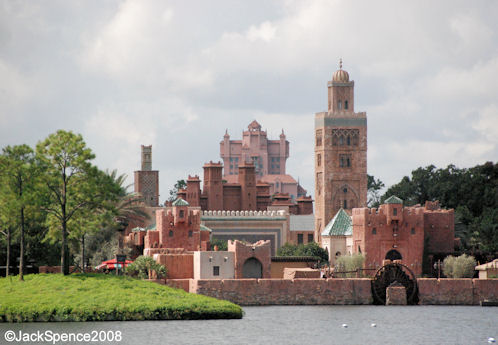 Disney World's Tower was given a Moorish feel and painted a color that was not completely accurate to 1930's Hollywood just so it would blend into the background when viewed from Epcot.