Usually, I try to keep my blogs informational rather than personal, but today I'm going to share a pleasant day I had with one of my readers.
While writing my blogs about the Tokyo Disney Resort, I received an email from a gentleman in Japan. He introduced himself as Katsumi and told me that he was enjoying my descriptions of Tokyo DisneySea. He went on to say that he's a big Disney fan and has an annual pass to the Tokyo parks and tries to visit them as often as time allows. In addition, he makes a trip to Walt Disney World once a year and was planning his next trip in early September.
We corresponded over the next several weeks and a friendship grew between us. Eventually, we agreed to meet at the Japan Pavilion in Epcot on his next visit to the U.S. When the big day arrived, I was there early (I'm always early) waiting to meet my new friend. At the precise meeting time, Katsumi and his traveling companion, Daisuke, arrived. They said "Good afternoon" and I said, "Konnichiwa" which means good afternoon or hello.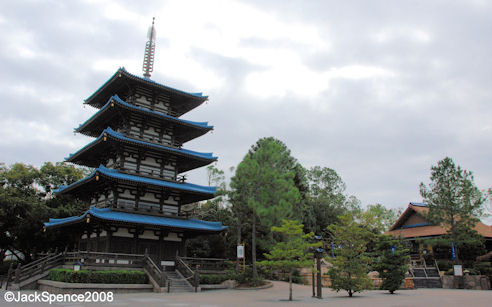 I was already impressed by Katsumi's command of the English language when exchanging emails, but his spoken English was also extremely good. Daisuke was able to understand much of what I had to say, but spoke very little English.
Daisuke once worked at Tokyo Disneyland and his love for Disney parks is as great or greater than Katsumi. He too has an annual pass to the Tokyo parks and visits frequently.
At Katsumi's suggestion, I made reservations for us to have lunch at the Tokyo Dining Restaurant. When we entered the restaurant, the Japanese cast members immediately spotted Katsumi and Daisuke as fellow countrymen. They chatted briefly in Japanese then we took a seat in the lobby, waiting for the restaurant to open at twelve o'clock.
A few minutes before noon, about twenty Japanese cast members lined up in two rows in front of those of us waiting to be seated. A welcoming speech was made and then all twenty cast members bowed deeply. It's a wonderful ritual that most guests miss. Only those arriving before twelve for lunch at Tokyo Dining or Teppan Edo get to experience this presentation.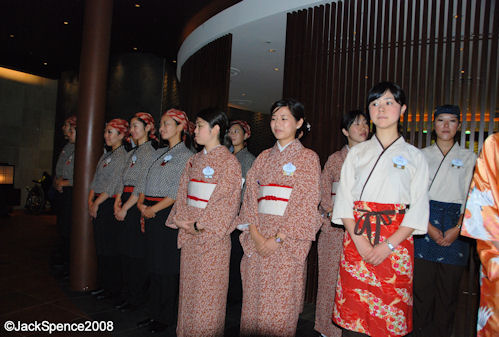 After the ceremony was over, Katsumi leaned over to me and said that several of the cast members were embarrassed performing this ritual in front of other Japanese. It seems that this opening "show" is only performed in some of the nicer department stores, but never in a restaurant. I assured him that it brought smiles to us non-Japanese.
We were seated at a window table and had a lovely view of the World Showcase Lagoon. Our waitress soon arrived and briefly chatted with Katsumi and Daisuke. Then she asked me if I spoke Japanese. I said "sukoshi" which means "a little." They all smiled.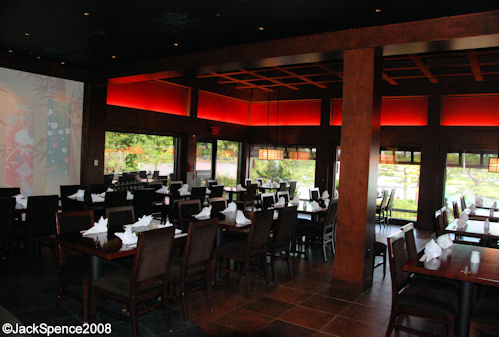 We ordered our lunch and then Katsumi and Daisuke presented me with gifts – which is a Japanese custom. Daisuke gave me a paddle with Minnie Mouse dressed in a kimono placed upon it. I was told that this paddle was used in some sort of a children's game. I didn't completely understand how the game was played, but graciously accepted it. Katsumi gave me a plate with a picture of the new Tokyo Disneyland Hotel imprinted on it. It was lovely. I informed them that my home is decorated in Disney and their gifts would fit right in.
Knowing that they have only been to the Florida and Tokyo Disney parks, I gave them some Disney guide maps from Paris and Hong Kong and a CD I had made with some difficult to find Disney music.
Our waitress arrived a few moments later and offered me a fork – she knew Katsumi and Daisuke didn't need them. I thanked her and declined, telling her that I knew how to use hashi (chopsticks).
This was my first visit to the Tokyo Dining Restaurant. I ordered the Shrimp and Chicken Tempura and was very please. The cost was $18.50, which is a lot for a midday meal, but the large portion justified the price. I noticed that Katsumi and Daisuke also ordered the same selection. I wasn't sure if this was a polite gesture or if this was something they intended to order anyway.
We briefly discussed the Yakitori House Restaurant across the way. They told me that the Shogun Combination (which I always order) has been "Americanized." For something more authentic, they suggested I try the Japanese Curry, which I will on my next visit.
Throughout our meal, we shared stories about the Japanese and American parks. It was so wonderful to see Disney World through a foreigner's eyes. And it was fantastic to share trivia with them that would be difficult to garner if you didn't live here. I think we all learned a lot from each other.
After lunch, we shopped for a while then I asked them if they would be interested in seeing where I lived. They hesitated for a moment, not wanting to be pushy or rude, but I could see in their faces that they were interested. After a little coaxing from me, they agreed.
As I mentioned earlier, my house is decorated in Disney. I like to think tastefully, but there's no mistaking my love for the theme parks when you enter my home. After giving Katsumi and Daisuke a tour, they told me they were overwhelmed. They said visiting my house was like visiting the "resort." I smiled and thanked them. Fortunately, I had a number of Japanese souvenirs that I had purchased on previous vacations that I could proudly show them.
With the tour complete, I drove them back to Downtown Disney as they were planning on doing some more shopping and then have dinner at the Rainforest Café. As we said goodbye, I thanked them for giving me a day I would never forget. I have no doubt that I will see them both next year when they return to Florida and I will visit with them on my next trip to Tokyo.
Thank you Katsumi and Daisuke.