I used to live in San Francisco. My apartment was within easy walking distance of Ghirardelli Square. Occasionally I would take the cable car home from work and stop by Ghirardelli for an ice cream cone before heading home. Or walk over on a foggy Sunday morning for a steaming cup of hot chocolate. I have very pleasant memories of this place and this is definitely a "must see" location for tourists visiting The City.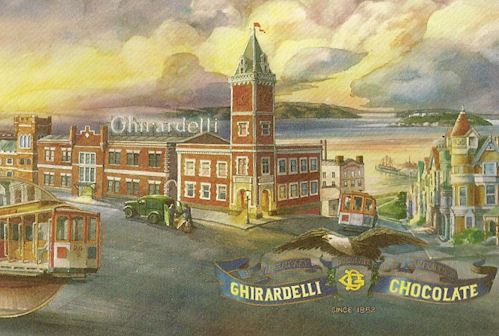 When I moved to Orlando I was happy that I wouldn't have to go without these wonderful taste sensations, for located at Downtown Disney Marketplace is a branch store. Although not as extensive as their San Francisco site, you can still delight in their marvelous chocolate.
But before we discuss this shop, we need to talk about pronunciation. It's "Gear-ar-delly" NOT "Jeer-a-delly." It's a hard "G" NOT a soft "G." Don't believe me? Check out the sign on the side of their building. Many people have trouble with this name.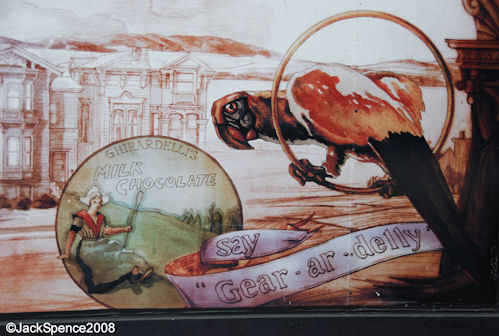 The Ghirardelli building is divided into two sections, each with its own entrance. The smaller section is a shop that's devoted to selling chocolate in all forms.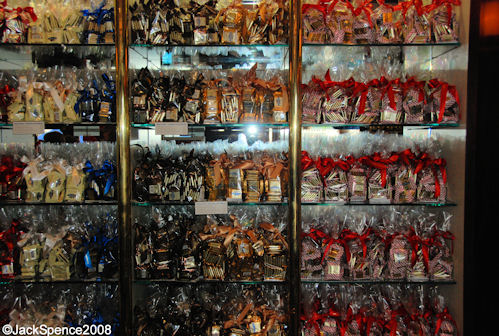 A host or hostess is usually on hand to pass out samples. I always stop by, even when making a mad dash through the area, for a freebee.
Ghirardelli is one of the few American manufacturers to oversee their chocolate making process from cocoa bean through to the finished product. They reject up to 40% of the beans they're offered in order to assure that only the best are used in their product. They roast their beans in-house and remove the shells first to insure better temperature control. And finally, they grind their chocolate to 19 microns (a human hair is 100 microns in diameter) to ensure there is no grainy feel in their product.
Yum!
The larger half of the store is devoted to ice cream. Luscious ice cream. In my opinion, some of the best ice cream you'll find anywhere.
This section was recently remodeled and I feel that the new arrangement facilitates better crowd control. Yes, there are still lines on a hot afternoon, but they seem move more quickly.
Once you've ordered your Hot Fudge Sundae, Banana Split, or other tempting decadence, you are given a number to be placed on your table so your server can find you later.
When the weather is hot, the indoor seating area fills up quickly.
Outdoors, you'll find a covered seating area along the side of the building. When the weather is nice, this is an especially pleasant spot to sit and enjoy your dessert.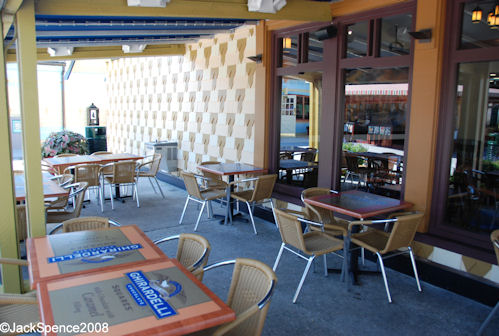 The tables have also been redesigned to look like Ghirardelli chocolate wrappers.
Additional seating is available across the promenade under Ghirardelli umbrellas.
Please remember to tip the host or hostess who brings you your ice cream. The way this entire operation is arranged, it's easy to forget that these folks are serving you to some degree.
For more information about Ghirardelli, check out their web-site. You can order many of their products online.
http://www.ghirardelli.com/