Monday May 12, 2008
Port of Call: SEA
Weather: Hot and Humid
Ah…… Sea Days! One of the best parts of cruising and we have 2 in a row. We were up around 6 and had just missed the sunrise. Room service coffee came quickly and I logged in and Linda is on the couch reading.
Before I tell you about today, I must tell you about the surprise I had on Embarkation Day. During the sail away party, someone tapped me on the shoulder. I turned around to find my dear friend Deb Grandon who I had not seen or talked to in, well, way too long! Her daughter Kelly is all grown up now. They all looked WONDERFUL…oops, I guess I should MAGICal.
Also, another update! Apparently Donnie Osmond was the originally scheduled special entertainer, but he has canceled and we will see Joey Fatone instead. No offense Joey, but I would have LOVED to see Donnie! Oh Well!
The Concierge held a reception at 10:30 in Sessions. Our wonderful concierge team invited me to bring along some of my traveling party, so Ann, George, Beci and Chris accompanied me.
Here's Ann and George waiting for us in the lobby.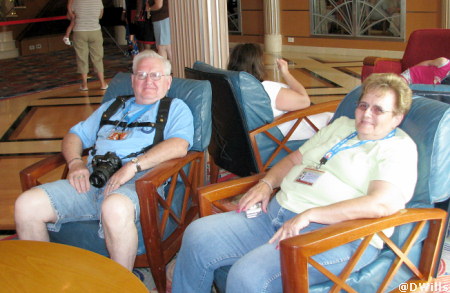 WOW! I guess because I had no expectations…but there was quite a nice continentel breakfast spread, including some awesome berries!!!!!
Shortly after arriving, our special guest arrived. Everyone was surprised and we had great fun watching her with the kids.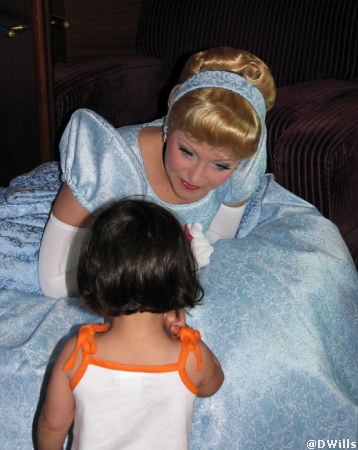 Linda spent the morning at the Rainforest in the Spa.
We regrouped in the cabin and Beci, Chris, Linda and I went to the 12:30 showing of National Treasure 2! It was great!!!!!
The afternoon flew by and soon I was back in the cabin for a late afternoon nap 🙂
Tonight is formal night and not only did the passengers dress up,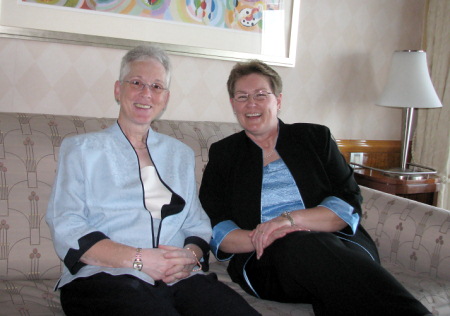 but so did the characters.
The evening show, Golden Mickeys, was as great as always.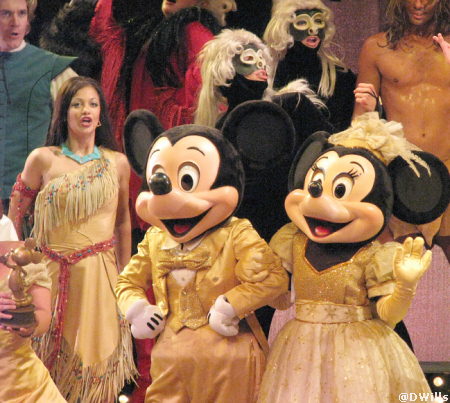 Tomorrow….a SEA DAY!!
Are you on the cruise with us? Are you blogging? Send me your link!
Thanks for the email about this blog, keep it coming!
Follow my Panama Canal Cruise Blogs. Beginning entries at the top, for most recent entries scroll down.
Follow our journey on the DIsney Magic. The call sign is C6PT7
This link will show you in red dots where the Magic is. You can use the ZOOM in and out feature to get a better idea of where the ship is.
To see all cruise ships sailing click here. Then you can click on any area of the map to get a closer view.
Deb and Linda