Today we visit Villefranche, France, our last port of call on this incredible journey.
Arrive: 8:00am
Depart: 11:30pm
This morning I finally caught the sunrise and it was spectacular!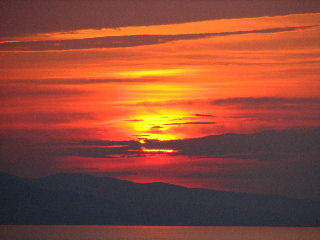 If you've been reading since the beginning, you know that we really wanted to book one tour over all others, the Convertible car tour of the Cote d' Azur (French Rivera). We tried at 3am to book at the first opportunity and it was not available.
We waited until a couple weeks prior to leaving for the cruise and finally decided to join some of our travel mates on the Monaco, Monte Carlo and Eze excursion. Once we boarded the Magic, Linda asked if I thought we'd have any luck going to the Excursion desk to see about the car tour. I said, the worse that would happen is we wouldn't get it.
So, she spoke with the folks there and they said they would email the company and see what they could do.
Lo and behold three nights ago, we had a phone message that a car WAS available for us on the tour. We were SO excited. Our friends Rob and Keith had already gotten on the tour, so we called to share the great news. A couple days later, Sandy and Sharon, who we are traveling with, also were able to score a car.
We sat this morning in Sessions Lounge anxiously awaiting our call to tender and get the cars! At this point, things got very frustrating and confusing. The excursion description led us to believe that a car would be assigned to us. So, when we got to the area with the cars, most of us just stood there looking. We then realized folks were picking out the car they wanted…and it was a bit of a frenzy. The tour company was not very organized, and we kept getting bits and pieces of information. Linda jumped in front of the red BMW convertible and announced it as hers! Sandy and Sharon were left with an old antique car, model unknown. It was later dubbed the Cruella deVille car. They were really psyched. Sadly, the excitement for them ended here. Their car kept stalling and the gas tank read empty. One of the tour agents kept saying we wouldn't need a lot of gas, but empty was empty. Then he tried to say the fuel gage was broken, but what good would that do on unfamiliar roadways.
Several other cars, including ours, only had ¼ tank of gas. We expected full tanks, or at least half a tank. Also the excursion description said we would be given 2 routes we could follow. Well, there may have been two in the booklet, but there were NO maps and we could barely figure out the directions.
Finally, I went to find a Disney rep and had them come over. They did their best to get things situated. Unfortunately, the only other car available for Sandy and Sharon was a Mini Cooper with a sunroof, not a convertible. They decided to opt out of the excursion. We later found out they were given a refund on the excursion and the agent comped them a tour that he was about to begin. After everything was said and done, they were happy and had a wonderful day.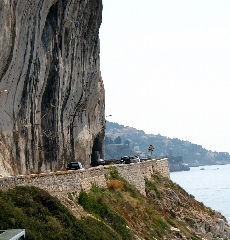 Our friends Rob and Keith took the lead of our two cars and the journey was underway for us. Rob and Keith drove a beige MG. We drove on the Corniche, but I couldn't tell you which ones, since we had no maps. The views were magnificent. Linda and Rob, the drivers, were in heaven. It was very surreal. All Linda kept telling me was to take more photos! I was happy to oblige.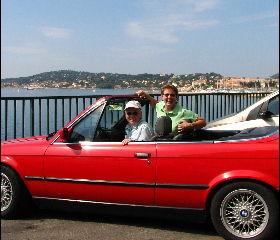 The plan was to eventually go to Nice for lunch at a place Rob picked out on line. We drove for well over an hour along the French Riviera through Eze, and Monaco. We were all having a royal grand time! At some point, we pulled into an overlook to enjoy the view. We then decided to circle back to Nice and get some lunch. Rob took us on a great tour of downtown Nice, where all the locals are. The stores were quite amazing, as well as the casino buildings.
Eventually we made our way to the shore side of Nice and found the café. Parking was a huge issue/adventure. We'll just leave it at that. We sat outside and looked over the marina full of yachts. Here we were – drove ourselves in convertibles to Nice, cruised along the Corniche and now enjoying lunch in a café in the French Riviera. Doesn't get much better!
By now it was time to return the cars to the port. We took a drive along the last ten minutes of sea shore. Stopped in a magnificent overlook to take photos of the Magic and then back to reality!
All to quickly we were back onboard the Disney Magic.
We relaxed and took a nap. When we awoke we made our way on deck and treated ourselves to a snack. When we sat down we found Rob and Keith a few tables over. We joined them and began to reminisce about the day as we looked out at the beautiful scenery that the South of France has to offer. It was then time to get ourselves cleaned up and go catch the show Dreams. We really enjoyed the enhance version and enjoyed the addition of Timon and Pumba.
After another great dinner with friends, we made our way up to the 10th deck to view the fireworks show that the town of Villefranche put on for us. It was a wonderful and unexpected treat! Afterwards, several of our travel companions met in the Promenade Lounge and enjoyed an evening night cap filled with stories and laughter.

Tomorrow is a sea day which also means our last full day on the Disney Magic.
Deb and Linda – Life — IT Too Short!
Complete 2007 Mediterranean Cruise Information –
Navigators, Blogs, Photos, Excursion Reviews, Podcasts and more!
Other Mediterranean Blogs from AllEars®
Glo from Miami
Guest Blogs – including Chris and Beci Mahnken