Polynesian Villas and Bungalows Disney Vacation Club Resort
What are the Polynesian Resort Villas?
They are the Disney Vacation Club section of the deluxe Polynesian Village Resort.
The villas share many of the amenities and services of the Polynesian Village, including the restaurants, lobby, and transportation services.
Wait – I am not a DVC Member. Can I stay here?
Yes! Anyone can stay at a DVC Resort or in a DVC Villa Room as long as there is space available. You can book it like any other Disney hotel room — either on Disney's website, calling Disney's Reservation Line, or with a travel agent.
THEMING
The South Pacific theming of Disney's Polynesian Villas carries over to the DVC accommodations. Natural finishes with bright colors and whimsical Disney art; wall art inspired by the world of Polynesia, including birds and flowers inspired by the Jungle Book. Bathrooms, countertops and tiles reflect the colors of volcanic rocks. Other colors reflect the patterns of Disney Legend and Artist Mary Blair.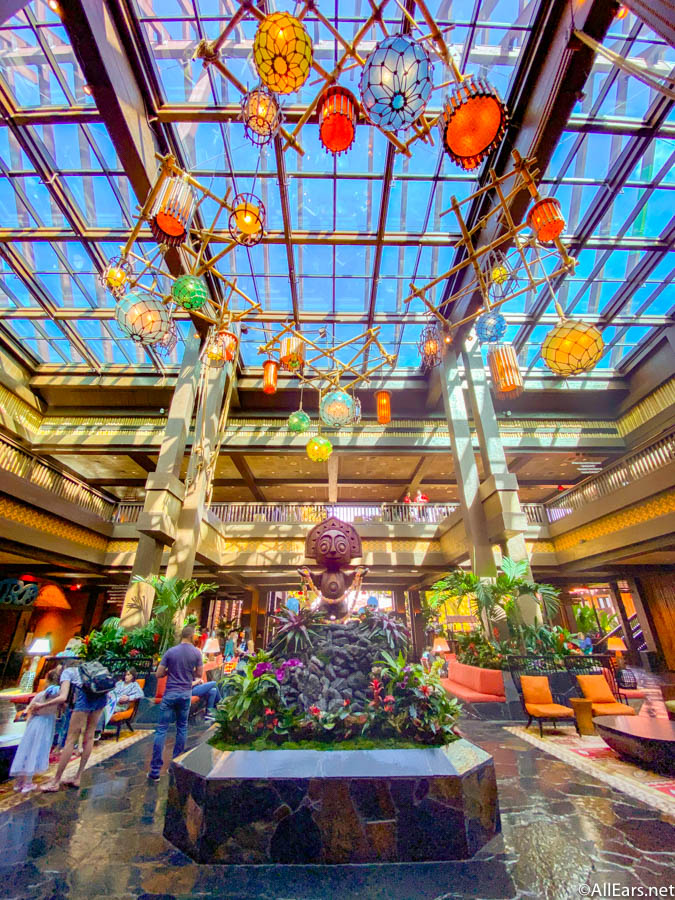 ACCOMMODATIONS
Two types of DVC accommodations are available at Disney's Polynesian Resort Village: Deluxe Studio Villas and Bora Bora Bungalows.
Deluxe Studio:
Sleeps up to 5

1 queen-size bed
1 queen-size sleeper sofa
1 pull-down bunk bed

Kitchenette with wet bar, small refrigerator, microwave, toaster and coffee maker
One "split" bathroom – one area with a shower and sink, the other area with a toilet, tub/shower and a second sink
wireless internet access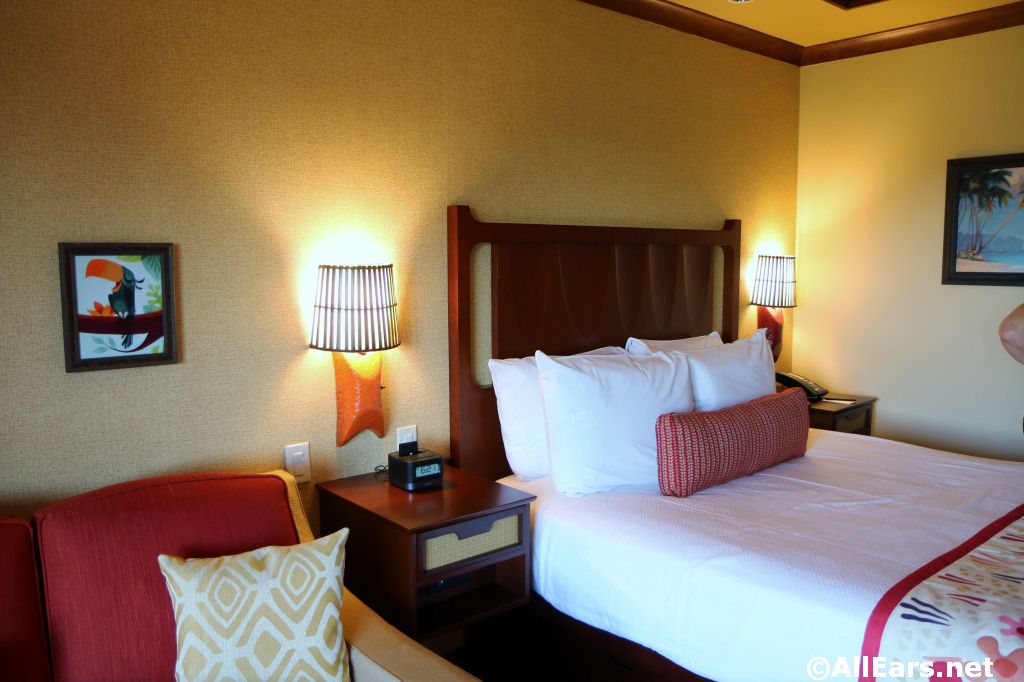 For more photos of a Polynesian Village Studio, check out our photo gallery!
Bungalow – VIDEO
Over the water bungalow
Sleeps up to 8

Master Bedroom with 1 king-size bed
Second Bedroom – one queen-size bed
Living Room has one queen size sleeper sofa and two single pull down beds

Full Kitchen with stove, dishwasher, microwave, and coffee maker
Master Bathroom with walk-in shower, rain shower head and a whirlpool tub
Second bathroom separated into 2 sections: one with a tub/shower, vanity; a second with a powder room with toilet and vanity.
Private deck with plunge pool and lounge furniture
View of the Magic Kingdom fireworks
wireless internet access
For more photos of a Bora Bora Bungalow, check out our photo gallery!
RATES
The Polynesian Villas and Bungalows are a Disney Vacation Club Resort. While DVC Members can book with points, you can also rent the villas for "cash" — meaning you can pay as you would for any Disney resort. These are regular rate prices and do not include the Florida Sales Tax nor the county resort tax.
Walt Disney World Resort rates vary by season (there are nine seasons now), and also by day of the week. The holiday season is the most expensive time of the year. It runs from mid-December to early January, as well as during Easter Week.
Current rates for a:
— Disney Vacation Club Deluxe Studios Standard View range from $556 – $942
— Disney Vacation Club Deluxe Studios Lake View range from $710 – $1162
— Disney Vacation Club Over the Water Bungalows $2,645 – $4790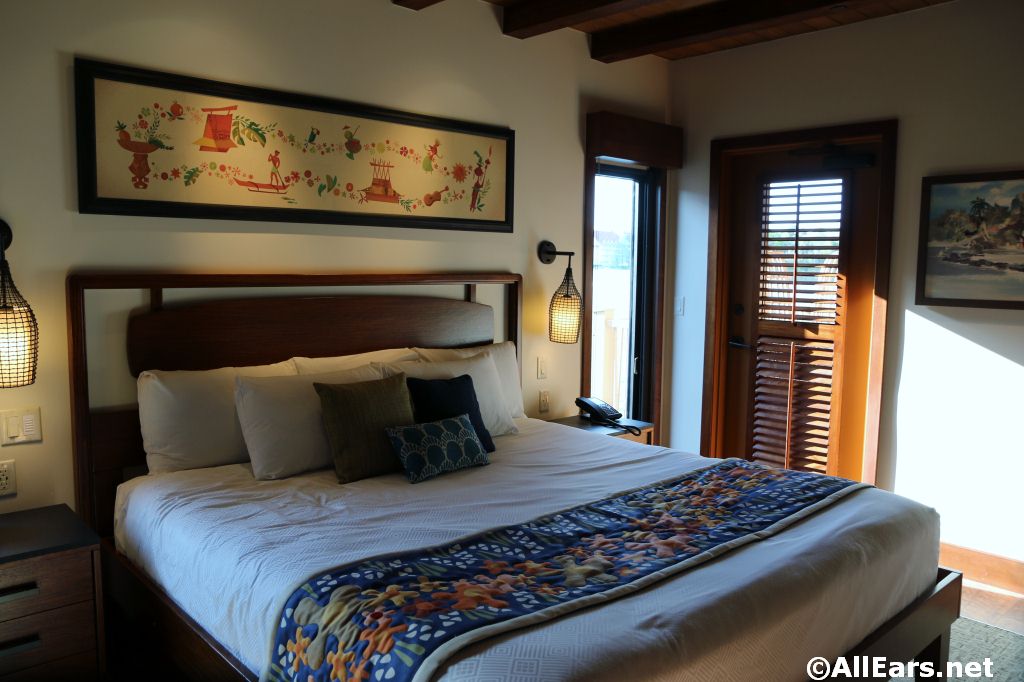 Is there a fee to park at the Polynesian Villas and Bungalows?
Disney Vacation Club Members – will not be charged for standard overnight self-parking when staying at a DVC Deluxe Villa, regardless of whether they use vacation points or another form of payment. Members also will not be charged to park when using vacation points to stay at a Walt Disney World Resort hotel.
Click HERE for current pricing and other parking-related information.
RECREATION, DINING, TRANSPORTATION
All transportation, recreation and dining options are shared by the entire resort. Visit the Polynesian Village Resort Fact Sheet for complete details.
What are the places to eat?
'Ohana – This is a popular family restaurant at the Polynesian. It features an all-you-can-eat Polynesian feast overlooking Seven Seas Lagoon. It is served family-style at your table. At dinner, you can enjoy steak, chicken, and shrimp as well as noodles, chicken wings, and pineapple bread pudding, Food is prepared on an open fire pit. 'Ohana is located on the second floor of the Great Ceremonial House.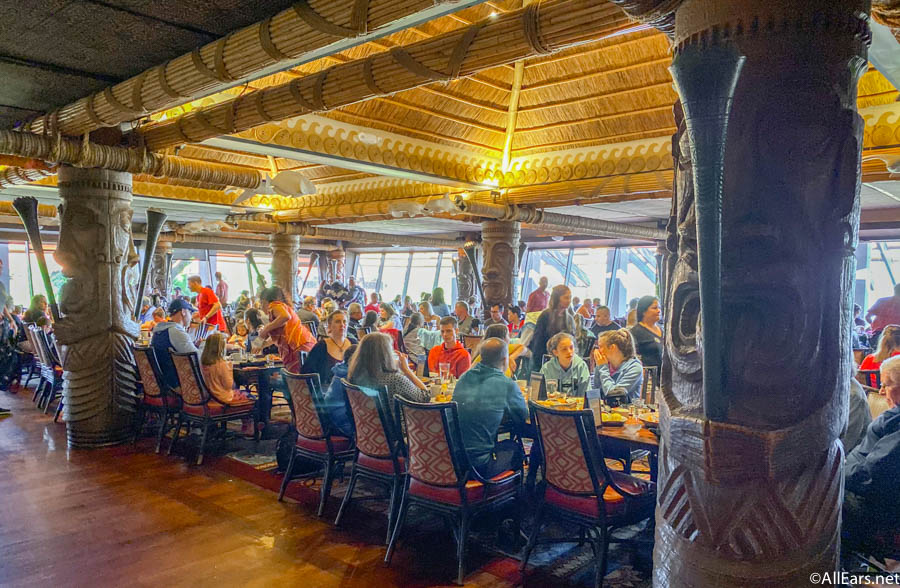 For breakfast, 'Ohana is the site of the 'Ohana Character Breakfast. Here you can enjoy a family-style breakfast where Disney characters will interact with you right at your table.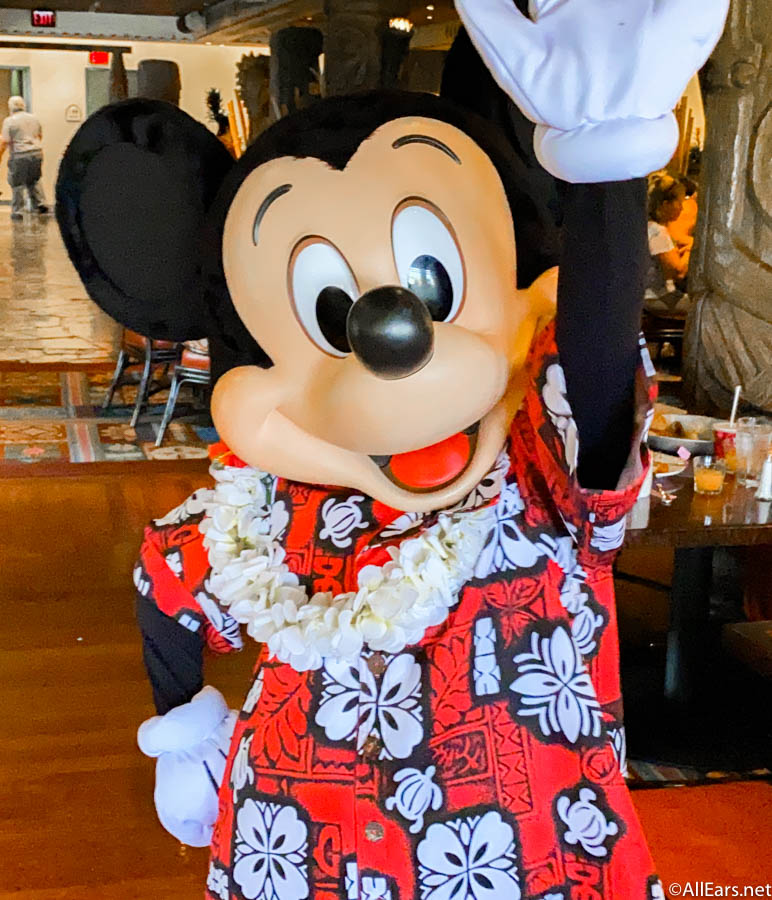 Kona Cafe – This restaurant serves creative fresh dishes for breakfast, lunch and dinner, and features special Kona Coffee! Unique desserts are a specialty of the house. There are several menu items that can easily be accommodated for vegetarian and even vegan diets. The chefs can assist with your entree needs and the pastry chef can assist with your dessert desires. There is also has a coffee bar just outside the restaurant, near the entrance to the monorail. Kona Cafe is located on the second floor of the Great Ceremonial House.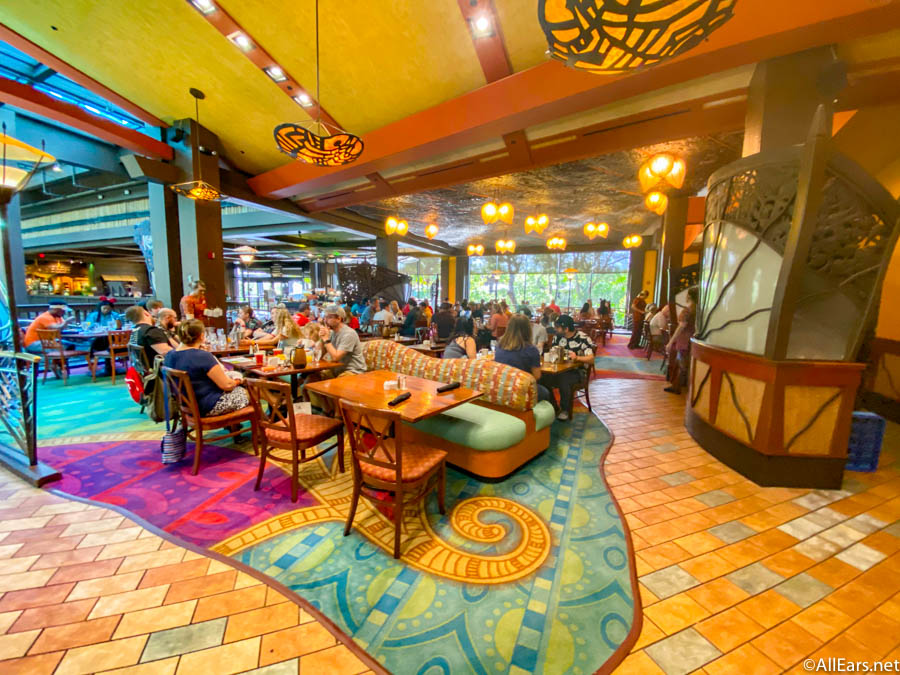 Captain Cook's – This recently renovated and expanded 24-hour snack bar features fast food, snacks, and desserts. There are some additional outdoor tables available. Refillable Mugs are available hereis open 24 hours a day. Captain Cook's is located on the first floor of the Great Ceremonial House.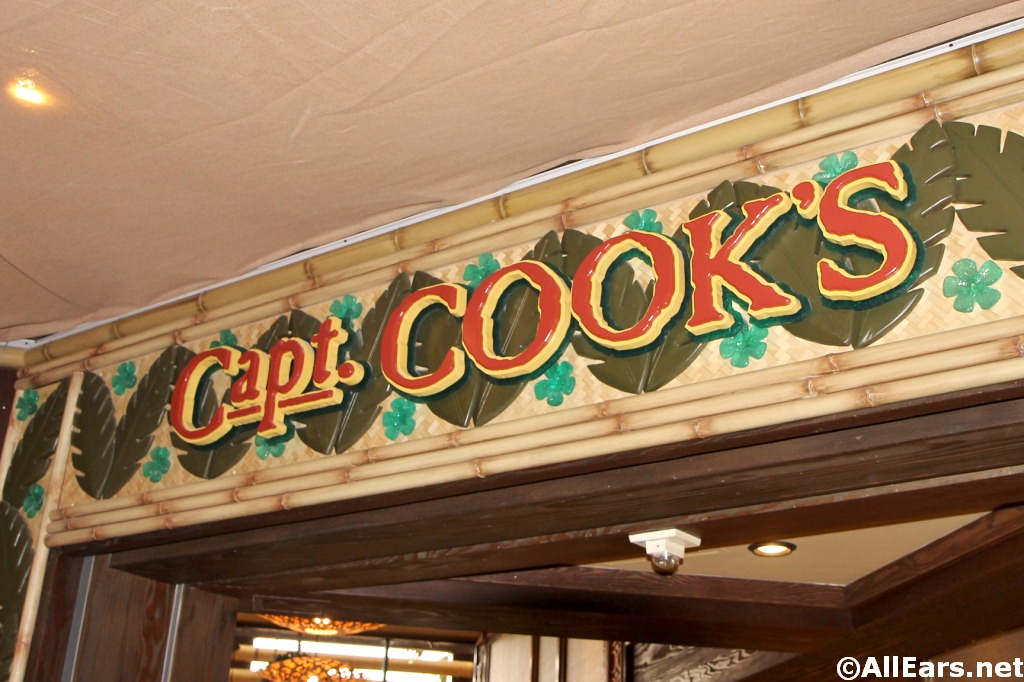 What are Rapid Fill Mugs?
The Rapid Fill beverage program allows Disney Resort guests to buy (or receive as part of the Disney Dining Plan) a resort mug that can be refilled for a certain period of time as designated at time of purchase. These mugs are enhanced by an RFID bar code that enables the mug to deactivate when the designated time is complete.
Is there a bar?
The Polynesian has four!
Trader Sam's Grog Grotto: located on the first floor of the Great Ceremonial House. Trader Sam's is an interactive bar and lounge. Small indoor seating area (where the magic takes place) and an outdoor terrace with its own bar and live entertainment.
Tambu Lounge is connected to 'Ohana on the second floor of the Great Ceremonial House, and offers cocktails, juices, coffees, and appetizers.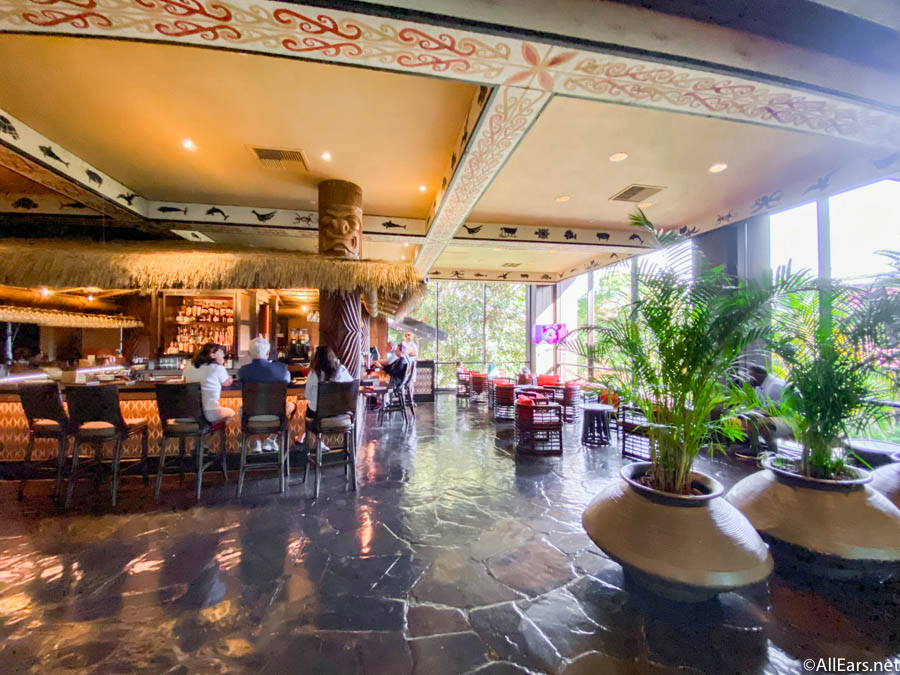 The Barefoot Pool Bar is next to the Nanea Volcano pool on the shores of the Seven Seas Lagoon.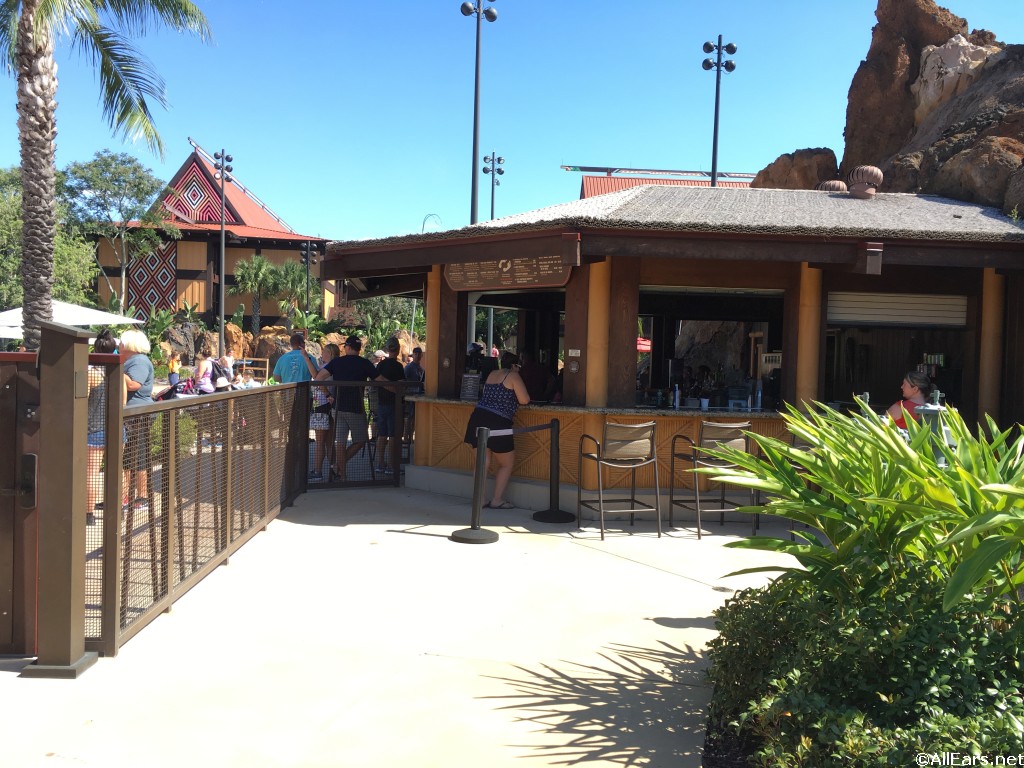 Oasis Bar and Grill: located at the quiet pool and is a full service bar with specialty cocktails. They also serve burgers, sandwiches, and salads.
Is there any entertainment?
Yes. The Spirit of Aloha Dinner Show is presented every Tuesday through Saturday at Luau Cove, weather permitting. There are shows at 5:15 and 8 p.m. The show features authentic Polynesian dancing and the food includes a full Polynesian-style meal, including drinks (non-alcoholic and some alcoholic) and dessert. Note that in cooler months the luaus are sometimes canceled if the temperature falls below 55º (according to Disney Dining).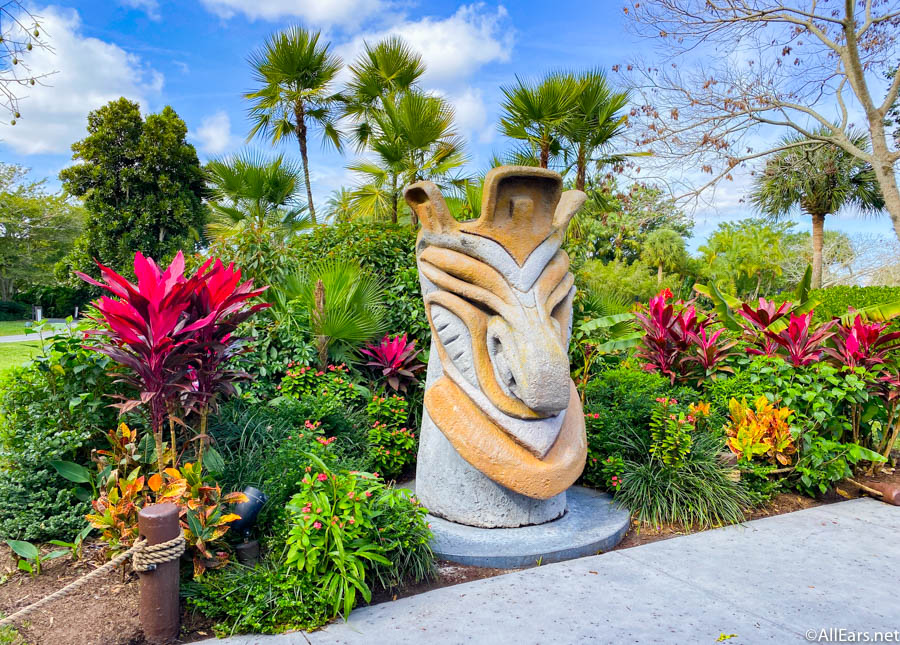 What are the transportation options?
Monorail Station inside the Great Ceremonial House – This is the resort monorail, and it will take you to the Magic Kingdom, the Monorail Resorts, and the Transportation & Ticket Center (TTC). In order, the monorail stops at Disney's Grand Floridian Resort & Spa, the Magic Kingdom, Disney's Contemporary Resort, the TTC, and then back to Disney's Polynesian Resort.
Monorail Station at the TTC – The TTC is a short walk from the Polynesian (signs point the way). There are three monorail lines here. The resort monorail is described above and will take you to the Magic Kingdom by way of the Monorail Resorts. The express monorail will take you directly to the Magic Kingdom. The Epcot monorail will take you directly to Epcot.
Bus Stop near the Great Ceremonial House – As you exit the Great Ceremonial House, head toward Rarotonga. The bus stop is located between Rarotonga and the Tangaroa Terrace. Here you will find the Disney's Hollywood Studios bus, the Disney's Animal Kingdom/Blizzard Beach bus, and the Disney Springs/Typhoon Lagoon bus.
Boat Launch – The boats at the dock behind the Lava Pool take you to the Grand Floridian and the Magic Kingdom. The boats run from 30 minutes before the Magic Kingdom opens until closing.
Walk Around the World path – This bricked path will, walking east, take you to the TTC. Walking west, you will first pass Luau Cove, followed by Disney's Wedding Pavilion, the Grand Floridian Spa & Heath Club, and finally the Grand Floridian Resort, itself.
Ferry at the TTC – This larger boat takes you directly to the Magic Kingdom.
Special Notes: Buses to the Disney's Hollywood Studios, Animal Kingdom, and Disney Springs areas may also pick up guests at the Grand Floridian and Wilderness Lodge. This can make for a long and crowded trip to get where you need to go. Boarding the water launch to the Magic Kingdom at the Polynesian boat dock, you also may find a boat already filled with guests. This boat picks guests up at the Grand Floridian before heading to the Polynesian and the Magic Kingdom.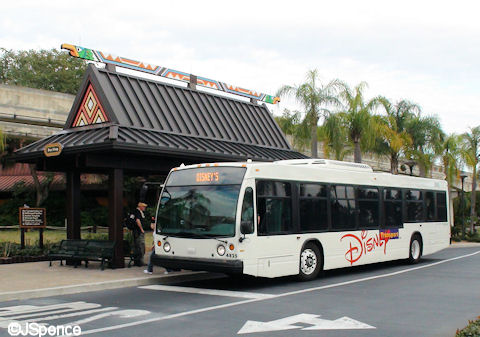 What are the check in and check out policies?
Check in is at the main Polynesian Village Lobby.
Online Check-in is available through the My Disney Experience App. Look for the special Online Check-in line at the resort's front desk.
Check-in is at 4pm. Upon arrival head to the front desk to check-in. Rooms are not guaranteed to be available until 4pm, but you can request Early Check-in when you do Online Check-in.
Early check-in allows you to leave luggage with bell services, get your Magic Bands (if you don't already have them) and head off to the parks or relax around the resort. You will be get a notification on My Disney Experience when you Room is ready. You will then be given your room number and your Magic Band will open your door! You can also use the app on your phone to open your door.
Check-out time is 11am. Express Check-out is available to all guests paying with a credit card, arrange for this service at check-in. A detailed hotel bill is delivered to your door by 7am. If the bill is correct you simply leave. Your Magic Band serves as a Disney souvenir. Late Check-out of noon can be requested without additional cost (very limited availability). If you need Late Check-out, request it at Check-In and as soon as possible the morning of check out (the number of eligible rooms are limited).
Resort Airline Check-In Service at your Disney resort is only available if you are flying domestically (includes Puerto Rico) on specific airlines It is a complimentary (free) service and allows you to check your luggage.
Is there any place to jog?
A jogging path circles around the Polynesian longhouses, past Luau Cove, and stretches to the Shades of Green Resort and back. The entire route is 1.5 miles. You can obtain a map of the jogging path at Guest Services. Also visit our Running and Jogging Trails and Tips page.
Is there a health club?
There are no health club facilities at the Polynesian, however, Polynesian guests may use the Grand Floridian's Health Club, accessible with your MagicBand. Polynesian guests can walk to the Health Club via a walkway on the west side of the resort.
Where can I go to watch the Magic Kingdom fireworks?
Most lagoon-view rooms feature great views of the Magic Kingdom fireworks. Otherwise, any place on the Polynesian beaches or boat dock offer good places to watch.
Can I watch the Electrical Water Pageant from the Polynesian?
Yes. The Pageant floats by the Polynesian each night at approximately 9:00. The Polynesian is actually its first stop, and if you position yourself at the boat dock a few minutes before 9:00, you can watch the floats being towed out to the Lagoon and prepared for the show.
Make sure to check with the front desk, as times may vary.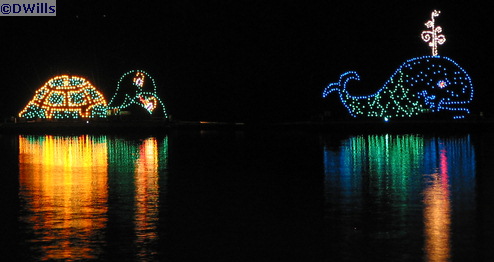 Can I take a boat cruise?
A boat provides transportation between the Magic Kingdom, the Grand Floridian, and the Polynesian, and can be a relaxing trip. Fireworks cruises, private or with company, can also be arranged at the marina.
Where can I shop? What are the merchandise locations?
BouTIKI has wooden statues scattered around and features a variety of merchandise. The statues were made in Bali and weigh up to 1,000 pounds each. Among its many items, BouTIKI sells the types of sundries and men's and women's fashions previously sold in the resort's other stores. The Wyland Gallery sells beautiful artwork from paintings to sculptures and more. Upstairs, Trader Jack's sells Disney merchandise and other gift items. Samoa Snacks, also on the 2nd floor, sells sundries, liquor, film and snacks. A pin trading cart is outside Trader Jacks.
All shopping is located in the Great Ceremonial House.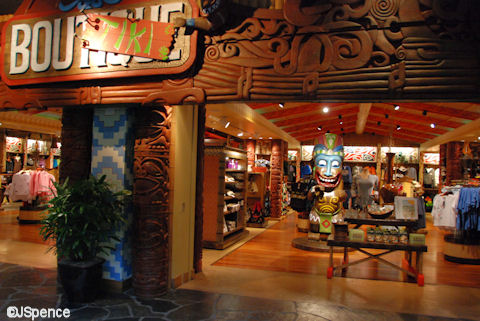 Does the Polynesian offer pressed pennies and pressed quarters?
There are two pressed penny machines at the Polynesian. Both are on the second floor of the Great Ceremonial House. The quarter machine is located on the first floor of the Great Ceremonial House.
Is there an ATM on-site?
Yes. You can find an ATM in the Great Ceremonial House on the first floor adjacent to the Disney Vacation Club desk.
Can I get my theme park purchases delivered to the resort?
Most Walt Disney World merchandise locations offer complimentary Resort Package Delivery. Make sure to ask at the shop when your purchases will be delivered. At the Polynesian, all Package Delivery purchases are delivered to Maui Mickey's gift shop. If you are a concierge guest, your purchases will be delivered directly to your room.
To see more of everything the Polynesian Village Resort has to offer, check out this AllEarsTV Video!
Overview
Phone: 407 824-2000
Address: 1600 Seven Seas Drive, Lake Buena Vista, Florida 32830
Transportation Options (3)
Activities & Recreation (6)
Boat Rental
Kid's Club
Playground
Splash Playground
Running Trail
Poolside Movies
Room Options (3)
Deluxe Studio - Standard View
Deluxe Studio - Lake View
Bungalow