Move It! Shake It! Dance and Play It! Street Party – Magic Kingdom
NEW!
Starting January 18, 2019, the Move It! Shake It! Dance and Play It! parade will transform into the "Move It! Shake It! MousekeDance It! Street Party," which will make it way up Main Street, U.S.A. several times each day. The procession will stop at Cinderella Castle, where Mickey and Minnie, along with Donald and Daisy Duck, Goofy, Pluto, Max, and Chip 'n Dale encourage guests to join in a dance party. Singing hosts perform modern takes on "Mickey Mouse Club" melodies and more.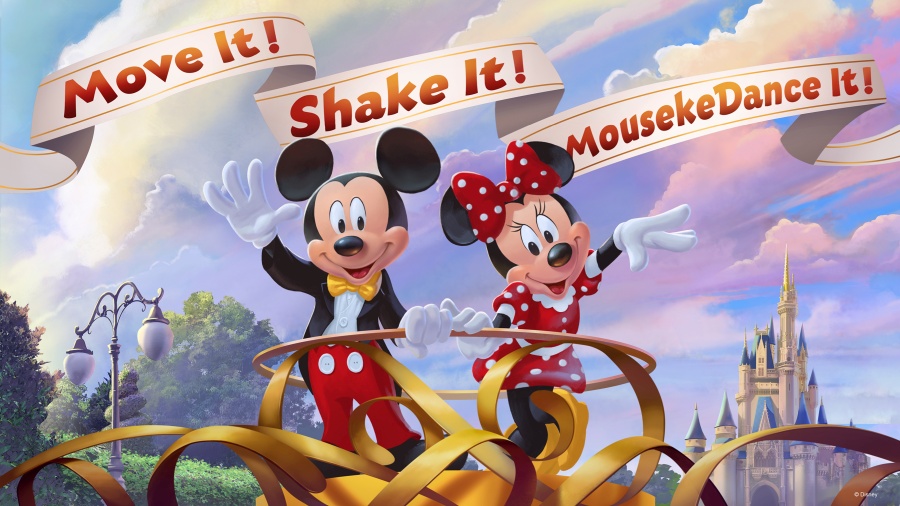 In August 2014, the high-energy "Move It! Shake It! Celebrate It! Street Party (which debuted February 2009) got a makeover: new music, new characters, and a new name: Move it! Shake It! Dance & Play It! Street Party.
The fun begins on Main Street, U.S.A., as favorite Disney characters, including Stitch and Phineas & Ferb, parade toward Cinderella Castle as the emcee, stilt-walkers, and others encourage everyone to join in. Once in the Central Plaza, hosts Mickey Mouse, Minnie Mouse, Donald Duck, and Goofy appear atop giant gift boxes, leading everyone in a medley of remixed classic party songs. The audience also gets to vote for one of three current hits during the "Play It!" part of the show.
There are five brightly colored floats adorned with your favorite characters and dozens of dancers enthusiastically sing and dance while encouraging those lining the street to get involved.
The "dance party" takes between 10-15 minutes. When it's done, the procession moves back down Main Street and disappears backstage. Although a good time can be had by watching the parade along Main Street, the real fun takes place around the Castle. It's performed several times a day. Check your Magic Kingdom guide for times.