Mickey's Not So Scary Halloween Party Parade Magic Kingdom
Mickey's Not So Scary Halloween Parade is great fun! The music is upbeat and changes several times throughout the parade.
Click on Photos for Larger Images

Several minutes before the actual parade begins, there is an announcement that the Headless Horseman has been spotted! Shortly after that, you hear the galloping get closer and closer…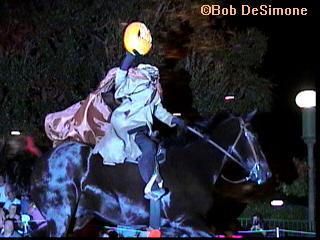 Right behind the opening banner are Pooh, Eeyore and Piglet all in Halloween Costumes.

**********
Kanga and Roo and Rabbit join in the fun too!
**********
Pooh's Hunny Pot gets in on Trick or Treating!
**********
The Music changes and the Villains begin to appear
**********
The Queen of Hearts and Big Bad Wolf!
**********
The Old Hag is brewing up something Spookey-Ookey!
**********
The Haunted Mansion ballroom dancers
**********
Even Chip and Dale have become haunted!
There's Always Room for One More!
**********
Hades, Panic and Pain and the Hercules Float!
**********
Yet another music change and now it's time for Mickey and Minnie's Halloween HoeDown!
**********
Every HoeDown needs Scarecrows!
Daisy hosts the Grand Marshals
**********
Minnie thanks Everyone for Coming to the Party!
Read reviews of the Halloween Party, or submit your own experiences, HERE.