Magic Kingdom Archives 75 "InspEARations" of Mickey Mouse
NEWS FLASH 2/20/04
The Celebrate Mickey: 75 InspEARations statues were supposed to be on display at the Magic Kingdom until April. However, they were removed as of Tuesday, February 24! The statues are supposed to go on tour later this year. For the schedule (which is not online yet) you can check at: www.disneyconsumerproducts.com
To celebrate Mickey's 75th Birthday, 75 individual life-sized statues of Mickey have been created. The artistic display is in the front of the Magic Kingdom at and around the entrance.
The statues are approximately 6 feet tall and weigh more than 700 pounds. They were created by a wide variety of folks including Disney Legends, artists, actors, musicians and athletes.
They will remain at the Magic Kingdom through April 2004. After that, they will tour cities around the US and Disneyland in California. Sotheby's will auction every statue in 2005 with proceeds benefiting charities chosen by each artist.
75 InspEARations Statue Program

1 Saxophonic Mickey Dave Koz – Musician
2 "I'm Going To Walt Disney World" Cody Reynolds for Walt Disney World® Resort
3 Fruits of the Mouse Andreas Deja – Disney Legend
4 It was All Started By A Mouse Vanessa Hunt for The Disney Store
5 Mickey Through the Years Tuck Morgan for Disney Consumer Products
6 Mickey's Shadow Trey Hoyumpa for Parsons School of Design – Art School
7 You Can Do It Elva Salinas for The Home Depot – Sponsor
8 Peace and Love Michelle Kwan – Athlete
9 Tune In Anthony Rietta for Radio Disney
10 Undersea Mickey Wyland – Artist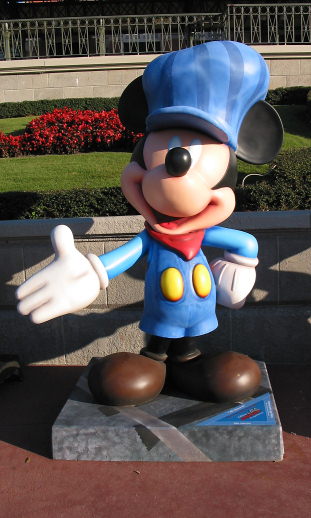 11 Viva Mickey Luis Armand Garcia for George Lopez -TV Show
12 The Original Mouse Pad Jamie Lee Curtis – Actor
13 Crazy Style Mouse MEAR ONE – Artist
14 Funny Pages Lori Tyminski for Disney Publishing Worldwide
15 Mickey Celebrates Our Freedom Paul Wenzel – Artist
16 Super Fan Mickey Regis Philbin – TV Host
17 Jet Setter John Travolta – Actor
18 Slapstick Mouse Jerry Bruckheimer – Director
19 Home Rum Hero Ben Affleck – Actor
20 Tuxedo Lenox – Artist
21 All Aboard! Ollie Johnston – Disney Legend
22 Flying Colors #3 David Willardson – Artist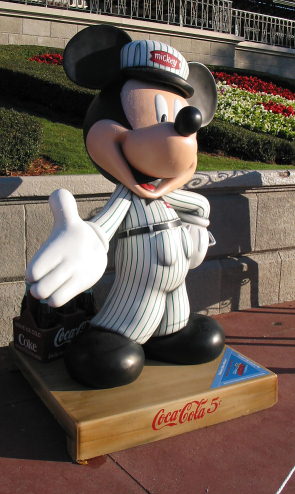 23 Delivery Man Mickey Kelly Kozel & Sharon Noh for The Coca-Cola Company – Sponsor
24 FrontEAR Tales Fess Parker – Disney Legend
25 True Blue Marlee Matlin – Actor
26 Ready for Action Christy Carlson Romano – Actor
27 Ellenland Ellen DeGeneres – Actor
28 Always My Angel, Mickey Annette Funicello – Disney Legend
29 Dunk Mouse Shaquille O'Neal – Athlete
30 Ice-skatEAR Paul Wylie – Athlete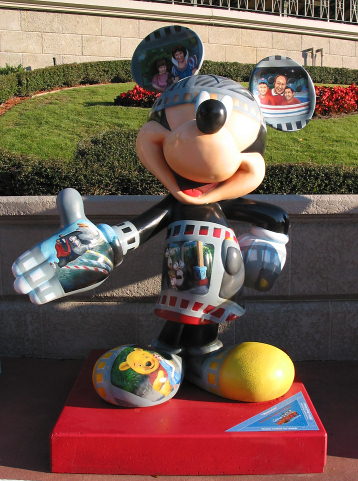 31 ESPN Sports Center Mickey Linda Cohn, Dan Patrick & Robin Roberts – TV Show
32 ESPN 25th Anniversary Mickey Chris Berman & Dick Vitale – TV Show
33 All The World's His Stage Susan Lucci – Actor
34 Memories Dennis Larkins for Kodak – Sponsor
35 Mickey and the Nightingale Ming-Na – Actor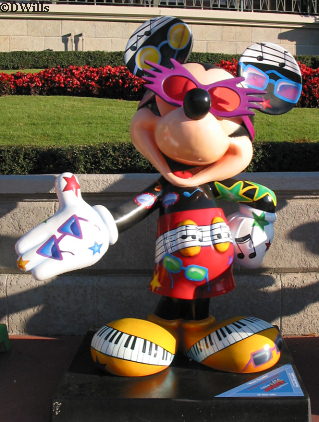 36 Music Royalty Sir Elton John – Musician
37 Extended Play Wayne Brady – Actor
38 Clouded Conscience Raven – Actor
39 Mickey: In Yellow. Rosie O'Donnell – Actor
40 Lone Star Kermit Eisenhut – Tour City
41 Let's Party Chris Fedun for Jump5 – Musician
42 Back to School Al Konetzni – Artist
43 Family Tree Jeff Conine – Athlete
44 Monday Night Mickey Al Michaels & John Madden – TV Sports
45 Love All Andre Agassi – Athlete
46 Big Cheese Mickey Jeff Spohn for Otis College – Artist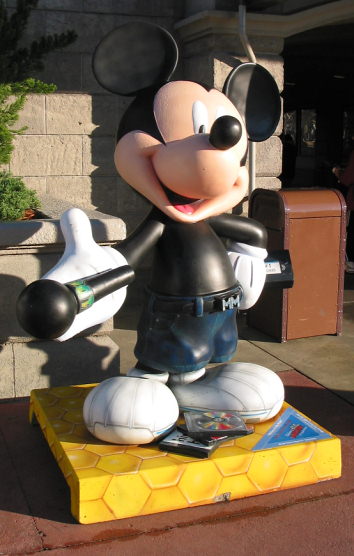 47 Mickey in the Park Black Entertainment Television – TV Station
48 Mickey On the Move Malcolm Stone for Suddath Relocations Systems – Sponsor
49 Wonderful World of Mickey Kathryn E. Morgan – Tour City (Philadelphia)
50 Patchwork Pal Thomas Knechtel – Tour City (Atlanta)
51 Mouseskateer Tony Hawk – Athlete
52 UndercovEAR Mickey Jennifer Garner – Actor
53 Funny Bones James Gandolfini – Actor
54 Good Catch Bob Guiney – Actor
55 TRON Mickey Syd Mead – Creator
56 Field Mouse Brian Matson – Tour City (Chicago)
57 Fountain of Fun Christina Grantham – Tour City (Kansas City)
58 Mickey's Dream Peter Ellenshaw & Harrison Ellenshaw – Artist
59 Lobsta Mickey Breanna Rowlette – Tour City (Boston)
60 Mickey Reigns Anita Hurst – Tour City (Portland)
61 Rockin' Mickey Mario Vaiana – Tour City (Denver)
62 Wild for Mickey Star Jones – Actor
63 Reflections on Mickey Disneyland® Resort Entertainment Art Dept. – Internal
64 Filmic Mickey Kataneh Vahdani for California Institute of the Arts – Art School
65 Base Mouse Gary Baseman – Artist
66 El Mickey Lamberto Alvarez – Tour City (Dallas)
67 Mambo Mickey Andy Garcia – Actor
68 Believe In Your Dreams Kevin Garnett – Athlete
69 Big City Mouse Kelly Ripa – TV Host
70 National Pastime Mickey Major League Baseball® – TV Show
(71 Mickey's Nation 1928 Janet Jackson – Musician — Removed from Exhibit)
72 Moustacciolli Doris Roberts – Actor
72 Music Mouse Brian McKnight – Musician
74 I Speak for Mickey and Mickey Speaks for Me Wayne Allwine and Russi Taylor – Disney Legend
75 Space Mouse Tom Hanks – Actor
Links to more photos of Mickey Statues (leaving AllEarsNet.com)