FLIGHTS OF WONDER Asia Animal Kingdom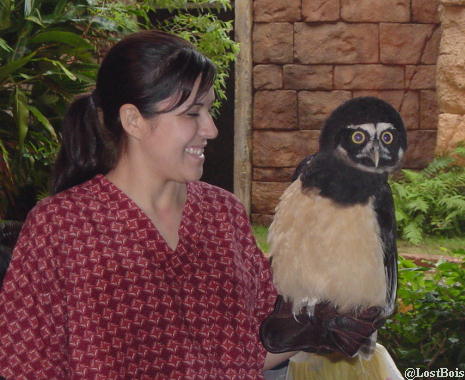 INTRODUCTION
You might feel as though you are entering a crumbling fortress as you enter the Caravan Stage outdoor amphitheater in Animal Kingdom's Asia, where Flights of Wonder is performed several times daily.
ATTRACTION
On the surface, Flights of Wonder appears to be a light, whimsical show starring and about birds, but it has at its core deeper, more serious conservation themes.
The show begins with an almost mystical overview of our feathered friends, and a variety of birds gracefully swoop down from the set and over the audience's heads to the stage.
After this introduction, a trainer comes on stage and showcases the natural abilities of a number of birds, including macaws, a crowned crane, and different types of hawks.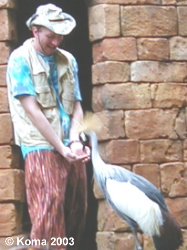 The arrival of silly "tour guide" Guano Joe injects an amount of humor into the show, and he, along with the audience, gradually learns the importance of mankind's conservation efforts. Certain birds also perform some stunts, including a singing parrot named Groucho and a hawk who has been trained to snatch paper money from an audience member's extended hand. At the end of the performance, the handlers will bring out an American bald eagle and other birds.
TOURING TIPS
Check your Times Guide for show times – generally on stage 5 times a day.
For the best views, try to sit close to the stage.
Do not rush out when the show is over. The bird handlers will bring one or two owls or other birds to the edge of the stage for you to get an up close look at, ask questions and photograph!
To avoid waiting in line, utilize FASTPASS+ a free service for all park guests.
This attraction is wheelchair/ECV accessible.
If it is raining, you may see an abreviated show which actually is more educational than show.
The nearest restrooms are to your right as you exit this attraction.
Assistive Listening Devices from Guest Services can be used here.
For more information on Animal Kingdom Live Entertainment, visit Steve Soares' WDW Entertainment Website.
KIDS AND CHARACTERS
Disney Characters are typically not found in this part of Asia. Check your daily Times Guide for times and locations of character greeting opportunities elsewhere in the Animal Kingdom.
Guest Comment — Donna S: My 4 year old daughter loved the show!
Animal Kingdom Characters At A Glance
Character Meet and Greet FAQ!
DINING
Anandapur Ice Cream and Yak and Yeti are in Asia.
Animal Kingdom Restaurants At A Glance
Menus From Around the World
Vegetarian and Other Special Diets
SHOPPING
Mandala Gifts – Asian themed souvenirs, tiger apparel.
INTERESTING FACT
Flights of Wonder opened with the park in April 1998. The show has gone through several changes since the initial version.