Missing out on the fine-dining luxuries a Disney World vacation can provide? Fret no more, as D23 has a recipe that will bring a little bit of California Grill's menu to your home!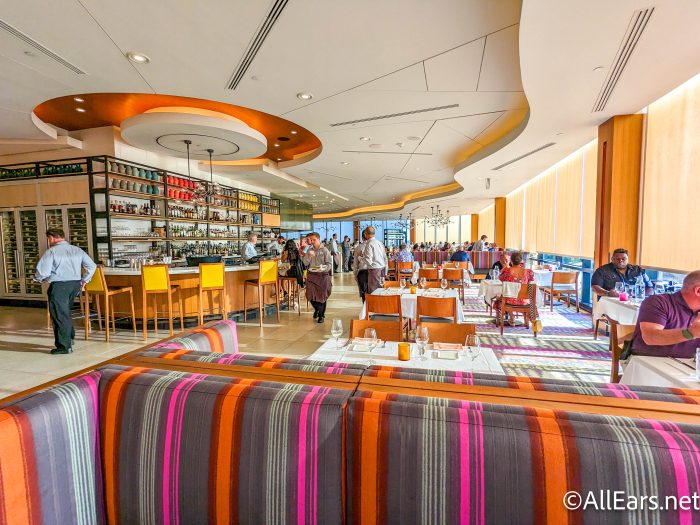 Located inside Disney Contemporary Resort, California Grill is one of Disney World's most popular signature dining experiences and we can TOTALLY see why! Featuring spectacular views of Magic Kingdom and Seven Seas Lagoon, California Grill keeps everyone coming back. Now, thanks to D23, anyone can make California Grill's Market Inspiration Sonoma Goat Cheese Ravioli at home!
This three-part recipe will serve four to six people. Here's what you'll need to get started:
Ingredients
GOAT CHEESE RAVIOLI
1 pound soft mild goat cheese, crumbled
5 1⁄2 ounces aged goat cheese, crumbled
1⁄2 cup seasoned bread crumbs
2 tablespoons store-bought basil pesto
2 teaspoons extra-virgin olive oil
2 teaspoons roasted garlic purée (recipe follows)
1⁄2 teaspoon salt, or to taste
1⁄8 teaspoon freshly ground pepper, or to taste
16 egg roll wrappers
1 large egg and 1 tablespoon water for egg wash
clear tomato broth (optional)
CLEAR TOMATO BROTH (makes 4 cups)
15 whole vine-ripened tomatoes
1 teaspoon salt
ROASTED GARLIC PURÉE (makes 2 tablespoons)
1 whole head garlic
1 tablespoon olive oil
INSTRUCTIONS
CLEAR TOMATO BROTH
Place the tomatoes in a blender or food processor. Blend them together in bunches with the salt until they appear coarsely chopped.  Place the chopped tomatoes in a large sieve lined with a double layer of damp cheesecloth.
Set the sieve over a bowl and let the mixture drain in the refrigerator for 24 hours, collecting the liquid.
Discard the tomato pulp and save the liquid.
***Cook's Notes: You can substitute the tomato broth with chopped, seeded, and ripe tomatoes or a tomato juice "cocktail".***
ROASTED GARLIC PURÉE
Preheat the oven to 400°F.
Cut off the stem and top third of 1 whole garlic head.
Place the cut garlic on a sheet of heavy-duty aluminum foil and drizzle olive oil.
Wrap the garlic up with the foil, making sure the edges are tightly sealed. Roast for 1 hour.
Once done, remove the wrapped garlic from the oven and open it carefully. Let the garlic sit and slightly cool, then scrape/squeeze the pulp from the cloves.
GOAT CHEESE RAVIOLI
Stir together the fresh goat cheese, aged goat cheese, bread crumbs, pesto, olive oil, roasted garlic purée, salt, and pepper into a large bowl until well combined.
Brush 8 egg roll wrappers with the egg wash on a separate workstation.
Without cutting all the way through, use a knife to cut each wrapper into 4 squares. Place 1 tablespoon of the goat cheese mixture in the center of each square and cover them with the 8 remaining egg roll wrappers. Make sure to press the edges together.
Use a knife to cut each double-wrapped square into 4 squares, creating 32 squares of filled ravioli. Press the edges of the ravioli squares together.
***Skip this step if you plan to use the ravioli immediately*** Sprinkle the ravioli lightly with cornmeal and refrigerate between layers of waxed paper.
Cook the ravioli in a large pot of boiling salted water for 1 to 2 minutes. Completely drain.
Serve with the clear tomato broth or chopped seeded ripe tomatoes.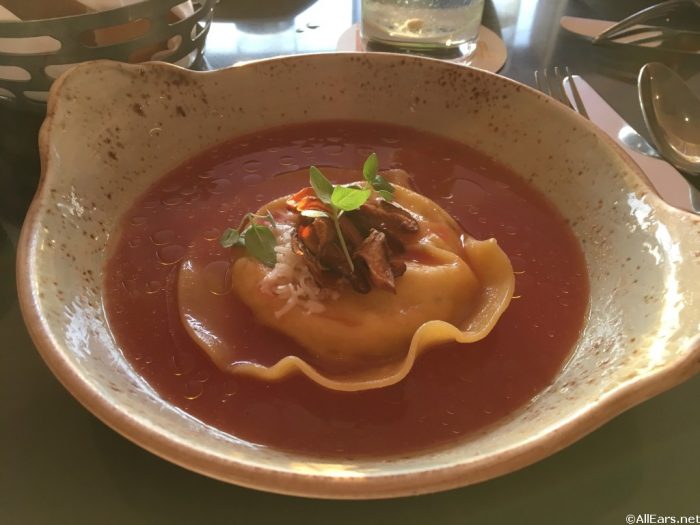 And there you go, a delicious California Grill dish you can make right at home! Be sure to keep following AllEars for Disney-inspired recipes and more!
Join the AllEars.net Newsletter to stay on top of ALL the breaking Disney News! You'll also get access to AllEars tips, reviews, trivia, and MORE! Click here to Subscribe!

Are you going to try this recipe? Let us know in the comments!