Decades-old photographs of Walt Disney World can bring back wonderful memories of the way things used to be in the Vacation Kingdom of the World.
Taking a stroll down memory lane is both nostalgic and educational. Looking at photos taken two, three, or four decades ago reveal how things have changed and, in some instances, how things have remained the same.
As an added bonus, for those who weren't around in the 1980s and 1990s, it's nice to see just what your parents and grandparents have been talking about all these years.
Here, now, is the latest edition of Disney Vintage Photos …
THE SHORT-LIVED CHARACTER CARAVANS
In October of 2001, Walt Disney World began a new character-themed program at participating Disney resorts which was promoted as a "surprise send-off" for guests heading off to the parks in the morning.
The Character Caravan was advertised as "the newest enhancement for guests staying at participating Walt Disney World resorts."
A brightly decorated bus would pull up to the hotel on select days to interact with guests, posing for photos and signing autographs.
The bus would usually arrive around 8 a.m., carrying two to four Disney characters. The characters would do two 30-minute sets before departing later that morning.
The character appearances were themed to each hotel. For instance, at Animal Kingdom Lodge, characters such as Baloo, Timon, and Rafiki would make appearances.
The Character Caravan lasted about a year before shutting down in September of 2002.
EXQUISITE ANIMAL KINGDOM LODGE
Of all the properties that comprise the vast Walt Disney World complex, by far the most unique is Animal Kingdom Park, which opened in 1998. It was the first time anyone had ever built a theme park centered around animals – the living, the extinct and the mythical.
And of all the resorts located on Disney's central Florida expanse, none is more jaw-dropping than the exquisite Animal Kingdom Lodge, located near the park itself.
First off, the grounds are straight out of an African savannah. Imagine waking in the morning, opening your room's blinds, and witnessing a giraffe as it gracefully roams in front of you … or a flamingo frolicking in a placid pond nearby … or a zebra chowing down on a traditional meal of browse. You get all that … and so much more.
Disney's designers took authenticity to new, never-before-seen heights in creating Animal Kingdom Lodge. There are hand-crafted shields adorning each guest room door; the lodge is sprinkled with African artifacts; and even the thatched roofs were assembled by African craftsmen.
Animal Kingdom Lodge opened on April 16, 2001. The Lodge consists of the original Jambo House and the newer Kidani Village, which opened in 2009 as a Disney Vacation Club resort.
The Jambo House lobby is one of those eyes-up, jaws-down experiences that Disney planners aim for when they're creating attractions. It was designed by Peter Dominick of Denver, who also designed the lobbies at Disney's Wilderness Lodge and Disney's Grand Floridian resorts.
SETTING THE STAGE FOR WILD ADVENTURES
As we mentioned, Disney's Animal Kingdom Park opened in 1998 – on April 22, Earth Day, to be exact.
During opening day ceremonies, then-CEO Michael Eisner said:
"In a way, Animal Kingdom takes us full circle. Thirty years ago, all you could find on our Orlando property were vast herds of grazing animals and some rather intimidating reptiles. Today, after billions of dollars in investment, we have unveiled our most original theme park concept yet: Vast herds of grazing animals and some rather intimidating reptiles."
The photo above shows safari-themed costumed Disney characters, as well as Disney Cast Members in their unique Animal Kingdom attire, posing for a group shot following the opening day ceremonies.
On opening day, Animal Kingdom Park comprised more than 500 acres. There were approximately 2,500 cast members employed at the park. A massive parking lot could accommodate 6,000 vehicles.
The park was home to about 1,000 animals, representing 200 species. Four million trees, plants, grasses, ferns, shrubs, and vines, representing 3,000 species, were flourishing in the park when those first guests entered, having been planted months in advance.
Some of the advertising pitches for Animal Kingdom included "New Species of Theme Park," "Disney's Imagination Gone Wild," and "Nah-Ta-Zu" … a clever way of saying the new park was "not a zoo."
DISNEY WEDDING PAVILION
During its 50-plus-year existence, Walt Disney World has been the site of countless wedding proposals … prospective significant others dropping to one knee to pop the big question with a backdrop of a classic Disney icon like, say, Cinderella Castle.
It seemed only fitting that in September of 1991, Walt Disney World started hosting on-property weddings at a variety of locations.
In 1992, they upped their game when Disney's Fairy Tale Weddings & Honeymoons division was created. By Oct. 28, 1992, it had hosted 200 nuptials, mostly in one of the resort's luxurious hotels and even in one of the theme parks.
Could a wedding venue on WDW property be far behind?
Of course, it could. In 1995, on the shores of the Seven Seas Lagoon and within view of the elegant Grand Floridian Resort and the Magic Kingdom, the Disney Wedding Pavilion debuted.
The pavilion is actually located on an island, big enough to house a wedding chapel and several rooms where the bride, groom, and their attendants can relax before the ceremony.
The island also offers areas that are a wedding photographer's delight, resulting in beautiful and memorable photo albums.
Disney's Imagineers thought of everything: They even designed a window inside the pavilion that magnifies the view of Cinderella Castle, giving couples and their wedding guests – as the pamphlets say – the "dreamiest view."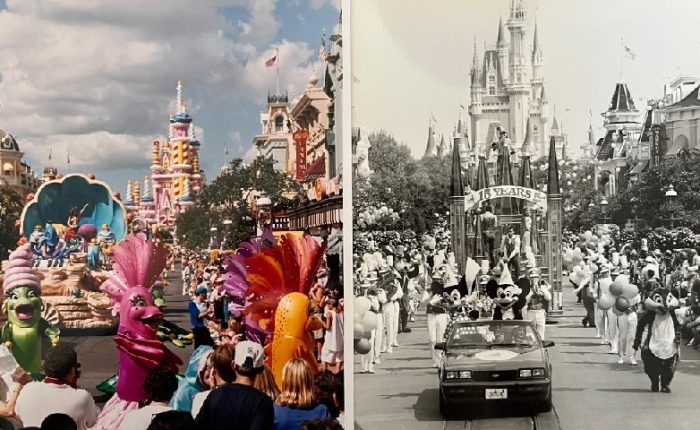 MAGICAL CELEBRATIONS REMEMBERED
Walt Disney World celebrated its 50th anniversary in 2021 with pomp and ceremony.
But in years past, WDW celebrated other anniversaries with arguably more pomp and more ceremony.
During the resort's 25th anniversary in 1996, photo left, the colorful "Remember the Magic" parade captured everyone's imagination. During the daily parade, hundreds of guests were asked to join the festivities as part of an interactive, dance-party experience.
Floats inspired by The Little Mermaid, The Lion King, Beauty and the Beast, and Cinderella were featured during the jaunt along Main Street.
And, oh yeah. There was the mostly pink-hued Cinderella Castle that was made to look like a festive birthday cake.
During the resort's 15th anniversary in 1986, photo right, the afternoon parade featured "glittering floats and costumes, flashy song-and-dance numbers, roller skaters and a galaxy of Disney characters in their party finery."
Every 15 seconds, arriving park guests received a special gift in honor of the celebration. And once a day, a brand new car was awarded to a lucky guest.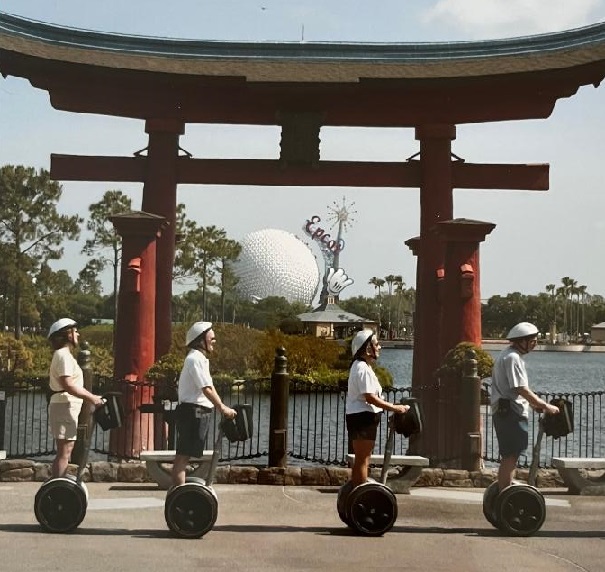 A WHEELY GOOD TIME AT EPCOT
Over the years, EPCOT has been home to several different transportation options.
The monorail comes to mind, as it makes its regular runs from the Transportation and Ticket Center, around World Discovery, World Nature, and World Celebration. And then there's the Disney Skyliner, with a station located near EPCOT's back gate.
Nearby, the Friendship boats take guests on a leisurely trip to several EPCOT-area resorts before reaching Disney's Hollywood Studios. And, of course, there are the Disney on-property buses that permeate the front section of the park.
And who could forget the London-inspired double-decker buses that once carried guests around World Showcase?
During the early 2000s, guests could even take a spin around World Showcase on a Segway.
During the early morning [well before that section of EPCOT opened], guests could take part in Around the World at EPCOT, a two-hour experience where they rented Segway Human Transporters and, after receiving training, could zip around the one-mile-long Showcase walkways to their heart's content.
To the uninitiated, the Segway is a two-wheeled, self-balancing personal transporter.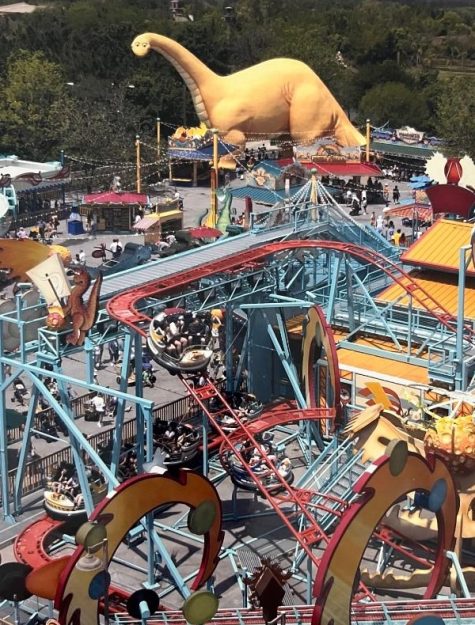 A DINO-THEMED ROADSIDE CARNIVAL
If Animal Kingdom is Disney's imagination gone wild, then the Chester & Hester's Dino-Rama area in the Dinoland U.S.A. section of the park is former Imagineer Joe Rohde's mind gone nostalgic.
Rohde, the driving force behind Animal Kingdom's creation, went back to his youth in designing Dino-Rama.
"As a boy … we'd regularly take off on drives across the West," he said. "My dad abhorred chains [motels], so we'd eat, sleep and shop with whatever meager funds we had 'where the locals go.'"
Chester & Hester's Dino-Rama harkens back to those Rohde family road trips. "It's for kids who haven't yet learned what's tasteful, elegant, cool, or trendy," he said when the area opened. "I sort of grin every time I see it and remember my days poking through trays of arrowheads and fossil shark teeth, posing with plaster dinosaurs."
The area debuted in 2002. In describing it, Disney's PR folks said: "Dino-Rama replicates the wacky, whimsical feel of a roadside carnival." Indeed, faded parking lot lines and faux manhole covers gave it just the right church bazaar atmosphere.
The two main attractions within Dino-Rama, when it opened, were Primeval Whirl, shown above, and TriceraTop Spin.
Primeval Whirl became extinct in 2020, while TriceraTop Spin – and the rest of Chester & Hester's, for that matter – hangs on by the skin of its dinosaur teeth.
Chuck Schmidt is an award-winning journalist and retired Disney cast member who has covered all things Disney since 1984 in both print and on-line. He has authored or co-authored seven books on Disney, including Disney's Animal Kingdom: An Unofficial History, for Theme Park Press. He also has written a regular blog for AllEars.Net, called Still Goofy About Disney, since 2015.