Is there any better way to end a day at Disney World than with an amazing fireworks show?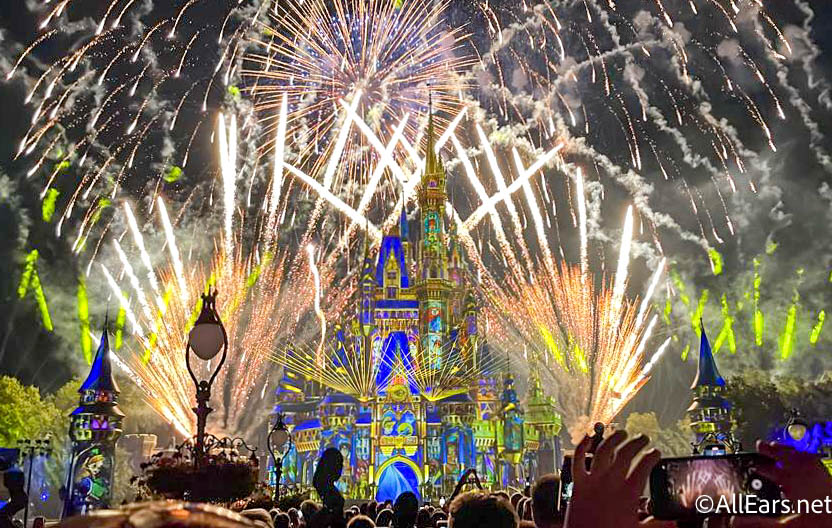 Maybe you're hot, sweaty, tired, maybe your favorite ride went down, or you got a blister. It might seem that everything that could go wrong, did go wrong during your trip, but there's still a magical way to end your day with smile.
Magic Kingdom fireworks are a park tradition, and when you're immersed in the magic, it can really seem like you've entered into a land of fantasy, and pixie dust is lighting up the sky. So, let's dive in and learn all there is to know about Magic Kingdom fireworks.
History
Fantasy in the Sky (1971 to 2003)
This is the show that started it all. Fireworks made their debut at Disneyland in 1956. It was a direct result of Walt asking for a fireworks show. He wanted Sleeping Beauty Castle as the backdrop, much like the introduction to the Disneyland television program.
Like all things Disney, the show evolved over time. It was renamed Fantasy in the Sky in 1958. Tinkerbell's nightly flight became part of the experience at Disneyland in 1961.
Initially, the pyrotechnics were hand lit by cast members. In the 1960s, the firing method changed to an electronic push button system. This made it possible to sync the fireworks to the soundtrack, paving the way for the Disney nighttime displays we are accustomed to.
When Disney World opened in 1971, naturally the Fantasy in the Sky show because a part of the Magic Kingdom experience, as well.
The show was about 6 minutes long. The sky behind Cinderella Castle glowed in time to classic Disney songs including "A Dream is a Wish Your Heart Makes", "When You Wish Upon a Star", and the "Mickey Mouse March". After 1985, if you were lucky and the weather was right, Tinkerbell kicked off the celebration by flying from Cinderella Castle toward Tomorrowland Terrace.
Fantasy in the Sky continued to play for over 30 years, closing in 2003. But that was not the end of this beloved show.
Wishes: A Magical Gathering of Disney Dreams (2003 to 2017)
This 12 ½ minute show premiered on October 9, 2003. It had a stronger storyline than its predecessor, focusing on the wishes of Disney characters, both good and evil.
Jiminy Cricket was the narrator for Wishes. The only character to actually appear was Tinkerbell, as she reprised her Fantasy in the Sky flight from the castle to Tomorrowland.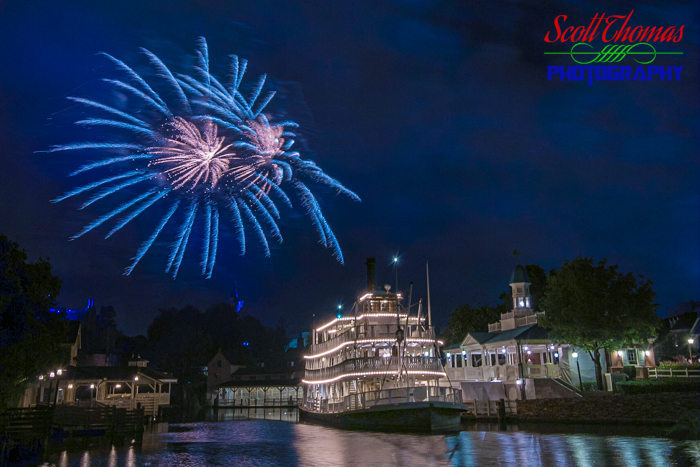 The show featured more than 683 fireworks. This included several wishing stars that appeared during different parts of the show, arcing 100 feet over the top of Cinderella Castle. Special lighting transformed the color of the castle throughout the program, reflecting the mood of the music being played. The soundtrack included tunes from more recent Disney classics like Beauty and the Beast, Aladdin, and Hercules.
Wishes was pre-empted by other specialty shows for certain holidays and events during its run. On New Year's Eve, Wishes was shown and then plussed with the addition of Fantasy in the Sky. This version included a countdown to the year's end, hosted by Mickey, Goofy, and Minnie. And HalloWishes replaced the regular show at Mickey's Not-So-Scary Halloween Party. This 11-minute display focused on Disney's spookier and more villainous side. Songs included The Little Mermaid's "Poor Unfortunate Souls", "This is Halloween" from The Nightmare Before Christmas, and "Grim Grinning Ghosts" from the Haunted Mansion. And Mickey's Very Merry Christmas Party featured a different fireworks spectacular—Holiday Wishes: Celebrate the Spirit of the Season. This show was also hosted by Jiminy Cricket. Holiday-themed classics included "Sleigh Bells," "I'll Be Home for Christmas," and "Santa Claus is Coming to Town."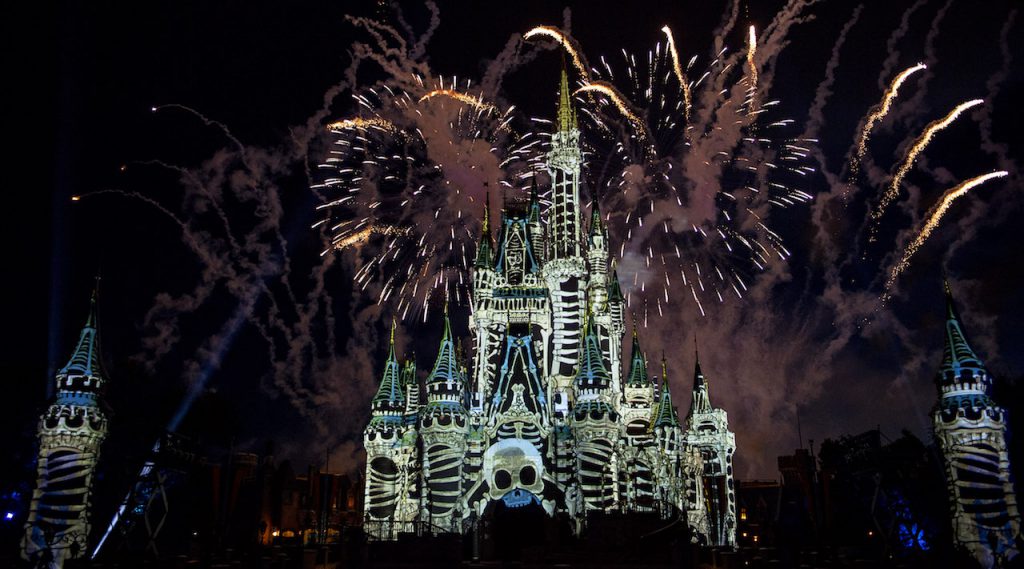 Wishes was shown for the last time at the Magic Kingdom on May 11, 2017, after playing for 13 years.
Happily Ever After (2017 to 2021)
This show debuted the day after Wishes closed, on May 12, 2017. It is the longest of the Magic Kingdom shows so far, coming in at 18 minutes. It includes scenes from Disney classics like Sleeping Beauty along with more contemporary films like Moana.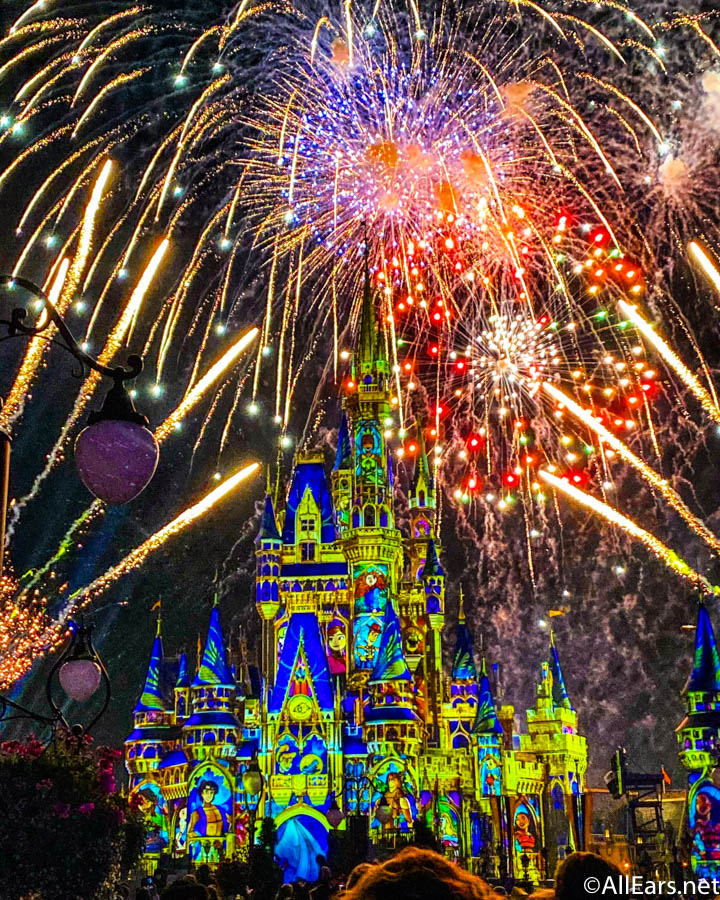 Happily Ever After takes Disney's nighttime entertainment to the next level. More than pyrotechnics, it also includes lasers, searchlights, and projection mapping. Cinderella Castle is a kind of screen for the projections, becoming part of the show. Great moments from Disney movies appear on the 18-story high building. Ariel swims in her undersea grotto full of treasures, Quasimodo swings from spire to spire, and the Up house floats by with its multicolor balloons. Altogether, there are projected scenes from more than 25 Disney movies.
There are also over 50 synchronized spotlights, along with dancing lasers and incredible fireworks. The music is also extraordinary, having been recorded by a 75-piece orchestra.
Another thing that makes this show unique is its structured storyline. It focuses on Disney characters' journeys to make their dreams come true. It is meant to inspire guests to find their own Happily Ever After.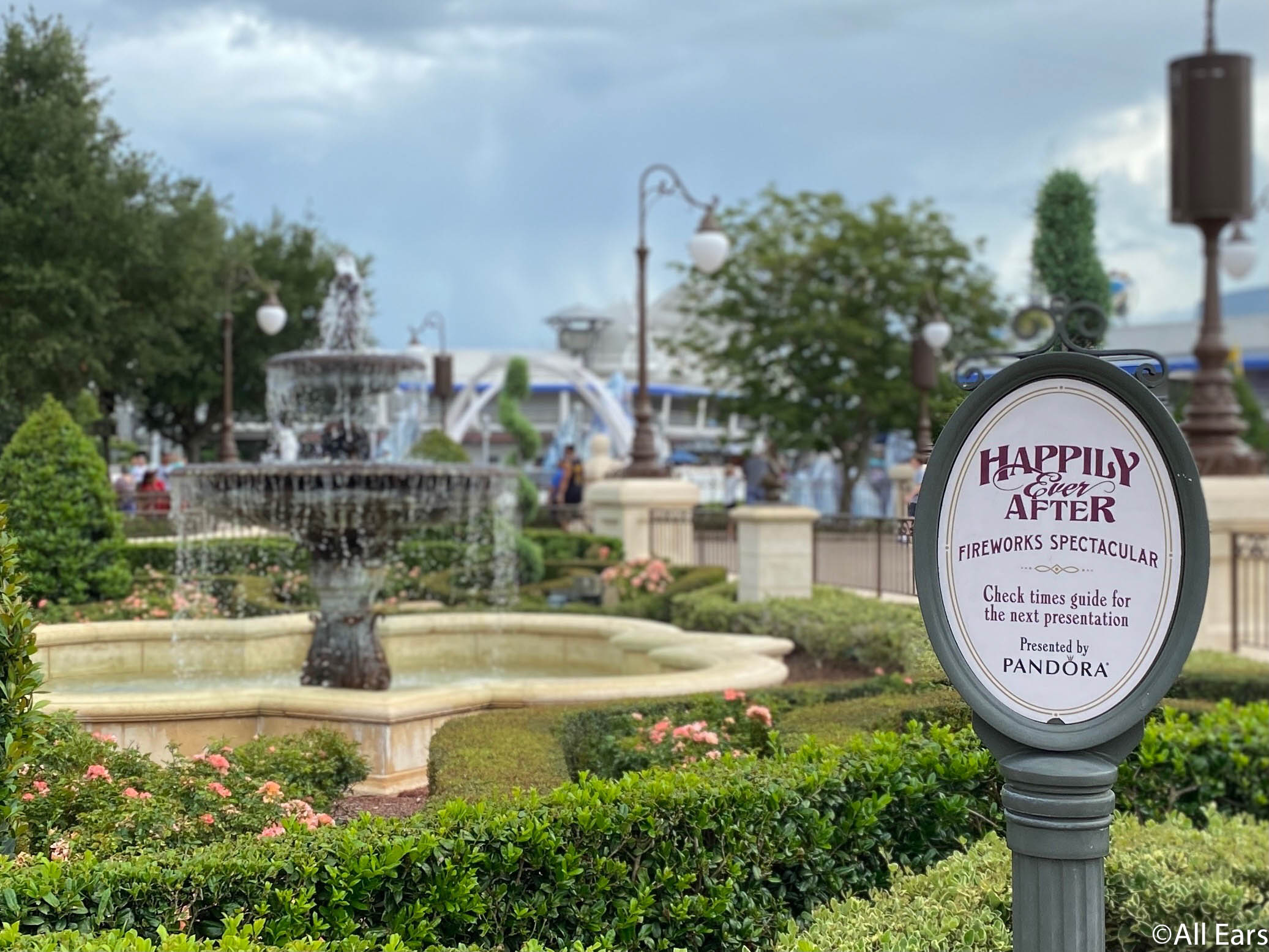 The narrator tells guests that, like the characters, they can also use their magic to make their dreams come true. Then Tinkerbell makes her iconic flight over the Magic Kingdom to "You Can Fly." The show ends with a final flourish of fireworks.
Disney Enchantment (2021 to 2023)
This recent fireworks display debuted on October 1st, 2021, as part of "The World's Most Magical Celebration"—the 50th anniversary of Disney World and the Magic Kingdom, which ran for 18 months.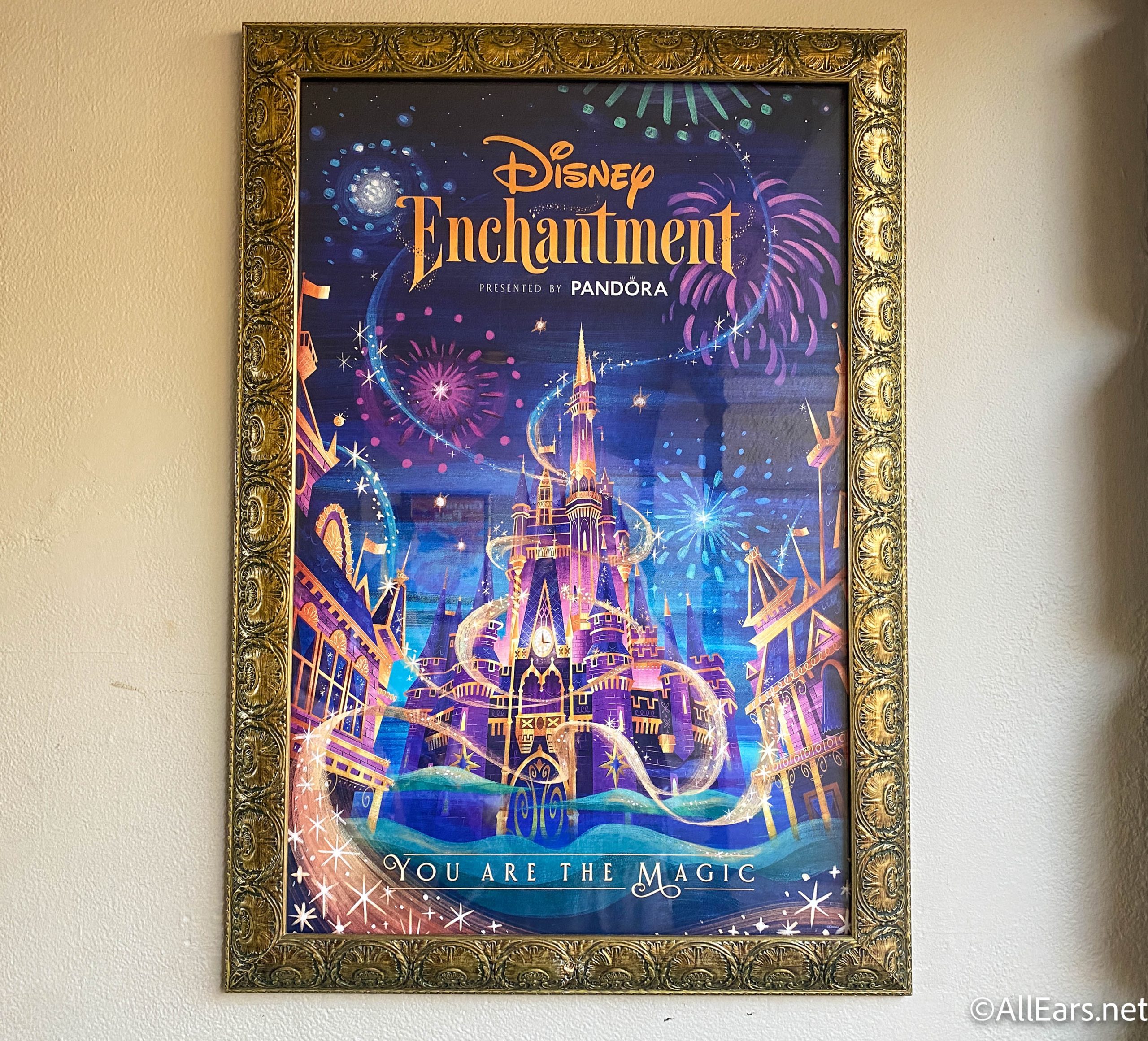 Disney Enchantment lasted for 15 minutes and 40 seconds and was billed as taking guests "on a journey beyond the ordinary to a land of magic." It used stunning fireworks, enhanced lighting, and captivating Disney music to sweep us away into a "world of wonder filled with friendship, love, and fun."
It also featured a first for any Magic Kingdom nighttime spectacular: immersive projection effects that extended from Cinderella Castle down Main Street, U.S.A.! There were 14 songs in Disney Enchantment, including a new original song: "You Are the Magic" by Lawrence and Kayla Alvarez. It pulled songs and scenes from several of Disney's classic animated classic films and more current movies from Disney Animation and Pixar Studios.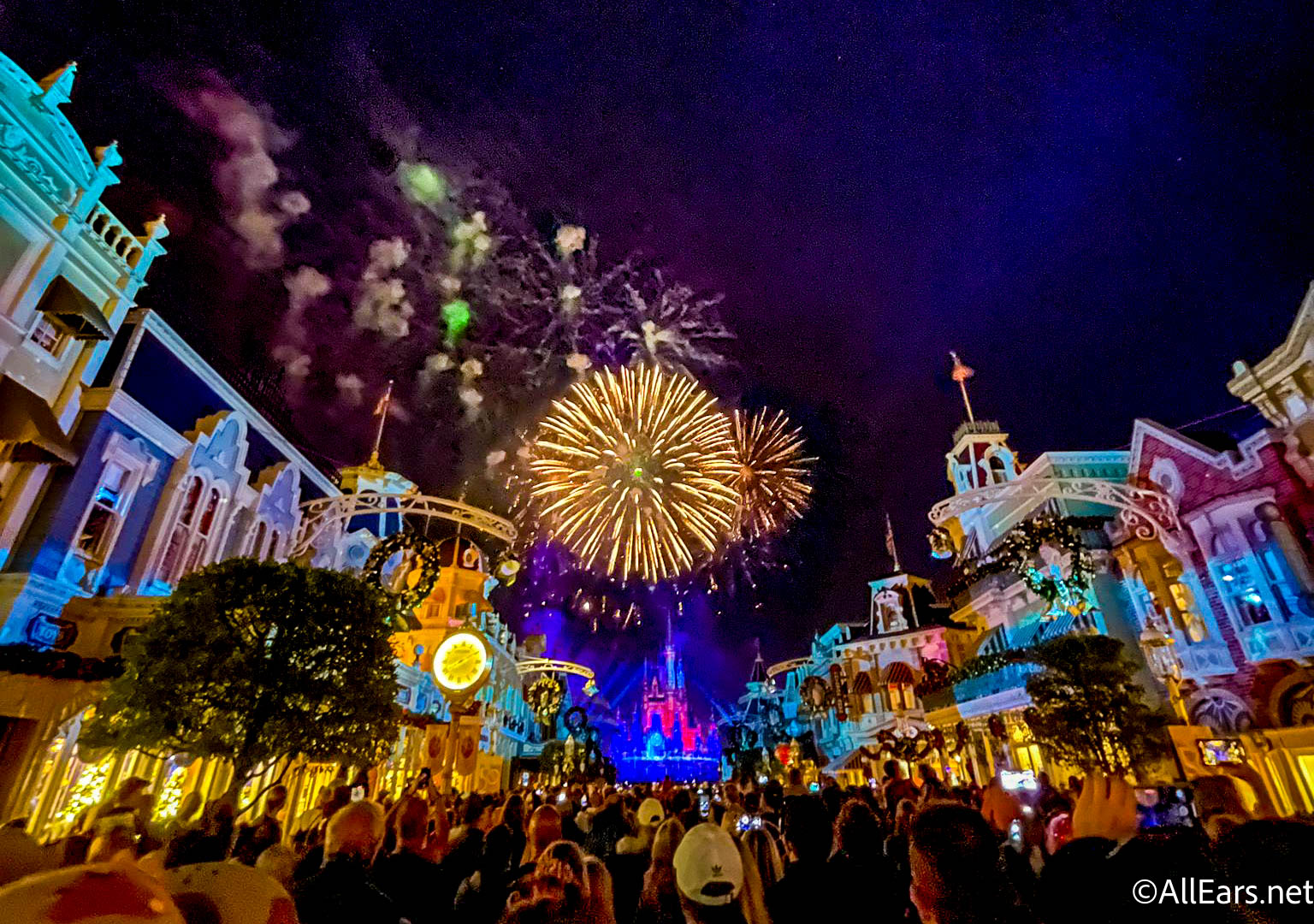 Enchantment played in Magic Kingdom throughout the Disney World 50th Anniversary Celebration and concluded shortly after the celebration's conclusion, with its last showing on April 2nd, 2023, to welcome back a new iteration of Happily Ever After.
Happily Ever After 2023-?
Happily Ever After returned to the Magic Kingdom on April 3rd, 2023, with the addition of new projections that extended down Main Street, U.S.A., as Enchantment had done.
BEST Places to Watch Magic Kingdom Fireworks
We know that people have different priorities regarding the Disney World nighttime shows. Some of you might want to see all the fireworks as close as possible, while others want to take in all the projections. Maybe you just want the most comfortable experience with the fewest crowds. Here are our top picks for Enchantment viewing, based on some different preferences.
If Your Priority Is Fireworks
The best place to see the fireworks part is actually not right up by the Cinderella Castle. If you're too close to the castle, you'll have to really crane your neck to get a good view, because some of these fireworks are BIG.
We think the best spot would be a little further down Main Street, U.S.A. If you're toward the middle of the street (not too close to buildings on either side), you'll get an unobstructed view of the Castle and all the fireworks around it.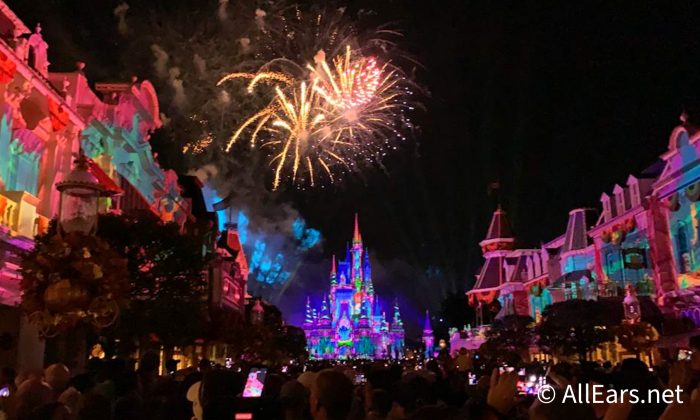 You'll also be able to see the Main Street projections from here really well, but you'll be a little further away from the Castle, which means the projections on the Castle itself will be more difficult to see. And as far as crowds go, this might be the worst spot. People pack really close together on Main Street, and your elbow room will likely be minimal.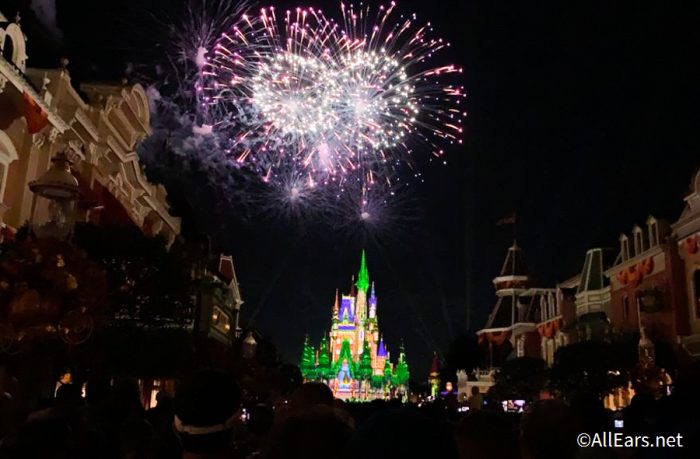 But for awesome fireworks views? The tight crowds might be worth it!
If Your Priority Is Projections
The projections on the Castle are really cool, especially since they are a newer addition to Magic Kingdom fireworks shows.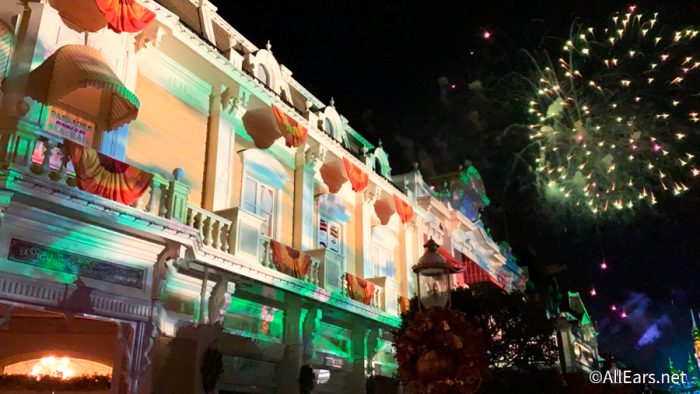 You can see colors, scenes, and characters projected onto Cinderella Castle and Main Street shops. So it's a little tricky to find the best place to be able to see both sets of projections (Main Street and Castle ones).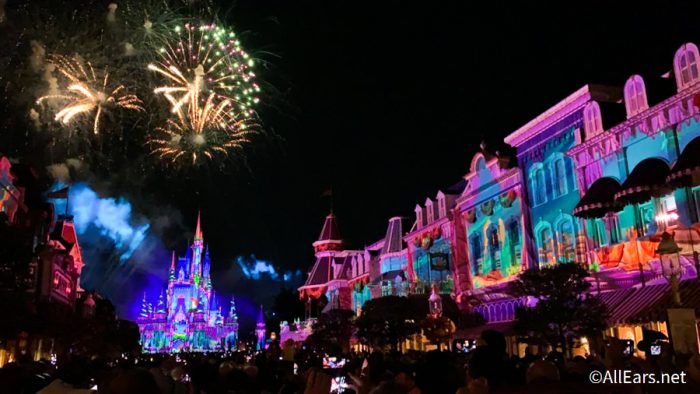 We recommend staying near the top of Main Street, around Casey's Corner, or the Plaza Ice Cream Parlor. That way, you're near enough to see the Castle projections, but you can still turn and see all the Main Street ones, too.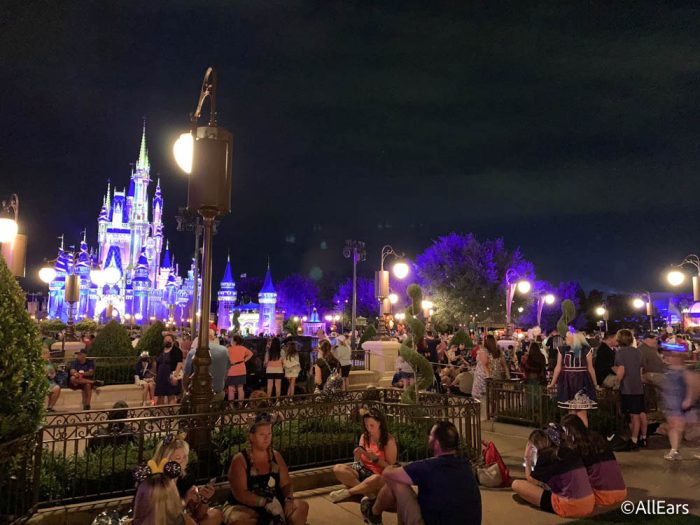 The sidewalks in the hub are a great spot for the Castle projections, but make sure you're standing a little to the left or right (not dead-center) so that the Partner's Statue (of Walt and Mickey) isn't obstructing your view.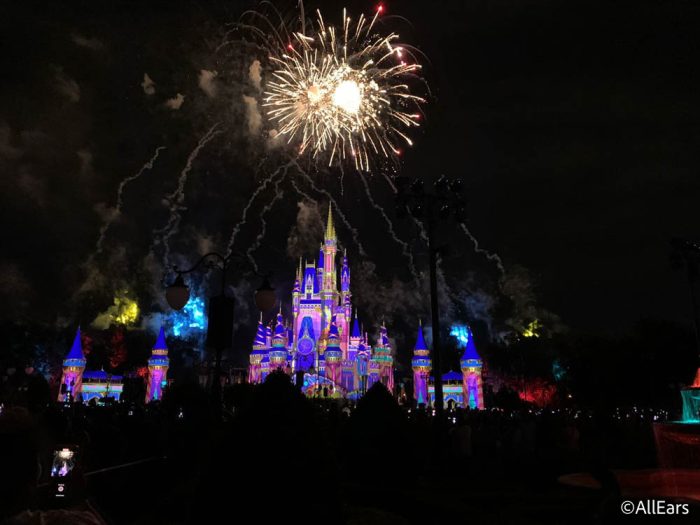 Plus, if you're up on a sidewalk, you'll be a couple of inches taller than the people in front of you on the street. We'll take all the help we can get for great views!
If Your Priority is Comfort (and You Don't Want to Spend Extra Cash)
We totally get it — not everyone has $130 lying around to spend on fancy fireworks parties! And even if you have the money in the budget, you might want to spend it on other park experiences. So where should you go if you still want the most comfortable experience possible without shelling out the dough?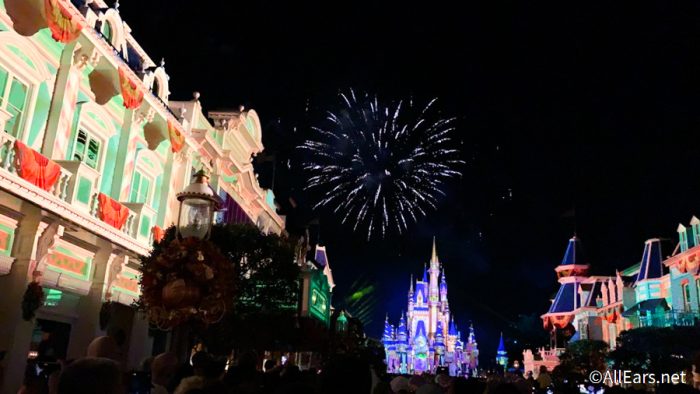 One of our favorite ways to watch fireworks shows is actually from a side street. The area by Gaston's Tavern in Fantasyland doesn't usually get crowded at all, and you can find a spot to sit down and enjoy the music and fireworks.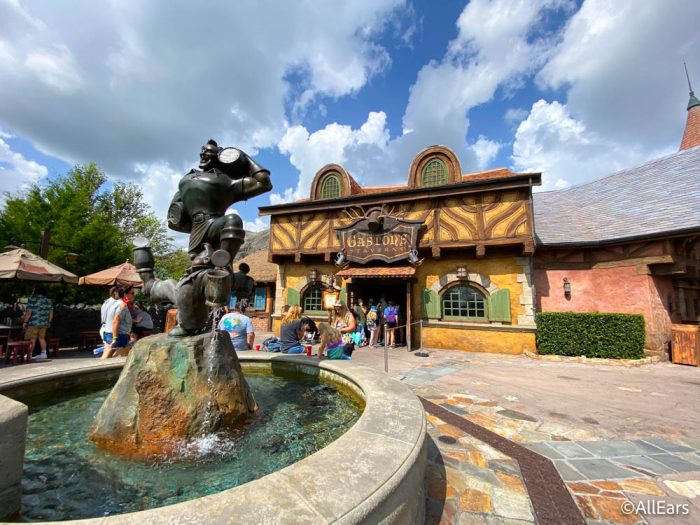 You won't get to see the projections nearly as well from over here, so if it's your first time seeing the show or you love the projections, this isn't the best place for you.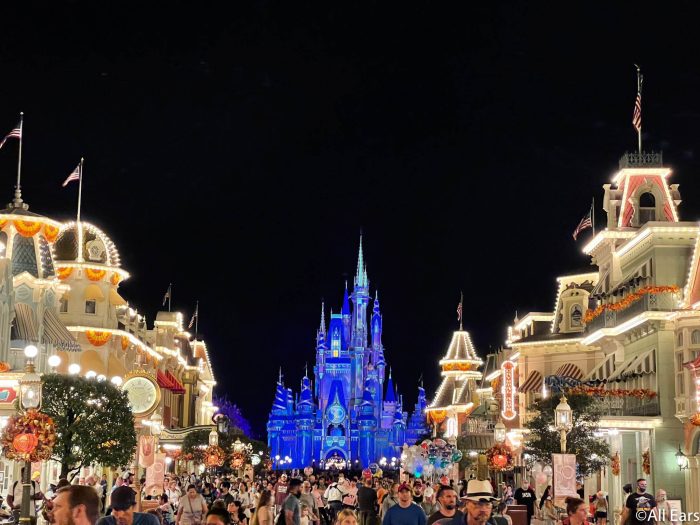 But if you've seen the show already and just want to enjoy the ambiance and magic of it from a comfortable, not-crowded spot, try out some side streets!
General Tips
Here are a few more things to keep in mind as you stake out your fireworks viewing spot: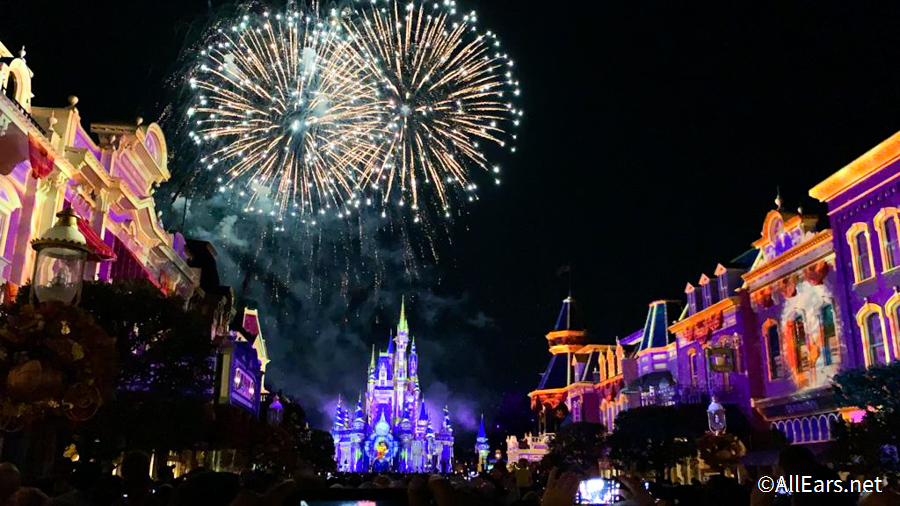 There are usually BIG crowds of people trying to get a good view, so personal space is pretty minimal on Main Street, U.S.A. If you can find a trash can, we recommend standing next to it (no, really). That means you'll have at least a little bit of elbow room on that side, and it makes a handy table if you brought along a snack.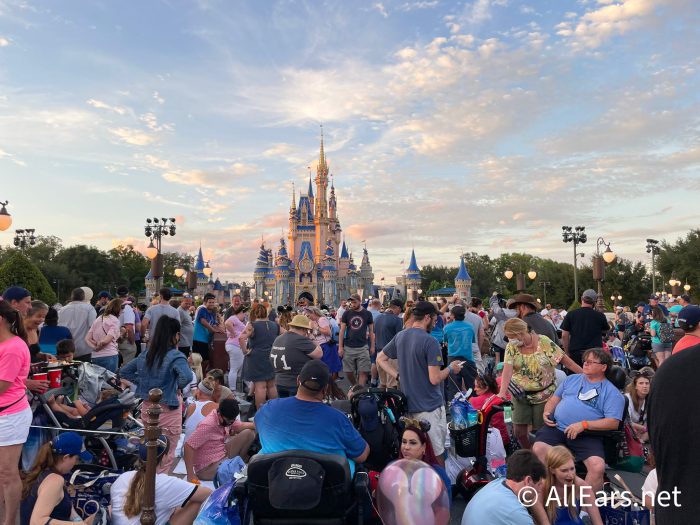 Find your spot about 45 minutes before the show starts if this is a big priority for you. If you're interested in the show but not dying to get the best view, don't worry too much about staking out a spot at all. There is plenty of room to get a decent view, even if it gets a bit crowded.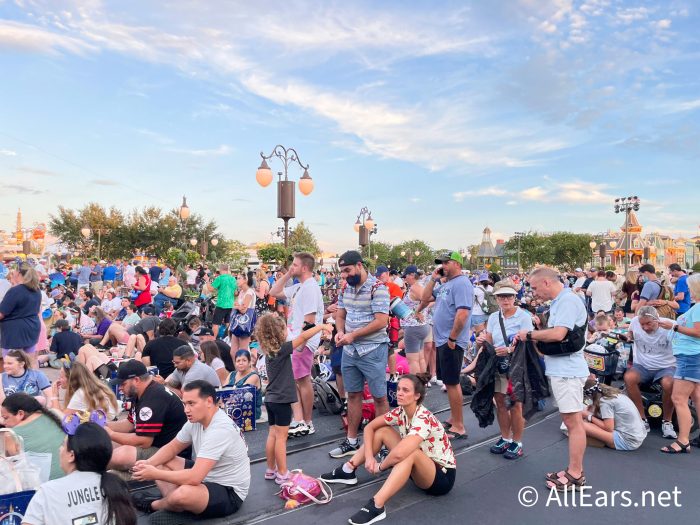 Grab a snack on the way to the show! There are lots of new snacks in the Magic Kingdom right now, and what could be more magical than watching fireworks with a delicious Disney snack in your hand? Fireworks + snack = happy days.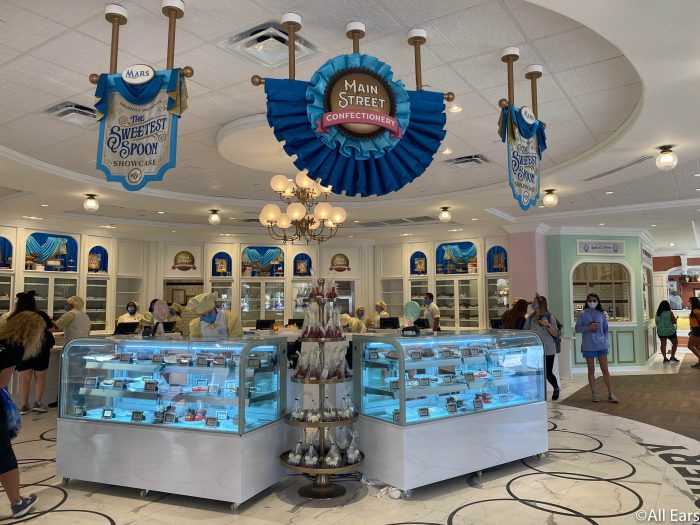 Remember to be polite and considerate while you're watching the show! We totally get that you might want to take pictures and videos (obviously we do that all the time), but try not to have your camera right in someone's view. And if there are little kids around you, we know they (and their parents) will really appreciate it if you let them stand in front.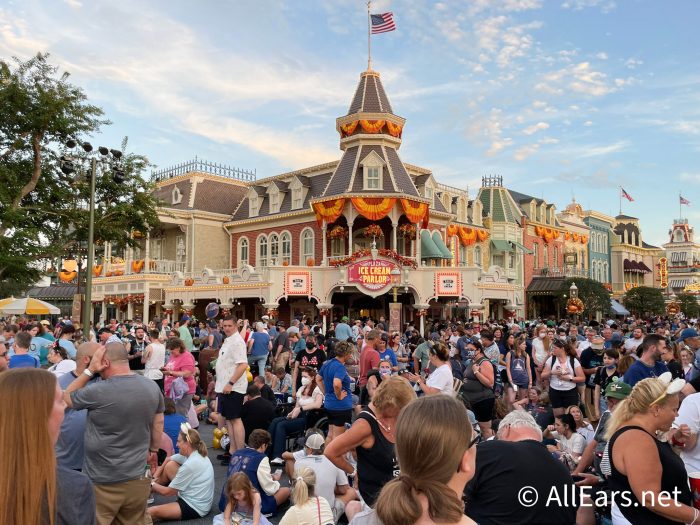 Fireworks Parties
If fireworks and snacks are a big part of having a magical Disney vacation moment, then you might want to budget and plan for a Fireworks Dessert Party.  These special dessert parties provide guests some sweet treats around watching the Magic Kingdom's evening fireworks from a reserved viewing area, and you have several options.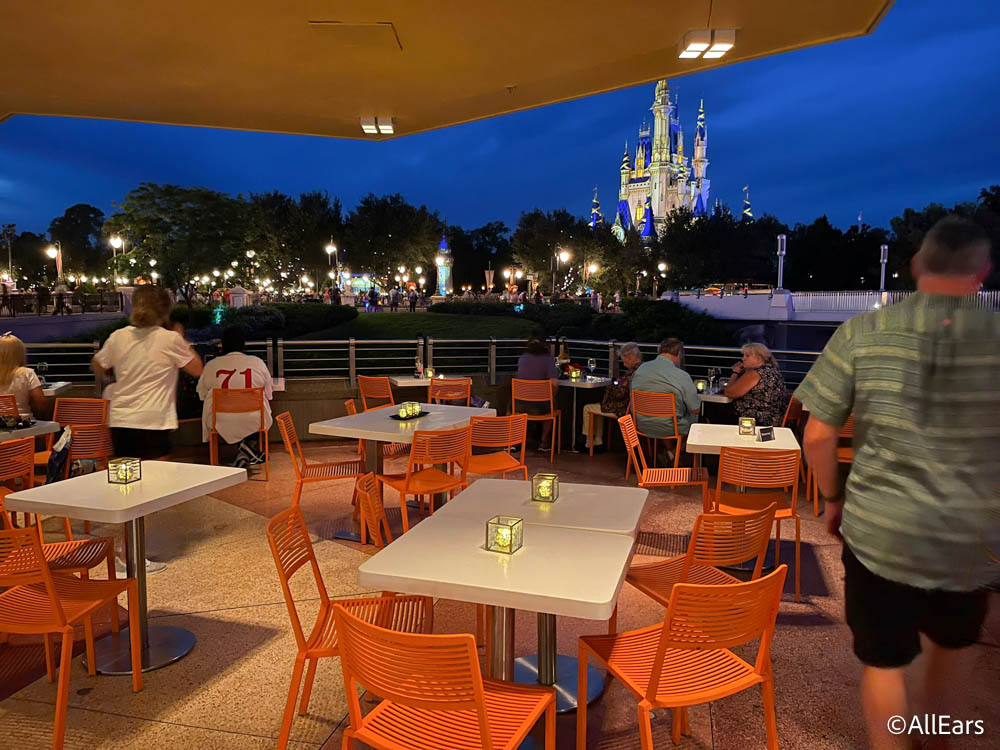 Here's a look at the different parties:
Magic Kingdom Fireworks Dessert Parties: Pre-Party (guests have dessert first and then are escorted to a fireworks viewing area in the Plaza Garden)  — $99 for adults, $59 for children
Magic Kingdom Fireworks Dessert Parties: Seats & Sweets (guests have dessert and then view the fireworks from the patio of Tomorrowland Terrace Restaurant) — $114 for adults, $69 for children
Magic Kingdom Fireworks Dessert Parties: Post-Party (guests watch the fireworks from a special viewing area in the Plaza Garden and then go enjoy desserts after)  — $99 for adults, $59 for children
You can expect to find desserts like chocolate silk tarts, chocolate-dipped strawberries, cheeses, and beverages like wine and beer for those who are old enough to imbibe.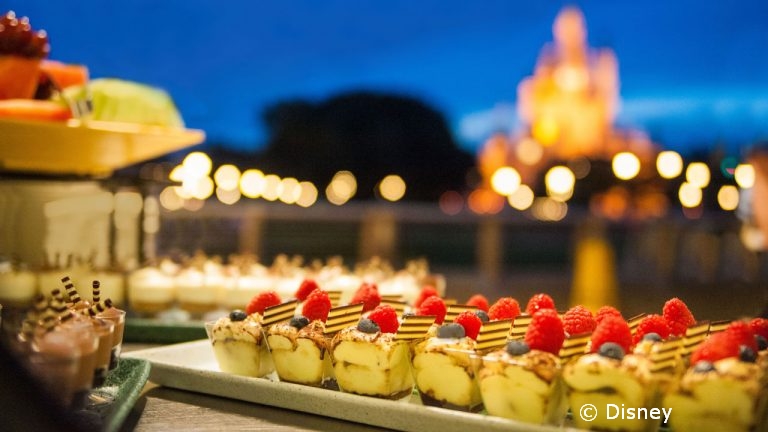 For a more posh, distanced option, the California Grill often offers its own fireworks viewing party. The current offering is "Celebration at the Top – Sip, Savor, and Sparkle." For $129 per person, guests can view the fireworks from the restaurant window or the outdoor observation deck. Guests can expect small bites and sushi from the California Grill menu, plus plenty of desserts and complimentary wine, beer, and cordials.
Outside the Magic Kingdom
The fireworks are so massive, that you don't necessarily have to be in the Magic Kingdom to see and enjoy them. Now, you won't get the full effect of the music and the projects from outside the park, but you can still see that glorious magic in the air, without having to fork over the cost of a park ticket. If you're dining at some of the restaurants, they will often dim the lights and pipe in the music for the show in the dining room, so you can really enjoy the experience.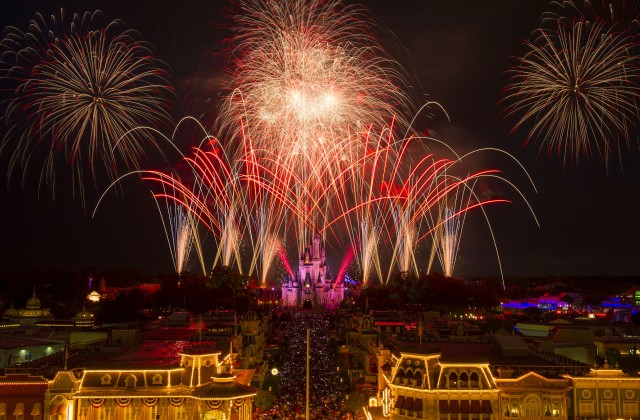 As we mentioned above, California Grill offers great views of Magic Kingdom, and if you book your dining reservation just right, you can view the fireworks while you eat. Or if you eat earlier in the day, save your receipt to get access to the outdoor viewing deck when the show starts.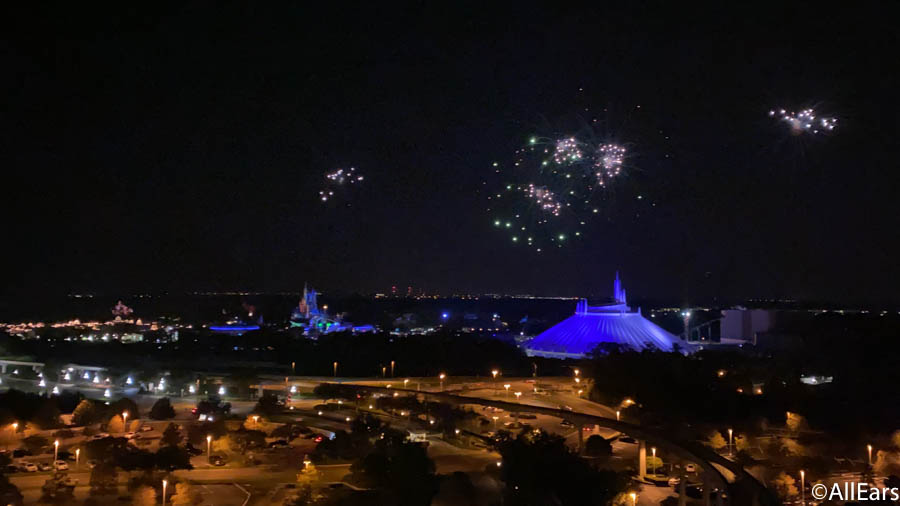 Recently reopened Narcoossee's is at the Grand Floridian and just across the Seven Seas Lagoon from Magic Kingdom. It also offers some brilliant views of the fireworks display across the water.
It's a bit more of an obscured view, but 'Ohana's at the Polynesian Vilage Resort has some windows that face Magic Kingdom. Not all windows offer a theme park view, as the giant volcano in the middle of the pool takes up much of the windows, but if you get lucky, you might just be able to see those colorful explosions.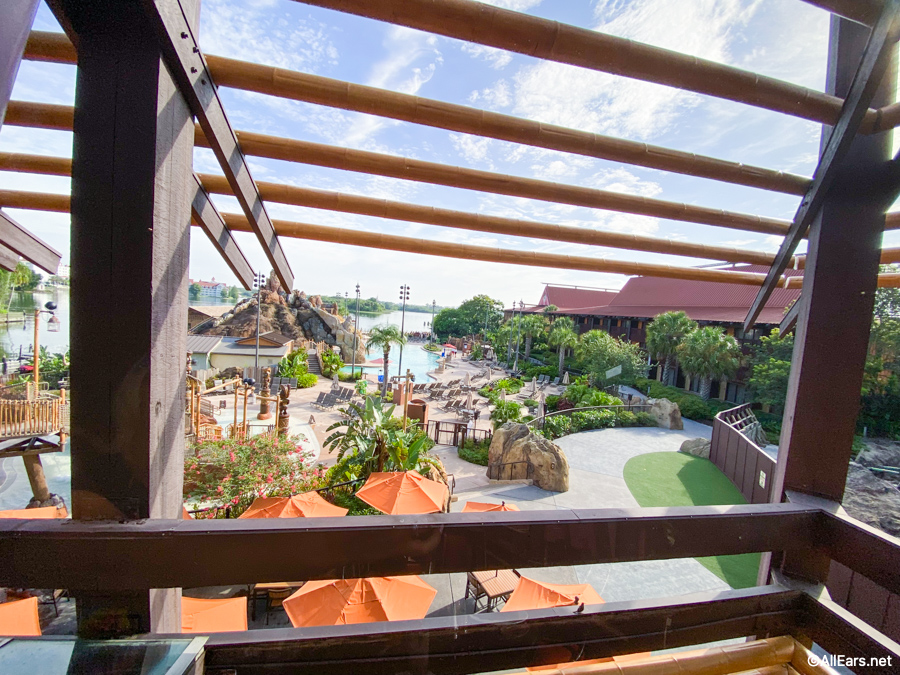 Or, if you're not one to splurge on a big meal, explore the beach at the Grand Floridian or Polynesian Village for some of those spectacular waterside views. The ferry launch at the Transportation and Ticket Center also has a pretty centered view of the show.
When to Watch Magic Kingdom Fireworks
This is not a trick question; luckily, you have your own little cheat sheet right in your hand (in fact, you're probably reading this post on it now). Yep, your phone has all of the information on when the fireworks will be showing, so you know when you need to get to your chosen viewing spot!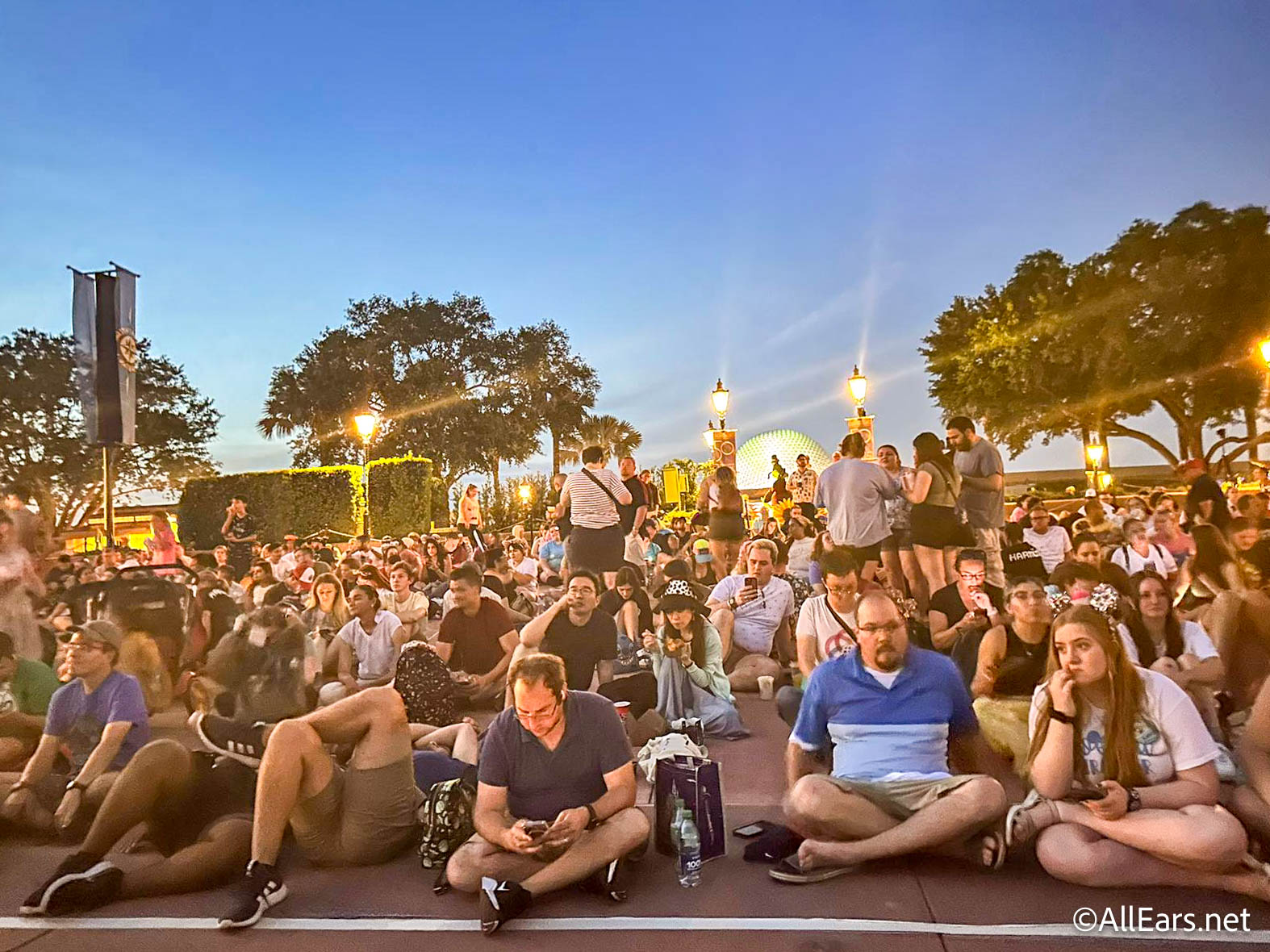 Actual showtimes will vary throughout the year as the sun sets later and later (or earlier and earlier, depending on when you visit), and you're a smart cookie, so you know that fireworks show up better in the dark night sky. Typically, in the spring and summer months, the fireworks will be scheduled around 9PM, and during the fall and winter months, closer to 8PM. But on busy nights or nights when there is a holiday party (like Mickey's Not So Scary Halloween Party or Mickey's Very Merry Christmas Party), you might have two fireworks shows scheduled, one "regular" one and another special holiday show.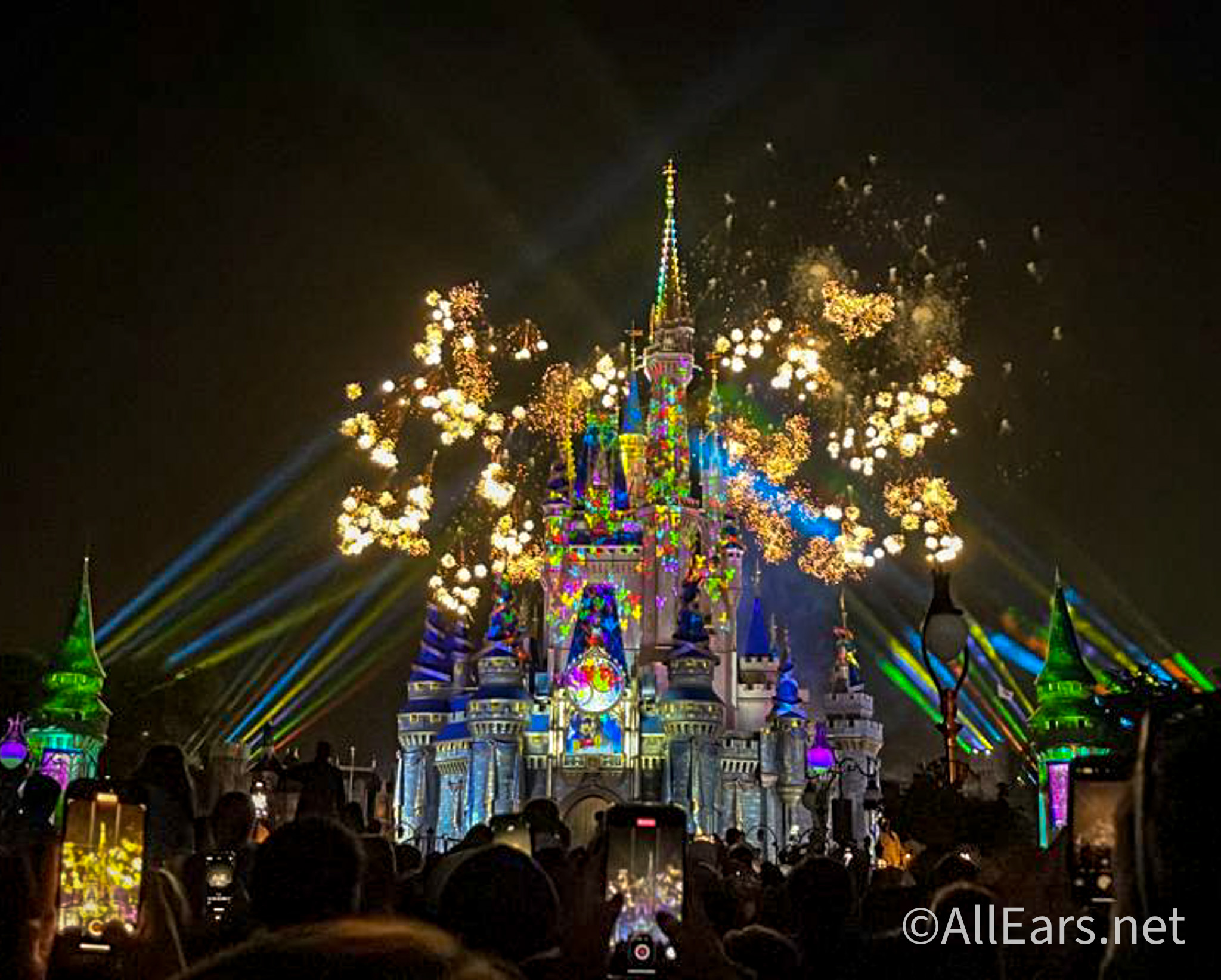 Be sure to check My Disney Experience for the exact time during your day in Magic Kingdom, so you can plan appropriately.
So there you go! The history and evolution of Magic Kingdom fireworks, our tips for the best spots to view them, and when you can watch. Keep following AllEars for more tips as you prepare for the most magical vacation on Earth.
Where is your favorite spot to watch the fireworks? Let us know in the comments below!