If you're going to Disney World soon, be WARNED.
We're in early April, meaning we're still hitting part of the Spring Break season with Easter right around the corner. While crowds on some days have not been all that bad, other days things have been intense. Here's what to expect and be prepared for.
For this post, we're sharing our experience with the wait times and crowds from April 3rd, 2023. Keep in mind that these things can change by the day but this is what we experienced.
Animal Kingdom
Over at Animal Kingdom, the crowds were VERY heavy. We noticed this from the very start of our day. We arrived about an hour after the park's official opening time and the line to park was LONG.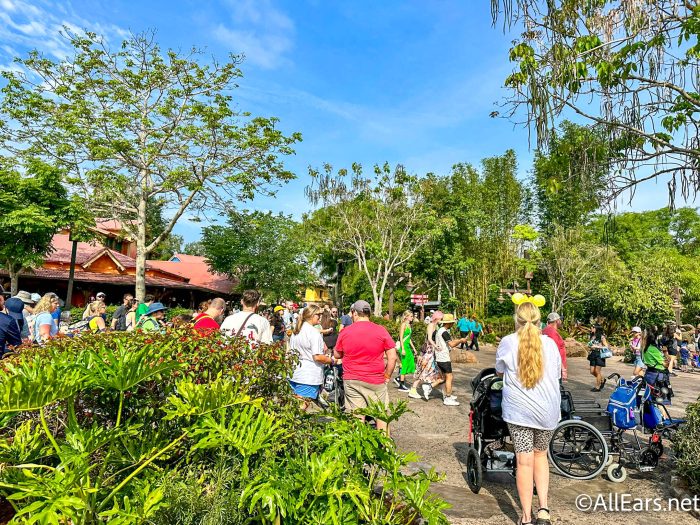 As we got into the park, there were intense crowds in many spots and long lines for several attractions including Avatar Flight of Passage, Festival of the Lion King, and more. There were even additional areas being used as stroller parking that are not traditionally used for that purpose since other stroller parking areas were full.
In terms of wait times, at around 12:30PM, Flight of Passage had a 190-minute wait, while Na'vi River Journey was at 120 minutes. Other rides with high wait times included:
Kilimanjaro Safaris — 105 minutes
Kali River Rapids — 90 minutes
Expedition Everest — 60 minutes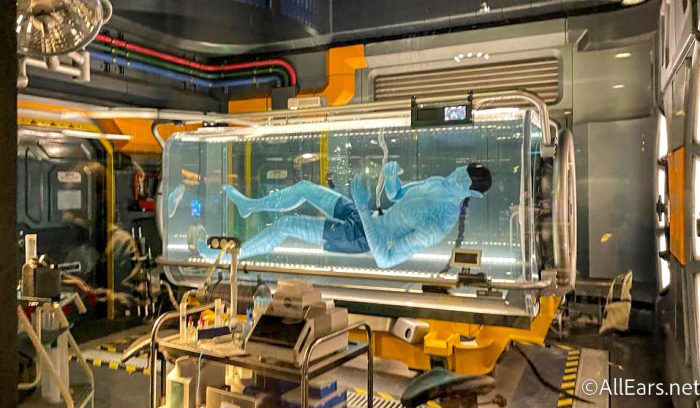 Some rides had shorter waits — like a 35-minute wait for TriceraTop Spin, but things were looking VERY busy in this park.
Disney's Hollywood Studios
At Disney's Hollywood Studios, the parking line was also long this morning. Once we got into the park, the crowds weren't all that terrible in terms of the spaces where you are just walking around.
Several rides, however, had extremely long lines.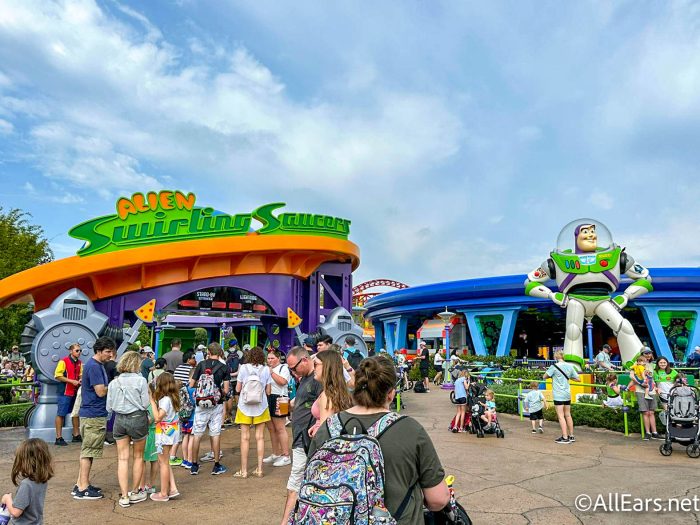 The line for Star Wars: Rise of the Resistance, for example, weaved through the Muppet*Vision 3D queue at one point.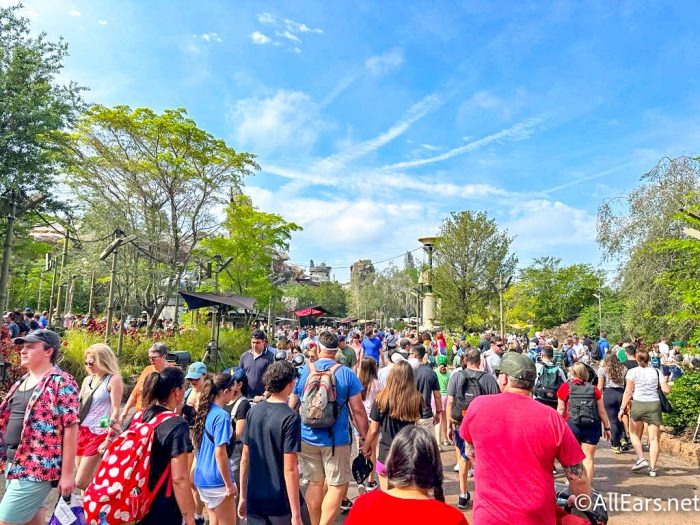 At around 12:35PM, the wait for Star Wars: Rise of the Resistance was around 135 minutes. Slinky Dog Dash was at 120 minutes, as was Millennium Falcon: Smugglers Run. Toy Story Mania was at 90 minutes, and so was Mickey & Minnie's Runaway Railway.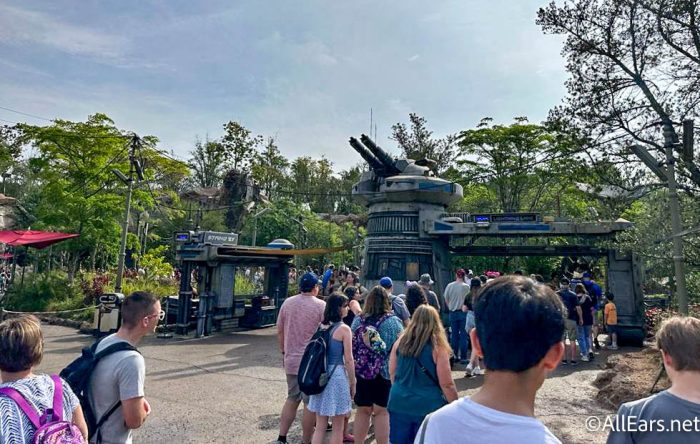 Many spots had wait times well over 30 minutes. Star Tours was at 50 minutes, and so were the Twilight Zone Tower of Terror and Alien Swirling Saucers.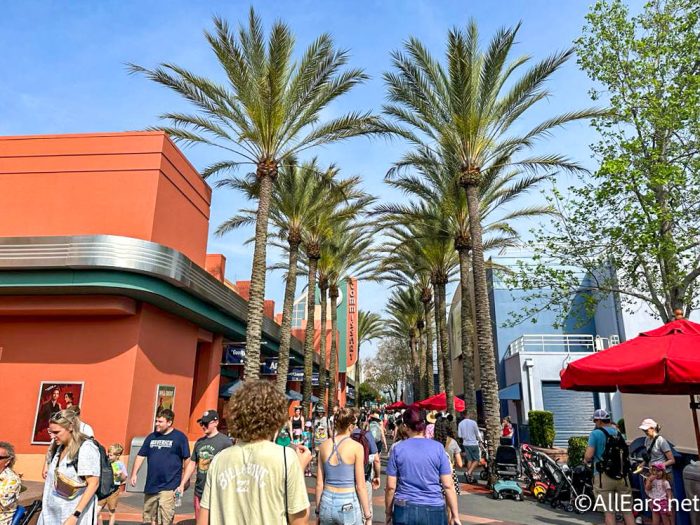 Even meeting Sulley would be a wait, with people having to stand in line for 60 minutes!
Disney Springs
At Disney Springs, on the other hand, things weren't all that bad according to our one reporter. The crowds were lighter than they had been on Saturday.
Other Wait Times
In terms of other wait times, around 12:40PM, these were some of the worst ones spotted in EPCOT and Magic Kingdom:
Remy's Ratatouille Adventure — 120 minutes
Soarin' Around the World — 110 Minutes
Test Track — 95 minutes
Peter Pan's Flight — 95 minutes
Frozen Ever After — 95 minutes
Seven Dwarfs Mine Train — 80 minutes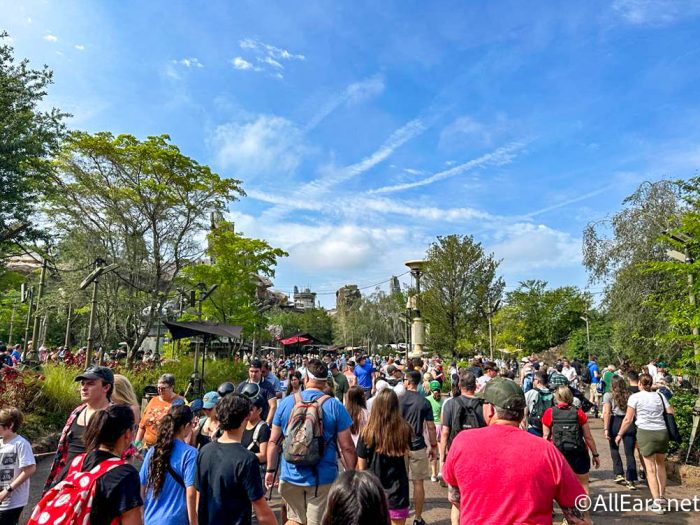 Genie+
When lines get long, you might consider grabbing Genie+ to skip some of the waits. But if you didn't buy the service early in the day, you'd be out of luck! Genie+ sold OUT (again) on April 3rd.
According to Scott Gustin (via Twitter), the service sold out shortly before noon ET, which is the earliest it has sold out in Disney World.
So if you're hoping to use Genie+, this is your official reminder to buy it EARLY in the day. You can generally buy Genie+ starting at midnight on the day of your trip.
And that is a look at the crowds so far. Be prepared for longer lines, longer waits at merchandise spots, longer waits for mobile orders and food, and just more people all around.
For historic attendance levels at Disney World, click here. And get our tips for handling Disney World's most crowded days here.
Stay tuned for more Disney news and tips.
What do you think about the crowds? Tell us in the comments.