Think you know EVERYTHING there is to know about the Wizarding World of Harry Potter at Universal Orlando Resort?! THINK AGAIN!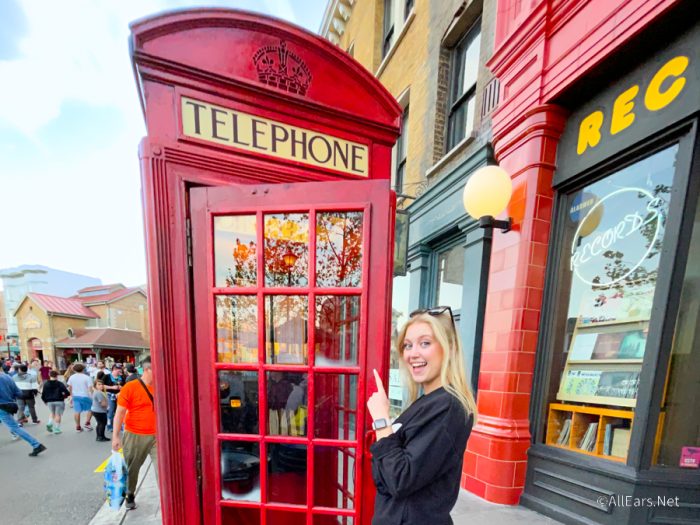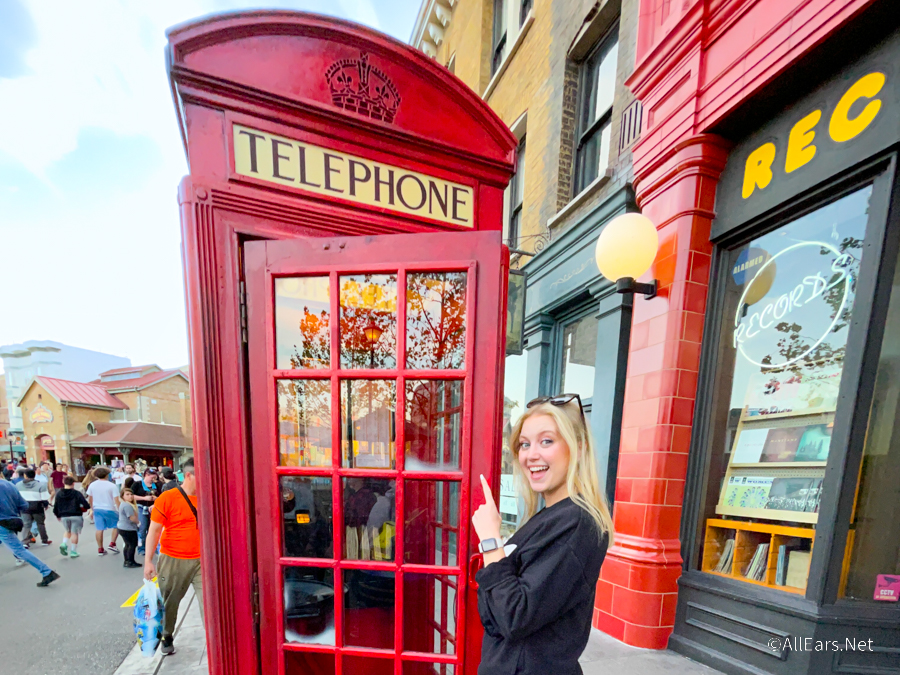 The Wizarding World (which spans across Islands of Adventure and Universal Studios at the Orlando Resort) is full of unique rides, incredible merchandise, and tasty treats. But it's also jam-packed with hidden details you've probably never noticed, no matter how many times you've been there or how much of a Harry Potter expert you are. So, let's dive into these details. Be sure to keep tabs of how many you've NEVER seen!
1 — Vanishing Cabinet
For this first one, you'll want to head to Borgin and Burkes at Diagon Alley (Universal Studios side of the Wizarding World). There's a LOT to see in this store but for this particular hidden detail, head to the corner of the store where you'll find a Vanishing Cabinet (from Harry Potter and the Half-Blood Prince).
While looking at the vanishing cabinet might be cool enough, to unlock this secret you'll want to put your ear right up next to the cabinet and listen closely. You might just hear what's inside — just for a moment! Those who are Harry Potter fans will recognize this as the sound of a bird chirping 🐦, not unlike the bird sent by Draco Malfoy when testing the cabinet. 😱
2 — Make a Special Call
For this next secret, head to the red phone booth just outside Diagon Alley (again, this is on the Universal Studios side of the Harry Potter world fun). It's in front of the record shop. There, you'll want to carefully follow the instructions of the phone booth and dial 62442 (which spells out "MAGIC" — love that).
Once you do, you'll hear a mysterious message from the Ministry of Magic itself!
3 — Look CAREFULLY
This next secret is also on the Universal Studios side. While you're walking around, search for 12 Grimmauld Place. Harry Potter fans know this as the hidden Order of the Phoenix headquarters.
Stick around this spot for a few moments and you might be lucky enough to catch someone peeking through an upper window!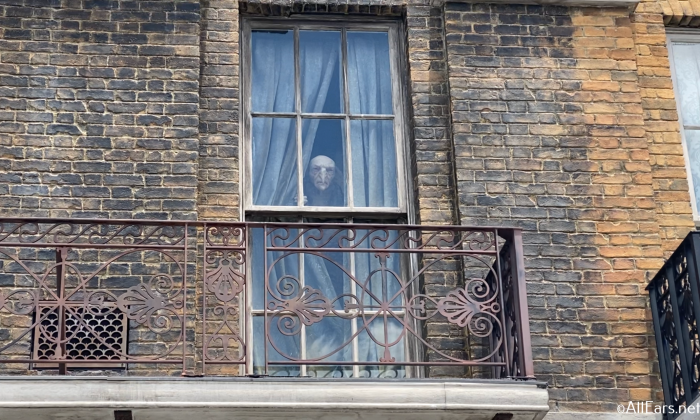 It's Kreacher!
4 — Make a Little Magic
Also on the Universal Studios side, you'll find Kings Cross station. Here, you can hop on the Hogwarts Express from Diagon Alley to Hogsmeade. Head inside and make your way through the queue. As you're walking around look closely for a poster that says "Make a Little Magic" — it's advertising the Divine Magic perfume.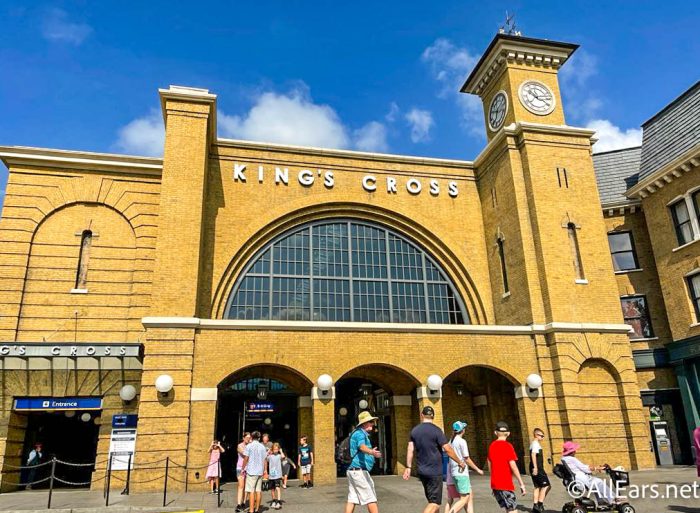 Those with a deep knowledge of Harry Potter will recognize this as the perfume that was advertised in a poster behind Albus Dumbledore in the Harry Potter and the Half-Blood Prince film.
According to Business Insider, you can thank design firm MinaLima for this invention! Does anyone else wish they could buy this perfume ASAP?
5 — Moaning Myrtle
Over on the Hogsmeade (Islands of Adventure) side of the Wizarding World, pay close attention when you visit the Public Conveniences (a.k.a. restroom).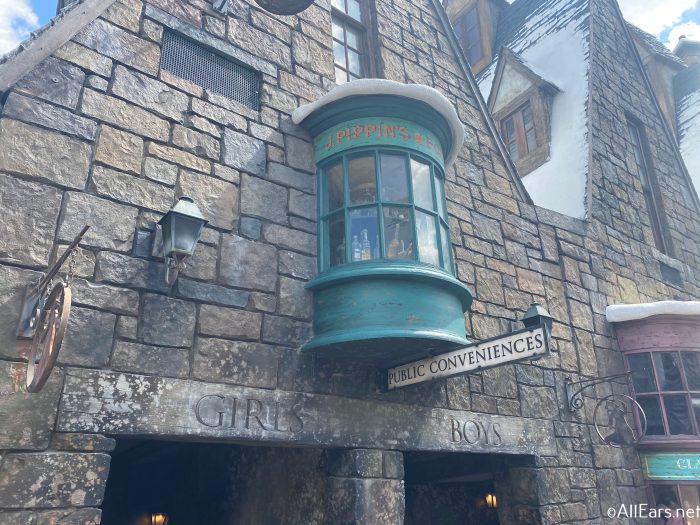 Who is it that you hear within? Well, it's Moaning Myrtle of course! Seems like she's taken a break from her time at Hogwarts to pay you a special visit — how thoughtful!
6 — Listen!
This secret is another one you'll need to listen closely to find. Back on the Universal Studios side, find The Daily Prophet office.
If you put your ear up to the door of the office you might just hear some reporters hard at work! (A thanks to the Discover Universal site for this tip!)
7 — Be BRAVE
Want to really prove that you're made of the bravery it takes to get into Gryffindor? Head to the Gringotts Money Exchange (on the Universal Studios side) and speak with the Gringotts goblin.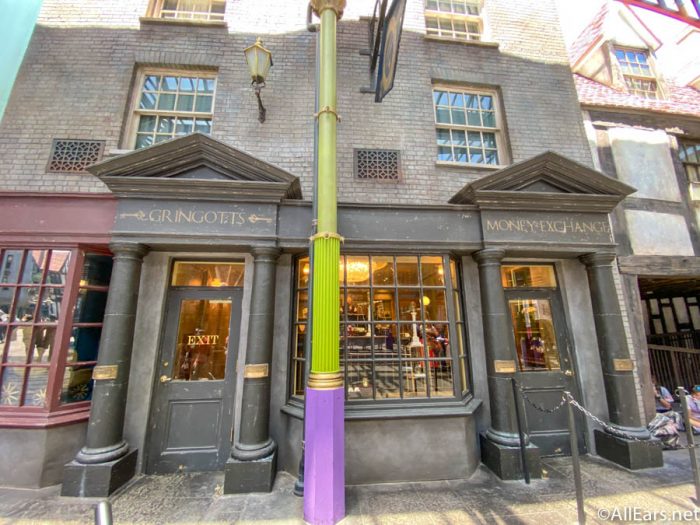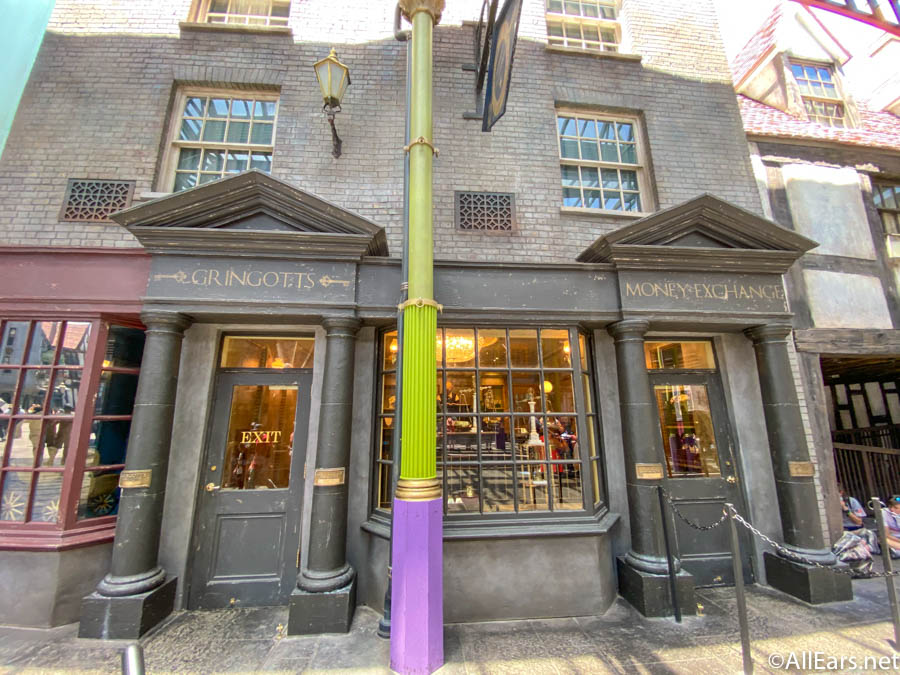 If you ask the globin there a question, he'll answer. While asking any question might require a bit of bravery, according to the Discover Universal site, those who are feeling EXTRA brave may want to ask "Are you a house-elf?" Be sure to share the answer you get in the comments below if you muster up the courage to ask this question!
8 — Hidden Spells
You may already know about the many spells you can perform while in the Wizarding World of Harry Potter (if you grab an interactive wand) but did you know that there are some HIDDEN spell spots?! Well, now you know!
Within Diagon Alley (on the Universal Studios side) you'll find a few secret spell spots. One is by the shop window for Slug and Jiggers Apothecary. There, you'll find a display of dragon dung. If you wave your wand correctly, the dung will overflow! Ask a witch or wizard nearby for some assistance to make sure you get the right movement and words. (Oh, and you might smell something a bit unpleasant too.)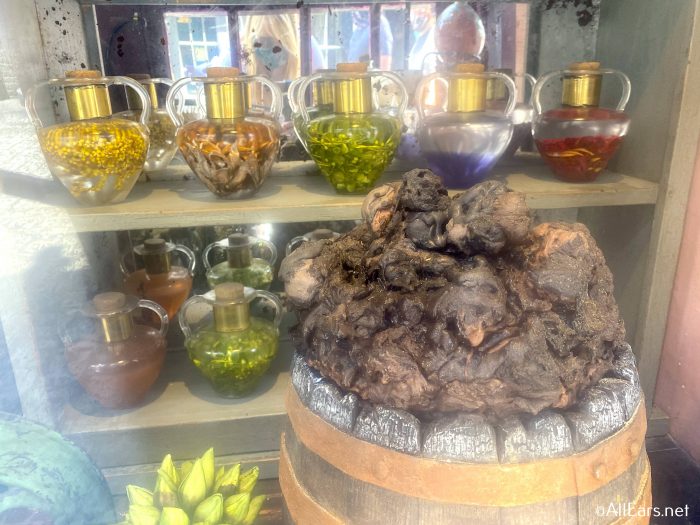 Another one is on the far right of the shop window at Scribbulus.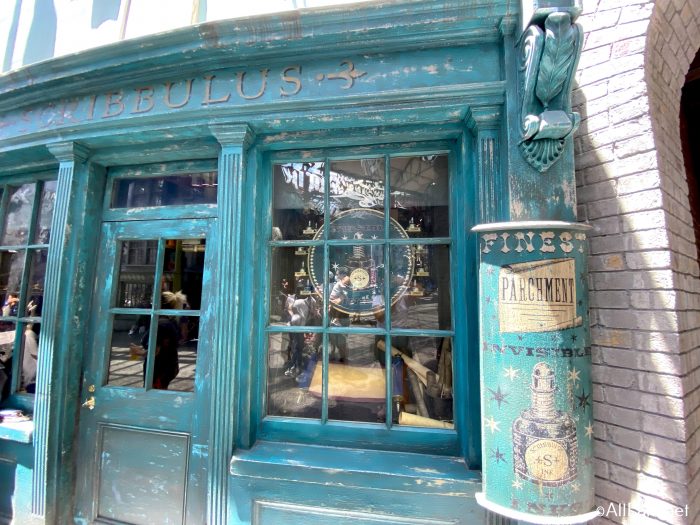 If you do the spell correctly, some invisible ink will appear!
Do the spell a few times and you'll see different messages!
Want an EXTRA secret tip? According to Seventeen Magazine, head to Knockturn Alley (Universal Studios side) and place your spell map under the black light there. If you do so, the shapes of the spells that are written in "invisible ink" on the spell map will appear!
9 — A Magic Mirror
Need some advice? Head to Madam Malkin's Robes for All Occasions shop (Universal Studios side). That's where you'll find an ornate mirror with some serious opinions!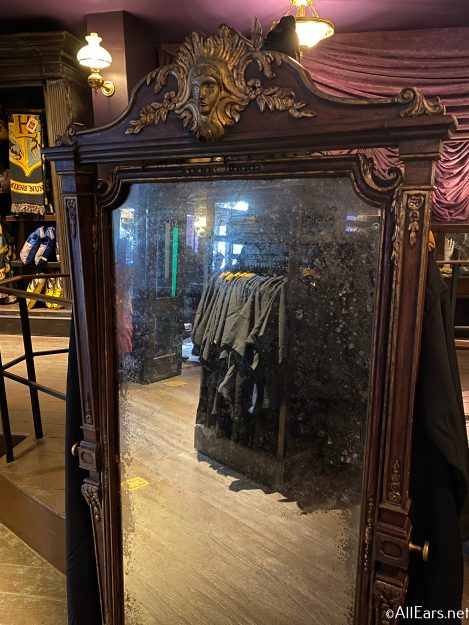 Step close enough and you might even hear her speak to you, but be warned –she's not always the nicest.
10 — Leaky Cauldron
At Diagon Alley, you can eat at the Leaky Cauldron, but watch out for the sign! It leaks…literally!
Unless you want to get some droplets dropped on you, you'll want to be cautious when moving around this area.
11 — You Can Get Gringotts Bank Notes
This might be a bit more obvious for those in the know, but it's still something we wanted to point out. While you're in Diagon Alley, after you've asked the Gringotts Money Exchange goblin your question, you can change your U.S. dollars into Wizarding money (if you want).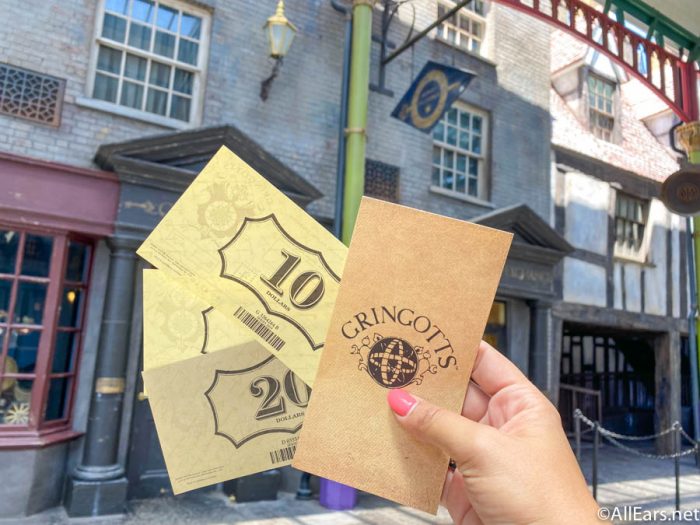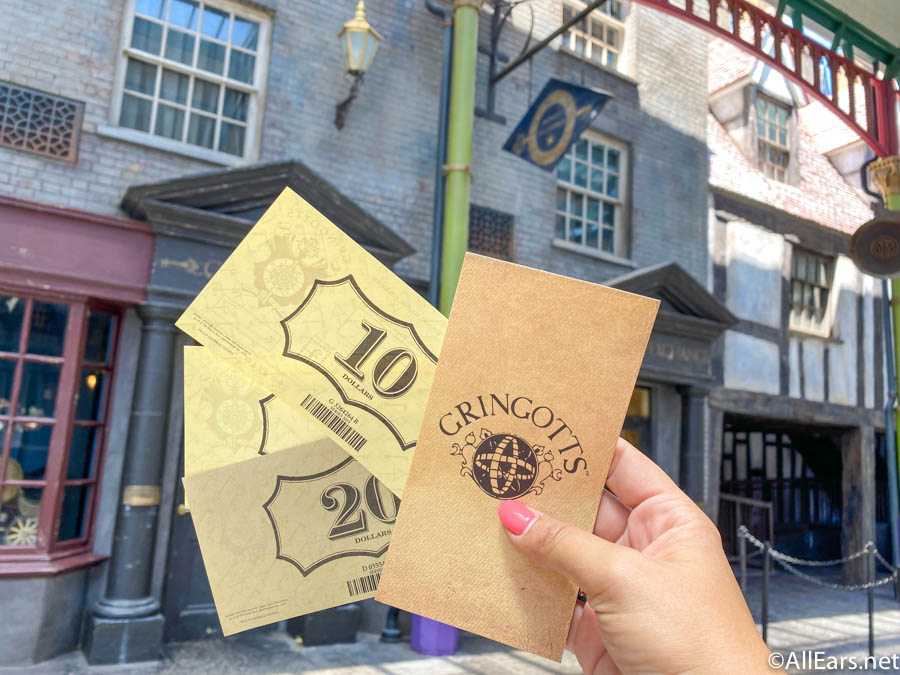 It's a fun little thing you can do and a unique souvenir you can totally take home and frame.
12 — For the Snape Fans
When you're in the queue for Harry Potter and the Forbidden Journey (Island of Adventure side), look carefully around. There are hidden details EVERYWHERE but one of our favorites is the door labeled for Professor Severus Snape's office!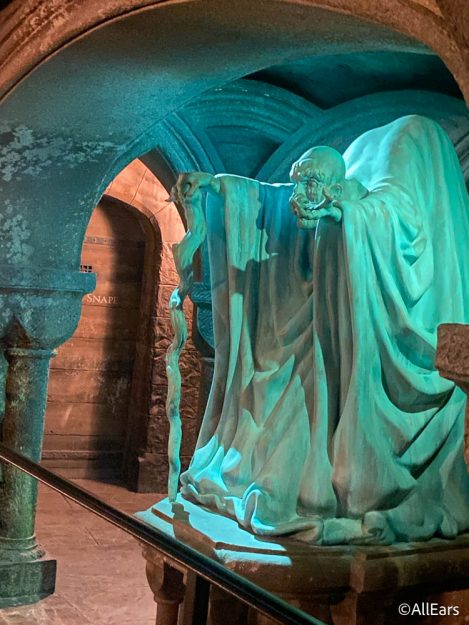 It's one you can easily miss. Look for the statue of a one-eyed witch. If you angle yourself right, you'll be able to see the door just past this statue, over to the left.
13 — Mail a Letter
You might already know about mailing letters to yourself from Disney World, but did you know you can do it in the Wizarding World too?! Stop by the Owl Post in Hogsmeade (Islands of Adventure). That's where you'll find stationary, quills, seals, ink, owl-themed toys, and more.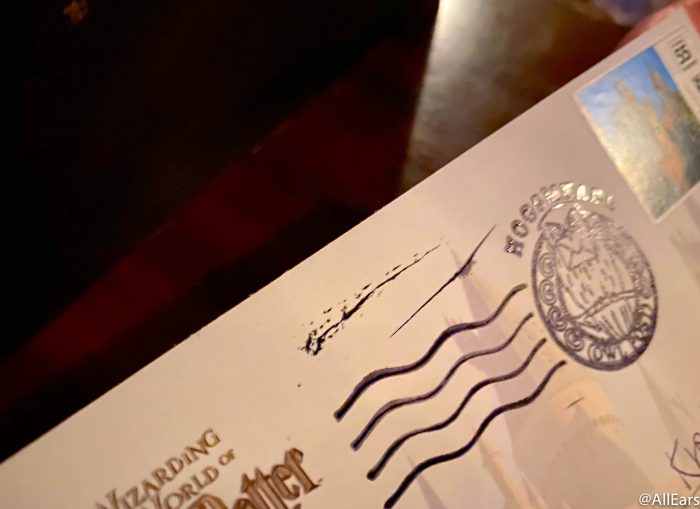 But what's really special is that you can actually mail letters from here and they even come with a special Hogsmeade postmark!
14 — Yell at Someone Via Card
Ever wished you could just send a Howler — a REAL one — with sound effects and everything to yourself or a friend? Well, you can!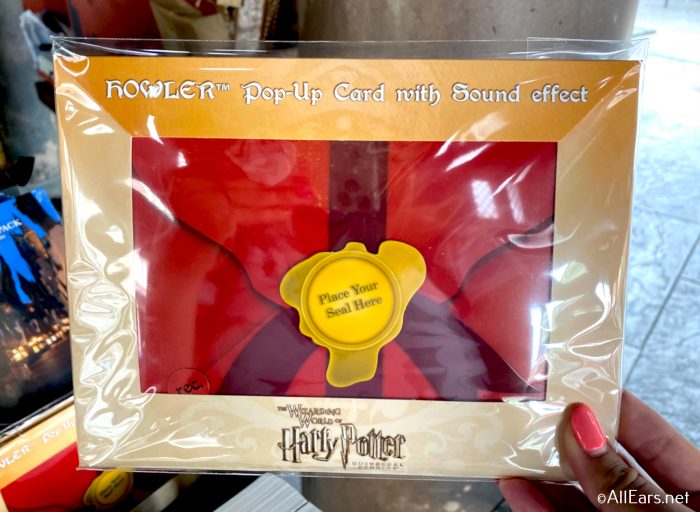 You can actually buy a Howler pop-up card that is recordable (so it'll speak in your own voice).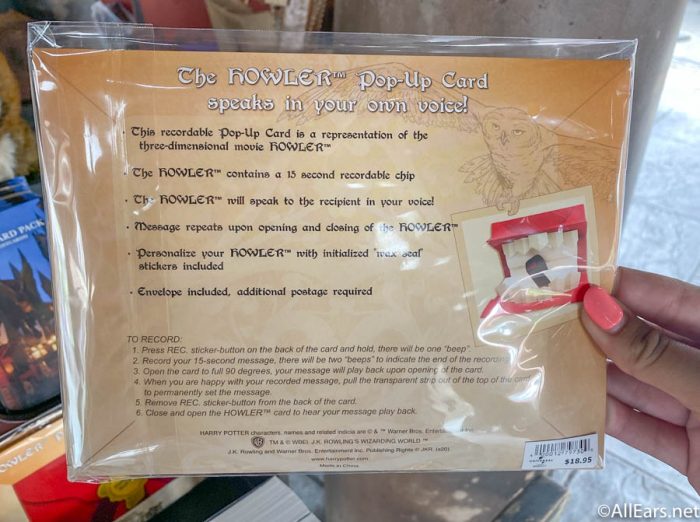 Take things to the next level by sending it from the Owl Post — that'll really add some authenticity to your experience!
15 — JAWS?!
Did you know there's a hidden Jaws reference in the Wizarding World?! To find this, visit the shrunken heads on display in Knockturn Alley. The heads actually sing a variety of songs.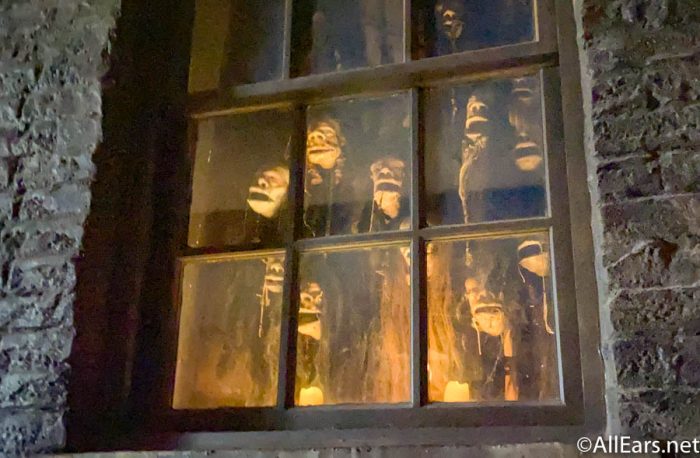 One of them is "Show Me the Way to Go Home" which Jaws fans will recognize as a song sung in the Jaws movie.
16 — A Boggart!
Want to really freak yourself out? Go back to Bourgin and Bourke's in Knockturn Alley. There, you'll find a chest under a table in a corner. But it's no ordinary chest — it actually shakes and makes some noise!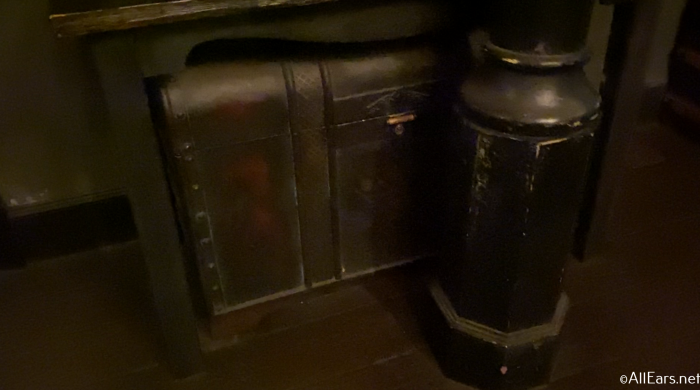 It's meant to be as if a boggart has been placed inside. Better have that wand at the ready and the riddikulus spell handy!
17 — The Killing Curse
This next one is very unique. While you're in Knockturn Alley, look closely at the basement under Bourgin and Bourke's. There, you'll see a window where there are some flashes of green light.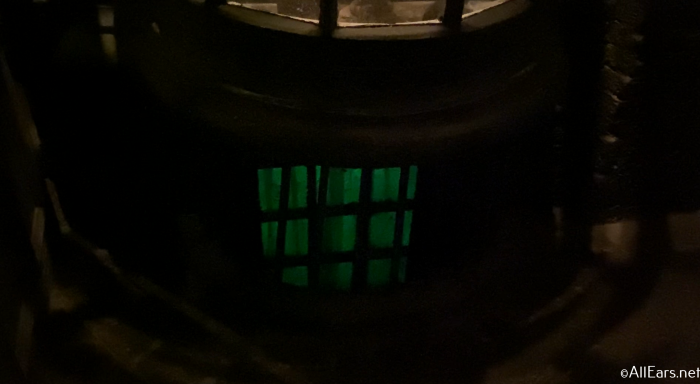 Harry Potter experts will recognize that Avada Kedavra is the curse that causes this green color. Seems like there might be some less-than-great things happening down there.
18 — Look for the…Poop?
If you really want to see how detailed this land is, be sure to look around the owls in this land. You'll generally find designs nearby meant to look like POOP.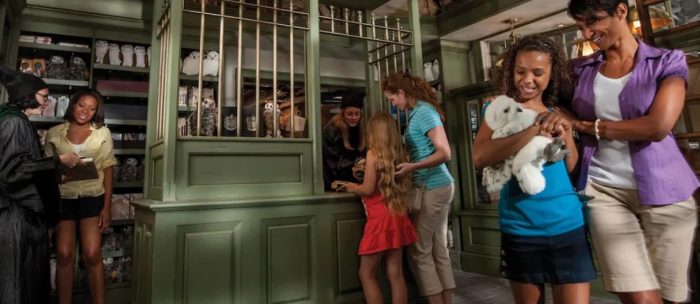 Yeah, they went there.
19 — Go to the Back
You've probably seen the Knight Bus out in front of Diagon Alley and maybe even snapped a photo with it, but have you ever taken the time to go to the BACK?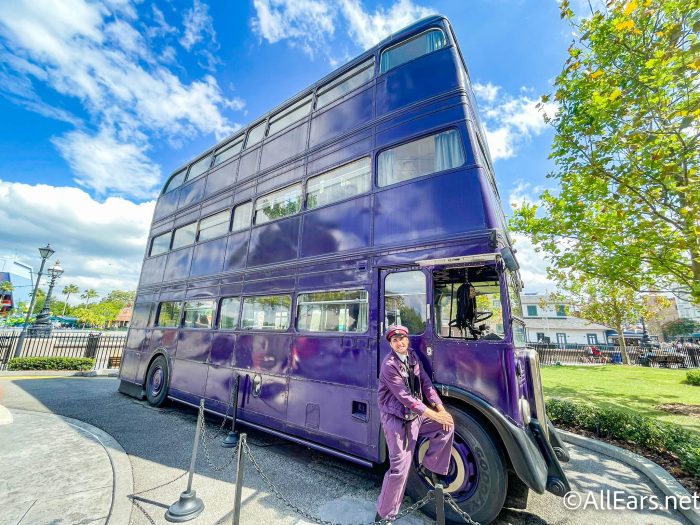 Be sure to walk around the bus and take a peek through the back. You'll actually be able to get a look at the setup inside. It's a fun detail you may have never stopped to look at!
20 — The Store You Won't Recognize
And FINALLY. While you're at the Wizarding World, search for The Magic Neep within Hogsmeade. It's actually a little stand that is NOT from the Harry Potter books or movies. Instead, it was an original Universal creation.
But it now has a life of its own! According to IGN, the location has actually found a home within the new Hogwarts Legacy video game. There, it is a one-stop shop for plants, seeds, and other ingredients you may use for Herbology class or in the Room of Requirement.
And there you have it — SO many easter eggs, hidden details, and secrets to search for on your next trip to the Wizarding World. For MORE Wizarding World secrets, watch our video below!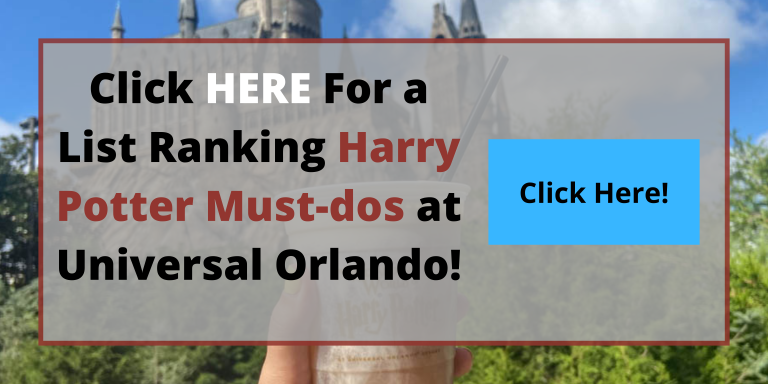 What is your favorite hidden detail in the Wizarding World? Tell us in the comments!