Growing up, you may have watched the Harry Potter movies or read the books and dreamed of attending Hogwarts to learn magic. While the Wizarding World of Harry Potter at Universal Orlando isn't a perfect replica, it's close enough for plenty of us muggles!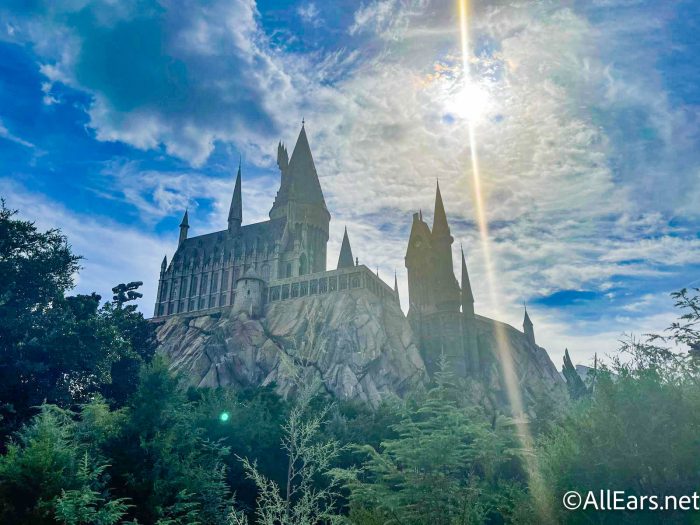 Besides taking classes in subjects like "Charms" and "Potions" and flying high on a broom over the Quidditch field, another thing we wish we could try are the unique foods from the Wizarding World.
At the Wizarding World of Harry Potter, you can sample a variety of drinks and snacks from the stories, like Butterbeer and Chocolate Frogs. Though there are only two actual restaurants in the Wizarding World, there are plenty of places to grab food and snacks. Keep reading to learn all about them!
Hogsmeade is the original part of Harry Potter World and is home to The Three Broomsticks. This is where Hogwarts students would gather on outings, enjoying Butterbeer at the pubs or grabbing candy from Honeydukes. There aren't as many food options here as in Diagon Alley, but you should still check it out!
This iconic spot is filled with tall, vaulted wooden beams and lit by  cast-iron chandeliers. Here you can enjoy either breakfast (until 10:30AM), lunch, or dinner in the cozy inn where Harry tried his first Butterbeer. Speaking of Butterbeer, the Three Broomsticks is also home to the iconic drink in a variety of forms! You can of course choose a classic Butterbeer for $7.99, a non-alcoholic drink with shortbread and butterscotch flavors. On a hot day you might prefer the frozen version of the drink, or you can even try out one of their Butterbeer desserts!
This spot is counted as a Quick Service meal on the Universal Dining Plan. When it comes to meals the Three Broomsticks serves up traditional British fare. Expect dishes like fish & chips, beef pasties, and shepherd's pie, with prices generally around $10-$20 per dish. You can also try out a prix fixe option called The Great Feast for $69, which is a shared platter for four and includes a fresh garden salad, smoked rotisserie chicken, spareribs, corn on the cob, and roast potatoes. This feast lets you live out your best Hogwarts fantasy with your friends!
Hankering for a drink but don't want to commit to a full meal? The Hog's Head is the place to go! Here you'll find both alcoholic and non-alcoholic libations to whet your whistle. If you just want to grab a Butterbeer and don't want to wait for a table at the Three Broomsticks, Hog's Head also serves up all three versions of the drink (regular, hot, and frozen).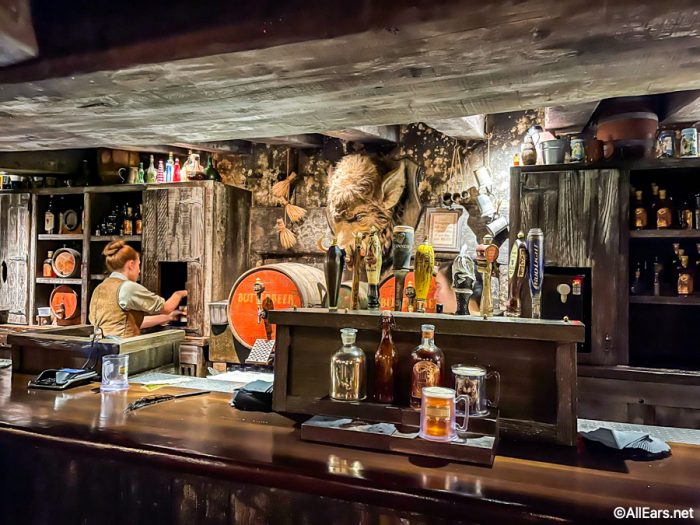 You can also try out their Pumpkin Juice, or sample one of their domestic or imported beers on tap for an authentic sip of Great  Britain. They even have a unique Hogs Head Brew! Prices here range from $8 to $16 per drink. Why is it called Hog's Head? Once you enter you'll notice a certain decoration behind the bar, and if you're lucky you might see a surprise!
Honeydukes
Those with a sweet tooth will find themselves in heaven once they enter Honeydukes. This shop is sweet in more ways than one: its famous pink and green color scheme goes perfectly with the various sizes of candy jars full of brightly colored treats!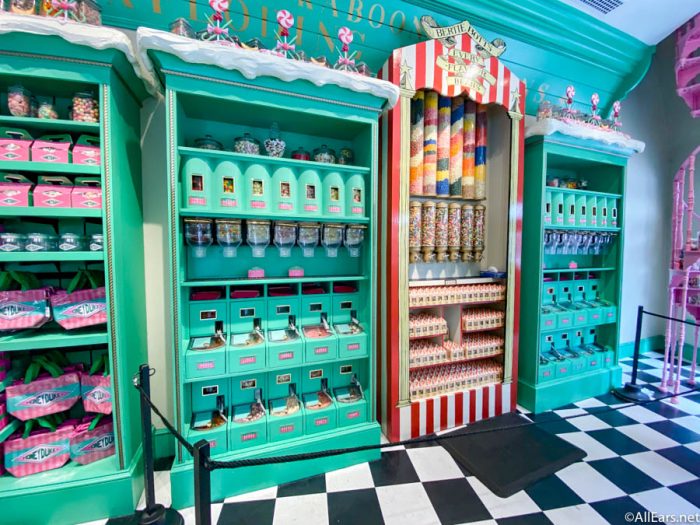 Honeydukes is more shop than food location, but we couldn't skip this iconic location! Here you can grab famous Harry Potter treats like Cauldron Cakes, Fizzing Whizzbees, Chocolate Frogs, and more. Don't forget to take advantage of the Bertie Bott's Every-Flavour Beans station where you can fill up a bag to bring home!
Diagon Alley is a shopping district for witches and wizards. Here you'll find a variety of places to eat, drink, and snack. Diagon Alley is also the location of Weasley's Wizard Wheezes, so if you were planning on a prank for April Fool's Day, make sure this store is on your list!
On the outside it may seem unimpressive, but once you walk through the door this lively establishment welcomes diners to a friendly and warm environment! The Wizarding World's second restaurant, The Leaky Cauldron, has shared tables, so you'll get the chance to chat with others while you enjoy your meal.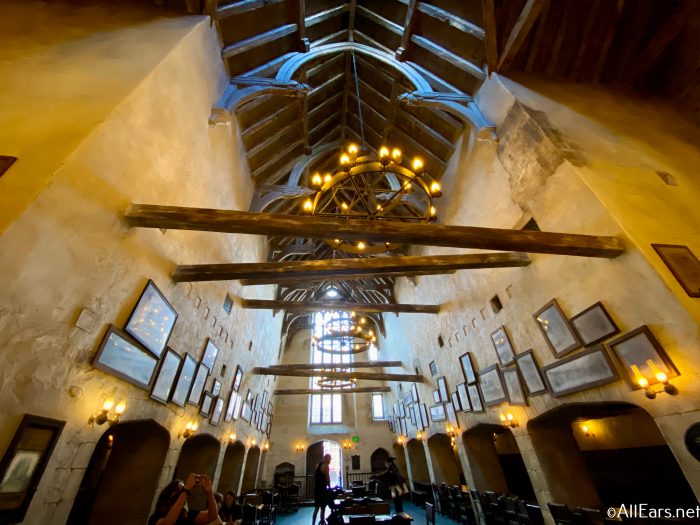 You can eat here for breakfast (until 10:30AM), lunch, or dinner, and this counts as a Quick Service spot on the Universal Dining Plan. Breakfast options include a traditional full English breakfast as well as an American-style pancake breakfast. For dinner, enjoy hearty British fare like bangers & mash and Toad in the Hole. (And if you've never had a Scotch Egg, we suggest you try one!)
Another Quick Service spot, Florean Fortescue's Ice Cream Parlor serves up both scoop and soft-serve ice cream for those hot Florida days. You'll find it by heading for the yellow shop with the massive ice cream cone sign!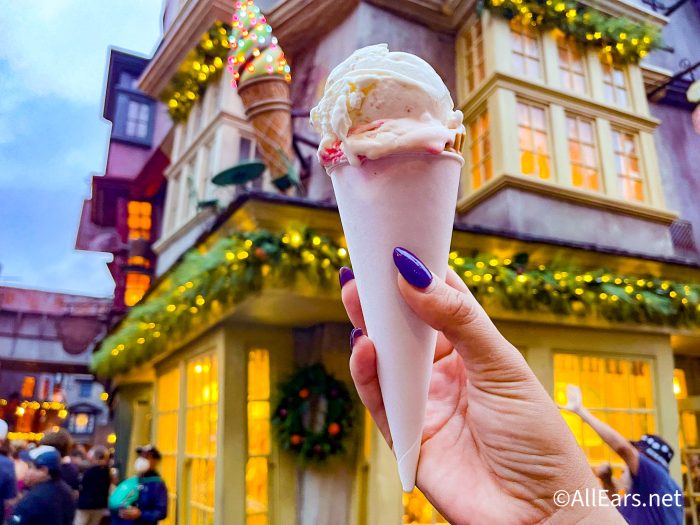 Go for the classic Butterbeer, or try out one of their other signature flavors like spicy Chocolate Chili, rich Sticky Toffee Pudding, or delicious Salted Caramel Brownie. You can even choose from a waffle cone or get your ice cream in a souvenir glass! One cone costs around $6, with the souvenir glass adding on an extra $3. If cones aren't your thing, you can try one of their sundaes, or add some extra toppings to your cone for a little extra pizzazz.
Sugarplum's Sweet Shop
Sugarplum's Sweet Shop is the place to go for souvenirs to bring home (or even snacks for the plane ride!). Similar to Honeydukes, this shop is fully stocked with all of your favorite wizarding world treats and candies.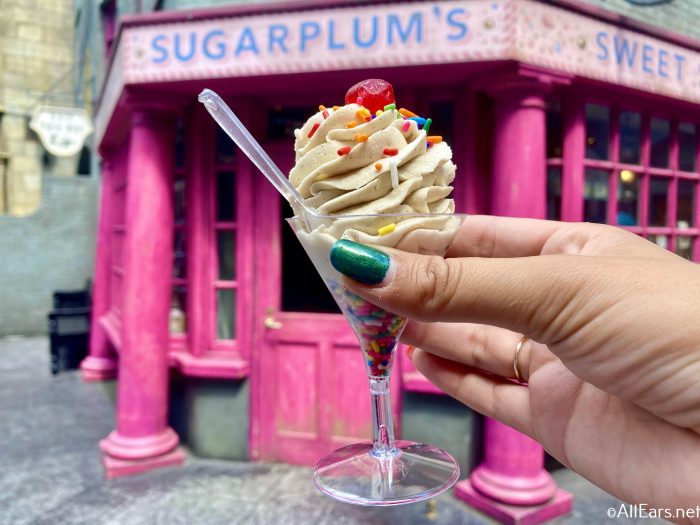 When we say this place is stocked, we mean it is FULL. Every inch is filled with Exploding Bonbons, Acid Pops, and other tasty finds. They also have a counter where you can purchase Cauldron Cakes and other snacks — make sure to save room for their ice cream too!
Walking around Diagon Alley can quickly become draining. The Hopping Pot is where you can pause to grab a drink or a quick snack. This walk-up window is a Quick Service location on the Dining Plan and has plenty of both alcoholic and non-alcoholic drinks to keep you hydrated.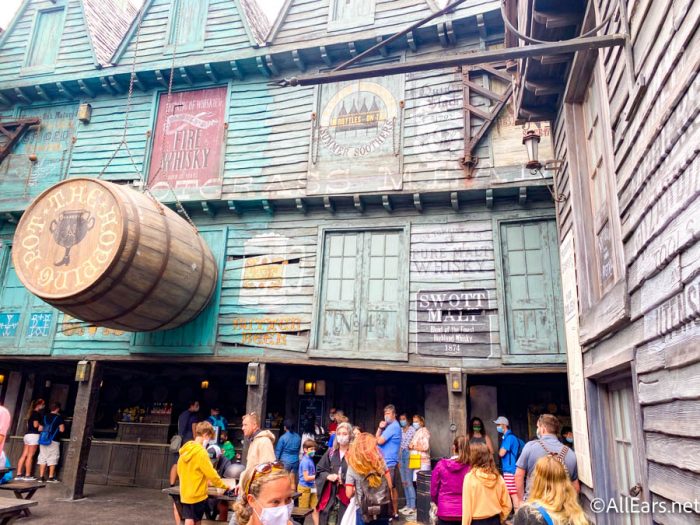 This popular spot has a wide selection of drinks, including standards you'll find elsewhere as well as Tongue Tying Lemon Squash, Otter's Fizzy Orange Juice, and even Dragon Scale beers! Most drinks here range from $6 to $12, and if you're really feeling adventurous, try out the Fire Whisky.
If you've read The Tales of Beedle the Bard you might remember this spot from one of the stories. Another watering hole, The Fountain of Fair Fortune is a few steps away from Gringott's Bank. If you're in need of some H2O (or Gillywater as they like to call it in the wizarding world), you can stop by here.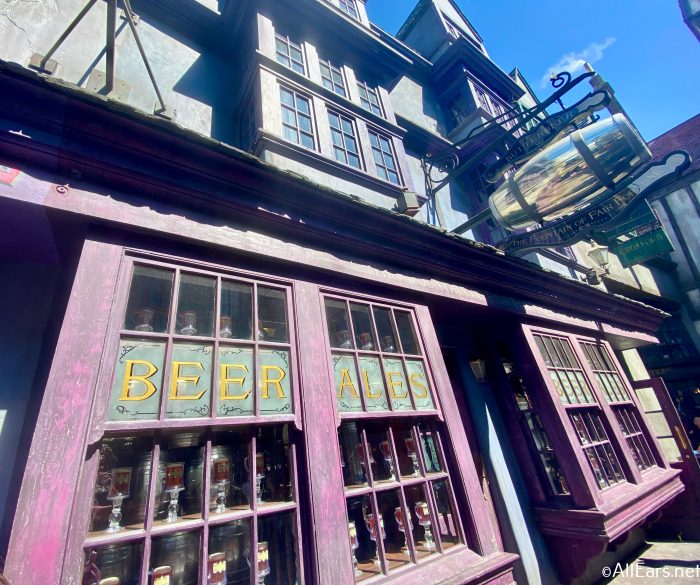 Another Quick Service location. The Fountain of Fair Fortune serves up several beers on tap as well as the standard Butterbeer and Pumpkin Juice. Here is where you'll also find Fire Whisky cocktails! Most prices here range from $5 to $13, and you can find bottled drinks here too.
Part joke shop, part souvenir shop, Weasley's Wizard Wheezes is the store opened by twins Fred and George Weasley after their showstopping departure from Hogwarts. Besides the magical jokes and toys, they also have a great selection of snacks and treats too!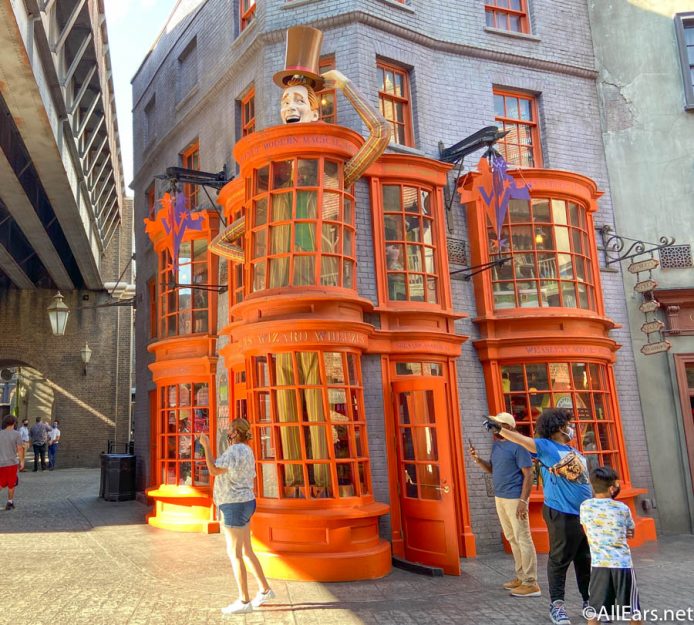 Along with tasty finds like Chocolate Frogs, Weasley's Wizard Wheezes also stocks more mischievous items like Skiving Snackboxes and Puking Pastilles. This shop is two stories, so give yourself plenty of time to browse it all!
While it may seem limited at first, there are actually a good amount of options when it comes to eating in the Wizarding World of Harry Potter at Universal Orlando. For more Universal dining tips and guides, check out
the Best Universal Restaurants
!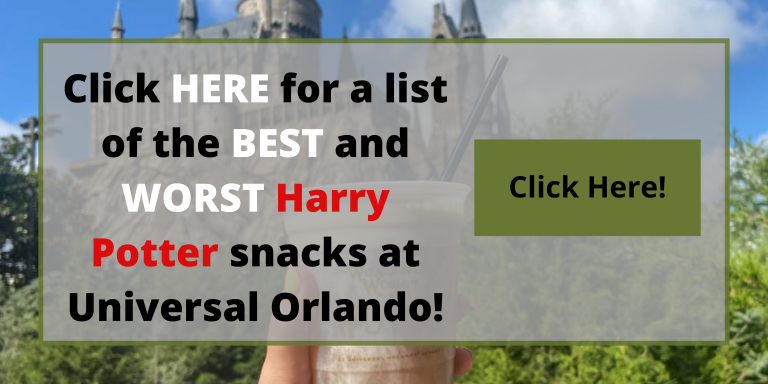 Where's your favorite place to grab a bite in Universal? Share your picks below!