Harry Potter fans remember the seminal scene in Harry Potter and the Sorcerer's Stone (or Philospoher's Stone) in which Harry enters Ollivander's workshop in Diagon Alley for the first time and is chosen by his holly and phoenix feather wand.
After seeing the wands in action in the books and the films, we knew that we wanted our very own interactive wand to cast Wingardium Leviosa, Alohomora, and Expecto Patronum at will.
When the Wizarding World of Harry Potter opened at Universal Orlando's Islands of Adventure back in 2010 (the area now known as Hogsmeade), Universal finally realized our wish of being able to obtain our very own wands and go nuts with the spellcasting. If you're already planning to visit Universal Orlando and want to get in on the fun, we are here to help! From buying your wands to secret spells, we have yiu covered!
This is our comprehensive guide to interactive wands at Universal's Wizarding World of Harry Potter!
How To Get Your Own Wand
Before you can start swishing and flicking, your first stop is going to be to Ollivanders Wand Shop in Diagon Alley or Dervish and Banges or the Owl Post in Hogsmeade. There is also a Wands by Gregorovitch cart in Diagon Alley, as well as a cart near the entrance to Hogwarts in Hogsmeade.
At each of these locations, you'll find all assortment of wands, from replicas of Harry, Ron, Hermione and other celebrated characters' wands to more generic wands shaped from various woods so you can roleplay your own witch or wizard story.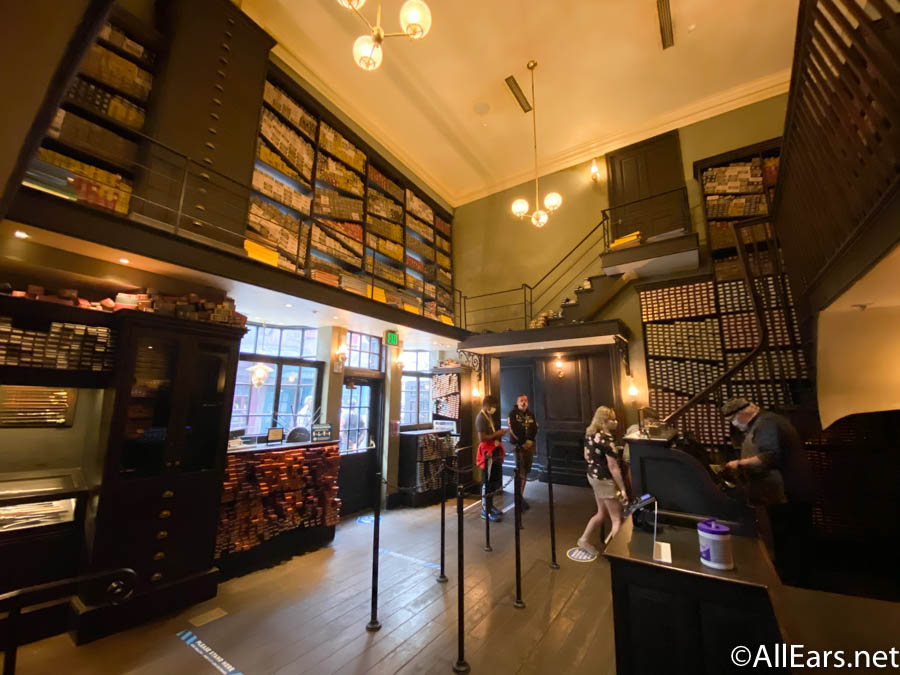 If you want to take it a step further, you can do the interactive wand buying experience at Ollivander's or Dervish and Banges. During these experiences, one with or wizard is "chosen" to try out wands, as the wandkeepers bring to life a moment similar to Harry buying his wand. (Note: currently these are running as one party at a time. Make sure to visit early and sign up for a return time with the witches and wizards!)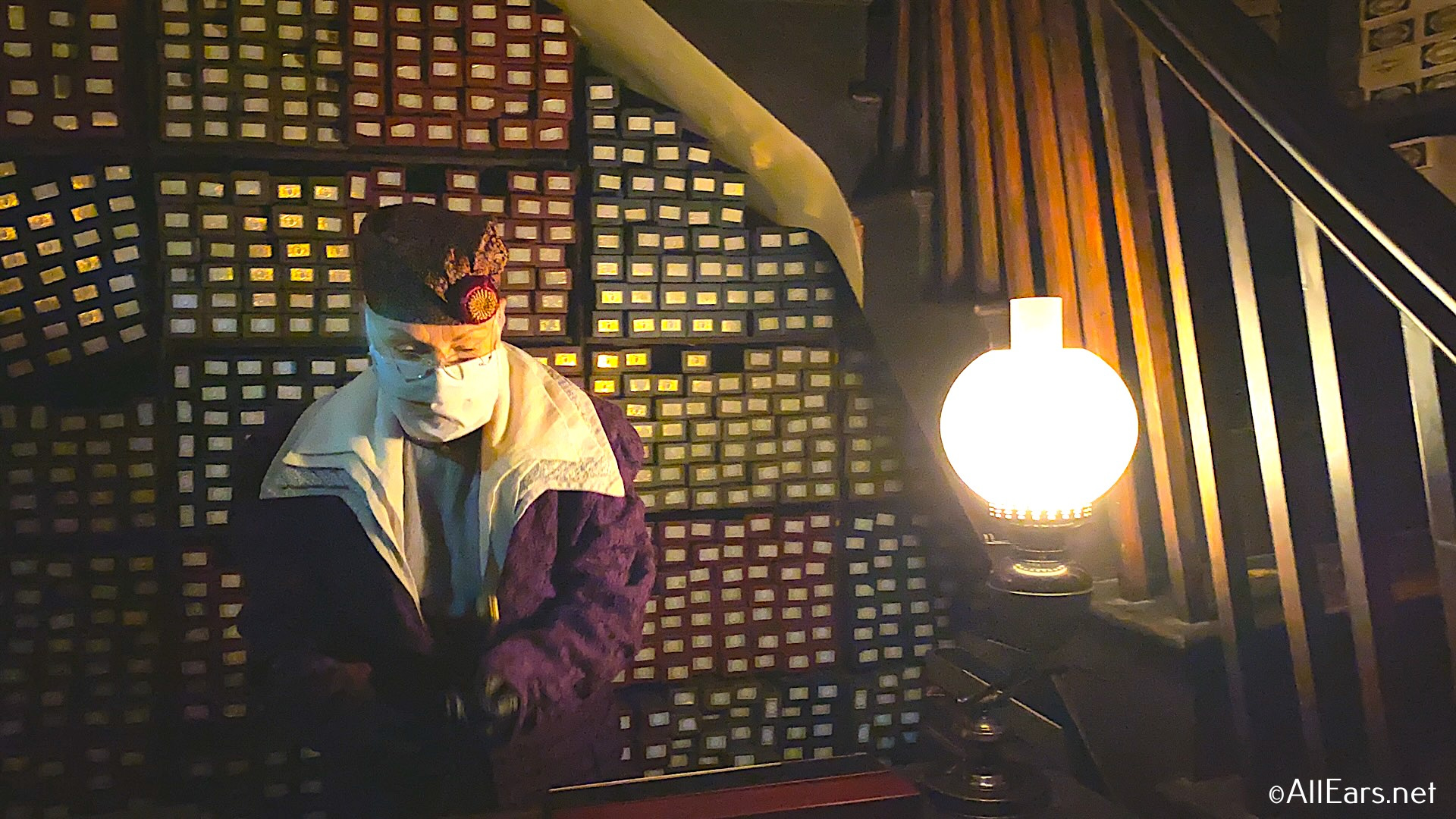 If you're a big fan of the Harry Potter story, we highly recommend trying the full interactive buying show. It's incredibly immersive and fully puts you in the story! It doesn't cost any extra, just the cost of the wand (which is optional.) The wands will be unique to you, and not the replicas of famous characters.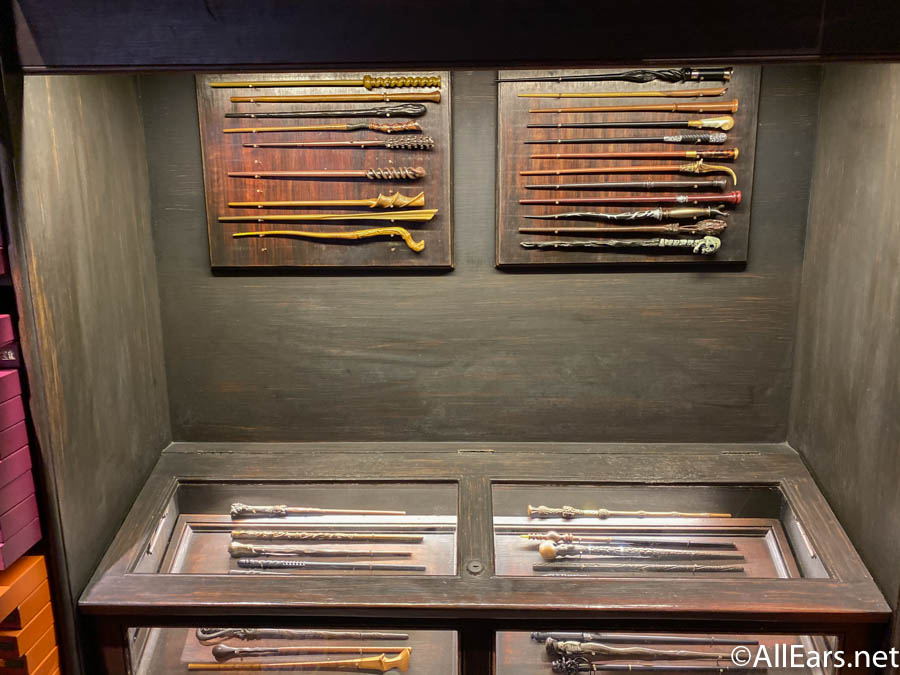 Interactive wands (regardless if they are characters or uniquely chosen) are $55 in muggle money. You can also order them online through Universal's shop, but we highly recommend buying them in Diagon Alley or Hogsmeade for a more magical experience.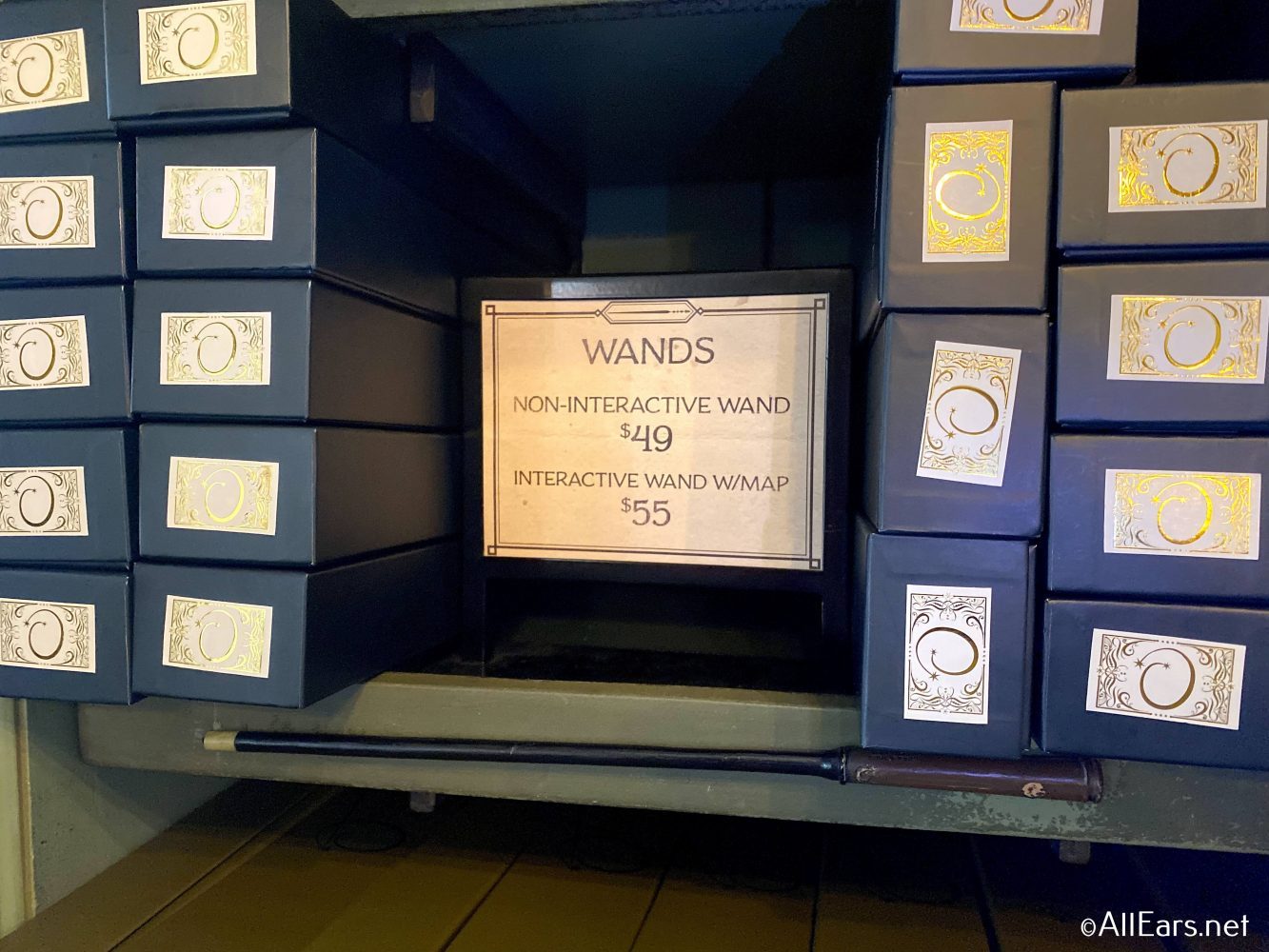 Current Famous Witch and Wizard Interactive Wands Available:
Harry Potter
Hermione Granger
Ron Weasley
Professor Dumbledore (The Elder Wand)
Lord Voldemort
Professor McGonagall
Professor Snape
Ginny Weasley
Neville Longbottom
Luna Lovegood
Sirius Black
Remus Lupin
Nymphadora Tonks
Mad-Eye Moody
Bellatrix LeStrange
Cho Chang
Draco Malfoy
Narcissa Malfoy
Yaxley
Fleur Delacour
Cedric Diggory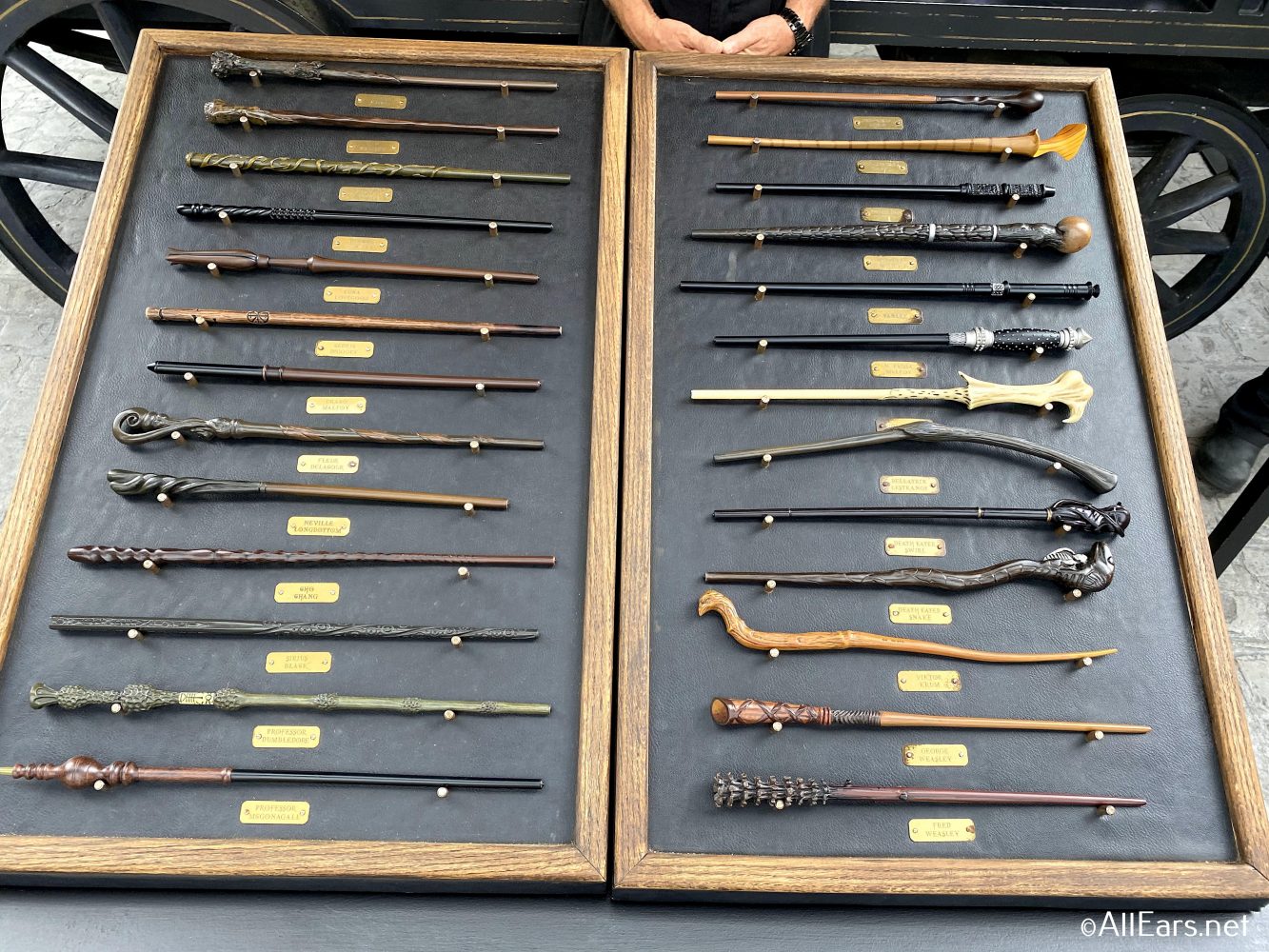 Each wand comes with a protective box, and a double-sided map of Diagon Alley and Hogsmeade so you know where to practice your magic!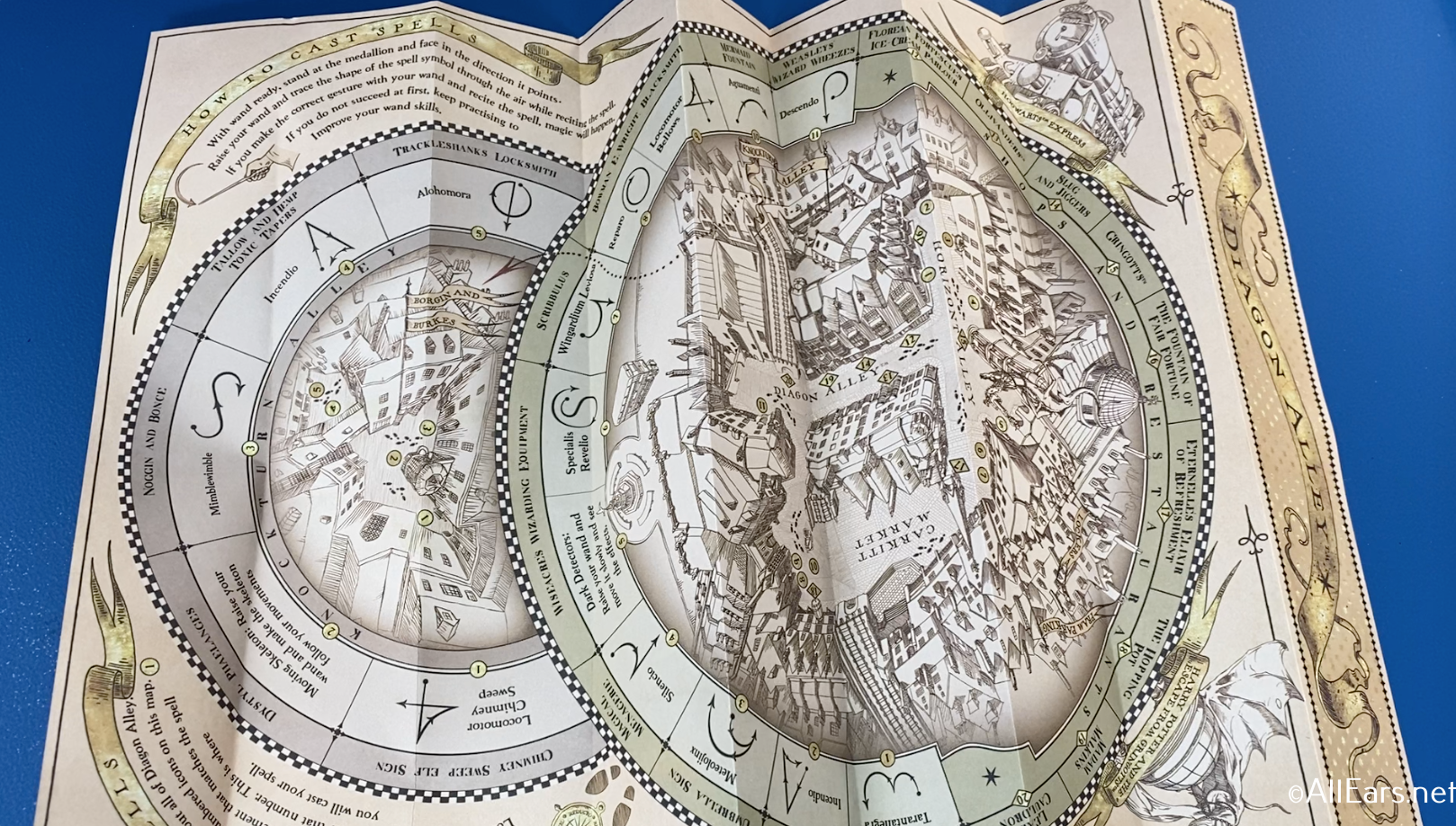 Wands…How Do They Work?
Follow the map (or ask a witch or wizard) to any of the magical spots notated. You'll know you're in the right place if you see a golden marker embedded in the ground pointing towards the location, usually a window display. All you have to do now is direct your wand toward where the marker is pointing and make the appropriate motions with your arm.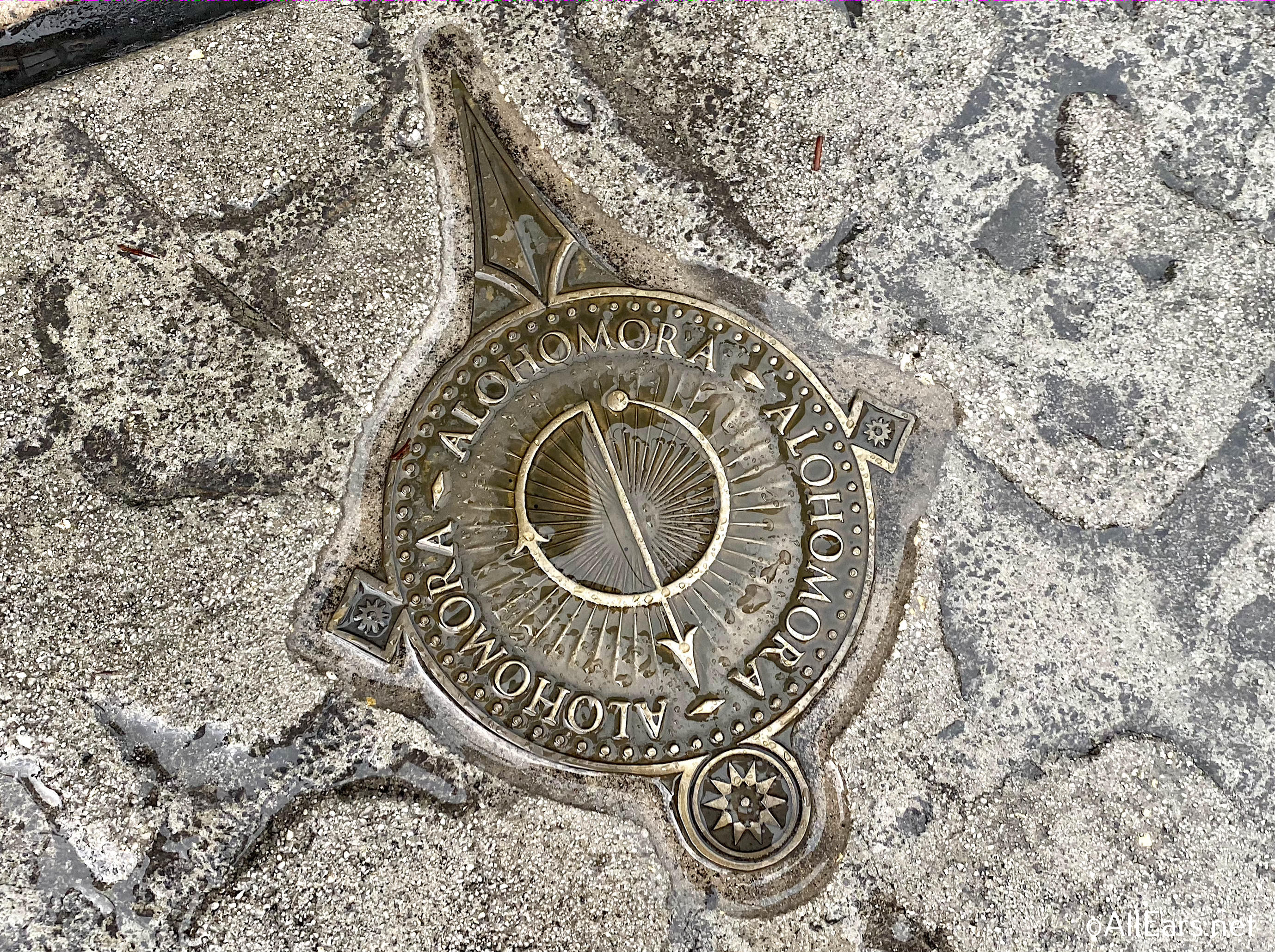 Some of the spells are easier to cast than others, so don't get discouraged if it takes a few wrist movements to get the hang of it (verbalizing the spell doesn't help, but it's fun to get into character).  It will be obviously when you've done it correctly, as items in the window will move or appear. If you need assistance, there's usually a friendly master wand-slinger nearby each spell area who can help you with casting it.
Where Can You Cast Spells?
In total there are 16 noted spell locations in Diagon Alley, including Knockturn Alley, and 9 spell locations in Hogsmeade. There are also two SECRET spells in Diagon Alley. If you would rather be surprised by the magic of the spells, look away now!
Diagon Alley Spells
1. Tarantallegra — in the window of Pilliwinkle's Playthings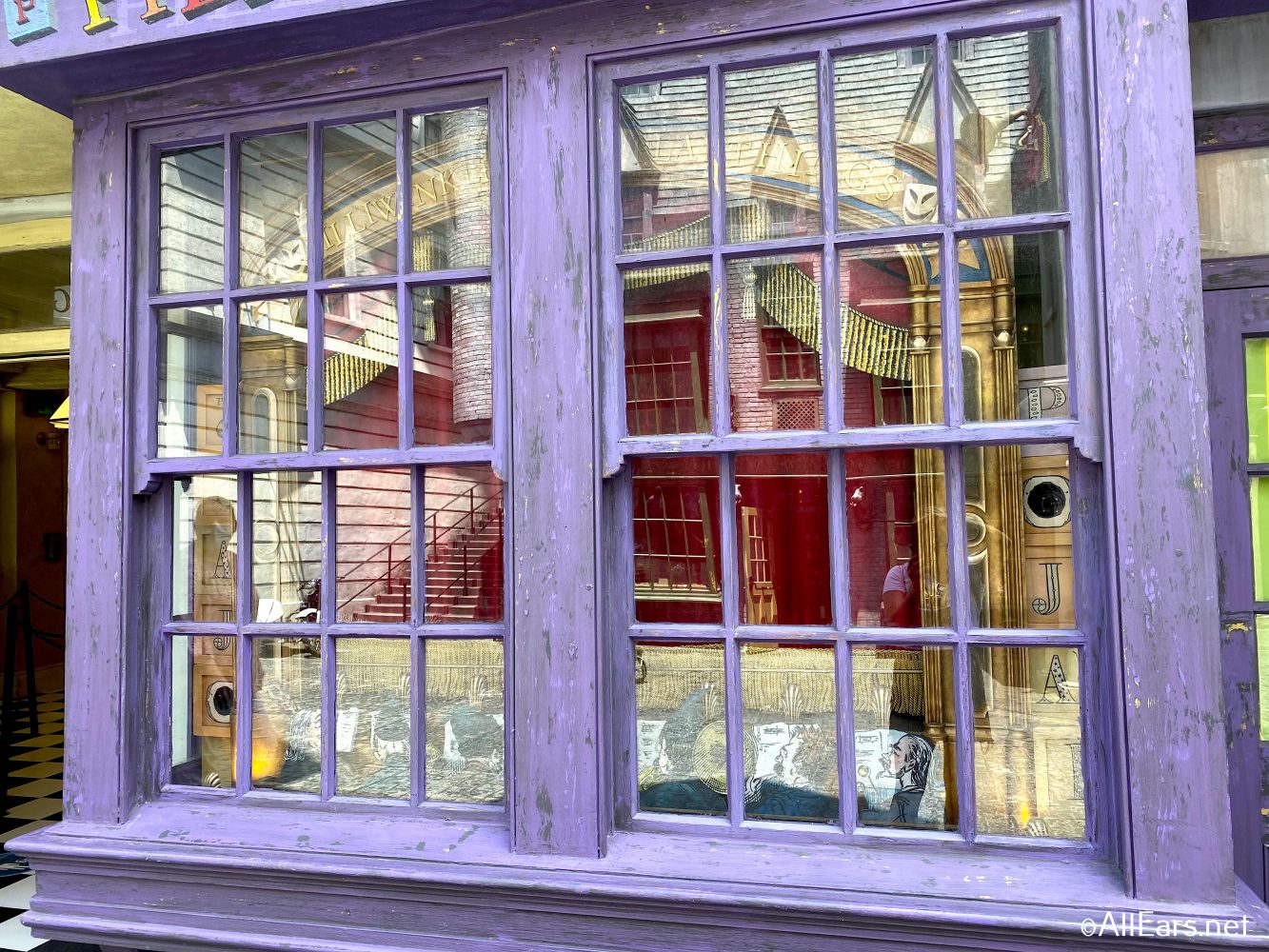 2. Incendio — second floor of Flimflam's Lanterns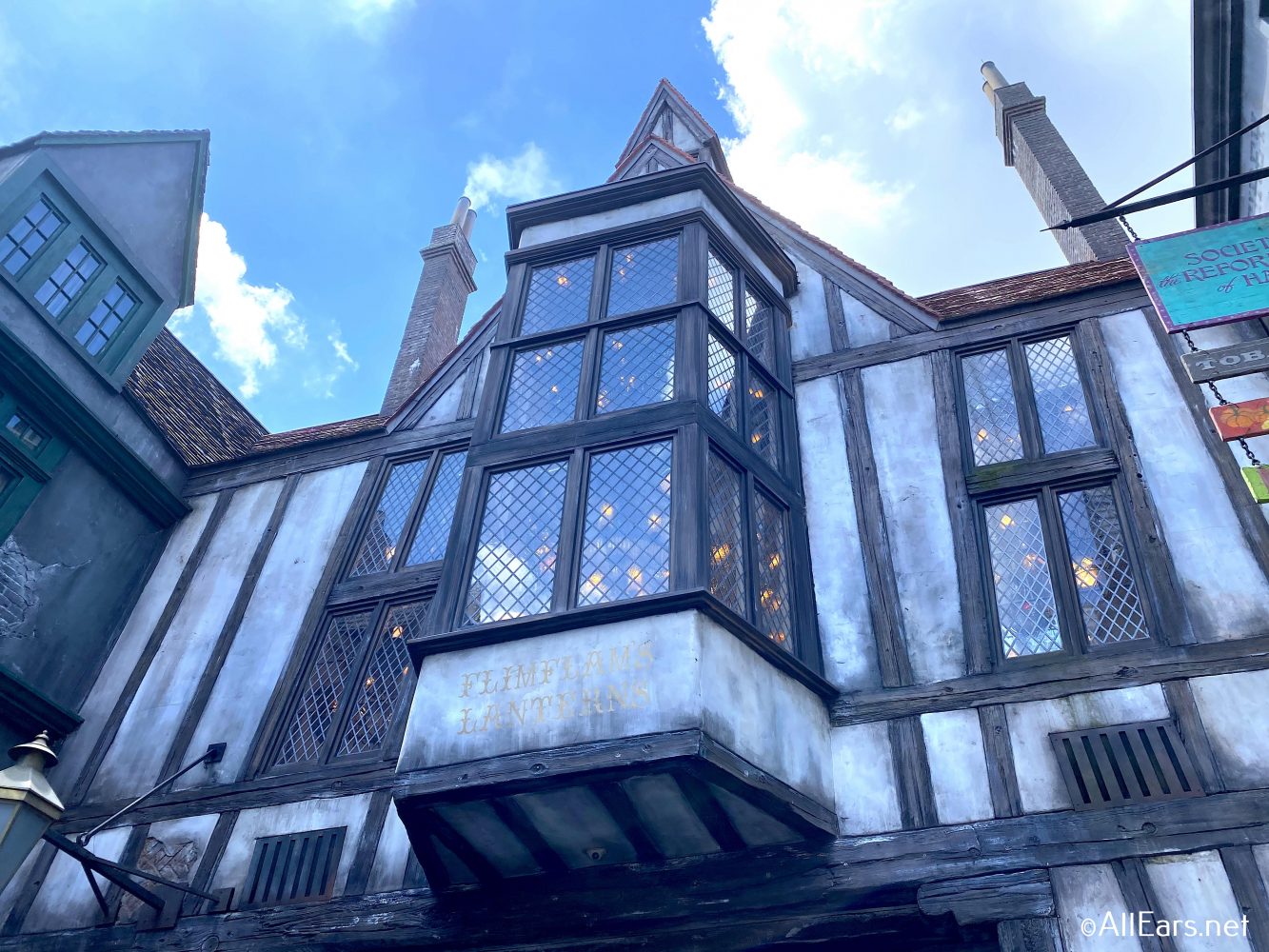 3. Metelojink — above the restroom in Horizont Alley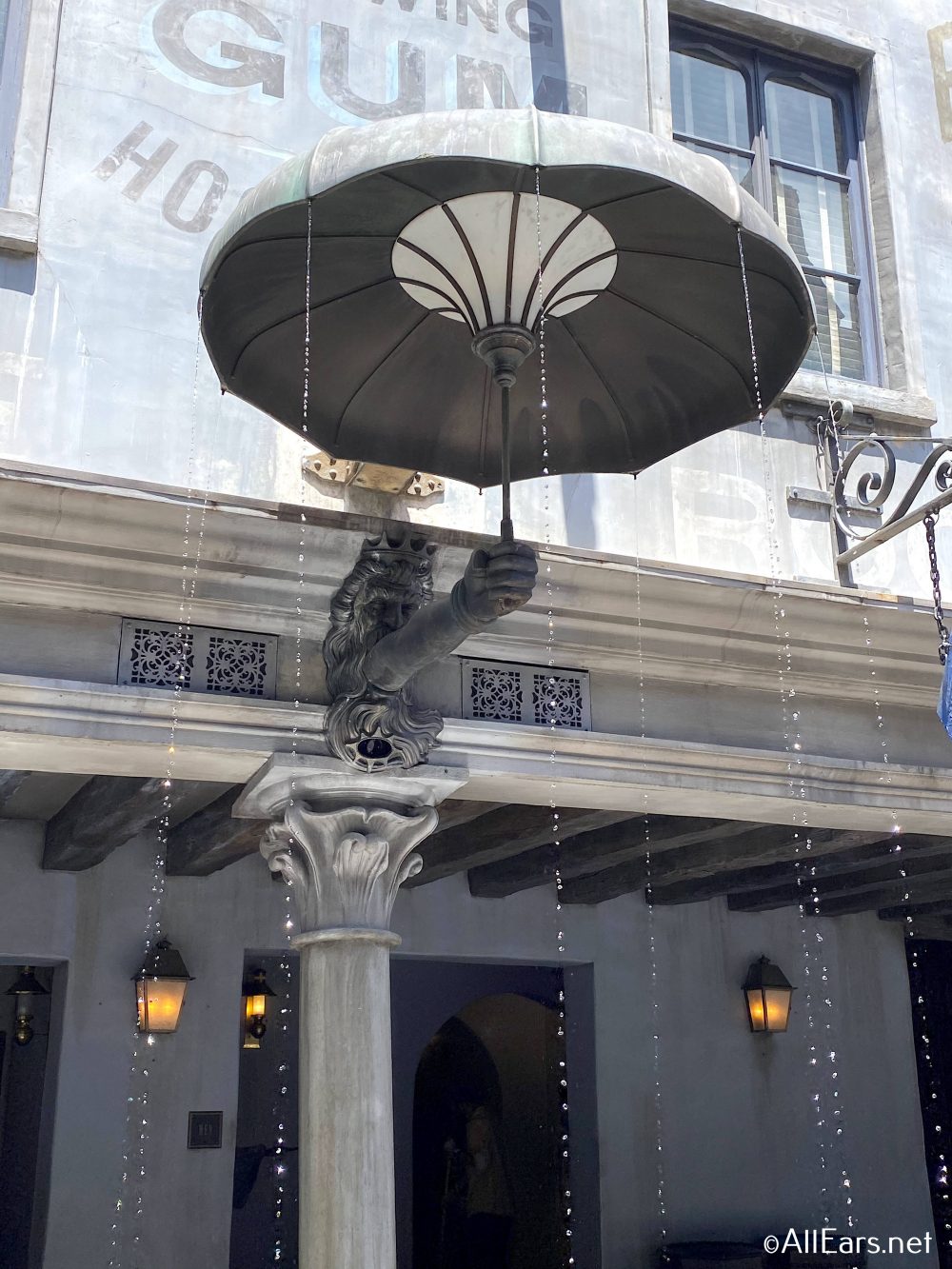 4. Silencio — the birdcage in the window of the Magical Menagerie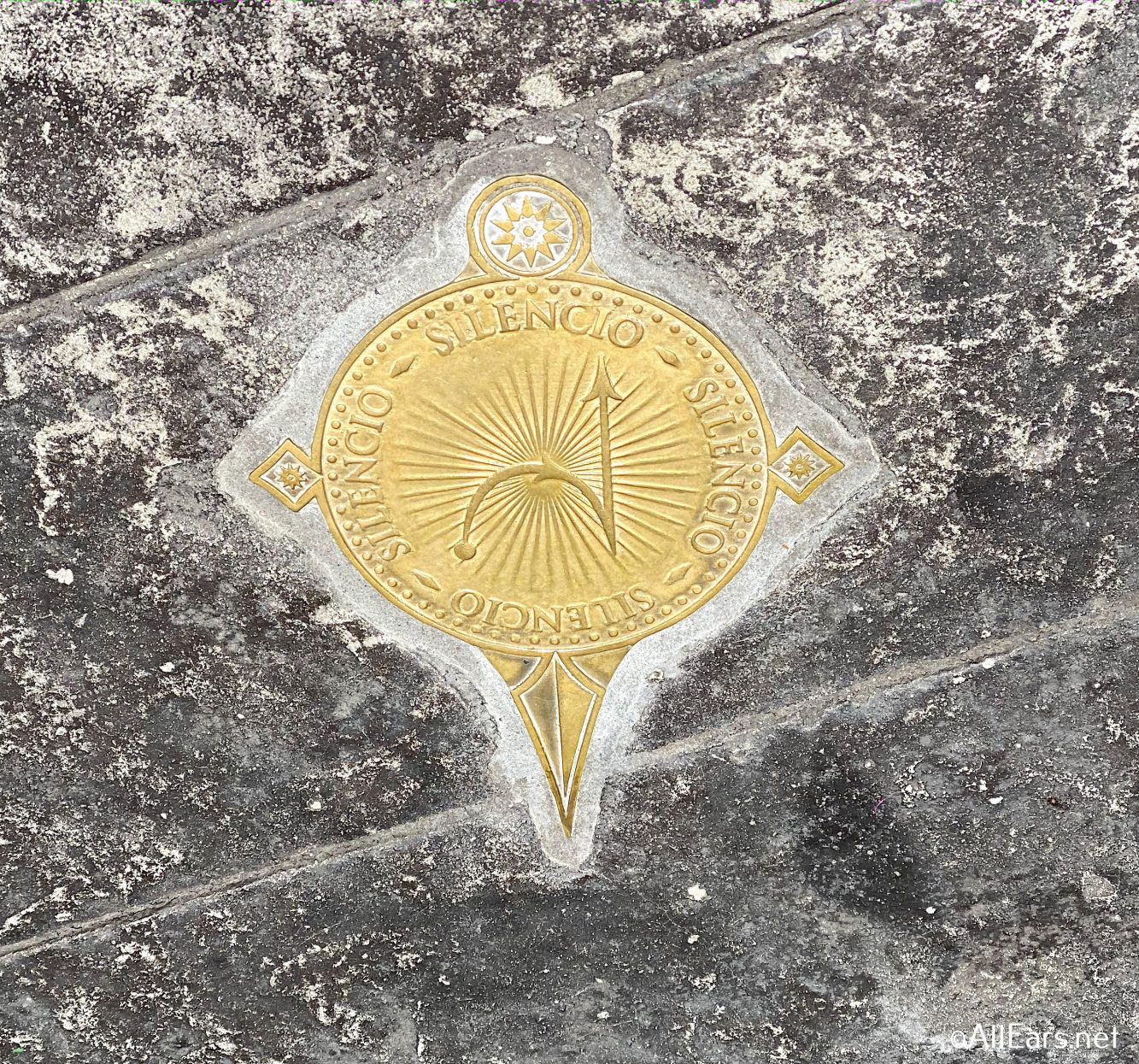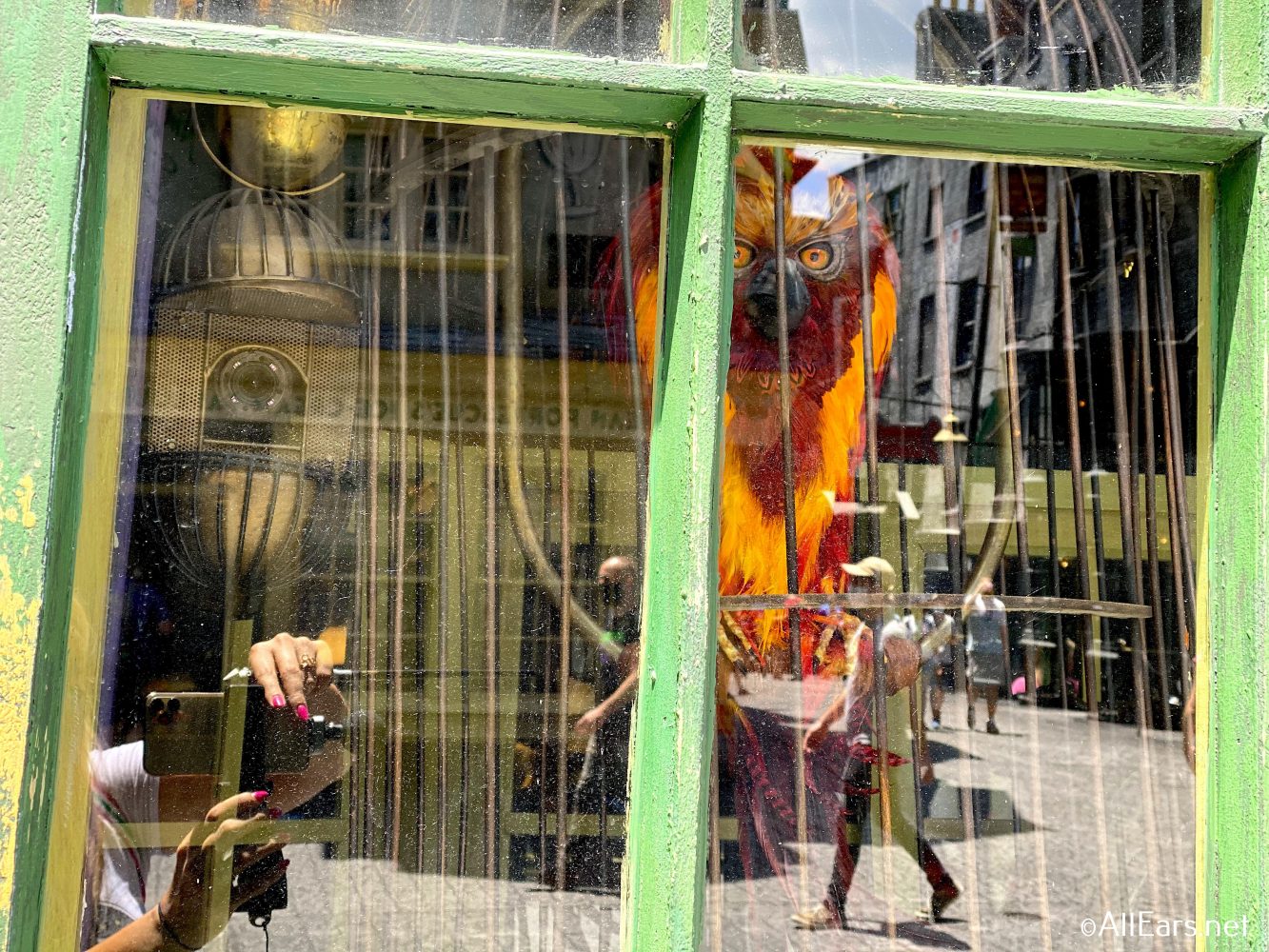 5. Dark Detectors — Wiseacres, in the window that faces Gringotts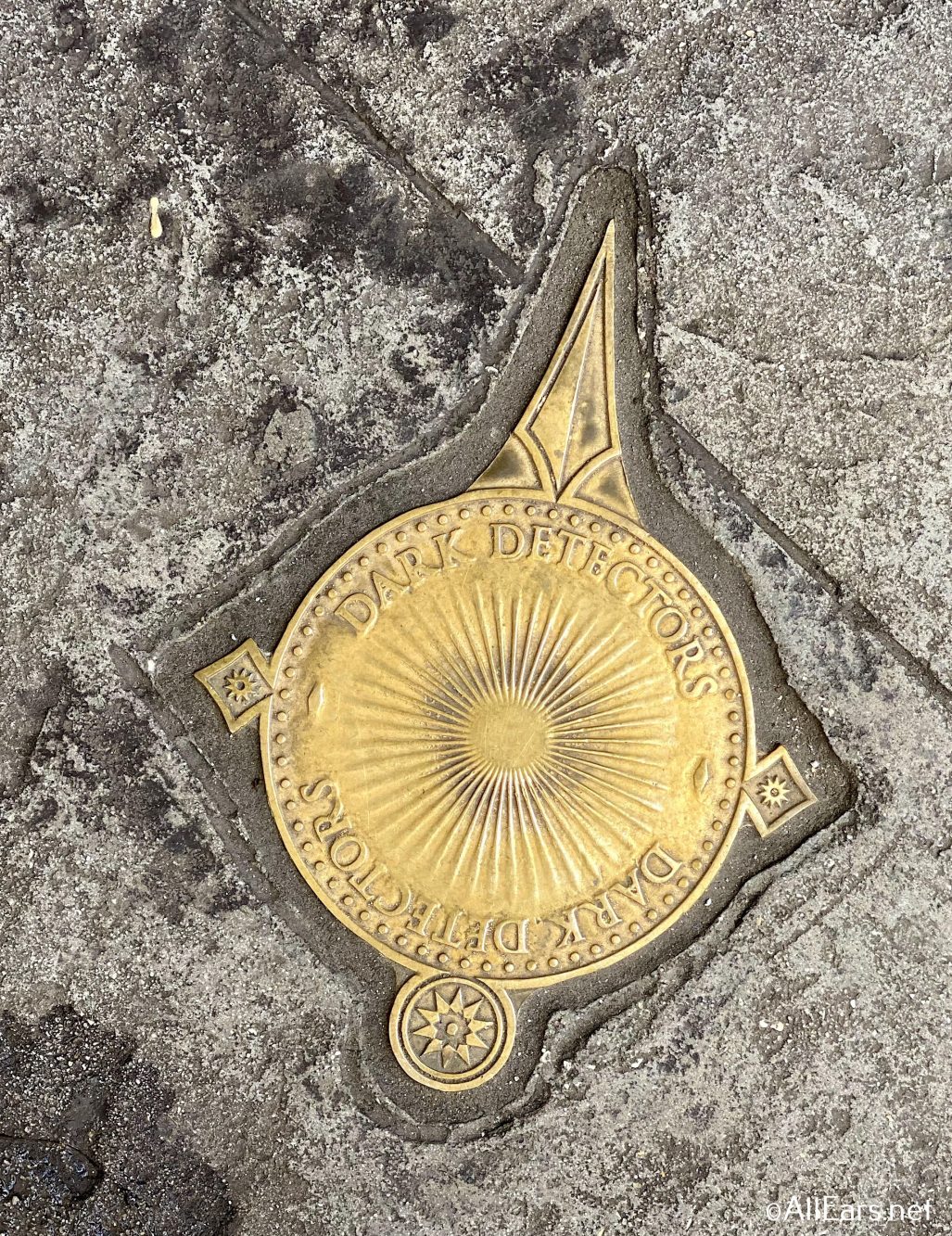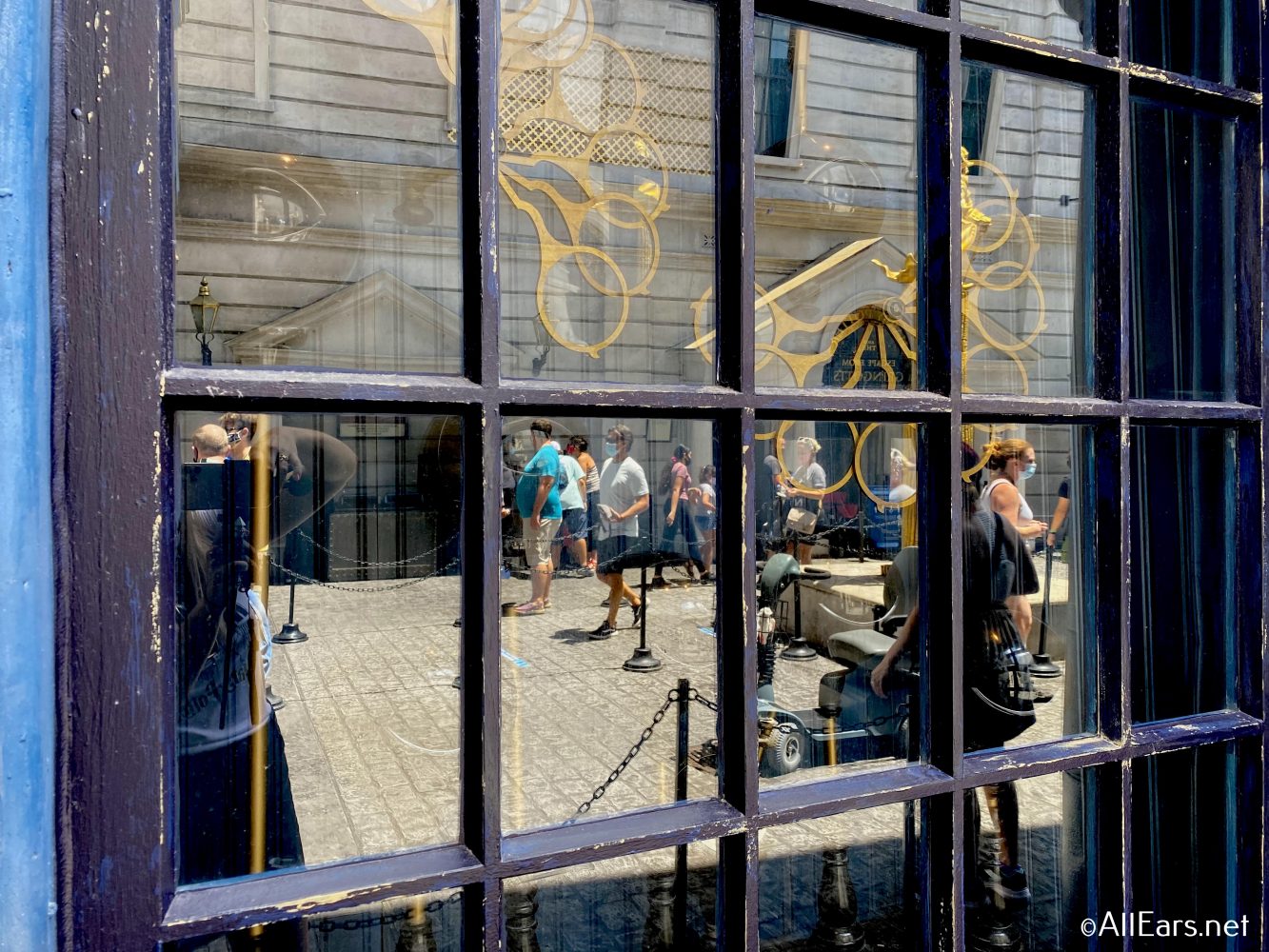 6. Specialis Revelio — near the front door of Wiseacres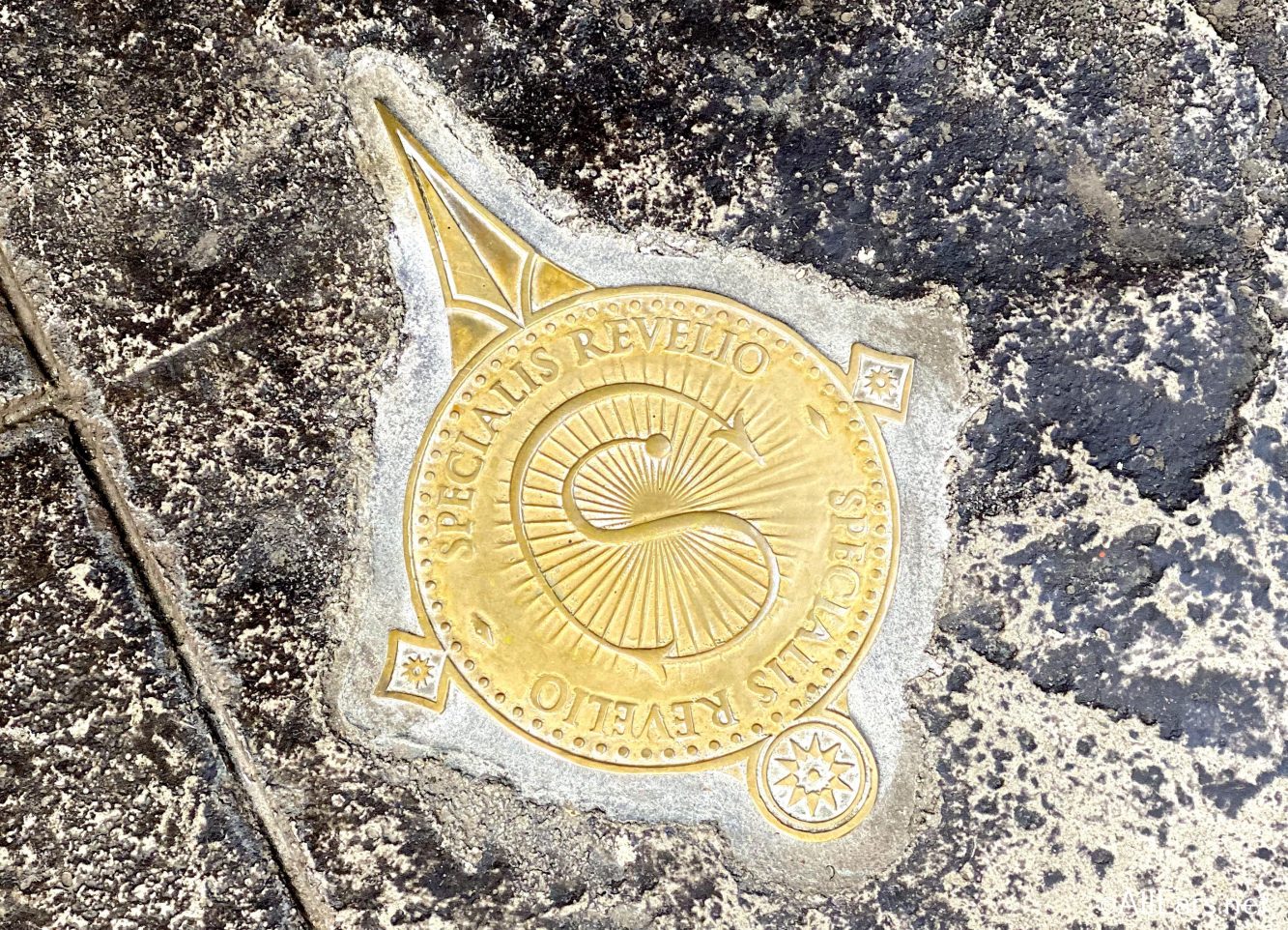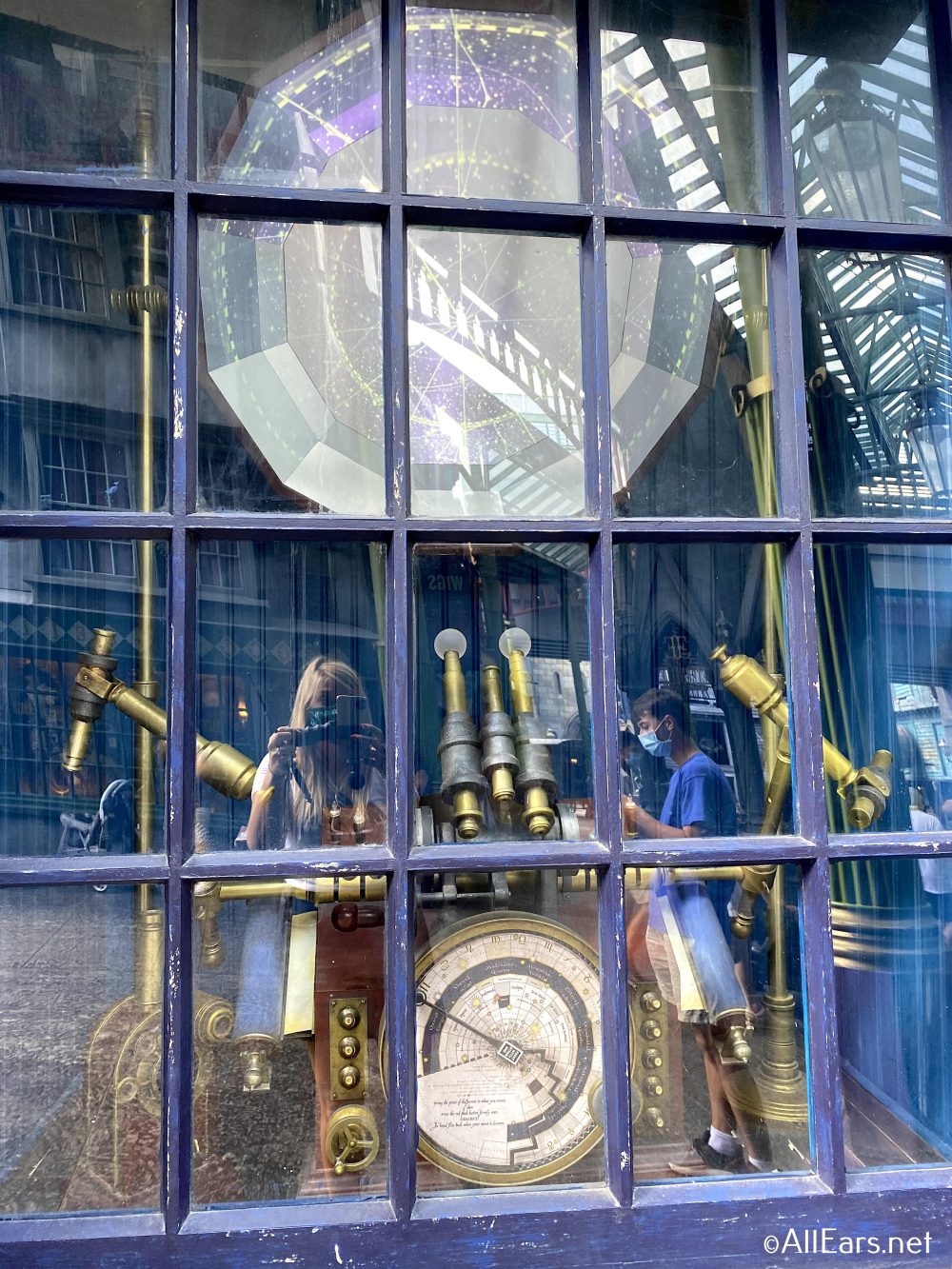 7. Wingardium Leviosa — the window of Scribbulus with the feather quill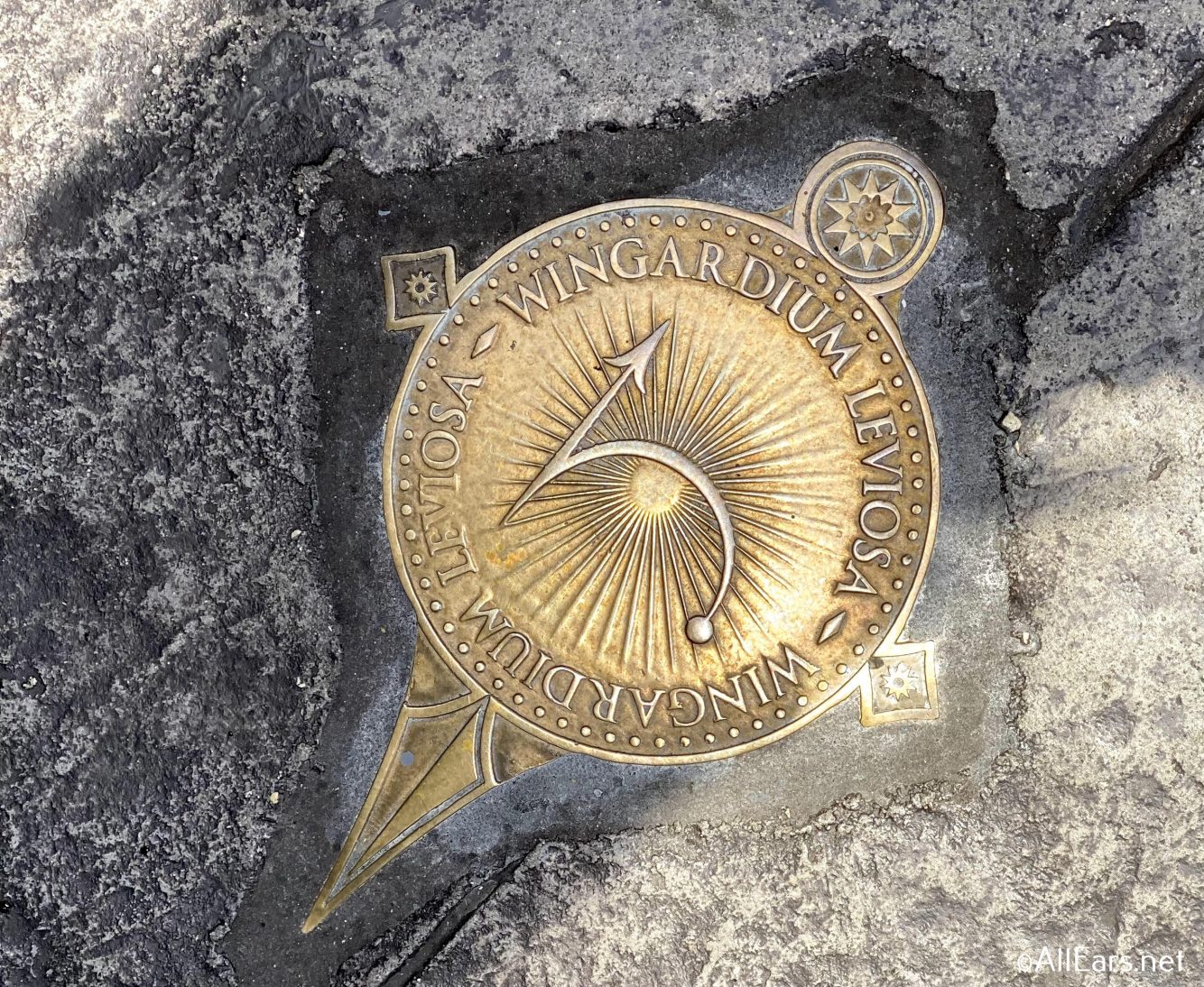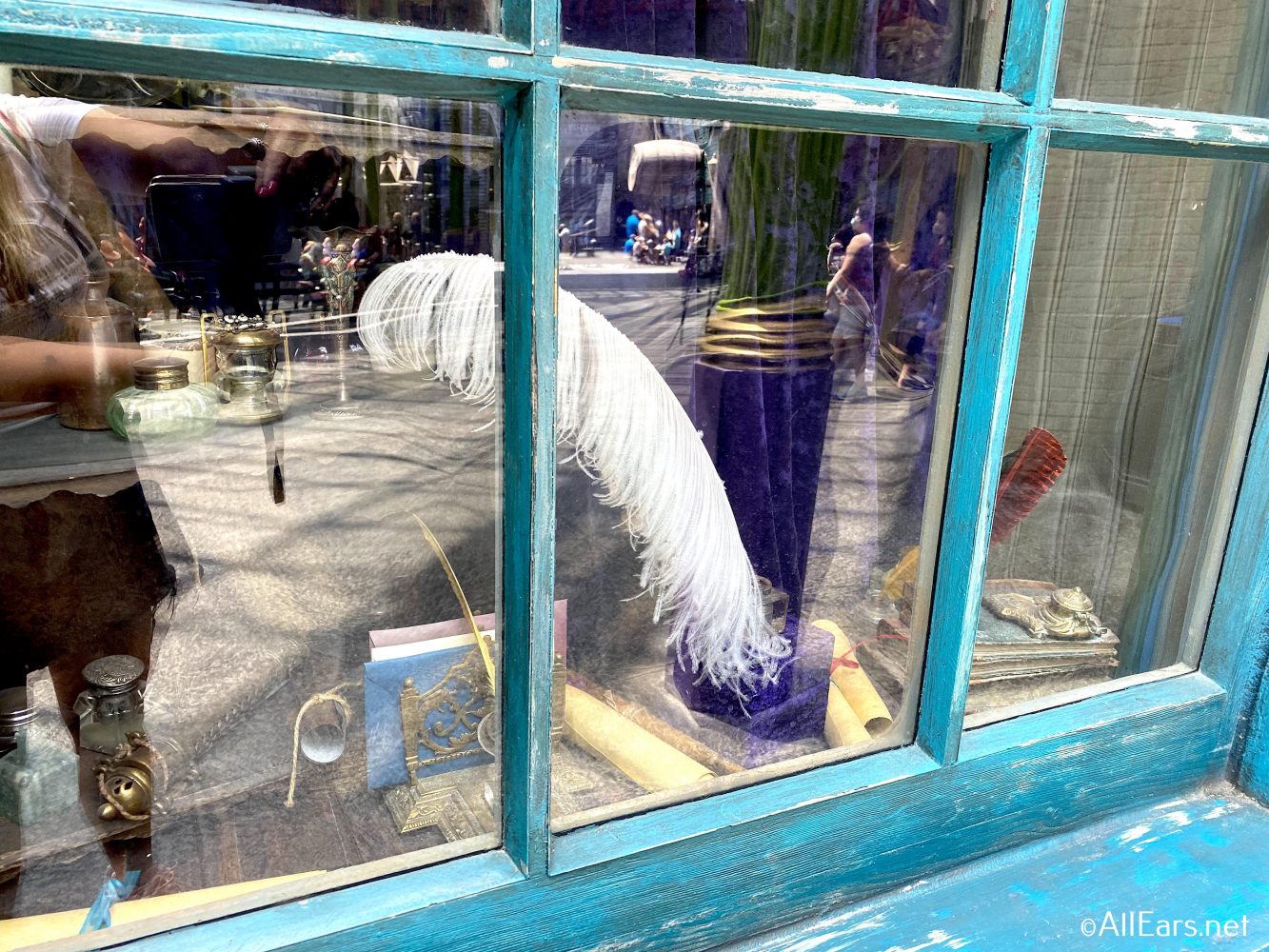 8. Reparo — Brown E. Wright's blacksmith shop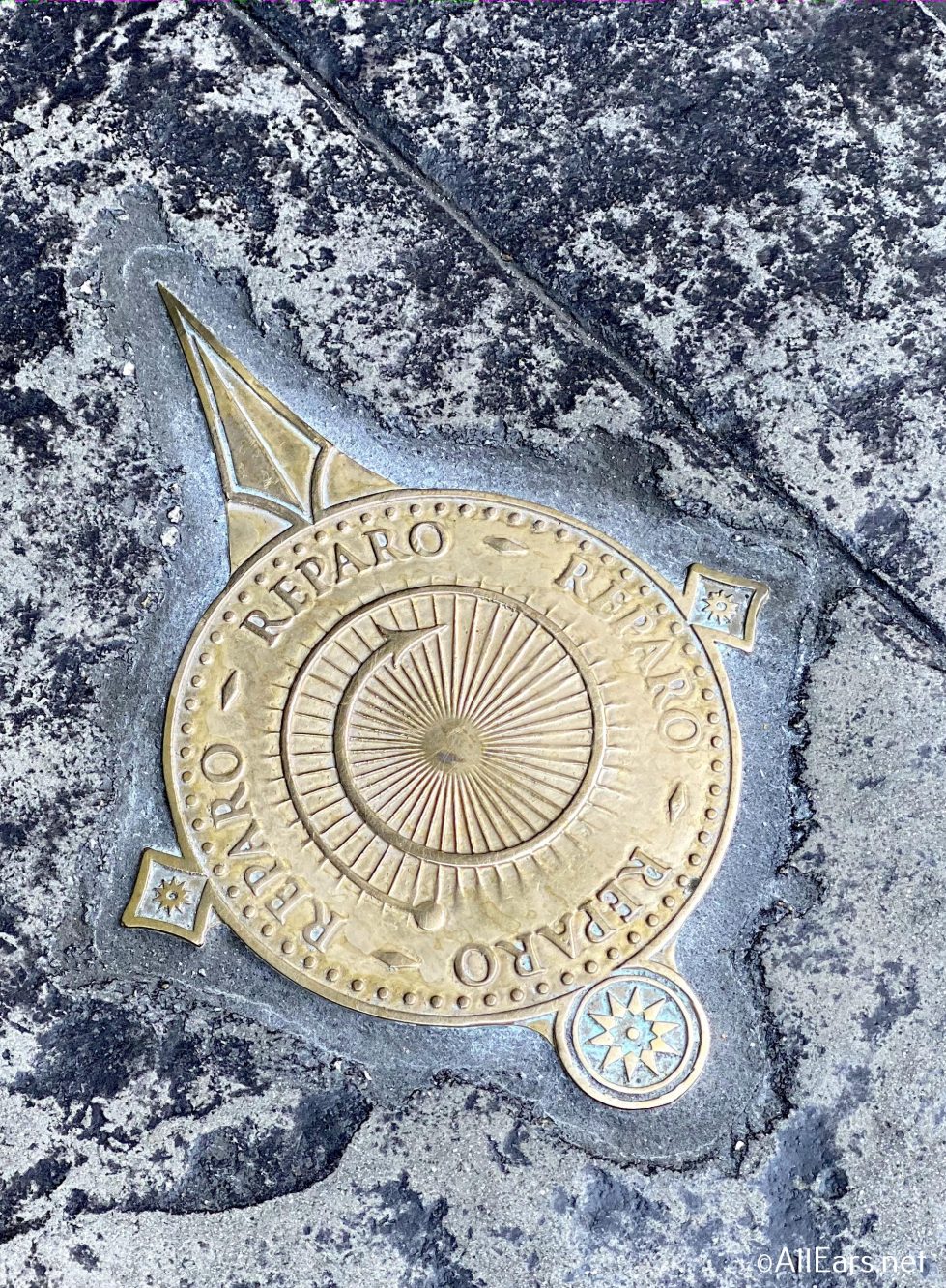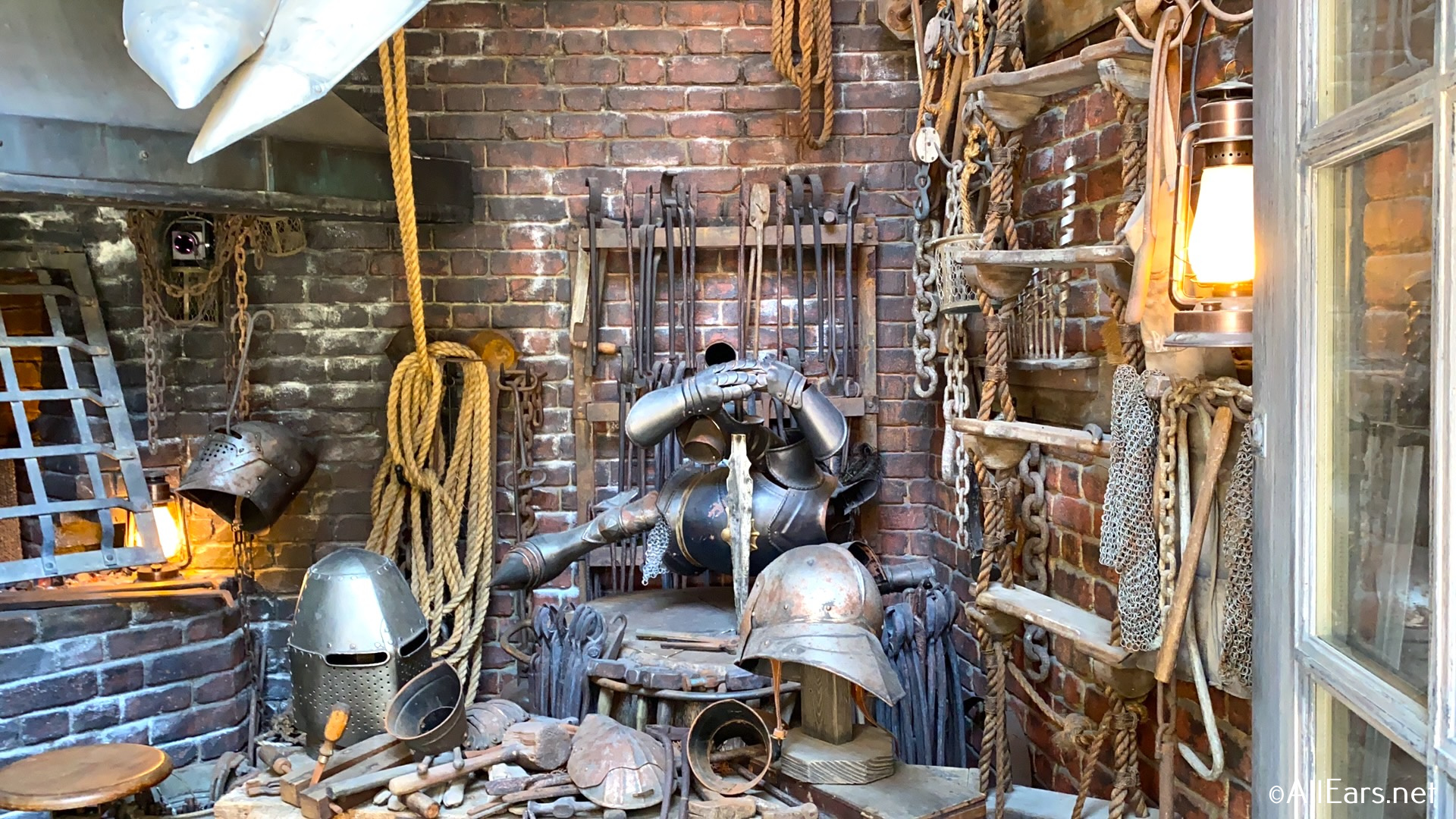 9. Locomotor Bellows — Brown E. Wright's blacksmith shop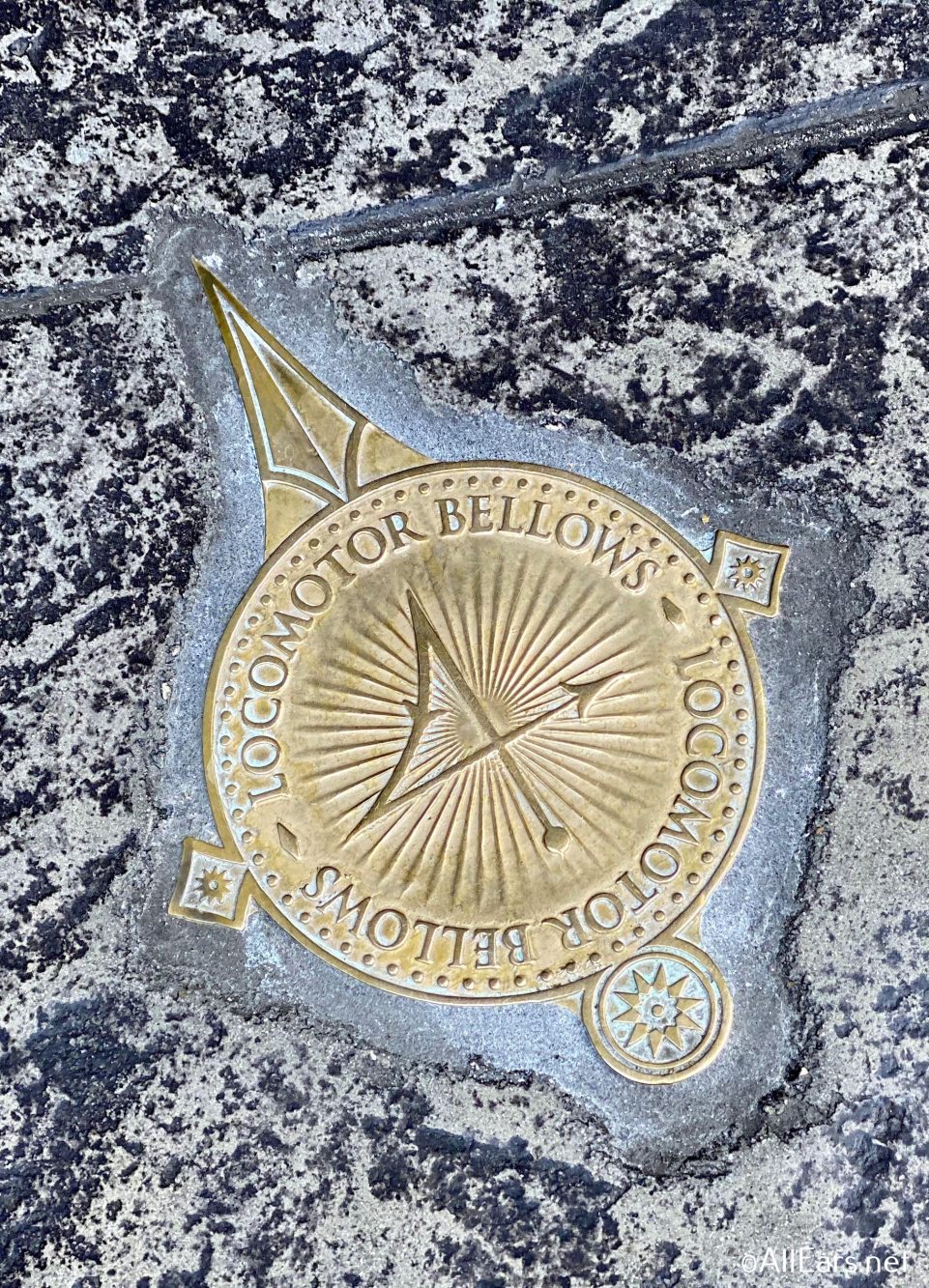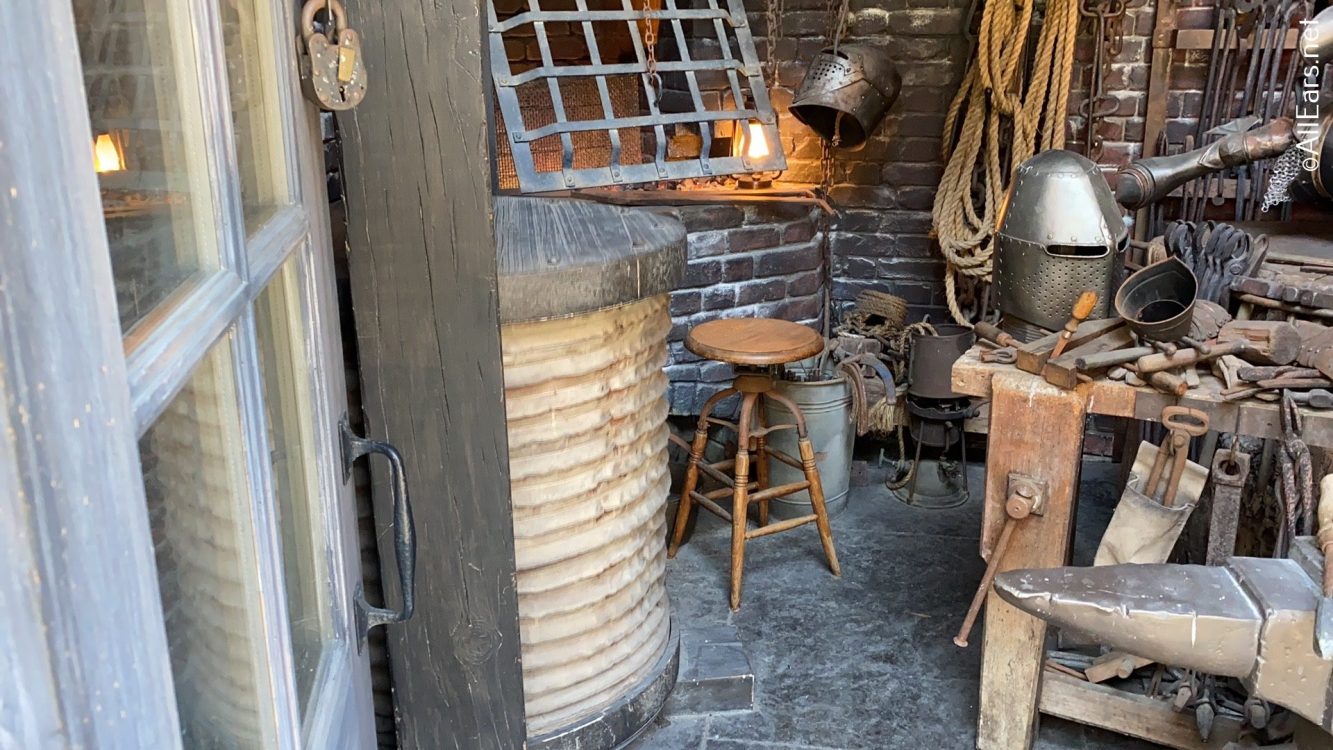 10. Aguamenti — near the mermaid fountain at Carkitt Market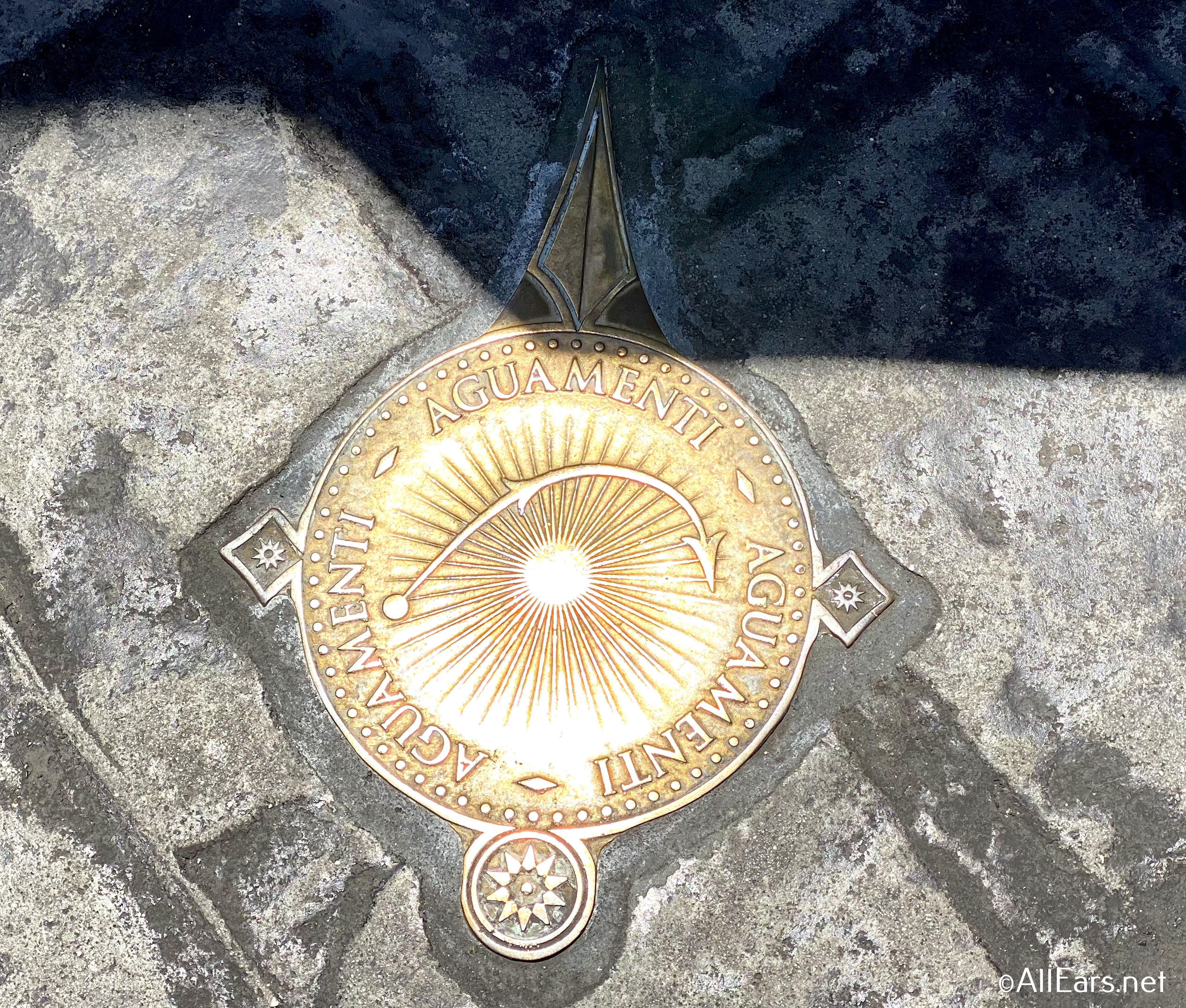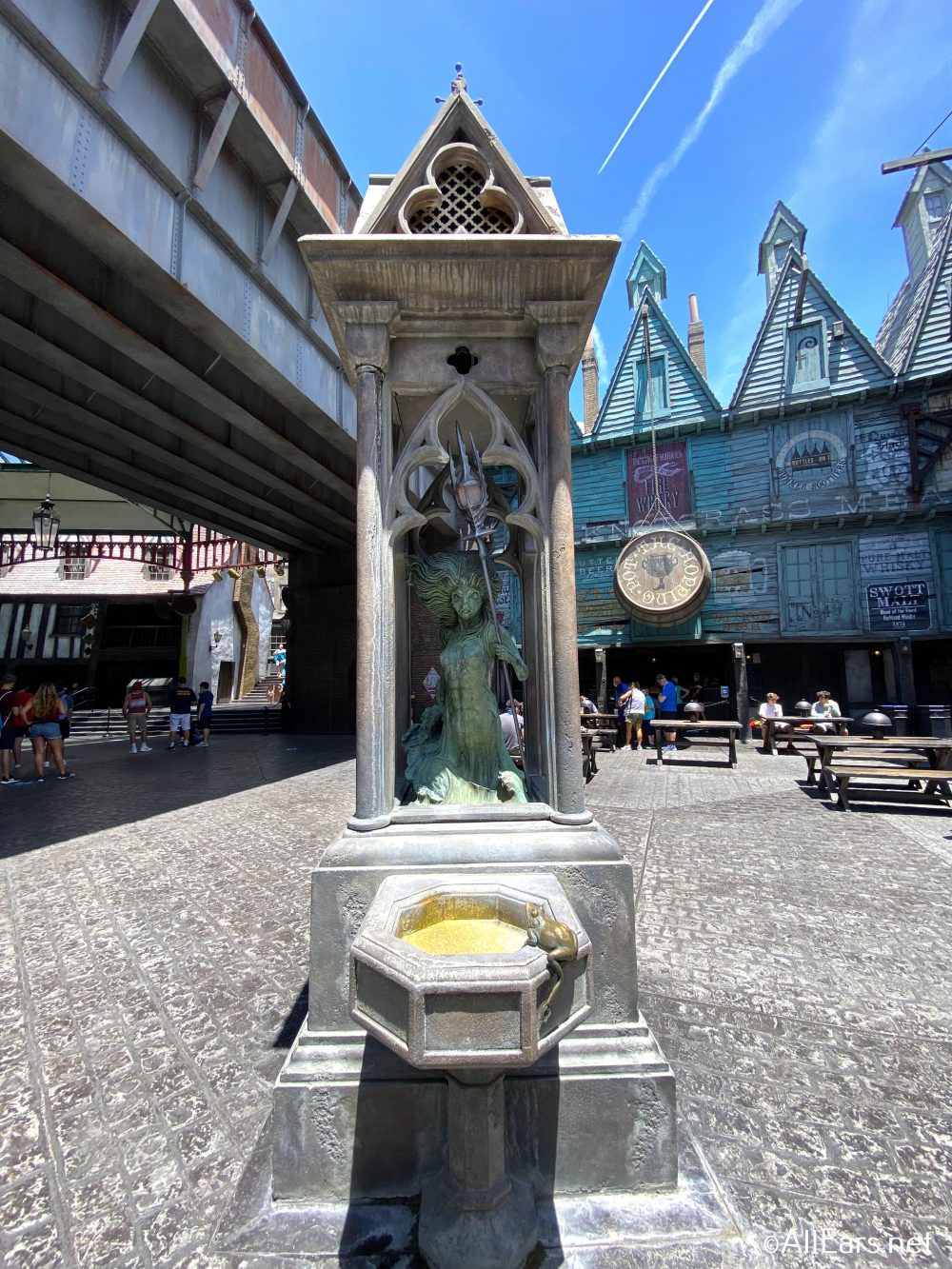 11. Descendo –shop window of Weasleys' Wizard Wheezes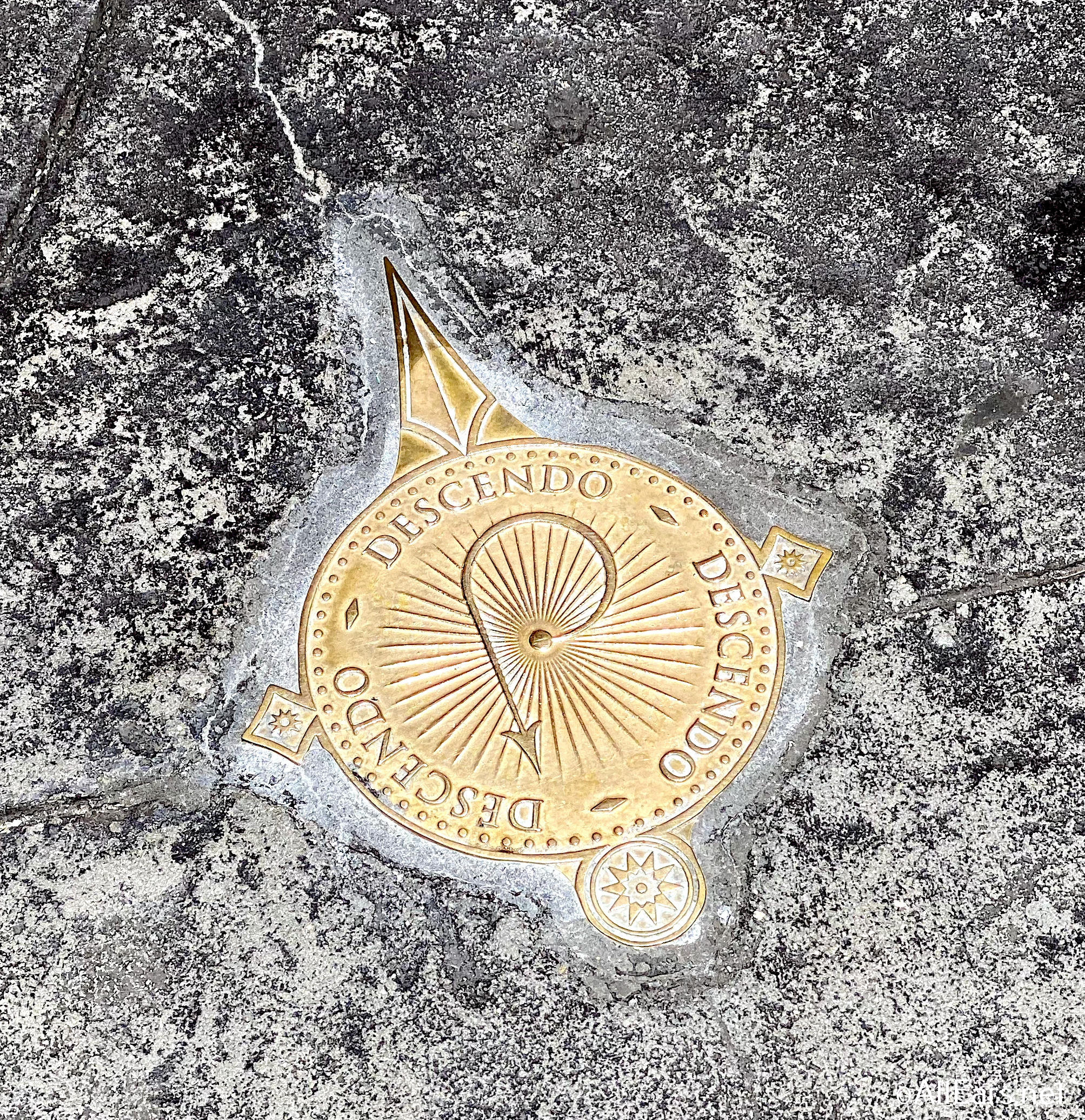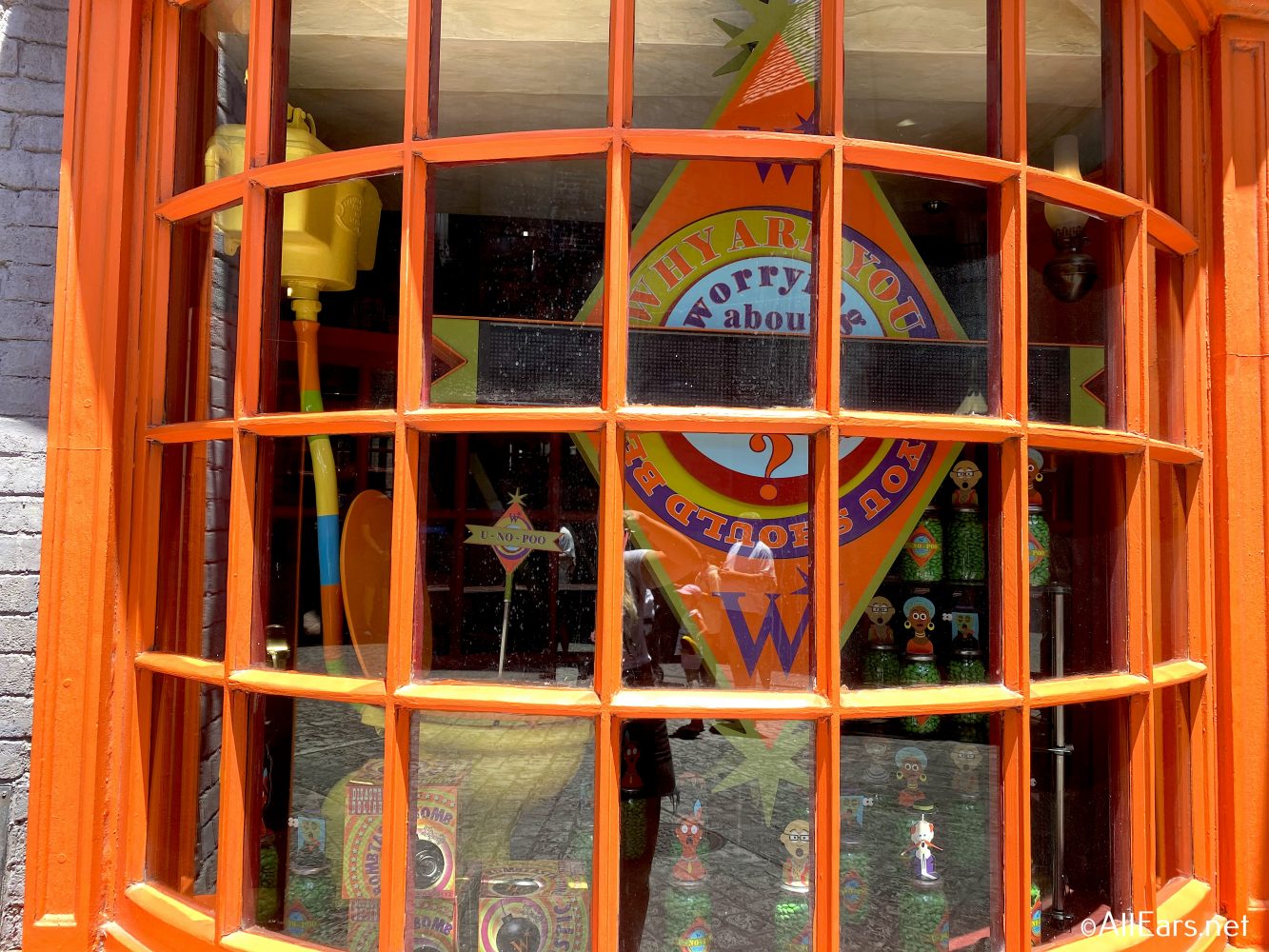 Secret Spell #1 — shop window of Slug and Jiggers Apothecary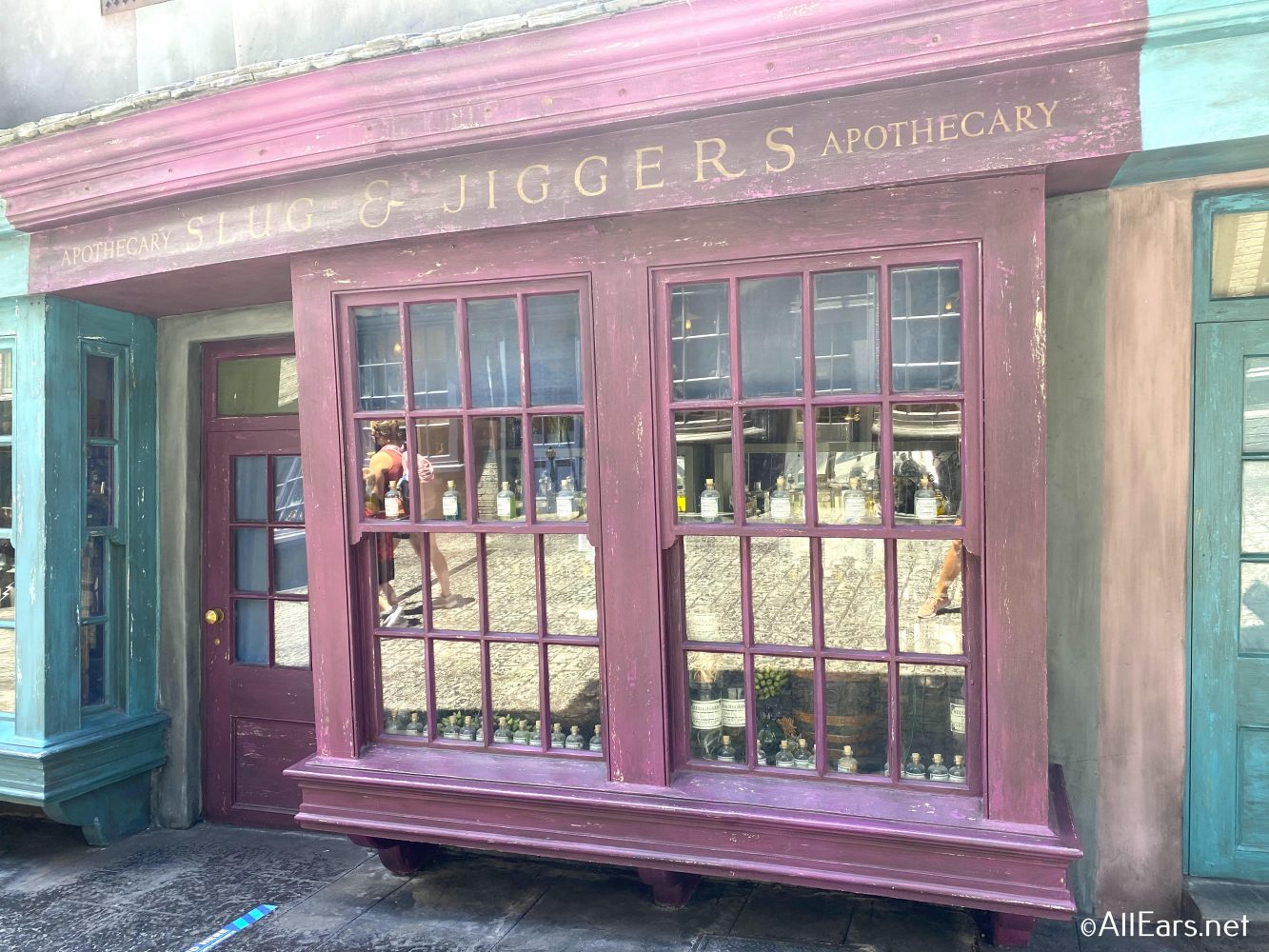 Secret Spell #2— far right of the shop window of Scribbulus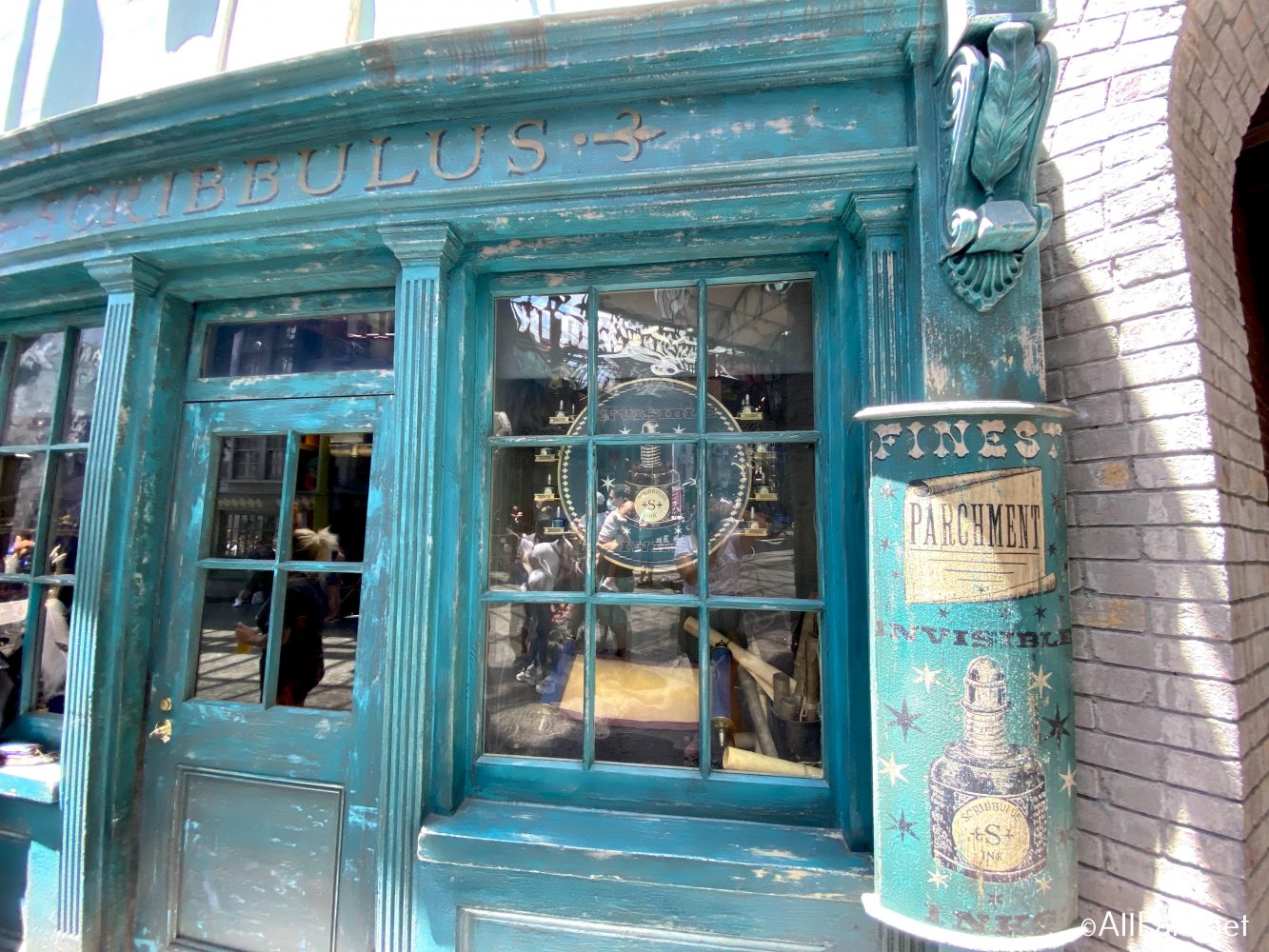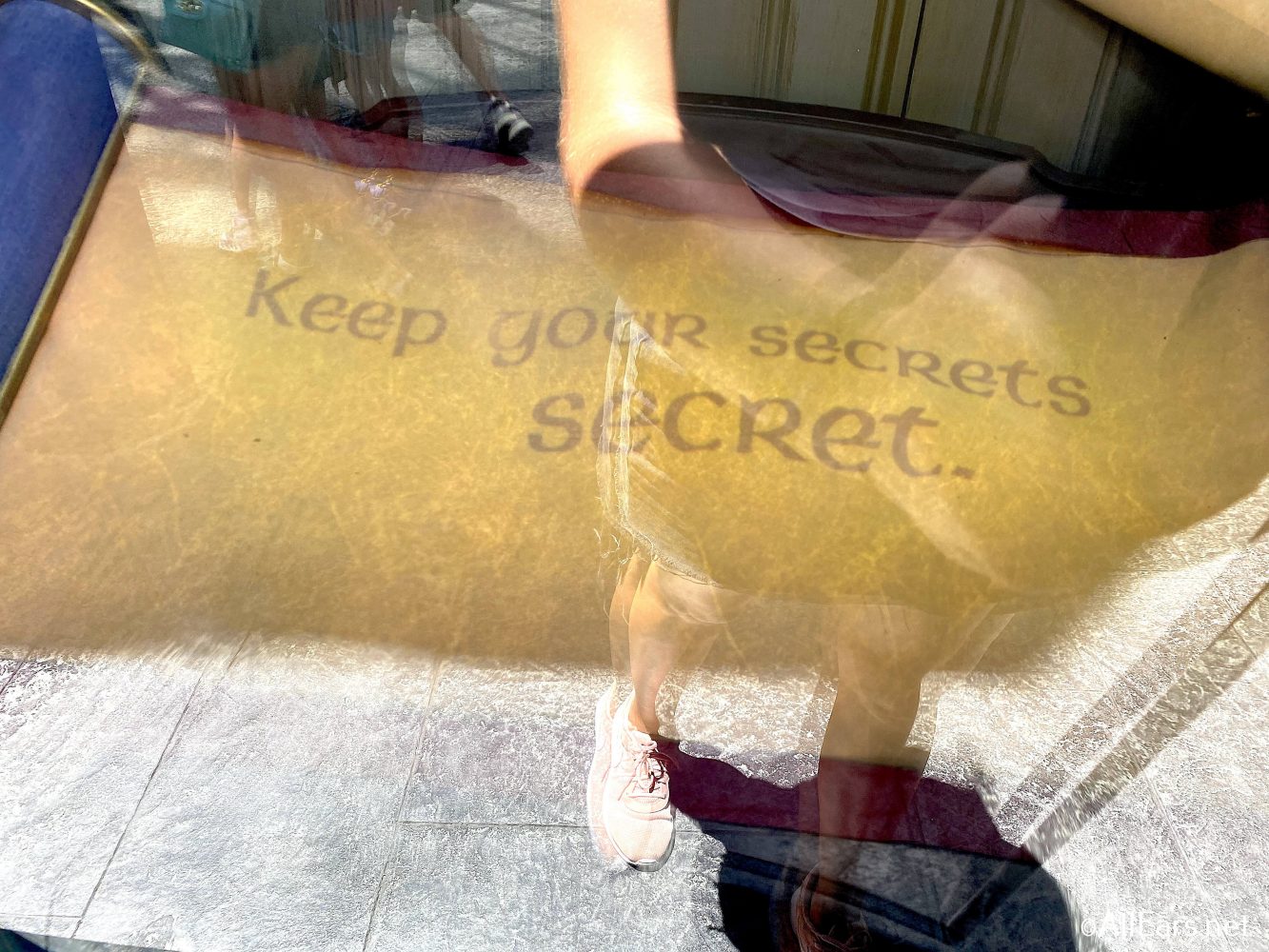 Knockturn Alley Spells
1. Locomotor Chimney Sweep — Chimney Sweep Elf sign
2. Moving Skeleton — window across from Borgin and Burkes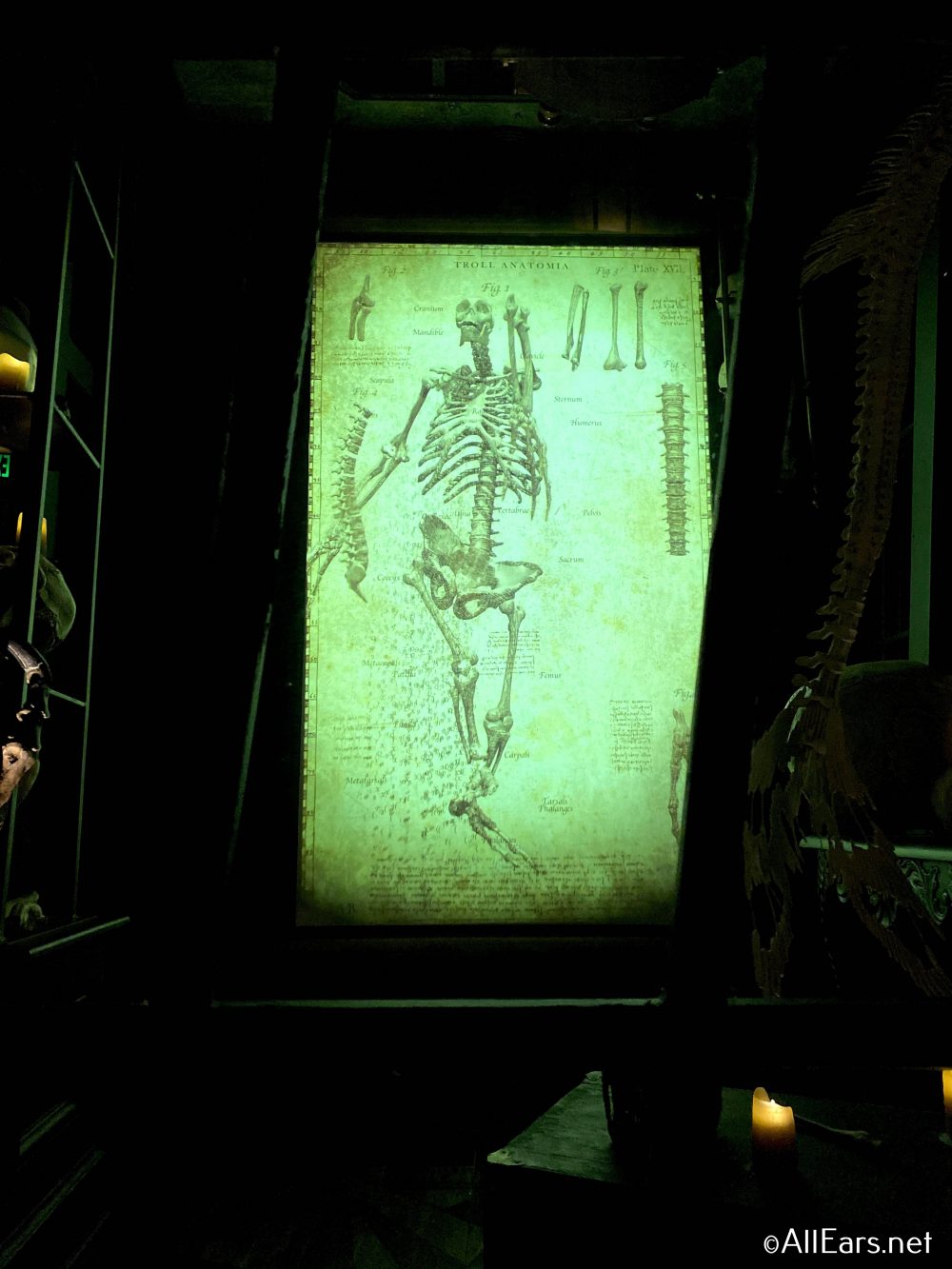 3, Mimblewimble — in the window of shrunken heads next to Dystyl Phaelanges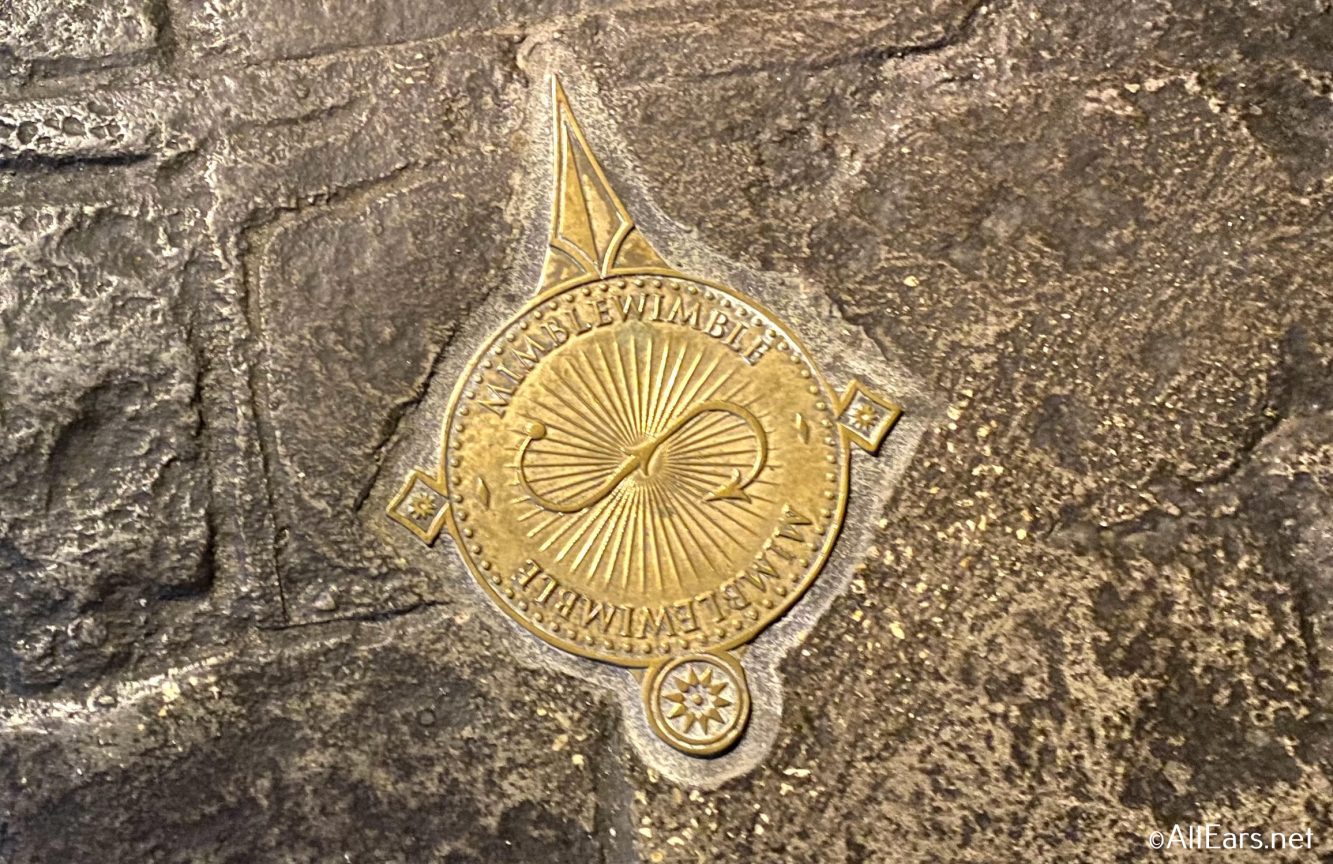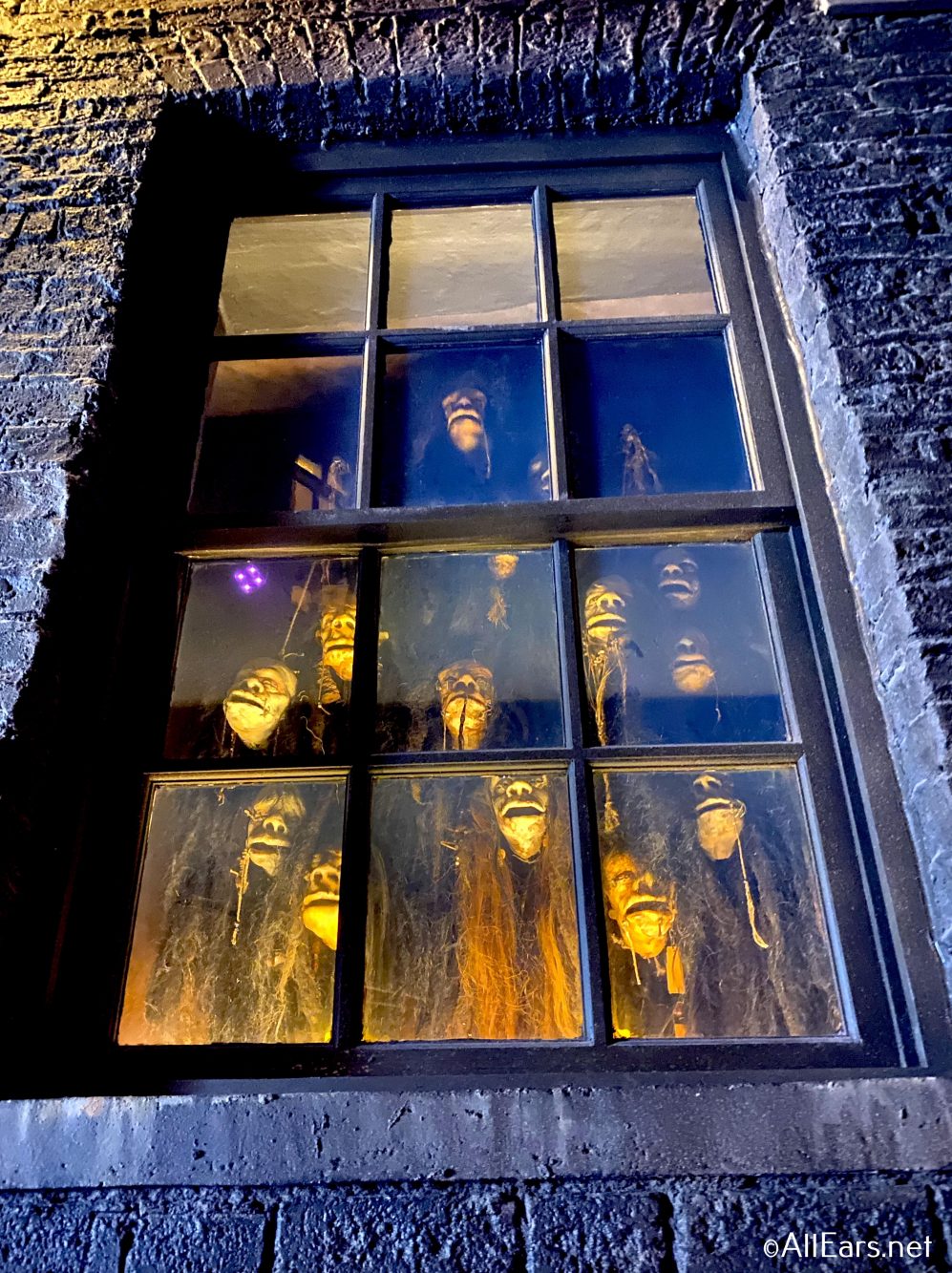 4. Incendio — birdcage around the corner from Borgin and Burkes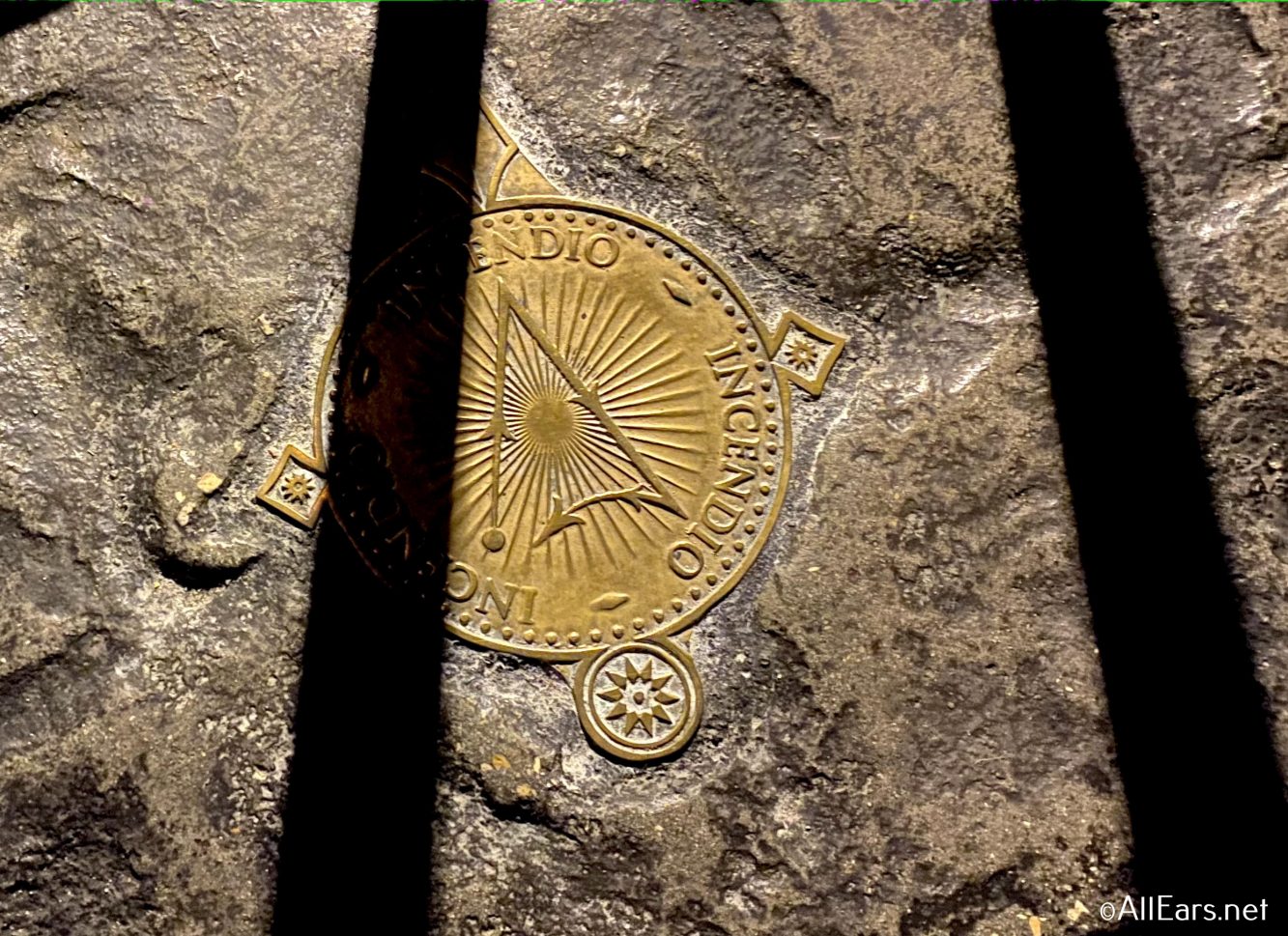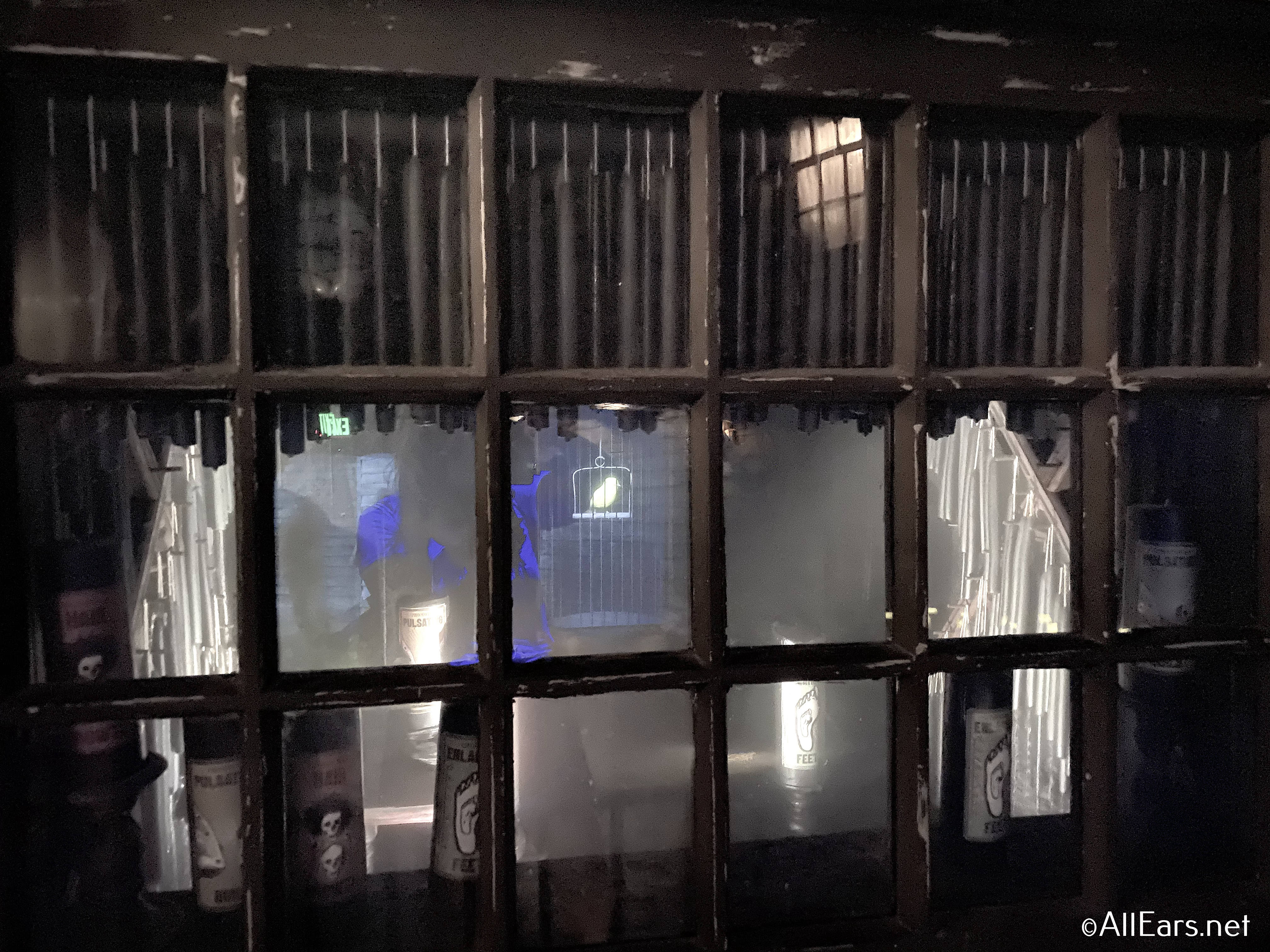 5. Alohamora — courtyard around Borgin and Burkes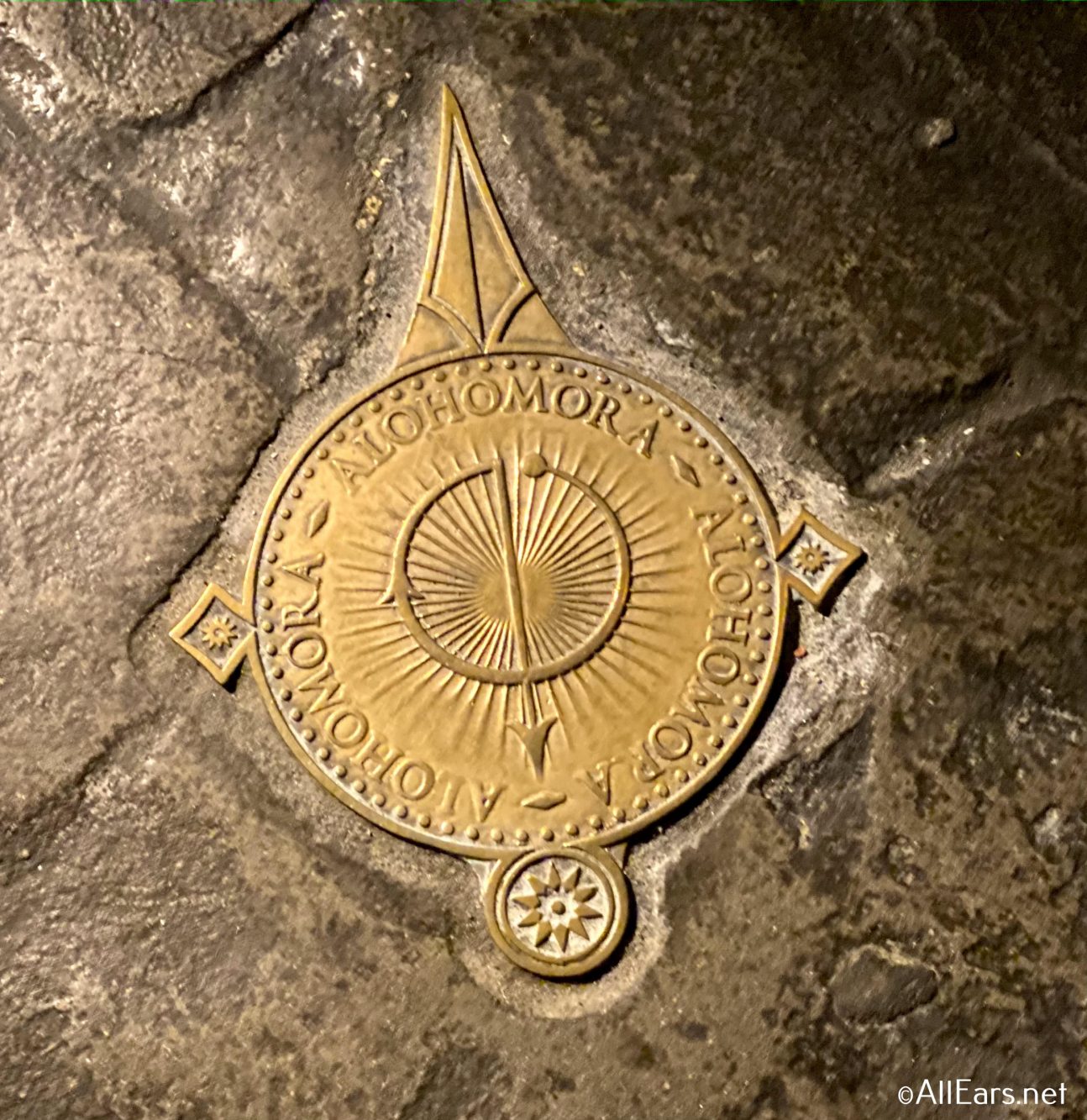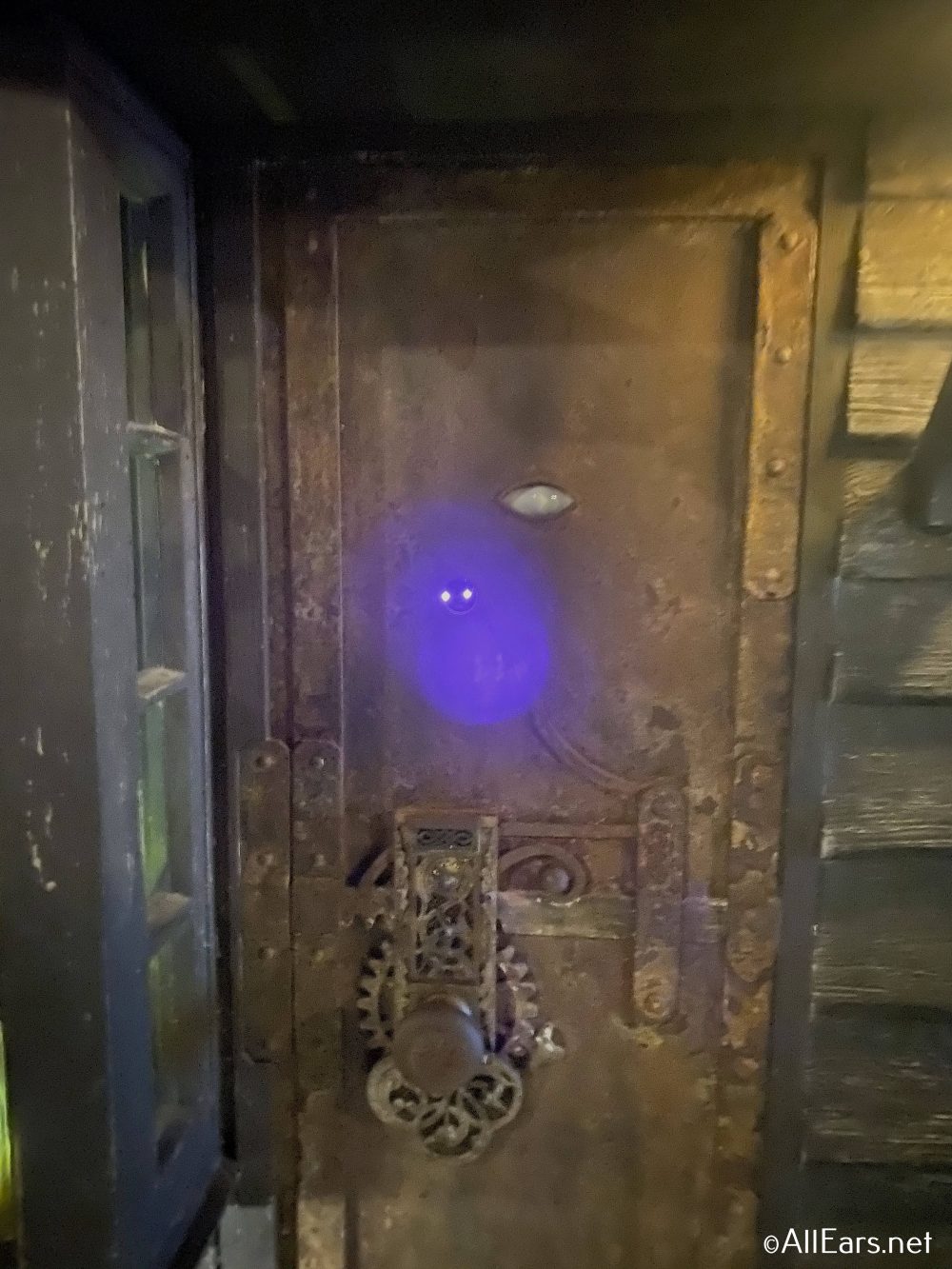 Hogsmeade Spells
1. Incendio — window of Zonko's Joke Shop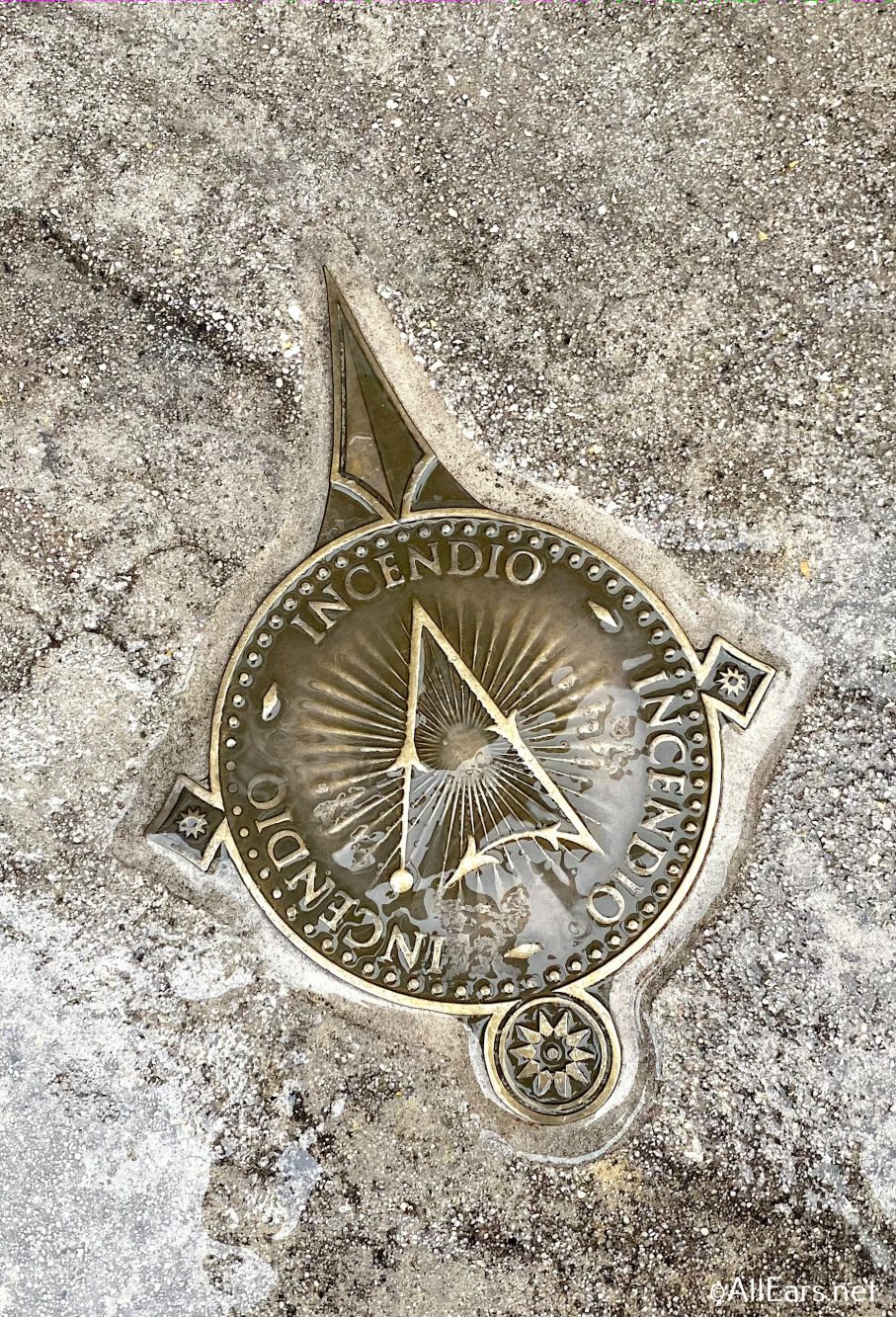 2. Arresto Momentum — wall-mounted cauldron at McHavelock's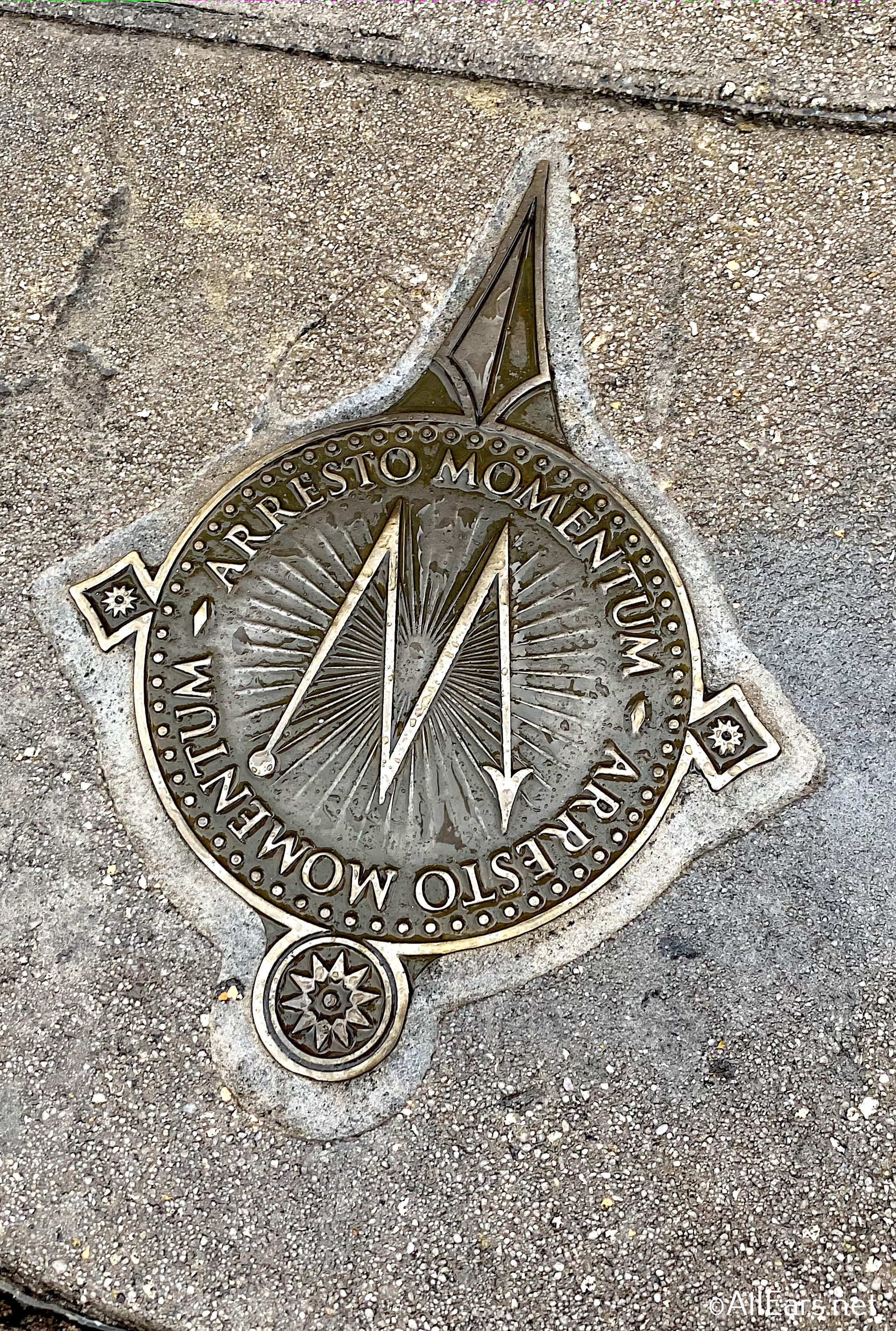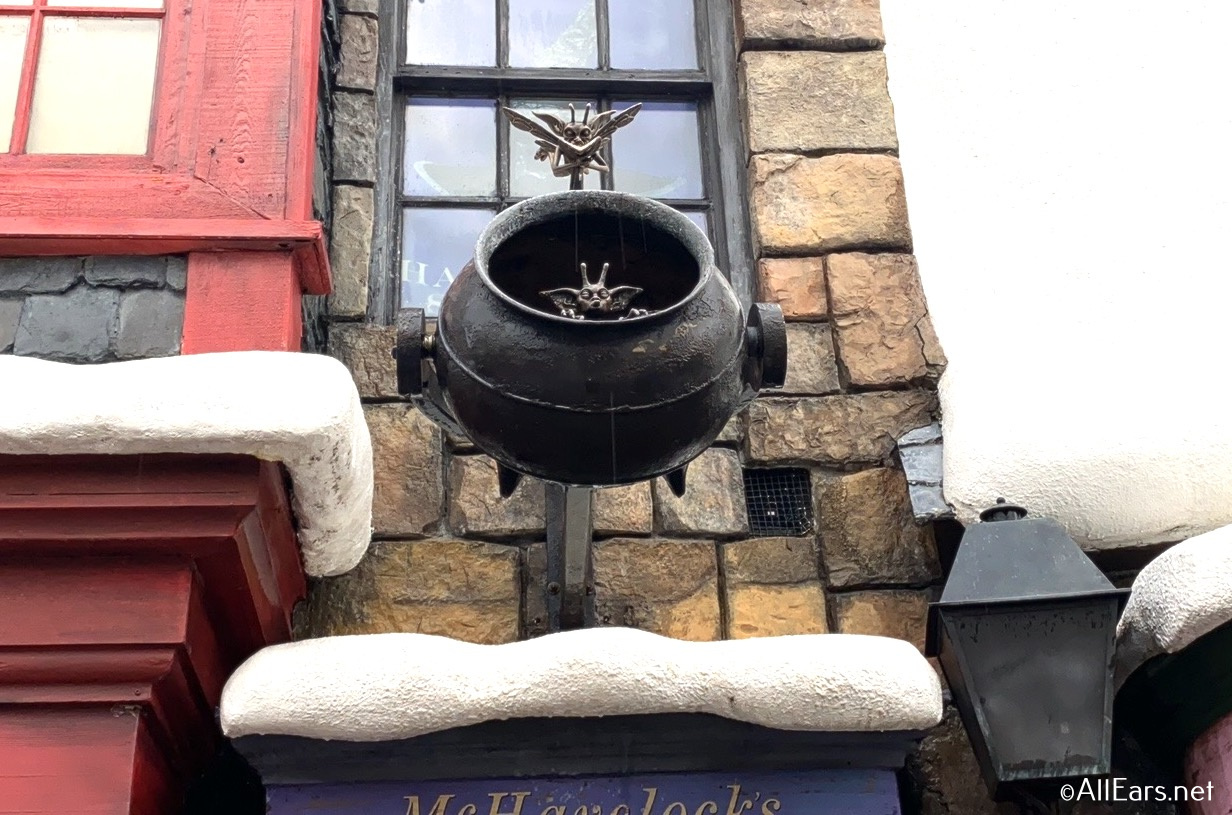 3. Revelio — 
window display at Honeydukes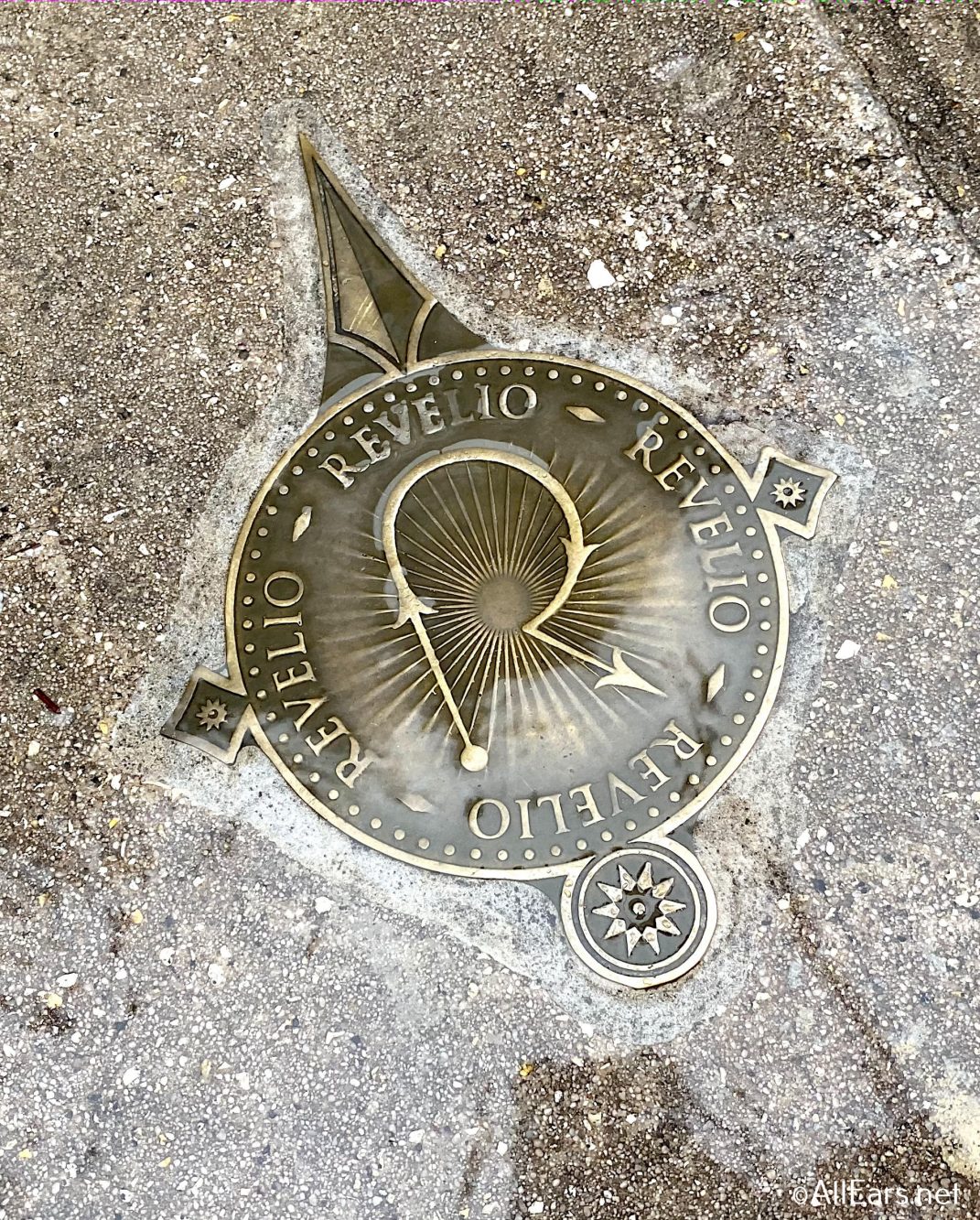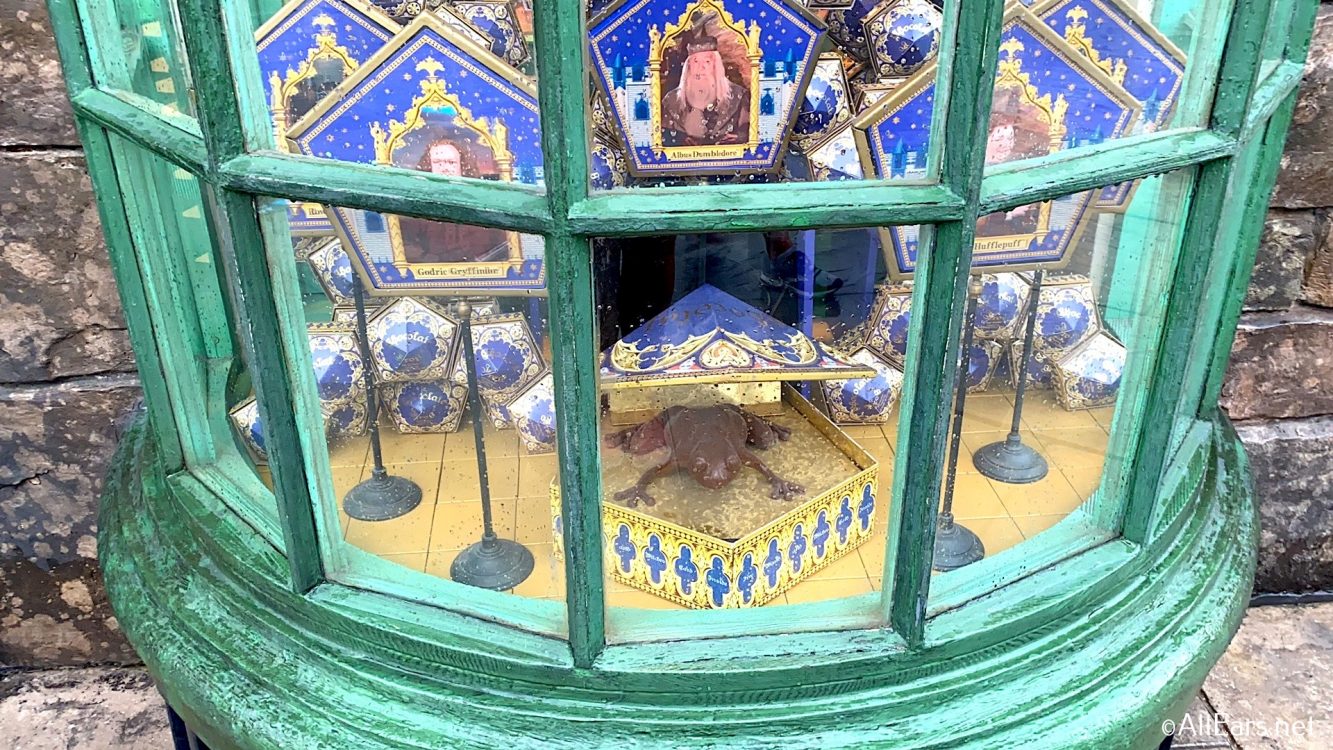 4. Herbivicus — window at Dogweed and Deathcap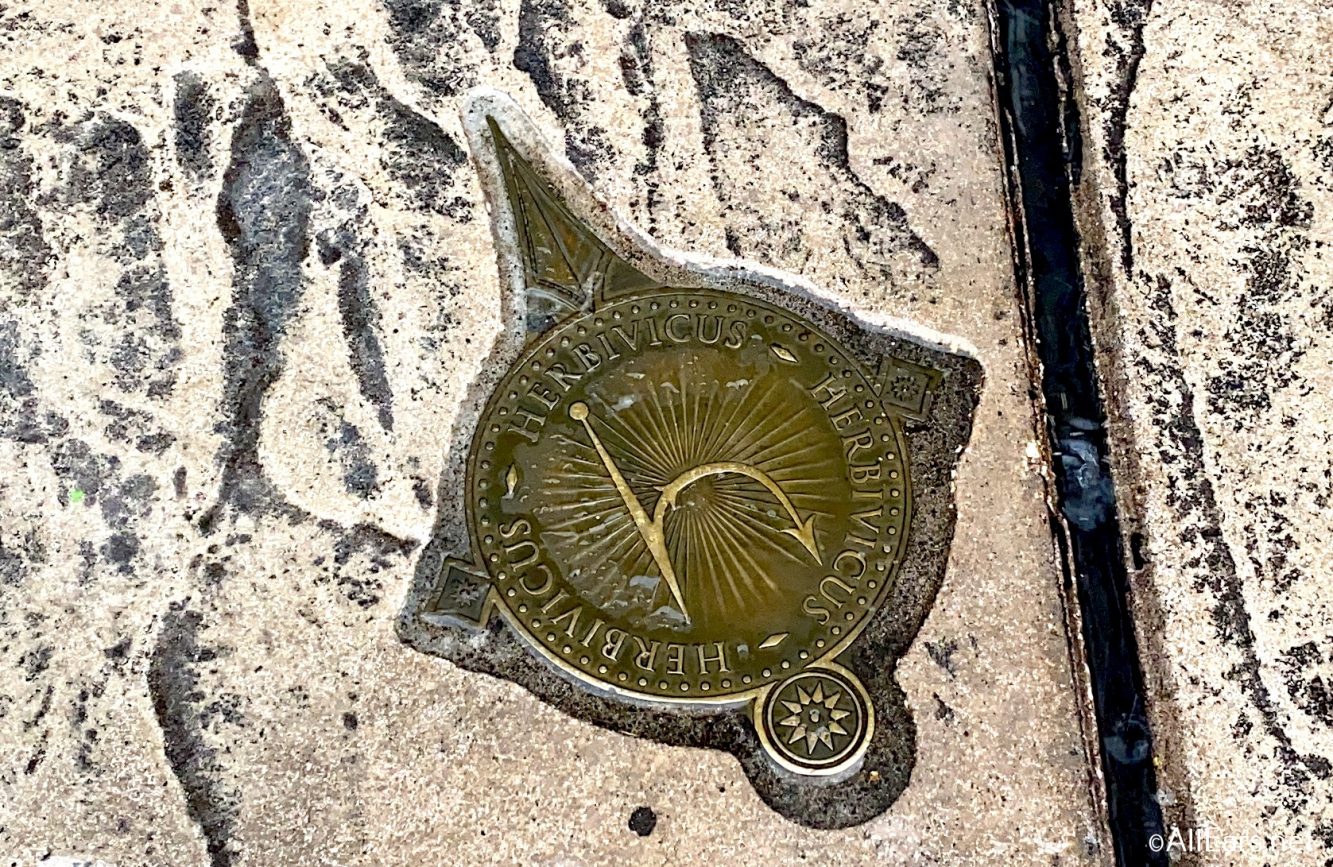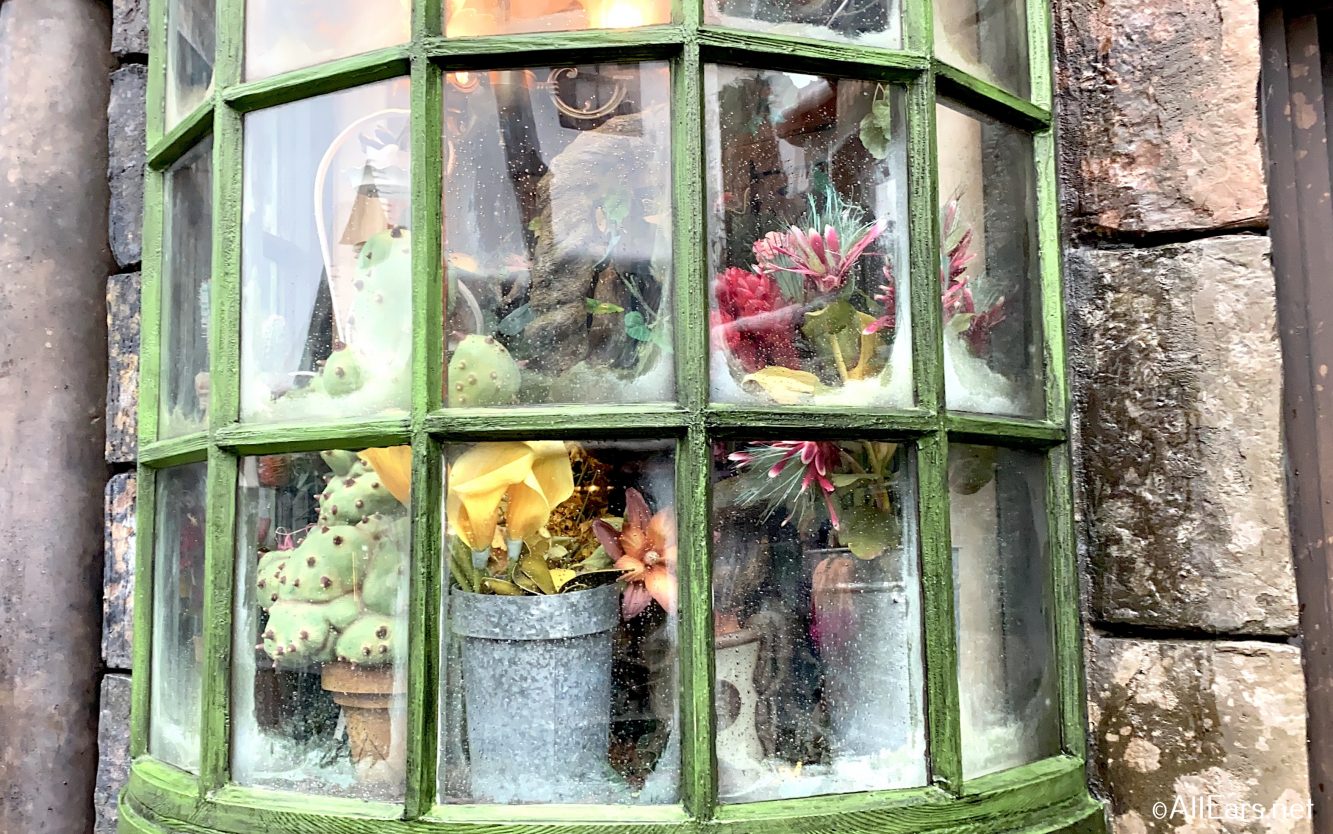 5. Ascendio and Descendo — window at Gladrags Wizardwear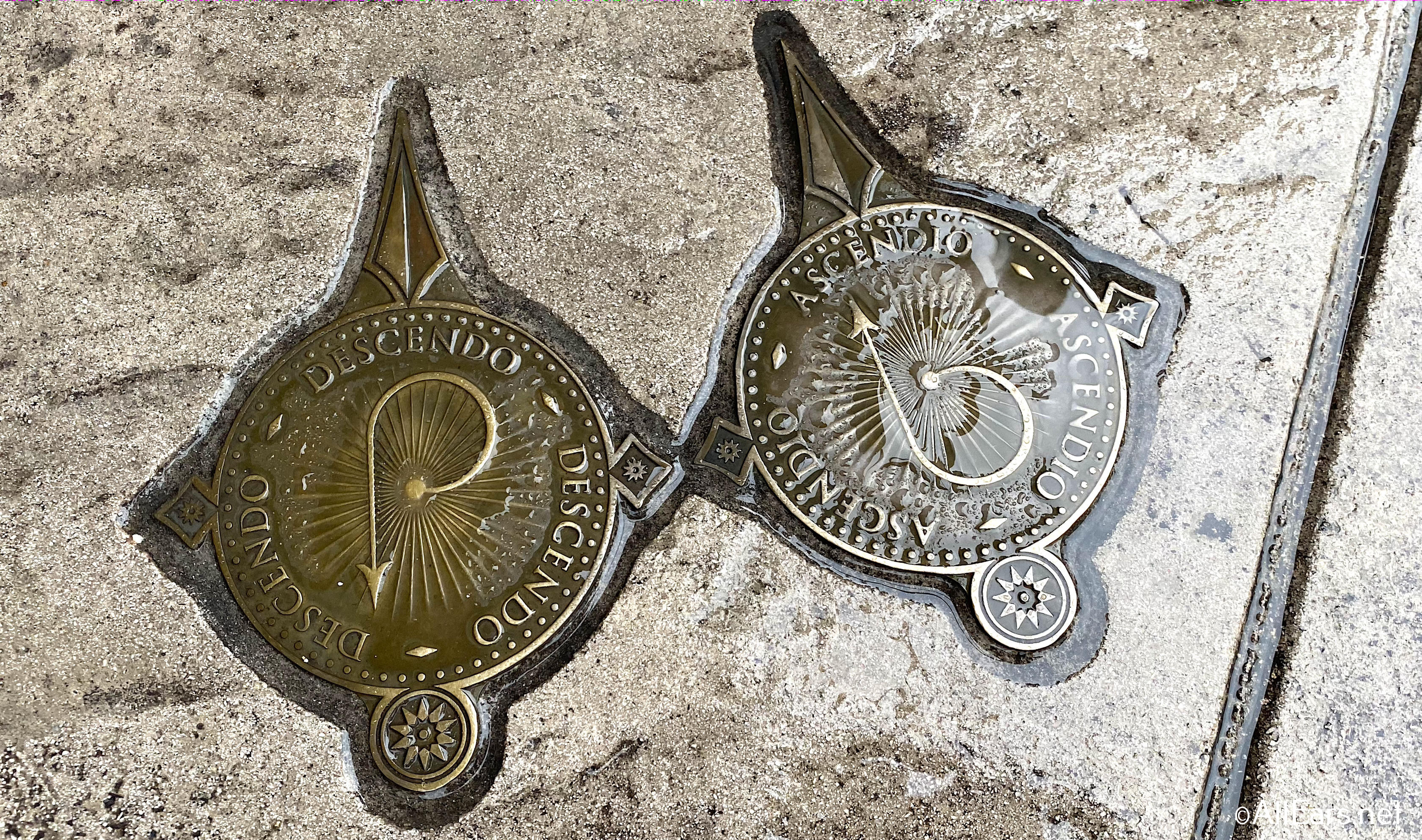 6. Locomotor Snowman — window at Madam Puddifoot's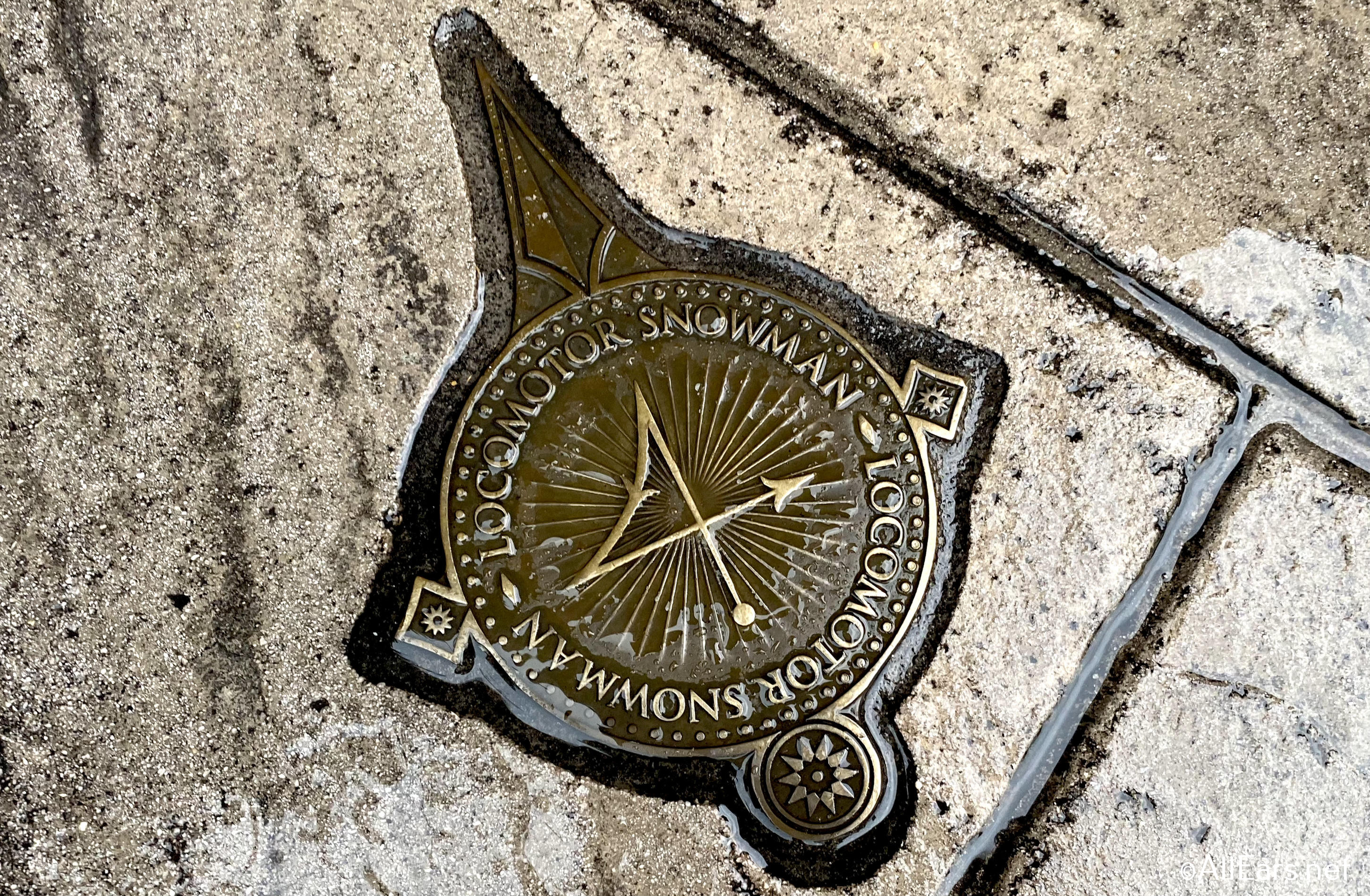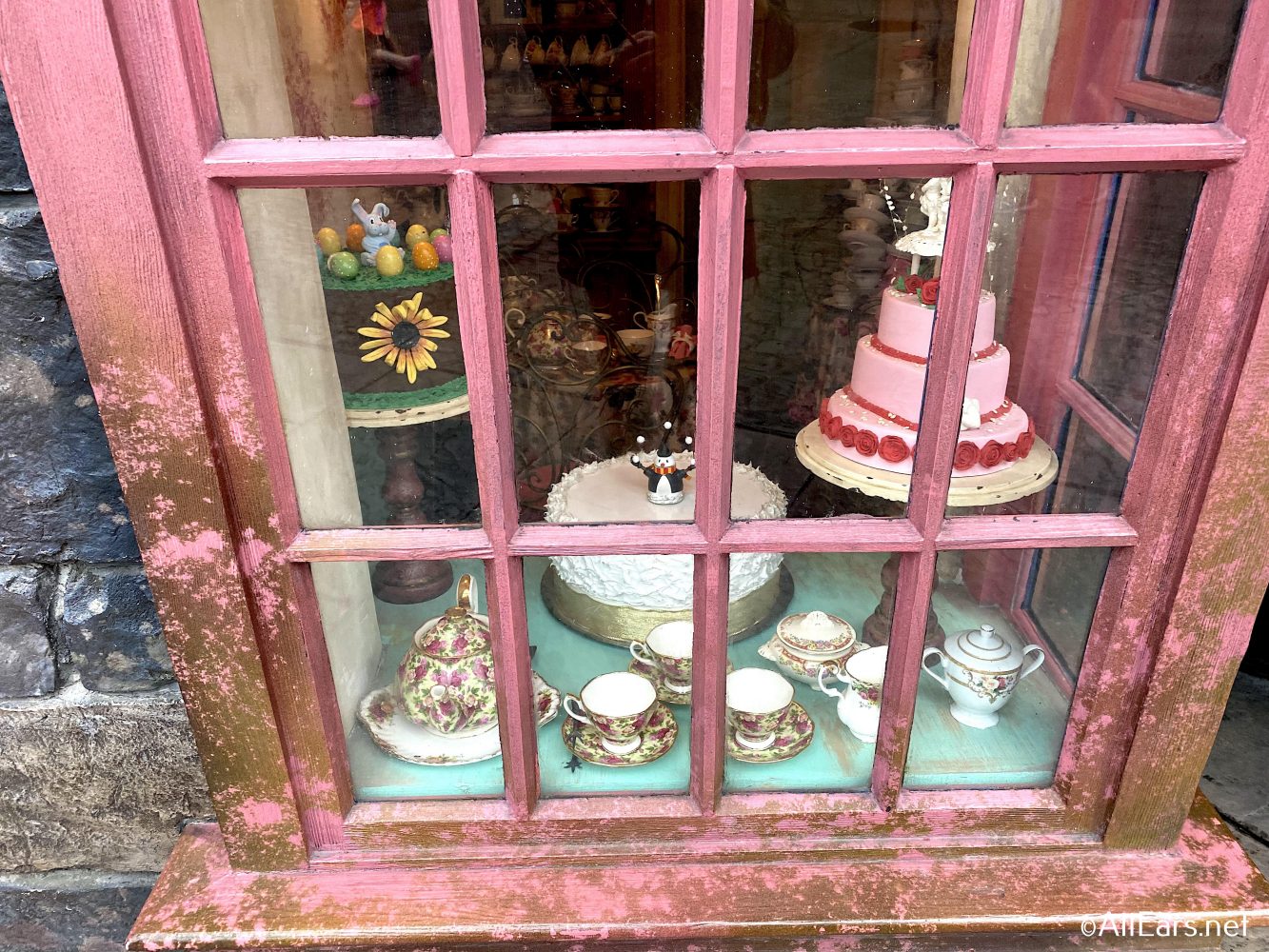 7. Locomotor and Arresto Momentum — back of Dervish and Banges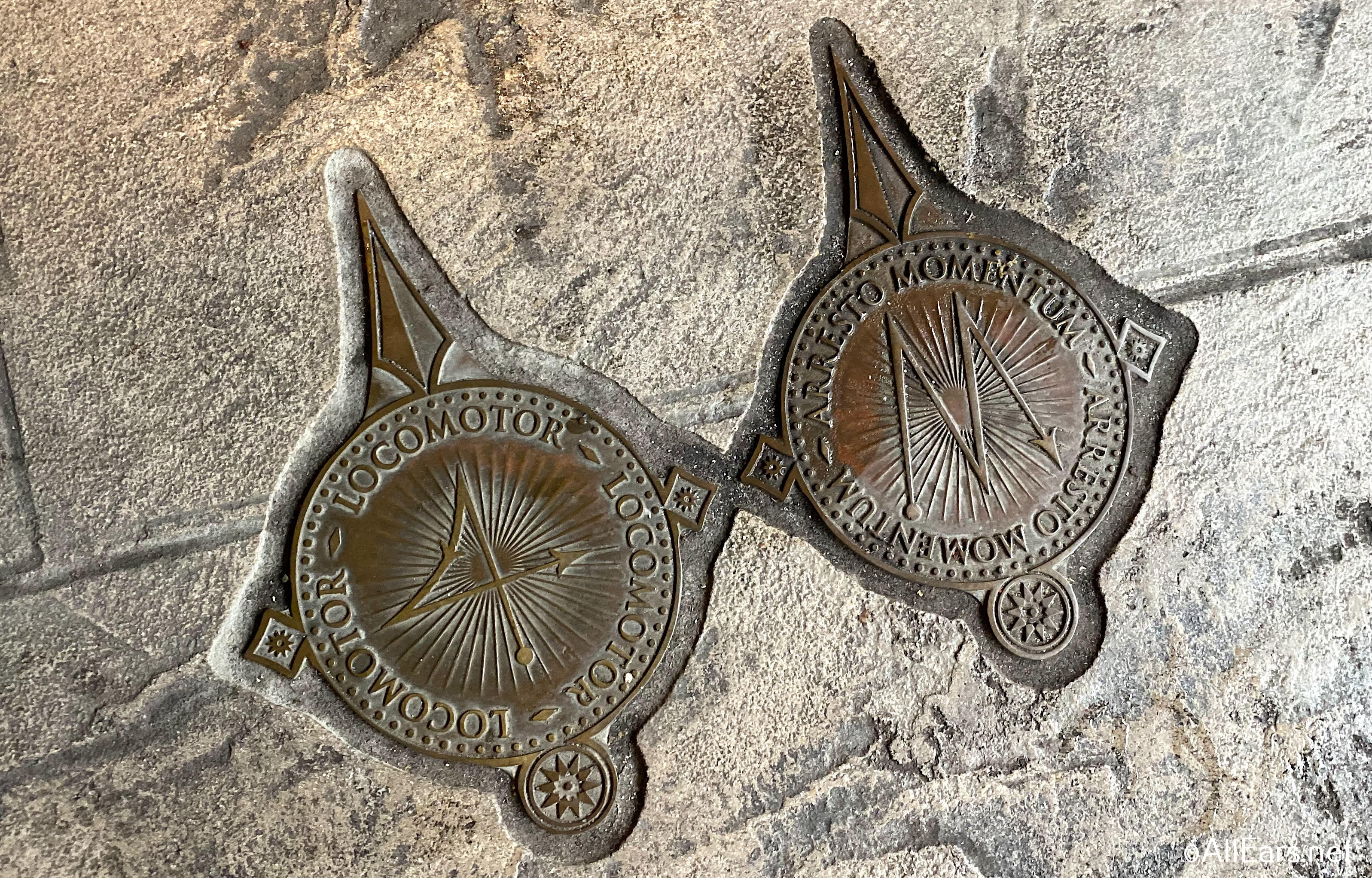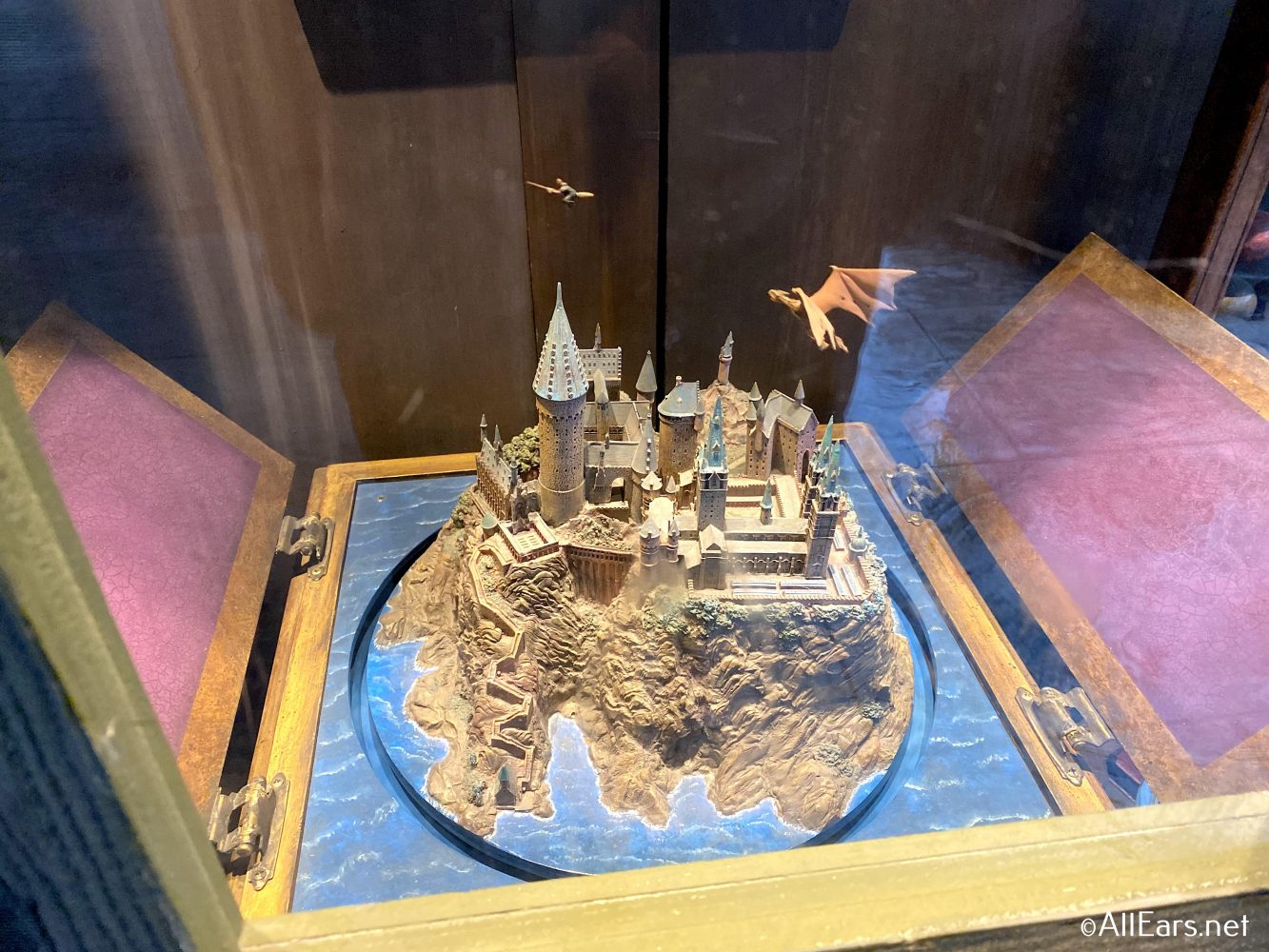 8. Alohomora — window at Tomes and Scrolls Specialist Bookshop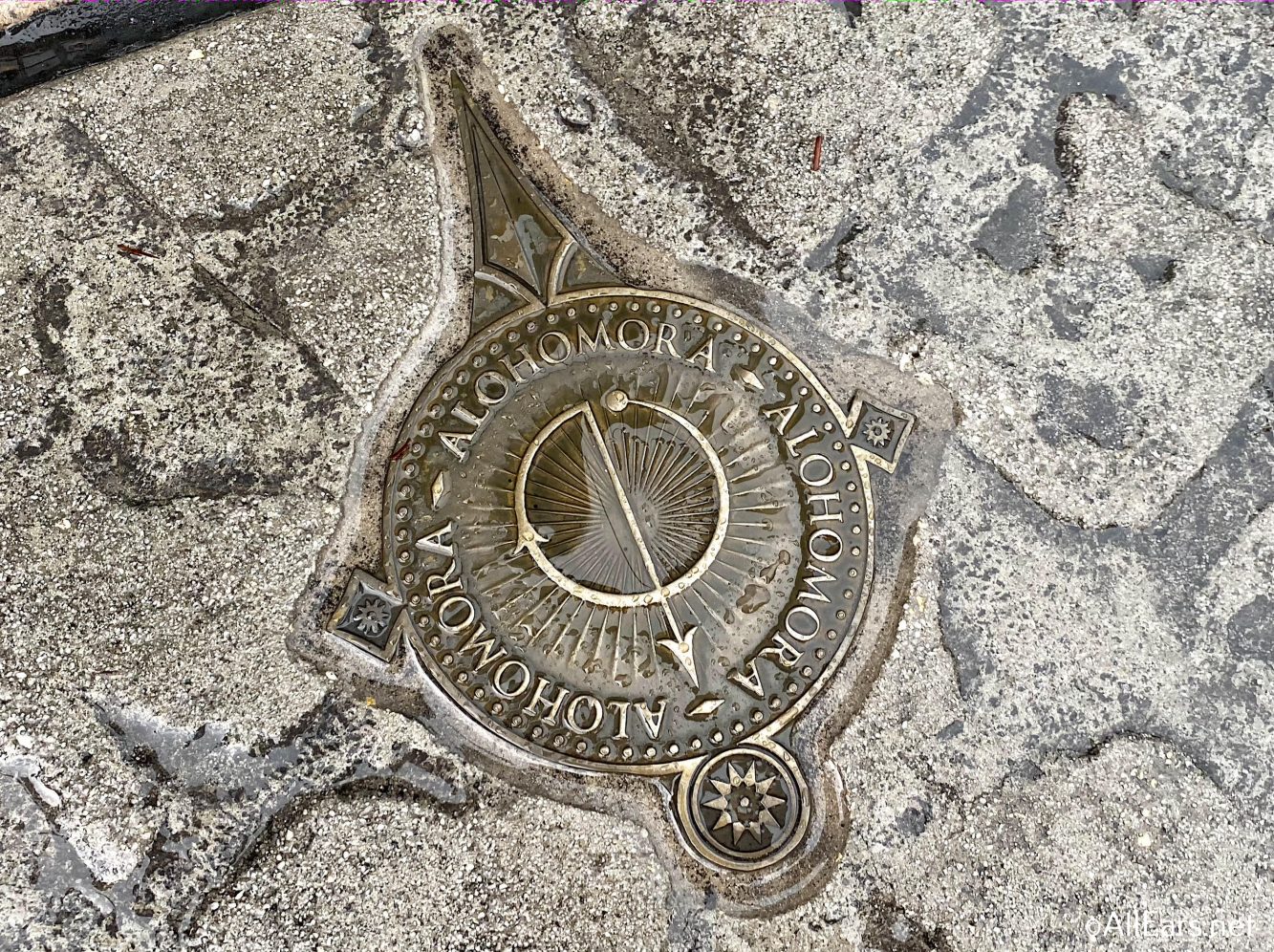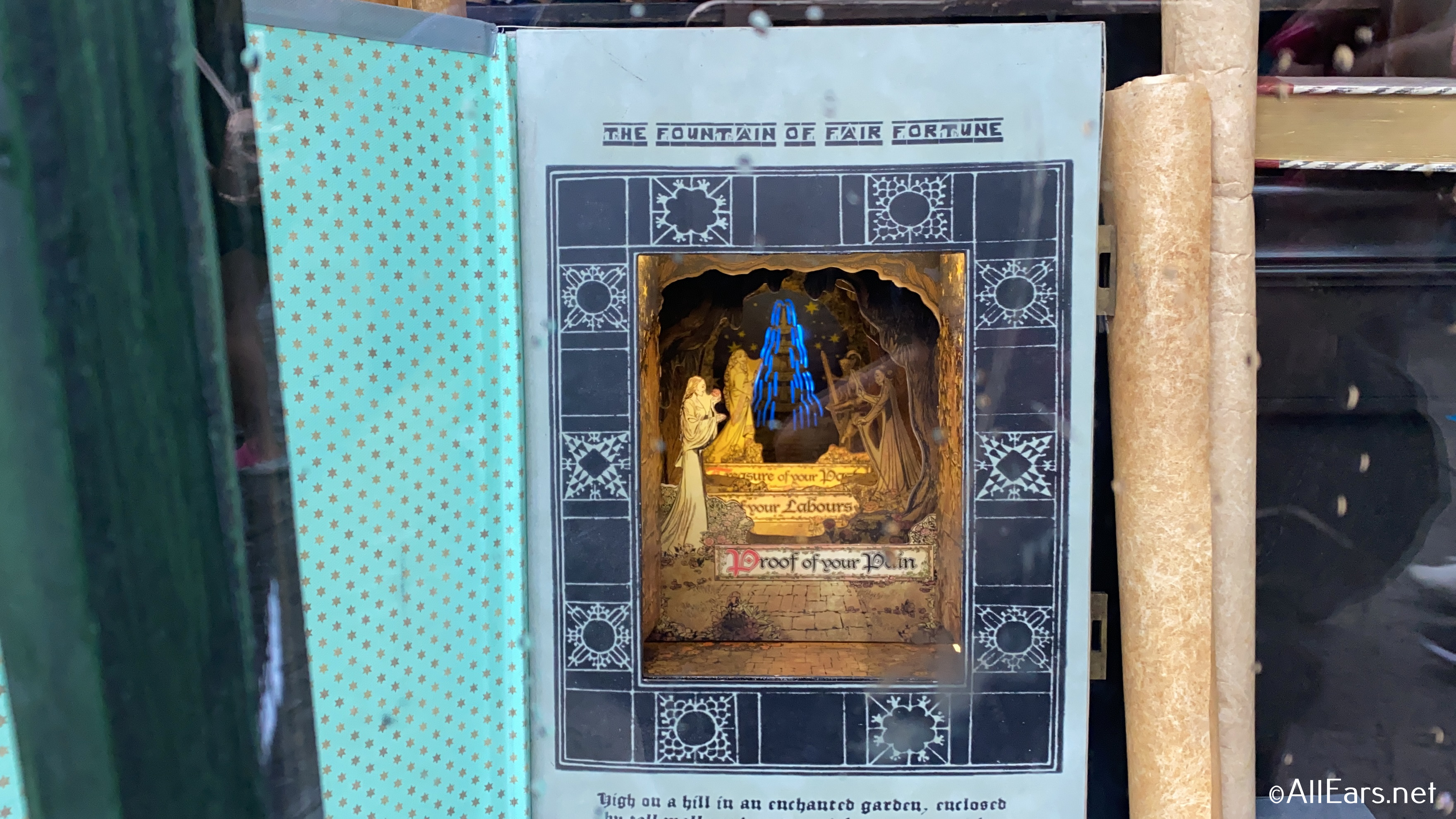 9. Wingardium Leviosa — window at Spintwiches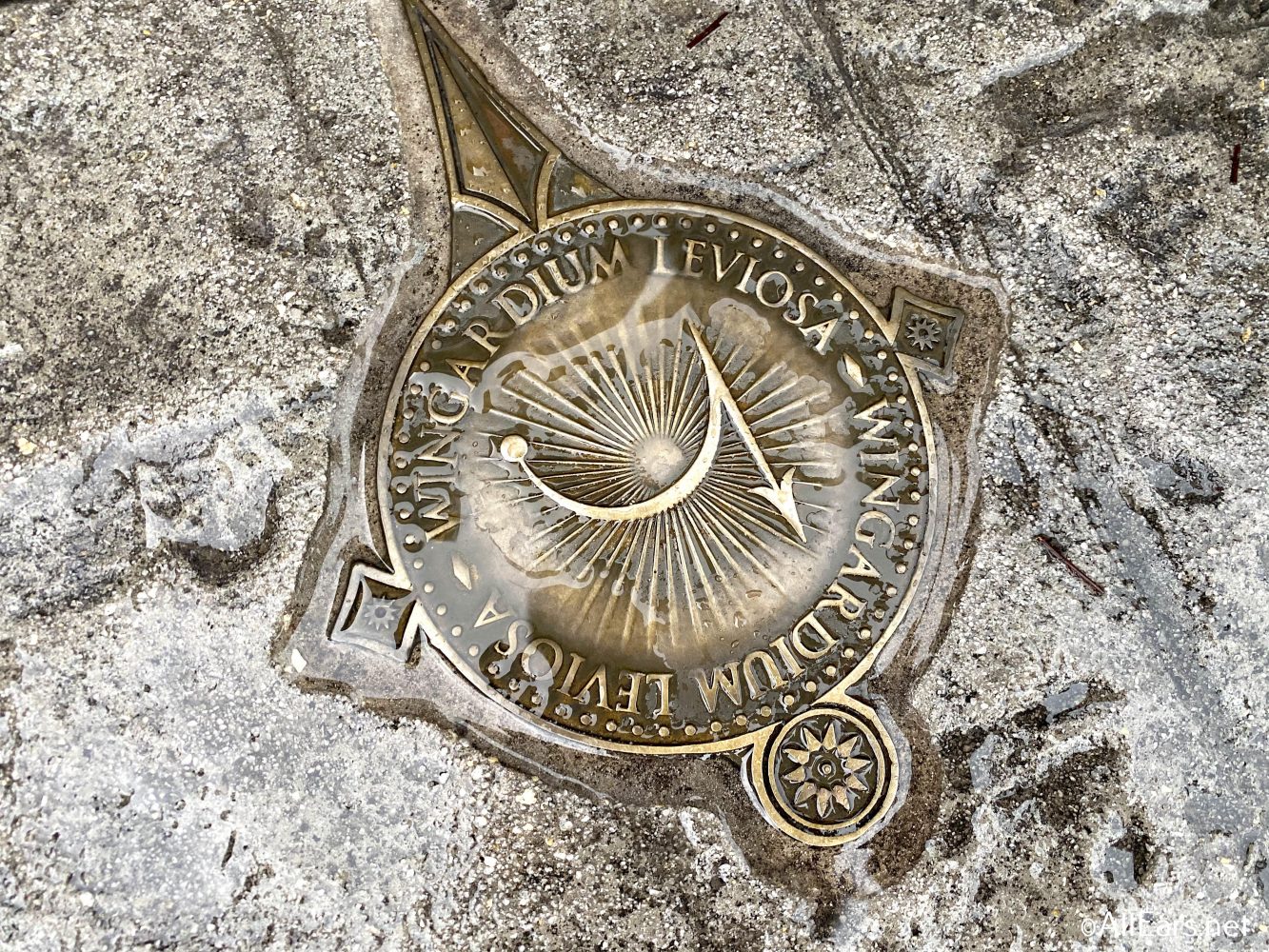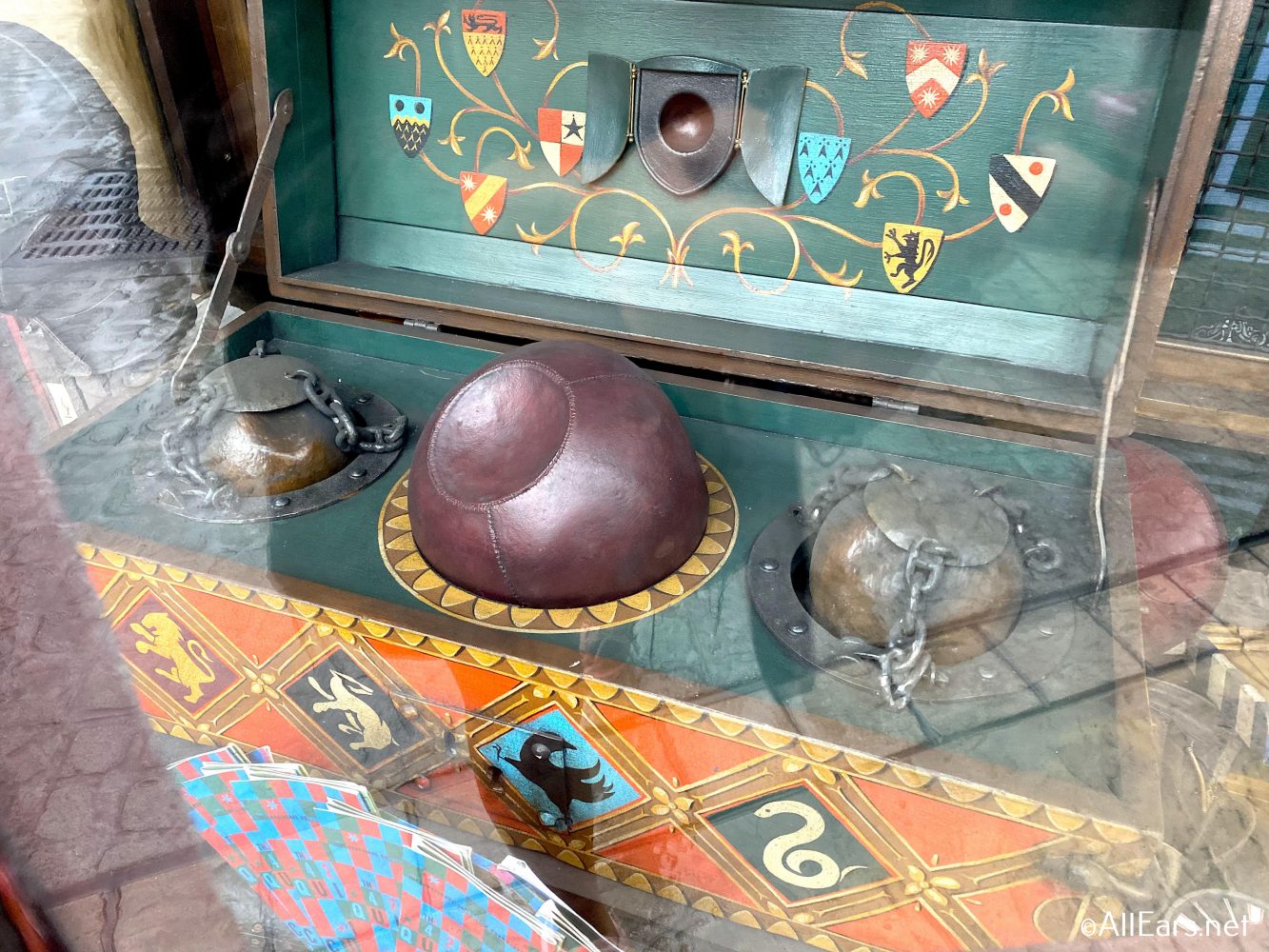 Happy spell-casting!
Join the AllEars.net Newsletter to stay on top of ALL the breaking Disney News! You'll also get access to AllEars tips, reviews, trivia, and MORE! Click here to Subscribe!