Raise your wands if you love Harry Potter!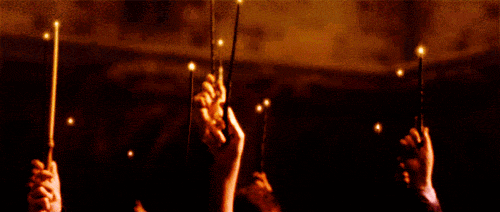 We know we do — which is why we LOVE visiting the Wizarding World of Harry Potter at Universal Orlando! From incredible attractions to tasty snacks, we look forward to every visit to Hogsmeade and Diagon Alley
Part of what makes these lands so amazing is the incredible realness. It feels like the Wizarding World  jumped off the page (or screen), and you're stepping INTO the story. And if you pay attention (and know where to look), you'll find dozens of Easter Eggs and little details hidden throughout the windows, shops, and attractions.
Here are 30 little details to look for in Universal Orlando's Wizarding World of Harry Potter:
Diagon Alley: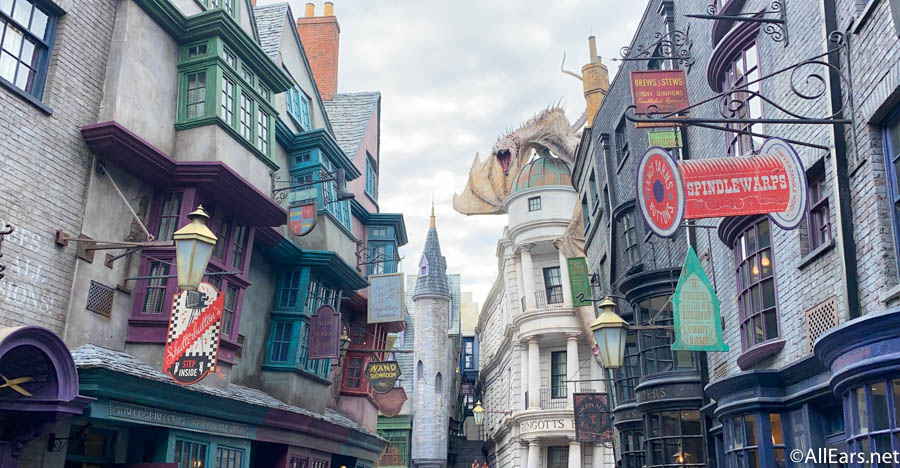 1. Dial for MAGIC
Potter fans probably recall that the visitor's entrance to the Ministry of Magic starts with a (seemingly ordinary) red telephone booth. One simply dials 62442 (MAGIC) to speak to a witch who issues passes and descends the phone booth underground to the ministry.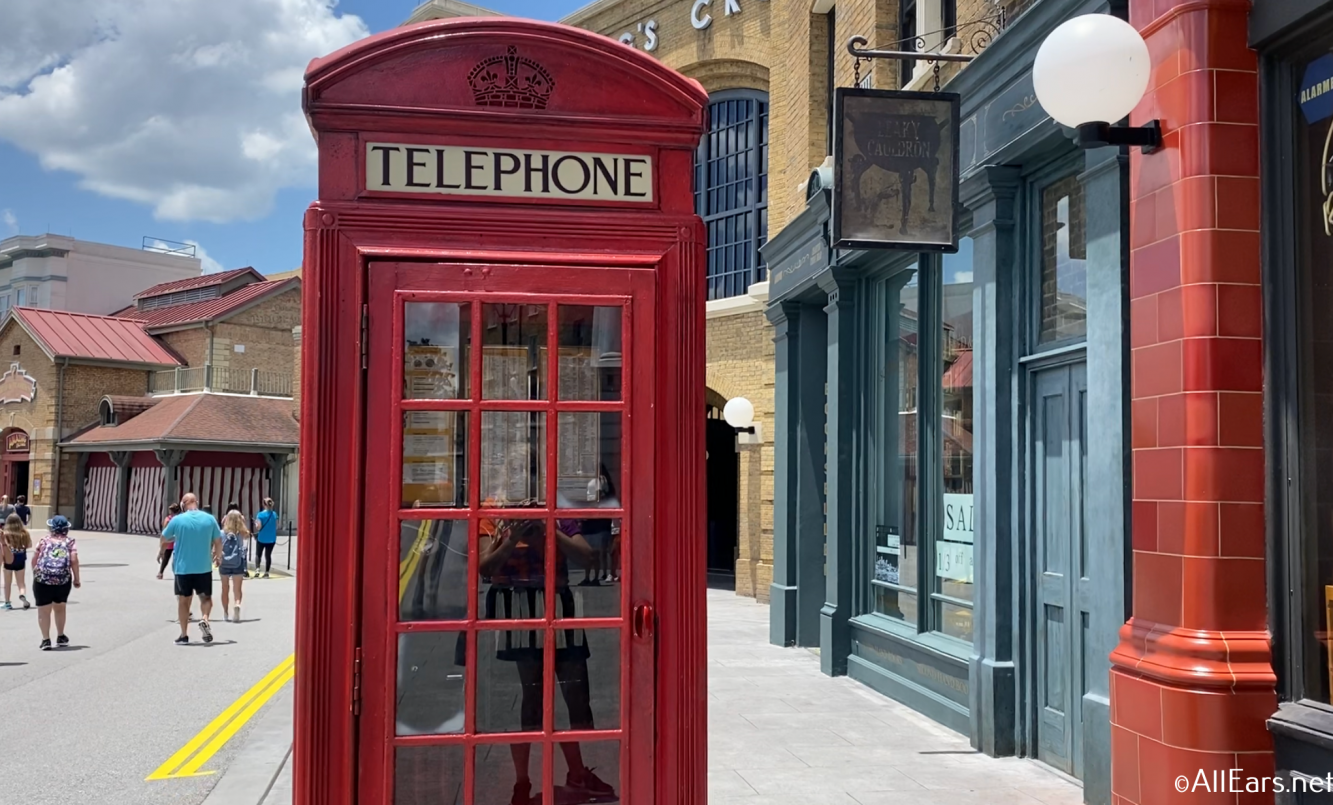 It just so happens there's a red telephone booth in the London section of Universal Studios, just outside Diagon Alley. Step inside and dial MAGIC to see what happens. You know you want to!
2. A QUINTessential Nod
While in "London" look at the albums in the record store window. One is titled "Here's to Swimming with Bow Legged Women" by The Quint Trio.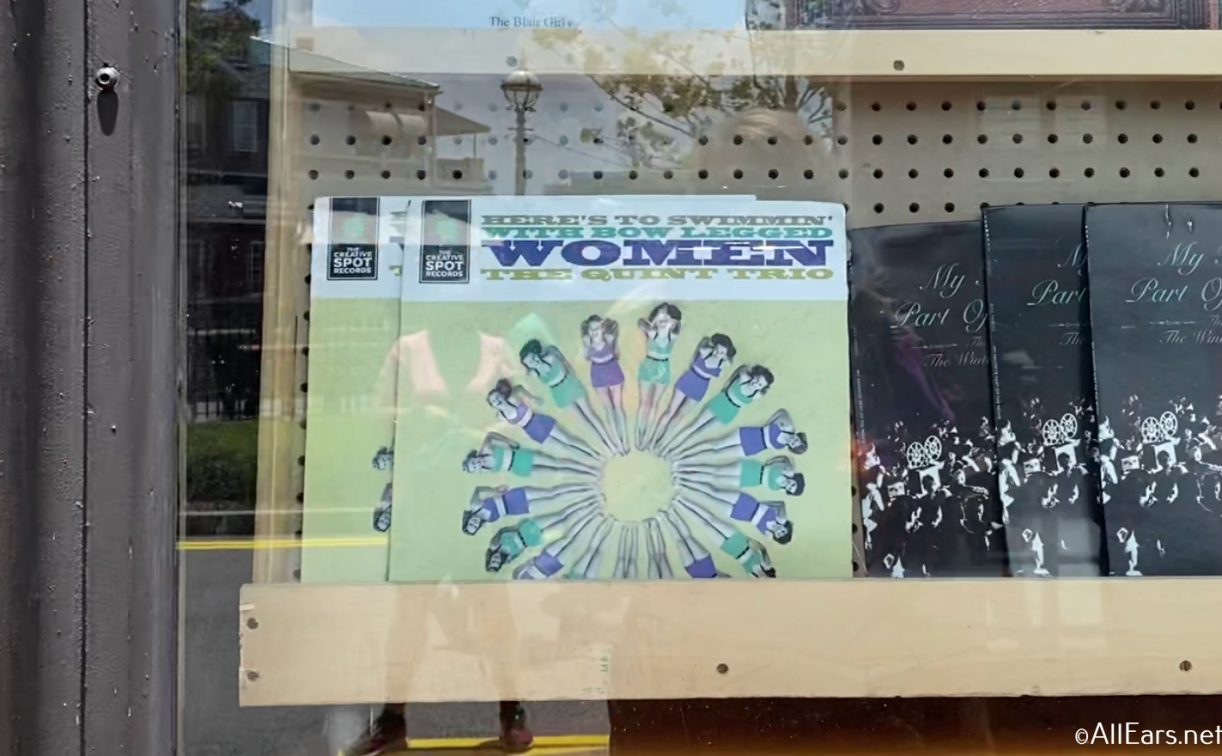 This is a nod to the film Jaws, who's iconic attraction previously sat exactly where Diagon Alley does now. One of the movie's main characters is a shark hunter named Quint, and one of his most notorious lines was "Here's to swimming with bow legged women."
3. You're Being Watched
Watch Number 12 Grimmauld Place's windows for a moment, and you may see a (not so) friendly face peeking out from the curtain!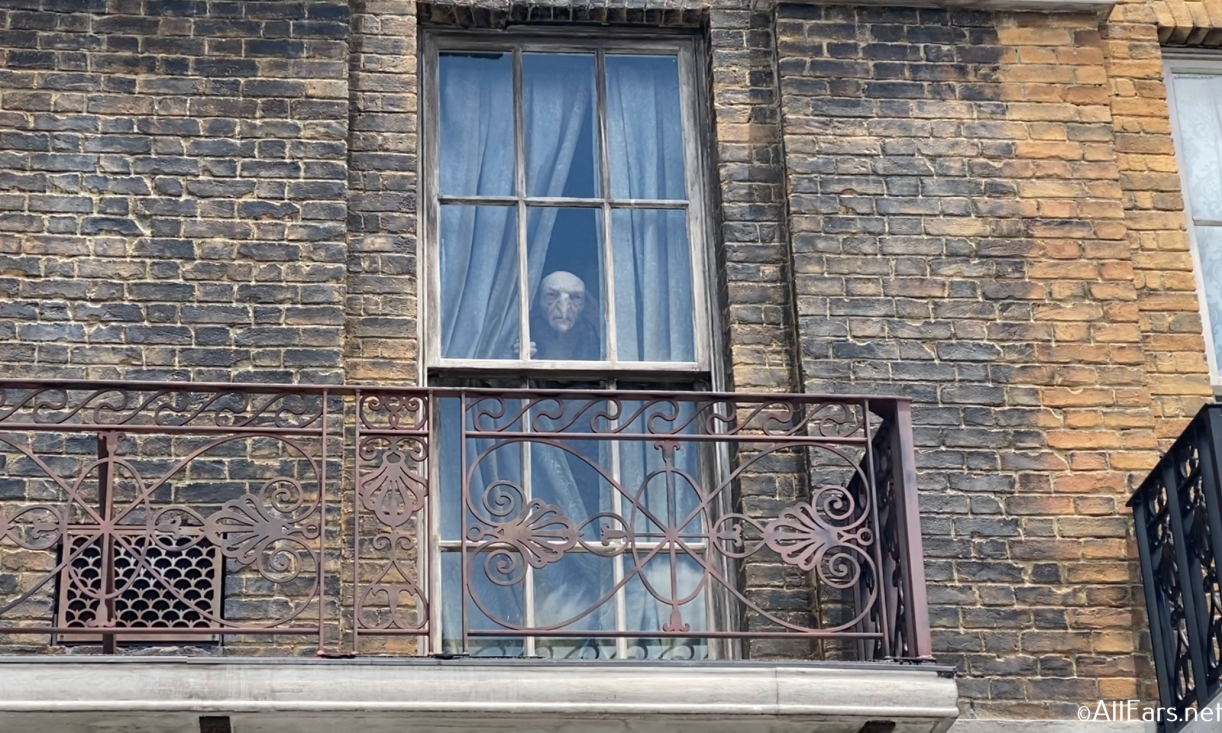 It's Kreacher keeping an eye out the window — no doubt protecting the Noble House of Black.
4. A Wicked Witch in Weasleys' Wizard Weezes
When heading into Fred and George's shop, make sure you look up!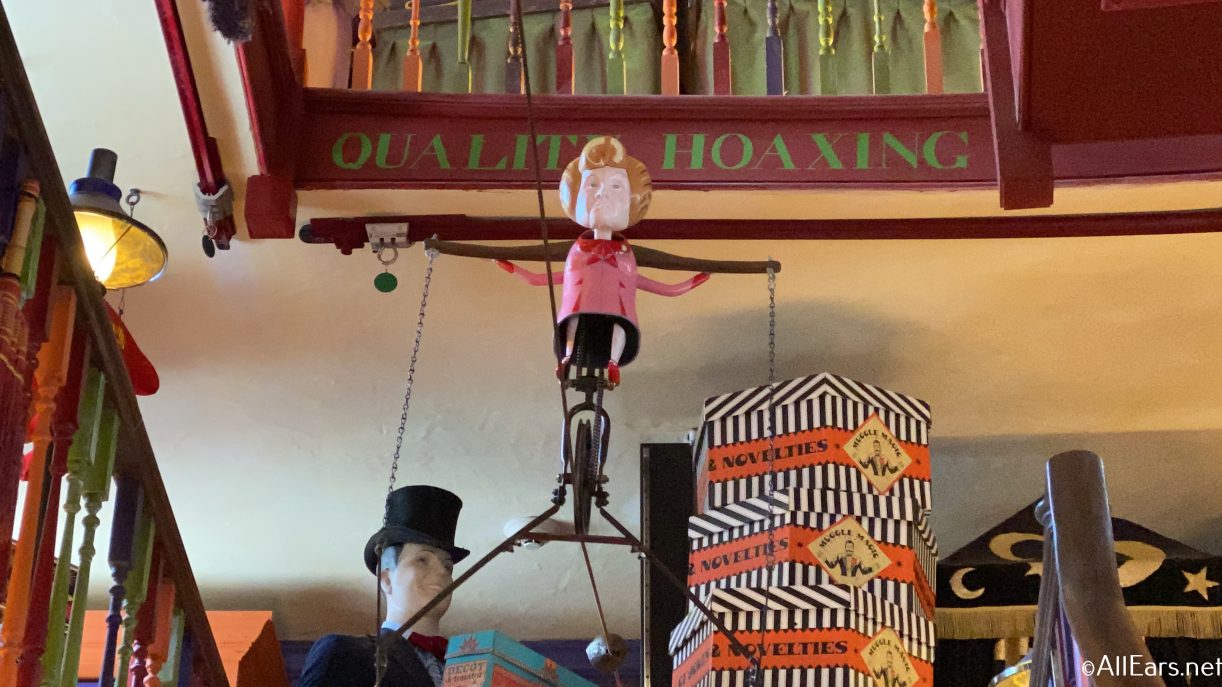 You'll spot a puppet that resembles a famous (and our least favorite) witch, Dolores Umbridge. We must not tell lies — it's pretty hilarious that she's forced to work for the Weasleys now. (At least in doll form.)
5. Literally Leaky
Do yourself a favor and stop and watch the Leaky Cauldron sign for a moment.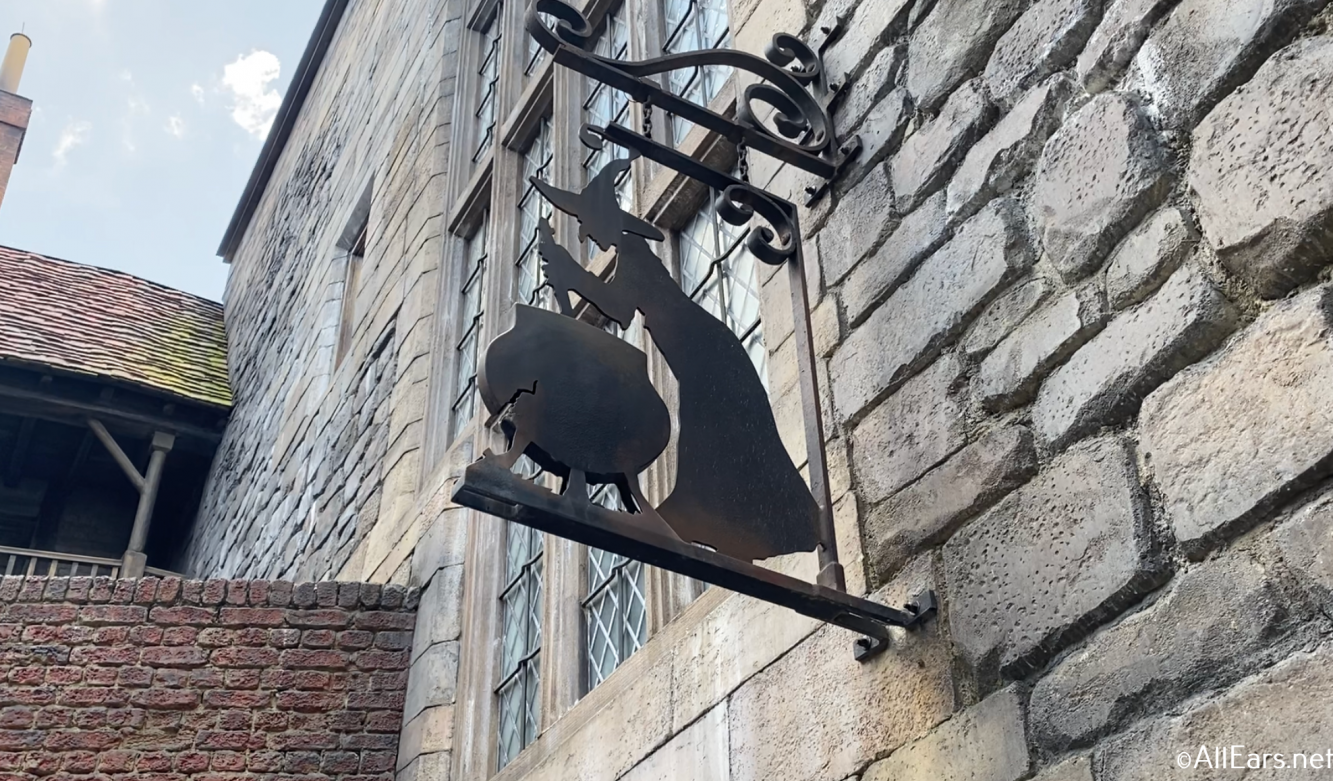 You'll see that it earned its name, as the sign literally leaks water droplets every few moments.
6. Famous Words
Check out the tall stack of books in the School Book Shop window and you'll recognize some iconic literary works!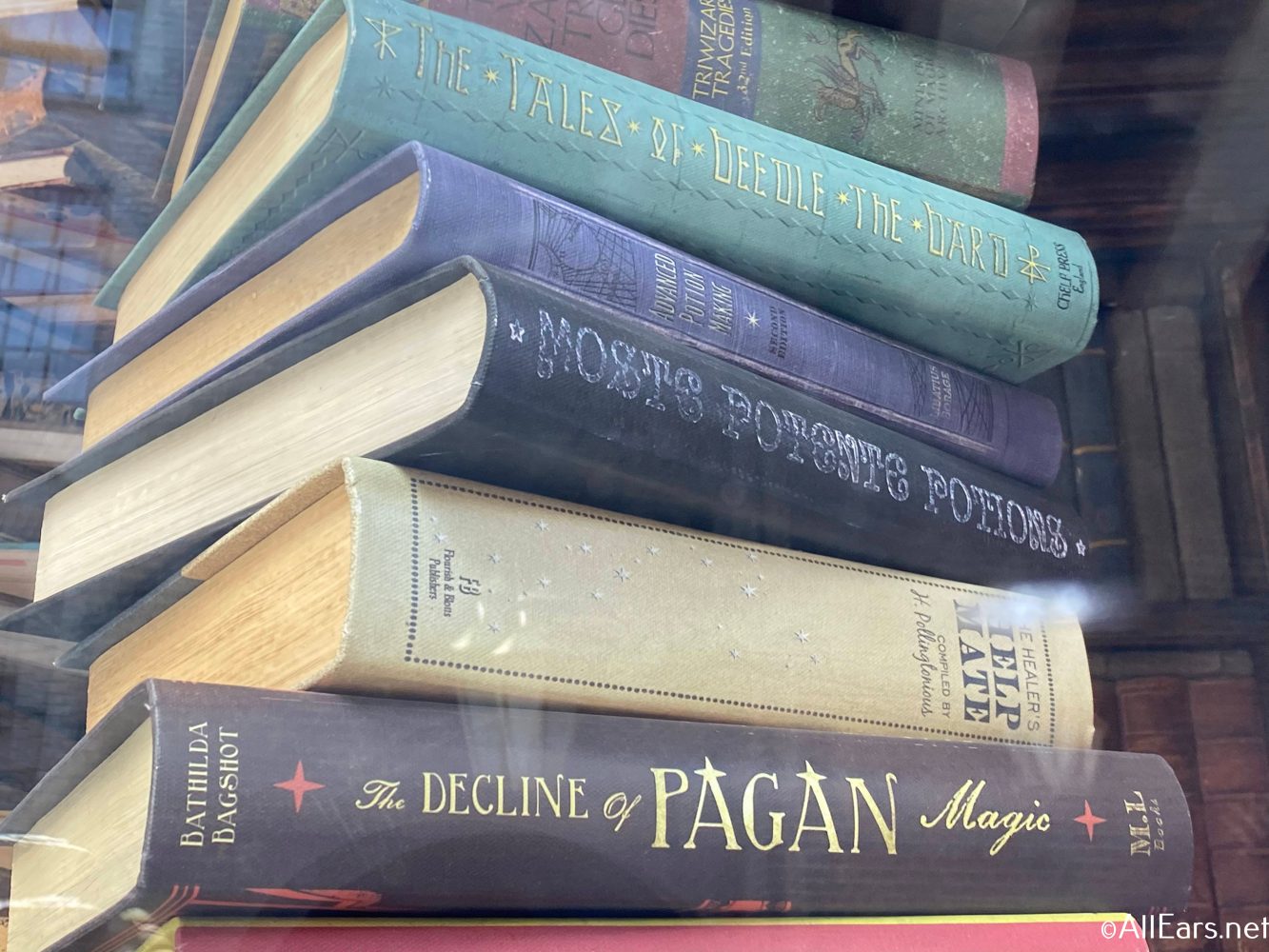 Second from the top is The Tales of Beedle the Bard (the wizard fairytale collection containing The Tales of the Three Brothers), and underneath it is Advanced Potion Making. That's the potions book in Book 6 that Harry (and the Half Blood Prince) used.
7. A Monster!
Keep looking in the book window and you'll notice another iconic school book…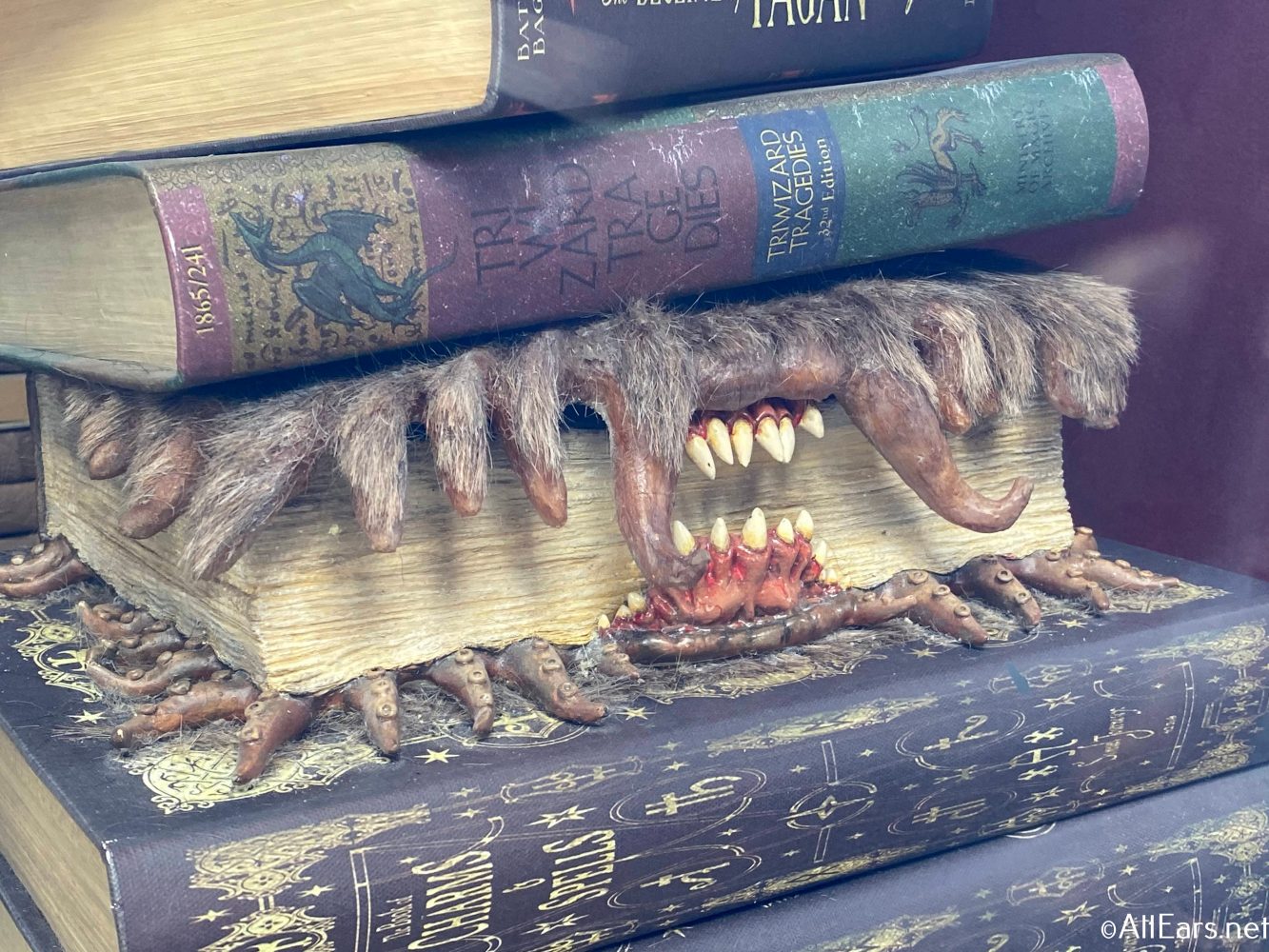 …the Monster Book of Monsters! You probably remember it from Prisoner of Azkaban when Hagrid assigned it to his Care of Magical Creatures classes.
8. A SSSSSSecret Surprise
Head around the side of Magical Menagerie and you'll see a large snake!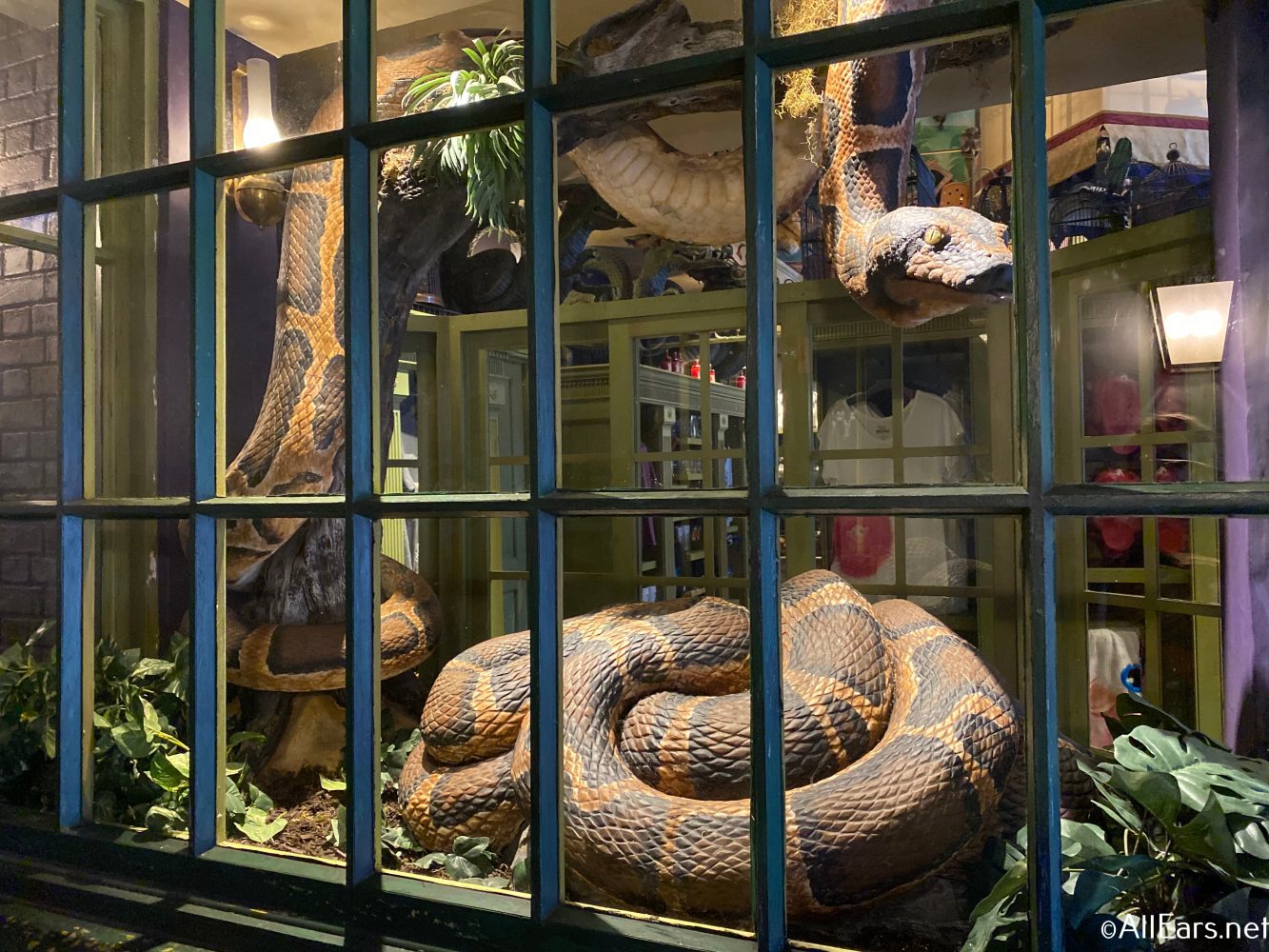 Not only does he move, but if you listen closely, you can hear him speak both English and Parseltongue. He's a nod to the boa at the zoo Harry talks to in Book One — and Salazar Slytherin of course.
9. The Wand Chooses the Wizard
Look in the window at Ollivanders Wand Shop and what do you see? Wand "ingredients" of course!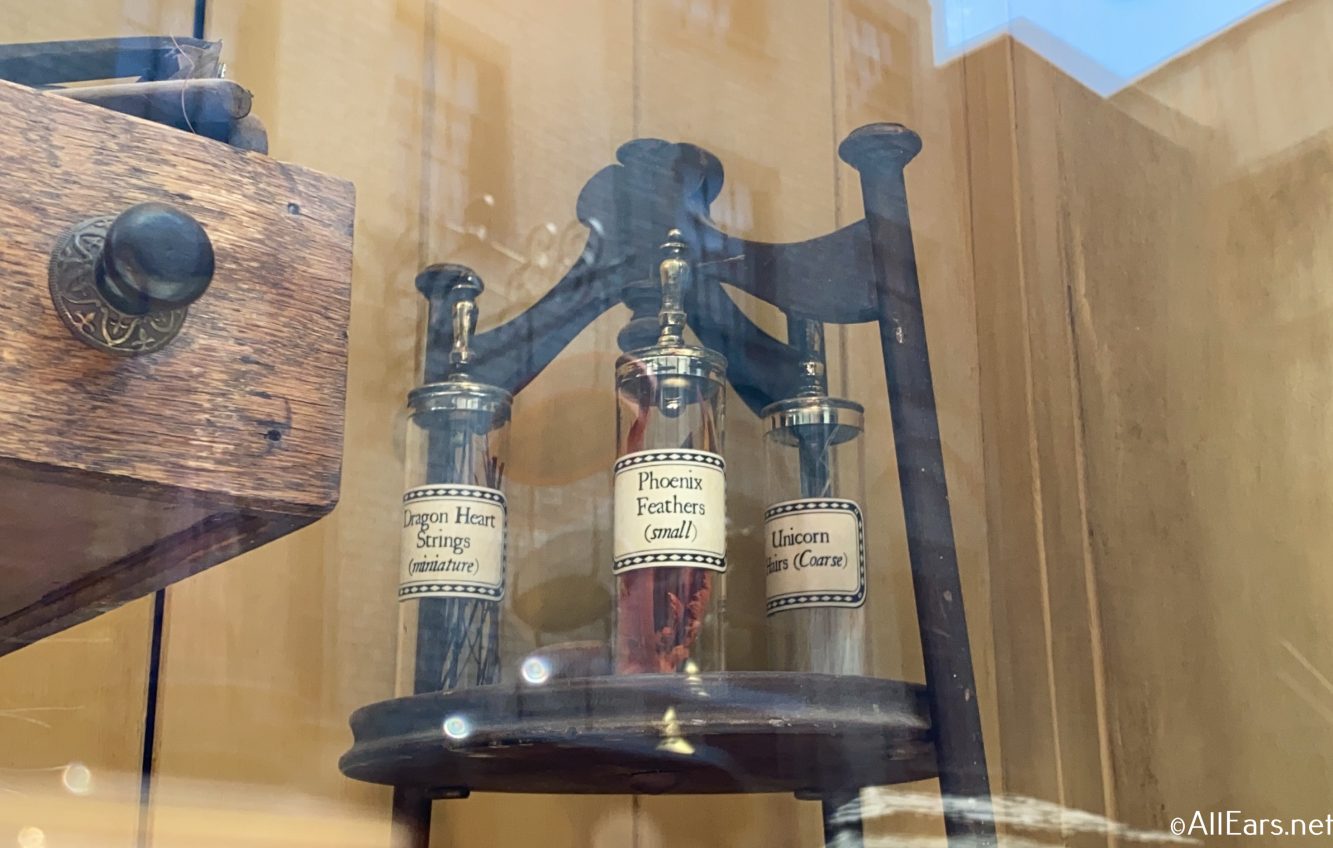 Three vials containing phoenix feathers, dragon heart strings, and unicorn hairs are on display, which is actually a nod to the franchise's central trio! Hermione's wand core is dragon heart string, Ron's is unicorn hair, and of course, Harry's is a phoenix feather.
10. A Vocal Mirror
Step into Madame Malkin's Robe Shop, and you may get advice from an unlikely source!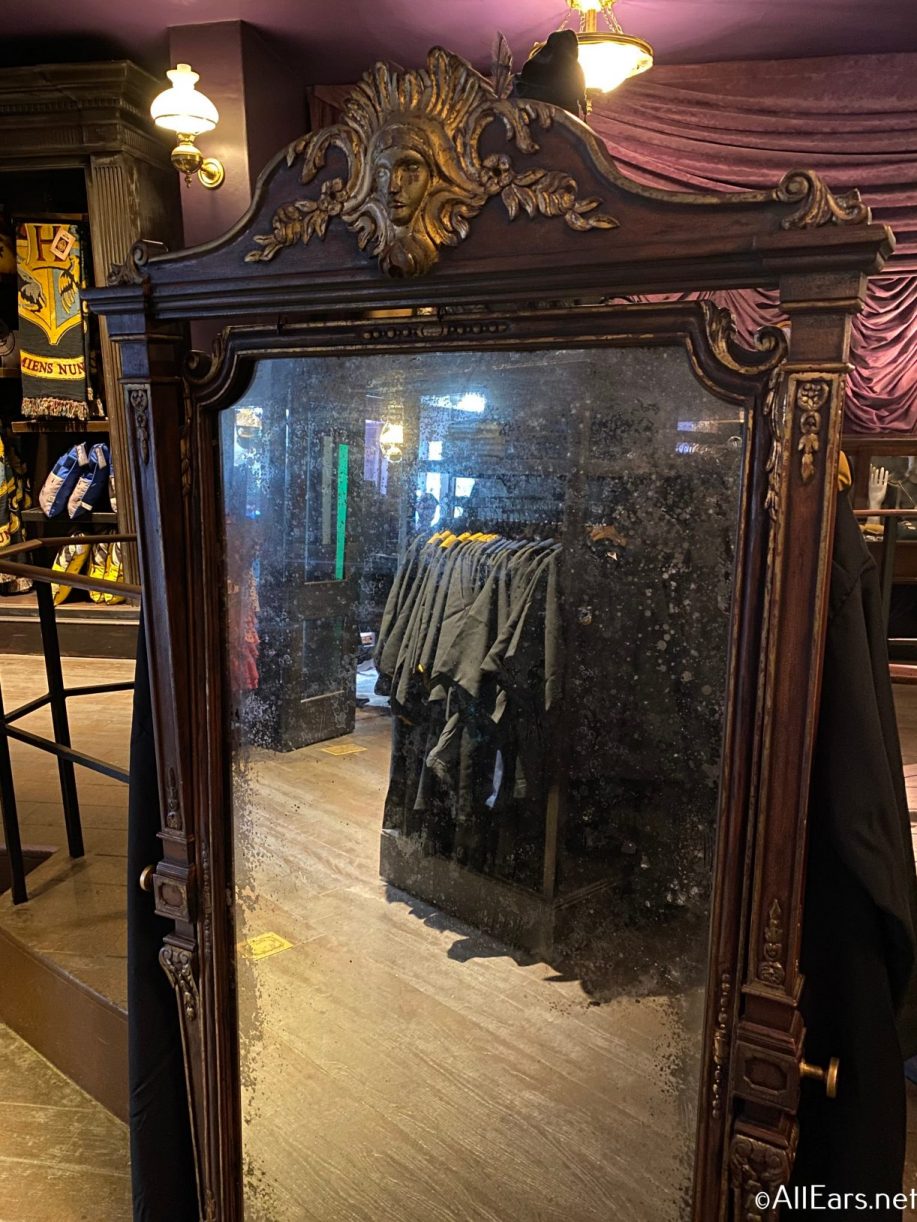 Step close enough to this ornate mirror, and she'll talk to you! Warning: she's not always kind. 😉
11. A JAWSome Tribute
In the window of Mr. Mulpepper's Apothecary, you can see another nod to the land's predecessor.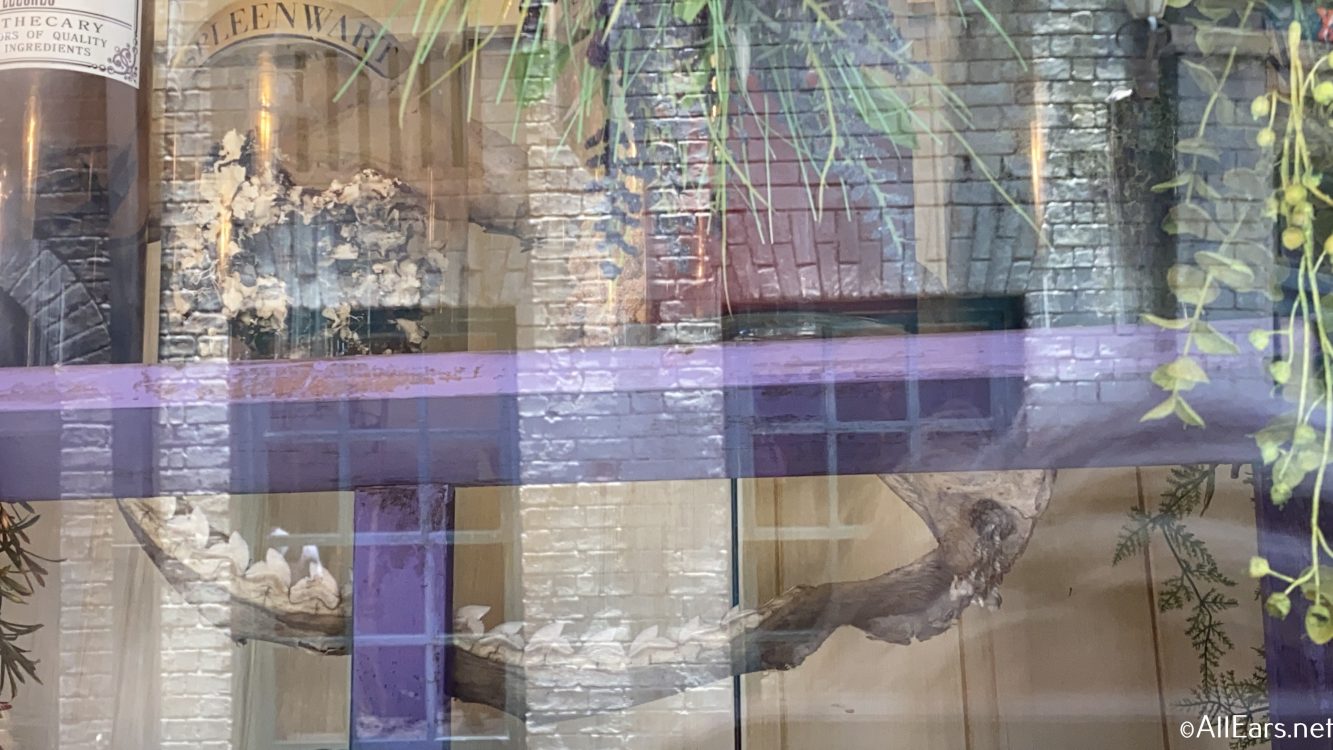 Tucked in the back, are the jaws of a great white shark! We think this nod is FINtastic.
12. Gimme Five!
Step into Borgin and Bourke's (if you dare),and you'll spot several dark objects. First of all, the Hand of Glory!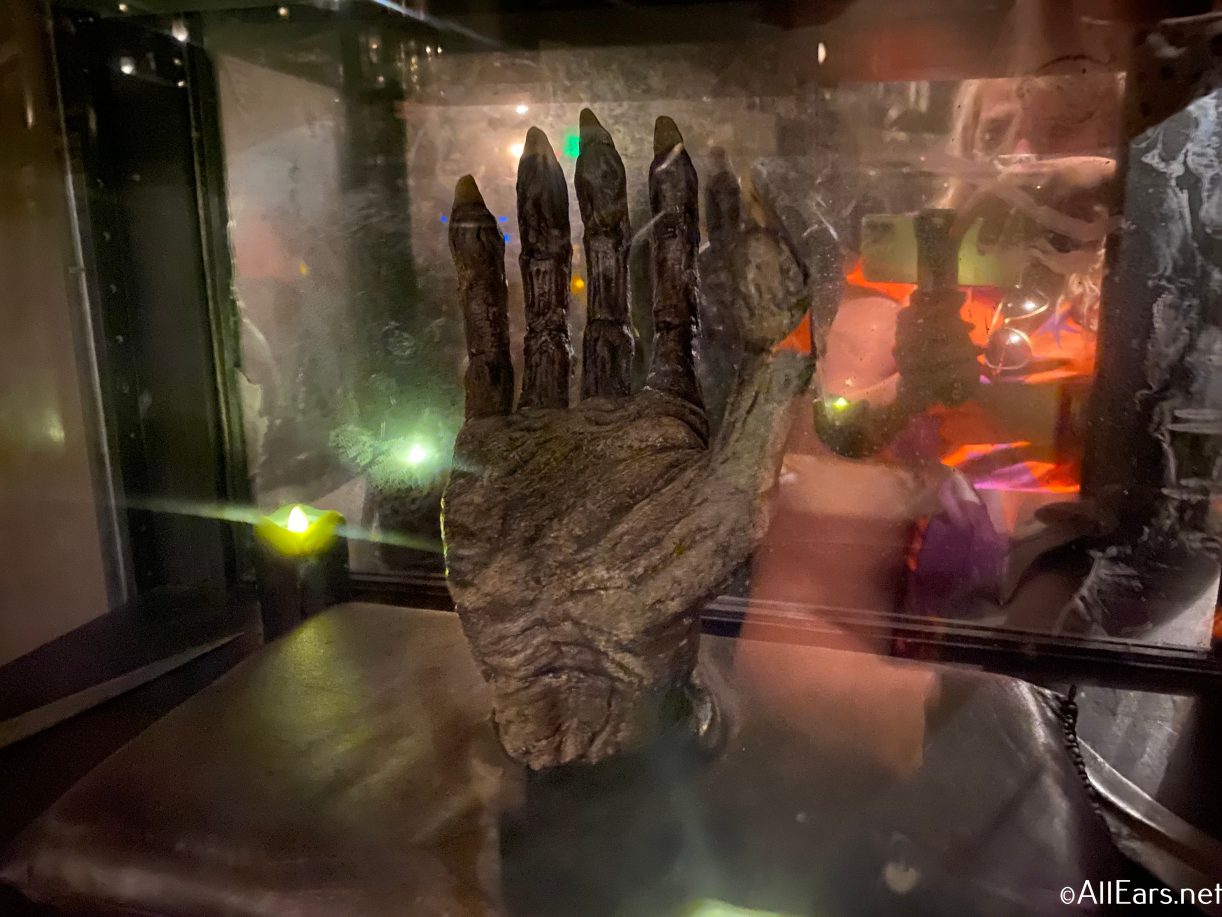 This creepy hand is seen in Chamber of Secrets when Harry accidentally ends up in Knockturn Alley. In the books, Draco mentions he'd like to buy it in Chamber of Secrets — and then actually does buy it in Half-Blood Prince. (Gotta love that Slytherin ambition.)
13. Cursed Accessories
Placed just above the Hand of Glory is another recognizable dark artifact.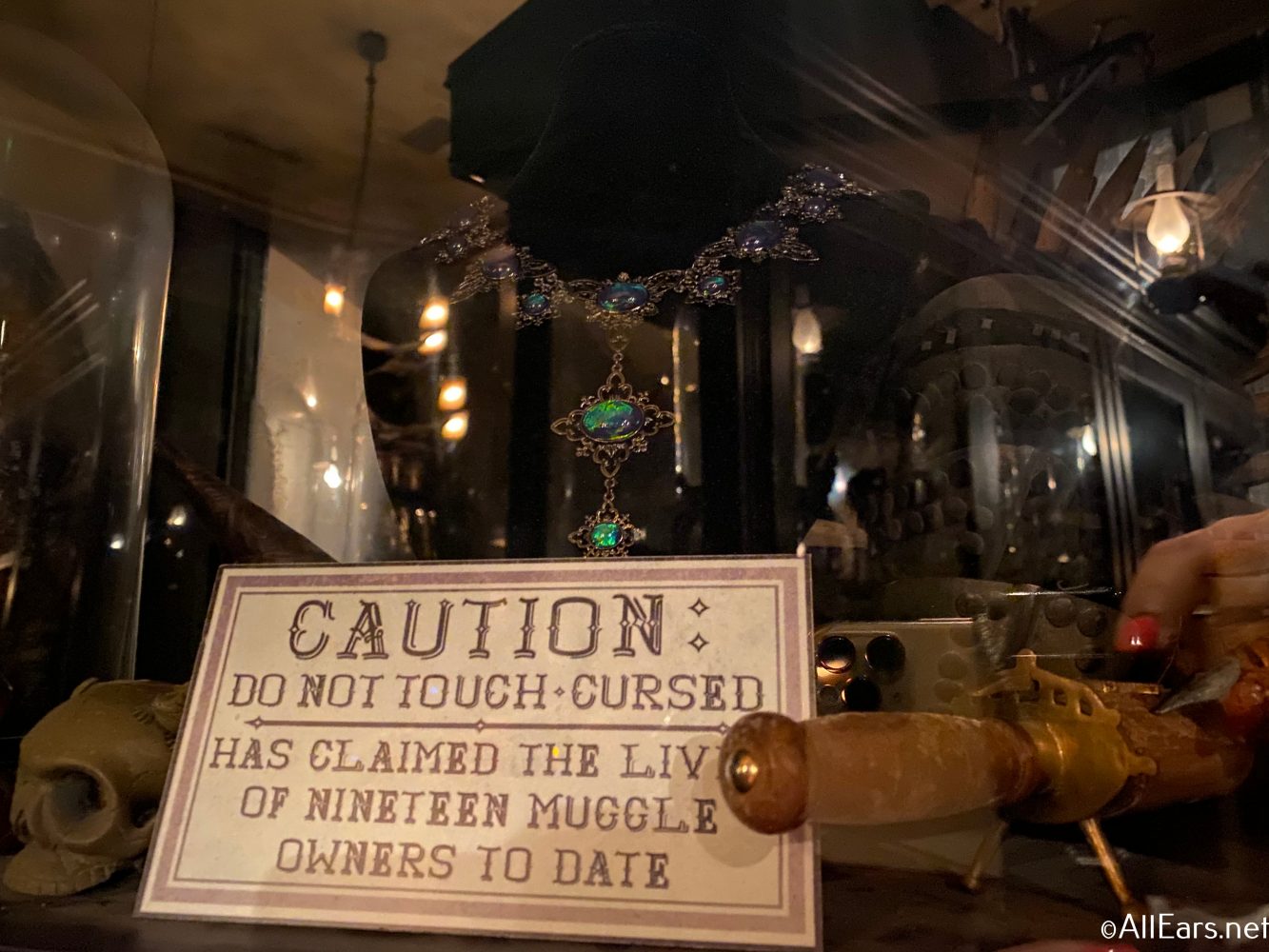 It's the cursed necklace that ends up in Katie Bell's hands in Half-Blood Prince! Complete with warning sign.
14. A Foot Above
Look up in Borgin and Bourke's and you'll see a stunning Troll-foot cane stand.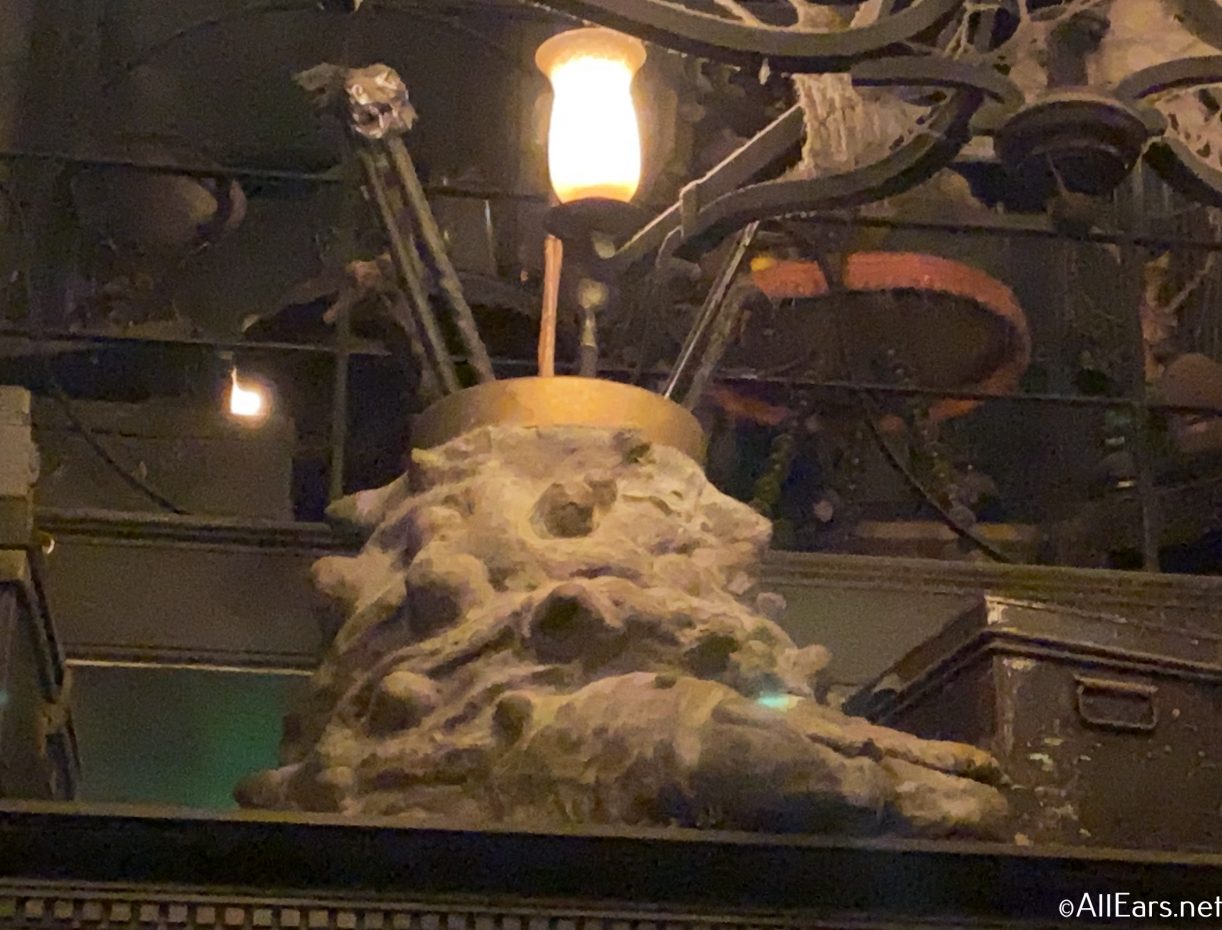 This lovely artifact sat in the entryway to Number 12 Grimmauld Place — and caused many a witch (mostly Tonks) to trip over it.
15. Riddikulus!
Also inside Bourgin and Bourke's is a cabinet making a LOT of noise rocking back and forth.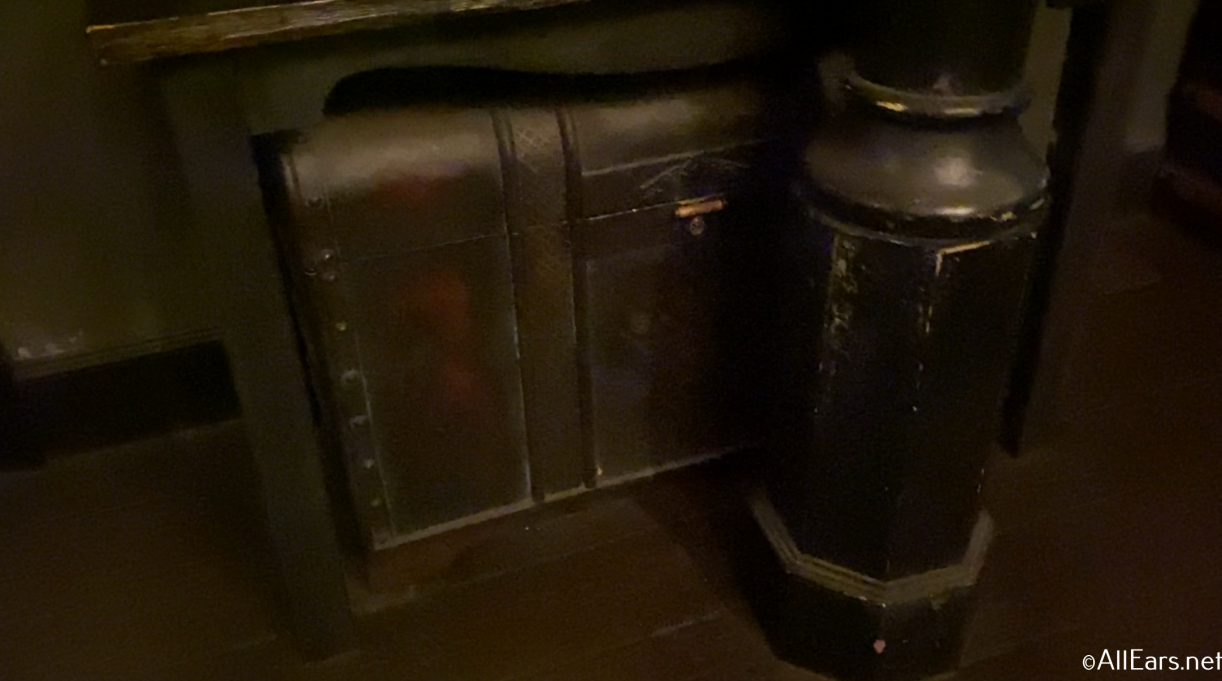 Turns out, it's a boggart! Make sure you practice the charm (Riddikulus) to get rid of it in case it escapes while you're inside.
16. Don't Go Into the Basement
Pop quiz — which curse sends a jet of green light? Avada Kedavra!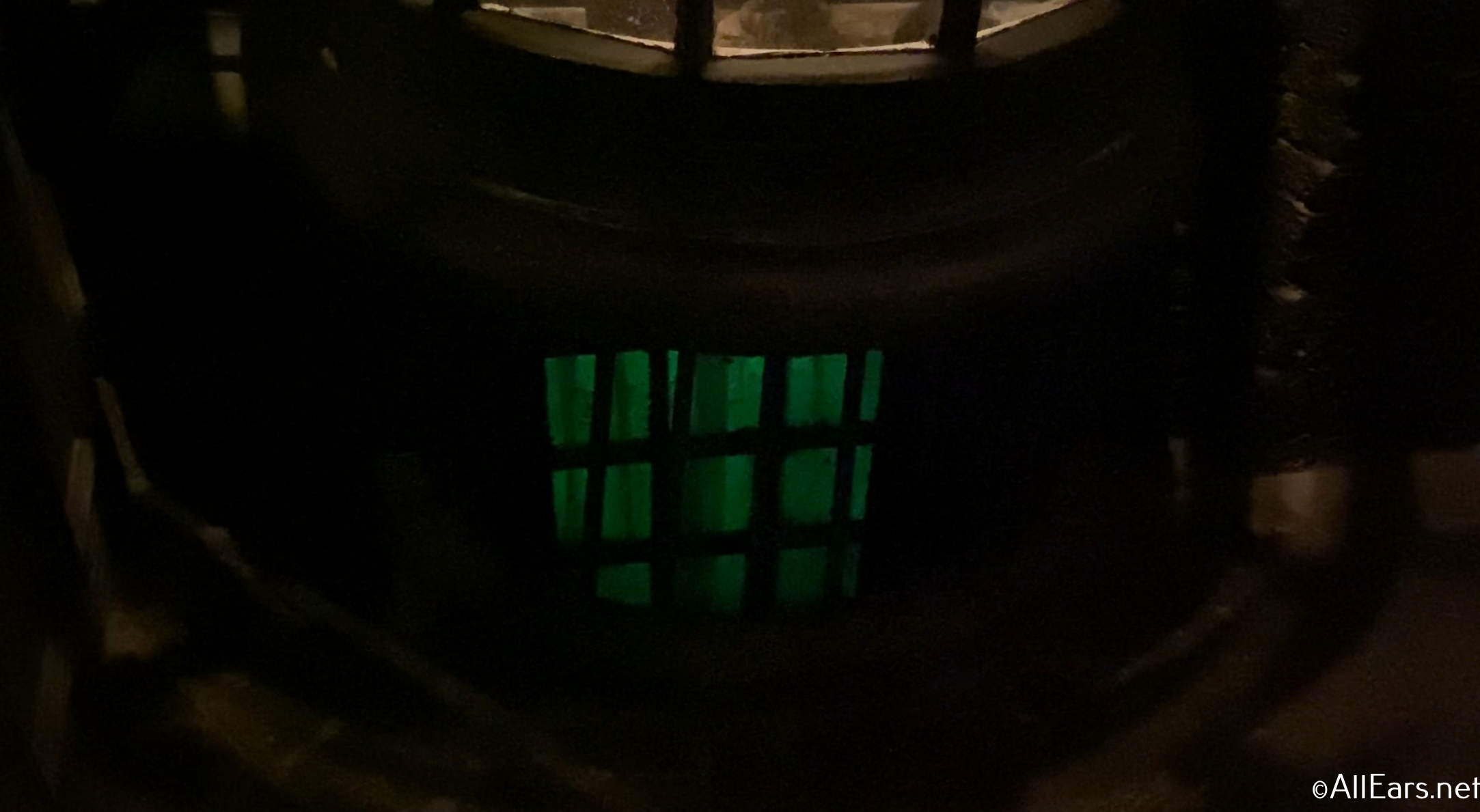 Look at the basement under Borgin & Bourke's and you'll see flashes of green light. Seems like a few wizards are practicing the darks arts down there!
Hogsmeade: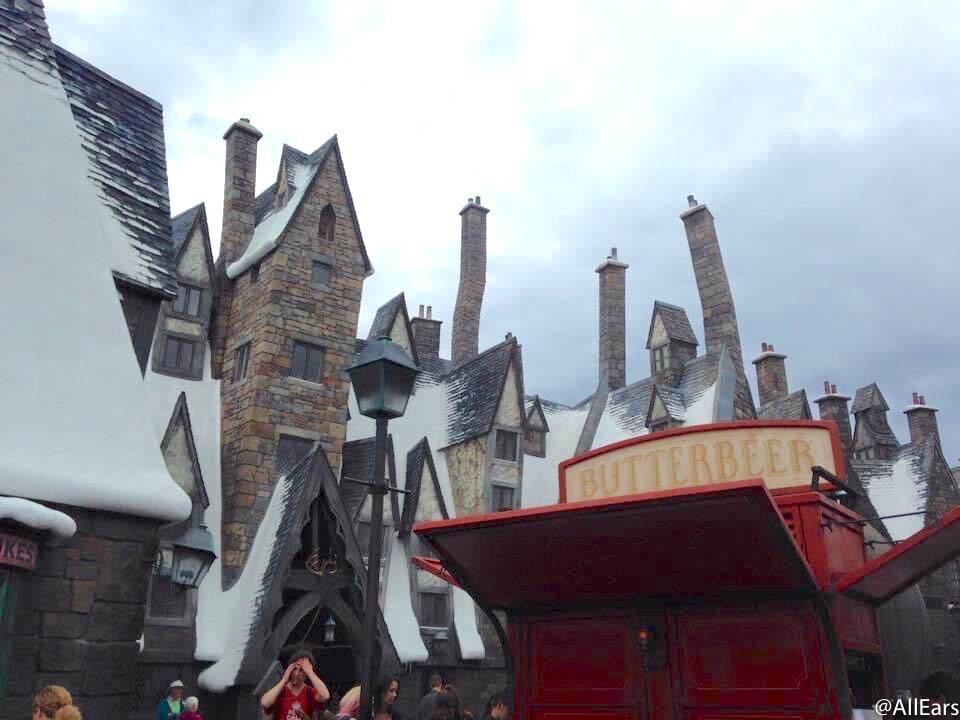 17. An Unhappy Plant
Look (and listen) up for a cranky plant in the Dogweed and Deathcap store windows!
Head to the back of the Owl Post and you can see (and hear) a few Howlers being sent!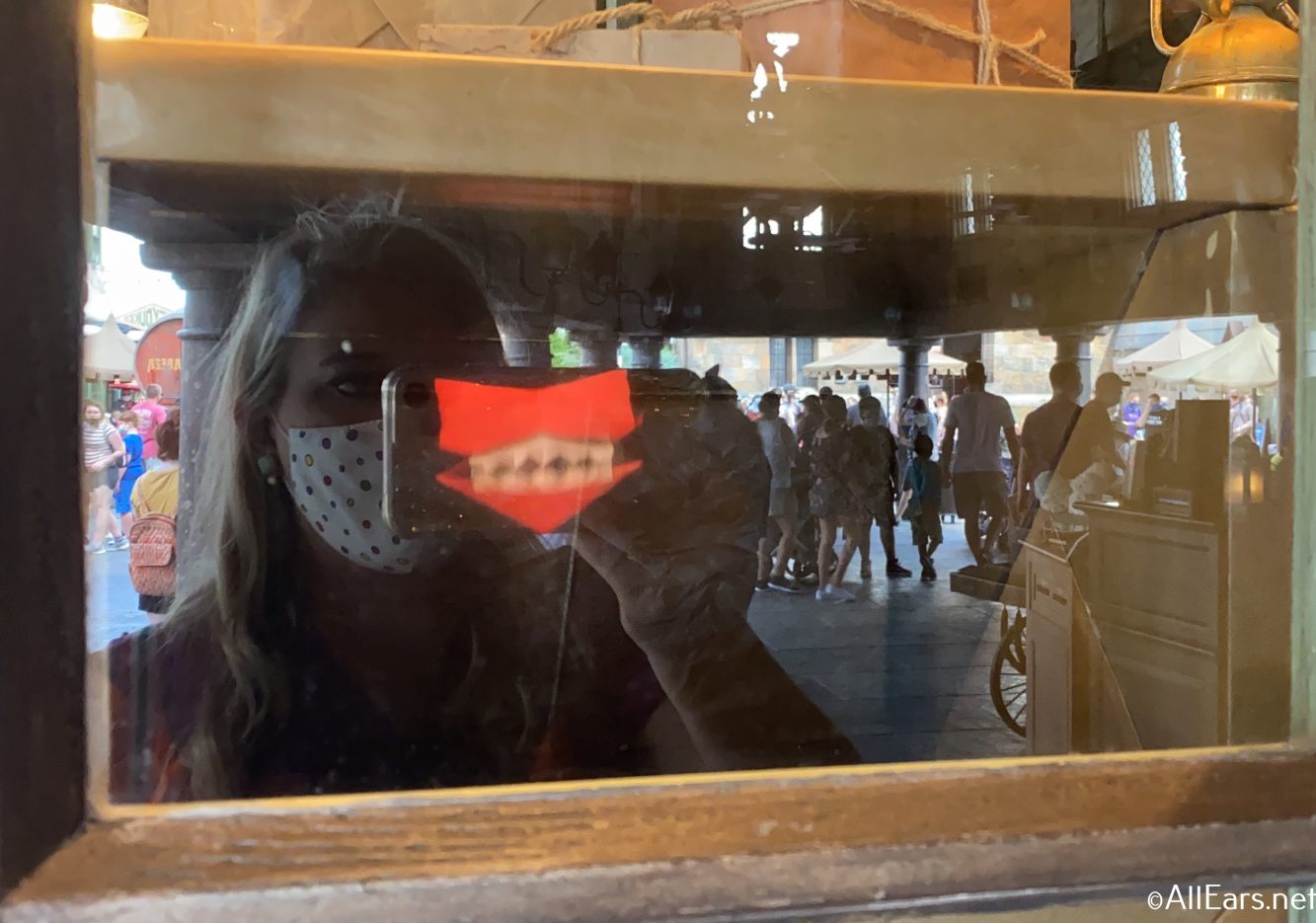 Listen to them for a few moments — they have all sorts of messages from unhappy neighbors to a cranky parent whose ungrateful son hasn't visited in months!
19. A Scribbling Scroll
In the window of Scrivenshafts, you'll see a quill writing away in a large book.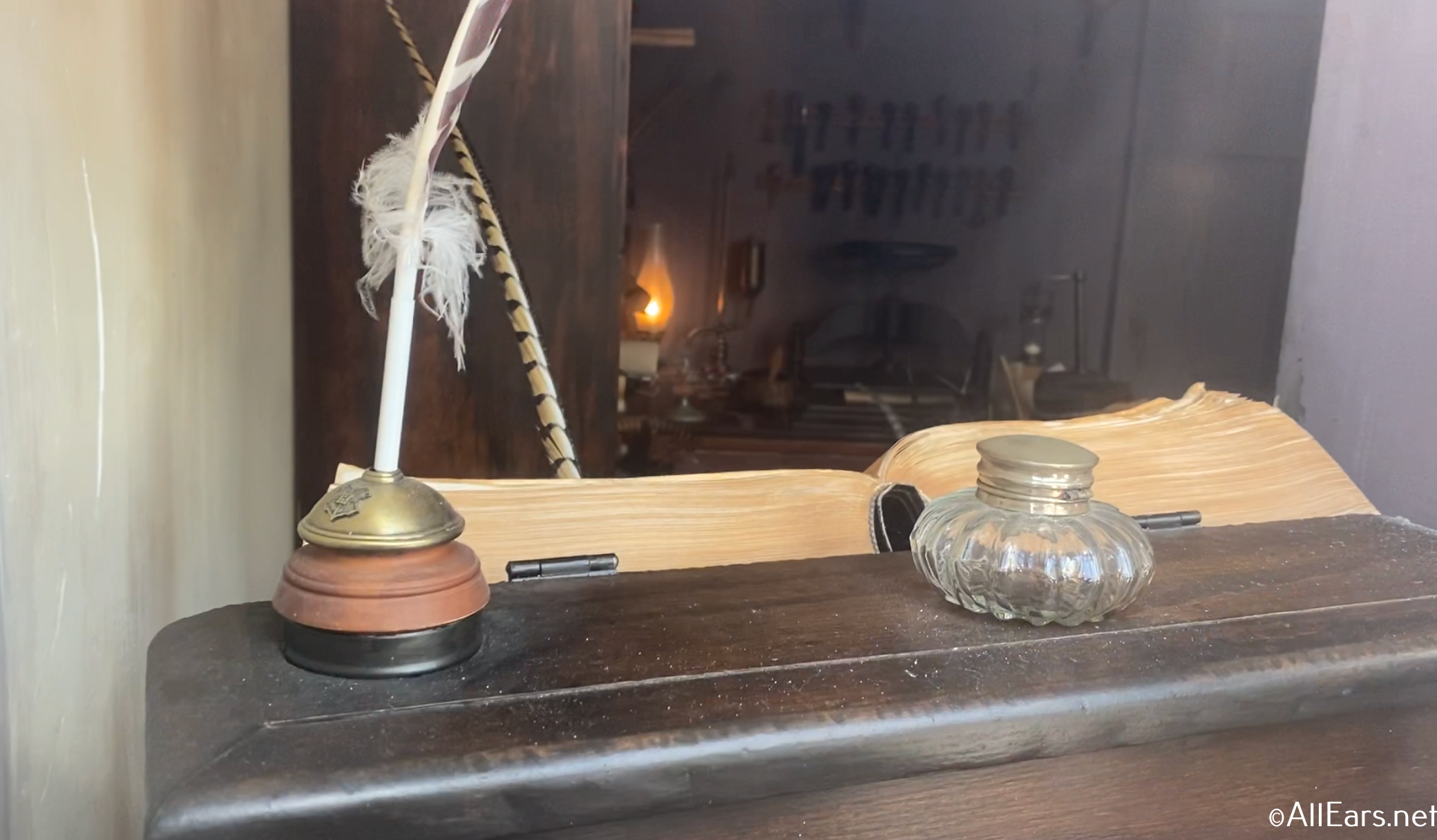 According to Wizards, this is the registry of new wizards! It's conveniently located across from the Owl Post, which means McGonagall can easily stop by for a list of witches and wizards she needs to send Hogwarts letters to! It's also turned away from us, because our Muggle eyes shouldn't have access to such a registry.
20. A Bathroom Visitor
Listen up when you head to the Public Conveniences and you'll hear a familiar ghost.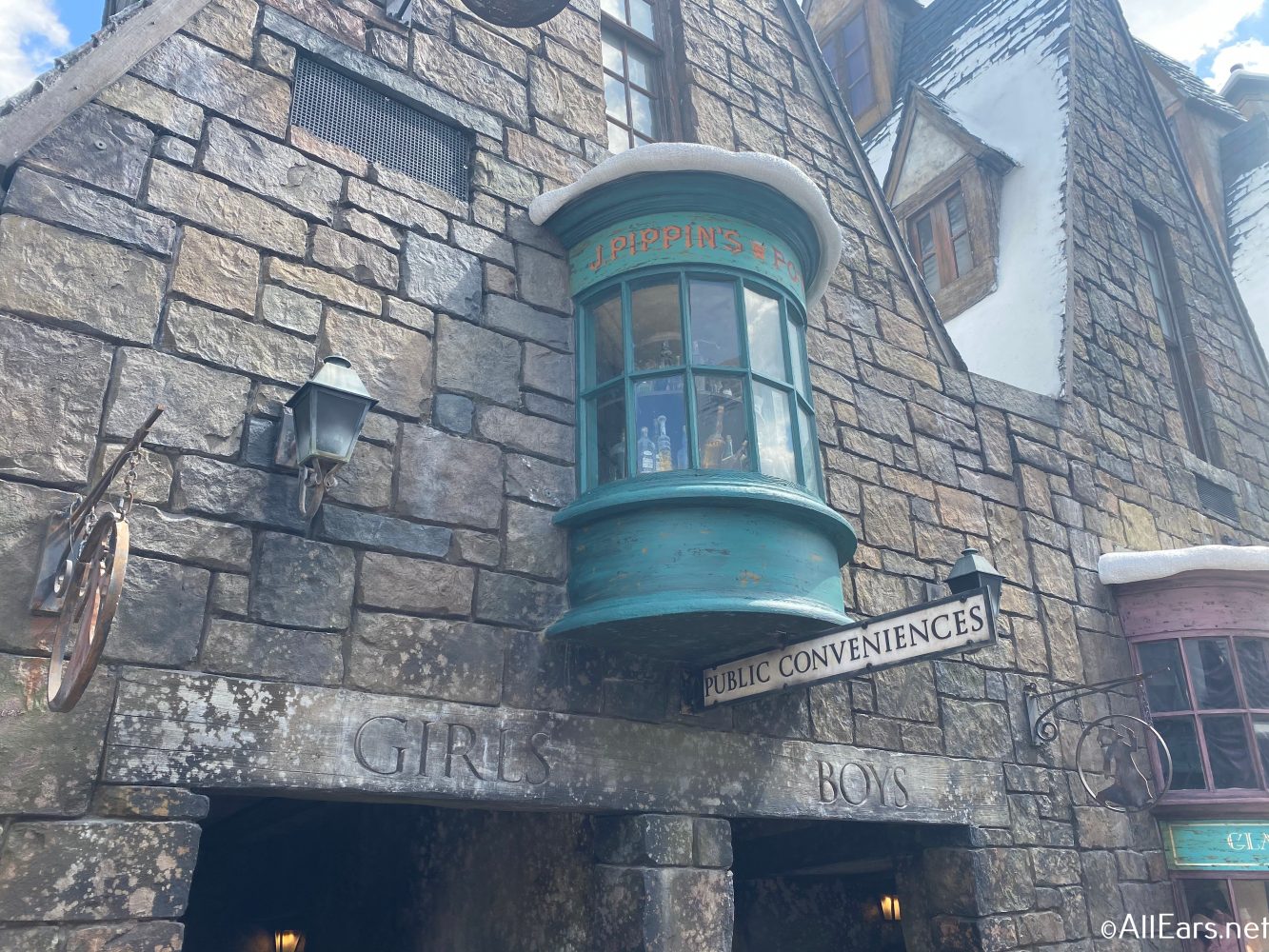 It's Moaning Myrtle, of course! She's taken a break from haunting the girl's bathroom in Hogwarts to visit.
21. A Love Note
Inside the ruins in the Hagrid's Magical Creature Motorbike Adventure queue, you'll spot graffiti from former students who used to venture there in secret.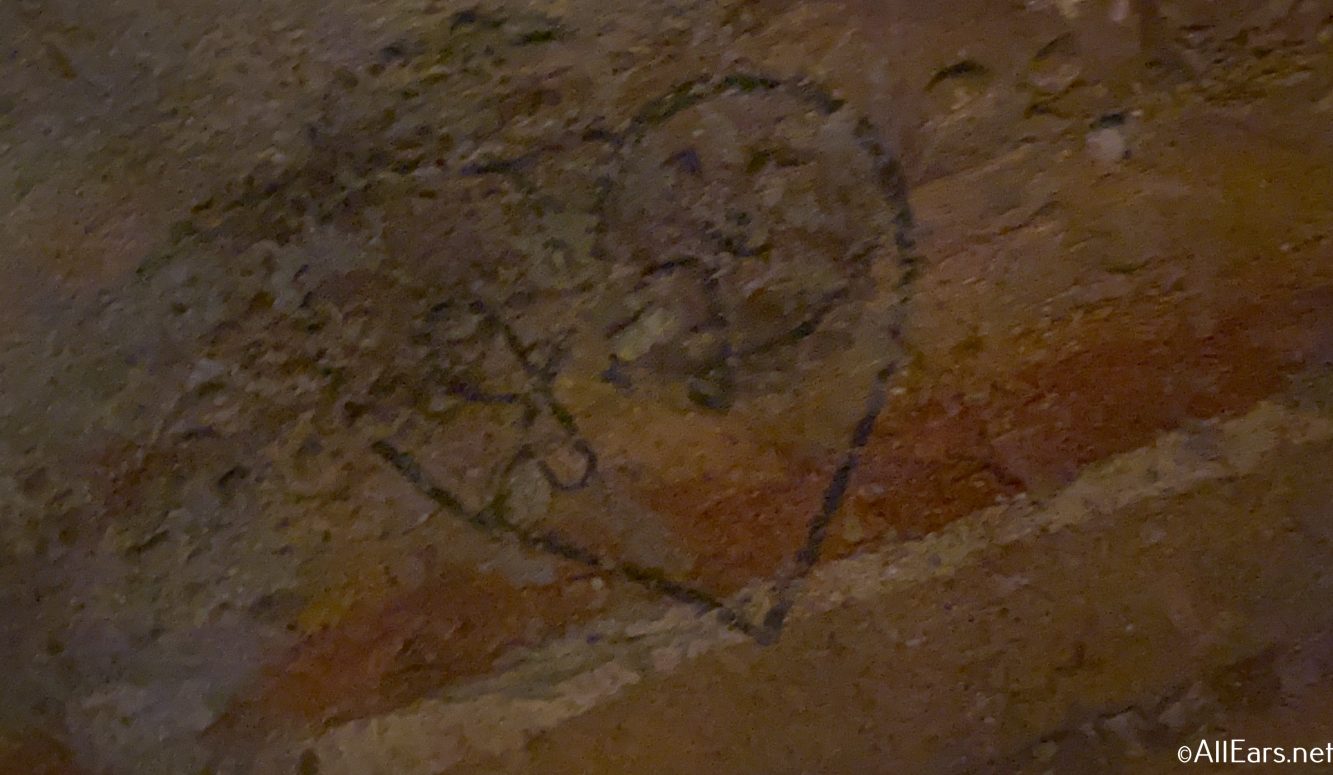 Take note of this heart with J + L inscribed inside — must've been James and Lily Potter, right? (AWWWWWWW.)
22. A Familiar Fowl
Another noteworthy drawing is of a beautiful bird!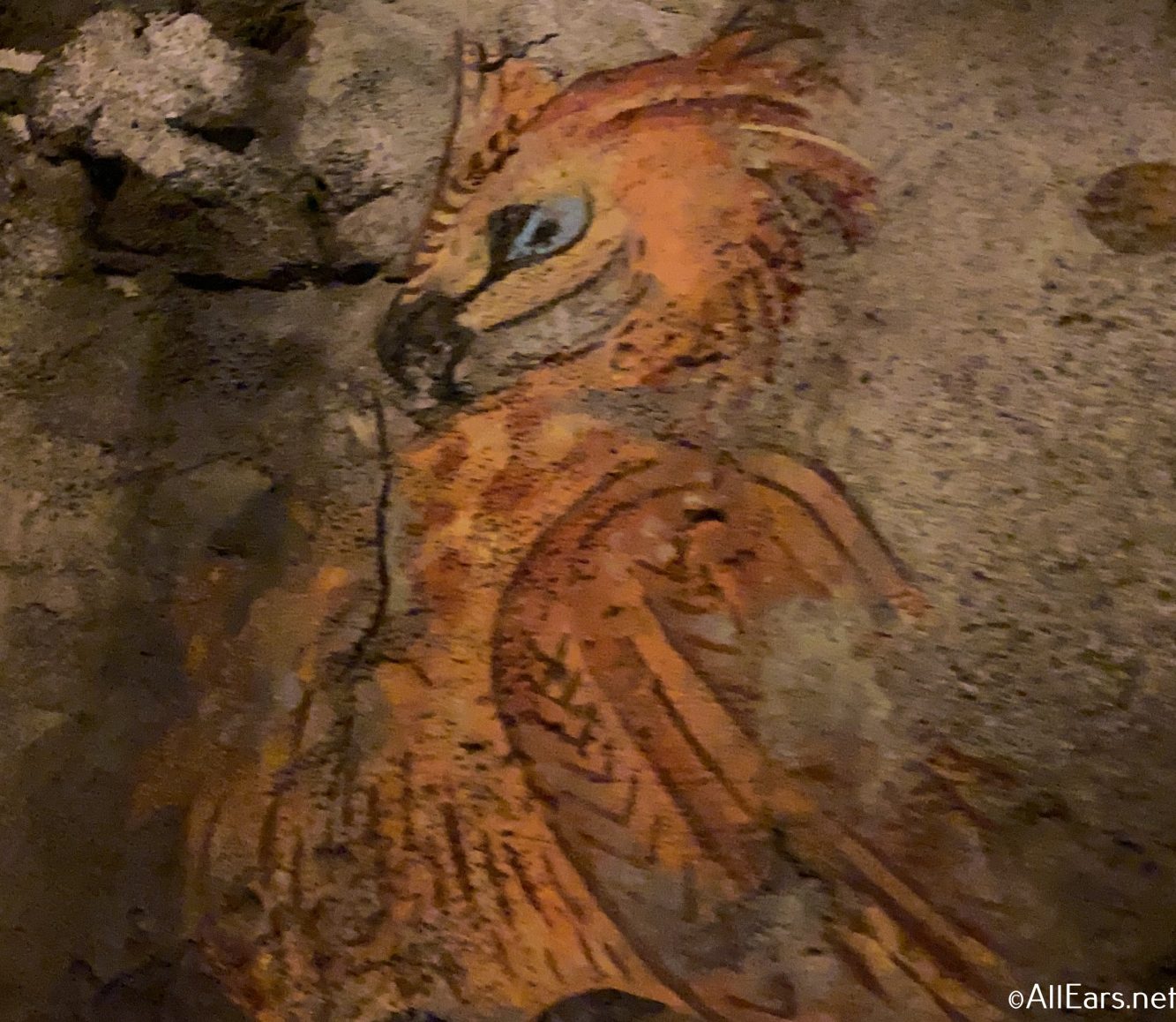 The drawing resembles Fawkes — the legendary phoenix who's tail feathers make up the core of both Harry and Voldemort's wands.
23. Gold Star Creature
While weaving through the queue at Hagrid's Magical Creature Motorbike Adventure, you'll pass through Hagrid's workshop. Along the walls are posters for magical creatures you may encounter along your ride.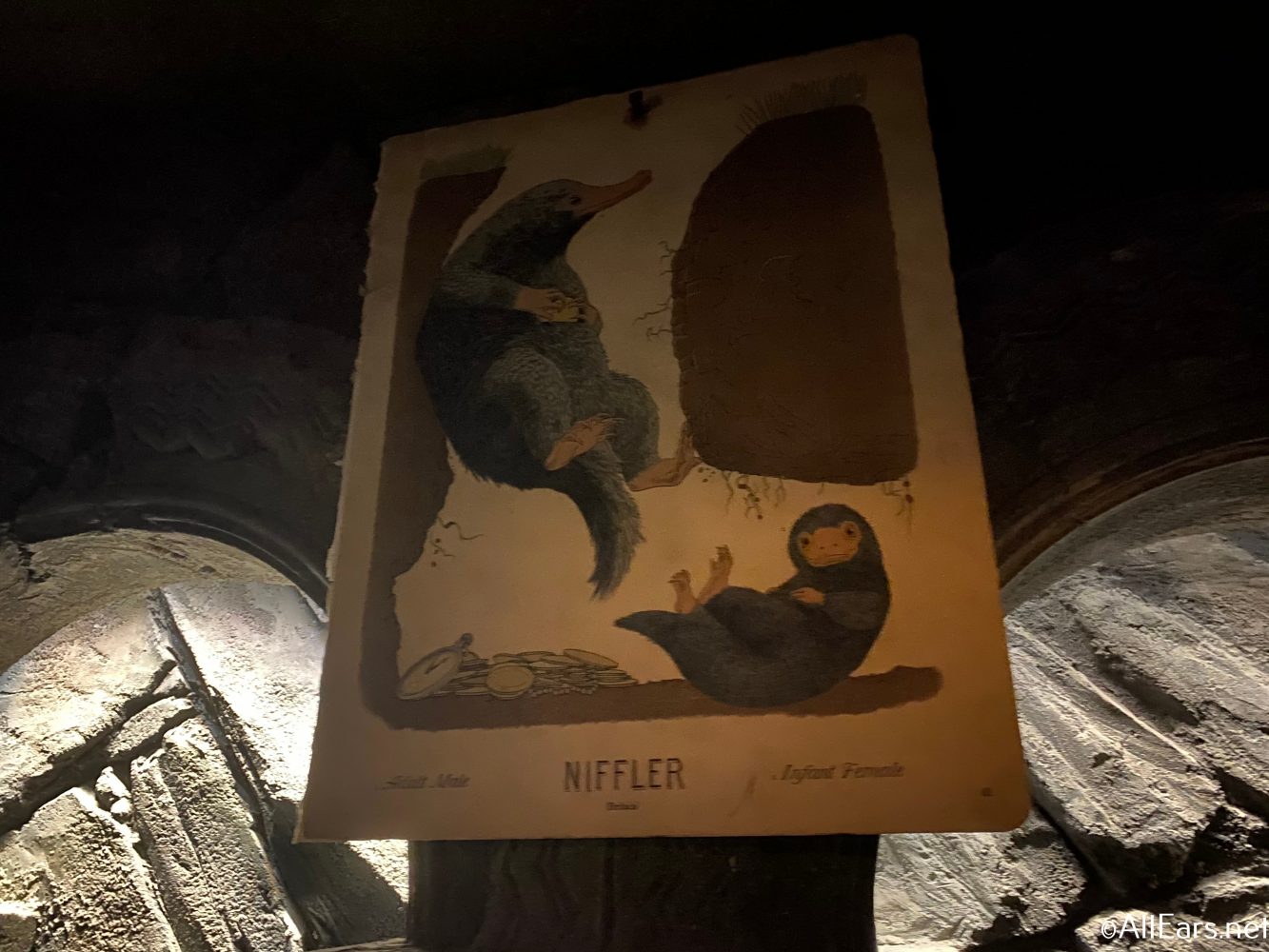 There's also a poster for the adorable, gold-hunting nifflers! While these cuties didn't make the Harry Potter films (despite being in the book Goblet of Fire), they can be seen in the Fantastic Beasts and Where to Find Them movies!
24. Giant-sized Gloves
Also in the workshop, look for Hagrid's dragon hide gloves!
25. A Special Mirror
Throughout the queue for Harry Potter and the Forbidden Journey, you'll encounter a LOT of iconic scenes and items from the series.
Including the legendary Mirror of Erised. Read the inscription backward (above) to see the mirror's true meaning.
26. Poor Neville
Pass the Mirror, and you'll see the door to the Potions Classroom. (You're in the basement after all.)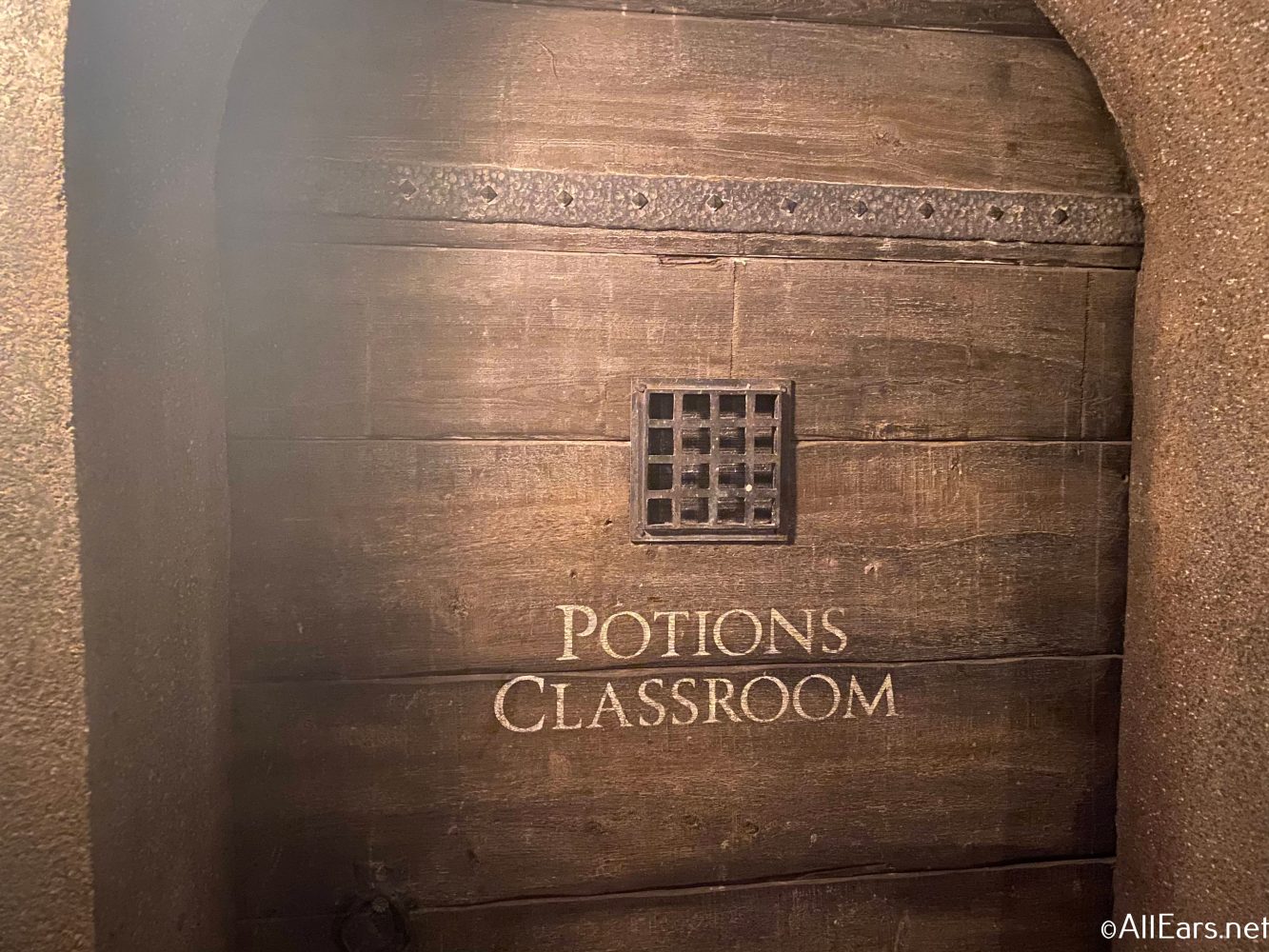 Keep your ears open — you'll hear a particular student getting scolded for his unsatisfactory work.
27. Iconic Portraits
As you weave through the castle, you'll see the famous moving portraits! Four are of particular note, as they are the Hogwarts founders.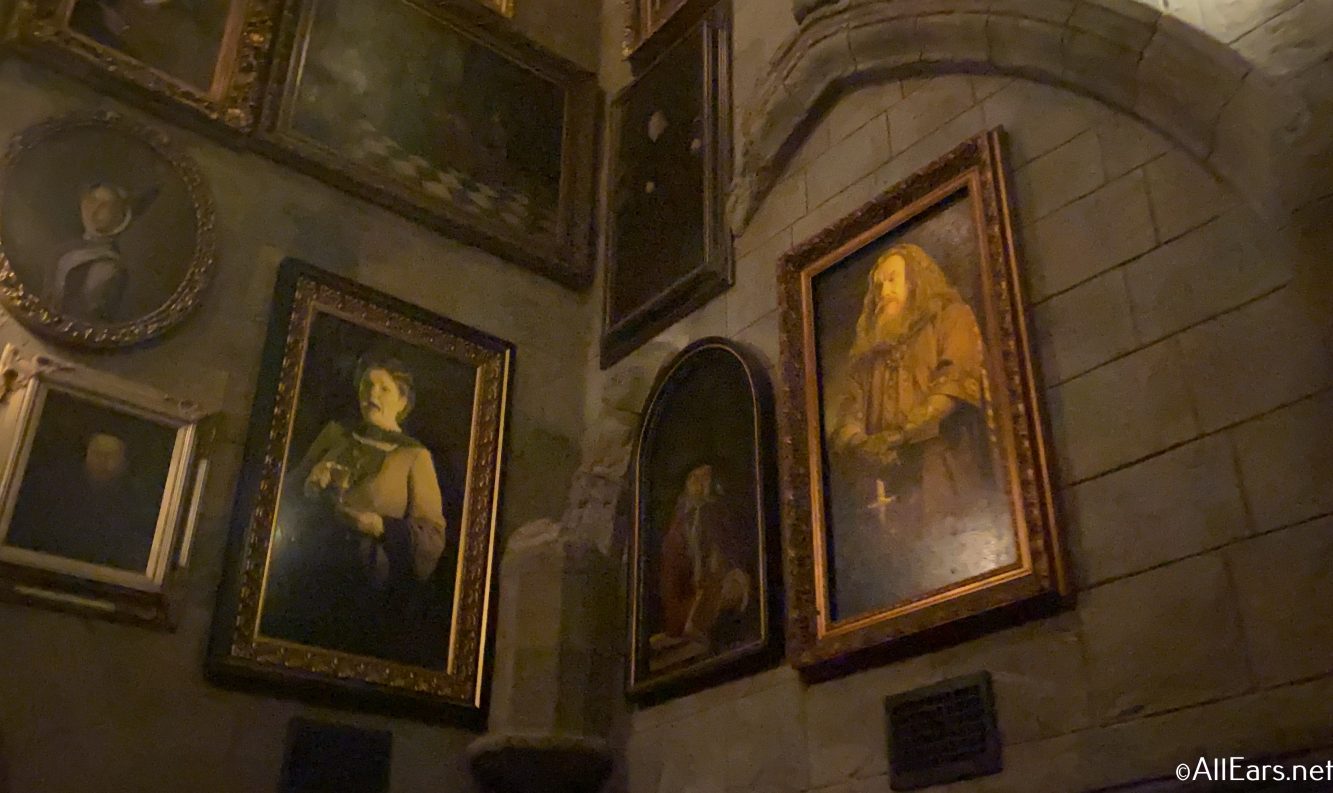 Say hello to Godric Gryffindor, Helga Hufflepuff, Rowena Ravenclaw, and Salazar Slytherin!
28. Pensieve for your thoughts?
As you stroll through Dumbledore's office make sure you look for the iconic pensieve!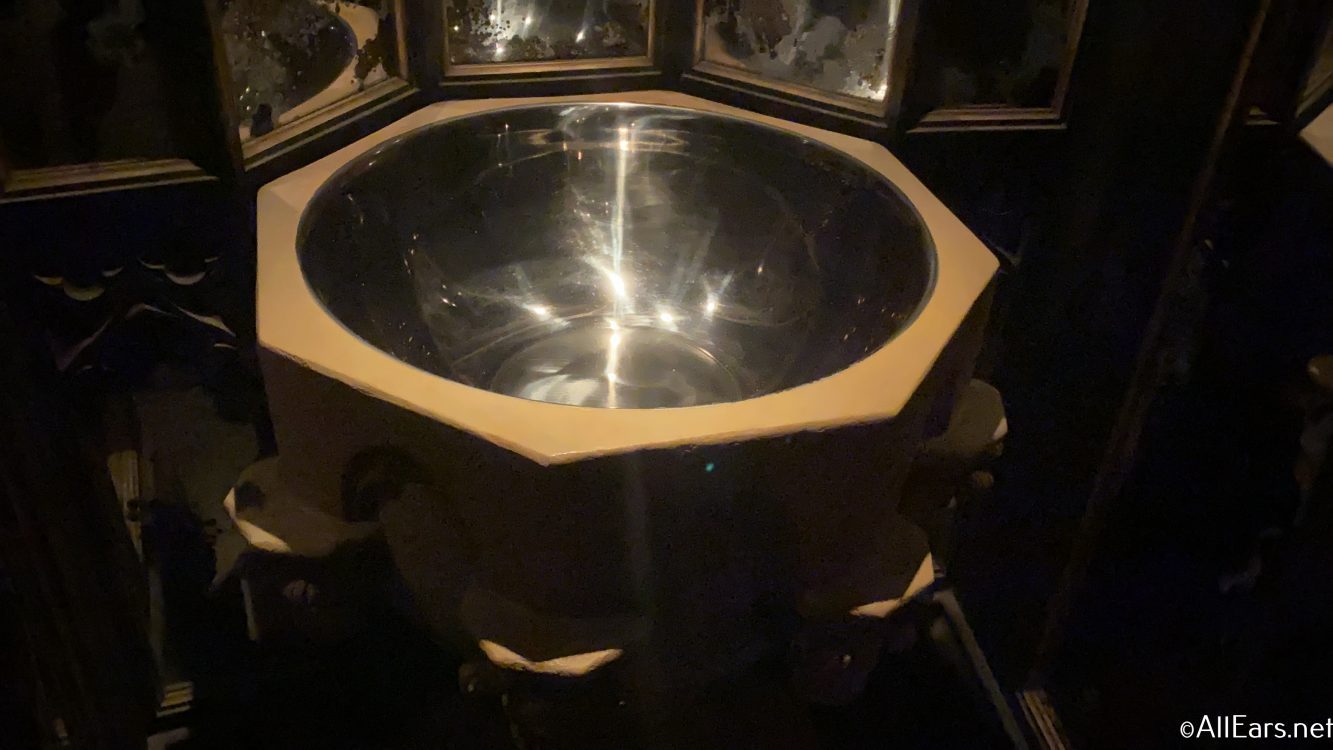 Legend has it, the pensieve is older than Hogwarts itself, and the school was built around the magical item.
29. Beginner's Book
Make sure to look at the books on the desk in the Defense Against the Dark Arts classroom. Remember what year this was?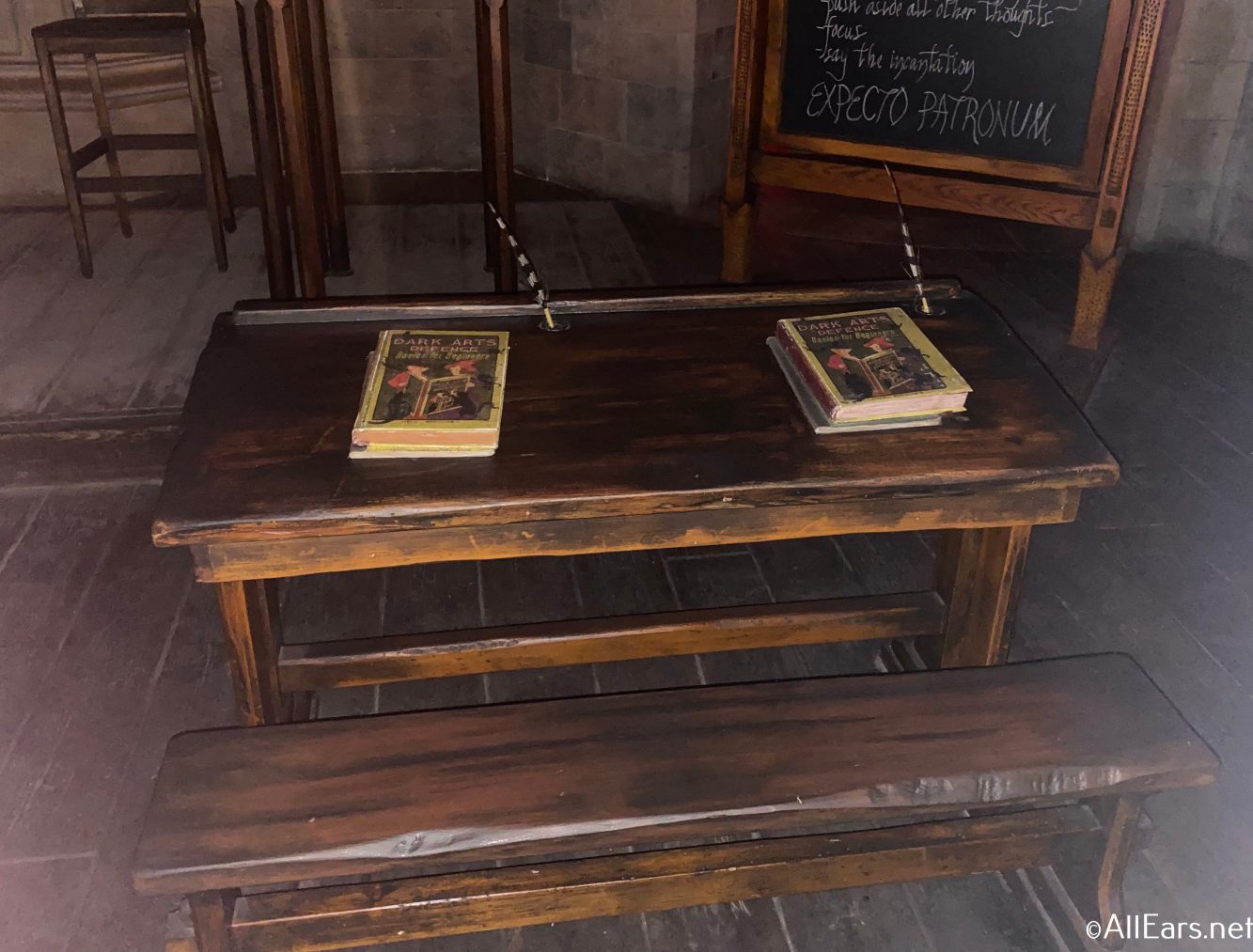 The textbook is Dark Arts Defence: Basics for Beginners, and it was assigned in Order of the Phoenix by everyone's least favorite teacher, Dolores Umbridge.
30. Lost Treasures
When you exit Harry Potter and the Forbidden Journey, you'll pass through Filch's Emporium of Confiscated Goods (a gift shop.) Make sure to look up, and you'll see all sorts of items taken by the cranky caretaker.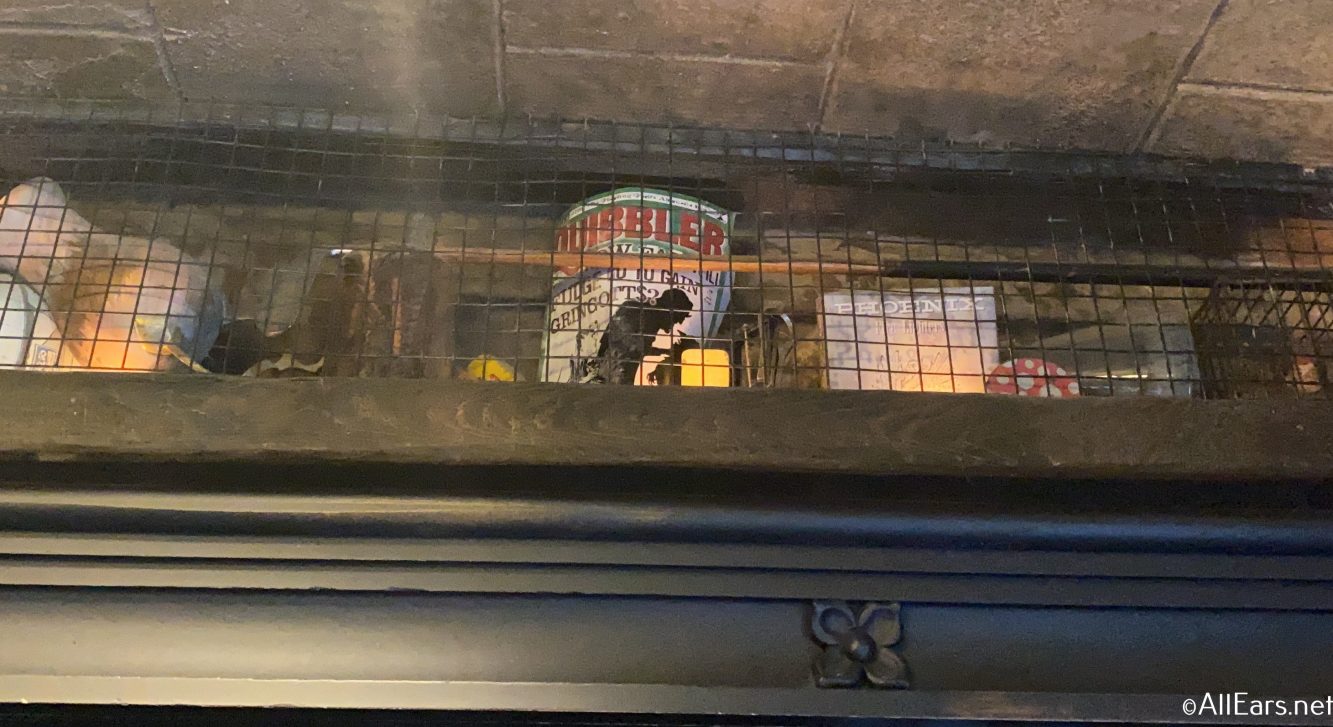 We spotted this copy of the Quibbler — perhaps taken from Luna herself?
To go on a tour of these — and more!! — details in the Wizarding World of Harry Potter, check out this video!
Have you ever visited the Wizard World of Harry Potter at Universal Orlando? What did you think? Let us know in the comments below!
Join the AllEars.net Newsletter to stay on top of ALL the breaking Disney News! You'll also get access to AllEars tips, reviews, trivia, and MORE! Click here to Subscribe!