Whether you're a fan of the movies or the books (or you're a pureblood who loves them both), the Wizarding World of Harry Potter at Universal Orlando actually puts you at the center of your own magical story.
Because the Wizarding World spans two parks — Universal Studios and Islands of Adventure — there are plenty of snacks to fuel your fun. But don't worry — you don't need to ask the Trolley Witch for recommendations.
 We've got you covered with the BEST snacks that you can get from Hogsmeade and Diagon Alley! Just make sure that whatever you're eating isn't one of the Weasley Twins' latest pranks. 😉
Florean Fortescue's Ice-Cream
If you thought those ice cream flavors you get at the grocery store are unique, just WAIT until you visit the ice cream parlour in Diagon Alley. While there are your regular ole' flavors, Florean Fortescue also whips up some pretty special scoops. Two of the flavors may not seem like your go-to choices, but we are telling you that you HAVE to try them. The Earl Grey and Lavender is sweet and slightly bitter. It tastes like you're eating a flower, but in the most fantastic way possible.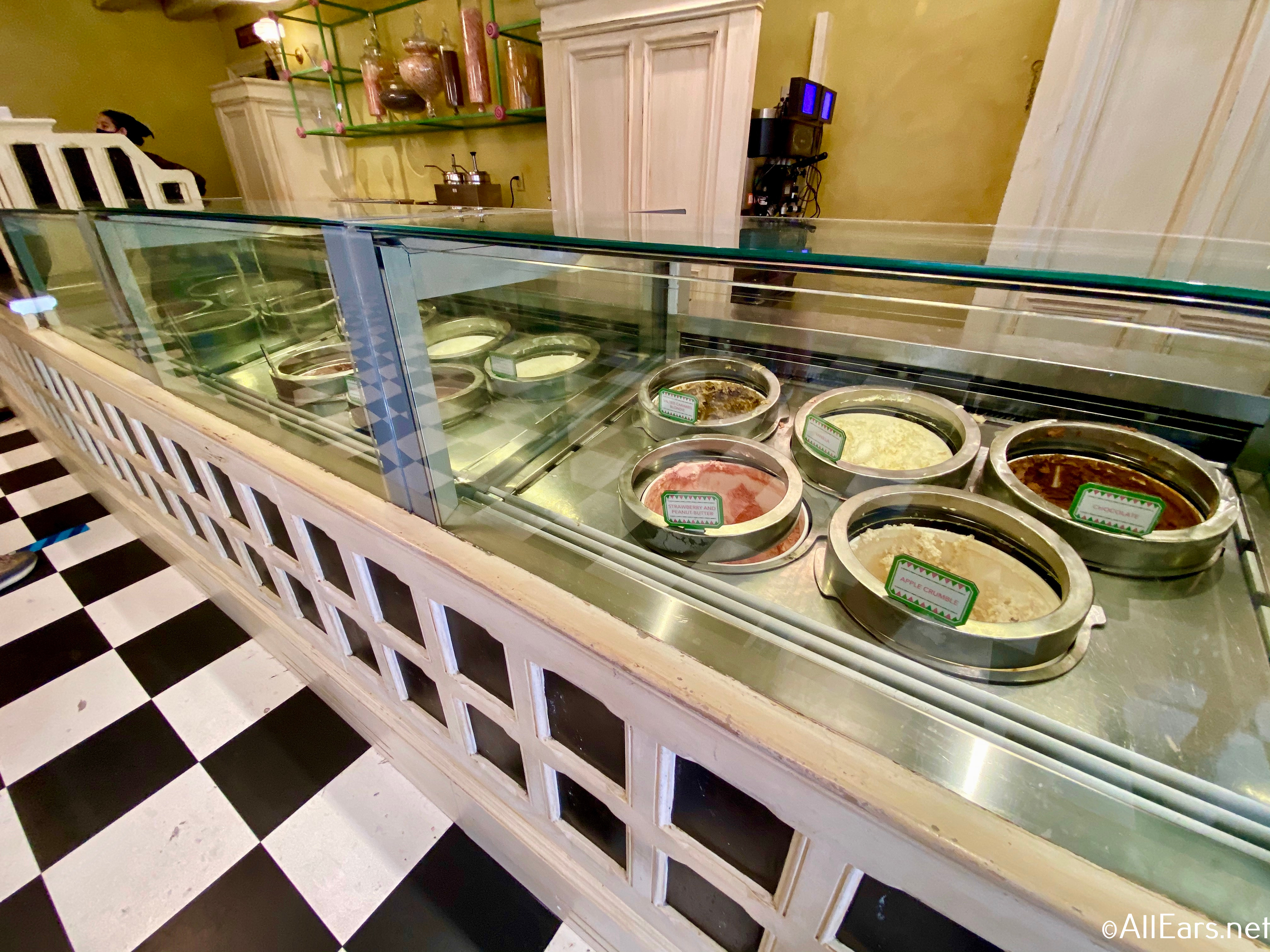 On the other hand, the Strawberry and Peanut Butter is a classic PB&J combo that's very yummy. But, Potterheads will also recognize this as the treat that Harry eats practically every day in The Prisoner of Azkaban (same, HP) because he was living in Diagon Alley after blowing up his Aunt Marge. Ice cream fixes ALL your problems apparently.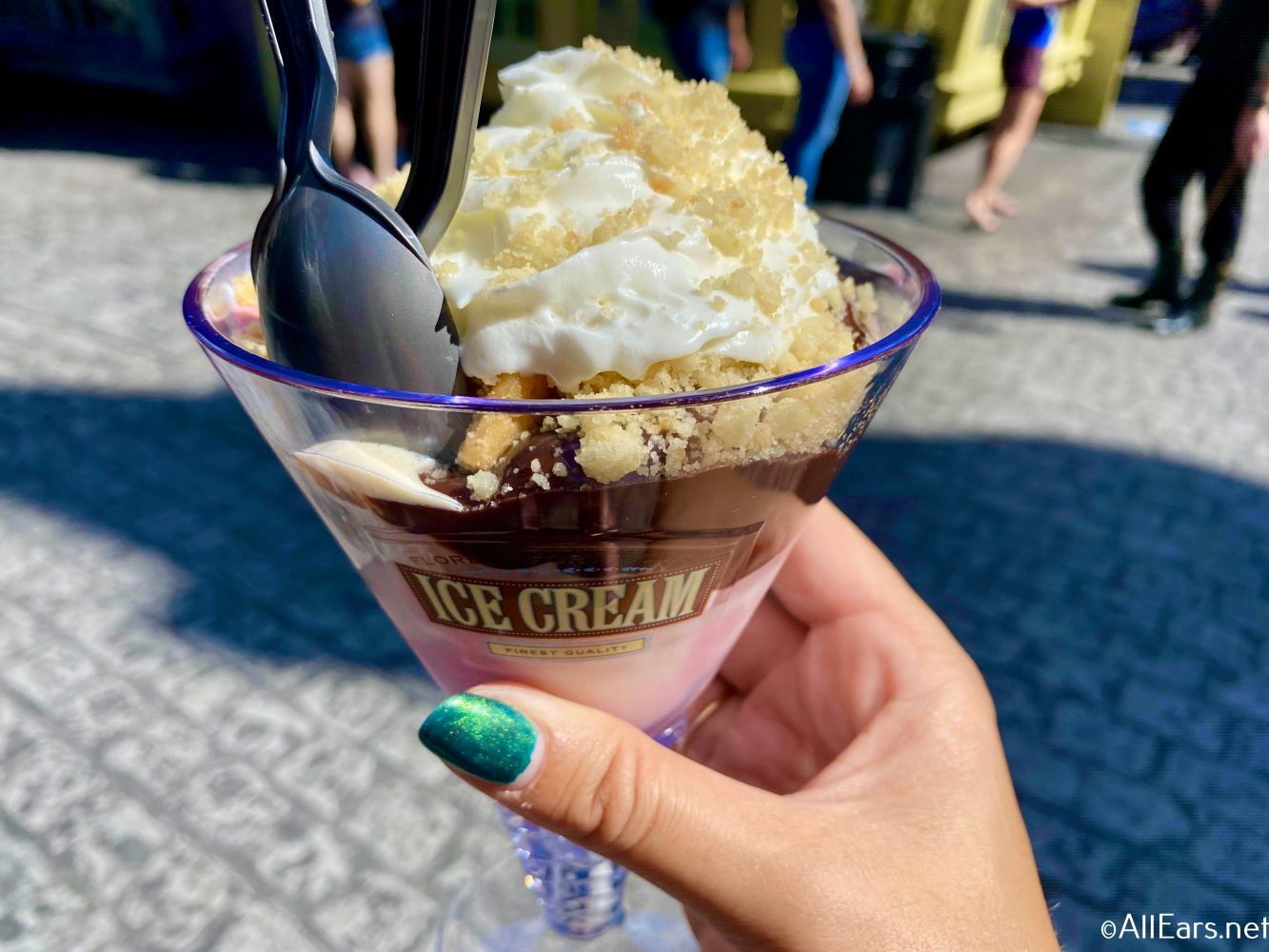 Pumpkin Juice
Have you ever wanted to channel that feeling of wearing one of Mrs. Weasley's sweaters as you enjoy the crisp Fall air in England? Yeah, Pumpkin Juice is all that and MORE in a bottle, you guys. While it's practically just apple juice with pumpkin puree and lots of sugar, one sip has us feeling like we've Floo Powdered our way into a Harry Potter novel. And those hints of cinnamon and nutmeg are just as beloved as some of our favorite characters.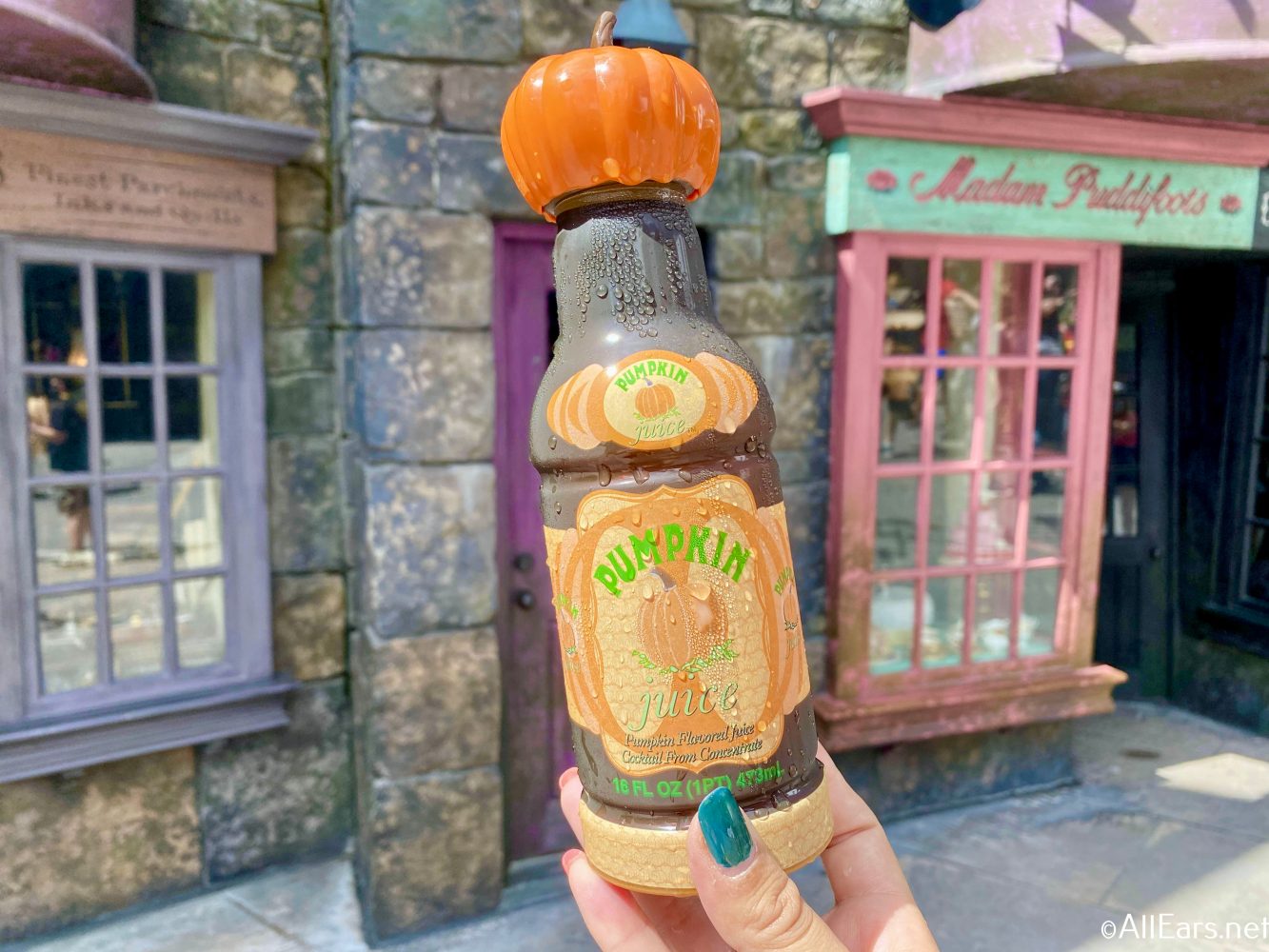 Pumpkin Pasties
We saw Cho Chang eating two pumpkin pasties, so WE bought two pumpkin pasties. While the name makes the treat sound like a pastry filled with pumpkin goodness, well, honestly the name just fits. A pumpkin pasty tastes like you're eating a mini pumpkin pie, straight from the Hogwarts' Halloween Feast. But the best part is that you are super trendy after eating one of these snacks from Honeydukes as you're following in Cho's fabulous footsteps.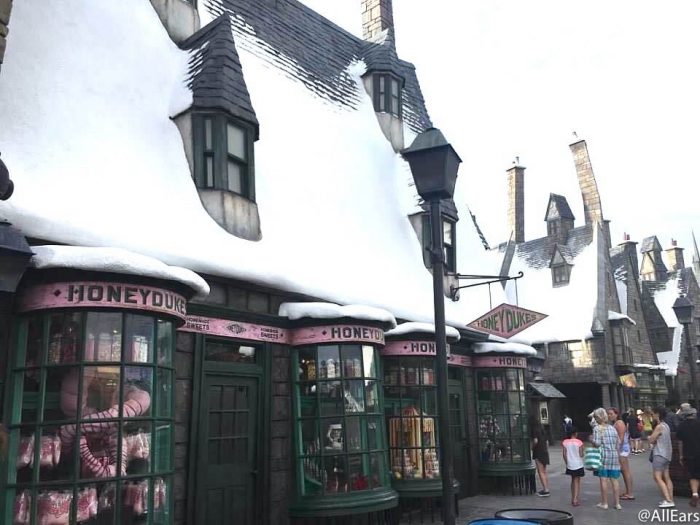 Chocolate Frogs
Perhaps the most iconic treat in the Harry Potter universe is the Chocolate Frog. These treats are memorably showcased in Sorcerer's Stone when one jumps out the window of the Hogwarts Express as it powers on toward Hogwarts. Of course, we're in it for the collectible wizard cards. 😉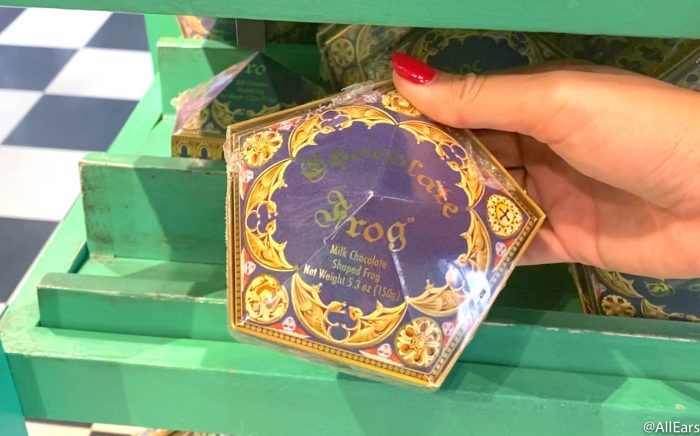 Butterbeer
Let's get real for a second here — have you even BEEN to the Wizarding World of Harry Potter if you haven't gotten Butterbeer at least once? (The answer is definitely no.) But if you're looking to get the highest marks from us, your professors FILLED with magical knowledge, we recommend grabbing all three forms of Butterbeer. You can get it frozen…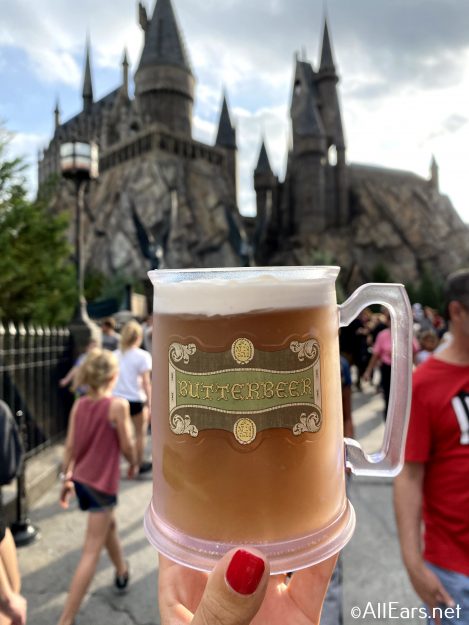 …hot (yes, even when it's 90 degrees outside), and, of course, in the original cold drink state! But, remember, wizards and witches: NEVER stir that foam. There's nothing magical coming from stirring it up, we assure you.
Fizzing Whizbees
Honeydukes is the home to many magical goodies, including Fizzing Whizbees (one of Dumbledore's favorites). In honor of the late and great professor, you can pick up a pack of these chocolate "bees" filled with Pop Rocks! Each bite literally whizzes in your mouth, so you're never too sure if there's an actual bee flying about or not. 😉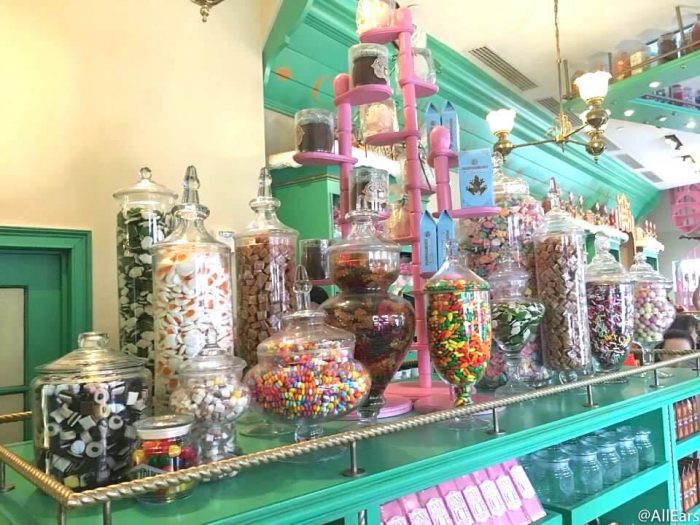 Bertie Bott's Every Flavour Beans
Alright, Harry Potter fans — this is a rite of passage. If you're heading to the parks, you're going to need to pick up a box of Bertie Bott's Every Flavour Beans. While Ear Wax and Vomit might seem off-putting (they're totally gross), Candyfloss and Tutti Frutti make up for strange and unusual flavors! Plus, part of the fun is trying to guess which flavor you've got while you're waiting in line for Hagrid's Magical Creatures Motorbike Adventure. (Look out for a Bogey-flavored one!)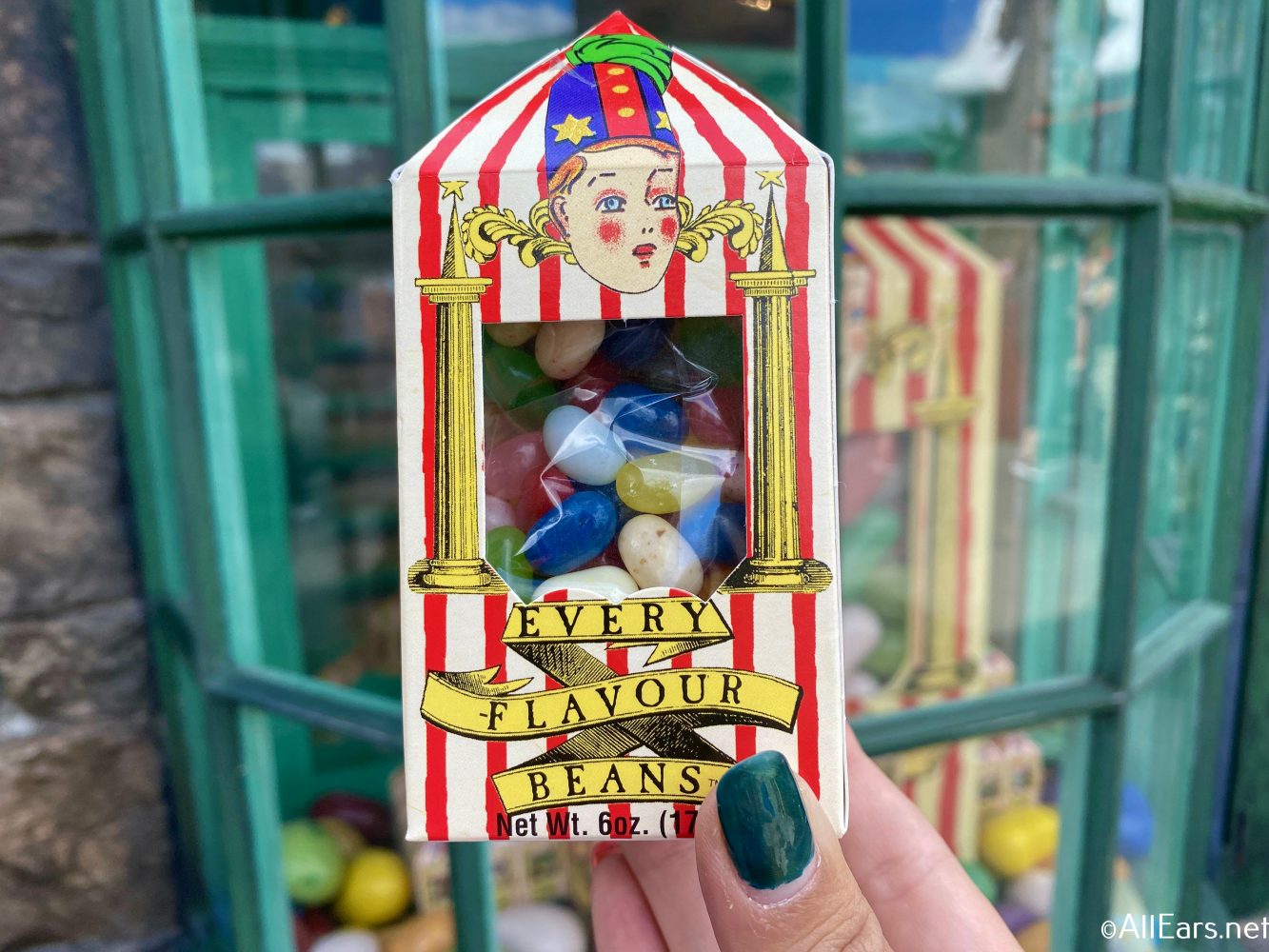 Firewhisky
We don't need some extra courage to drink Firewhisky (although you do need to be prepared for that AMAZING burn). The drink featured in numerous Harry Potter books can be found at The Fountain of Fair Fortune and The Hopping Pot in Hogsmeade as well as the Hog's Head Pub in Diagon Alley. While it may sound similar to Fireball, the magical version in the Wizarding World of Harry Potter has a lot more flavor (with the same great kick, of course).
Deathly Hallows
Psssttt… calling all Slytherins! All you cunning creatures out there are going to LOVE this secret menu beer. You can grab what has been dubbed the "Deathly Hallows" in the parks. BUT, you've got to be a little sneaky about it. The drink is a tri-layered beer with Strongbow Cider, Hogs Head Amber, and Guinness. However, you have to use all that Potions Class knowledge to mix it up yourself! When you order from a bartender, just ask if they'll layer the three drinks together (since they won't serve it to you if you call it the Deathly Hallows). Then you've fixed up a drink that would even make Snape proud!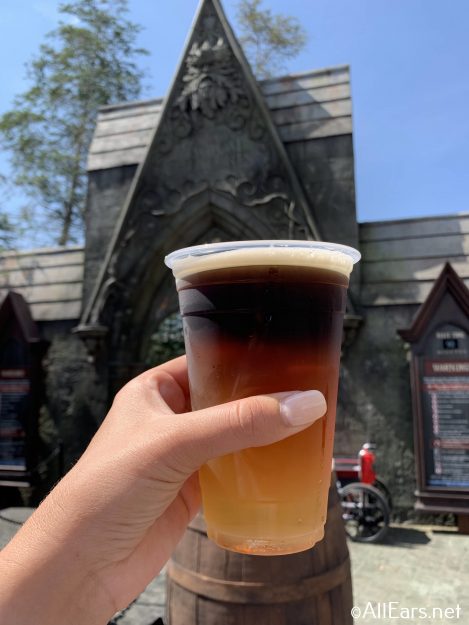 And just like that, you've got a parchment's length of tasty bites and sips to try next time you don your robes and point your wand toward the Wizarding World of Harry Potter!
What's your favorite thing to eat or drink in Hogsmeade or Diagon Alley? Share with us in the comments below!