We've been talking a LOT about the holiday season around here, and for a good reason!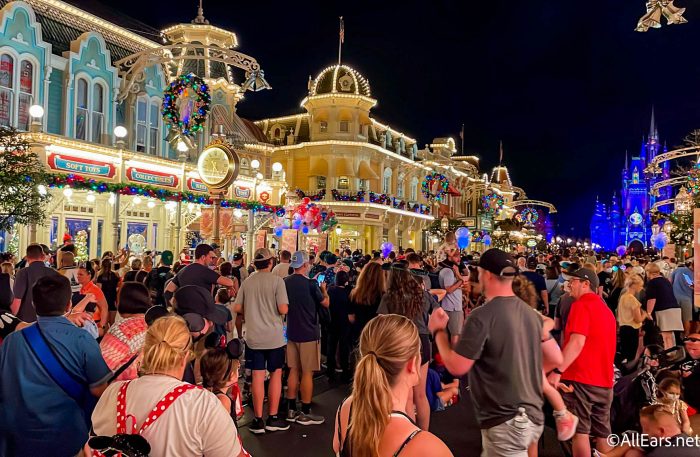 There are SO many things you can do for the holidays in Disney World, from EPCOT's Festival of the Holidays, Mickey's Very Merry Christmas Party, and checking out all the fun decorations. There's one major holiday coming up that you might not think you need to plan for in the parks, but you totally do, and that's New Year's Eve. So, we're here to give you our BEST tips for celebrating New Year's Eve in Disney World!
Make Your Plans NOW
If you haven't already made your plans for New Year's Eve in Disney World, do it ASAP! Those reservations for both the parks and restaurants will fill up fast. Restaurant reservations have been open for a while now, and some spots usually do something special, so we'll let you know when more is announced.
The most important thing if you want to be IN the parks on New Year's Eve is to book your Park Pass Reservation as soon as you can. Magic Kingdom and EPCOT are already full for New Year's Eve, so you can grab a reservation for Hollywood Studios or Animal Kingdom to celebrate. OR get a Park Hopper ticket and hop over to Magic Kingdom or EPCOT after visiting your first park (as long as they're not at capacity).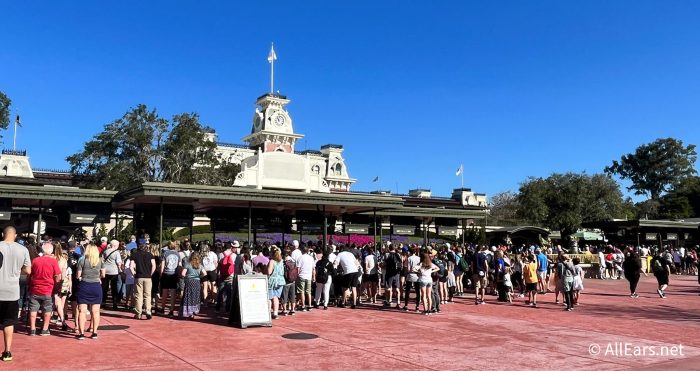 Also, keep an eye out on those reservations, because there is a chance that Disney could release more as the holiday gets closer.
Wear Something Warm
Just because Disney World is in Florida doesn't mean it can't get cold! Right now, the weather is predicted to have a high in the mid-60s and a low in the mid-50s (although that can obviously change as we get closer). That might seem nice to you, but once the sun goes down, you could get chilly!
We'd suggest wearing layers so you can adjust your warmth accordingly throughout the day. At the very least, throw a light jacket or sweatshirt in your park bag. Or else, you could be splurging on a pricy sweatshirt in a gift shop!
Prepare for Crowds
It should go without saying that New Year's Eve is BUSY in Disney World. This is one of the most popular days in the parks all year because a lot of people want to ring in the new year in Disney World (and we can't blame them!). Mentally prepare yourself to be dealing with crowds all day.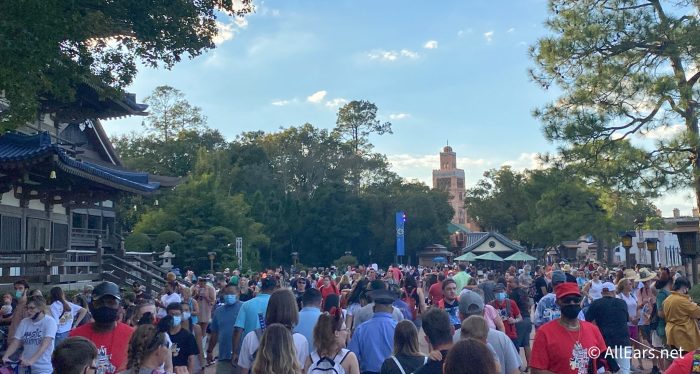 If you get claustrophobic or overwhelmed by a lot of people, try to find a quiet place that you can escape to during the day. We'd especially recommend this in both Magic Kingdom and EPCOT, as those are usually the busiest parks. Just having a few minute where you can catch your breath in an area where there aren't a ton of people around can make you feel a lot better!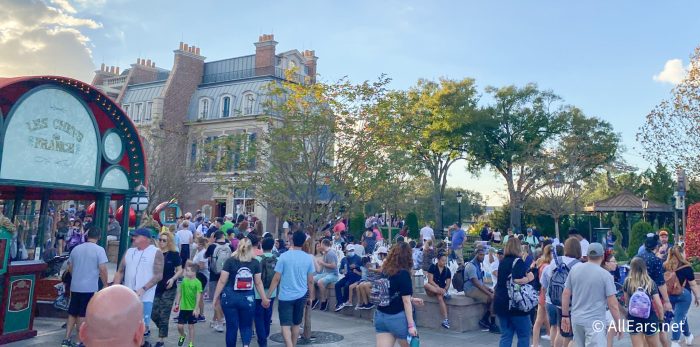 Find a quiet alcove back in a World Showcase country pavilion, sit on the grass in The Hub, or even exit the park for a little bit to take a breather.
Give Yourself Extra Time
Speaking of crowds, you'll need to give yourself extra time for almost everything in the parks on New Year's Eve! Crowds = lines, which means you will be waiting for things like food, merchandise, the bathroom, the bus, and more.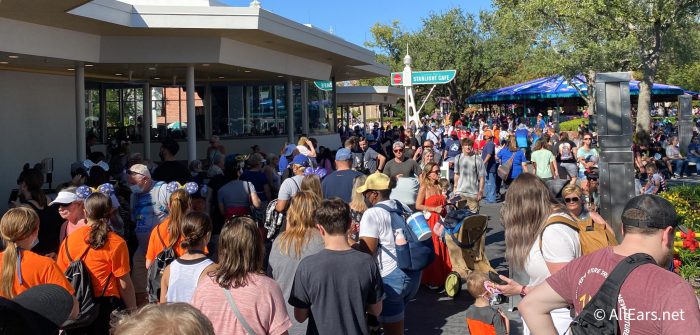 Everything will likely take longer on New Year's Eve, so prepare yourself and give yourself and your group a nice cushion when you're planning your day. We'd suggest Mobile Ordering food as early as you can so those time-slot windows don't get filled up. It's also a good idea to try and eat during "off" times to avoid the crowds, so not peak breakfast, lunch, and dinner hours.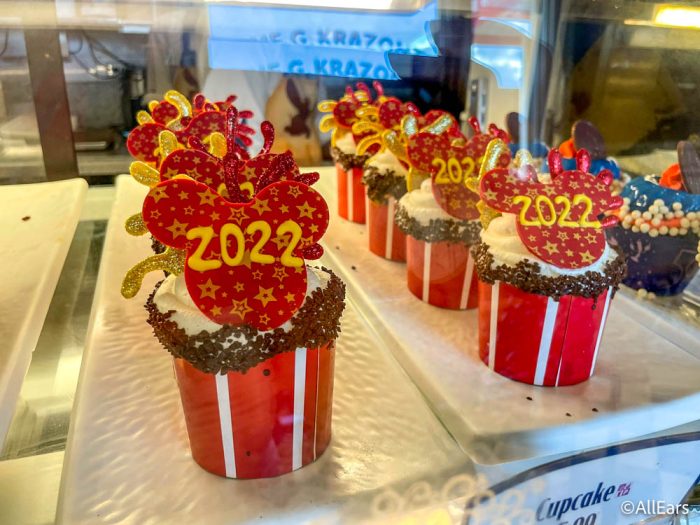 Also, know that it's going to take a while to get around. Crowds mean you will walk from point A to point B slower, and even exiting the parks and getting on the Monorail or boats at the end of the night will likely take a very long time. Pack your patience, people!
Look for Free Stuff!
On a more positive note, keep your eyes peeled for FREE stuff in the parks on New Year's Eve! Disney usually passes out some kind of freebee to celebrate the New Year. In the past we've seen special hats that you can wear (we usually see these handed out in the evening!).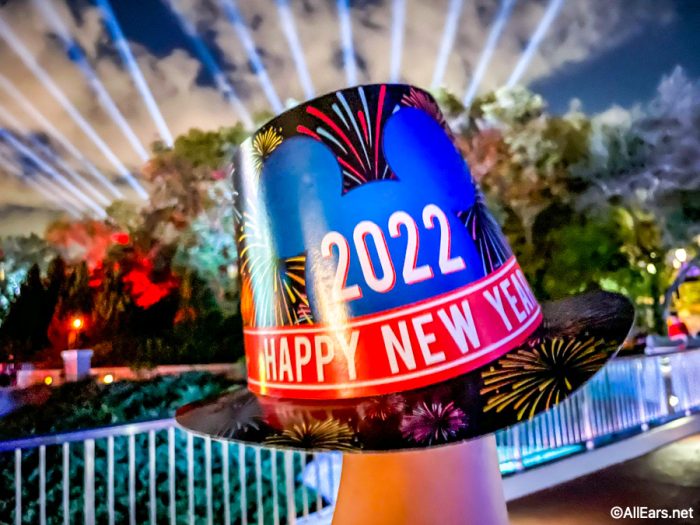 There are also different celebrations happening within the parks that are included with your admission. EPCOT will have a number of dance parties with DJs around the World Showcase…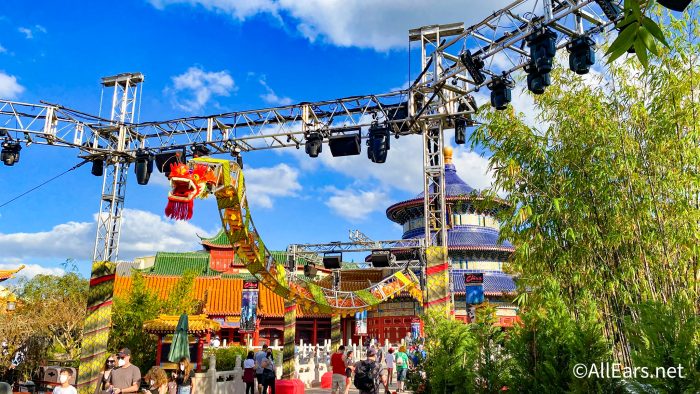 …and Magic Kingdom should have some dance parties as well!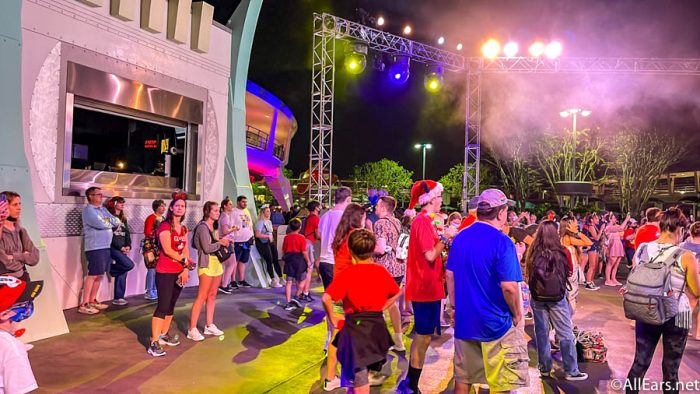 This is basically the ONE night of the year that you can dance the night away around EPCOT and Magic Kingdom without paying for a special event.
Have a Fireworks Plan
On New Year's Eve, there are usually special fireworks that happen in both Magic Kingdom and EPCOT, so a lot of people try and catch the shows, since they're so rare. If you want to watch the shows, you need to have a plan in place. We'd suggest getting your seat/spot for the show early if it's your priority to have a good view, because it will be crowded.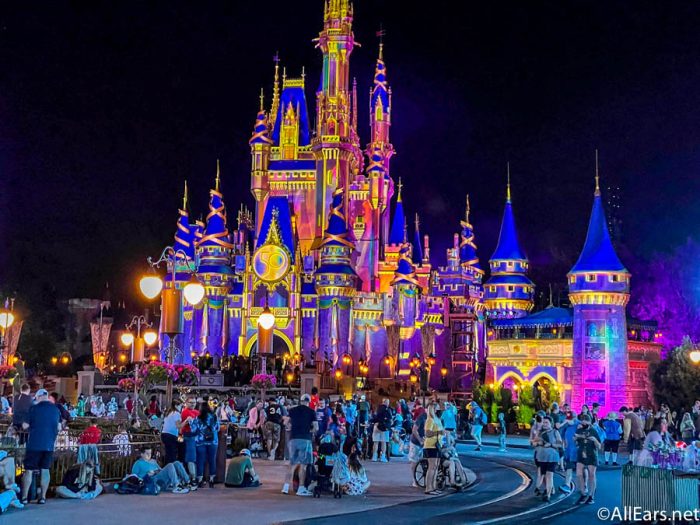 Magic Kingdom usually has the fireworks show on December 30th as well, so if you'd like to check it out on a night that should be a little less crowded, that's a good option as well.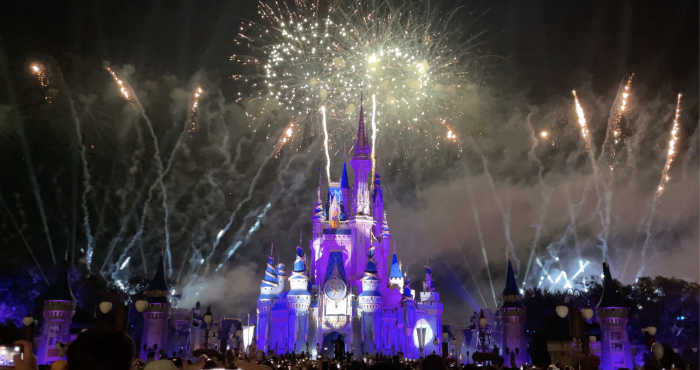 If you don't care about being inside of Magic Kingdom for the fireworks show, you can also watch from a resort! This is a lot less stressful and should be less crowded than being in the parks. You will most likely need to be staying at that resort or have a dinner reservation there in order to catch the show.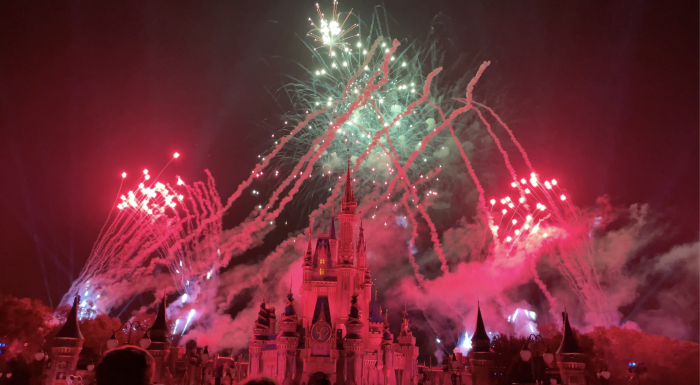 For the Magic Kingdom fireworks, try watching from one of the Monorail resorts or over at Fort Wilderness. The resorts will likely have some special celebrations happening for the holiday as well!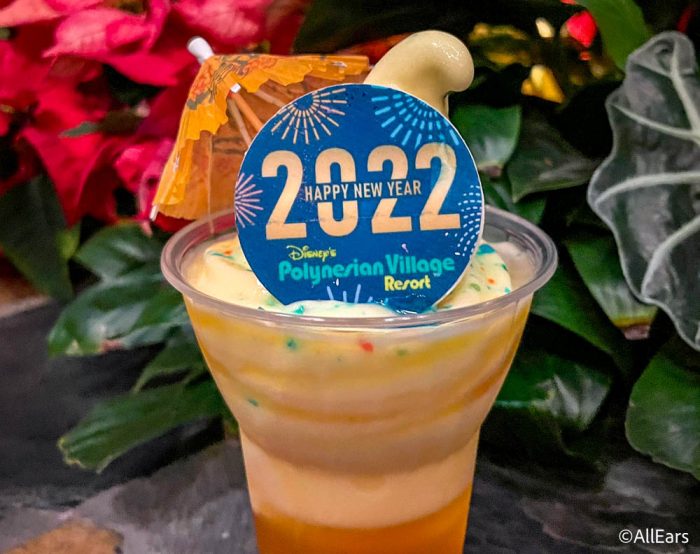 If you're in the parks on New Year's Eve but don't really care about the fireworks, this is an excellent time to go hop on those popular rides. The lines usually get significantly shorter during the fireworks shows since everyone is trying to watch, so it's a good time to go hop on Seven Dwarfs Mine Train or Frozen Ever After.
Expect High Genie+ Prices
Since Disney has introduced surge pricing for their Genie+ service, you can expect to see high prices on New Year's Eve. On Thanksgiving Day, prices were at the highest we've seen them at $29 per person. And, prices for the Individual Attraction Selections were high as well — Seven Dwarfs Mine Train was $12, Flight of Passage was $16, Guardians of the Galaxy: Cosmic Rewind was $17, and Rise of the Resistance was $25.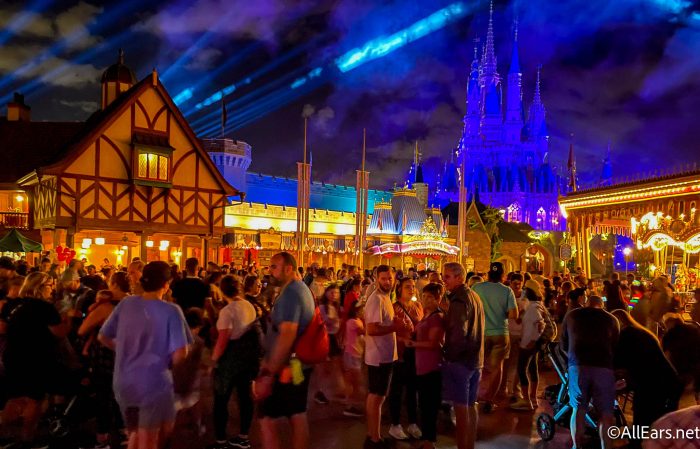 So, if you want to use Genie+ on New Year's Day, make sure you leave a good amount of room in your budget! It could definitely be worth it if you can afford it and want to skip some long lines.
For more on planning in Disney World, check out 8 easy mistakes to avoid when planning your next Disney World trip, 8 secret Disney World tricks only the pros know, and a realistic budget for your 2023 Disney World trip.
Stay tuned to AllEars for more Disney World news, tips, info, and updates.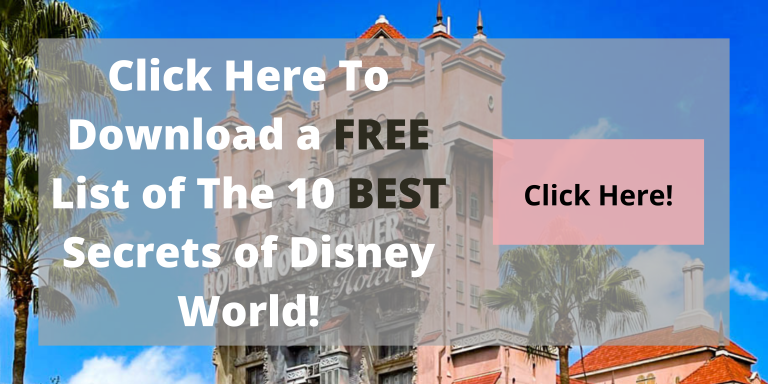 How will you be spending your New Year's Eve in Disney World? Tell us in the comments!