DISCLOSURE: This post may contain affiliate links, which means when you click a link and make a purchase, we receive a commission.
We've seen some pretty cold days at Disney World this past week! You might think that Florida is a tropical paradise that stays lovely and warm year-round, and while it's true that the average temperature is about 72°F sometimes you do get those rare days when the temperature dips.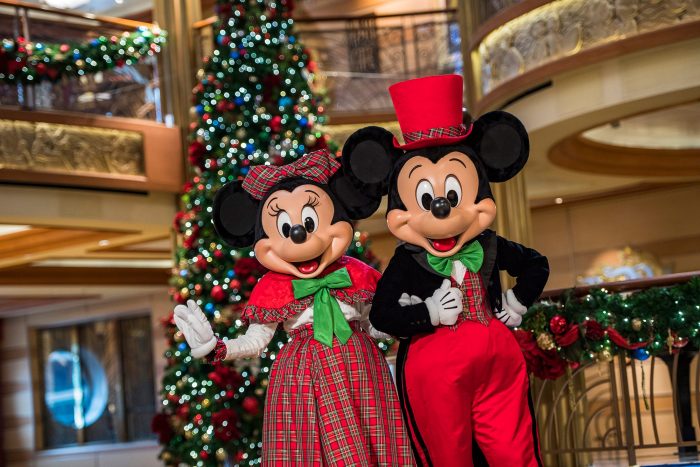 If you're planning a trip to Disney during the fall and winter months, we recommend packing a few pieces for layering. You never know when a cold spell might hit!
To help take out some of the guesswork on what to pack, we're sharing some outfits we put together to give you some guidance. These looks not only will keep you warm on chilly days, but they still have that Disney pizzazz!
The easiest way to dress warmly while remaining comfortable is to throw on a sweatshirt and a pair of leggings. Rep Magic Kingdom proudly with this sweatshirt that lists all of the areas of the park. Because the design is pretty minimalist with mostly black and white, you can pick any color for your other pieces.
Here we've just stuck with the black-and-white theme for the leggings and shoes. These leggings also have pockets, which is a useful place to stash your phone while wandering the park. To bring a bit more color into your outfit, go full rainbow with your ears! We also added a cute Minnie necklace for a bit of sparkle. If you start to warm up while walking around, wear a t-shirt under your sweatshirt so you can take it off and tie it around your waist.
Sometimes you get the one-two punch of both low temperature AND rain. Don't worry, you can still enjoy your park day! First, make sure your feet are protected from those infamously deep Disney World puddles by bringing a pair of waterproof shoes. Usually, we recommend sandals that don't absorb water and dry quickly, but when it's cold you should opt for a closed-toe shoe like these Hunter boots.
You can stick with your usual cold-weather combo of leggings, a shirt, a sweatshirt, or whatever else keeps you warm. The other important pieces to wear are some kind of waterproof jacket and a hat. If you pick a heavier raincoat, you could even forgo the sweatshirt! We prefer to wear hats instead of bringing an umbrella, just because it's one less thing to carry.
This outfit is inspired by Big Thunder Mountain Railroad! We started with this Big Thunder t-shirt, which kind of looks like a cool poster advertising some sort of national park. If you're the kind of person who doesn't mind wearing jeans in the park, they're another great option for cold days, especially if you aren't a fan of leggings.
This outfit also has a mixed-fabric denim jacket to protect you from the chill. The cool print on it goes with the Big Thunder theme. You are free to accessorize this look with other Disney or Frontierland items! Here we included a pair of slides, but you can wear your favorite park shoes or another pair of sneakers to keep your toes warm.
It just so happens that this Disneybound inspired by Bruno is just the thing to wear on a cold park day! Long pants, a long-sleeve shirt, and a thick shawl are sure to keep you warm on a cold winter day. It's also a super easy look that people will instantly recognize.
Any pair of brown pants will do, then pair with a cream-colored long-sleeve top. Wear a dark green shawl like the one pictured here to complete Bruno's outfit. He usually wears sandals, and if you're comfortable wearing those then go for it! Otherwise, a brown or black pair of sneakers will work. Finish off the look with some jewelry, like these ones inspired by Bruno's rodent friends and the symbol of the Madrigal family, the butterfly.
The next time you hit the parks during the fall or winter you'll be fully prepared for any cold spells that hit! For more outfit inspiration, check out the main AllEars Style page.
Some of the coldest days at Disney are during the holiday season. We have everything you need to know about the holidays at Disney!
Join the AllEars.net Newsletter to stay on top of ALL the breaking Disney News! You'll also get access to AllEars tips, reviews, trivia, and MORE! Click here to Subscribe!

Which season do you prefer when visiting Disney? Let us know your preference in the comment section below!