The EPCOT International Festival of the Holidays is HERE and we're feeling pretty holly jolly about it!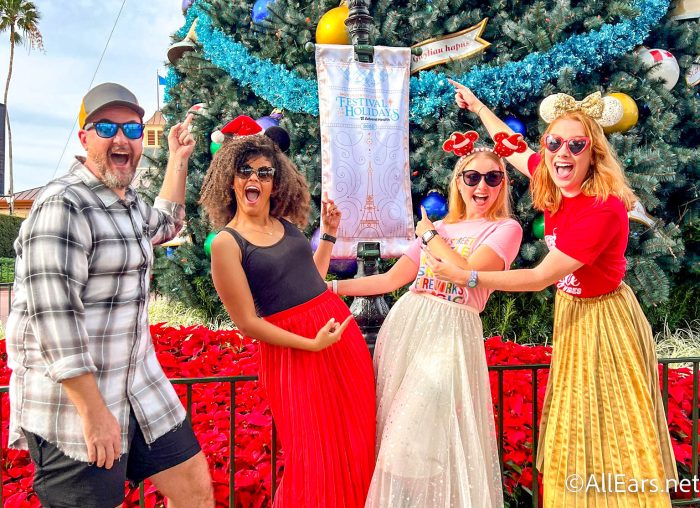 We've been around the World Showcase, checking out the festival merchandise, the holiday storytellers, and of course, the many delicious holiday kitchens. But what food items are a must-try at this year's fest? Here are our picks for the best things to eat and drink!
Best Food
NEW: Giant Tostada de Barbacoa
The Giant Tostada de Barbacoa at Las Posadas Holiday Kitchen in the Mexico Pavilion is braised barbacoa beef on a giant tostada with chipotle black bean purée, salsa verde, queso cotija, crema Mexicana, and pickled onion for $10.50.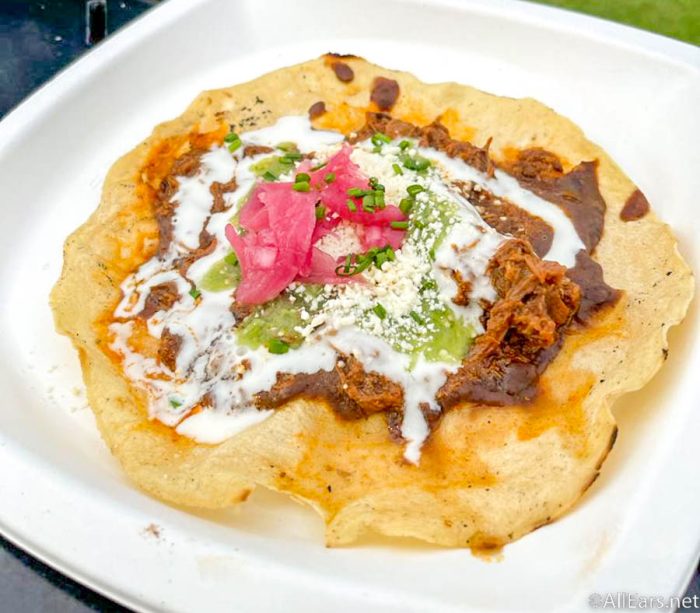 We really loved this dish! The beef was well cooked and very flavorful, and the black bean puree was creamy and smooth. The crema and pickled unions added a great flavor, and this was overall our favorite thing at the booth.
RETURNING: Cheese Fondue in a Bread Bowl
You can find the Cheese Fondue in a Bread Bowl at the Bavaria Holiday Kitchen in the Germany Pavilion for $8.25.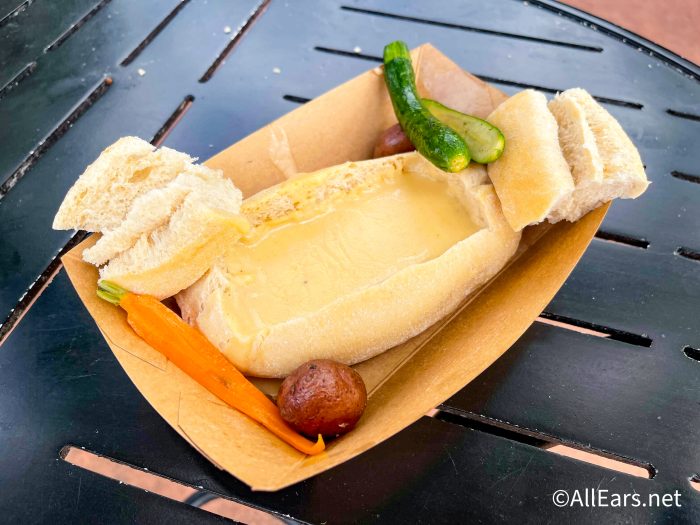 The cheese has an amazing sharpness to it and the added vegetables are cooked to perfection. The bread is deliciously soft but sturdy enough to hold the cheese. Plus, this is a huge portion size!
RETURNING: Kalua Pork
The Kalua Pork at Mele Kalikimaka is near the Port of Entry and also features sweet potatoes and mango salad for $5.50.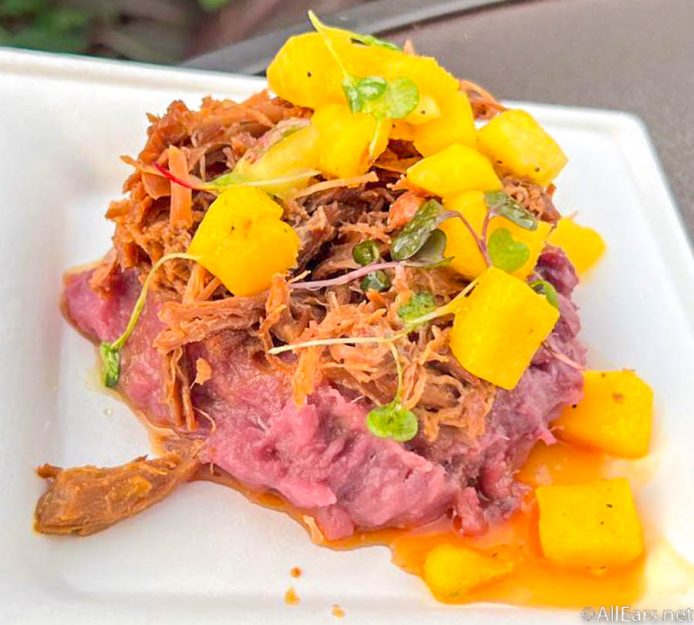 We loved the pork flavor combined with the mango and the sweet potatoes, but we did find the SWEET flavor of the potatoes to be a little strange. Maybe if they were regular potatoes it would blend better, but it still didn't stop us from overall enjoying this dish!
RETURNING: Sushi Tree
The Sushi Tree from Shi Wasu Holiday Kitchen in the Japan Pavilion is a sushi roll with krab meat and cream cheese topped with tempura, Ikura salmon roe, and spicy mayonnaise for $7.50.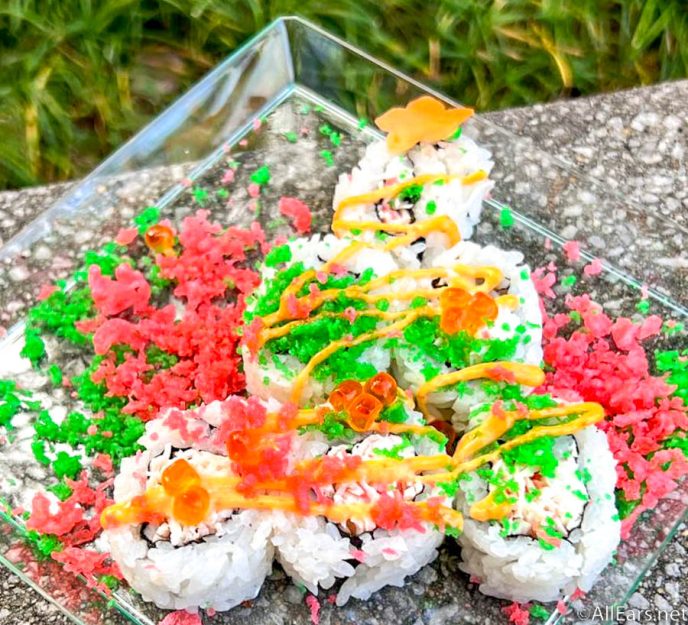 This offering looks a lot different than it did last year! Instead of creating sushi in the shape of a tree, the sushi rolls were placed in the shape of a tree. That doesn't stop it from being delicious, however, as it's had an amazing flavor. Some may find the spicy mayo in need of some more spice, but we recommend this dish to all sushi lovers.
RETURNING: Slow Roasted Turkey
The Slow Roasted Turkey from the American Holiday Table in the American Adventure Pavilion comes with BEN'S ORIGINAL stuffing, mashed potatoes, green beans, and cranberry sauce all for $6.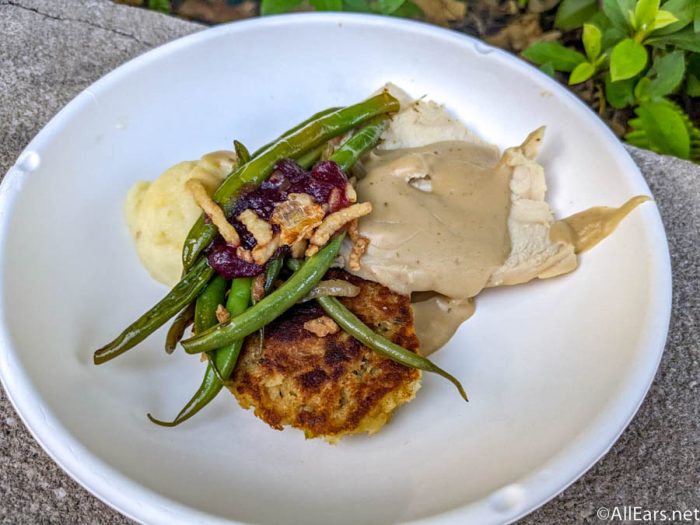 This is basically a holiday meal all in one! The portion is huge and it could easily be a light lunch for many. We thought it was the perfect balance of all the items and definitely reminded us of the holidays.
NEW: Peanut Stew
The Peanut Stew at Refreshment Outpost between the China and Germany pavilions is $5.25 and is made of sweet potatoes, mustard greens, and roasted peanuts.
This is a plant-based dish and is Breedlove's new favorite plant-based dish! The base of the stew tastes like peanut butter, and the spices added really give it some heat. The sweet potatoes mix well with the peanut butter taste and mustard greens add a nice little crunch.
Best Drinks
RETURNING: Frozen Hot Chocolate Martini
The Frozen Hot Chocolate Martini from Le Marché de Noël Holiday Kitchen in the France Pavilion is grey Goose La Vanille Vodka, vodka, chocolate milk, and whipped cream. You can grab it for $13.95.
The alcohol isn't very strong in this drink, but it's a very good cold hot chocolate! It's a great drink for hot days in Florida when you want to experience the holidays, but not drink anything hot.
RETURNING: Gingerbread Milkshake
The Gingerbread Milkshake is over at the Donut Box near Test Track. You can grab it normally for $4.50 or spiked for $11.50.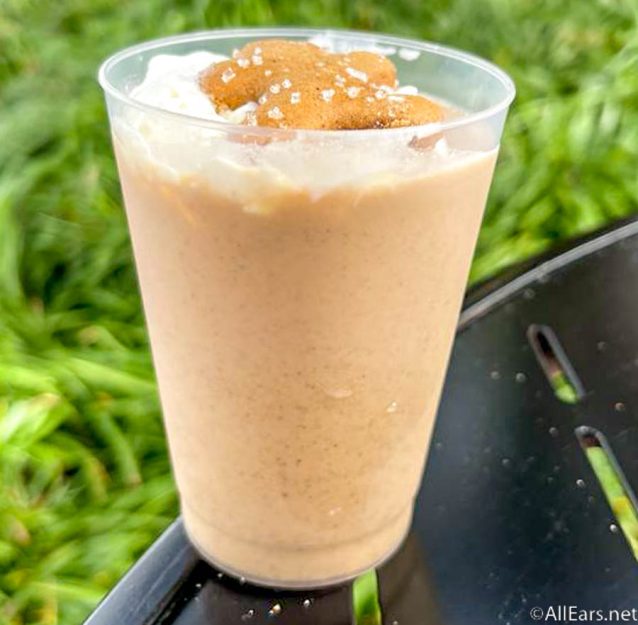 If you love gingerbread and cinnamon, this is for you! This milkshake tastes just like a gingerbread cookie and is amazingly creamy.
RETURNING: Hot Cocoa w/ Peanut Butter Whiskey
The Hot Cocoa w/ Peanut Butter Whiskey at Chestnuts and Good Cheer is also near Test Track for $11.50.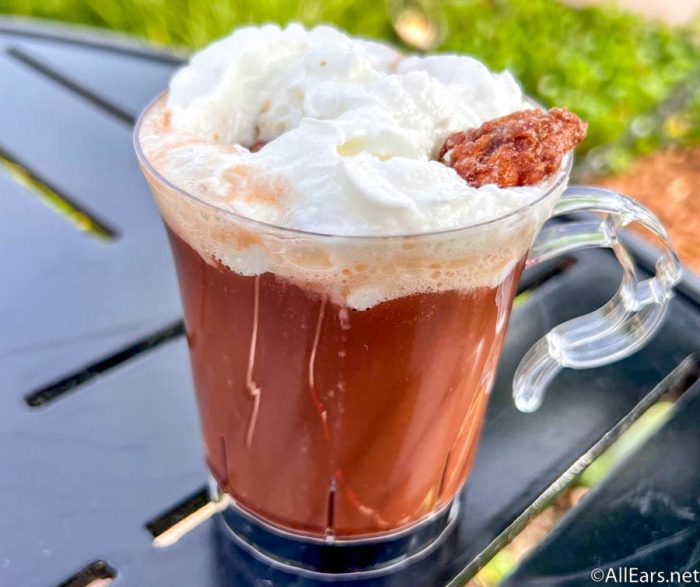 You can definitely taste the peanut butter throughout this delicious drink, and the candied nuts on top are nice and crunchy. It's a great drink to get you in the holiday cheer and help you achieve your goal of drinking around EPCOT.
RETURNING: Pumpkin Spice Ginger Cocktail
The Pumpkin Spice Ginger Cocktail with Boyd & Blair Potato Vodka is over at Refreshment Port for $11.50.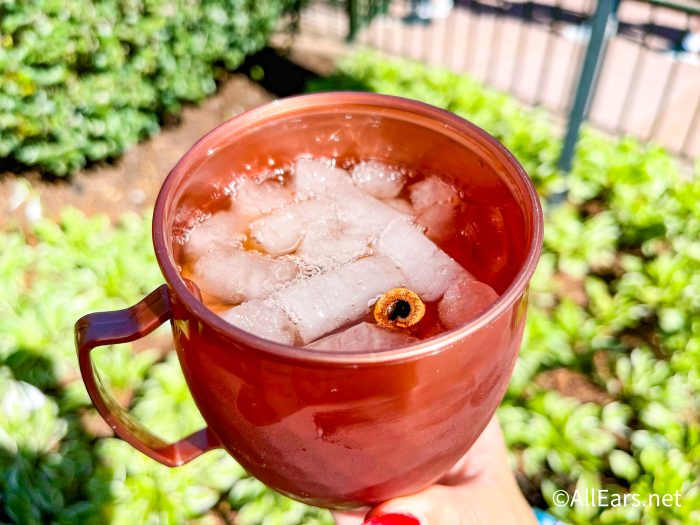 This delicious fall-spiced drink is another great cold option for those hot holiday days in Orlando.
NEW: Spiced Pumpkin Punch
The Spiced Pumpkin Punch at Le Marché de Noël Holiday Kitchen in the France Pavilion is made of Rhum Clement VSOP Vieux Agricole, spiced pumpkin purée, and oat milk and is $13.50.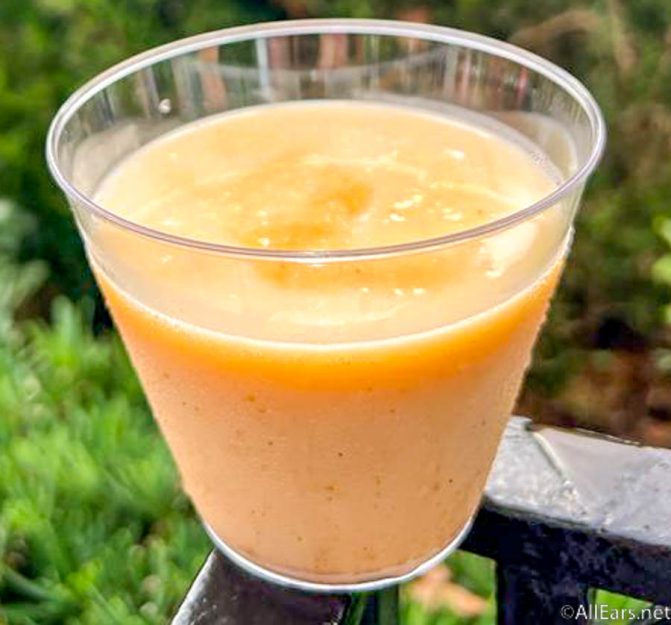 This punch is creamy, delicious, and perfect for pumpkin spice fans. The spice and alcohol really shine through in this drink, and it comes highly recommended from us here at AE.
Best Dessert
RETURNING: Coquito Soft Serve
The Coquito Soft Serve is available at Refreshment Port for $6.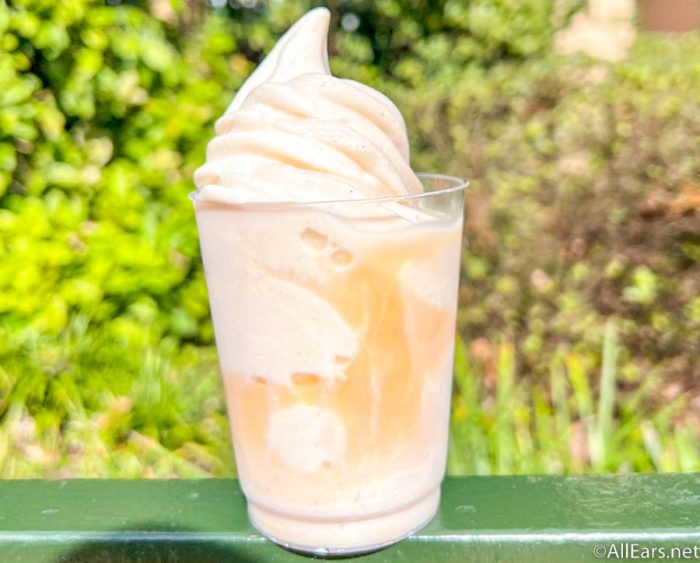 This is a super creamy soft serve with great spice! Overall, it's a great version of soft serve for the holiday season. It does melt fast though, so watch out.
NEW: Macaron Christmas Tree
The new Macaron Christmas Tree can be found at Les Halles in the France Pavilion for $9.95.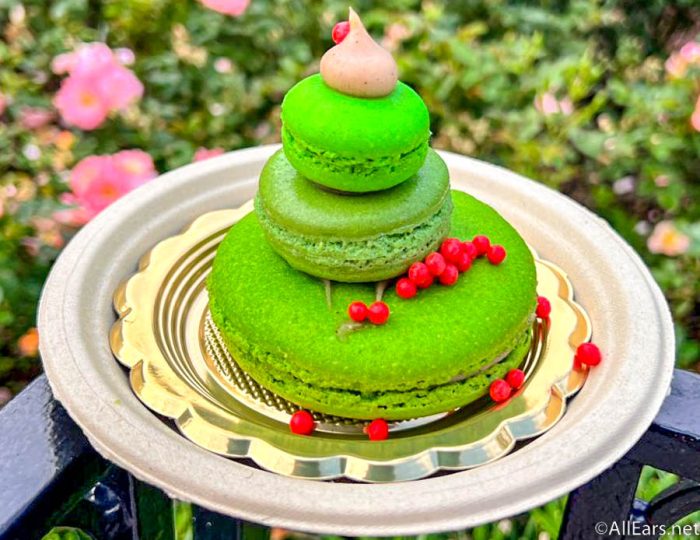 Not only is this treat adorable, but there's a great crunch from the macarons and a lovely Christmas spice flavor overall.
Best of Holiday Cookie Stroll
RETURNING: Linzer Cookie
The Linzer Cookie can be found at the Bavaria Holiday Kitchen in the Germany Pavilion for $3.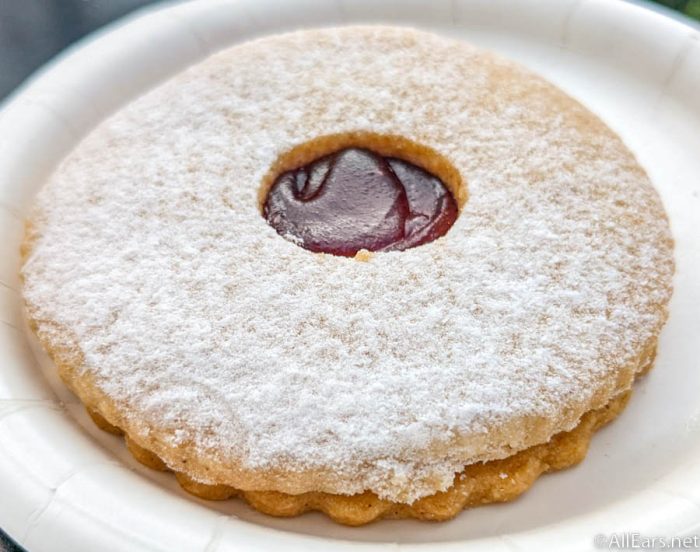 This was our favorite last year as well! It's a soft, raspberry-filled treat that quite literary melts in your mouth. The raspberry tastes like real, true raspberries too, which is delicious.
So there you go — our favorite items at this year's festival! If you're visiting soon, make sure to check out the full menus and all the special offerings ahead of time so that you can make your to-do list.
And of course, don't forget to watch the iconic Candlelight Processional in the America Gardens Theatre, where celebrity narrators tell the story of Christmas, all while accompanied by fantastic musical talent. It's the highlight of the fest!
Join the AllEars.net Newsletter to stay on top of ALL the breaking Disney News! You'll also get access to AllEars tips, reviews, trivia, and MORE! Click here to Subscribe!

Are you visiting Disney World for the holidays this year? Tell us in the comments!