We're back with another round of menu changes at Disney restaurants!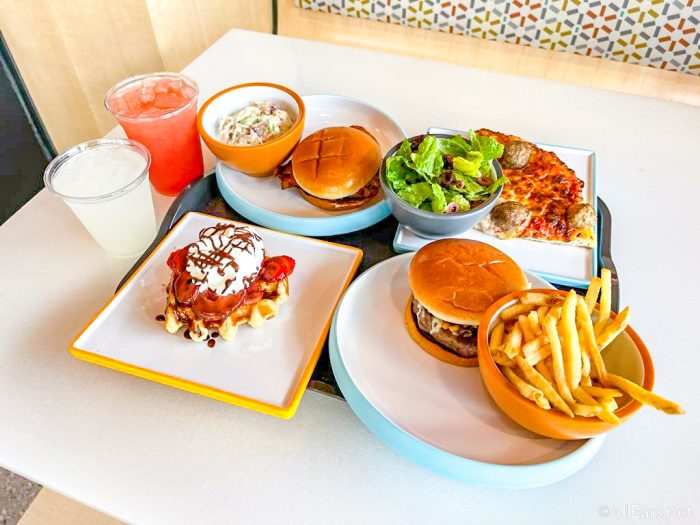 We recently ate our way through the opening of Connections Cafe and Eatery, and the Halfway to Halloween has brought some limited-time eats to the parks. Now let's go over what's been added and removed from Disney restaurants around Disney World, Disneyland, Disney Springs, and hotels!
Check Out the Latest Menu Updates Below!
Menu Updates 5/2/22
Magic Kingdom
Pecos Bill Tall Tale Inn and Cafe Restaurant
Price Increases
REMOVED! Southwest Salad
No longer on Mobile Order
ADDED! Halfway to Halloween Lady on the Gravestone 50th Chilling Chamber Pop (Available 4/28-8/13)
EPCOT
Price Increases on Kids Meals
REMOVED! Sausage Roll with Chips
ADDED! Scotch Egg
Price Increases
REMOVED! Crab Salad, Bluefin Tuna
Price Increase on Fish & Chips
ADDED! The Acapulco Colada, Negroni Blanco, The Lily Margarita (moved from seasonal to the regular menu)
Animal Kingdom
ADDED! Turning Red Cupcake
ADDED! Turning Red Cupcake
ADDED! Turning Red Cupcake
Disney Springs
Price Increases
REMOVED! Build a Picnic Basket option
ADDED! Halfway to Halloween Items:  Pumpkin Spice Shadow Cakes, Frankenstein Cake Slices, Valentina Cake; ADDED May specials- Peanut Butter Chocolate Swirl Cookie, Peanut Butter & Jelly Cake (Available 4/28-5/1)
ADDED! Sapporo Spicy Miso Ramen
Price Increases on all Kids Meals
Price Increases on Rainforest Café Breakfast
ADDED! Volcanic Cobb Salad,  Summer Rum Punch, Blood Orange Lemonade, Guava Melon Lemonade, Strawberry Dart Frog, Limited Time Items: Poke Bowl, Red Fish Potosina, Korena Salmon and Shrimp
ADDED! Chicken Fried Steak & Eggs
ADDED! May "Flower Power" Flavors- Jasmine Milk Tea & Chocolate Almond Stracciatella, Pistachio Rose Water with Strawberry Mochi, Rhubarb Crumbles with Toasted Anise, Saffron & Honey with Crystalized Flower Petals, Mathilde's Hibiscus & Coconut Sherbert
ADDED! Patron Strawberry Margarita Cupcake (Available 5/2-5/8), Strawberry Shortcut Bar Cupcake (Available 5/9-5/15), Matcha Yuzu Cupcake- (Available 5/16-5/22), Coffee Cake Cupcake (Available 5/23-5/29)
Disney Resorts
REMOVED! Continental Breakfast, Family Assortment Four Pack, Bakery Selection Two Pack, Glazed Doughnut
REMOVED! Not Your Father's Hard Root Beer and Not Your Father's Hard Root Beer float
ADDED! Grilled Chicken Sandwich
ADDED! Breakfast Items: Harvest Platter (plant-based), Kids Mickey Waffles, Kids Oatmeal
REMOVED! New England Seafood Pot Pie
ADDED! Halfway to Halloween Item: Hocus Pocus "Amuck" Cakes (Available 4/28-5/1)
Chuck Wagon Fresh Fixins Food Truck
REMOVED! Chili Cheese Hot Dog
ADDED! Mac & Cheese Burger, Angus Cheeseburger, Fort Wilderness Vegetable Burger, Chicken Breast Nuggets, Jalapeno Poppers, Mickey Pretzel, Onion Rings, Popcorn, Fried Mac & Cheese, Mozzarella Sticks, Corn Dog Nuggets (plant-based), Cuties Mandarins, Mickey's Premium Ice Cream Bar, Mickey's Premium Ice Cream Sandwich
REMOVED! Asian Chicken Bowl
Disneyland
ADDED! Beef Birria Toasted Cheese Sandwich
ADDED! Banana Split Mickey Mouse Shake, Confetti Cake Shake
ADDED! Seasonal Items: Peach Honey Tea Slush, Chili Cheese Onion Rings, Chili Cheese Fries, Fried Green Tomato Sandwich, Chili Mac Cheeseburger
ADDED! Items for Disneyland After Dark: Star Wars Nite: Spicy Chando Pepper Fries, Soo-Ga Egg Sweet Custard, Fried "Portion Bread" Fritters with Red Fruit Jam, Roasted Pork & Yobshrimp Blue Rice Bowl, Gihaal Cabbage Pancake,

Felucian Cabbage Pancake (plant-based), Roasted Gornt Yakitori, Fried Reptavian Wings
ADDED! Items for Disneyland After Dark: Star Wars Nite: Crispy Kaadu Cutlet Sandwich
ADDED! Star Wars Themed Shakes: Light Classic Shake, Dark Classic Shake; other May Specials
ADDED! Thai Coconut Curry Chicken Burger, Coconut Macaroon Classic Shake
ADDED! Seasonal Banana Mickey-shaped Beignets
ADDED! Items for Disneyland After Dark: Star Wars Nite: Dagobah-bite Beignets, Matcha Milk Dipping Sauce
ADDED! Celebration Sundae
That's all for the menu updates around Disney World, hotels, Disney Springs, and Disneyland. If you want to see a specific restaurant's recent changes, you can always head to the restaurant's page on AllEars and click the link that says "Recent Changes."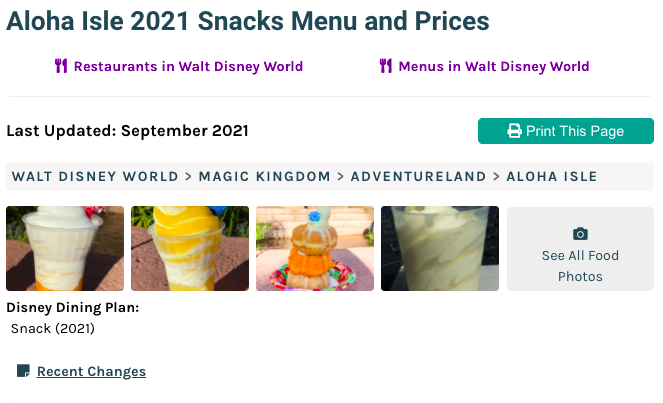 To see reviews or leave your own thoughts on a Disney World restaurant, check out our Reviews page here!
Keep following AllEars for more Disney news and updates!
Join the AllEars.net Newsletter to stay on top of ALL the breaking Disney News! You'll also get access to AllEars tips, reviews, trivia, and MORE! Click here to Subscribe!

Are you excited about any of these menu changes? Tell us in the comments!