The Wizarding World of Harry Potter at Universal Orlando is a truly magical place!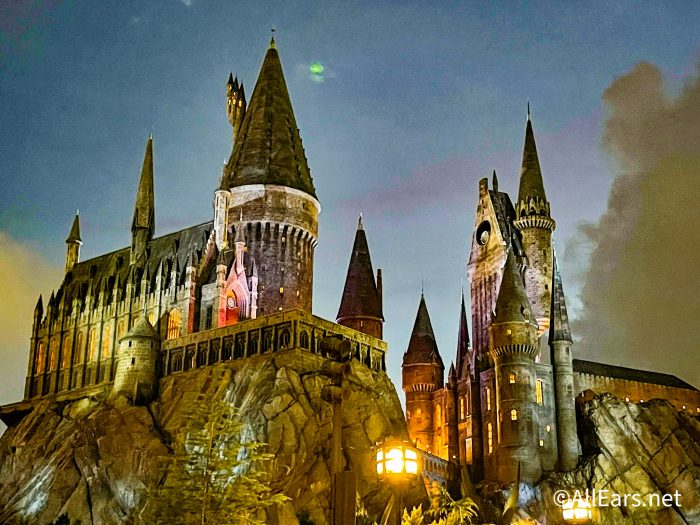 It's the closest we're ever going to get to receiving our own Hogwarts letter. 
With Diagon Alley and Hogsmeade, there are a lot of things to do and see, so w
e're going to break down the things you definitely don't want to miss at the Wizarding World!
Knockturn Alley
Starting out with the spookiest spot! Knockturn Alley is the place where all the dark wizards and witches hang out in the Harry Potter universe. It's where Harry ends up when he fails miserably at using Floo Powder for the first time in Chamber of Secrets.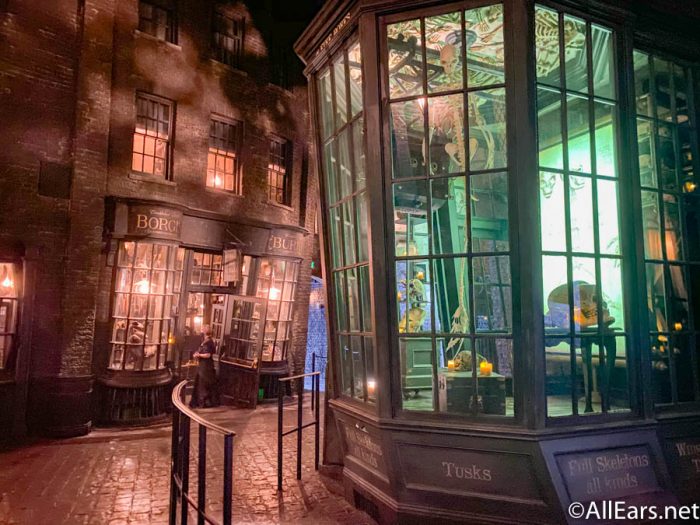 This is such a fun area! It's technically inside, but made to look like it's the outside — so, it's air conditioned but still has the effect of being outdoors. This is a great place to hang out and get out of the sun for a little bit.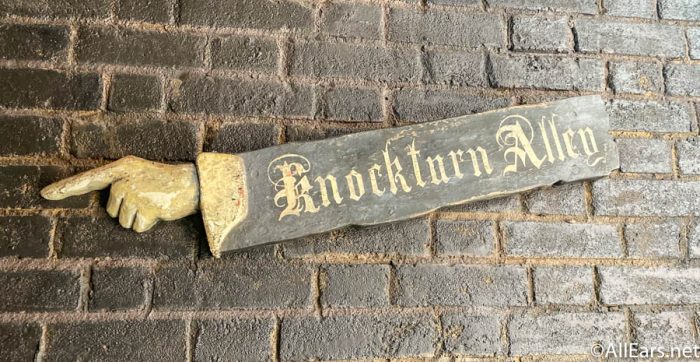 Borgin and Burkes is also located in here, which is low key maybe the best merchandise store in the whole Wizarding World (we said what we said).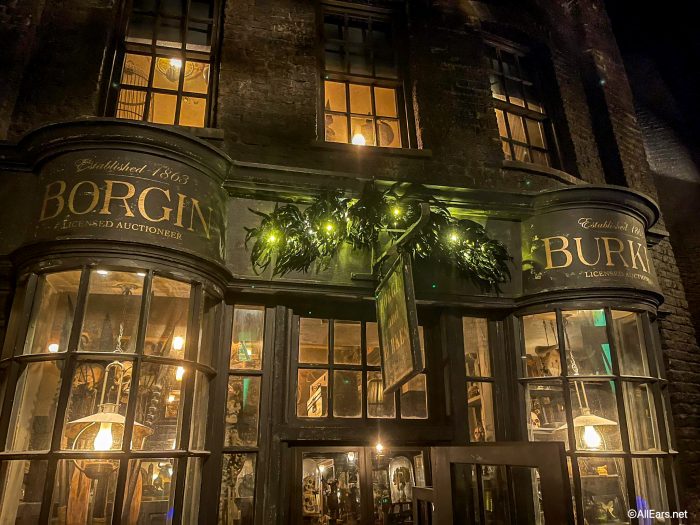 You can find a ton of dark artifacts and movie replicas in here!
This might seem obvious, but the rides are SO GOOD in the Wizarding World, you truly cannot miss them. In Diagon Alley, you have Harry Potter and the Escape from Gringotts, which is somewhat of a recreation of the Golden Trio breaking into the Wizarding bank in Deathly Hallows.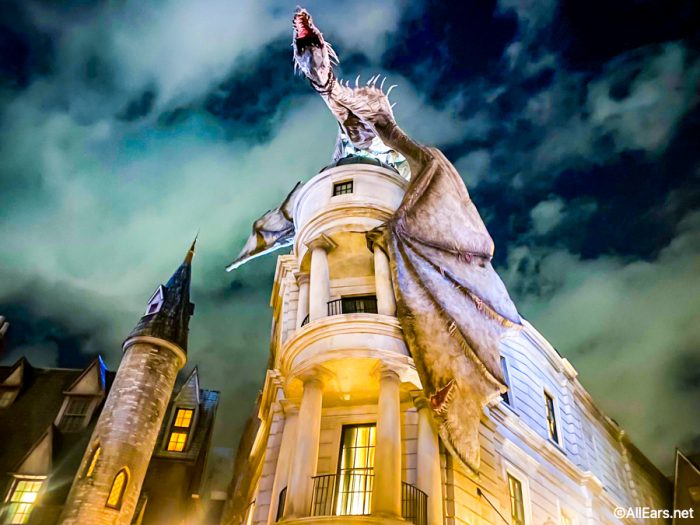 The queue for Escape from Gringotts is literally a to scale replica of the bank from the movies! And the goblins are alive — well, they're animatronics, but still, it's really cool.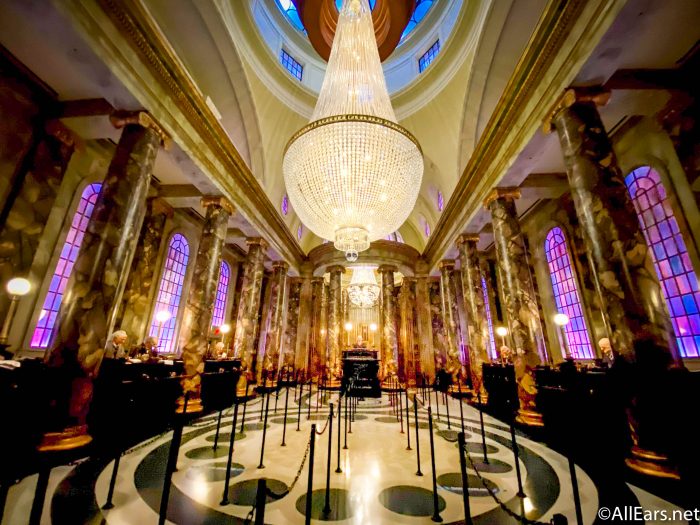 Over in Hogsmeade, you have to go on Hagrid's Magical Creature Motorbike Adventure, the newest ride in the Wizarding World. You can either ride on the motorbike or in the side car (we recommend the bike!) as you journey through a launch coaster and see a ton of magical creatures.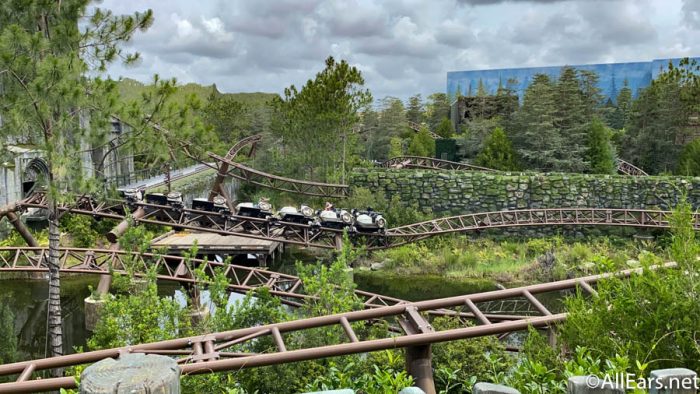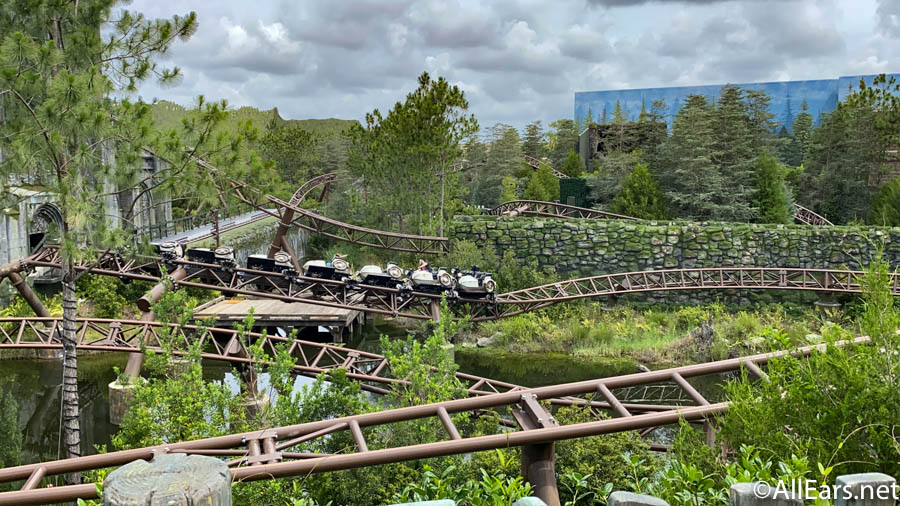 And, of course, Harry Potter and the Forbidden Journey is a must do! This is the ride inside of Hogwarts.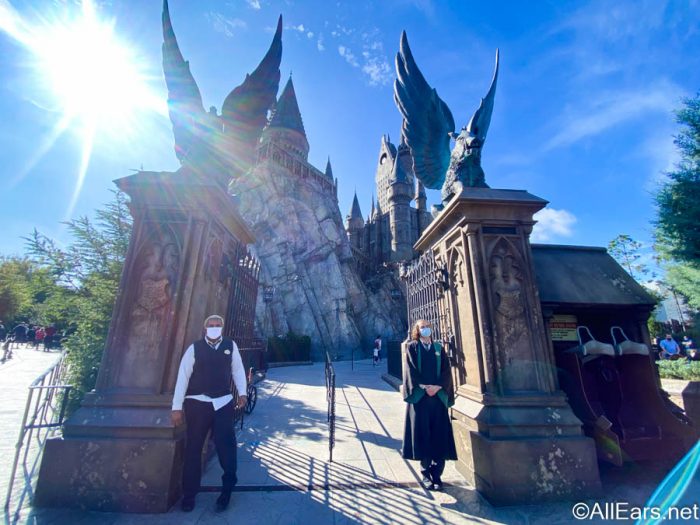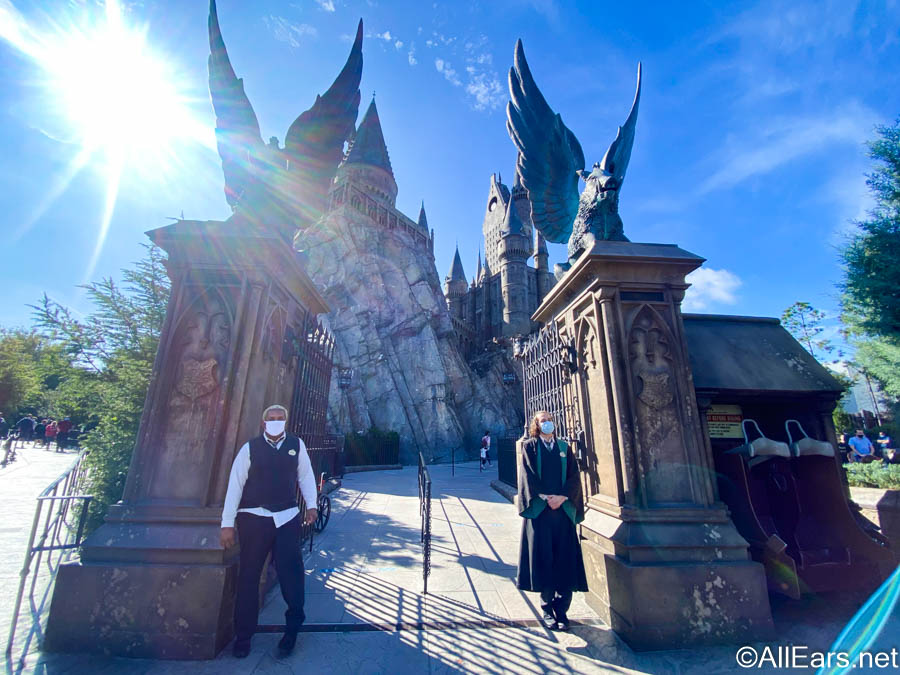 Honestly, we think everyone should wait in this line to see the inside of the castle because it's just like the movies, with a ton of fun details, and even portraits that move and talk! If you don't want to go on the actual ride and you just want to see inside Hogwarts, you can duck out at the end of the queue.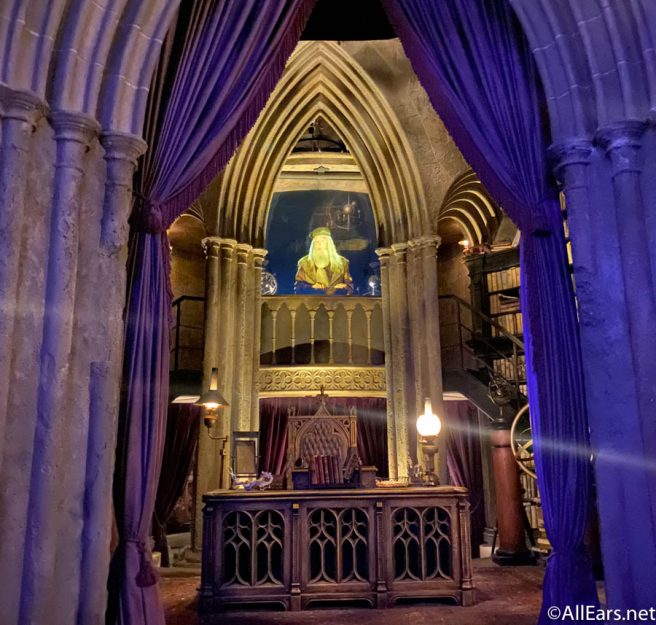 Basically, this is the closest thing to being inside of Hogwarts you can get!
The Leaky Cauldron
The food in the Wizarding World is honestly underrated. Our favorite spot is The Leaky Cauldron in Diagon Alley. It serves traditional British fare like fish and chips, toad in a hole, bangers and mash, and more.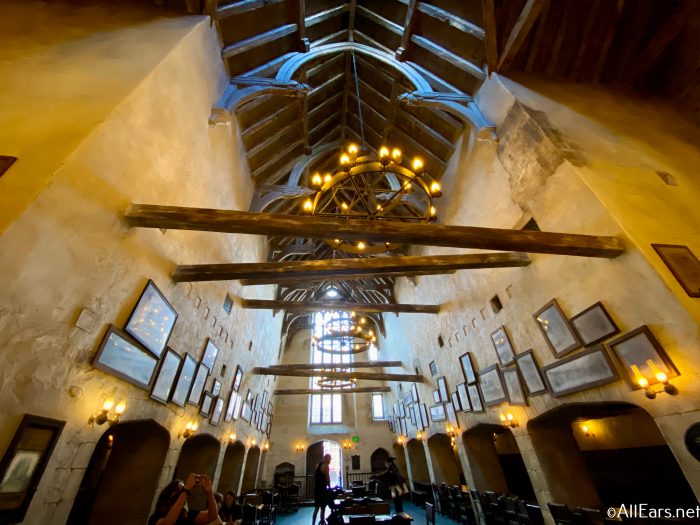 This is also where you can find the signature drinks of the Wizarding World like the Tongue Tying Lemon Squash and Otter's Fizzy Orange Juice.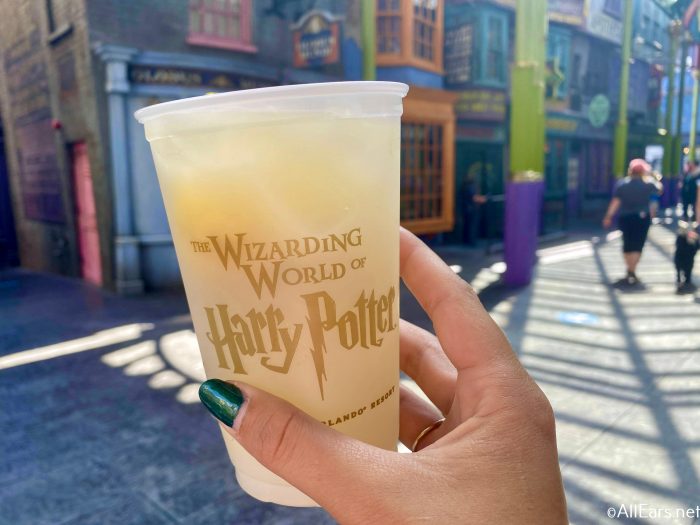 You can get the beers made especially for Diagon Alley in here, too! Choose from the Wizards Brew or the Dragon Scale.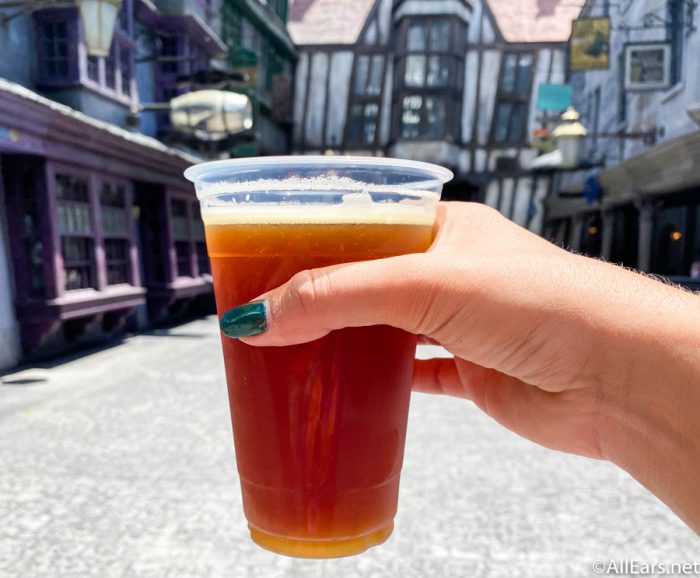 You should also eat in The Leaky Cauldron just to see the inside! It's a larger version of what's in the movies, and it's pretty awesome.
Interactive Wand Spots
You can buy two kinds of wands in the Wizarding World — regular wands and interactive wands. The interactive ones are a bit more expensive, but they allow you to do magic!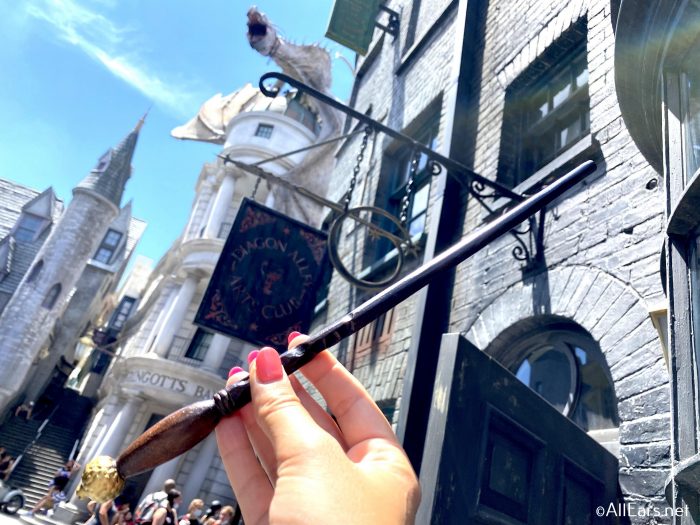 All around Diagon Alley and Hogsmeade there are interactive wand spots where you can do the indicated spell and magic will happen, like lights turning on or water shooting out of a fountain!
We definitely think it's worth it to try out the interactive wand spots at least once, because who doesn't want to have magical powers for a day?
Ollivanders
Speaking of wands, there are two Ollivanders wand shops — one in Hogsmeade and the other in Diagon Alley. They have character wands and wands that correspond with your birth month.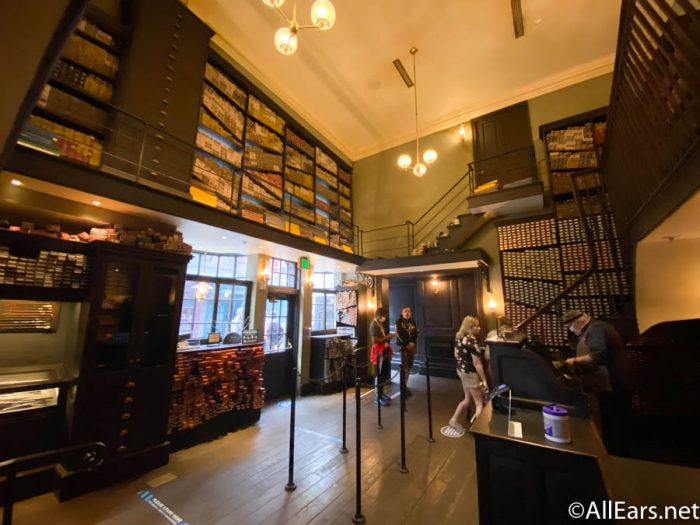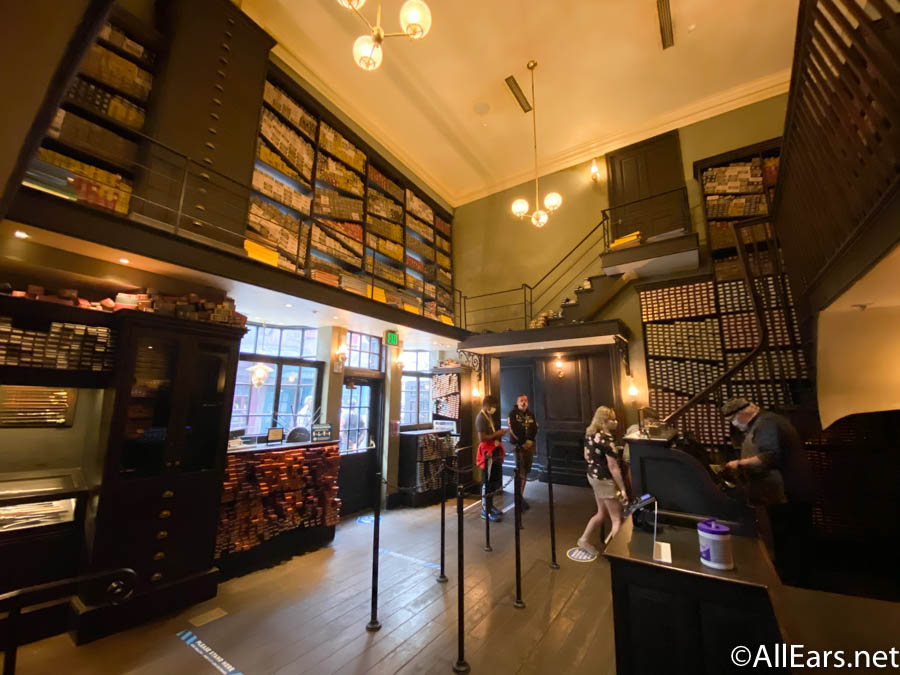 But the real draw here is the wand experience!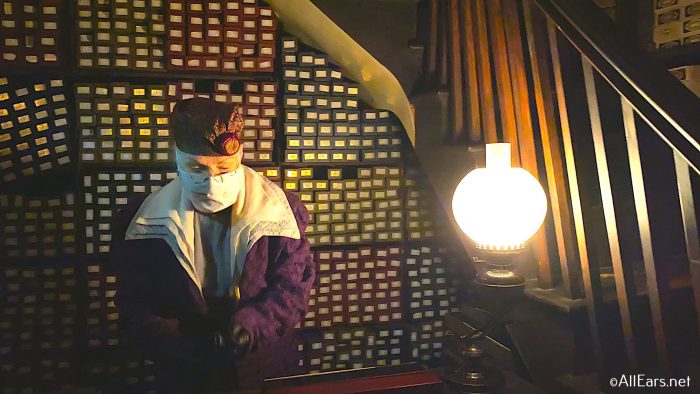 You get to see an Ollivanders employee help an unsuspecting witch or wizard in the crowd find their wand. And you might just see some more magic happen!
There are a LOT of hidden details around the Wizarding World! If you're a big Harry Potter fan, you'll for sure enjoy finding these during your trip. One of the cool details in the London area of Universal Studios is the telephone booth. It looks like a normal British telephone booth, but if you go inside and dial 62442, AKA "MAGIC," you'll get a special message!
While in the London area, you'll also see 12 Grimmauld Place — Sirius Black's family house. And every once in a while, Kreature the house elf peeks his head out between curtains in the window.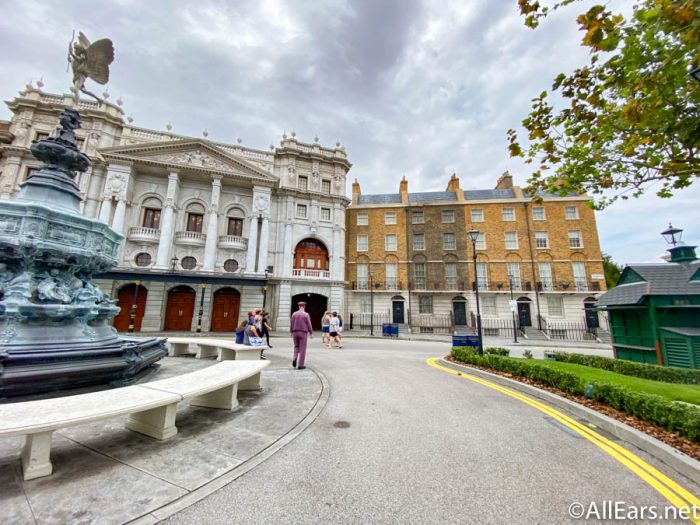 If you didn't know, the Wizarding World was built over the old Jaws ride (Rest In Peace). And you can still find a little bit of Jaws in Diagon Alley — Knockturn Alley, to be specific. The shrunken heads sing a song from the movie Jaws!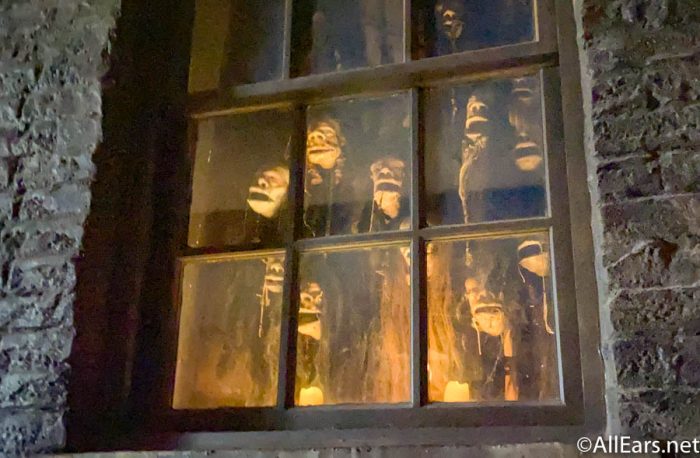 Another fun detail is in Weasley's Wizard Wheezes in Diagon Alley. Look up while you're shopping and you'll spot a certain pink-covered former Hogwarts professor having a bit of a difficult time balancing.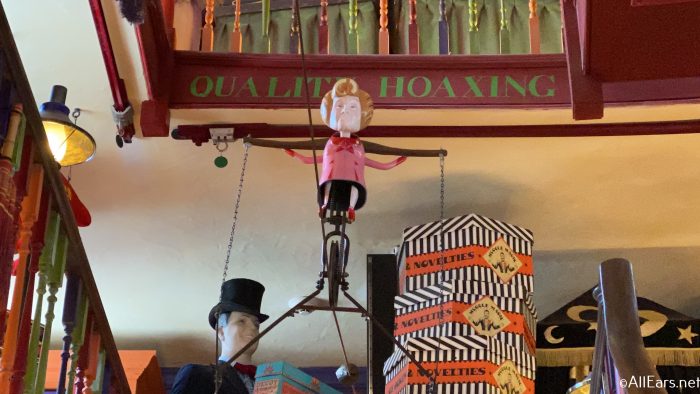 And while in Madam Malkin's in Diagon Alley, make sure to check yourself out in the mirror, because it will tell you how you look. Yep — the mirror talks!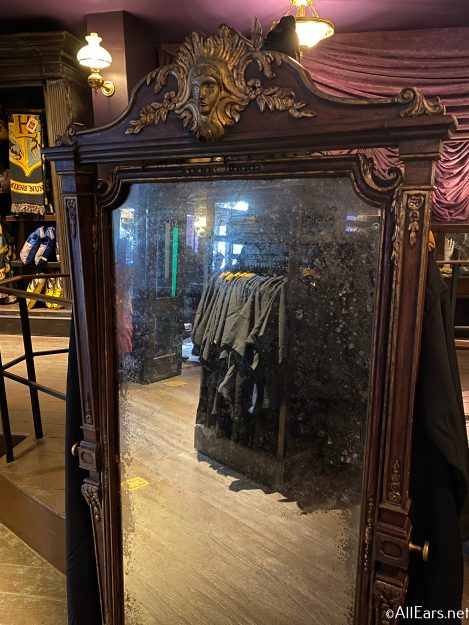 Butterbeer
Butterbeer is the signature drink of the Wizarding World, and you can see the characters drink it several times in the movies and books. It's a butterscotch flavored non-alcoholic drink.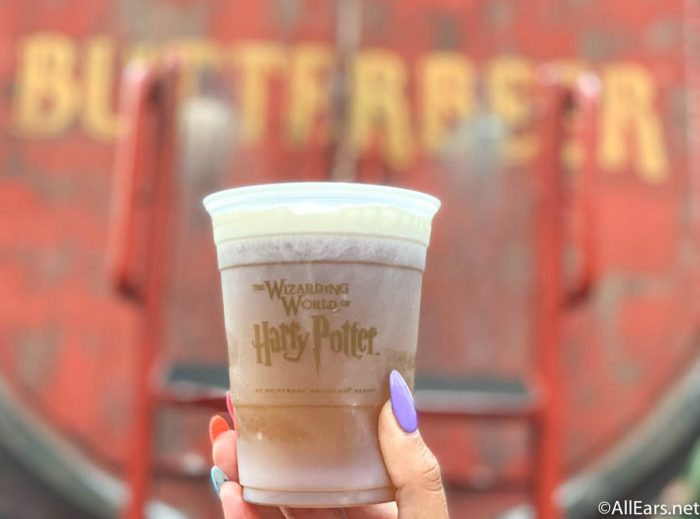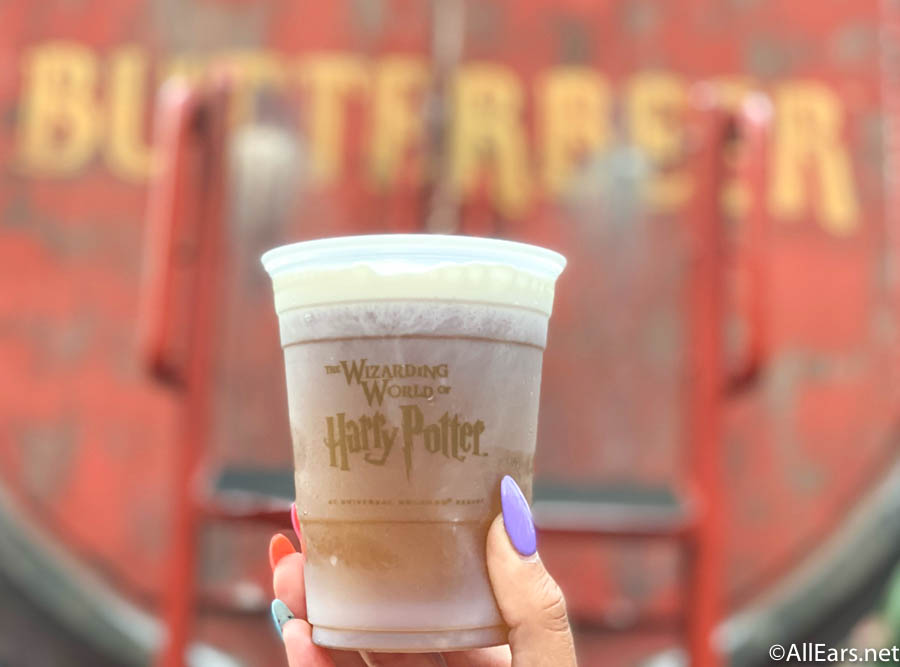 You can get Butterbeer frozen, chilled, or hot. And honestly, they're all really good — but really sweet! It's definitely worth trying at least once, though.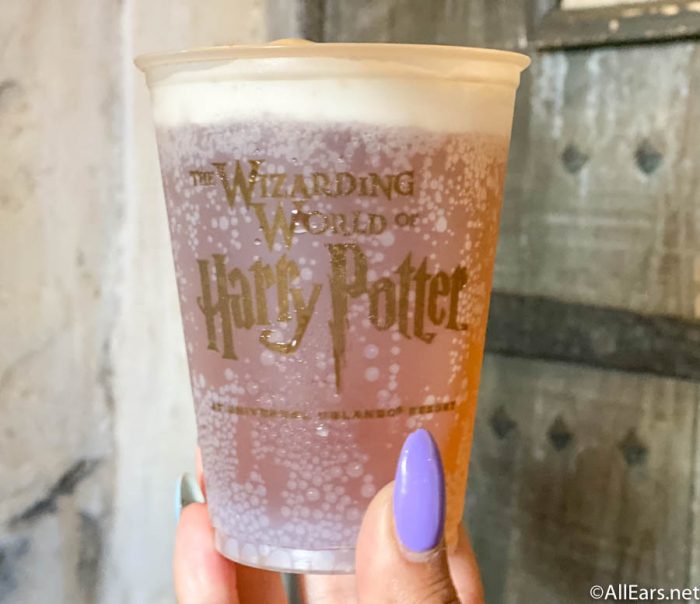 And if you don't want it in drink form, you can get Butterbeer soft serve ice cream instead! This flavor is absolutely delicious — we dream about it.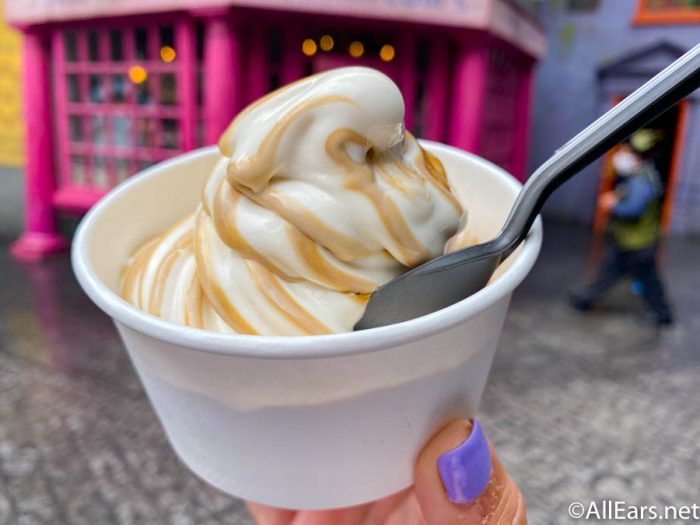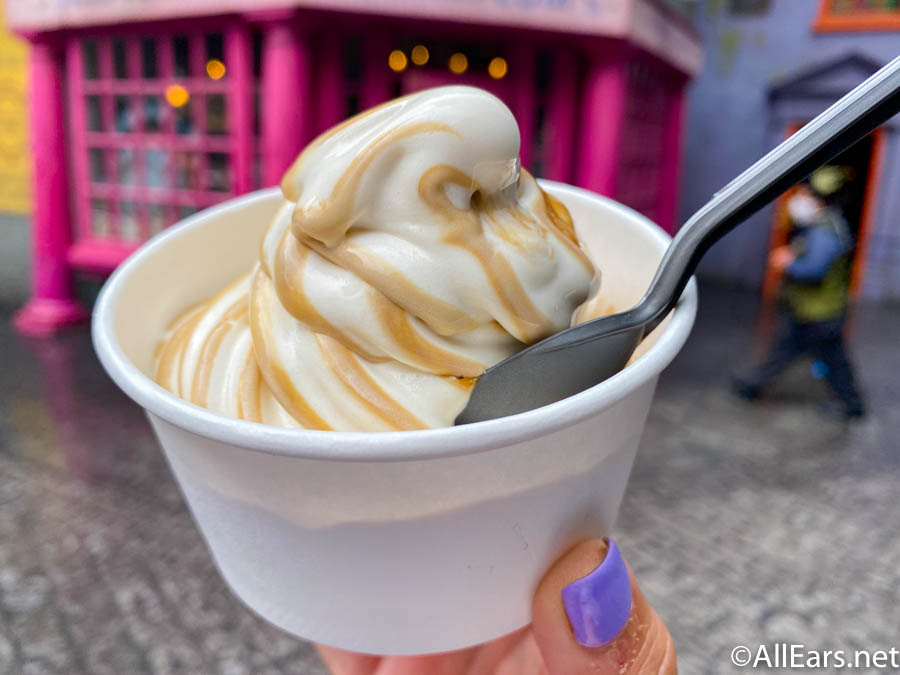 And while we're talking about ice cream, we need to talk about Florean Fortescue's! This is the ice cream parlor in Diagon Alley, the same one Harry visits in the books (except he got free ice cream!).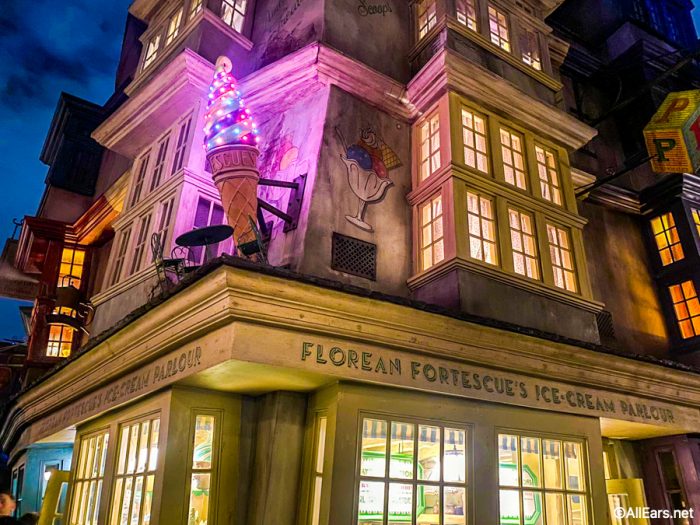 The shop is adorable, but the true stars here are the unique flavors — this is not your traditional ice cream shop! You can get hard packed ice cream in flavors like earl grey and lavender, sticky toffee pudding, chocolate chili, or apple crumble.
And there are also fun soft serve flavors here like banana, pistachio, and, of course, Butterbeer.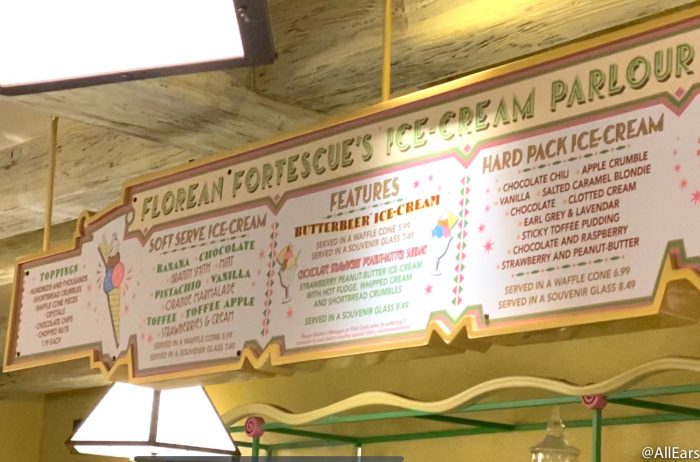 Florean Fortescue's does decadent ice cream sundaes, too!
Hogwarts Express
The Hogwarts Express is what the young witches and wizards take to get to Hogwarts each school year. It's how you get from London (where Diagon Alley is) to Hogsmeade, and that's exactly where it goes in Universal as well!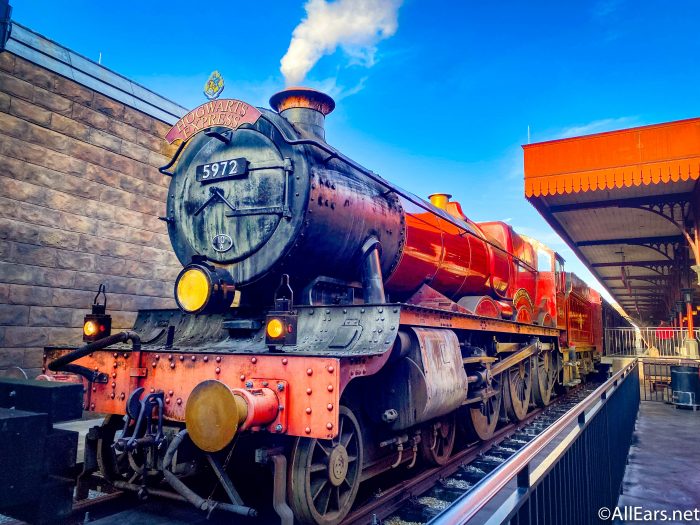 Coming from Universal Studios, you'll get on the train in London at King's Cross Station and walk through Platform 9 and 3/4 to get on the train. When you look out the window, you'll see some familiar faces on your journey!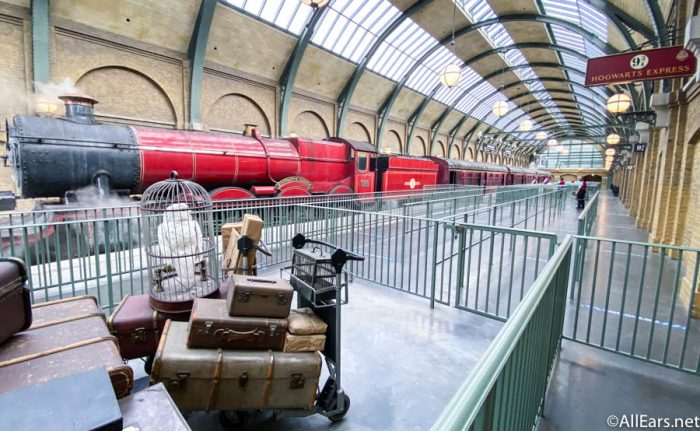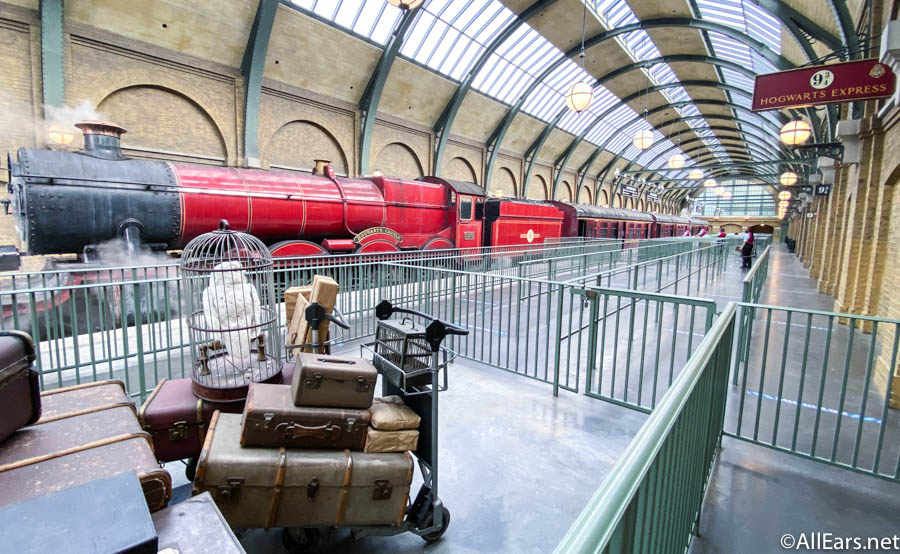 And if you're coming from Hogsmeade, you'll get on at the Hogsmeade train station., and you'll see entirely different scenes on your way to London.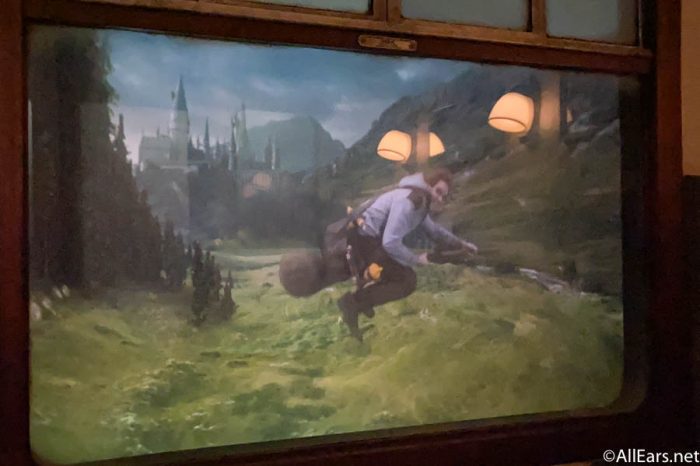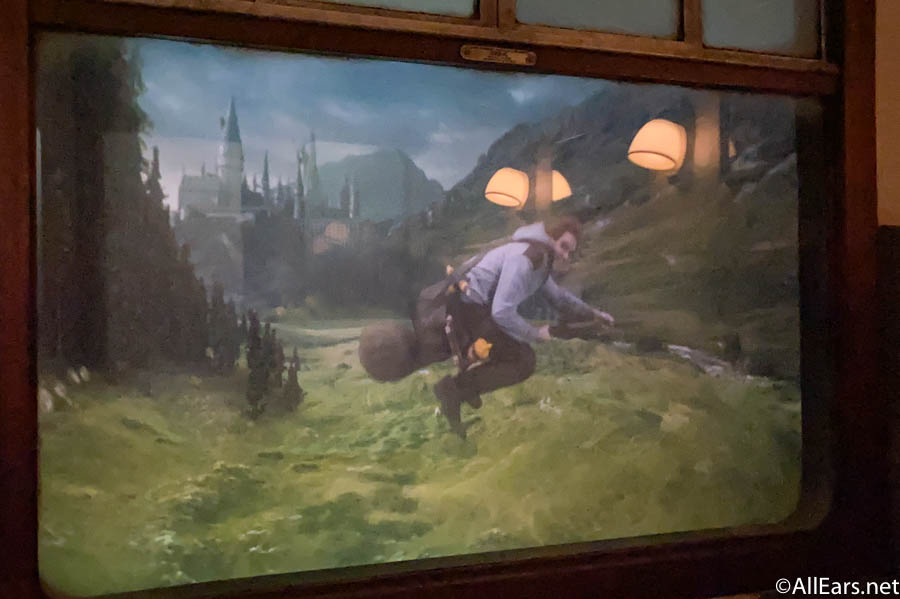 We suggest riding the train both ways so you get to see both journeys! Just remember that you have to have a park-to-park ticket in order to get on the Hogwarts Express.
The Knight Bus
The Knight Bus is featured in Harry Potter and the Prisoner of Azkaban when Harry runs away from his aunt and uncle's house after blowing up Aunt Marge (just teenage things, right?). The bus picks up stranded witches and wizards and is a triple decker!
The iconic attendant on the bus is Stan Shunpike, and you can meet him in the London area of Universal Studios, outside of Diagon Alley. He's a really fun character to interact with, and the shrunken head will also interact with you! They tell some great jokes, and you can grab some fun pictures.
Knight Bus
Those are all of the things you can't miss at the Wizarding World of Harry Potter at Universal Orlando! Do you think we missed anything? Let us know! Stay tuned to All Ears for more Universal tips, news, and info.
What's your favorite thing at The Wizarding World of Harry Potter? Let us know in the comments!
Join the AllEars.net Newsletter to stay on top of ALL the breaking Disney News! You'll also get access to AllEars tips, reviews, trivia, and MORE! Click here to Subscribe!