There are lots of different options for meals, snacks, and treats in Walt Disney World's Magic Kingdom, from DOLE Whips to corn dogs, and lobster rolls to ice cream sundaes.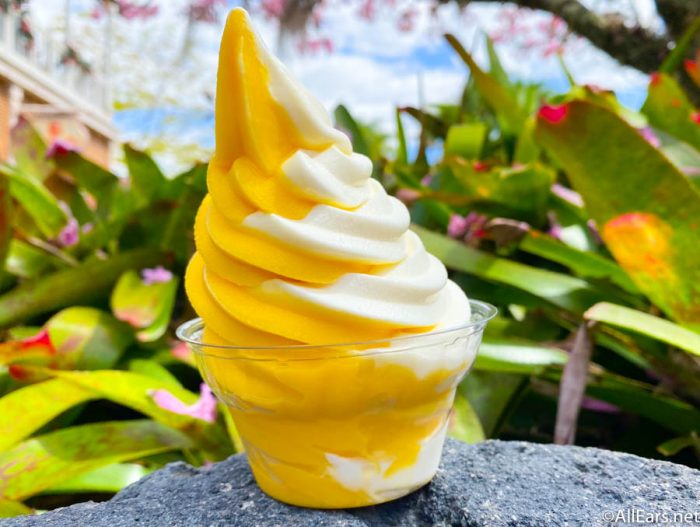 With so many different options to choose from, how do you know what you should buy? Don't worry — we've got your back.
We made a list of our favorite order at each of the 22 different Quick Service restaurants in Magic Kingdom, so you'll know what to get before you even get to the park.
Quick Service restaurants are the ones that do NOT use reservations, so we're not including restaurants like Be Our Guest, Liberty Tree Tavern, or Cinderella's Royal Table in this list. But any restaurant where you can go up to the counter and order your food (or use Mobile Order) qualifies!
We picked out the most popular items and those that our team loves the most from these spots. If you've got a different favorite, we'd love for you to let us know in the comments!
And now without further ado, here is what we think you should order at every Magic Kingdom Quick Service restaurant.
Aloha Isle
Aloha Isle is a snack spot located in Adventureland. This place is known for one very important classic Disney World snack: the DOLE Whip. In case you're not familiar with this delicious snack, it's pineapple-flavored soft-serve (vegan!) ice cream. You can actually get it in a variety of flavors (selection can vary at the locations where DOLE Whip is served), swirled with different flavors, or as a float with pineapple juice or another drink.
Our favorite way to eat DOLE Whip from here is as the Tropical Serenade float. This float is Coconut Soft-Serve piled high on top of Pineapple-Orange-Guava Juice. It's garnished with an Upside-down Pineapple Cake Pop.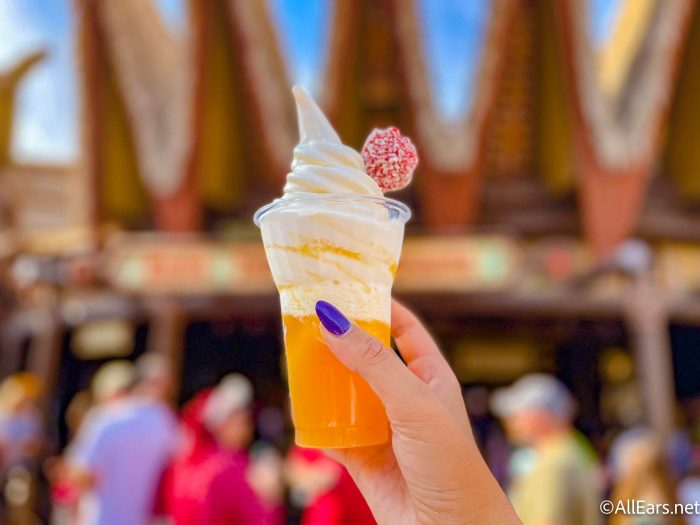 This float was one of our favorites from the 50th Anniversary Celebration, and we were thrilled when Cast Members confirmed it would be sticking around for the long haul! You can get the Tropical Serenade for $6.99.
Auntie Gravity's Galactic Goodies
Over in Tomorrowland, you might stop by Auntie Gravity's Galactic Goodies if you're looking for a refreshing treat on a hot day.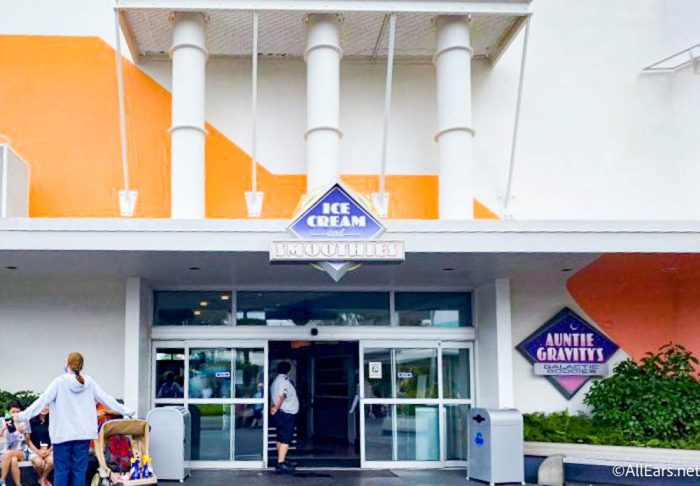 Sometimes this spot has tasty special offerings, like the Brownie Sundae! This treat features vanilla soft-serve ice cream served over a brownie with hot fudge or strawberry topping.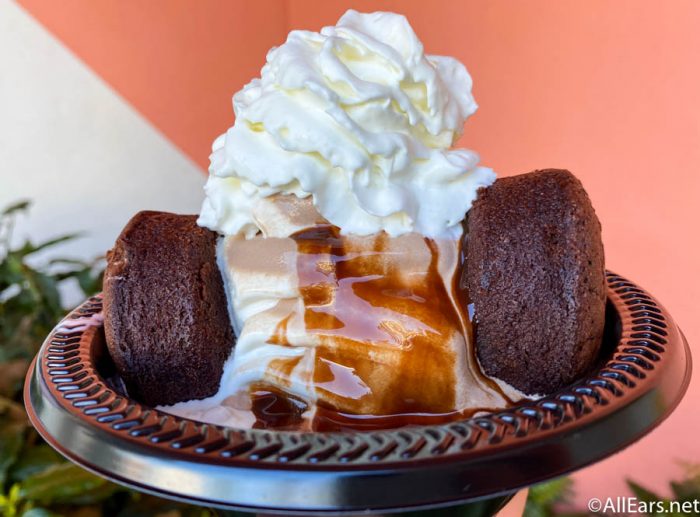 The Brownie Sundae is $7.79, and an ice cream float is $5.99.
Casey's Corner
You can't miss Casey's Corner in the Magic Kingdom. It's right at the end of Main Street, U.S.A., close to the Hub.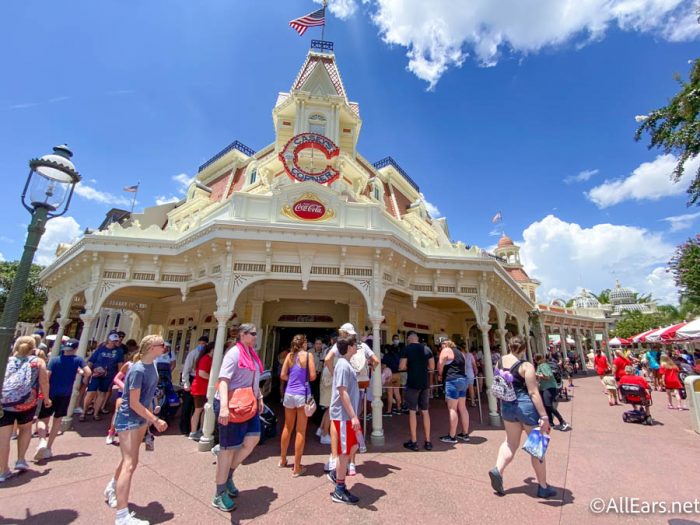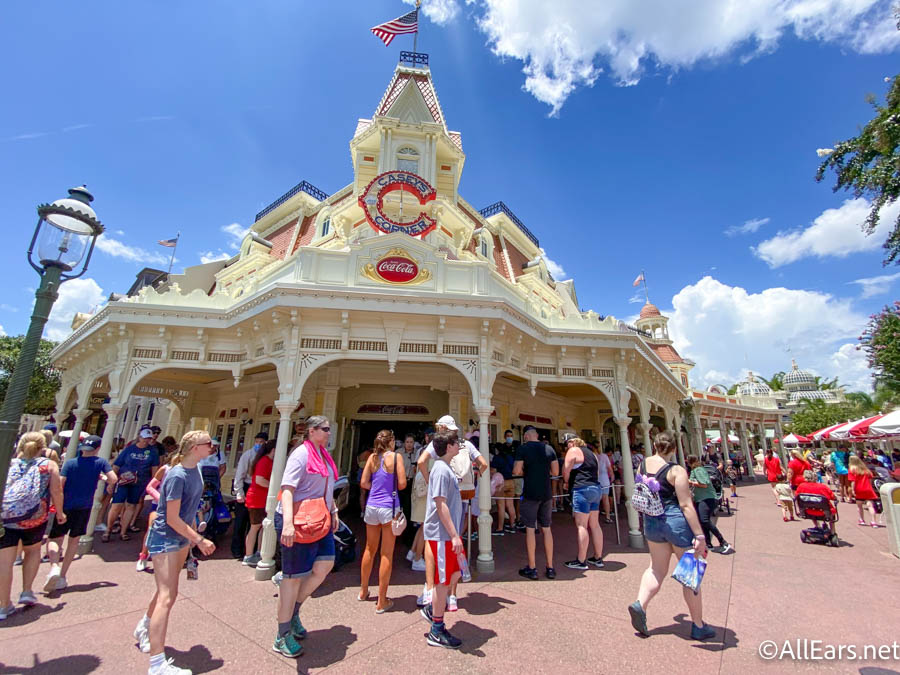 In our opinion, this place is a must-visit if you're spending the day in Magic Kingdom. Its menu has hot dogs, corn dogs, fries, and other theme park food, but we recommend (nay, insist) that you buy the Corn Dog Nuggets.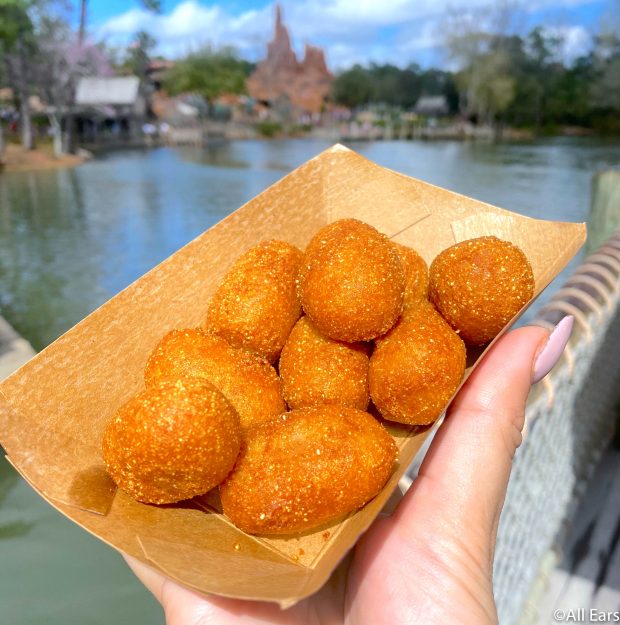 These nuggets are little golden pieces of joy. They're basically mini corn dogs, and the meal is served with your choice of a mandarin orange or fries. We also highly recommend getting cheese sauce on the side to dip them in.
You can get the corn dog nuggets meal for $10.49.
Cheshire Cafe
The Cheshire Cafe in Fantasyland is located near the Mad Tea Cups ride.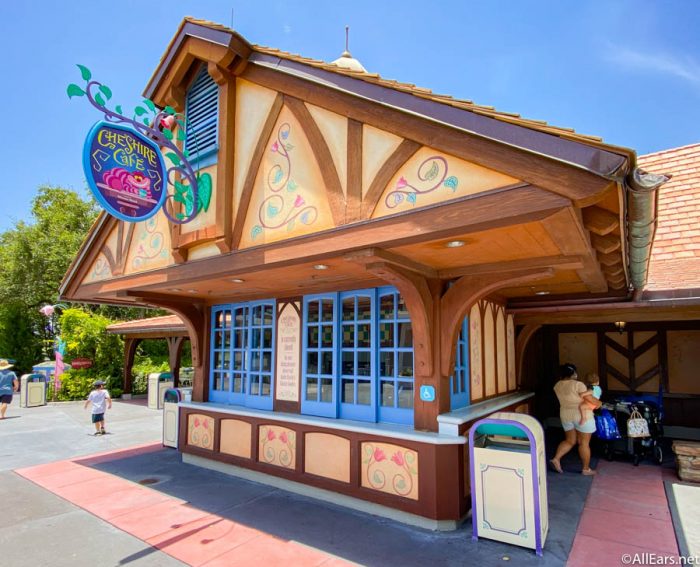 Honestly, this spot doesn't have a whole lot of food options. It's mostly a good place to stop if you just want a quick treat or a cold drink. One treat that is almost always available, though, is the Cheshire Cat Tail.
This treat is basically a chocolate pastry, but its theme is really fun; it's a cute treat, and we think it's pretty tasty!
You can snag the Cat's Tail for $5.79.
Columbia Harbour House
Columbia Harbour House is located in Liberty Square, near Haunted Mansion. This place is another one that's high on our list of favorite restaurants in the Magic Kingdom.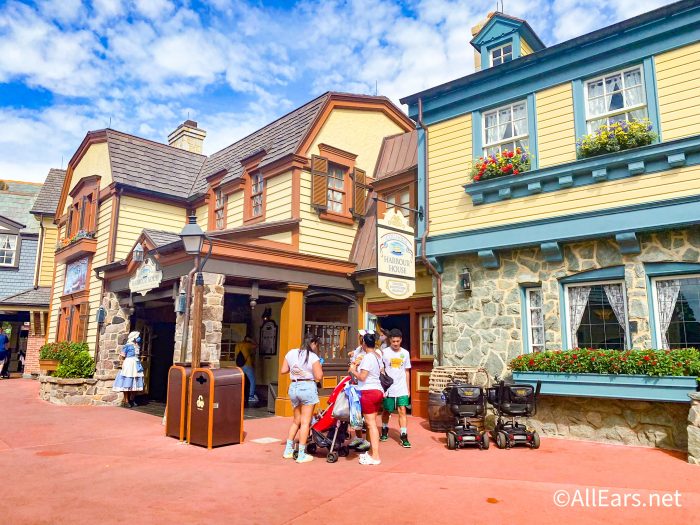 If you're stopping to eat here, we think you should get…anything at all on the menu. Really, most everything we've had here has been tasty, but one of our favorite items is the Lobster Roll (because it's a classic).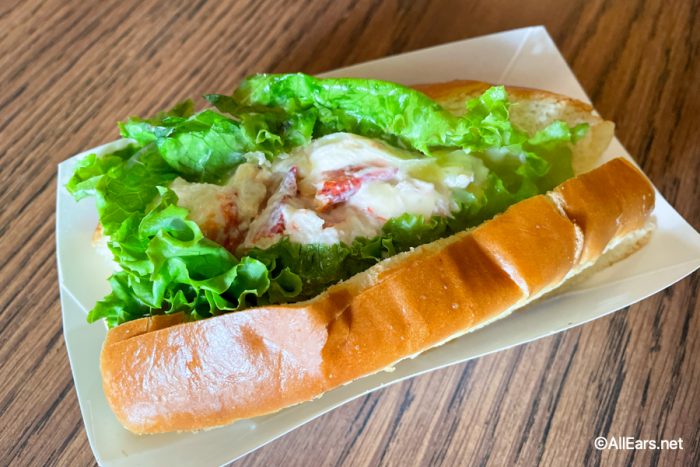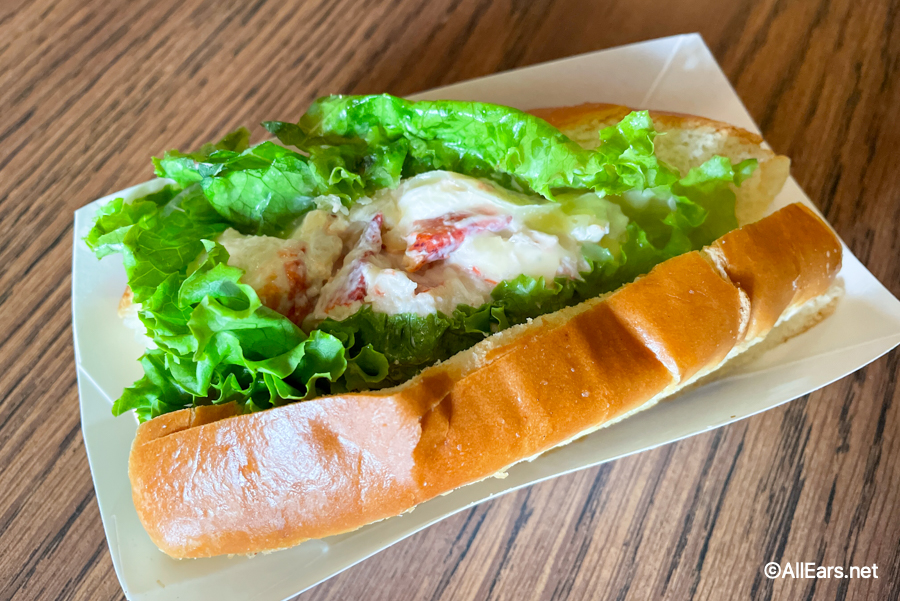 The Lobster Roll is chilled lobster in a mayonnaise sauce, served on a New England-style bun. It's simple, filling, and absolutely delicious. You can get the Lobster Roll (with fries) for $16.99.
If you're looking for something sweeter, you can get the Happy Haunts Milkshake (in honor of the Haunted Mansion), which is a blackberry milkshake topped with a chocolate-glazed donut that's covered in black sprinkles. You can get the Happy Haunts Milkshake for $7.99.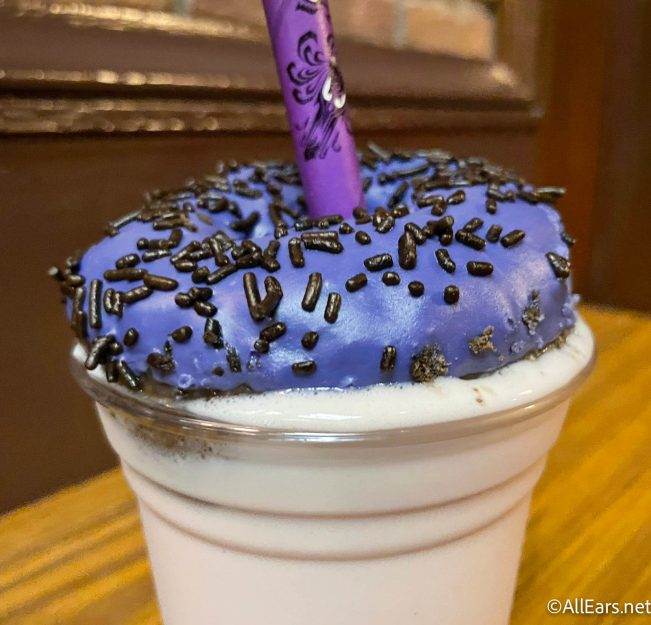 Cool Ship
The Cool Ship Cooling Station is in Tomorrowland, and it's basically just a refreshments stand.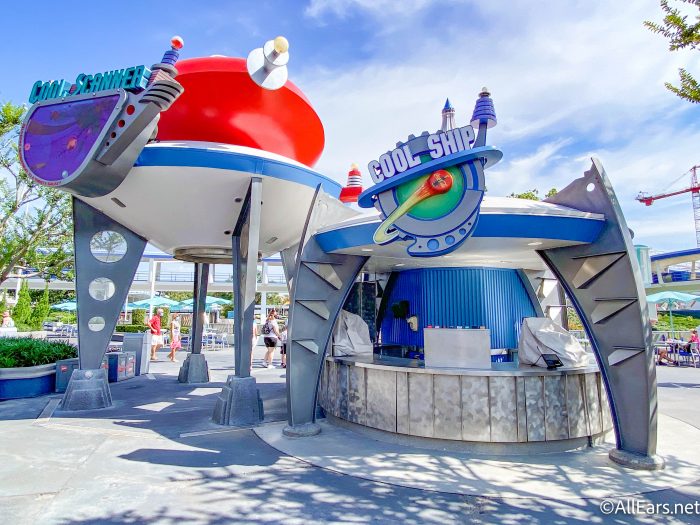 You can get sodas and water here, as well as popcorn for $5.50, Cinnamon-glazed nuts for $6.25, and cotton candy for $5.50! You can also choose from a few ice cream options, all around $6.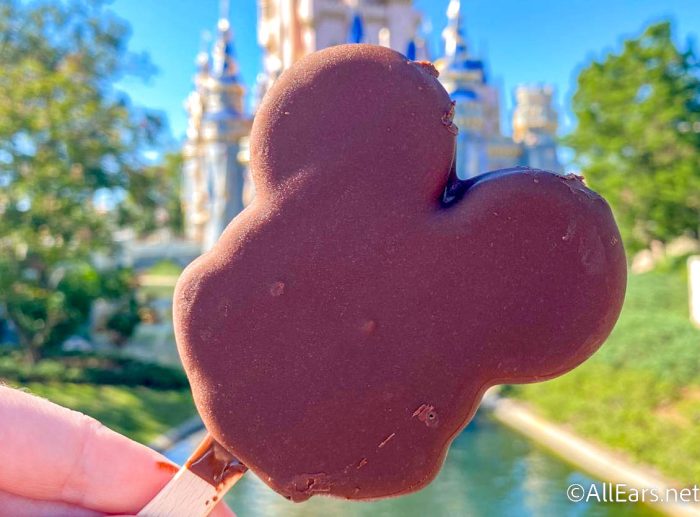 Cosmic Ray's Starlight Café
Cosmic Ray's Starlight Café is a delightful experience in Tomorrowland. What makes this Quick Service restaurant amazing is both the large selection of seating inside with air conditioning and the iconic performer, Sonny Eclipse, who will serenade you while you eat. Have you ever had dinner and an alien concert for a show? Now you can.
Sorry, Sonny, but most of the things on the menu here are just theme park classics like chicken tenders and burgers. Everything tastes fine and can be really filling. But not a whole lot of it really blows our minds. This place is great for kids or picky eaters, though!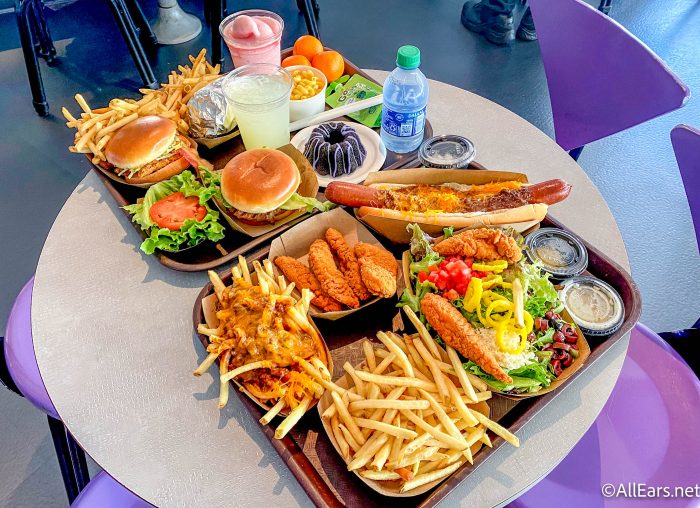 One thing that we really did enjoy here was the Spicy Chicken Sandwich, which had a pickle slaw on top. The chicken was delicious, and there was actually a little kick from the breading that we loved.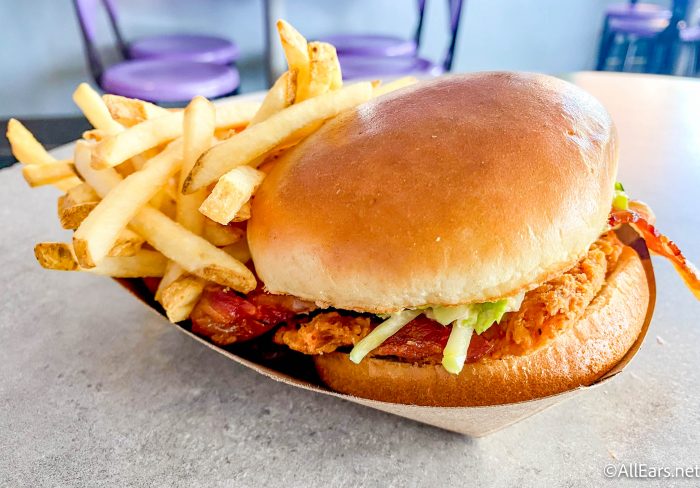 Another solid option is the Barbecued Chicken Sandwich and regular fries for $11.99.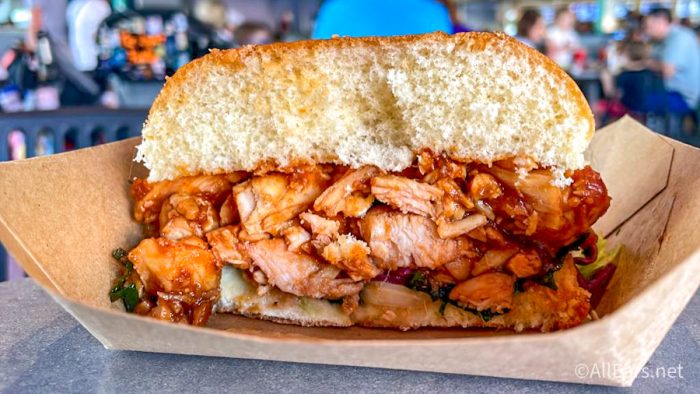 The Friar's Nook
The Friar's Nook is located in Fantasyland, and it's got some really tasty snacks on the menu.
One of the best menu items is their tater tots, which you can get smothered in sausage gravy in the morning or covered with creamy bacon mac 'n' cheese in the afternoons.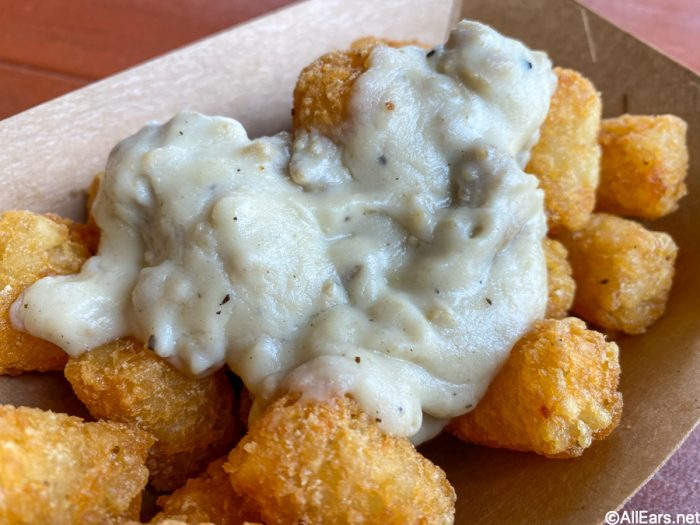 We've loved all kinds of tots here, and one of our favorites (that's not currently on the menu) was the Buffalo Chicken Tots.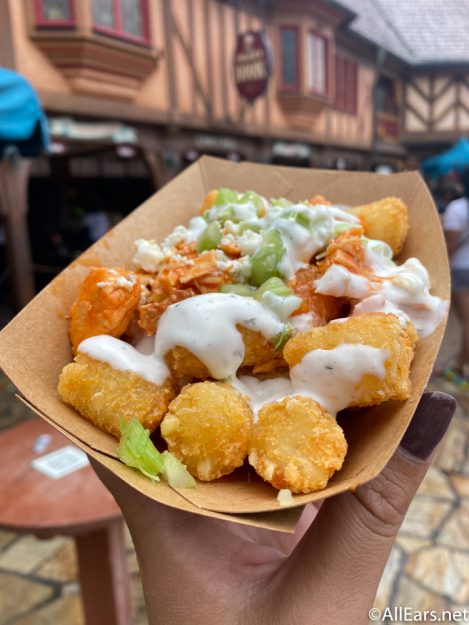 In their place, we'd recommend the Creamy Bacon Macaroni and Cheese Tots which you can get for $11.49.
Gaston's Tavern
Gaston's Tavern is also located in Fantasyland, just down the provincial path from Be Our Guest Restaurant.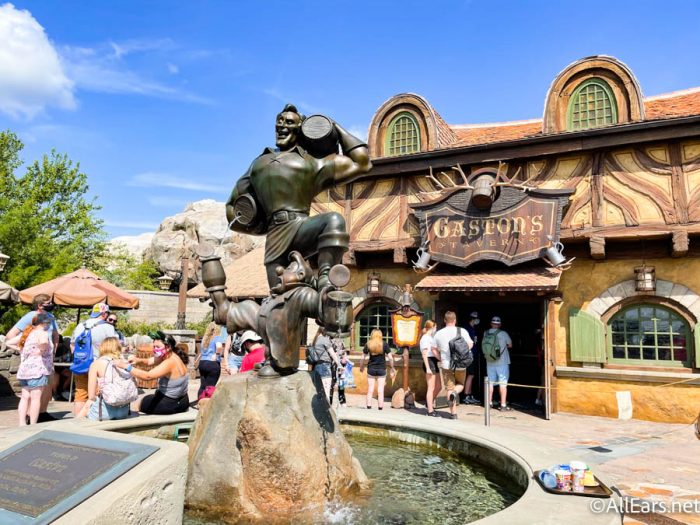 Although we really enjoy a good cup of LeFou's Brew (frozen apple juice with a hint of toasted marshmallow, topped with passion fruit-mango foam), we have to say our top menu choice here is the Warm Cinnamon Roll.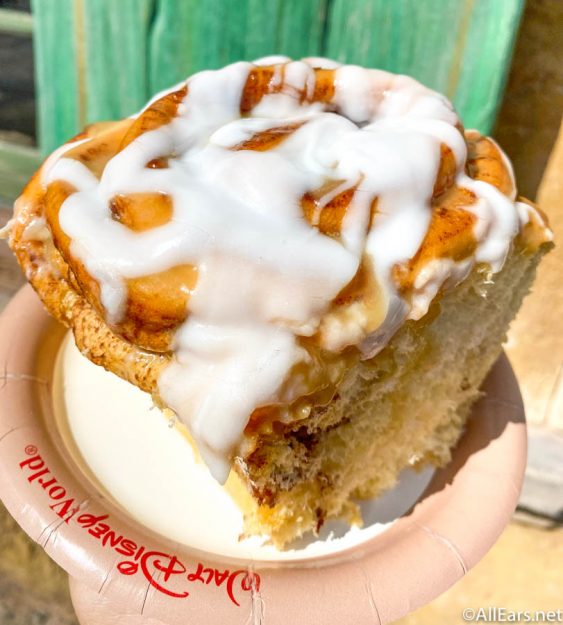 This isn't just any cinnamon roll — it's a Gaston-sized roll. It's VERY large, and it's served warm, covered in sugary icing.
We'll be honest, we usually ask for even more icing on the side because can cinnamon rolls ever have enough icing? You can grab one of these tasty treats for $6.79.
Golden Oak Outpost
The Golden Oak Outpost is a snack stand in Frontierland, and it doesn't have a hugely diverse menu usually.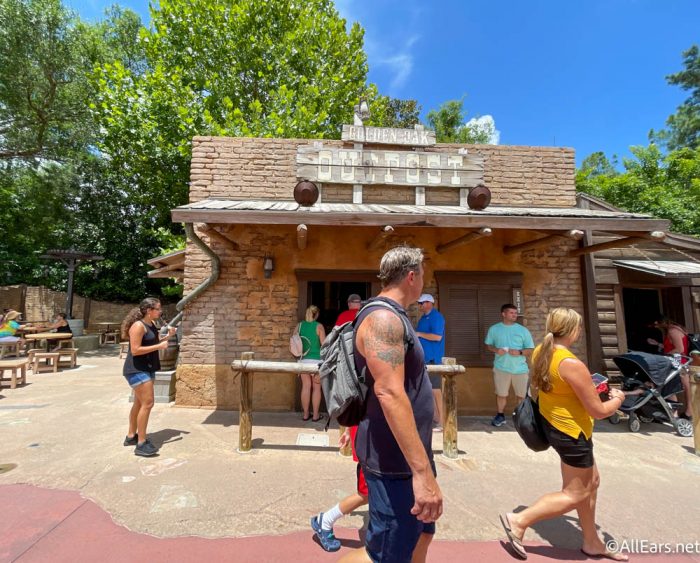 Sometimes this spot has a Caramel-Stuffed Pretzel (usually during the holidays), and we would definitely get that if it's available on the menu. But if it's not there, we'd recommend the Sweet Tea Slushy, which is a refreshing way to cool off on a hot day.
The Sweet Tea Slushy is $4.99, or you can get it mixed with Lemonade for $5.99.
Liberty Square Market
The Liberty Square Market is a snack stop in Liberty Square (as you might have guessed). There's a covered counter where you can order your eats and drinks, and then there's plenty of seating in a courtyard area, most of which is covered with umbrellas.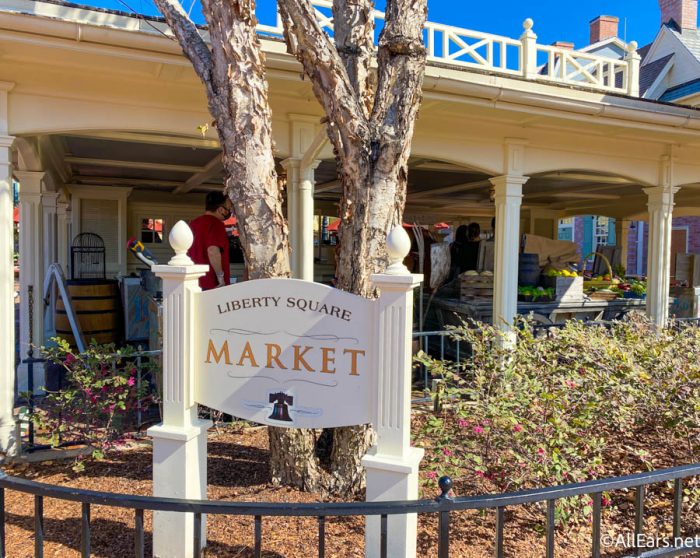 This spot is another one with a delicious seasonal treat. The only problem is that it isn't there all the time. When it's available, we definitely recommend Constance's For Better or for Worse Wedding Cake.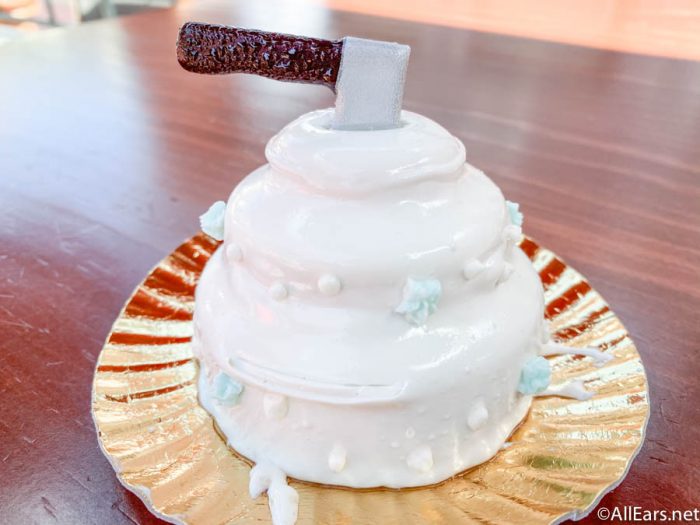 This cake is a citrus cake with raspberry Bavarian cream, whipped cream flowers, and a chocolate axe in the top. It's usually around for Halloween time, and last year it was $6.29.
If it's not available, our top pick for this spot would probably be a simple Lemonade Frozen Slushy for $4.99.
The Lunching Pad
The Lunching Pad can be found in Tomorrowland, right under the PeopleMover and Astro Orbiter attractions.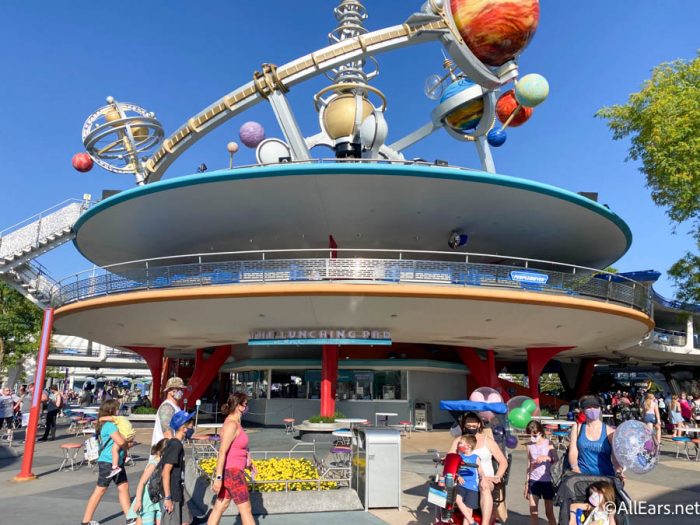 This spot has a few different fun snacks (like the 50th Anniversary "If You Had Wings" Chicken Strips which is no longer on the menu), but our top pick is the Cream Cheese Warm Stuffed Pretzel for $6.79.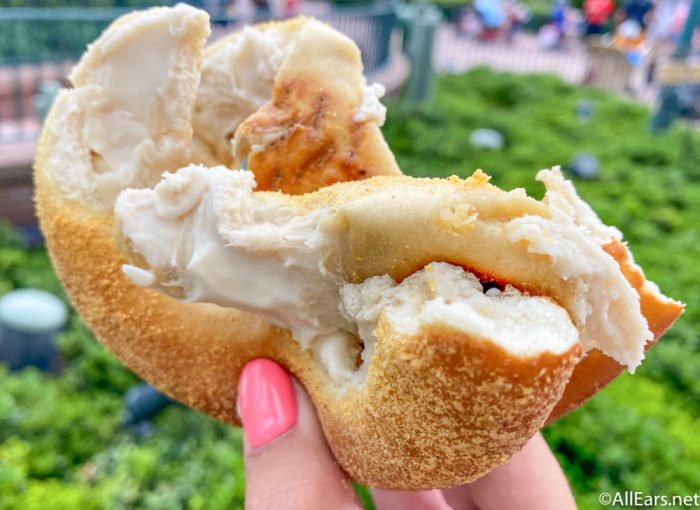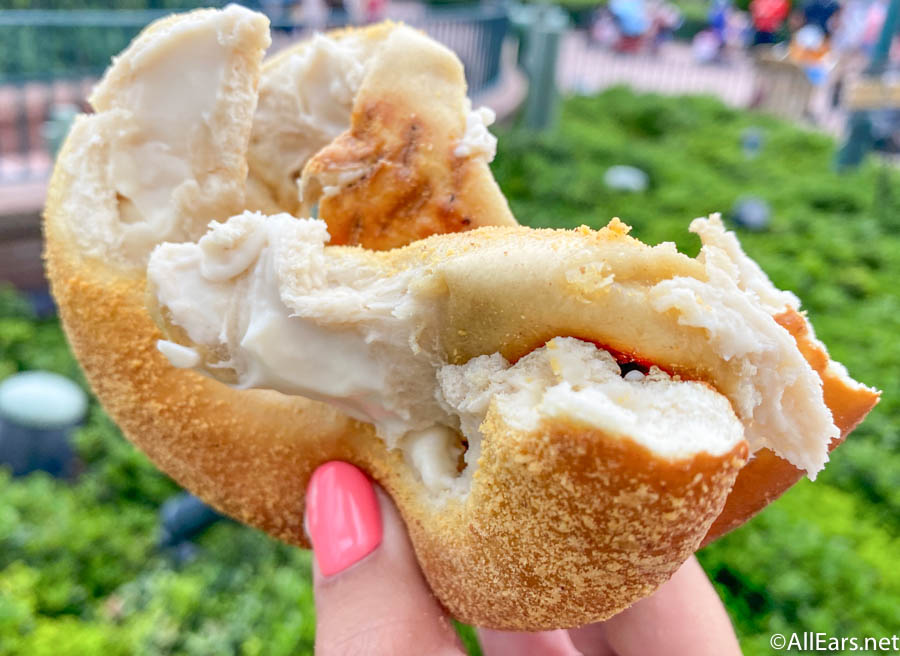 This is exactly what it sounds like: a warm pretzel that's been filled with sweet cream cheese. And it's delicious. It makes a great shareable snack, and we love that it's not the most basic theme park food. You can always get a normal pretzel, but how often are they stuffed with cream cheese?
Main Street Bakery
The Main Street Bakery is actually now a Starbucks location in the Magic Kingdom. You can get all your normal Starbucks drinks here, like coffee, frappuccinos, and refreshers, but there are a few Disney-specific snacks as well.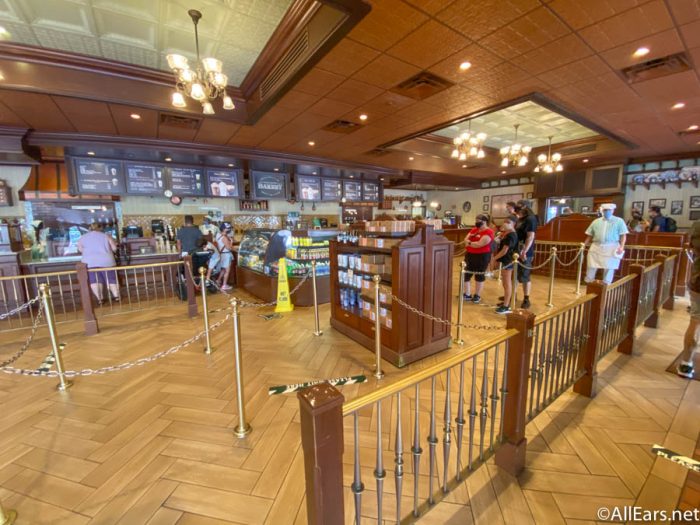 Historically, we've loved the Minnie-shaped Cinnamon Roll for $6.29, which is a Minnie-shaped cinnamon roll that's drizzled with icing.
But recently we had one here that was a little stale and just not very tasty in general. So you might be better off with just a coffee or a fun seasonal drink. Pumpkin Cream Cold Brew, anyone?
Pecos Bill Tall Tale Inn and Cafe
If you mosey on down to Frontierland, you might run into Pecos Bill Tall Tale Inn and Cafe, which is an Old West Saloon-style restaurant that has Western and Mexican-inspired food.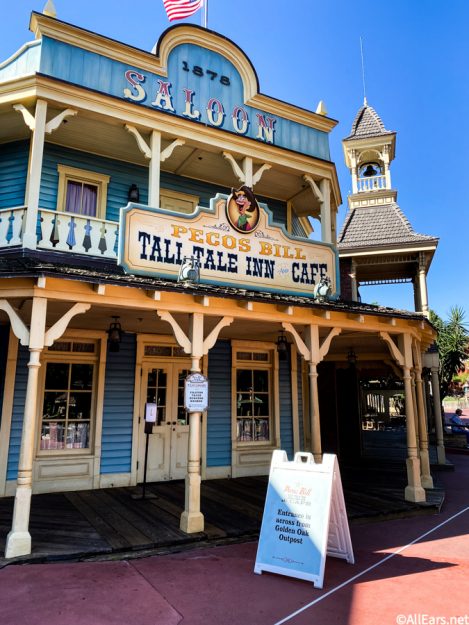 This place has a really fun back story, and you can learn about it on the decor inside! The food isn't always the most exciting. It's pretty simple, with some options for salads, tacos, or nachos, and our favorite is probably the Taco Trio for $10.99.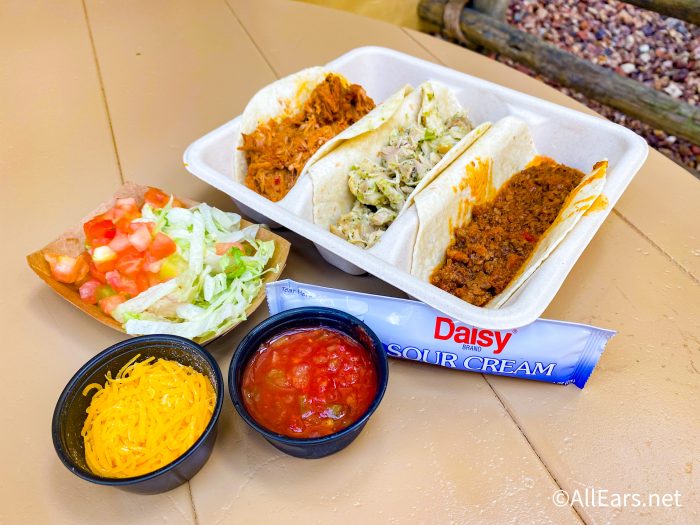 You get three tacos with different fillings, plus all kinds of toppings that you can add yourself. In our opinion, these were tasty and filling — and it doesn't hurt that there's plenty of indoor, air-conditioned seating at this location.
Pinocchio Village Haus
Back in Fantasyland, you can head to the Pinocchio Village Haus to find all kinds of flatbread options.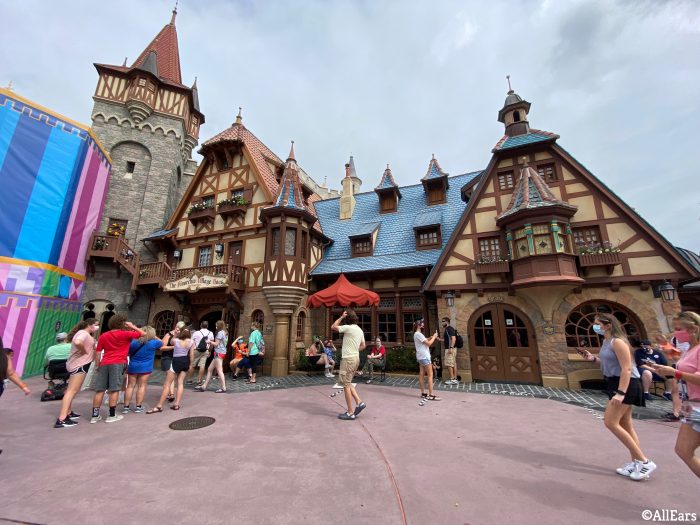 Although there are several options for pizza-flavored flatbreads, our favorite thing to get here is a side of Breadsticks (for $4.99) and a side of Tomato Basil Soup (for $3.99).
Do you see where we're going with this? You dunk the breadsticks in the soup to create the perfect snack or small meal. And it's only about $9 total!
Plaza Ice Cream Parlor
The Plaza Ice Cream Parlor is an old-style ice cream shop with hand-dipped cones and sundaes. It's on the end of Main Street, U.S.A., close to Cinderella Castle.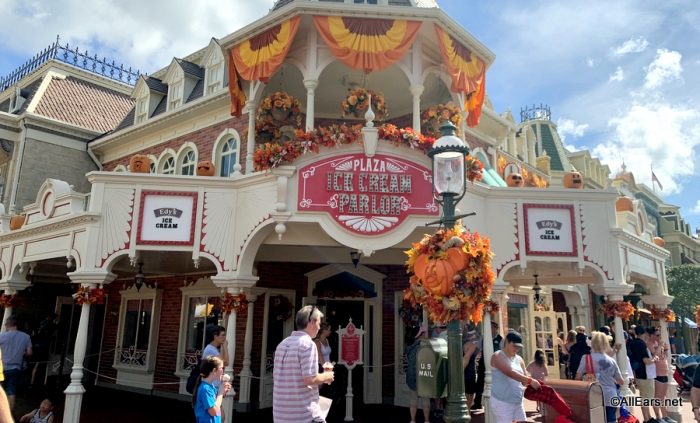 For our perfect snack here, we get the Brownie Sundae for $8.29, which is a warm brownie served with hot fudge, whipped cream, a cherry, and your choice of two scoops of ice cream.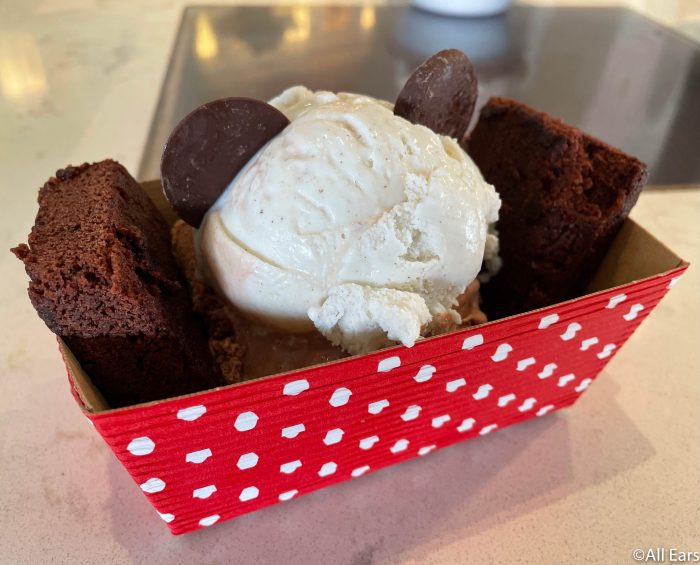 THEN we order a side of caramel topping for $0.69 and drizzle that puppy on top. It's the perfect mix of chocolate and caramel… in a sundae. Add Castle views to that? *chef's kiss*
Prince Eric's Village Market
You'll find Prince Eric's Village Market if you're heading to Under the Sea – Journey of the Little Mermaid. Get to the ride's entrance and then turn around, and you're there.
Our favorites here are the Jumbo Pretzel with Cheese (it's beer cheese, not just regular cheese) for $11.79 and the Mermaid Slushy (which is now just the Frozen Blue Raspberry Slushy) for $5.99.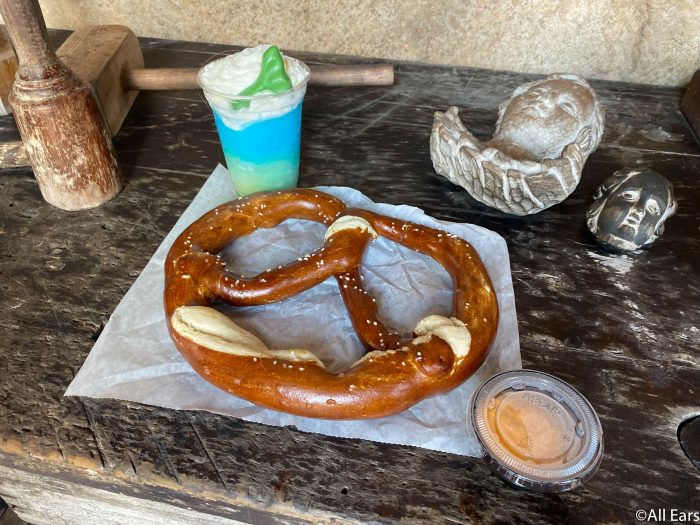 The slushy is frozen blue raspberry and frozen green apple flavors topped with whipped cream and a mermaid tail.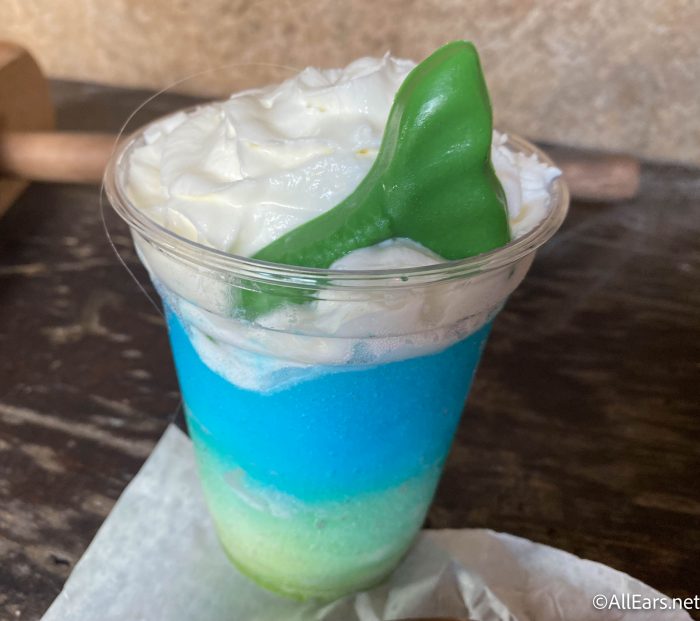 The pretzel is definitely a share-able snack, and the Mermaid Slushy is not just a really pretty drink — it's also refreshing!
Sleepy Hollow
You might be tempted to walk right past Sleepy Hollow since it's kind of nondescript at the entrance to Liberty Square, but don't make that mistake. This is one of our favorite spots, especially for a brunch-style meal.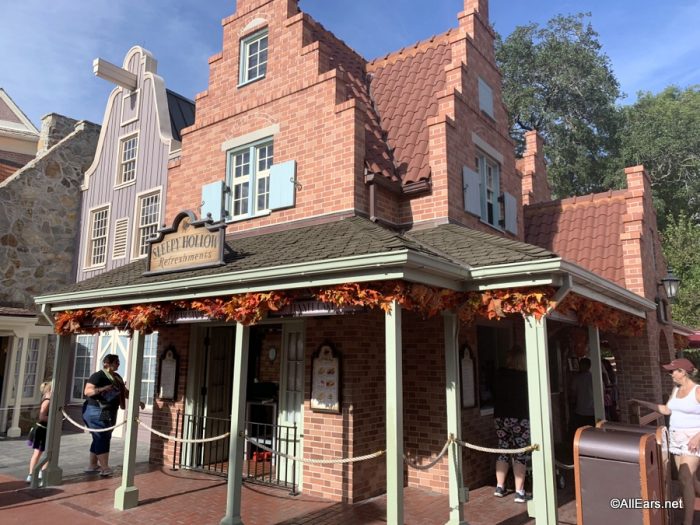 It was tough to choose between the Sweet-and Spicy Chicken-Waffle Sandwich ($11.59) and the Fresh Fruit Waffle Sandwich ($8.49), but in the end, we have to go with the Fresh Fruit version. It might be because that one has Nutella on it.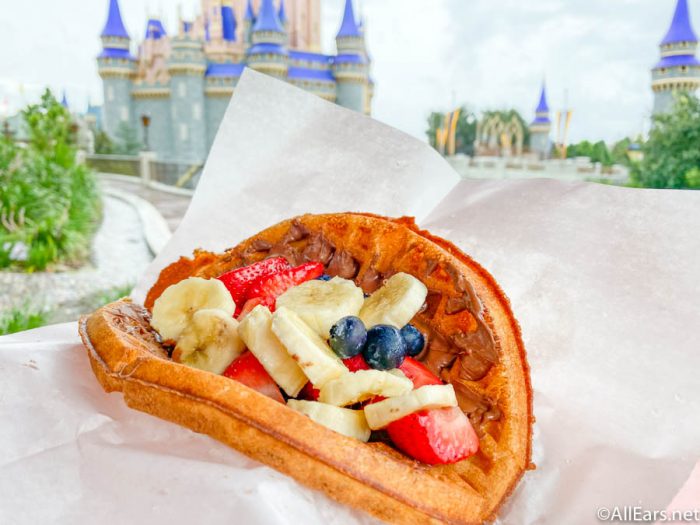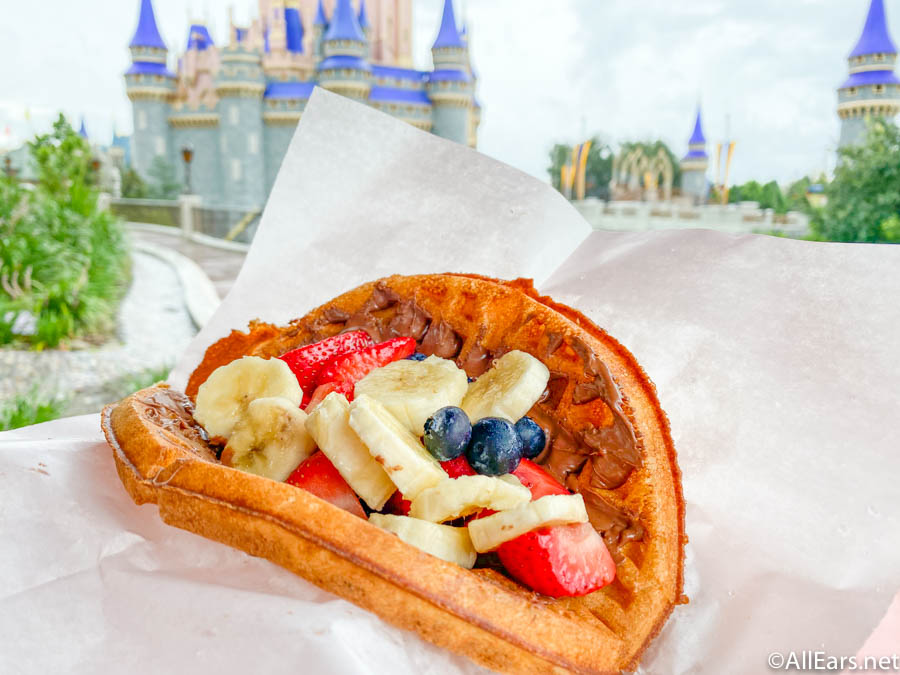 This is a delicious waffle that's been smothered in a chocolate hazelnut spread (AKA Nutella) and topped with strawberries, blueberries, and bananas. Need we say more?
Storybook Treats
Storybook Treats is located in Fantasyland, just behind Cinderella Castle.
Right now they've got a super cute Snow White Cone (Lemon DOLE Whip in a blue cake cone) which is $6.49. This cone originally showed up for the 50th Anniversary, but has stuck around so far!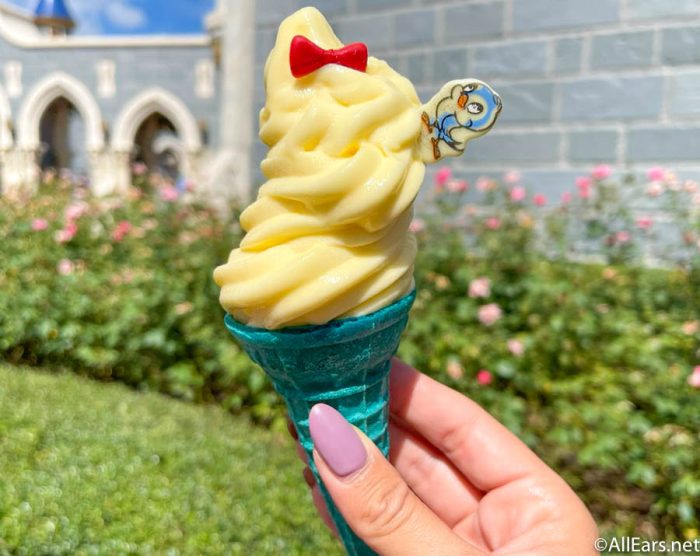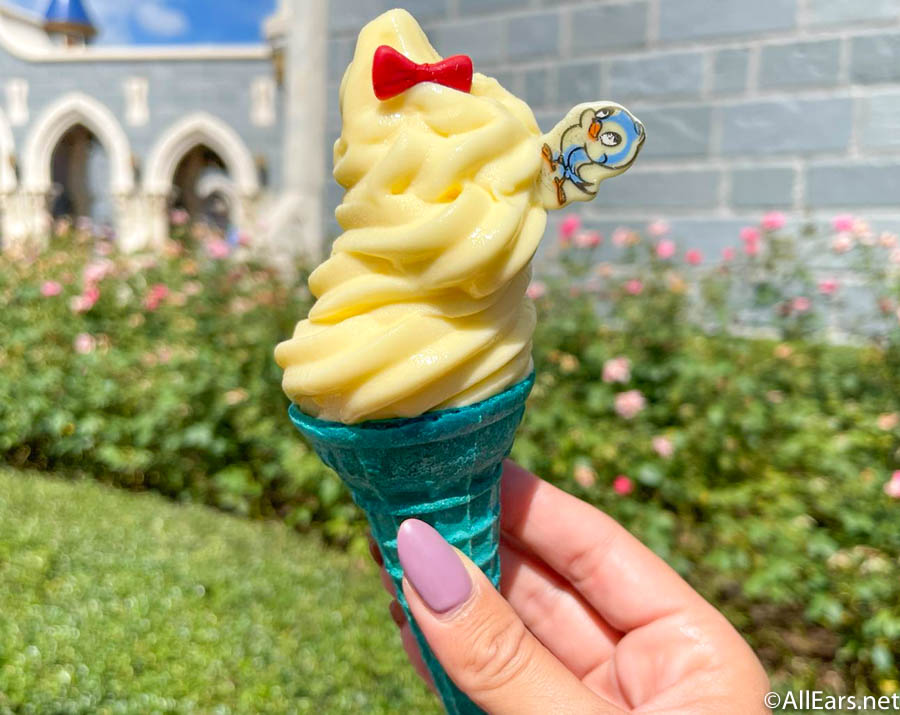 Though it's not currently on the menu, we have to say our all-time favorite here is the Peter Pan Float for $6.99. This is a lime DOLE Whip soft-serve in Sprite, with a chocolate feather on top.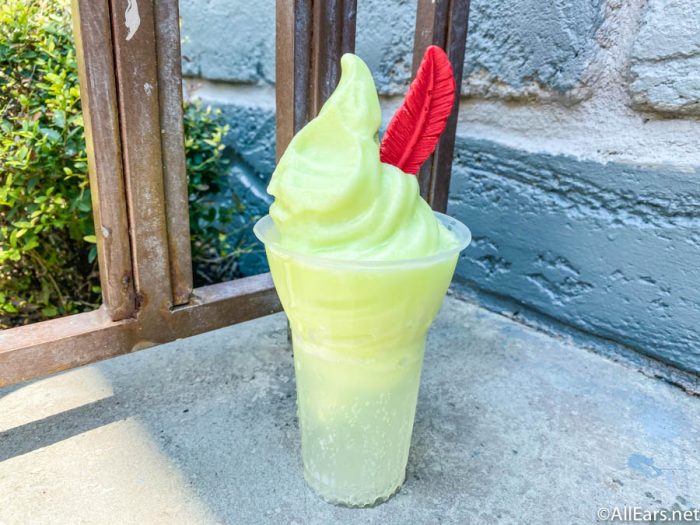 If it's not back the next time you're in the Magic Kingdom, you may be able to hack the float by ordering a cup of lime dole whip (still on the menu) and a cup of Sprite.
Sunshine Tree Terrace
Sunshine Tree Terrace is in Magic Kingdom's Adventureland. It's got several different kinds of DOLE Whip soft serve ice cream and even more options for floats.
Our very favorite, though, has to be the Orange Cream Soft-serve Cup, which you can get in a cup for $4.99.
There's lots of fun combinations (like the I Lava You Float with Strawberry soda, passion fruit, DOLE Whip orange ice cream, and popping candy), but sometimes you just can't beat a classic.
Tortuga Tavern
If you were just at Sunshine Tree Terrace, you won't have to go far to get to Tortuga Tavern.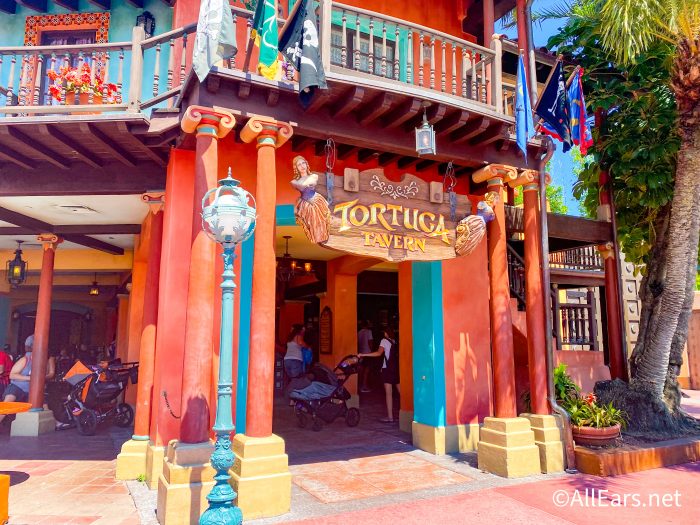 People might come here for the Orange Chicken Strips or Barbecue Slaw Dog, but our favorite thing to order is the Peanut Butter, Nutella, and Banana Sandwich for $9.99. This sandwich is fried like a grilled cheese, and it's just delicious. We think it's especially perfect for picky eaters or little kids, since all the flavors are familiar. Plus what little kid doesn't want dessert for lunch?
Westward Ho
Last on the list of Magic Kingdom Quick Service spots is Westward Ho Refreshments. This one's back over in Frontierland, just across from Pecos Bill.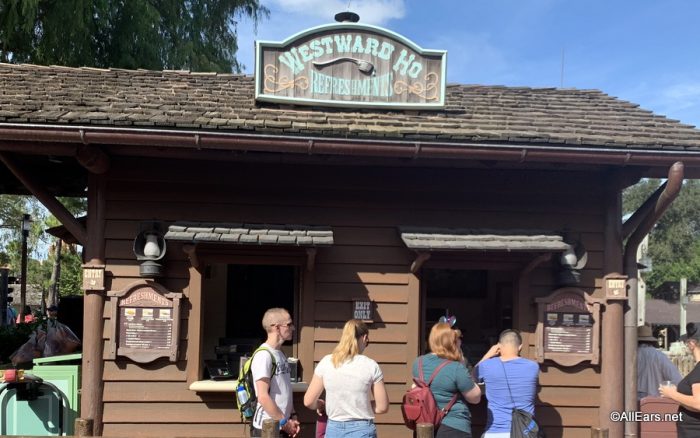 There are some basic theme park snacks to get here, like churros or slushies, but we would recommend trying the Candied Bacon Skewer (served with chips) for $9.99 instead.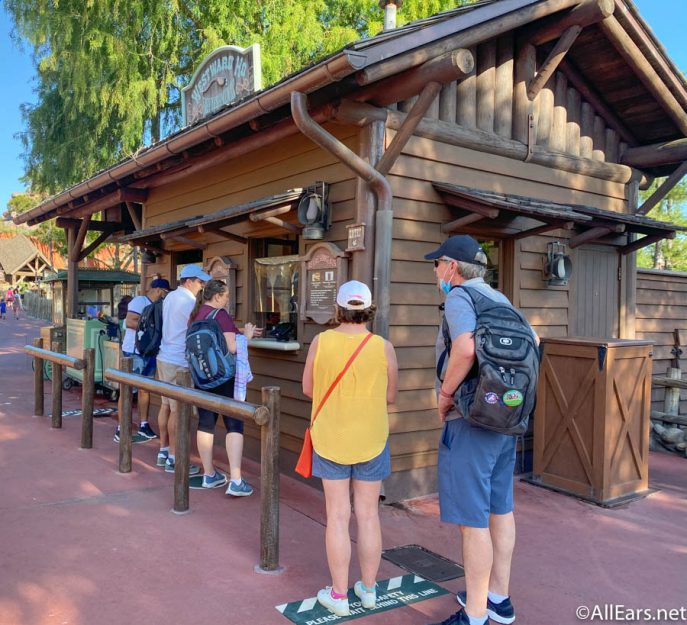 When we got it, it actually had a little too much fat on it, but the bacon part was delicious. And it's a very different kind of snack, not one that you can just get anywhere. That wins it a lot of points in our book.
So there's our recommendations for what you should get at EVERY Magic Kingdom quick service spot! Keep following AllEars for more tips and advice for your Disney World trip.
What's your favorite menu item in the Magic Kingdom? Let us know in the comments!
Join the AllEars.net Newsletter to stay on top of ALL the breaking Disney News! You'll also get access to AllEars tips, reviews, trivia, and MORE! Click here to Subscribe!