Disclosure: We were invited by Waldorf Astoria to attend a media preview of the Bonnet Creek Epicurious. This did not affect our reporting of the event — our opinions are our own.
Anybody else here ready to go for a dining feast near Disney World? You don't even have to pop into the parks and resorts on property to indulge in the Waldorf Astoria's Bonnet Creek Epicurious experience!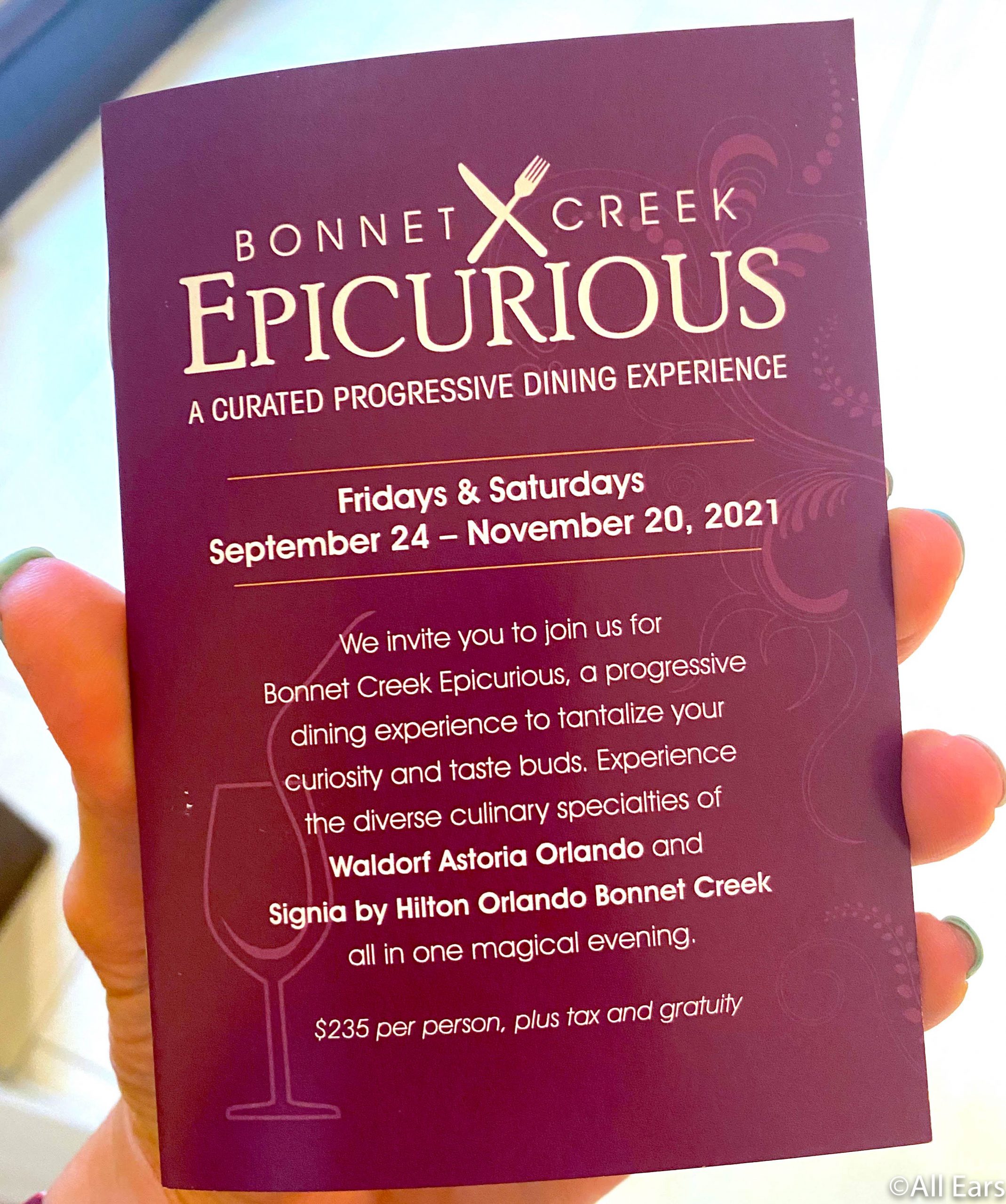 The dining event features dishes from restaurants at the Waldorf Astoria Orlando and Signia by Hilton Orlando Bonnet Creek, as a culinary guide takes guests to several places throughout the resorts to try them! Ready to go with us? Well, let's dive in!
The Bonnet Creek Epicurious dining experience lasts for four hours, starting at 5:30 PM and 6:30 PM. The event costs $235 per person (which does NOT include tax and gratuity) while it runs on Fridays and Saturdays from September 24th through November 20th. Of course, we thought we'd give you a sneak peek at some of the eats and drinks before you go yourself!
La Luce
During our first stop of the evening, we decided to toast to the Waldorf Astoria with bubbly!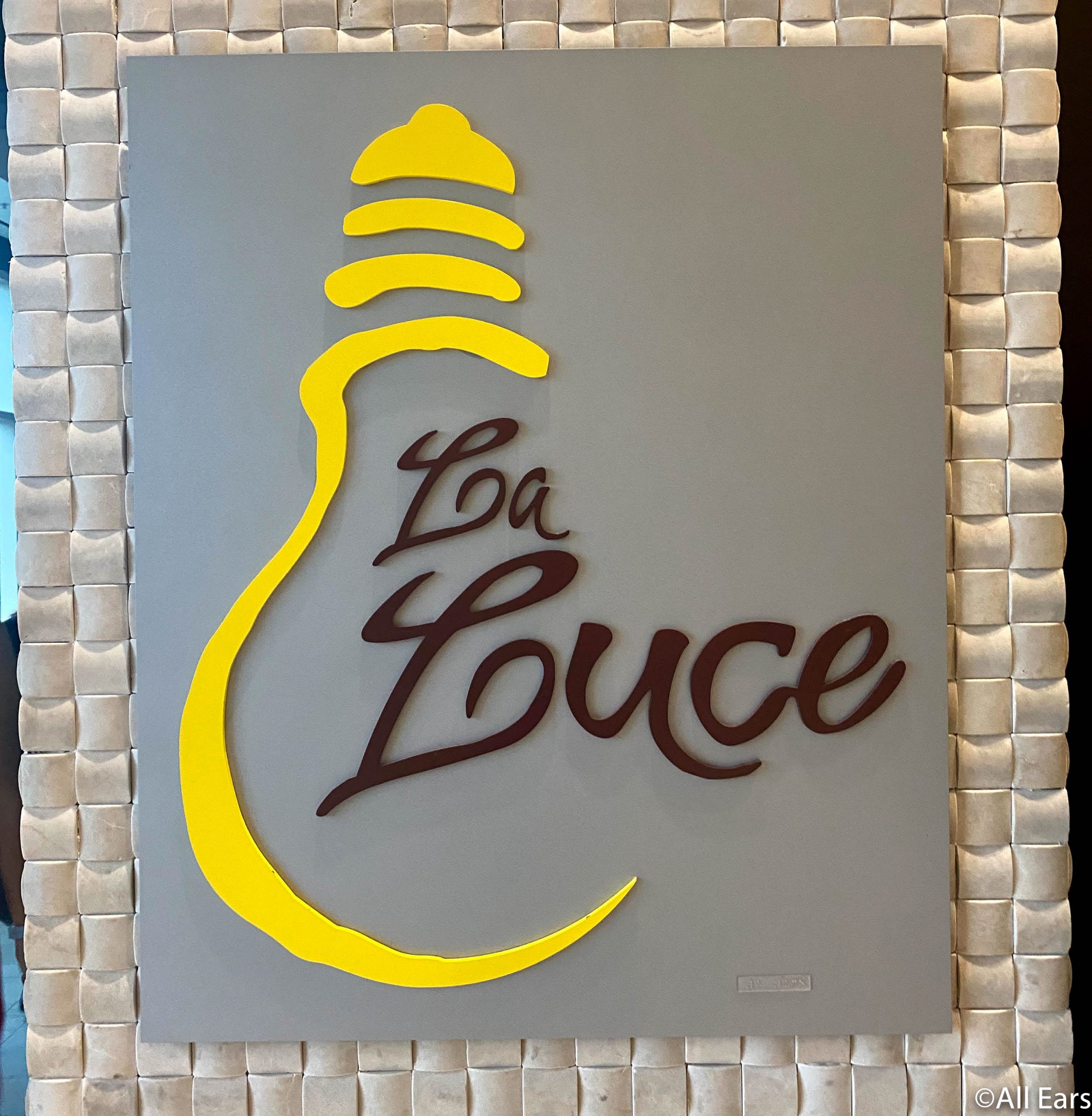 Available right outside La Luce, the Villa Sandi Prosecco Rosé was a lighter sip with slightly sweet notes.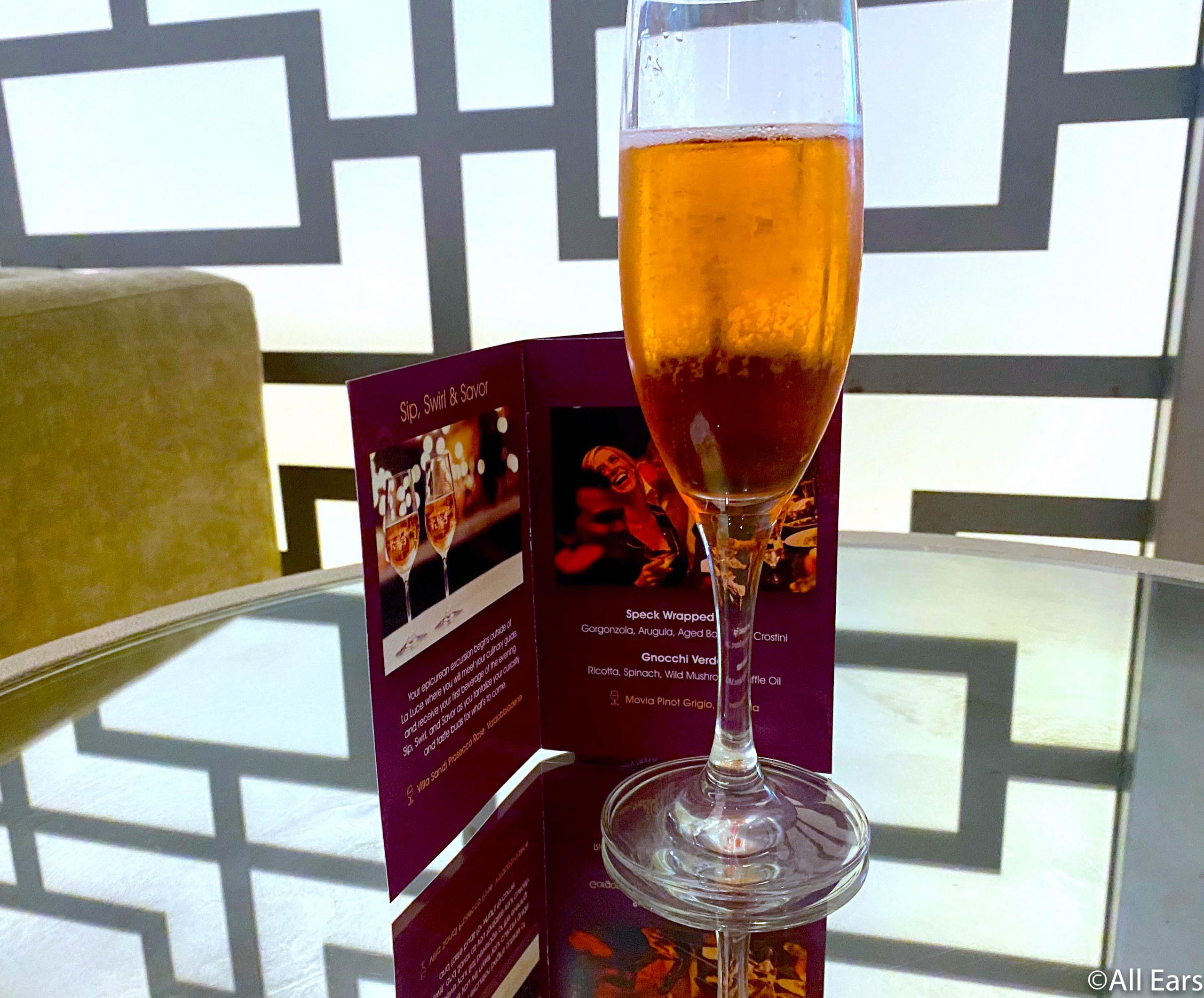 We then moved inside where we tried the Movia Pinot Grigio from Solvenia. It had a more oaky flavor that was very smooth on the palate. Although it was a bit heavier than the other drink, the Pinot Grigio was a GREAT pairing with the food that we also had at La Luce.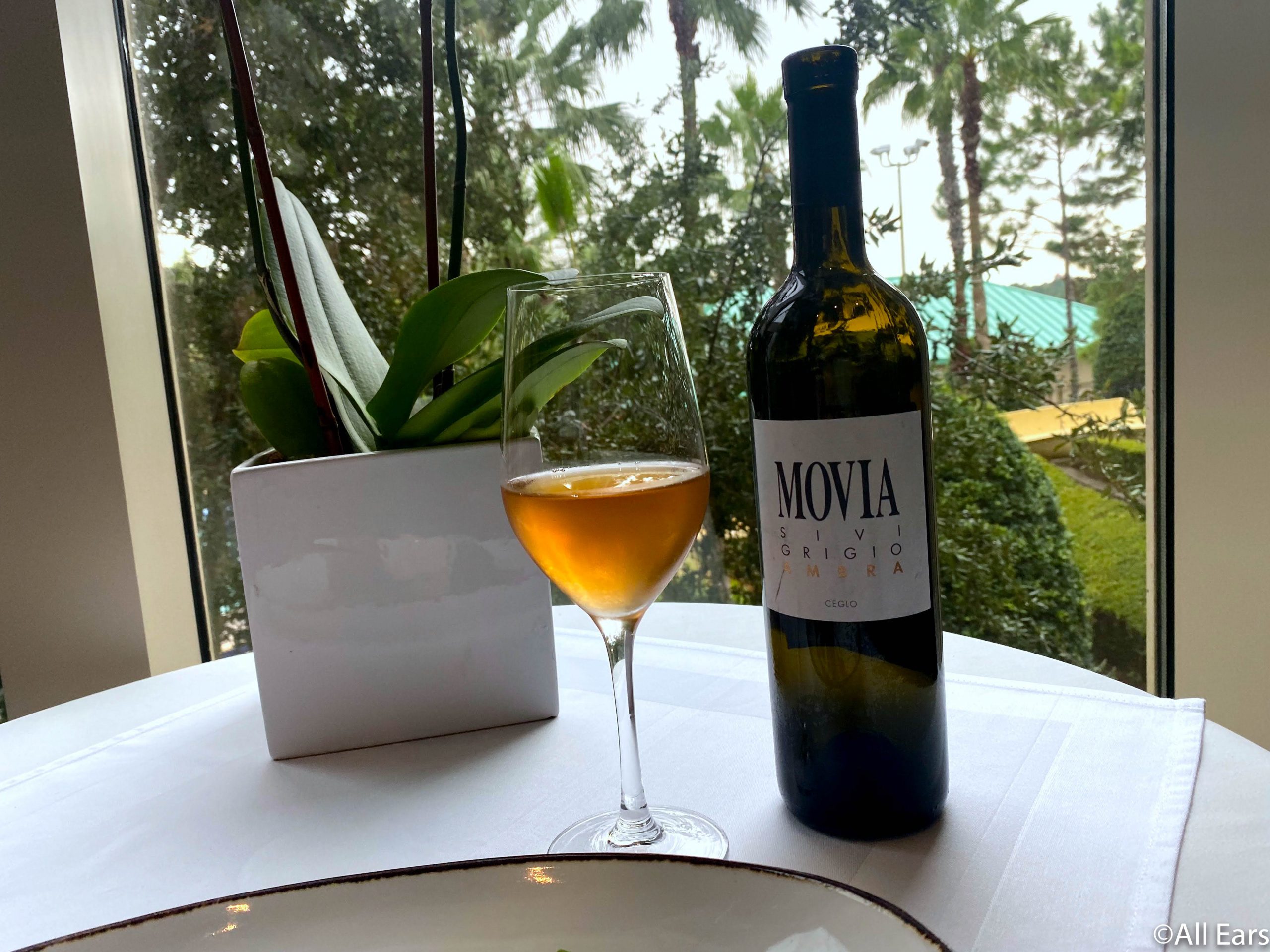 Speaking of dishes, we had two to pair with our drinks over at La Luce! The Speck Wrapped Figs were made with gorgonzola, arugula, aged balsamic, and crostini that had a subtle sea salt taste to add to the flavor. The figs were cooked wonderfully, making them easy to cut into.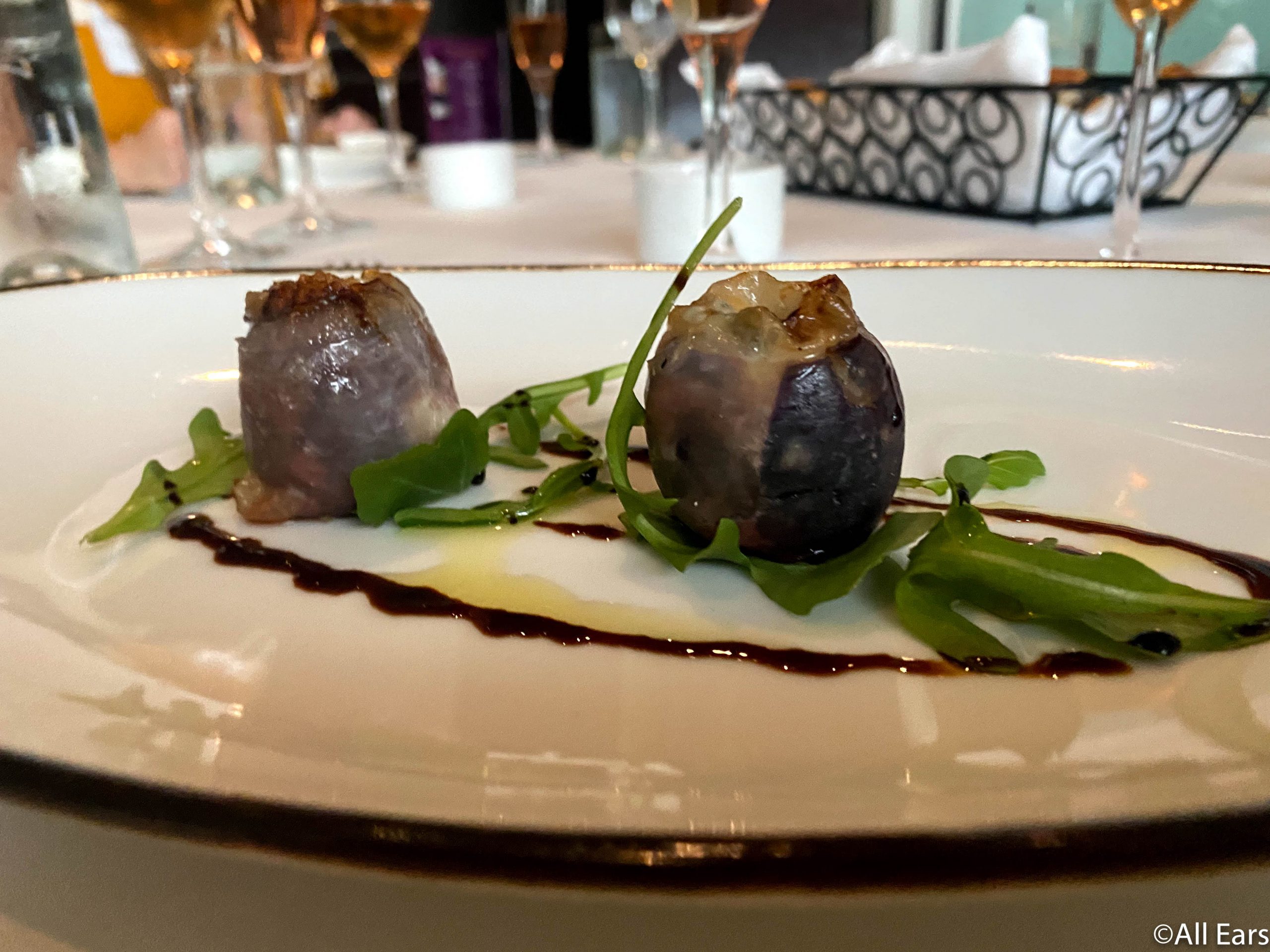 La Luce also had Gnocchi Verde that was made with ricotti, spinach, wild mushrooms, and truffle oil and had a fluffy texture and complementing flavors.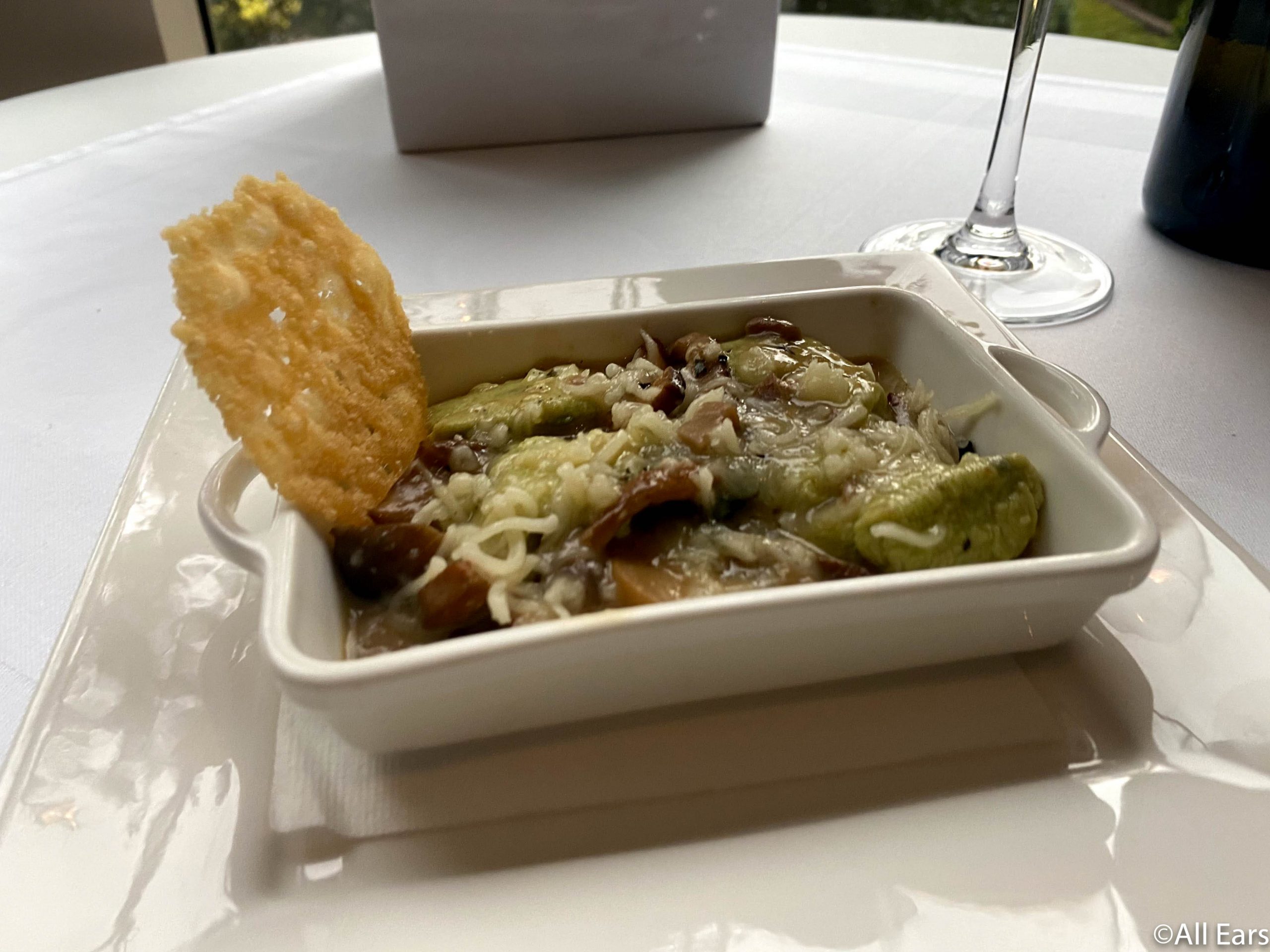 We also have to give a special shoutout to the house-made balsamic dressing that was perfect for dipping our bread inside!
Zeta Asia
We continued the experience by making our way over to Zeta Asia.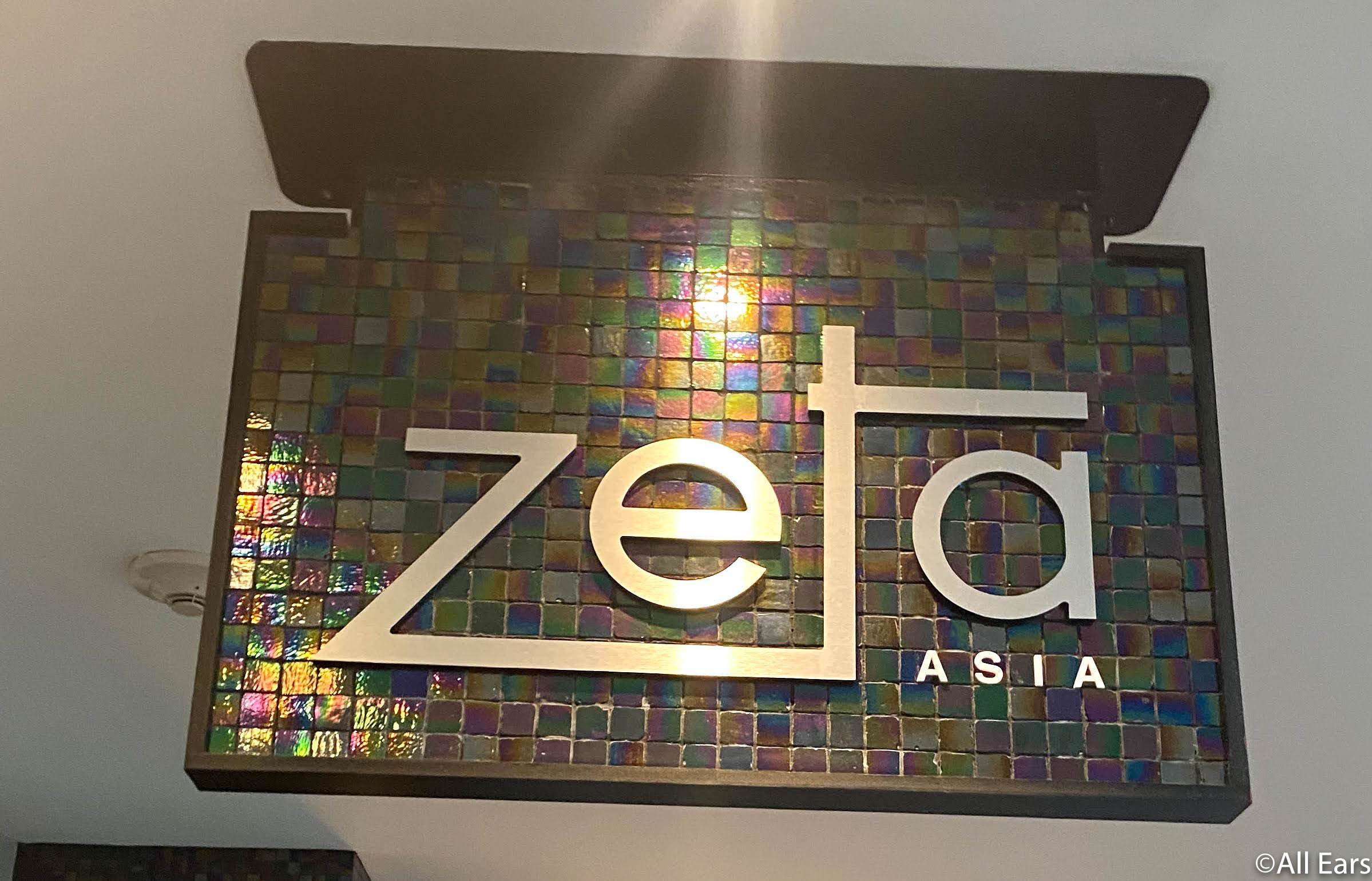 This location offers a variety of Asian dishes that made us super hungry just looking at them. We indulged in the Steamed Bao Bun made with Peking Duck and plum sauce that made the flavors extra rich…
…as well as the Spider Roll plate with three rolls crafted with crispy soft-shell crab, avocado, cucumber, and masago.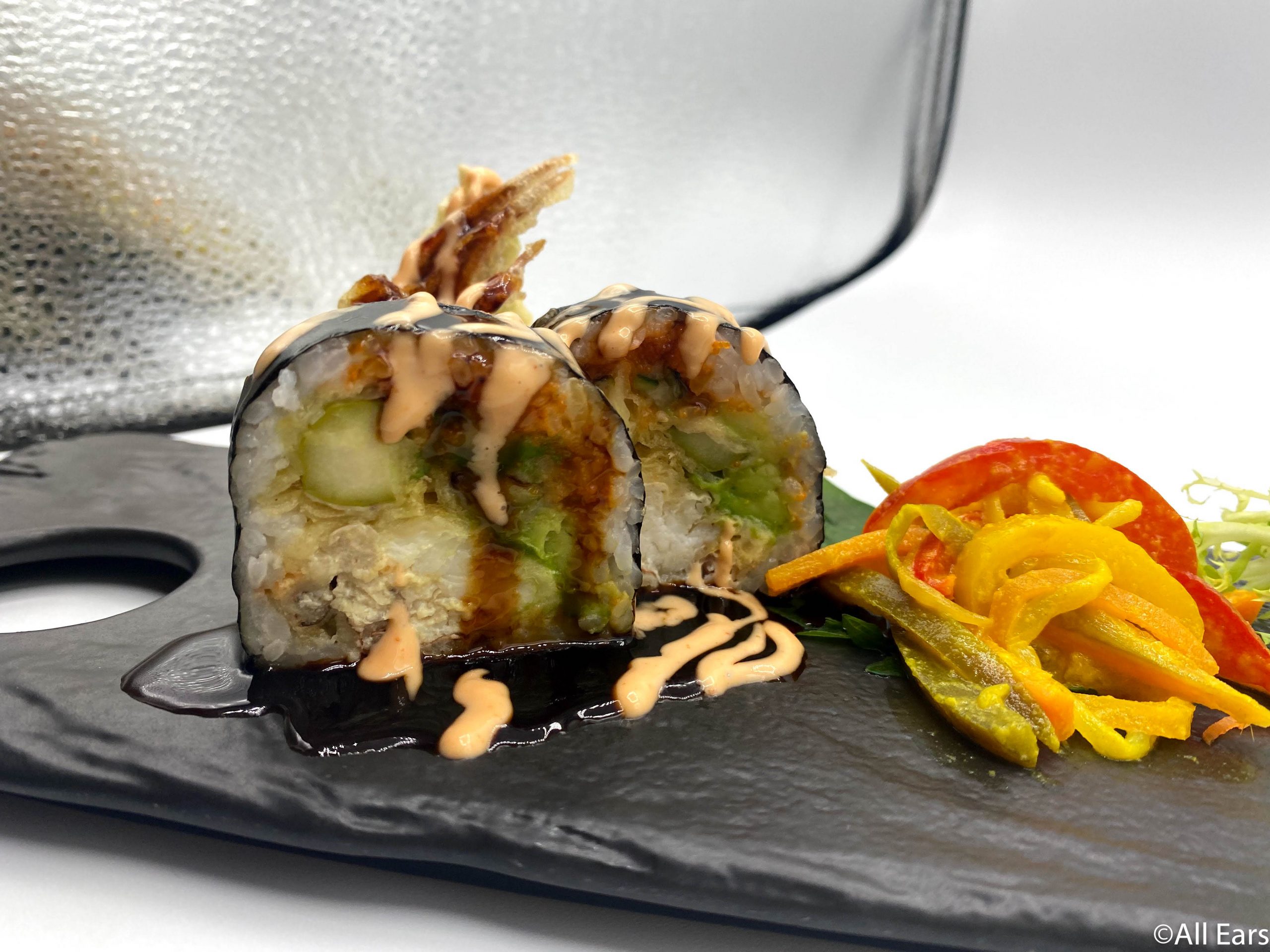 Vibe Kitchen Food Truck
Our next stop was a bit different than the first two…it was a food truck!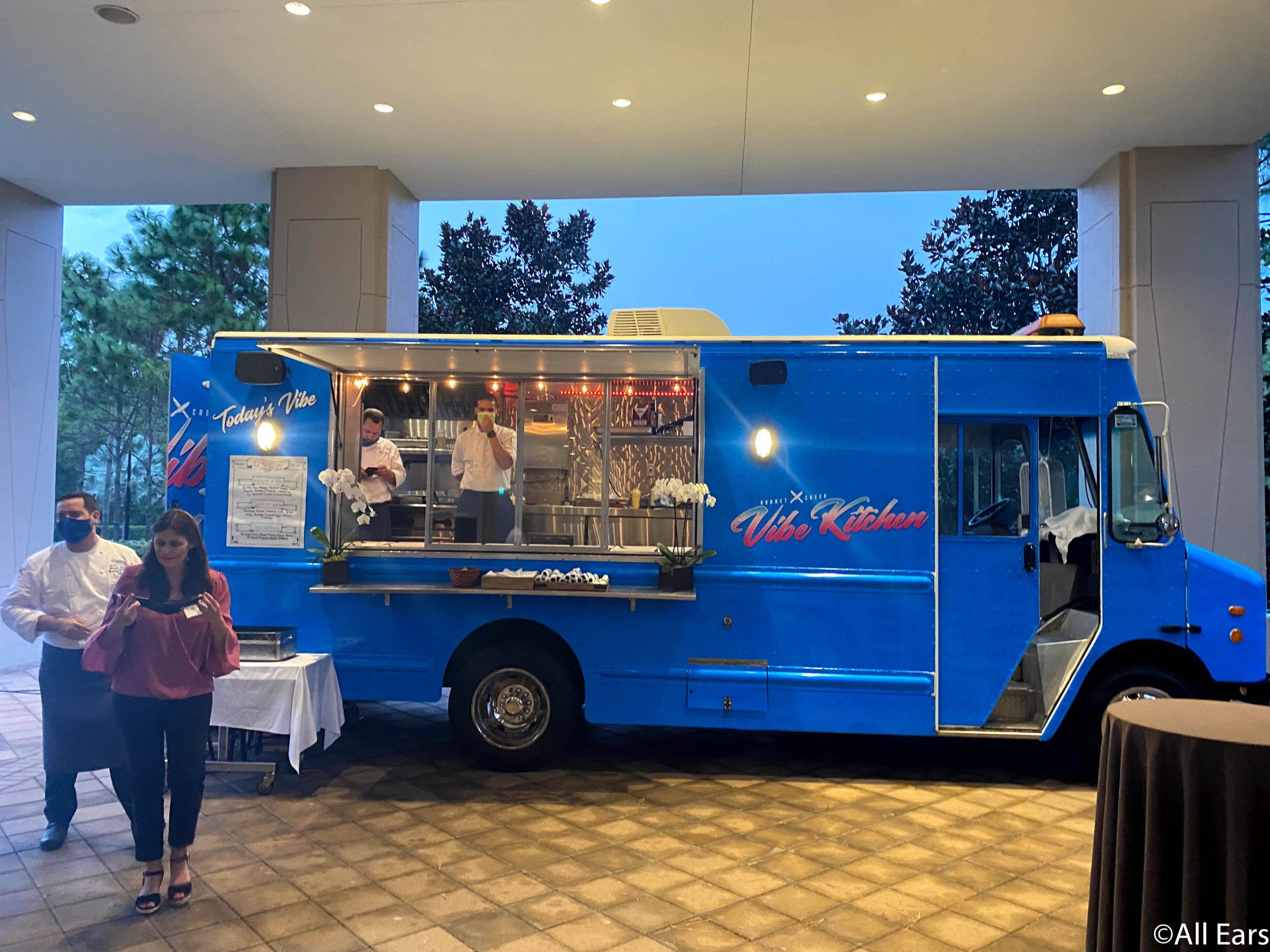 If you're looking for options that are more like snack food, the Vibe Kitchen Food Truck has some great options! We sipped on the sweet Bonnet Creek Vacay IPA…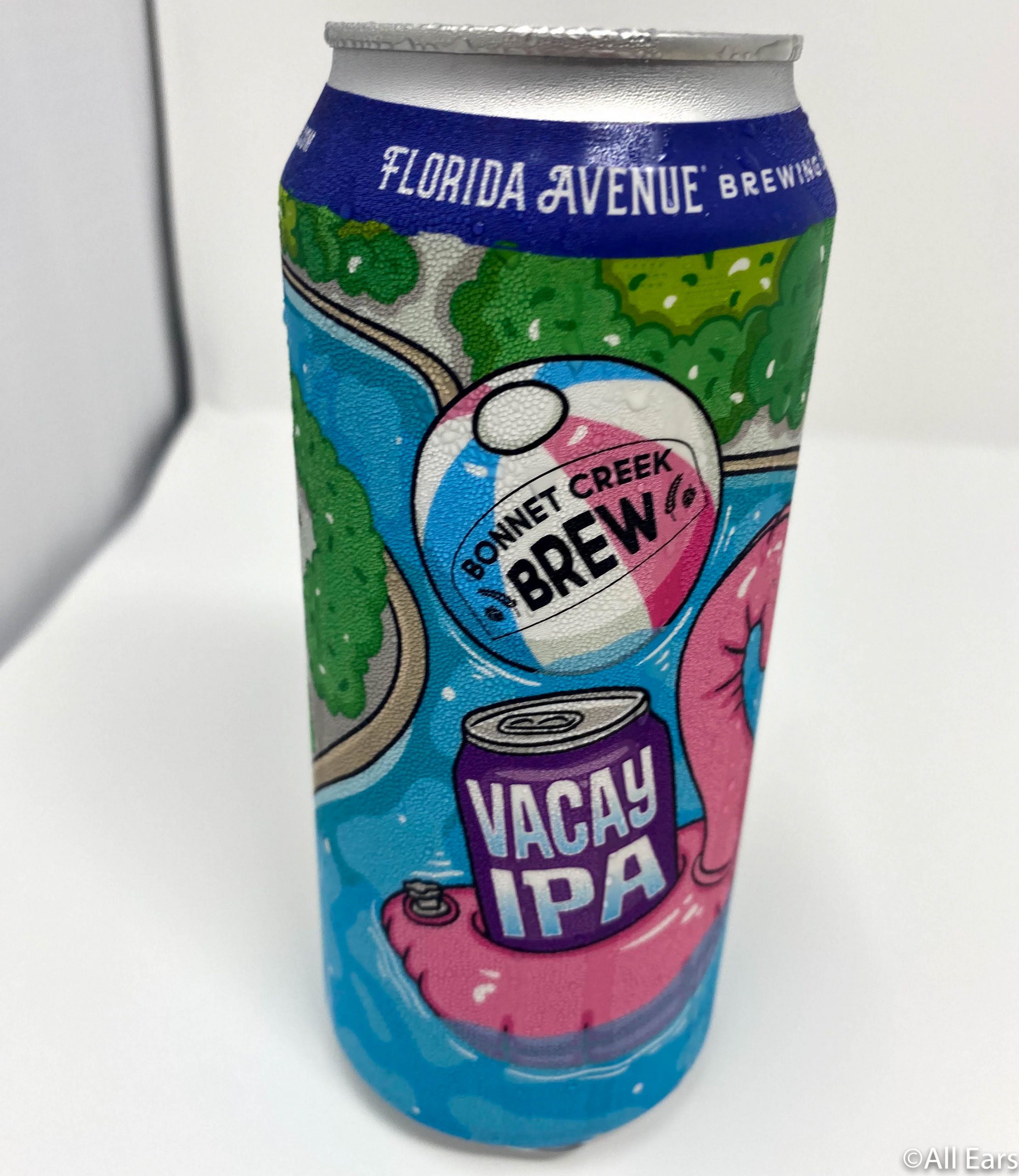 …before diving into a plate piled with Anticucho di Pollo, Causa de Cangrejo, and Choclo con Queso. Food truck food proved to be great yet again as the Anticucho di Pollo had amazing seasoned and grilled free-range chicken thighs with potatoes and crema.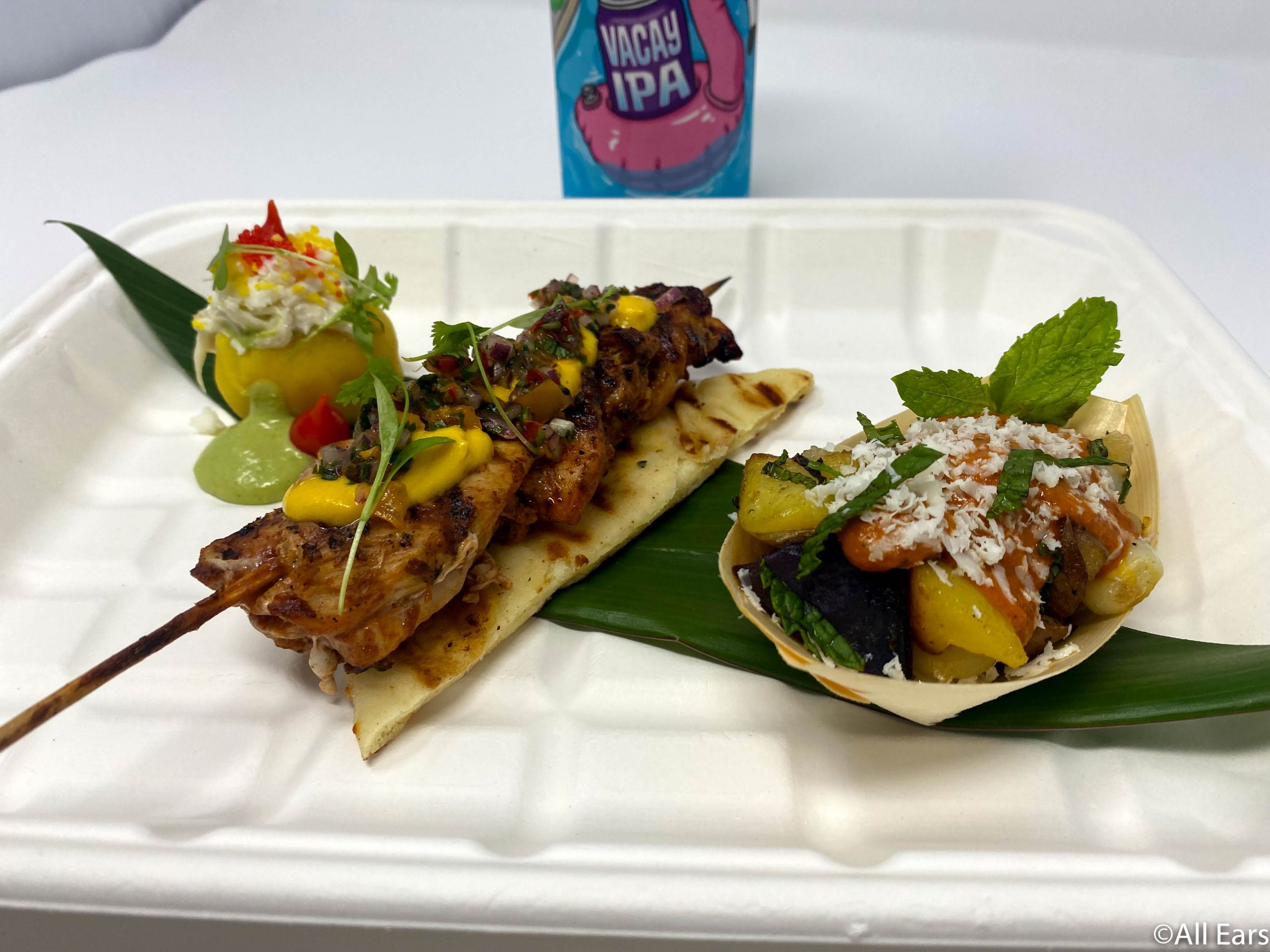 But, the Causa de Cangrej built upon our love of potatoes since the dish had soft, pressed potatoes, poached eggs, colossal crab, salsa verde, and micro cilantro.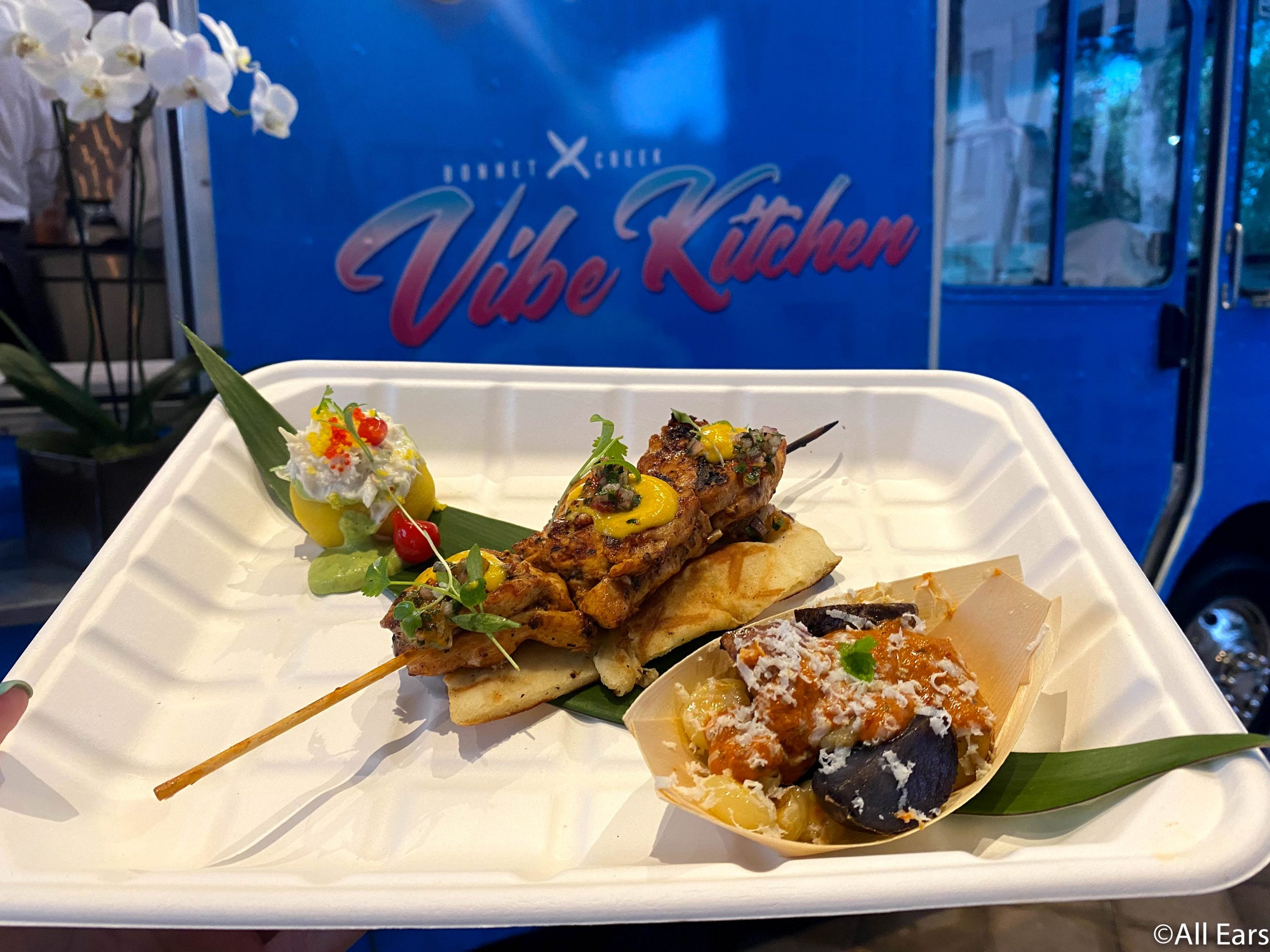 And, last but not least. Choclo con Queso combined Peruvian corn, queso fresco, ocopa sauce, Peruvian peppers, and marble potatoes with a slightly spicy and greatly cheesy plate. You'll want to grab all three to share with your friends and family members when you're there, though, since it's a LOT of food.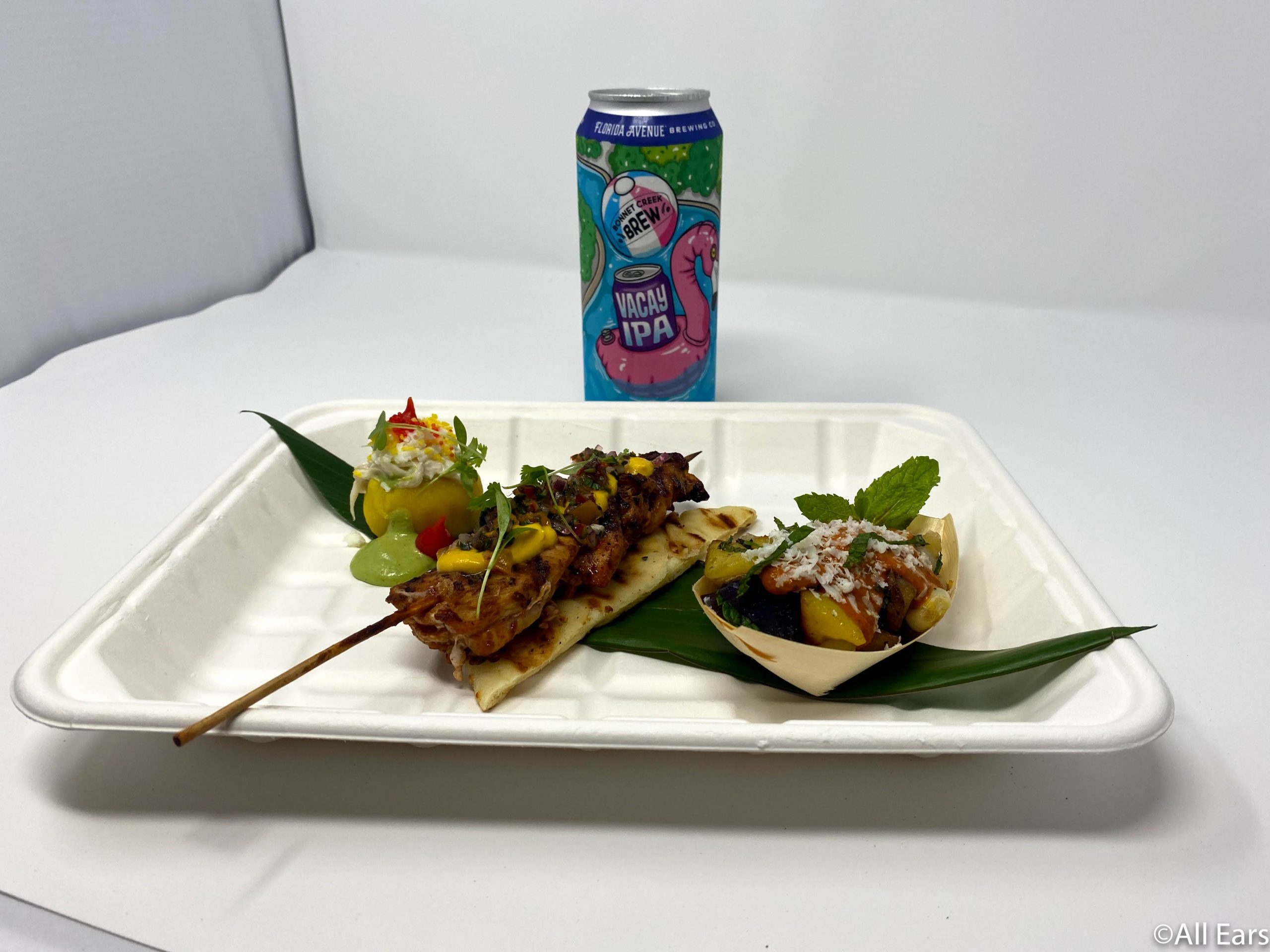 Sir Harry's Peacock Alley Mixology
Next, we stopped for some drinks at Sir Harry's Peacock Alley Mixology.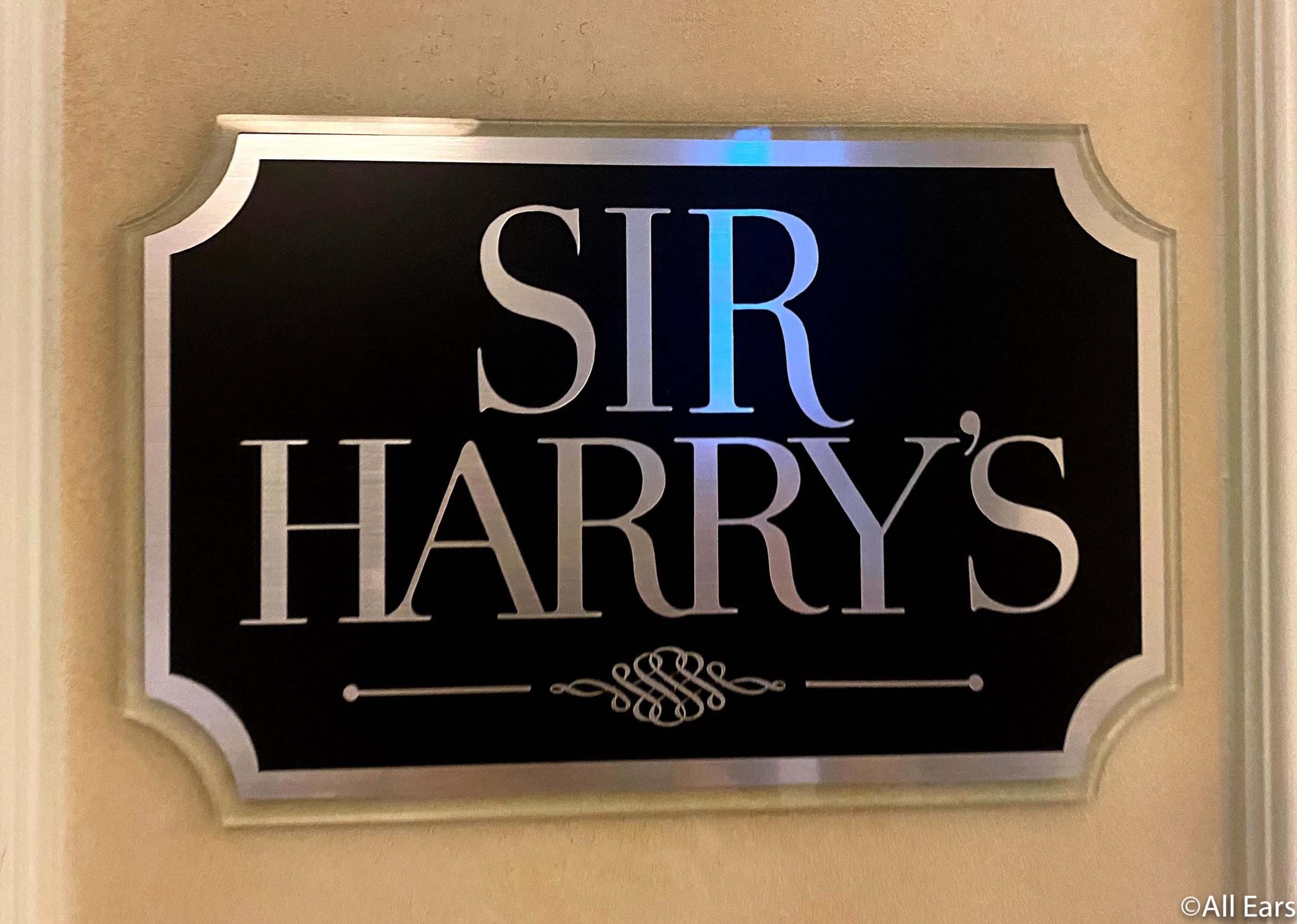 At this stop, guests can choose one out of three drinks made with your preference of vodka, gin, or bourbon.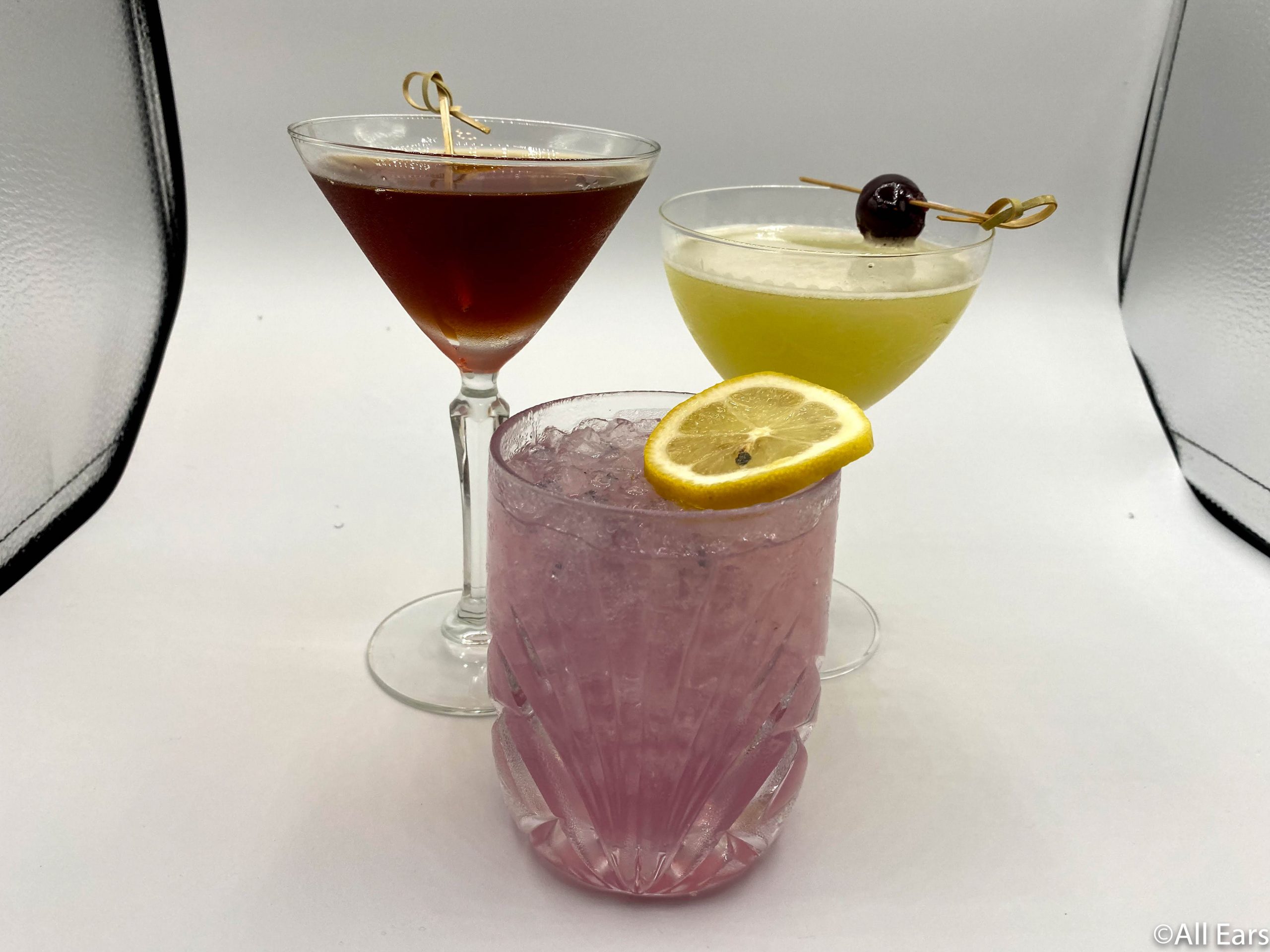 The gin drink that was created for us was mixed with Barhill Gin, Violette Liqueur, lemon, simple syrup, and mint.
It was not only tasty, but also a beautiful color that we HAD to snap to share with you!
Bull & Bear
We wrapped up our food tour at the Bull & Bear restaurant!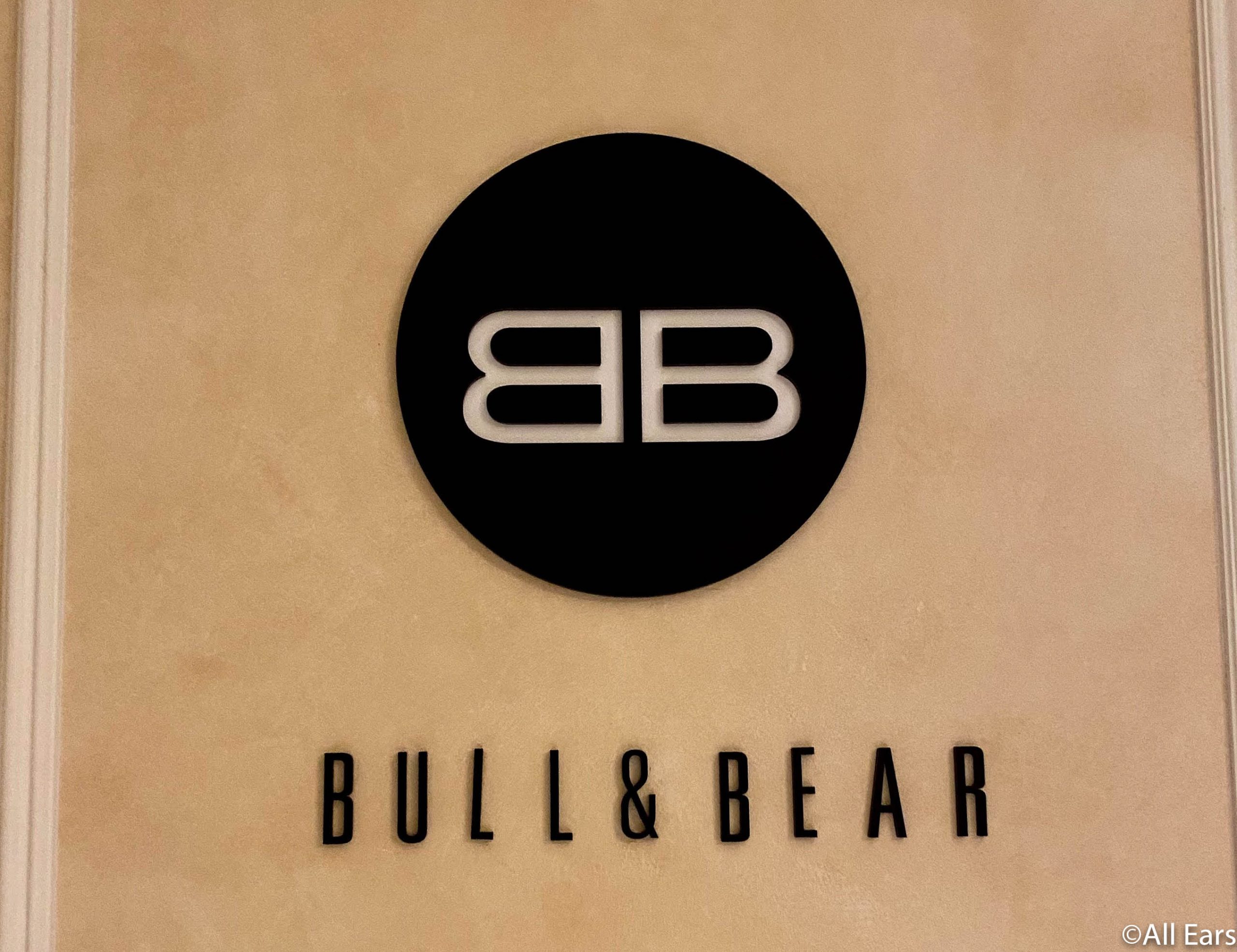 The items here were a bit more on the sophisticated side with a Short Rib Wellington as our entrée. The meat itself was tender and flavorful, especially paired with the sauce Perigueux.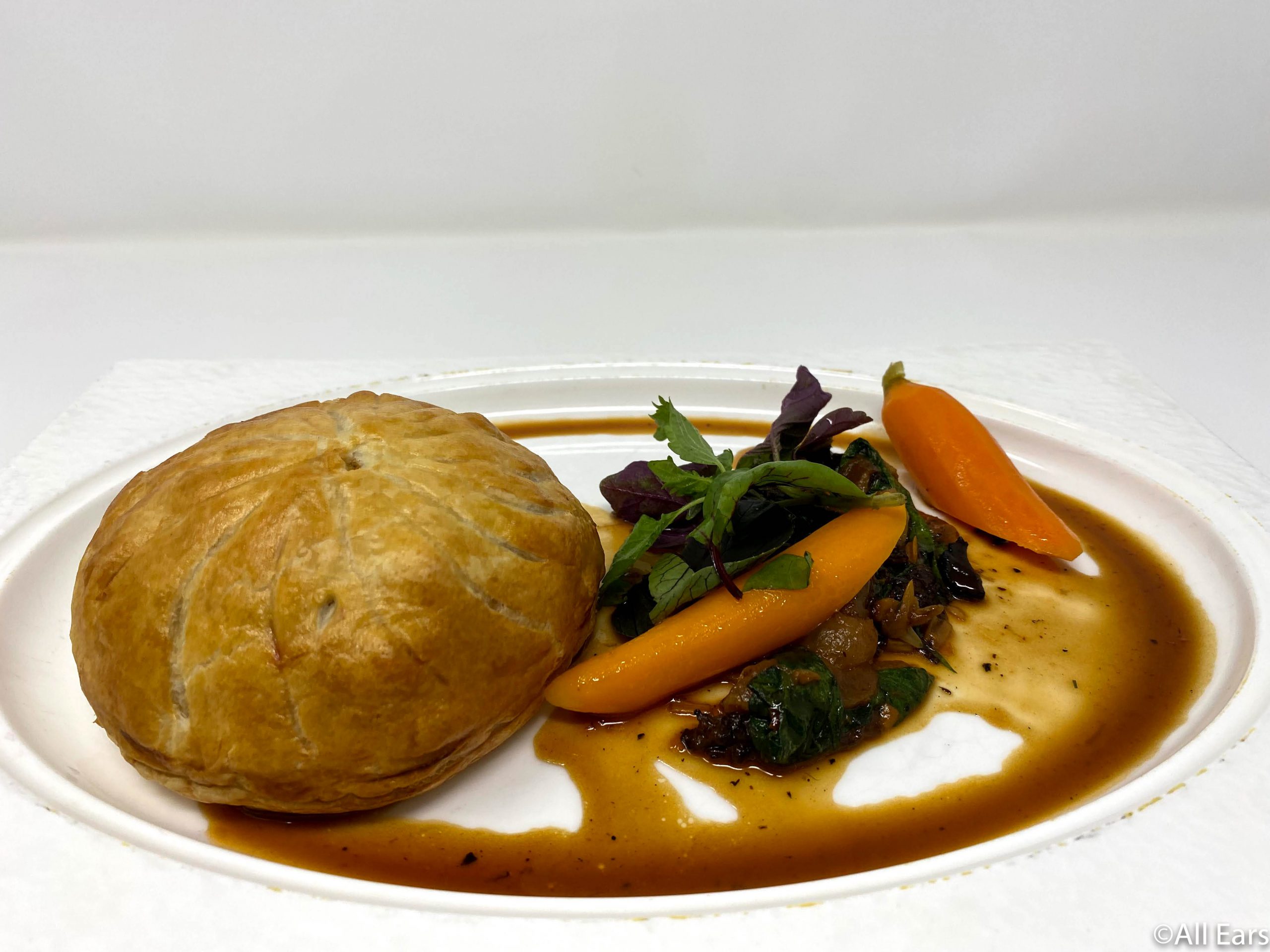 Along with the fluffy biscuit, the local swiss chard, roasted cippolini, and morel only made the dish better! We just wish there had been more vegetables to enjoy with each bite of short rib.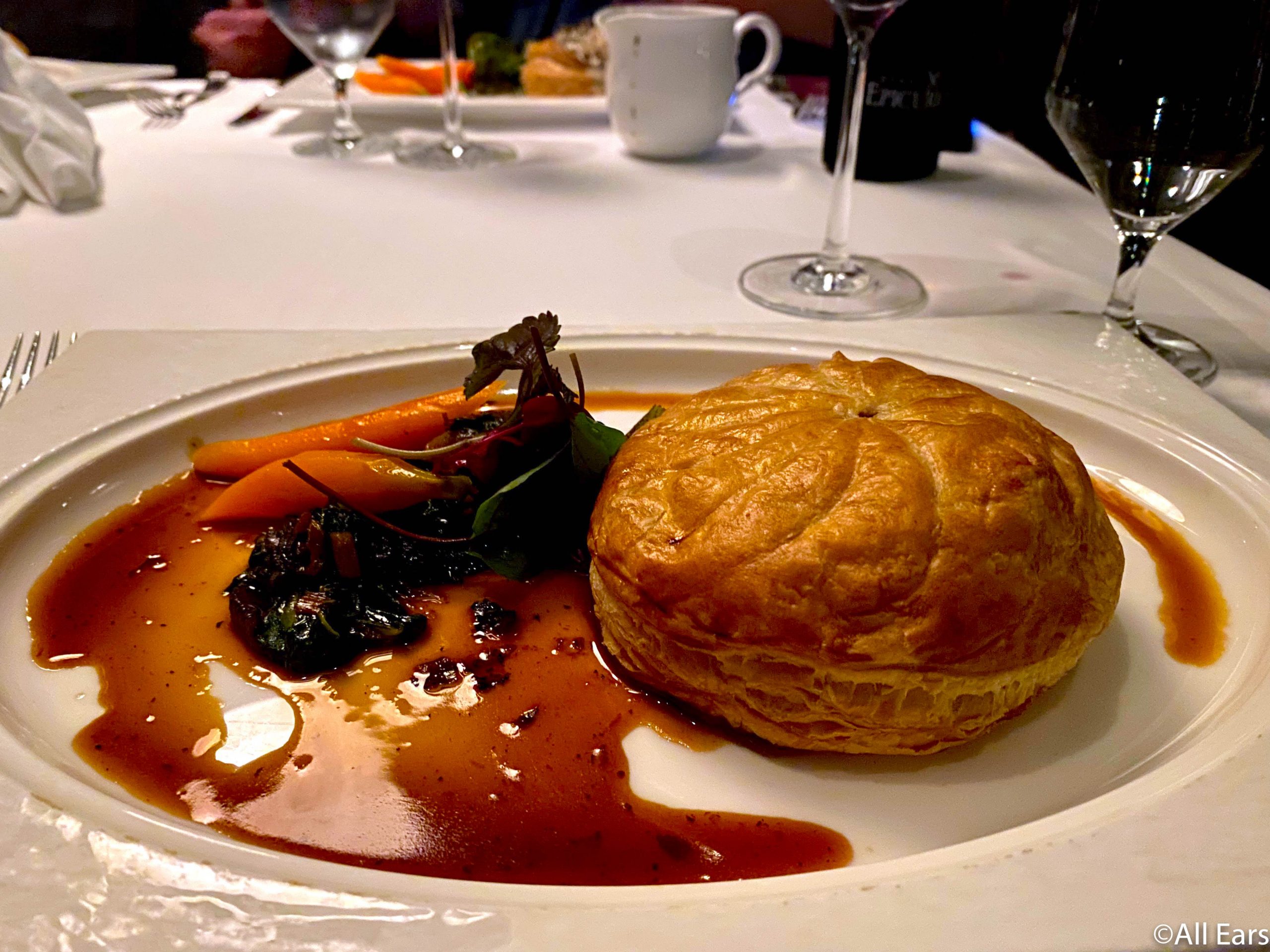 To end our experience at the Bonnet Creek Epicurious on a sweet note, we were excited to try the Lychee Mousse on the menu! The dessert was made with raspberry sable, raspberry jam, and fresh raspberries with a berry marshmallow and raspberry and rose-scented sorbet as the finishing touches on top.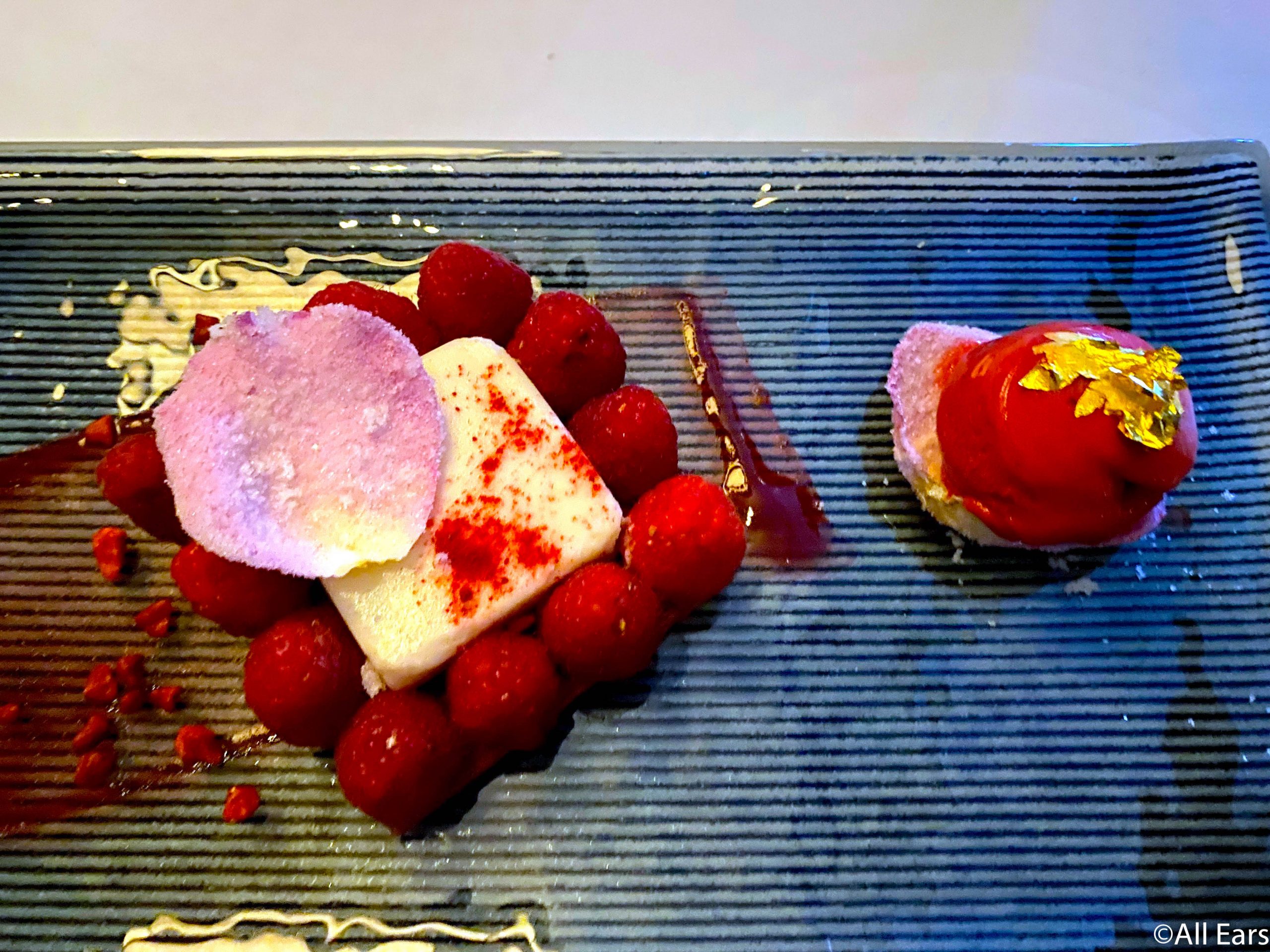 The attention to detail on this treat was incredible, as each raspberry was even hand-stuffed with mousse. We'll basically be daydreaming about it all weekend long!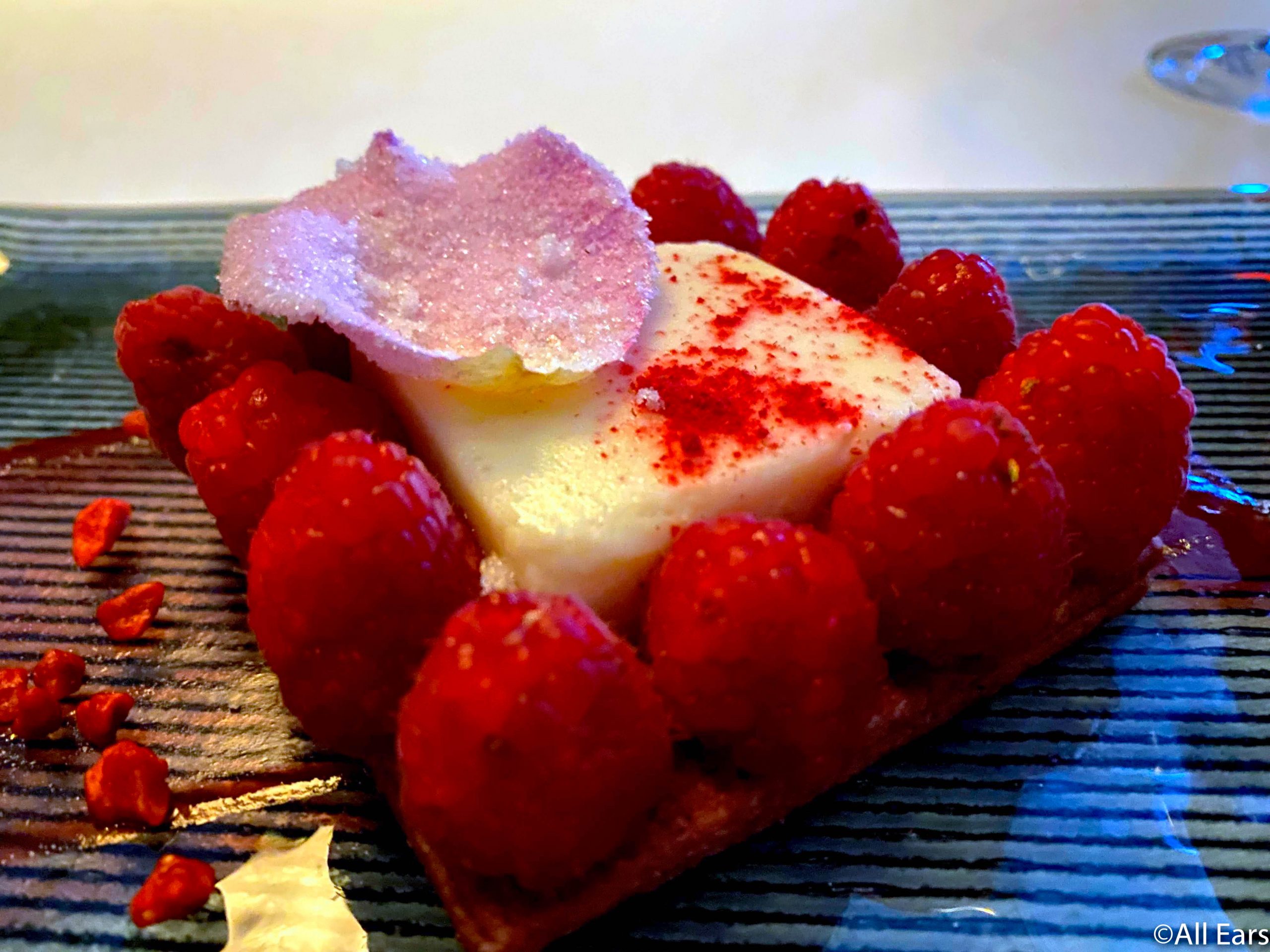 On top of that, we were given a bag of chocolates to take home.
After exploring Disney World, the Bonnet Creek Epicurious is a fun way to take a break from the parks and try a multitude of dishes and drinks! However, the experience is on the pricey side, so keep that in mind before making your reservation. You get a lot of food and drink and experts are walking you through the 4-hour experience, so we think it's something fun and unique to do! And, you can stay tuned with All Ears for the latest dining and Disney news coming soon!
What is your favorite hotel to stay at when you visit Disney World? Let us know in the comments below!
Join the AllEars.net Newsletter to stay on top of ALL the breaking Disney News! You'll also get access to AllEars tips, reviews, trivia, and MORE! Click here to Subscribe!