We are weeks away from MULTIPLE brand new restaurants in Disney World? As Space 220 and La Crêperie de Paris head to EPCOT, Steakhouse 71 will be arriving at Disney's Contemporary Resort in style!
The new steakhouse will replace The Wave in the resort with a subtle '70s themed atmosphere in honor of the decade Disney World first opened.
Steakhouse 71 will serve breakfast, lunch, and dinner, as well as a variety of bites and cocktails in its neighboring lounge. Although we've already gotten a sneak peek at some of the menu items that would be featured at the restaurant, now we have their accompanying prices!
Breakfast
When guests head to Steakhouse 71 in the morning, they have the option to split Fresh Fruit Plates, Oatmeal, and Fresh-baked Breakfast Pastries amongst the tables for $7 to $10 as an appetizer.

Sweet, savory, and healthy options are available for breakfast entrées for a range of prices from $12 to $21, including Steakhouse 71 Seasonal Pancakes, Avocado Toast, and The Steakhouse 71 Feast.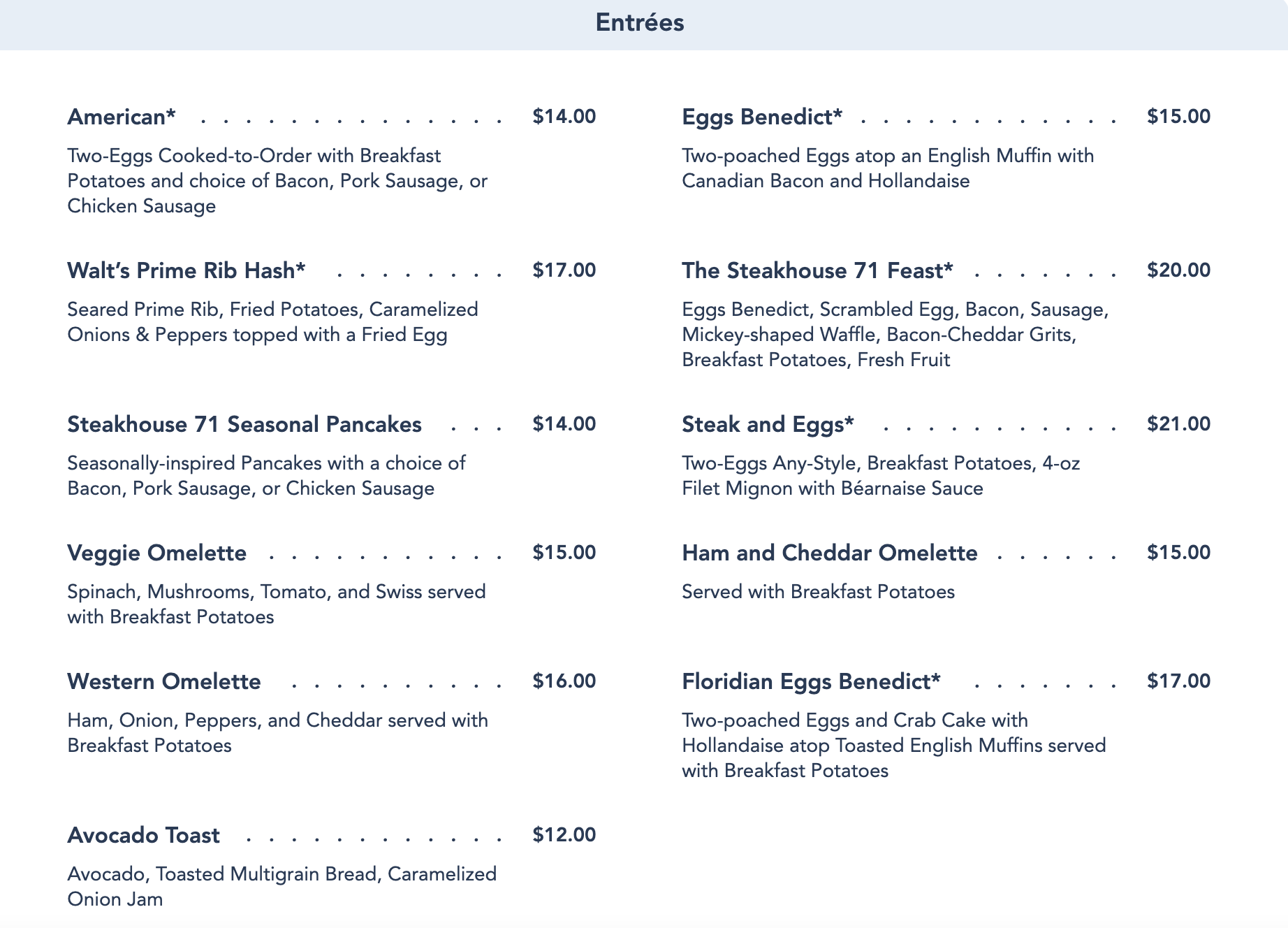 Extra sides are available for another $5, so you can add more potatoes, sausage, bacon, or grits to your meal.

As you kick off the morning, you can sip on a cocktail to add a bit of pep to your day from $13 to $19. And, let us just say that Refillable Mimosa sounds like the way to go!

However, other non-alcoholic drinks are available as well, like the Cold Brew & Tonic and Sherbet Punch, with prices from $7 to $9.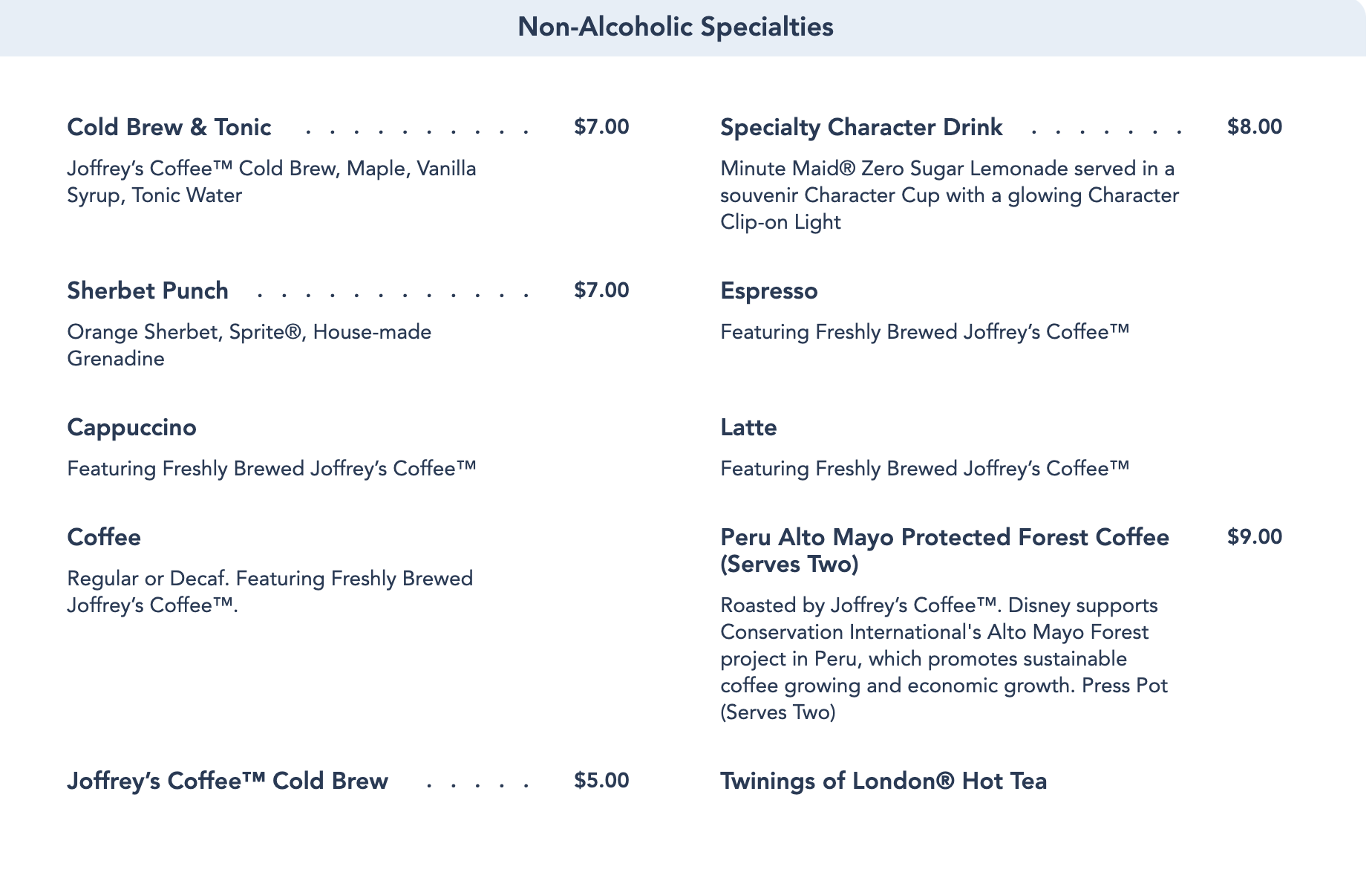 Steakhouse 71 will also offer an allergy-friendly menu at the same price points as the regular menu with appetizers…

…entrées…

…(with a few extra menu options in the mix)…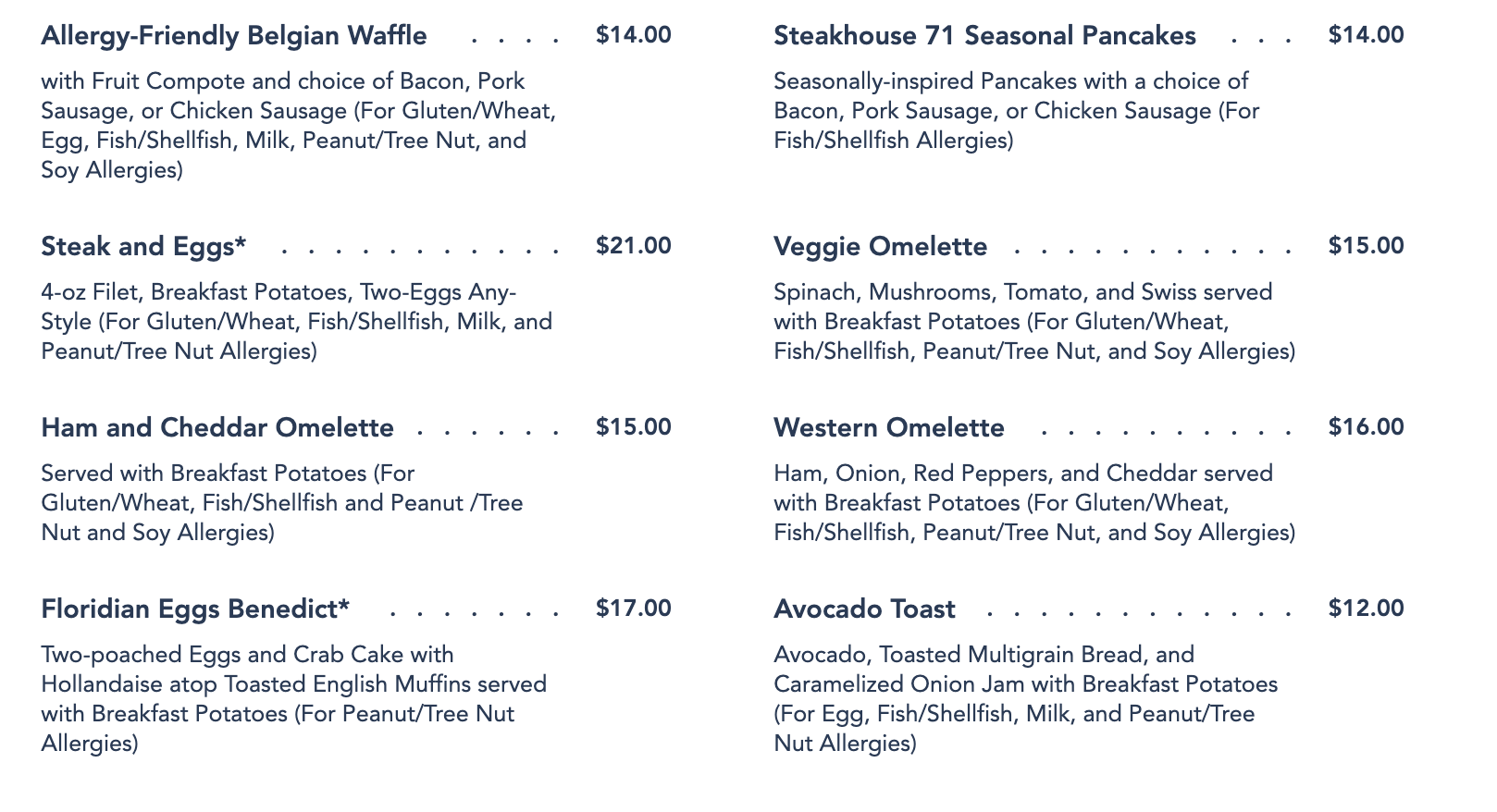 …and sides.

Lunch
If you need a midday break from the parks, you can head to Steakhouse 71 for lunch with your party! Guests can start off with a variety of appetizers, including French Onion Soup and Steakhouse 71 Onion Rings, for $9 to $16.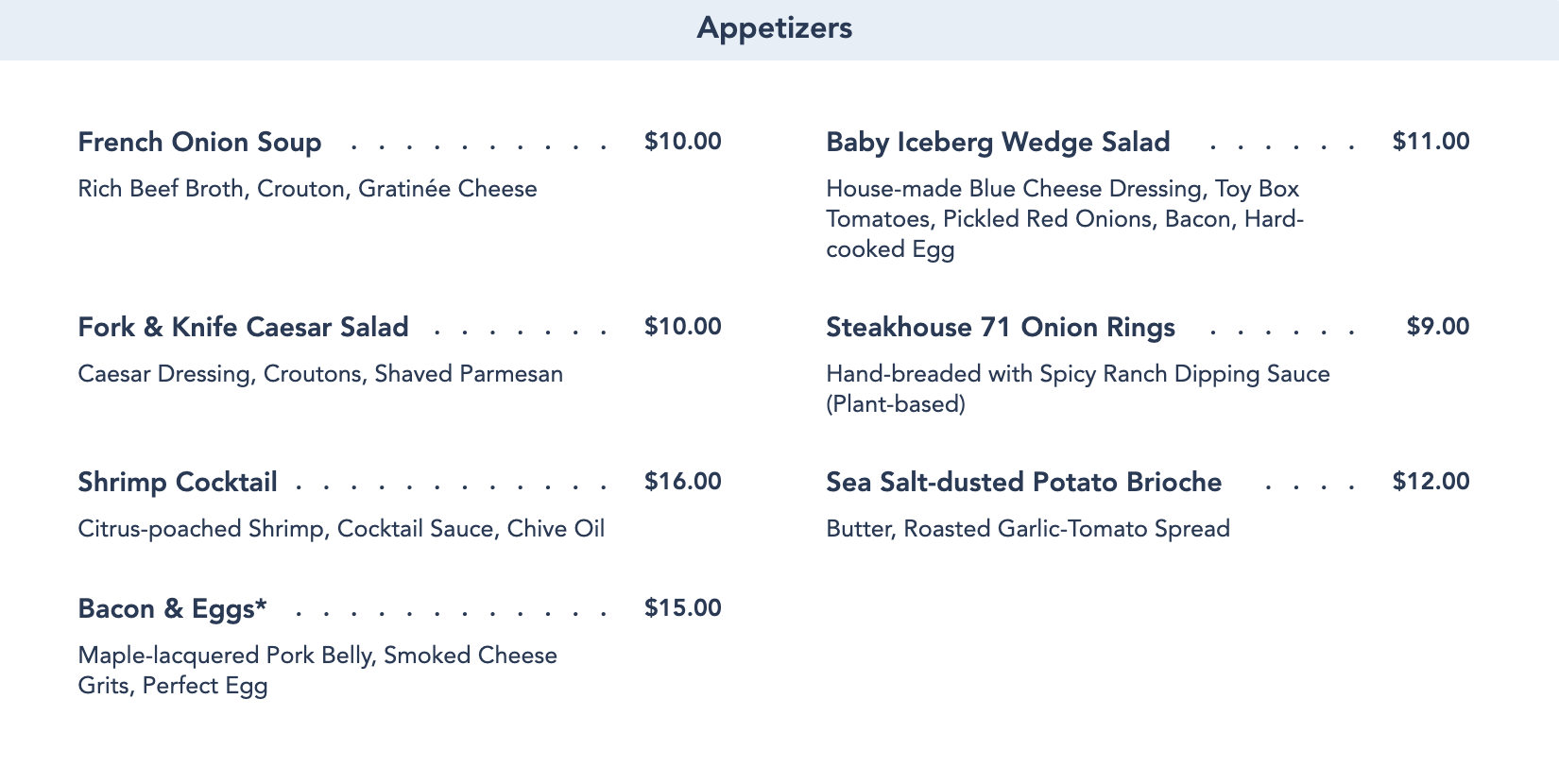 And, we're sure the entrées will be a hit with a fancier twist on typical fan-favorite lunches! You can try the Gourmet Grilled Cheese, Prime Rib Sandwich, Crab Cake Sliders, and more for $15 to $26.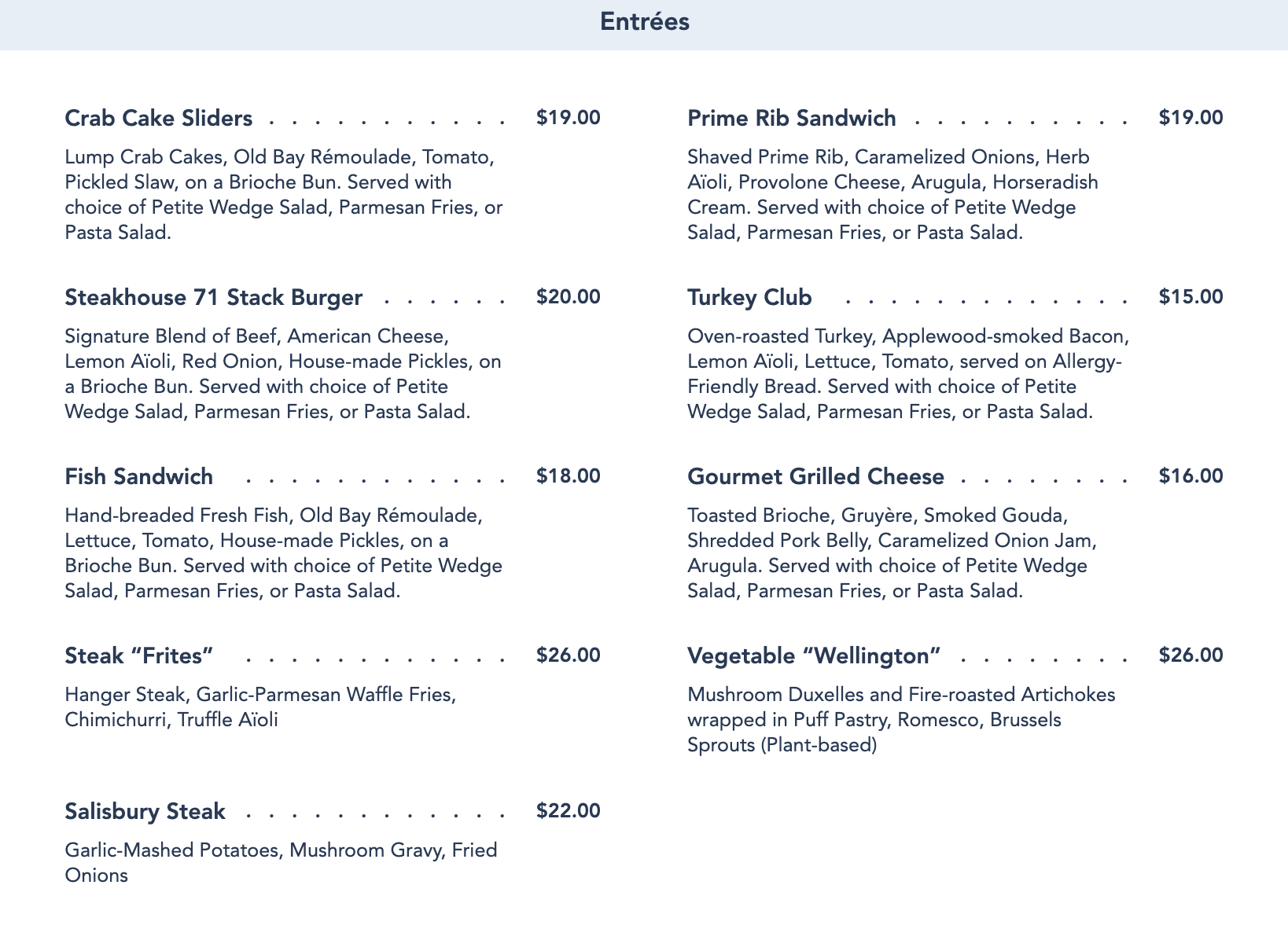 Of course, dessert is a must-have at Steakhouse 71, especially with items like the Steakhouse 71 Chocolate Cake and Ambrosia for $8 to $11.

Guests also have a variety of choices of specialty hot beverages…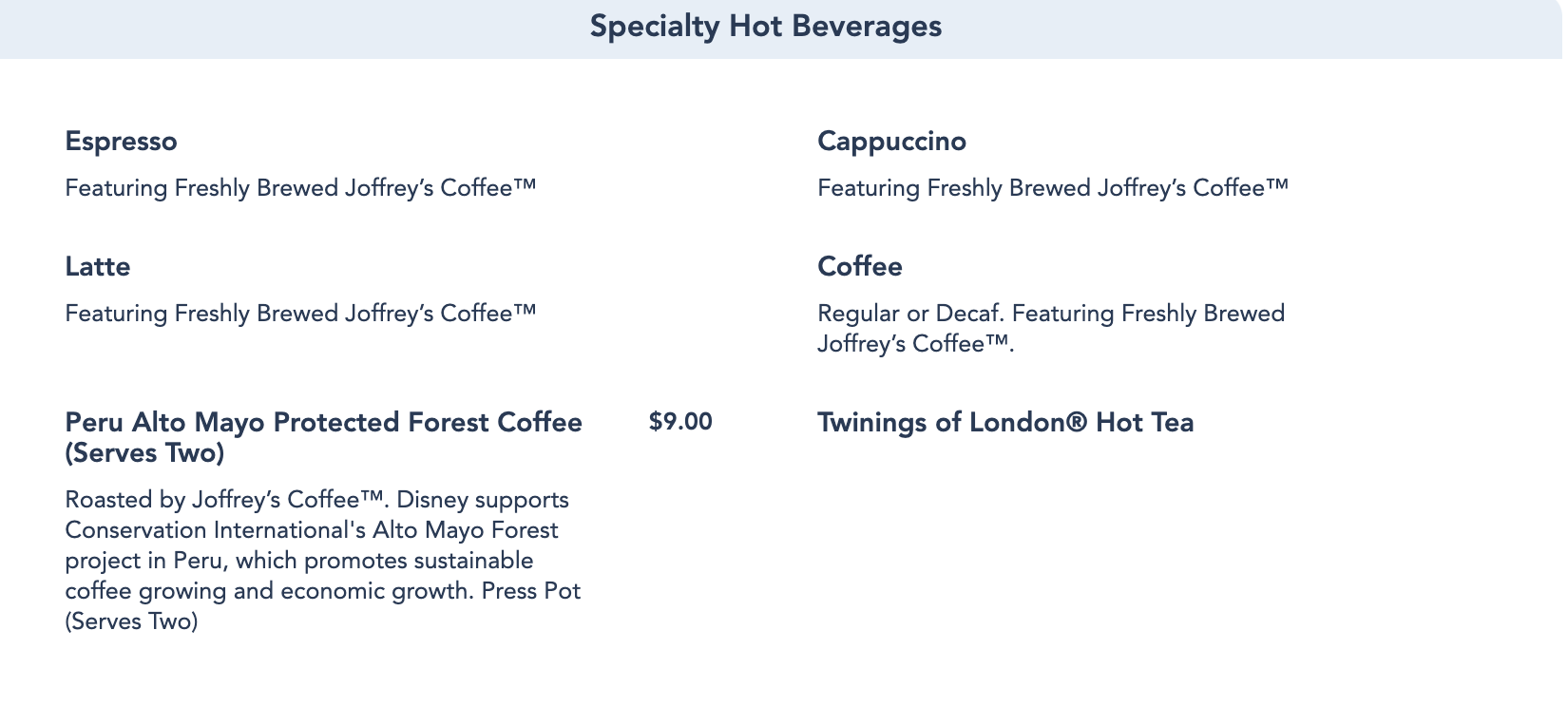 …beer…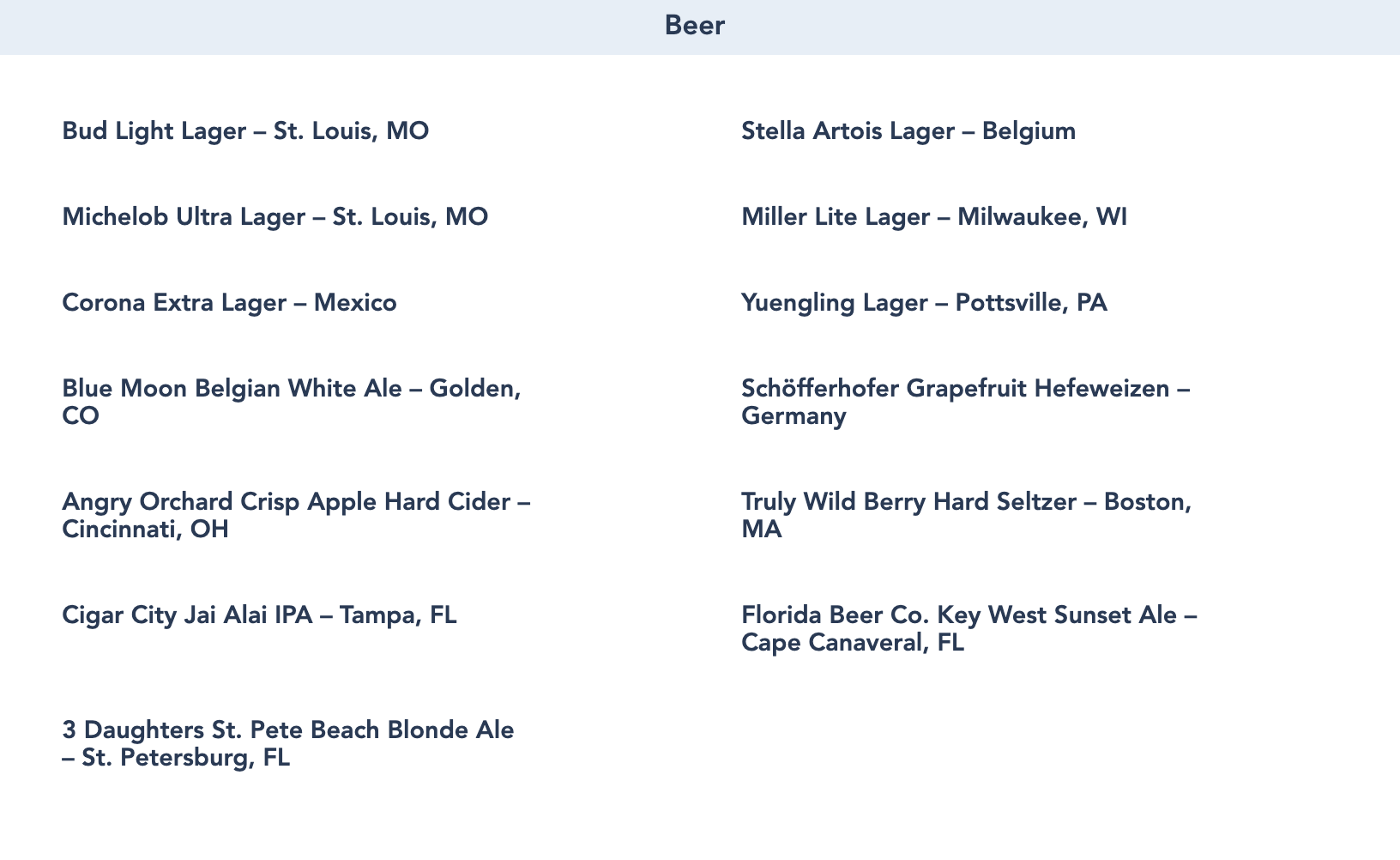 …wine, and more to sip on with their meal too.
Lunch at Steakhouse 71 has allergy-friendly options as well at the same price points with similar appetizers…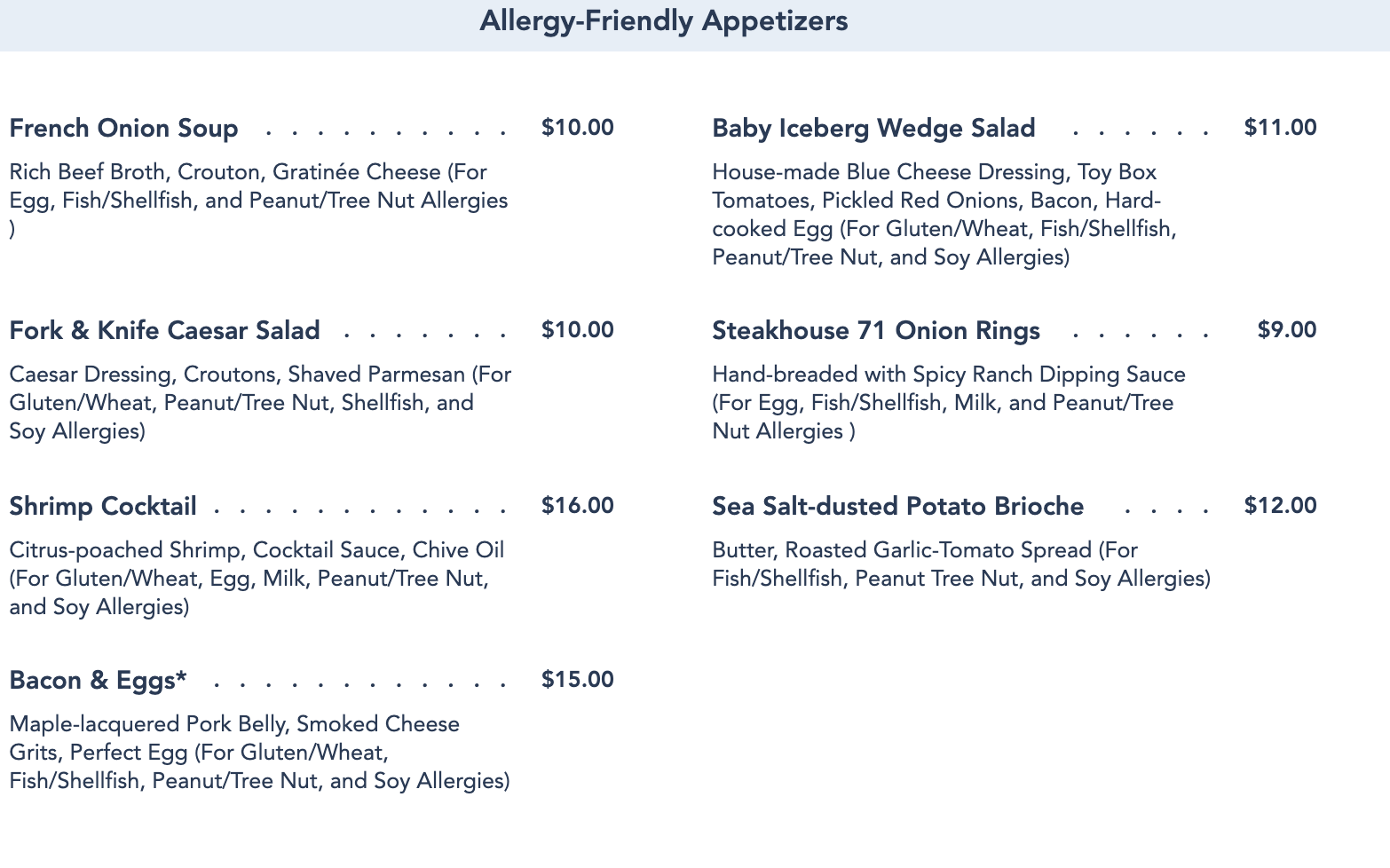 …entrées…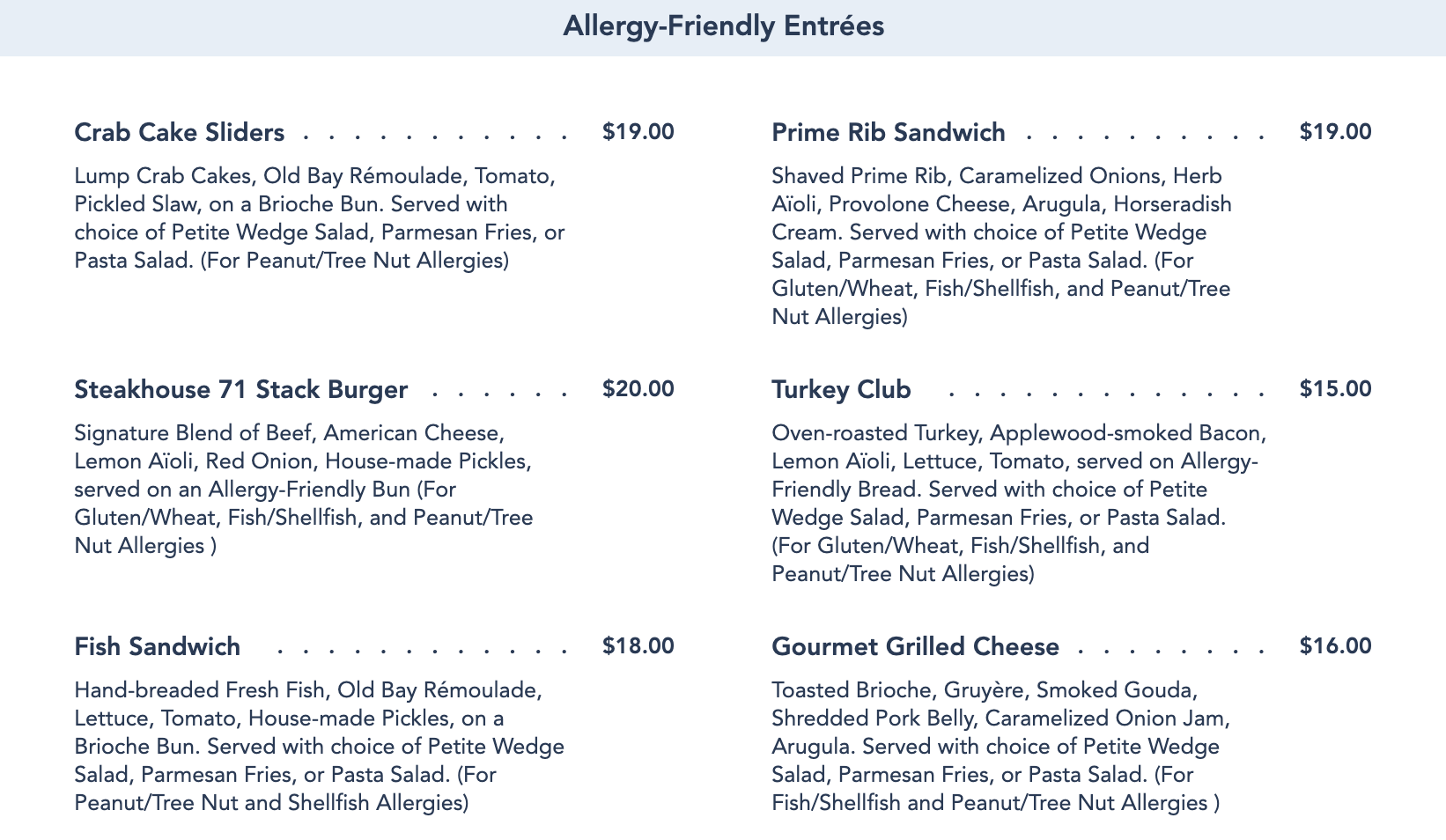 …(with all their allergy compatibilities listed next to the descriptions)…

…and desserts.
Dinner
Steakhouse 71's menu has a few similarities to its lunch options, as the appetizers are the same for $9 to $16.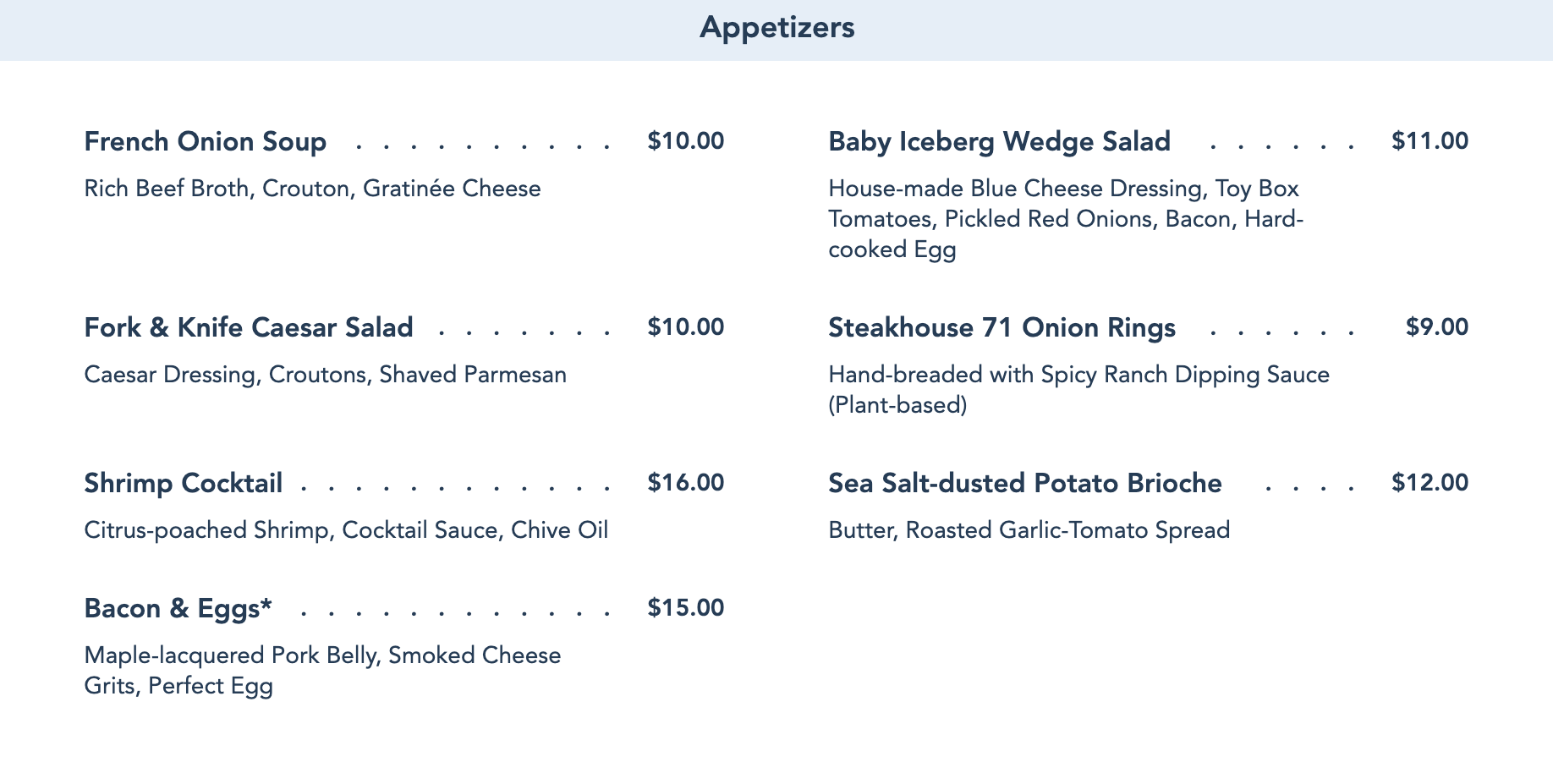 However, for dinner, guests can actually dine on the steakhouse's many cuts of meat from $29 to $38…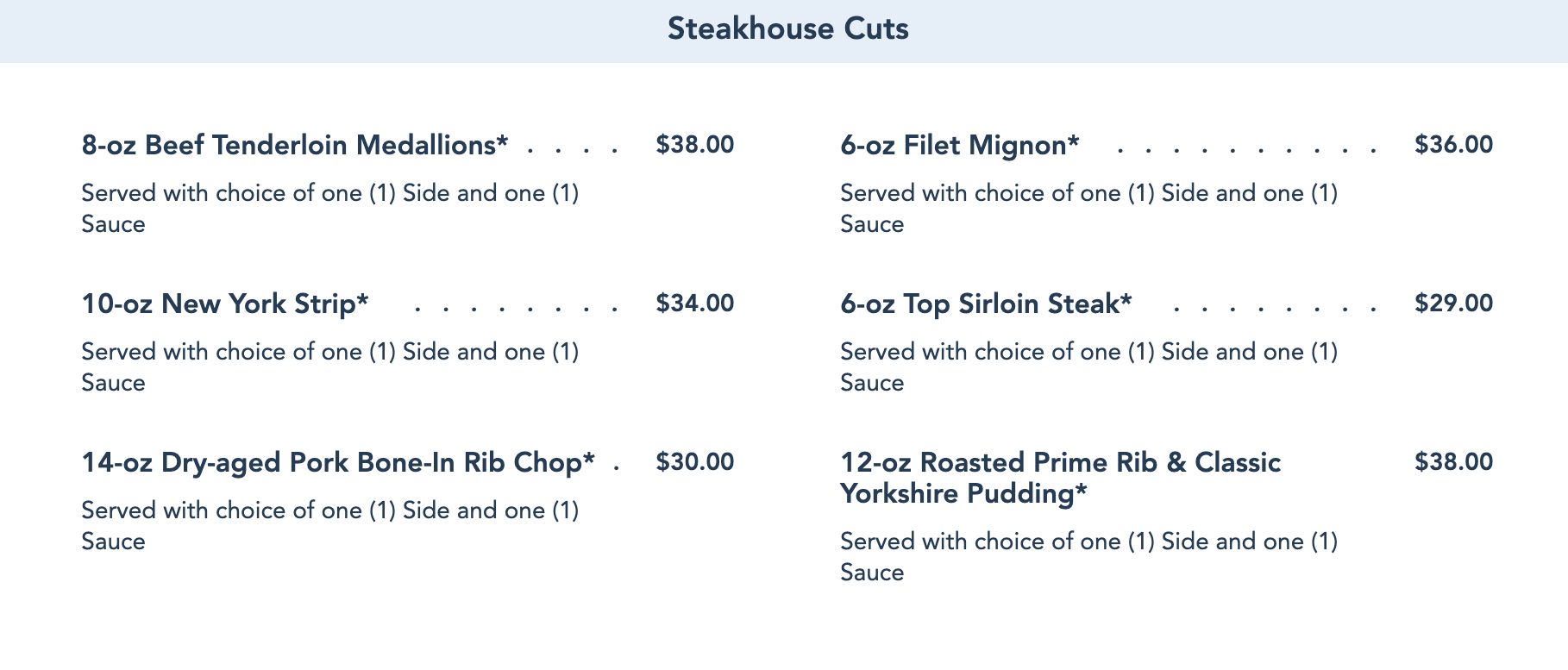 …where they will be able to choose one of the side options and sauces to pair with their meal.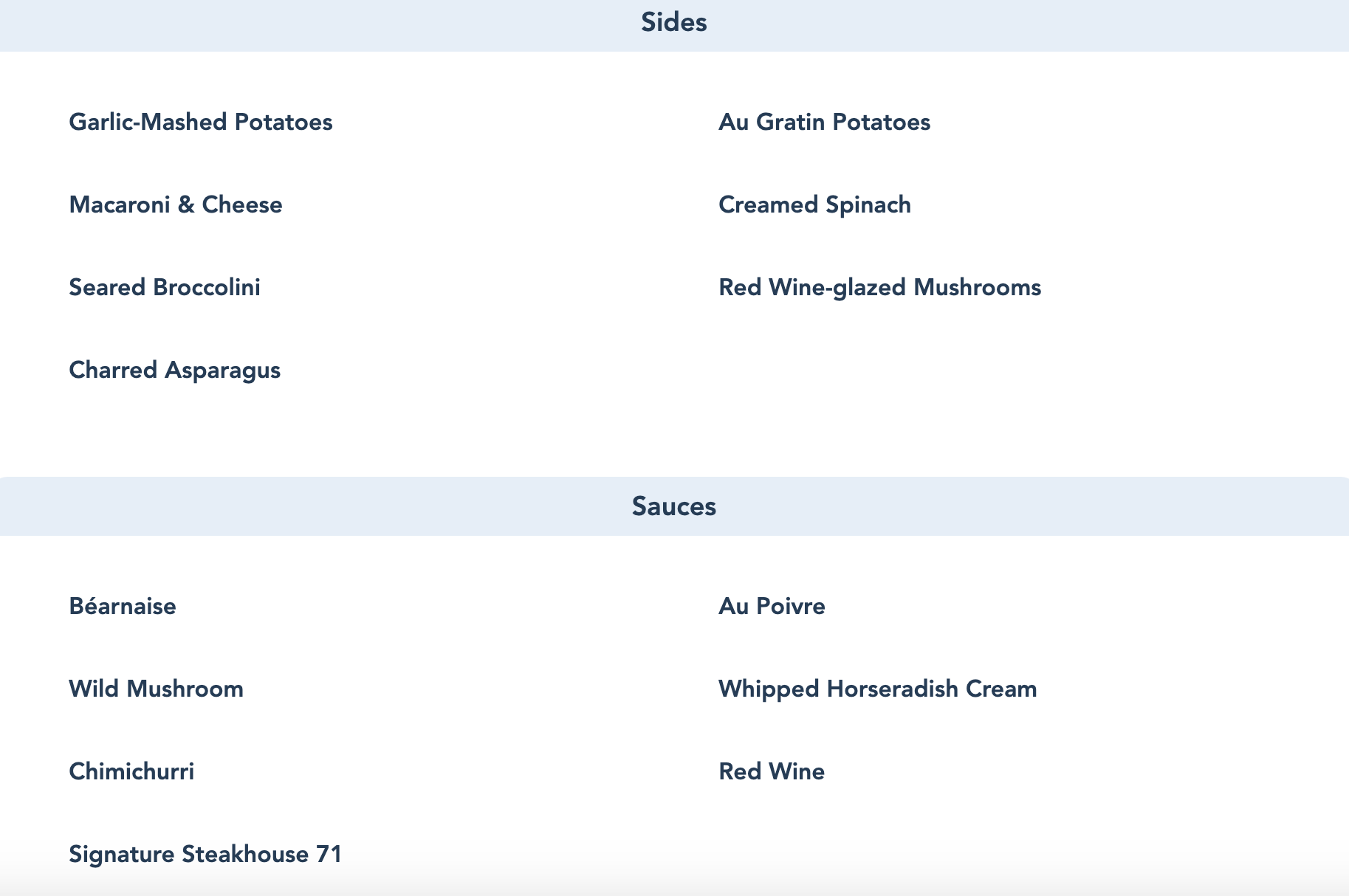 Other entrées are available for those who don't want steak, though, with fish, chicken, and vegetarian choices from $24 to $30.

Guests also have the choice of the same desserts and drinks listed at lunch.

Dinner time has the same allergy-friendly options as the other meals with the same price points reflected for the appetizers…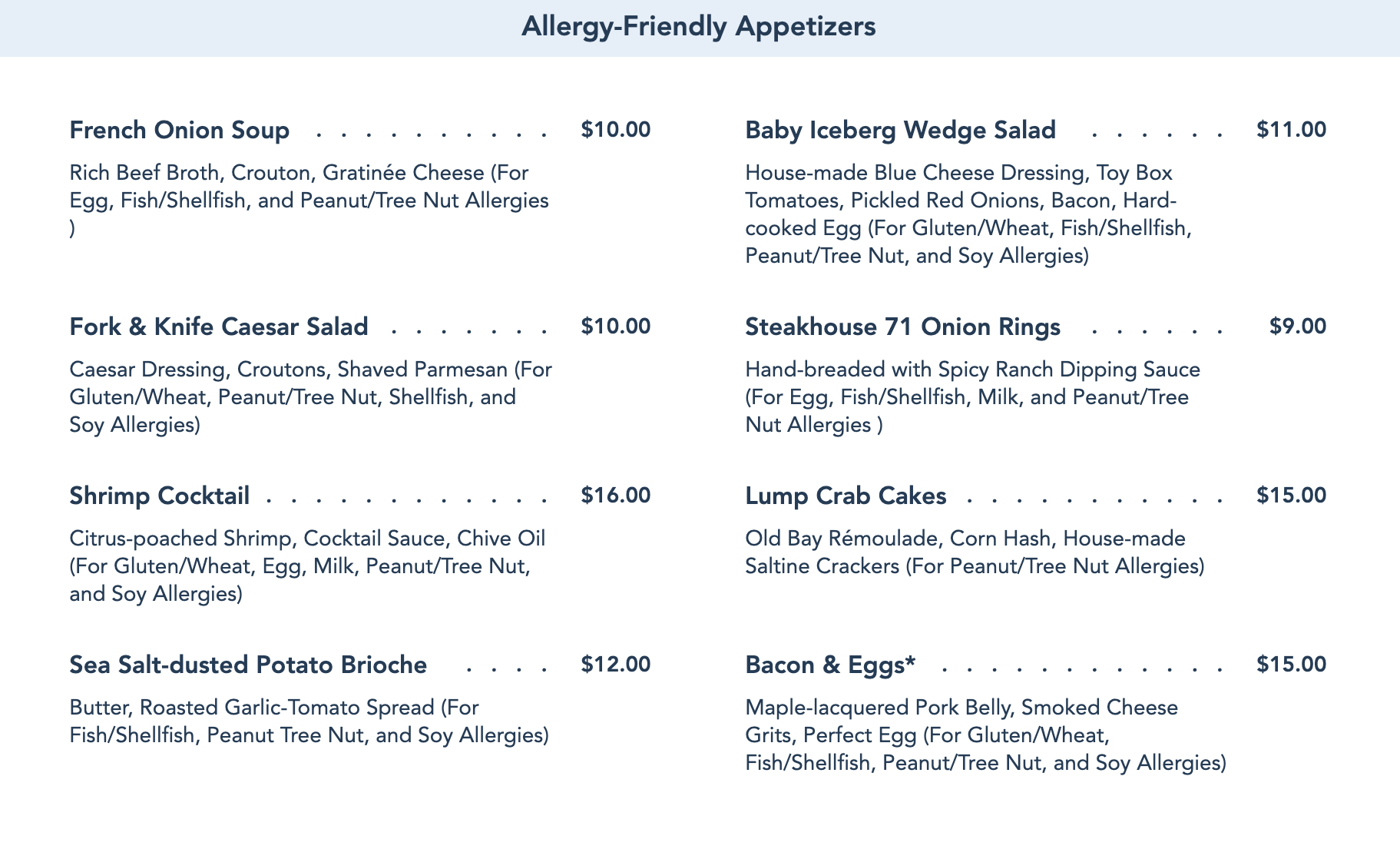 …steakhouse cuts…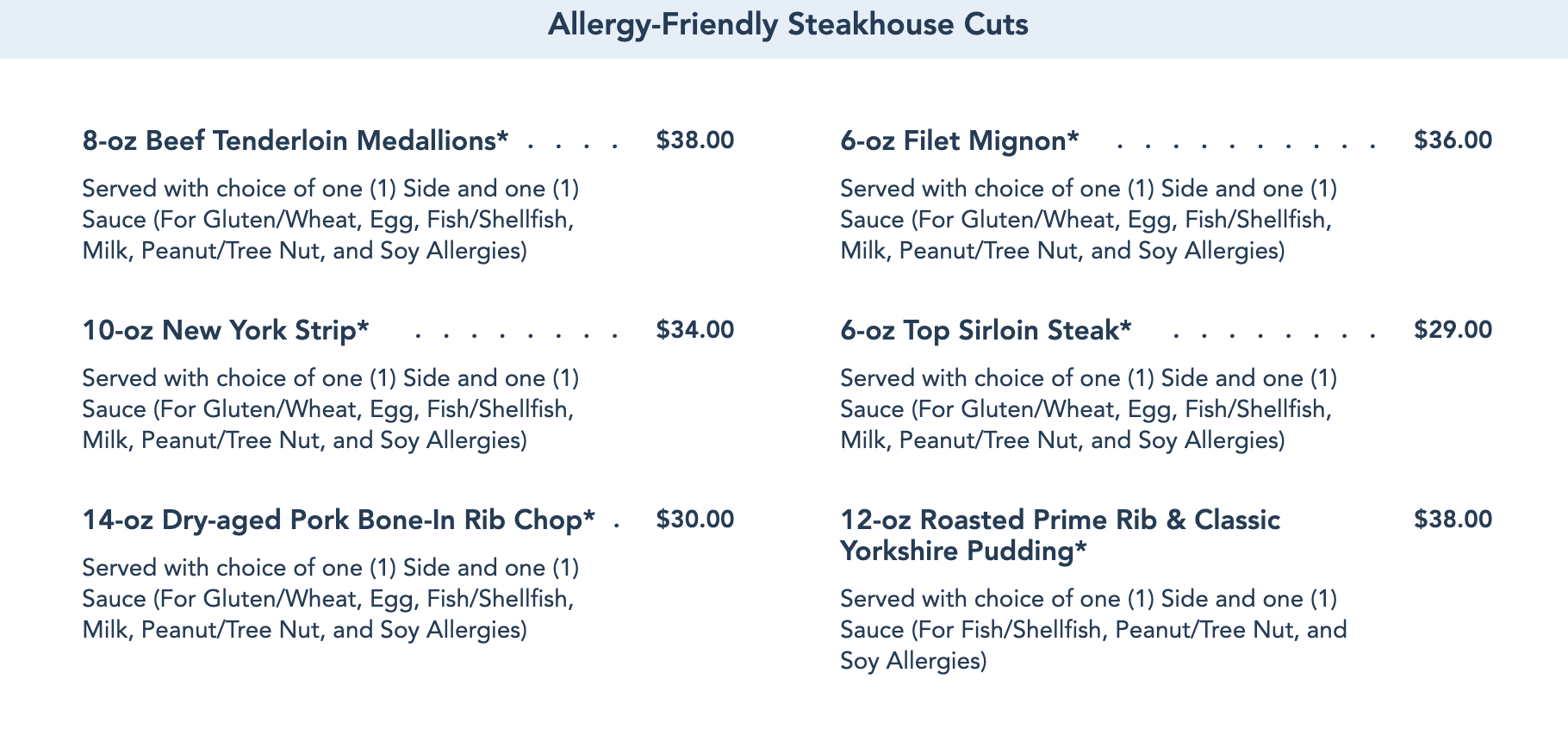 …with the sides…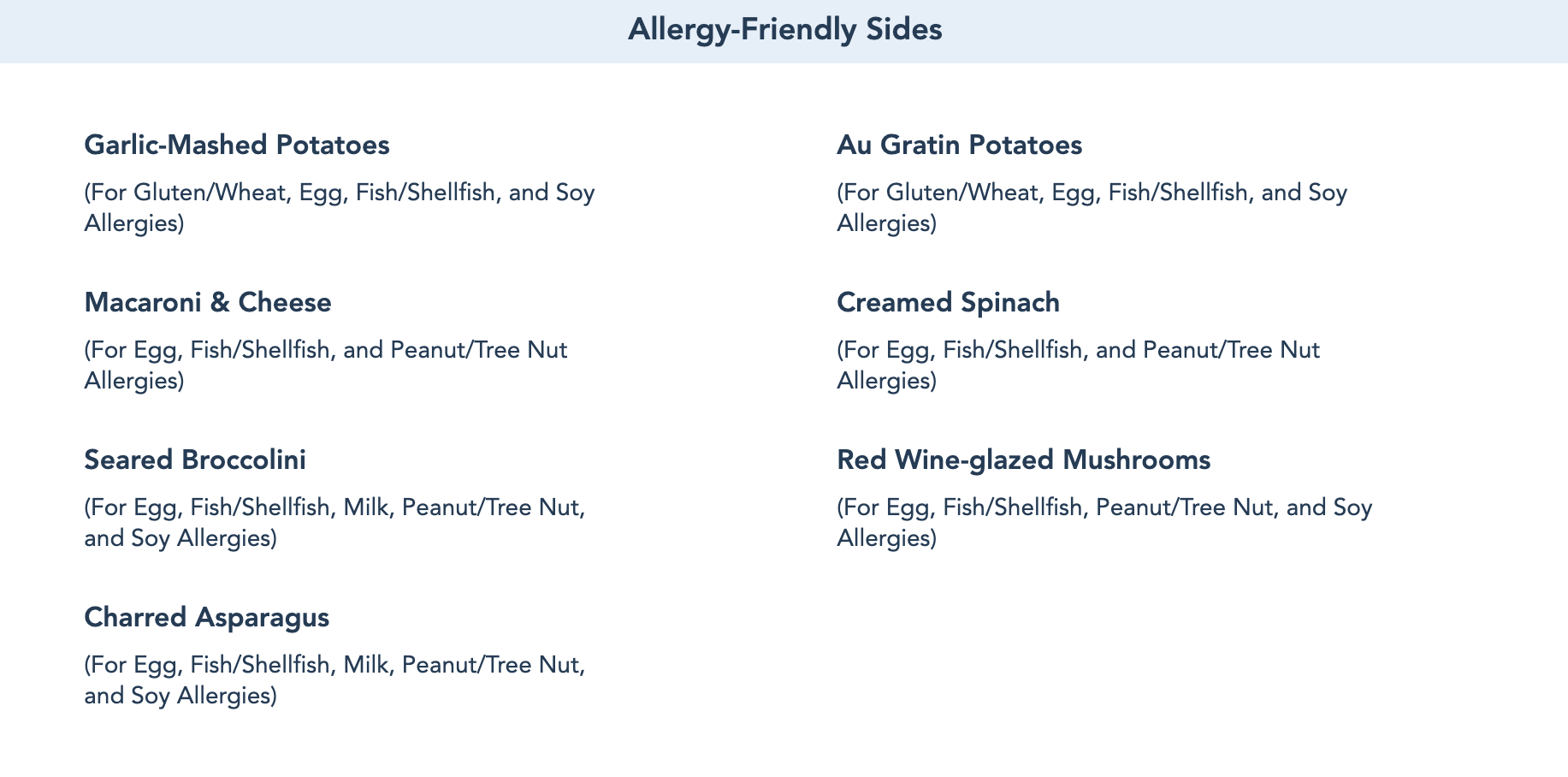 …and sauces listed…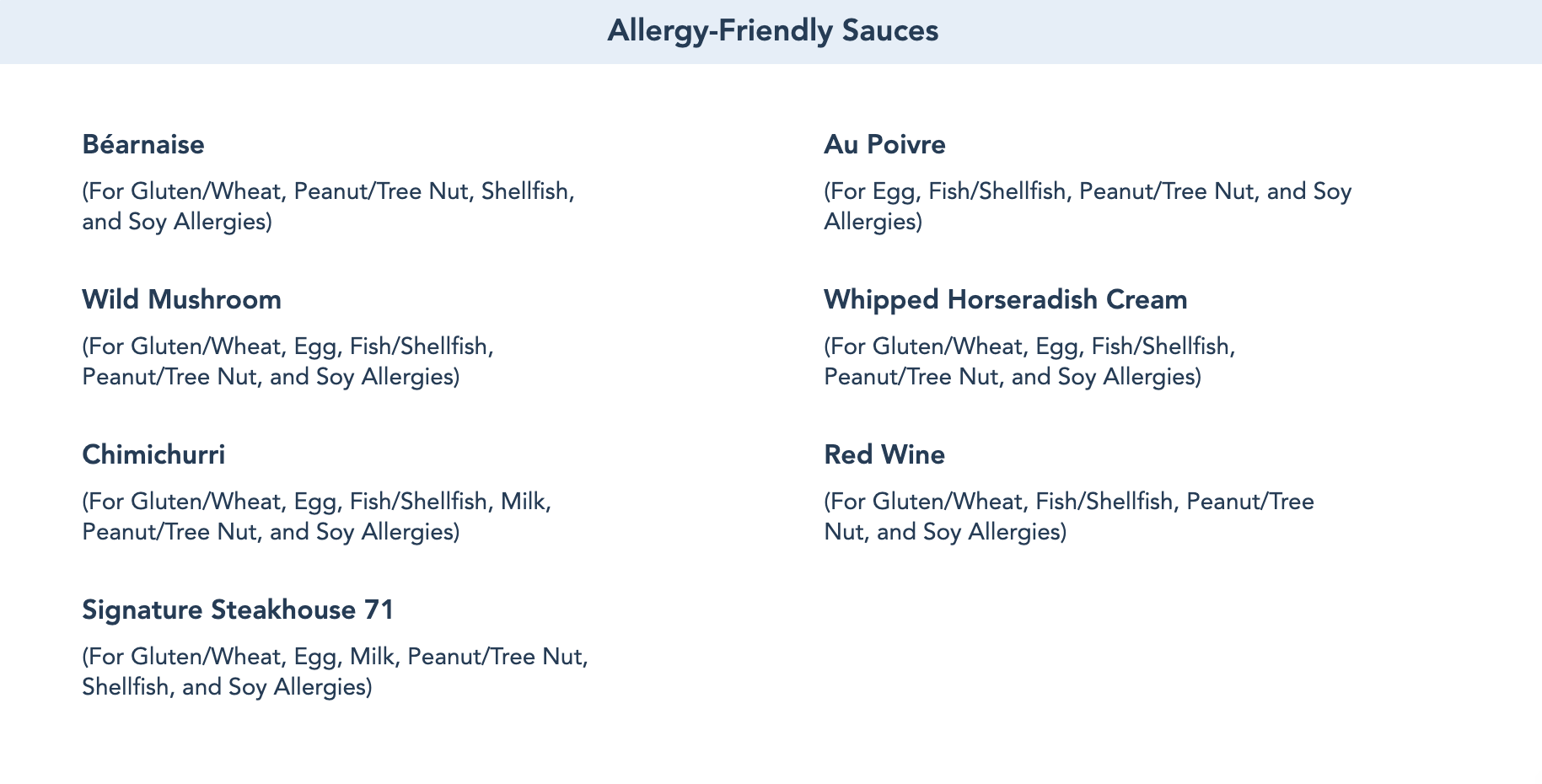 …as well as other entrées…

…and desserts to try for yourself!

Reservations to Steakhouse 71 open to guests on September 16th prior to the restaurant's official grand opening on October 1st. Stay tuned with All Ears for more dining and Disney news coming soon!
Will you be visiting Steakhouse 71 when it opens? Let us know in the comments below!