If there's a theme park day that will go down in history for us, today is definitely in the running. During Annual Passholder previews, we were able to hop on Universal Orlando's VelociCoaster for the very first time!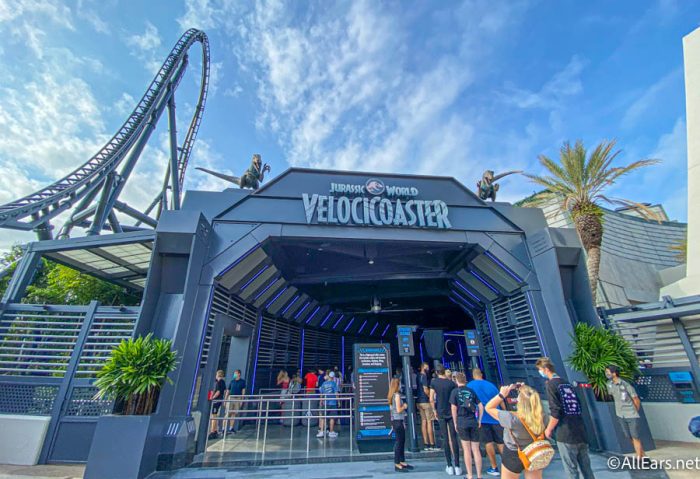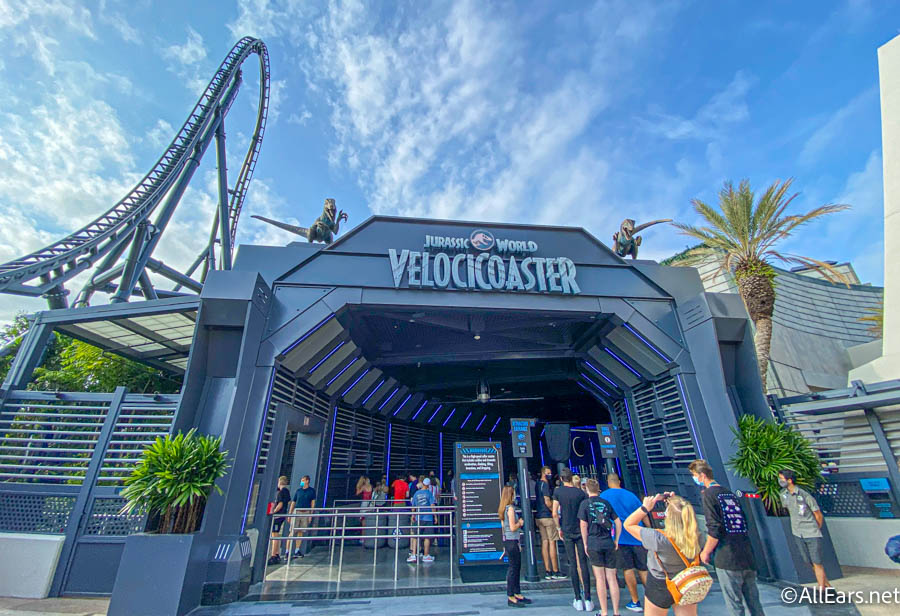 Along with a tour of the awesome queue and a first look at the Team Member costumes, there were so many surprises in store for guests daring to ride this "beast" of a coaster. And, we're breaking down the 6 MOST surprising things we experienced at VelociCoaster in Universal Orlando!
Raptor Animatronics
We may have been prepared for animatronics to show up at SOME point on this attraction after all the sneak peeks. But, we couldn't get over how incredibly lifelike the raptors in the queue were. We know we should be scared of them, but we kinda wanted to pet their heads? Maybe they wouldn't want to eat us so much that way? (Maybe???)
The raptors are ready to GO in the queue for @UniversalORL's VelociCoaster! pic.twitter.com/Ayw5VpmvGX

— AllEars.Net (@AllEarsNet) May 2, 2021
Still, we were surprised that there weren't MORE raptor animatronics during the ride. Considering that Hagrid's Magical Creatures Motorbike Adventure features multiple animatronics throughout the attraction, we kinda expected something similar. However, VelociCoaster only plays raptor noises and growls in your ear with speakers without actual animatronics throughout the ride.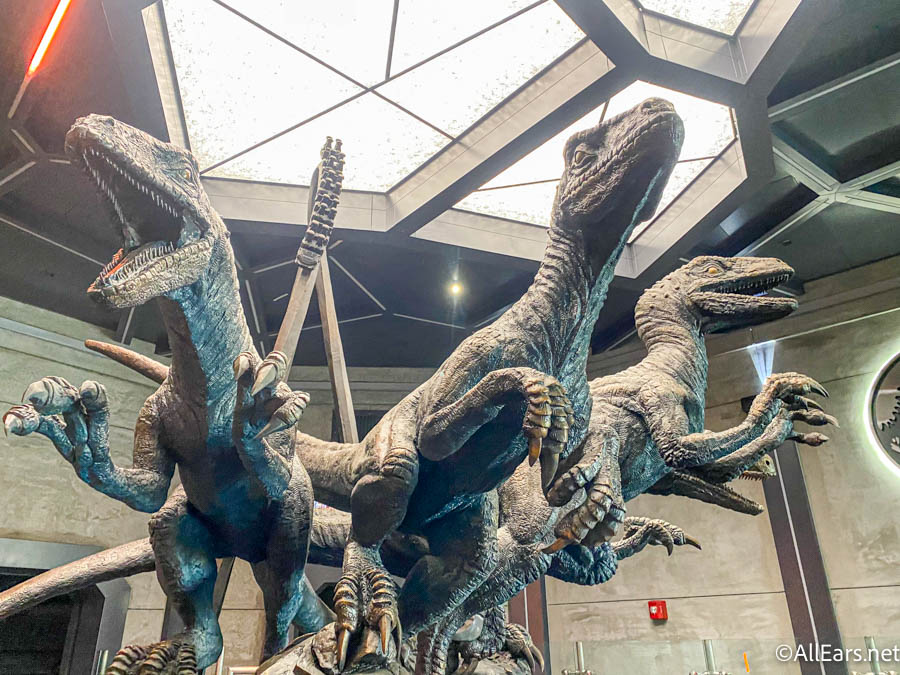 We figured that this was most likely due to the fact that the ride goes extremely fast. So, a moving animatronic would be a "blink and you'll miss it" feature at that speed. Instead of putting animatronics in places you'd barely see them along the track, you can admire the ones in the queue. And don't worry, there are raptors throughout the ride — they just don't move.
That HUGE Drop
We've been watching that massive drop become a reality for months now during construction. Still, nothing could have prepared us for how tall and steep that drop was (in the best way)! The view of Jurassic Park and the rest of Universal from that height only added to the thrills, just before speeding into a series of inversions and that epic barrel roll at the end of the attraction.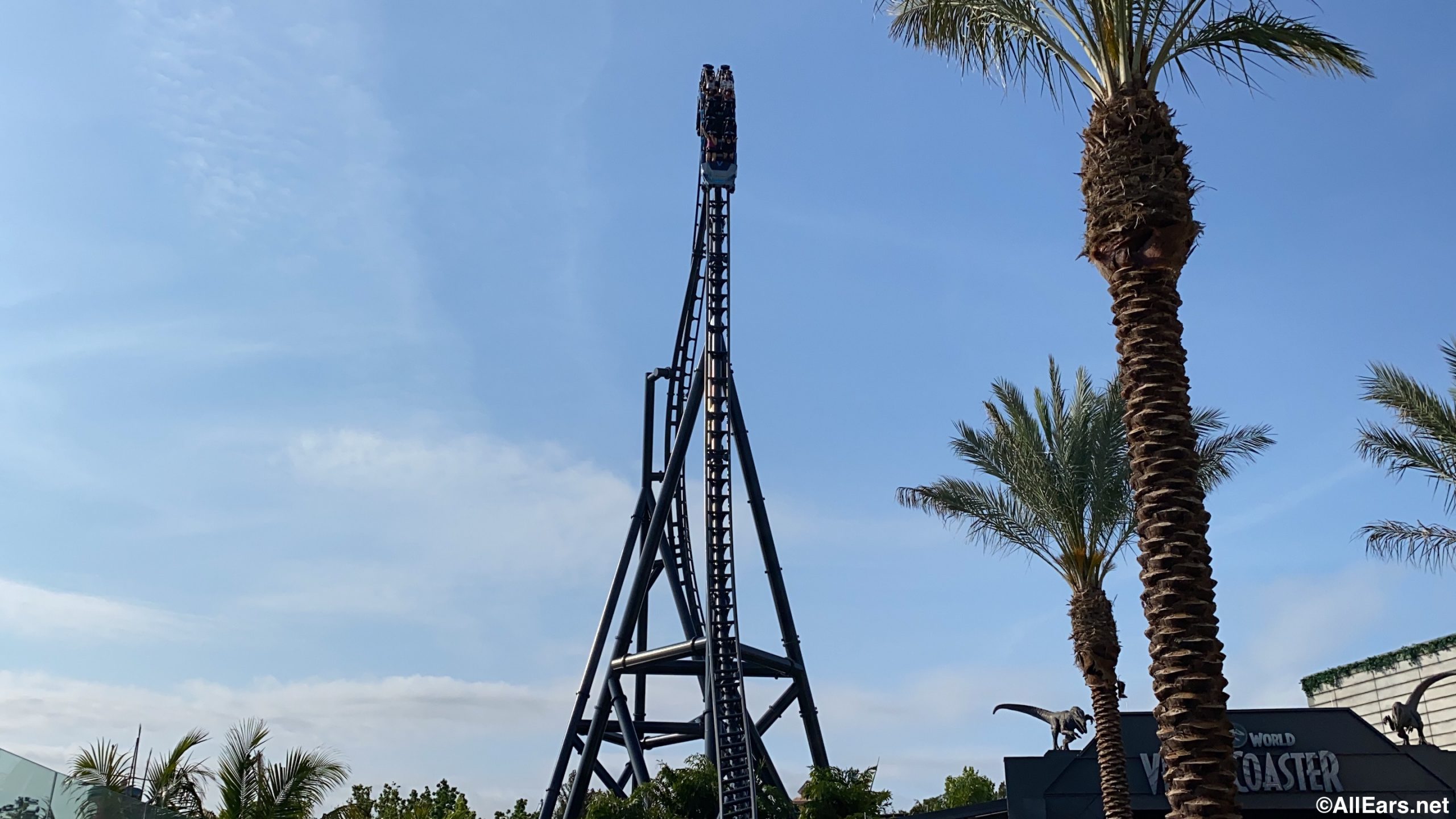 We consistently felt like we were flying, making us feel like we really were going as fast as possible to escape the raptors "chasing" us. It's also important to note that there's only a lap bar on this ride. Nothing goes over your shoulders, so it really feels like you're floating.
Where to Sit on the VelociCoaster
We know that everyone has their preferred spot on a coaster. But, we can already tell you that we've got the run-down for EXACTLY where you should sit, depending on the experience you're craving. If you sit up at the front, you'll have the BEST views of the top hat tower, the near misses of rock work, and the launches.
A closer look at the initial first launch of VelociCoaster pic.twitter.com/O7VwWu010p

— AllEars.Net (@AllEarsNet) May 2, 2021
However, the back of the ride vehicle is where the THRILLS are. The momentum hits you a lot more in the final cart, where you experience the effects of speed, inversions, and more in a powerful way. While both sound incredible to us, we'll have to leave it up to you to choose which version of the ride you're feeling the most!
An Awesome New Way to Store Your Things
Perhaps the MOST unexpected feature of the VelociCoaster is the new way to use Universal's locker system. There are plenty of spaces for guests to quickly store their items before heading to the attraction.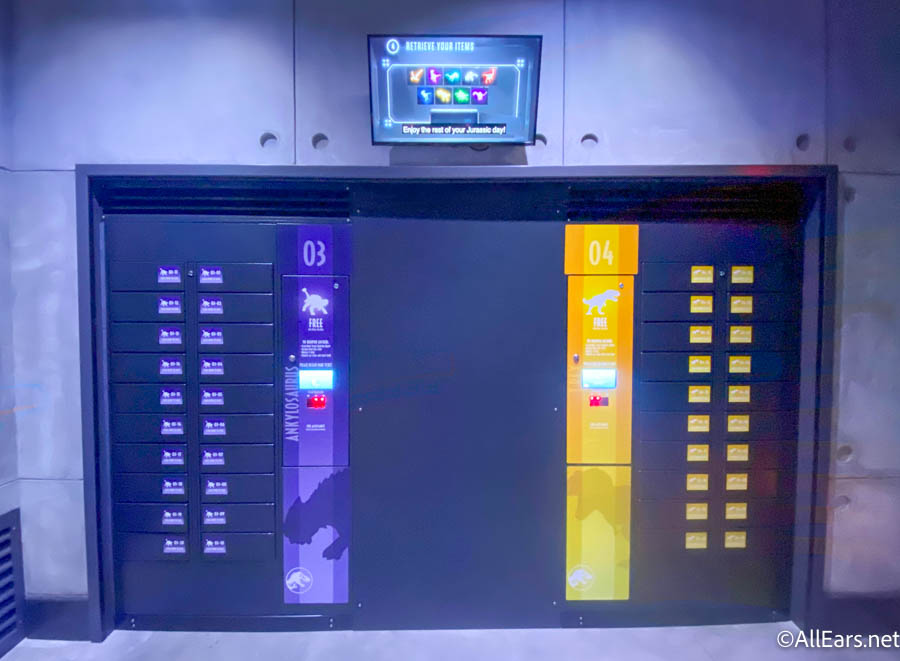 Before you enter the ride, Universal allows everyone to check the size of their bags in comparison to the locker space. Smaller, personal items will fit inside the VelociCoaster's locker, while larger items will need to be stored in a paid locker in the Discovery Center.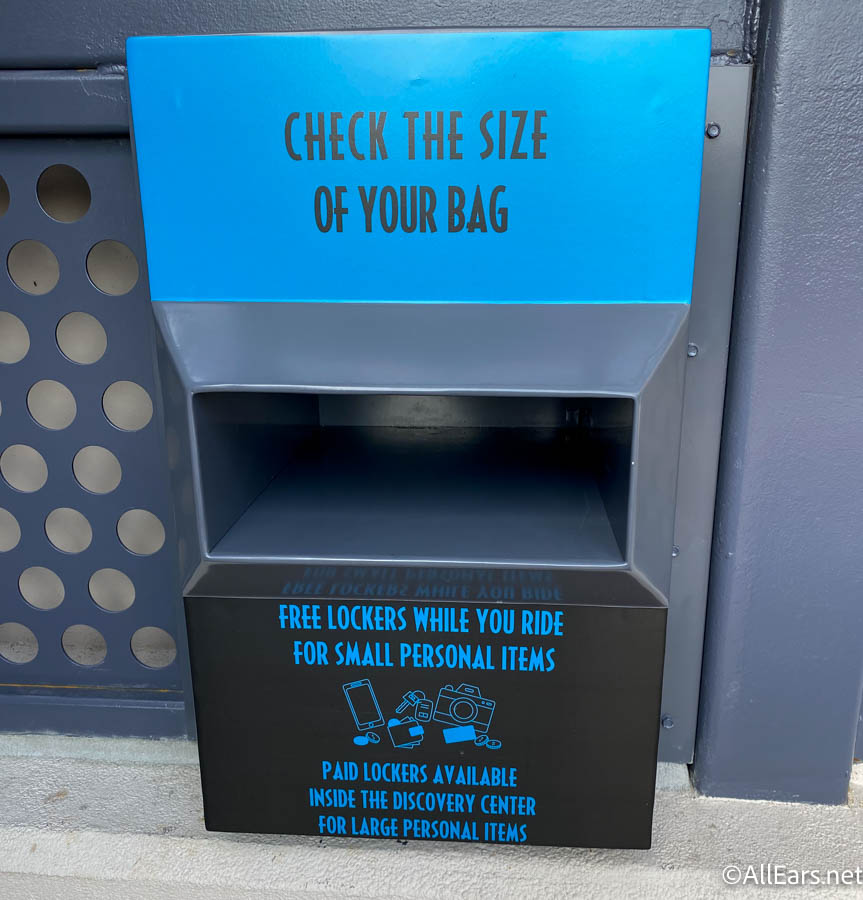 The BEST part about these lockers is just how efficient they are. Before you board the ride, you'll place your items in the lockers as you make your way through the queue. After you've finished your ride, you'll grab your items from a different room, but still using the same lockers since they're double-sided! Um, we're impressed. So smart for improving traffic flow.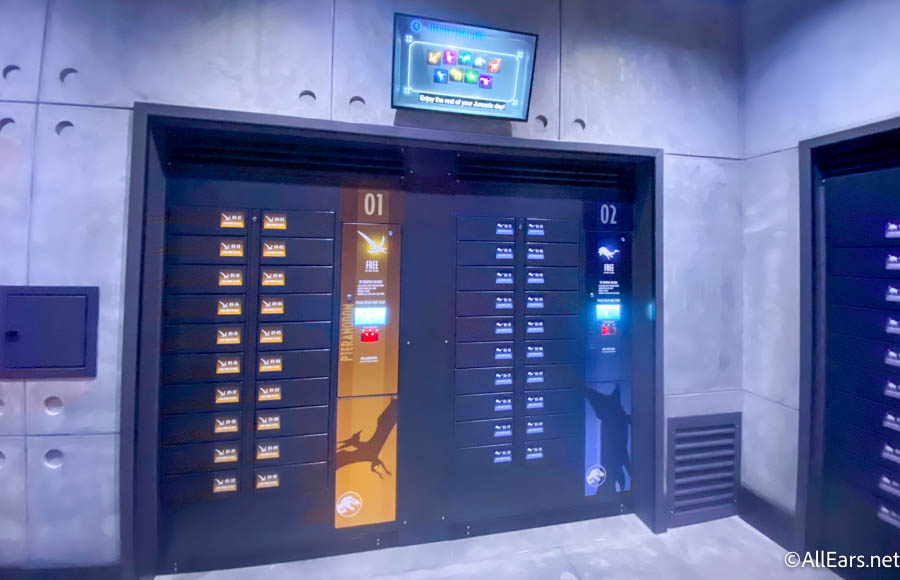 To use the lockers, all you'll need to do is scan your park ticket for the locker door to open. When you've returned, you will just do the same steps to open your locker once again before exploring the rest of the park.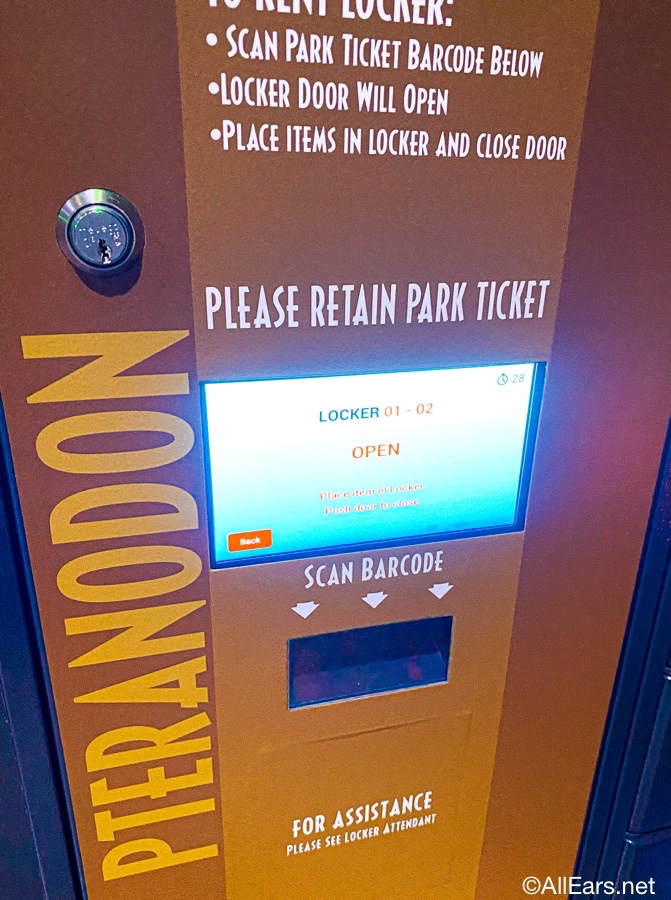 The new locker measures in place have already helped the traffic flow move along quickly, so there aren't people trying to come and go from the same locker area.
All the Jurassic Park References!
We already knew that there would be plenty of nods to the Jurassic World franchise since the VelociCoaster is based on the newer series of films. Even though characters like Owen Grady and Claire Dearing show up, we were HYPED to see so many Jurassic Park references thrown in the mix too! Mr. DNA made his iconic return to narrate the queue…
We're at the VelociCoaster Passholder preview today! We could not contain our excitement to see MR. DNA in the queue! pic.twitter.com/92fUcqoxwJ

— AllEars.Net (@AllEarsNet) May 2, 2021
…while SO many props from the first set of films were hidden away, like books by Dr. Ian Malcolm and Dr. Alan Grant. There are also tracking binders and dinosaur handling tools you can find.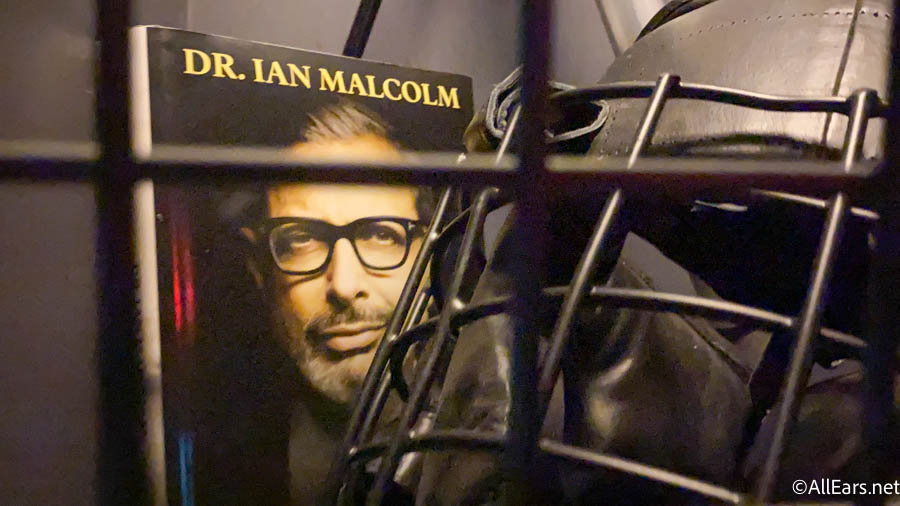 BD Wong also returns as Dr. Henry Wu, who has been featured in both sets of Jurassic films. But, we may not trust him so much after the creation of Indominus Rex and other dinosaurs that shouldn't be messed with in the parks. 👀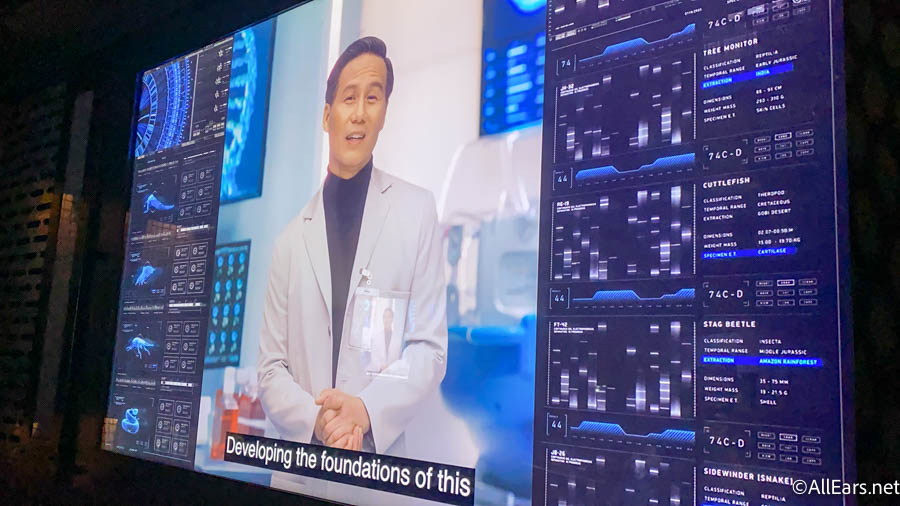 But, there's still one more surprising element of the VelociCoaster!
A Looooong Ride-Through
Some attractions may look amazing, but the actual ride doesn't last as long as we'd like (ahem, Seven Dwarfs Mine Train). VelociCoaster is definitely not that kind of coaster, because the ride-through was long enough to really show off the incredible twists and turns engineers have built. There's a great balance focusing on the story in the queue, so guests can appreciate the thrills during the actual attraction.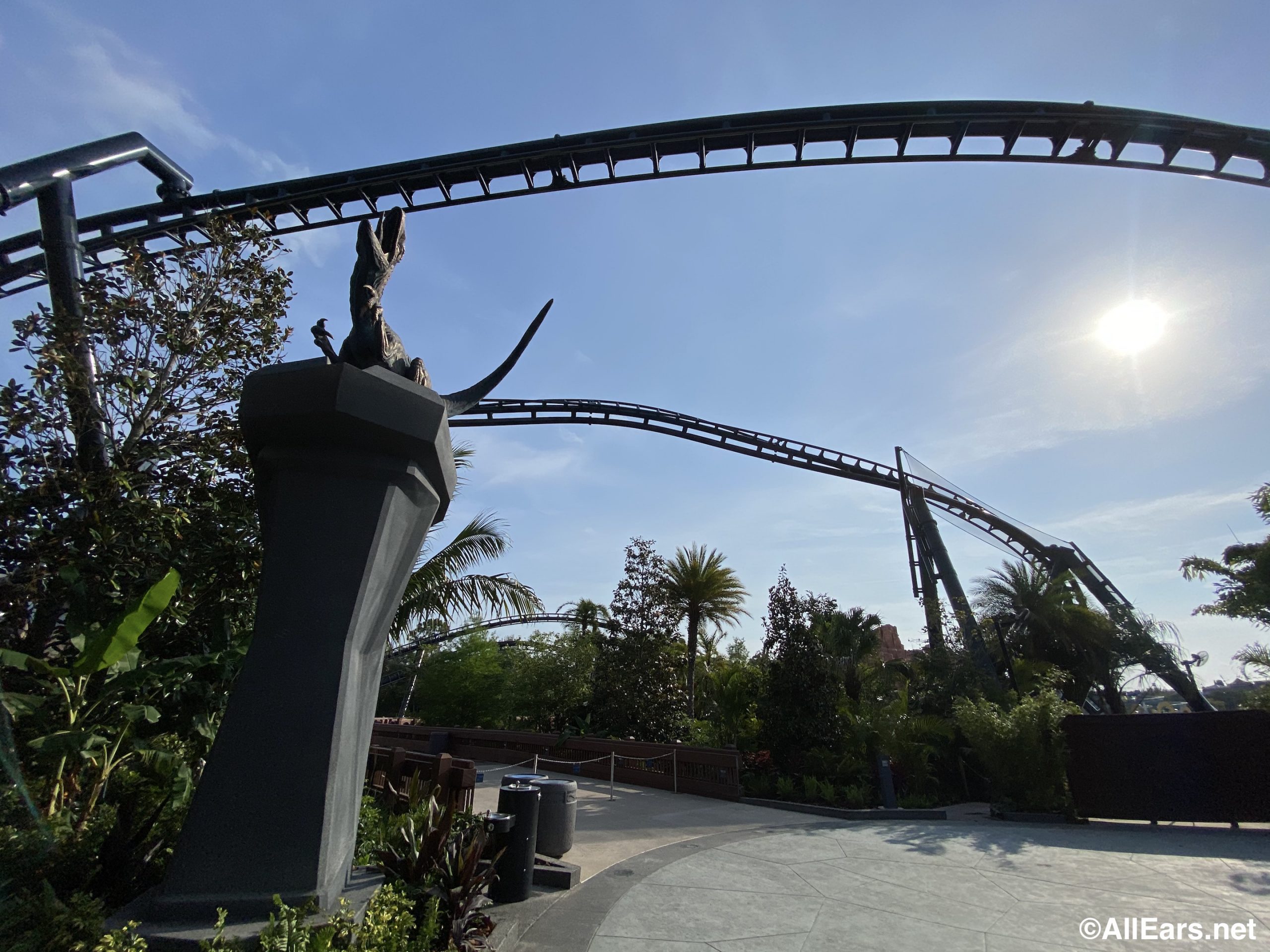 Alright, Universal, you've done it AGAIN! VelociCoaster was a hit with us, and we can't wait to ride it over and over again. Plus, we can't wait for all of YOU to experience it for yourselves. While we wait for its official June 10th opening, we'll keep you updated with the Universal news you need to know!
Will you be riding VelociCoaster when it makes its official debut? Let us know in the comments below!