Gideon's Bakehouse has FINALLY opened in Disney Springs, and we can't help but want to eat a whole bunch of goodies from the bakery.
And, we're taking you with us to check out everything happening over at the bakery as we snack our way through a few treats!
When guests first arrived to Gideon's today the store was using a virtual waiting list to enter the restaurant, which was at about a 3-hour wait when we joined midday.
After we were called, we returned back to the queue to enter the bakery…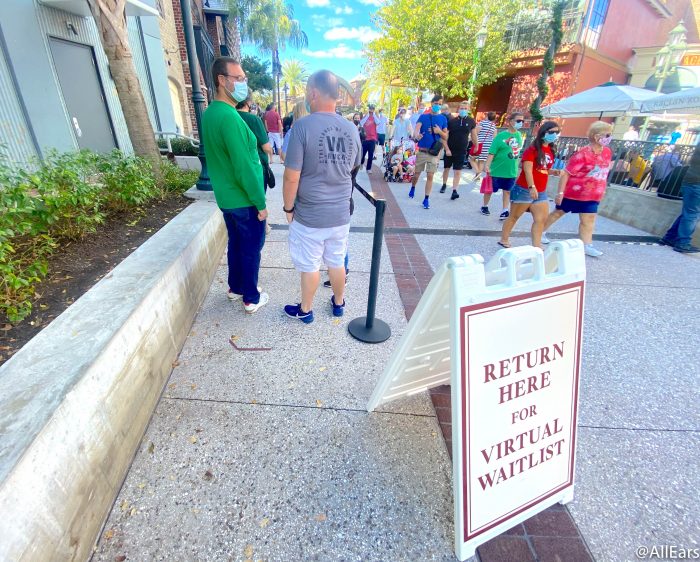 …as guests were given a Gideon's menu to check out all the treats available inside!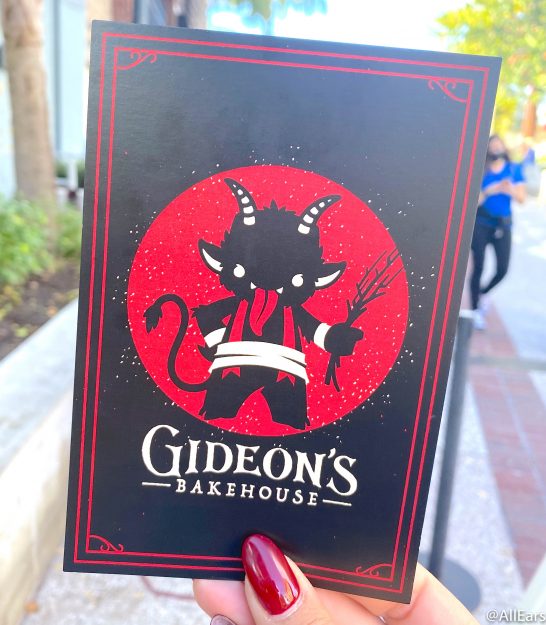 Along with the handmade cookies, there are also cake slices and nitro cold brew on tap.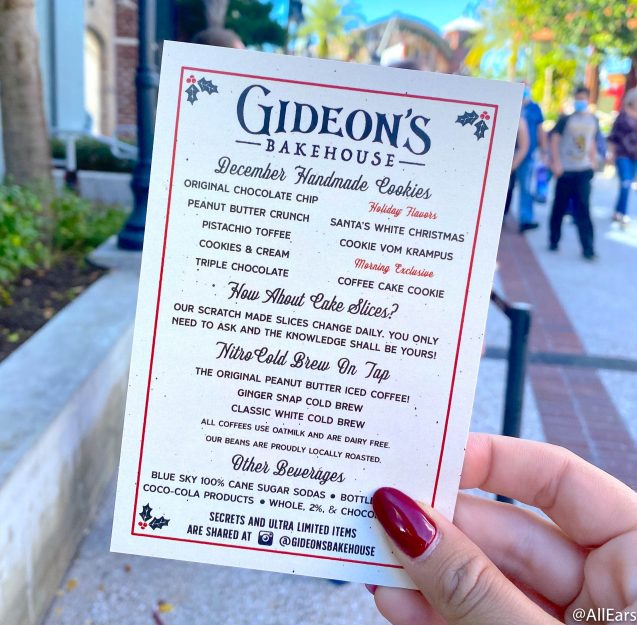 Of course, we had to snag a whole lot of cookies and a cold brew to wash them all down during our first visit!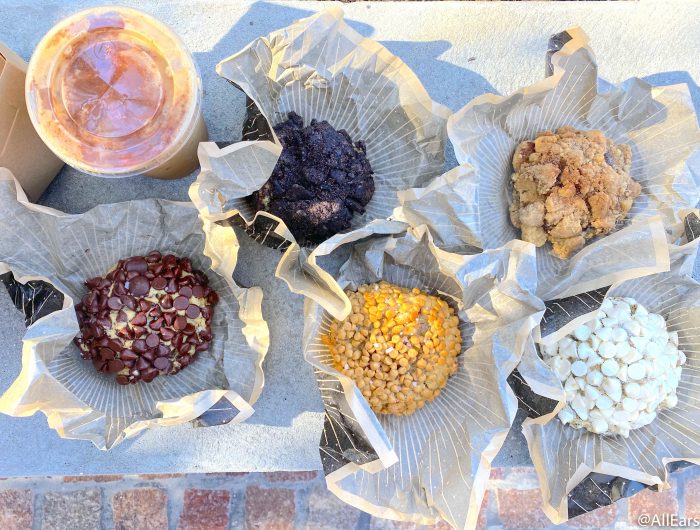 Original Chocolate Chip Cookie
When Disney World originally had Gideon's cookies placed in the Polite Pig, we indulged in the amazing Original Chocolate Chip Cookie.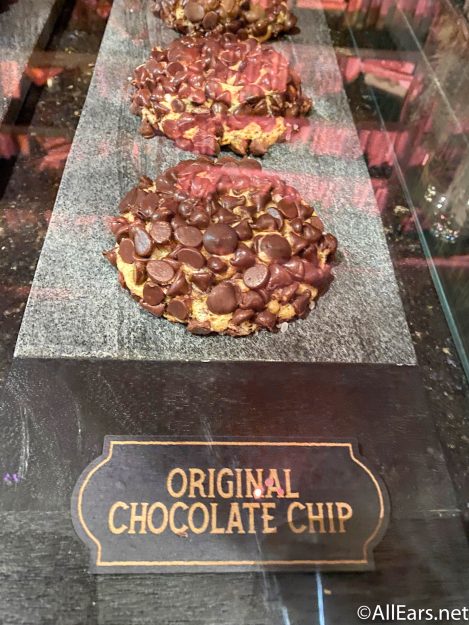 The 1/2 pound treat is made with a buttery dough with SO MANY chocolate chips and a kick of real vanilla bean. And, it's got a million chocolate chips so you can enjoy all the chocolate-y goodness in each bite!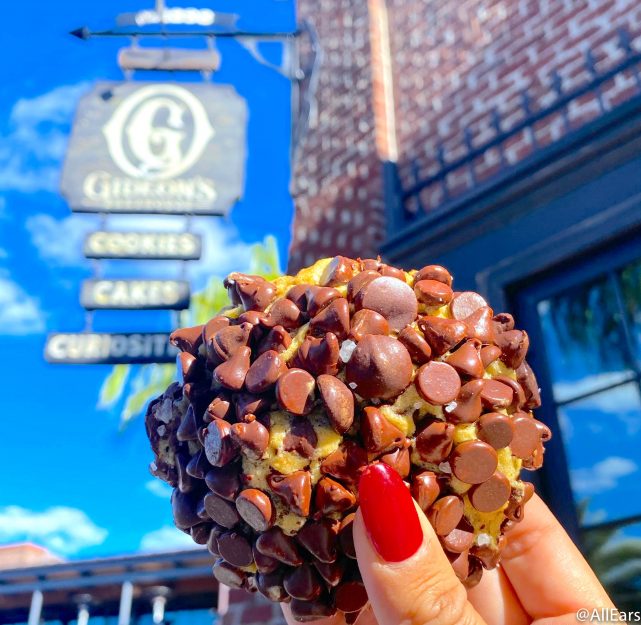 Cookies and Cream Cookie
We're calling all Oreo lovers because the Cookies and Cream Cookie was WAY too good to pass up.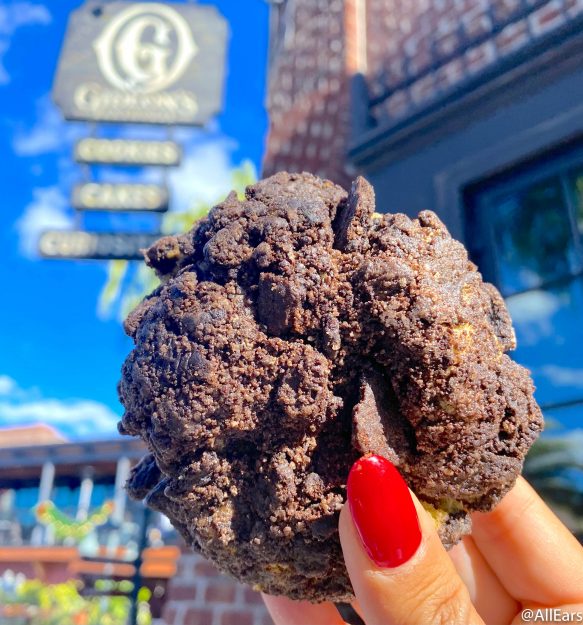 The soft vanilla cookie is made with chunks of Double Stuff Oreos with even more Oreos crushed on the outside. Honestly, if you can only imagine the best Oreo ever combined with lots of soft cookie dough, the Cookies and Cream Cookie is even better than that.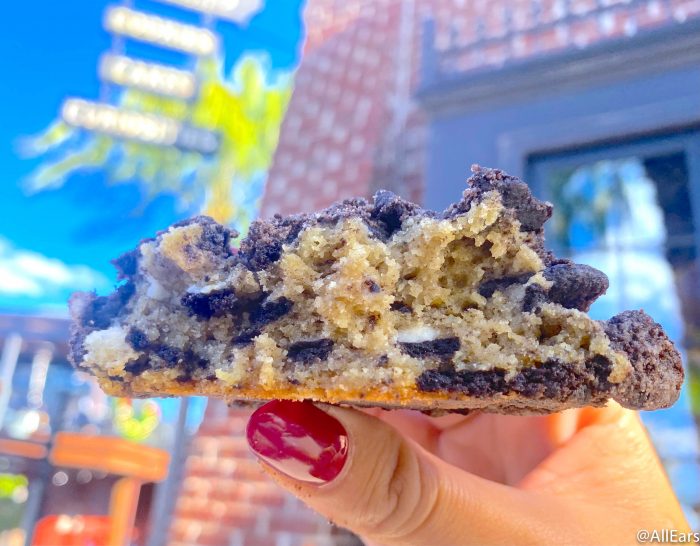 Peanut Butter Crunch Cookie
While there's been plenty of chocolate in this review, we also had the Peanut Butter Crunch Cookie, which is a cookie heavy on peanut butter and handmade candied peanuts.
Peanut butter fans, you're going to want to hurry to Gideon's because this might be one of our favorite treats EVER, especially with that little salt finish.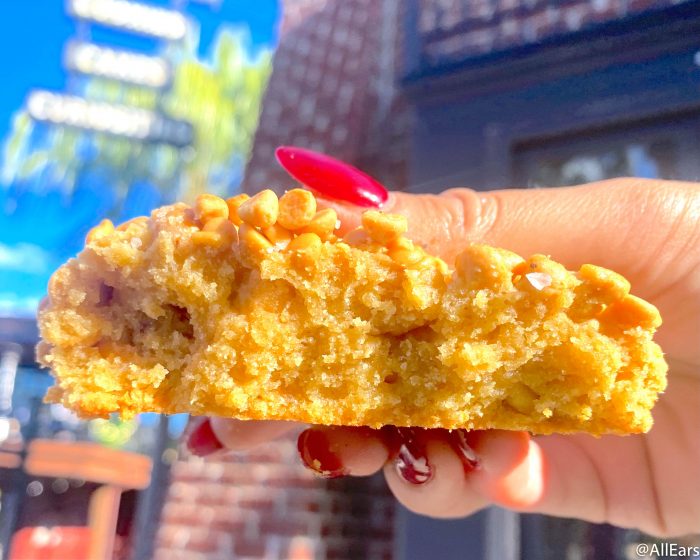 Coffee Cake Cookie
You can even check out the extra buttery Coffee Cake Cookie with vanilla bean cookie filled with cinnamon strudel and topped with homemade double baked butter crumbs.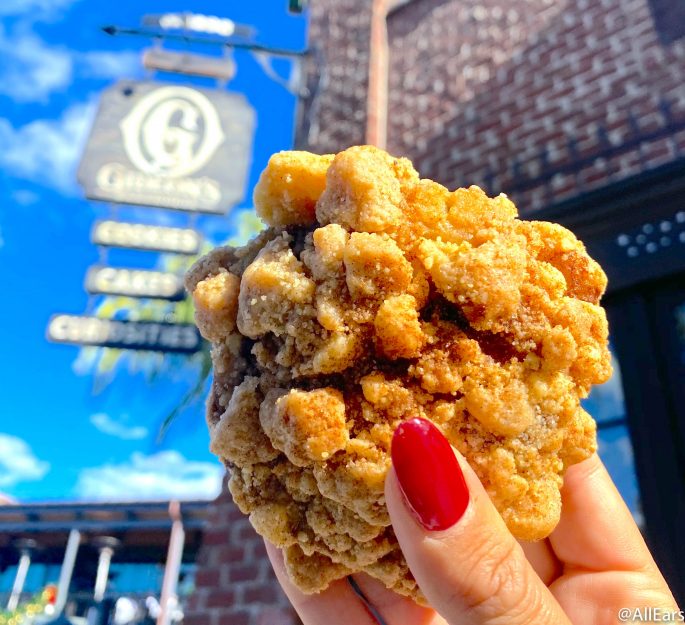 The Coffee Cake Cookie has a gooey cinnamon layer on the bottom that REALLY makes us want to stuff a bunch of these in our freezers.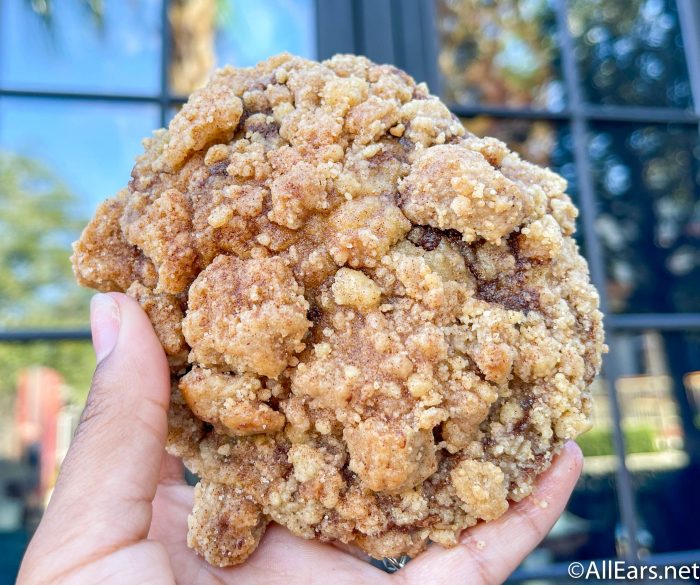 Santa's White Christmas Cookie
Just in time for Christmas, you can find a few holiday goodies at Gideon's! Santa's White Christmas Cookie is a white chocolate chip cookie with coconut, caramel, vanilla, nutty flavors, and freshly-ground and locally roasted coffee beans.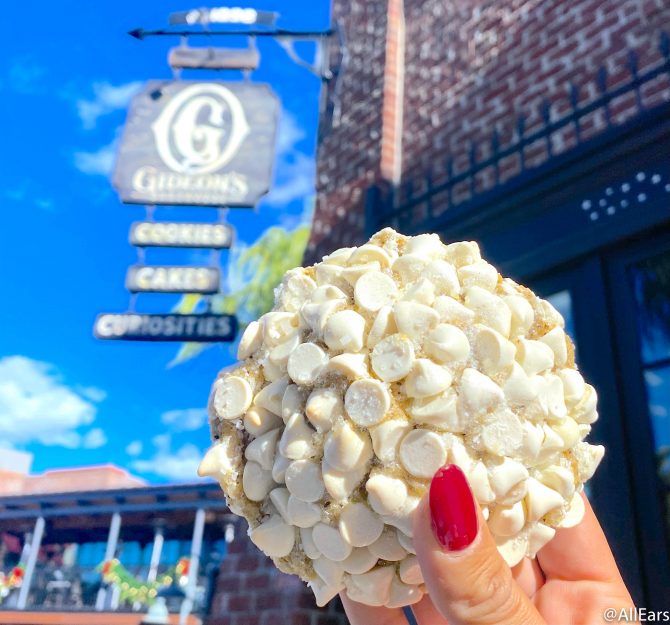 On top of the cookie, you can finish things off on a sweet note with sugar, sea salt, and Christmas glitter. Coffee lovers, you'll be happy to know that you can VERY much taste the coffee! (And, it's mega glittery, so that's only a plus.)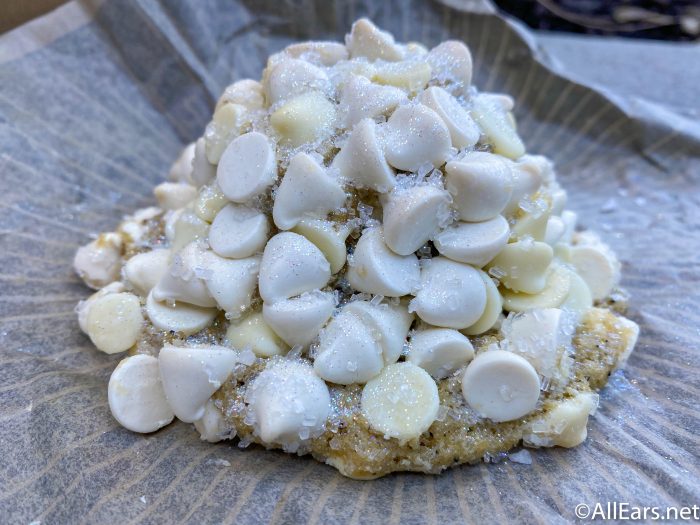 Cookie Vom Krampus
But, if you're looking for something a little more minty, you can find the Cookie Vom Krampus instead with a triple-chocolate velvet-textured cookie filled with Andes mint.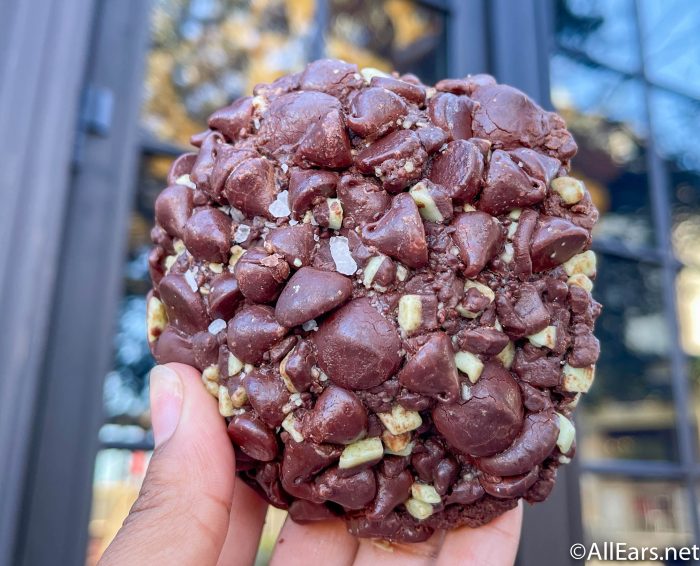 Each of the cookies only cost $6 so you can have a cookie that's both GIANT and delicious! Don't worry, though! We'll be back to try even MORE goodies at Gideon's Bakehouse soon. And, we'll give you a look at all the other treats around Disney World throughout the holiday season.
What's your favorite cookie to grab at Gideon's? Let us know in the comments below!