What are the best spots to eat at Magic Kingdom?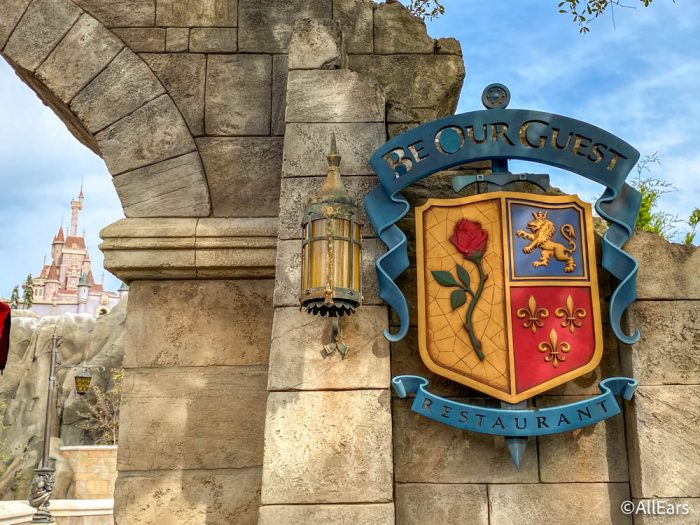 Who better to answer this question than YOU, the AllEars reader! We checked the AllEars reader reviews and are ranking the Magic Kingdom Restaurants (both quick service and table service) according to your ratings. With that in mind, make sure to leave your own review if you agree or disagree!
Here's YOUR Ranking of the Restaurants at Disney's Magic Kingdom
Score: 6.95
"We had dinner here a couple of weeks ago and enjoyed it. I got the Greek Salad with Chicken Strips and my husband got Walt's Chili-Cheese All-Beef Footlong Hot Dog. The salad was fresh and crispy while the chicken strips were pretty good as well. My husband enjoyed the chili hot dog, too! We enjoyed listening to Sonny Eclipse while we ate. Inside was a welcome break from the rain that day and there was plenty of seating."
"The food is somewhere between the quality of a Dairy Queen and a Wendy's– it's fast food in an amusement park, but the portion sizes are large. Bonus: The air conditioning is a nice escape from a hot Magic Kingdom day and it's huge so you can almost always snag a table."
"We love Cosmic Rays! We eat here every time we come! Are you getting 5 star food, nope but its still pretty tasty. My kids LOVE Sunny and we always sit by him so the kids are be entertained!"
"The food is nothing extraordinary, but if you're looking for an entertaining meal, and you're in Tomorrowland, this is the place to go. I enjoy their fries, but otherwise, this is just your typical quick service restaurant."
Rating: 6.97

/ 10
Recommended By: 81

%
Menus:

Lunch/Dinner

Services:

Quick Service
Score: 7.06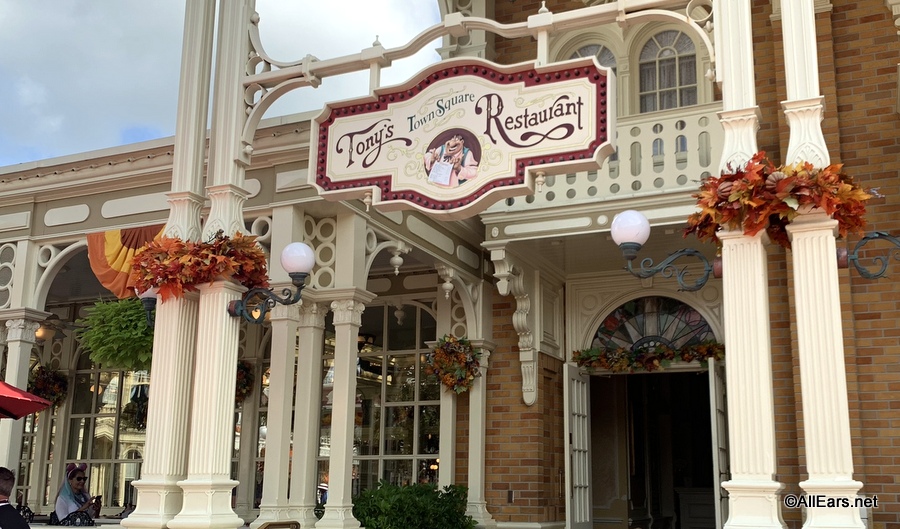 "Visited during Marathon week. Tony's is the only MK restaurant with outdoor dining. We used the genie app to get on the walk up list right when they opened and got a message that our table was ready within 5 minutes. We asked for outdoor seating, which took another 10 minutes or so. It was a great option. We had fresh air and a direct view of the character floats that came through Town Square. The Dapper Dans sing from the RR station, and the characters came out on the RR platform for several showings. And the food is great! The meatless meatballs are delicious – couldn't tell from the real thing."
"We ate here for dinner on 10/13/21. The theming and ambiance is cute, love lady and the tramp. Our server was friendly and knowledgeable. The bread service was good. This was probably the most flavorful part of the evening. I ordered the chicken fettucine alfredo, my husband got chicken parm and my son got spaghetti and meatballs. All of our meals were very bland. I have heard this restaurant compared to olive garden, but honestly I think olive garden used more seasoning."
"The food was much better than expected based on reviews. We all enjoyed our easy meal and a chance to cool off and relax during a Magic Kingdom day."
Score: 7.07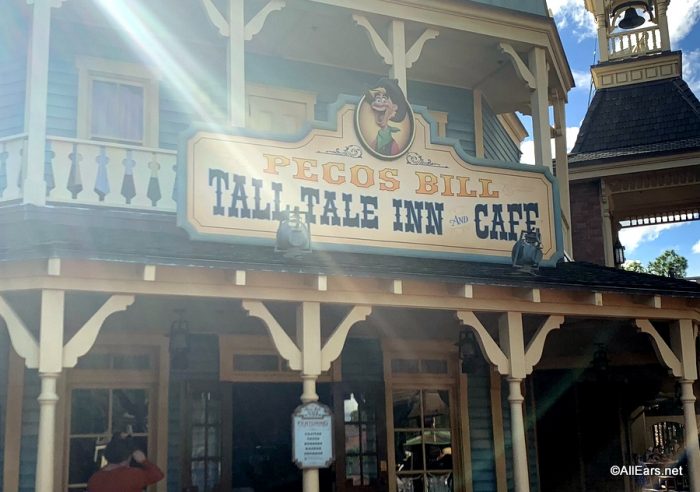 "I want to say that I hated this meal; but I can't. Magic kingdom didn't have a lot to chose from and I feel we chose right. You can customize your meal as much as you want and the food is ok. Tastes about the same as tacos and nachos you make at home. There wasn't a lot of seating. And I wish the topping bar comes back soon."
"Our family thinks its a must-do. One member thinks its ok, while the rest loves it. We havent experimented, But we think Pecos Bill Tall Tale Inn Cafe is real good. 'Its the most delicious resturant in the wilderness'!"
"Food was decent enough. Taco bell type food if I'm honest. The biggest plus is it's inside (If you can find a table)."
"I eat here on every trip to MK! Its fast service (with mobile order), consistently good food, and plenty of air-conditioned seating make it one of the best quick-service restaurants in Walt Disney World…AND if you time your meal right and sit outside or by a window, you can catch glimpses of the cavalcades as they push off in Frontierland!"
Rating: 7.02

/ 10
Recommended By: 80

%
Menus:

Lunch/Dinner

Services:

Quick Service
Score: 7.19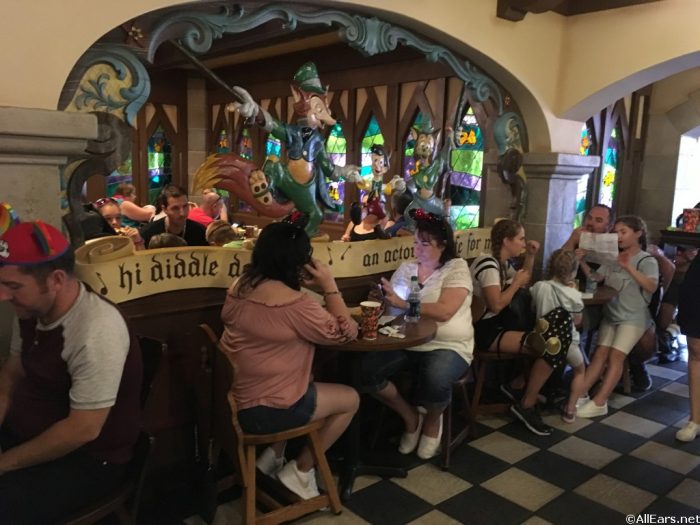 "Decent quick service spot that offers typical fare.
The pizza does the job if you want something quick. Definitely go at off peak dining times. Mobile order as soon as you get in the park. (Consider that the standard advice for all parks)."
"I ate here for lunch yesterday at MK, and the food was awesome! Yes, the quick service food is pretty simple (flatbread, chicken nuggets, etc.) But, that is what's good. I also like that there are tables that look over 'it's a small world.'"
"I'm glad the menu got rid of the chicken parm and pasta and paper plates. The flatbreads are much better, but they're over priced and more of a good shared snack. The reason to come here is the theme and fun watching the go by."
"Really enjoyed the flatbread pizza. You get a good amount of food for the price."
Rating: 7.15

/ 10
Recommended By: 77

%
Menus:

Lunch/Dinner

Services:

Quick Service
Score: 7.24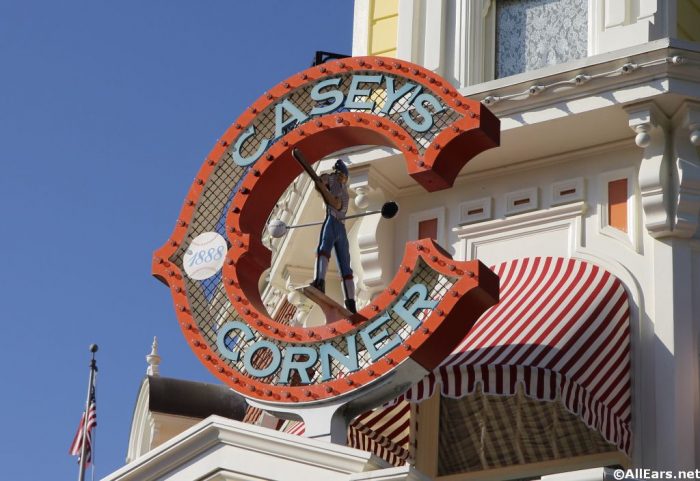 "Anytime, we go to MK this is our first stop or our stop on the way out. The corn nuggets with cheese sauce is by far the best thing. I got the 1971 meal as well one of my trips to the MK and it was good. The coke was going out of the machine but other than that it was great. Mobile ordering is your friend! At least twice I put in a mobile order while I was in line for a ride and by the time I got off the attraction my food was ready."
"Iconic. I got the 1971 Meal and loved the chili cheese dog! My wife opted for the corn dog nuggets and said they were okay. Sitting outside, looking at the castle while listening to live piano music at the end of a Magic Kingdom Day is one of the best moments."
"It's a simple hotdog stand but an actual building. needs more seating but the hotdogs were good. The plastic cheese was great! as a baseball fan/historian loved the theme! overall it feels like Disney were you are there."
Rating: 7.20

/ 10
Recommended By: 84

%
Menus:

Lunch/Dinner

Services:

Quick Service
Score: 7.61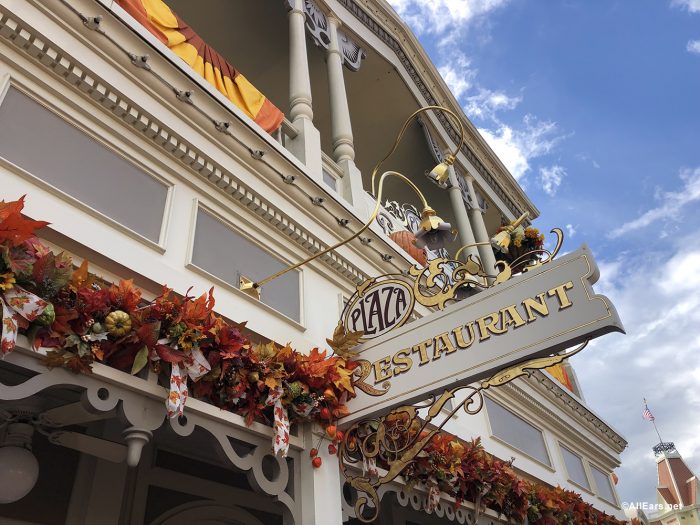 "While, yes, I do highly recommend this spot, please be sure the kitchen staff pays attention to any of your allergy needs. This is the one place my allergies weren't paid attention to and the birthday in our group was also missed. All that was a bummer! But outside of that, once our orders were all set, everything was very delicious."
"We came here for breakfast. I had the lobster eggs benedict which was fantastic (like 7/10) and my spouse had the mickey waffles which were ok but not really special (would be great for littles though). We may have to try another meal here I'm not sure breakfast is the best option. The service was great though and I had a good view of main st. to people watch and see the passing parade. The mirrors around the restaurant were a little weird and uncomfortable."
"Amazing restaurant! We ate lunch and had a view of the castle from the comfort of our air conditioned table. Also had the best free birthday dessert of anywhere I've eaten (a GIANT slice of chocolate cake). We have a member of our party with celiac disease and she had no problem finding a delicious meal at this restaurant."
Score: 7.58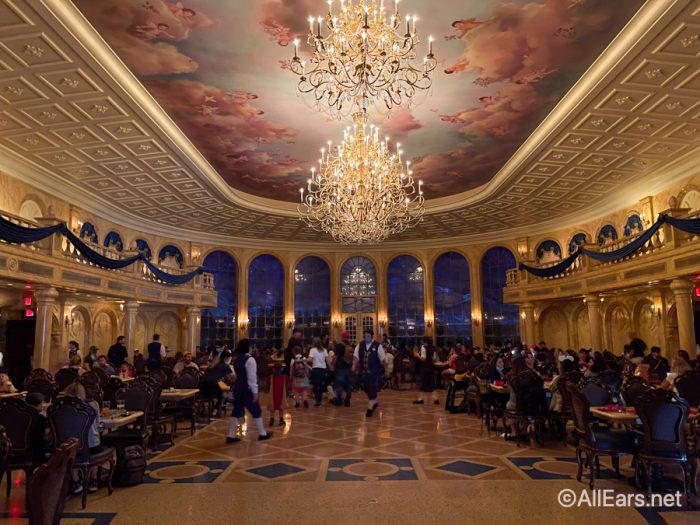 "The cast members were wonderful! We were late for our reservation because the monorail was not running and the restaurant is at the back of the magic kingdom. The cast members were so friendly and they didn't blink at our late arrival. That being said the dinner felt very rushed. The food was ok but not worth the price. The dining room was loud and very distracting from a nice date. Worth going once to try it out."
"I was delightfully surprised by the quality of the food when I went for dinner there this past September. The portions were perfect sizes, especially for a 3 course menu. The only thing I didn't like was the pacing of the meal. I know this is one of the most in-demand restaurants in Magic Kindom, if not all of WDW, so I know they need to get people in and out for the meals as fast as they can. However, when you're paying the higher price tag for the meal, it should be more of a relaxing experience."
"We had a blast at this restaurant! The atmosphere was incredible and the food was actually pretty dang good! The dessert was the best part! It was so good and the kids option was a lot of fun! Beast came out a few times and waved too. You can't go wrong with this restaurant, it is definitely NOT a one time and done kind of place!"
Score: 7.95
"We ate there for lunch last week. It was one of the best meals we had. As good as Narcoosses. The prime rib was the best. Cooked perfectly. My daughter had the fried califlower. She loved it the kids had the fried chicken and shrimp and grits. All were delicious. We loved it. I hope it stays this way. We don't like buffets"
"Before the pandemic, this place was definitely an 8/10. The buffet options were good, and the characters added a nice touch. Now, the buffet is gone, so the food is served individually. The fried chicken had a weird spice to it, and the vegetables were dry. The corn bread was great but the one with the bacon and chives was not so great. The dessert definitely made up for it."
"My family ate at the Crystal Palace in May 2021 after seeing reviews about the table service menu. We had eaten there when my children were younger and it was a buffet and thought "why not" see what it is like as a table service. I will admit that I was prepared for an "okay" dinner since I had seen both positive and negative reviews. Wow, was I wrong. Our meals (Prime Rib, Fried Chicken, Shrimp and Grits and the Pork Chop) were all amazing. We had eaten at Topolino's Terrace the night before and the Prime Rib and potatoes were better than the Filet at Topolino's. It was that good. Okay, it was that great. We were all amazed."
Score: 7.95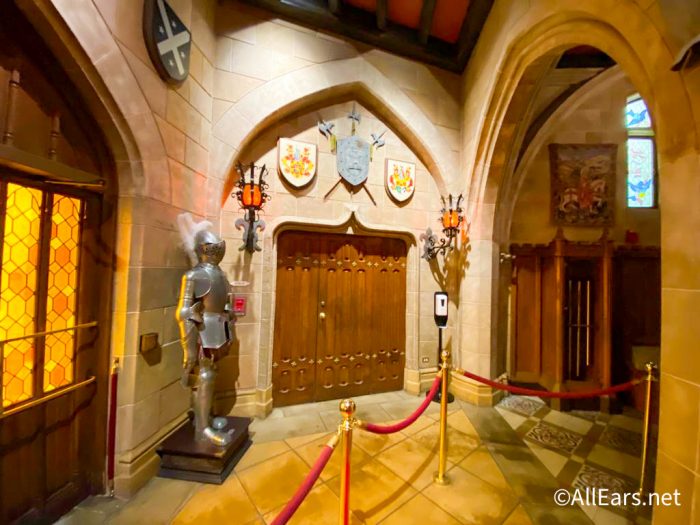 "We really enjoyed our dinner, the characters were interactive and spent time at the table chatting. Our server was excellent and kept checking on us and did a great job explaining the food and answering all our questions."
"My daughters loved meeting each princess, so much so that they barely ate. We thoroughly enjoyed everything we ordered except for the charcuterie board. The food was of good quality and fresh. I would highly recommend this experience."
"This was a fun venue! We felt very special here. The food was also surprisingly very good!"
Score: 7.9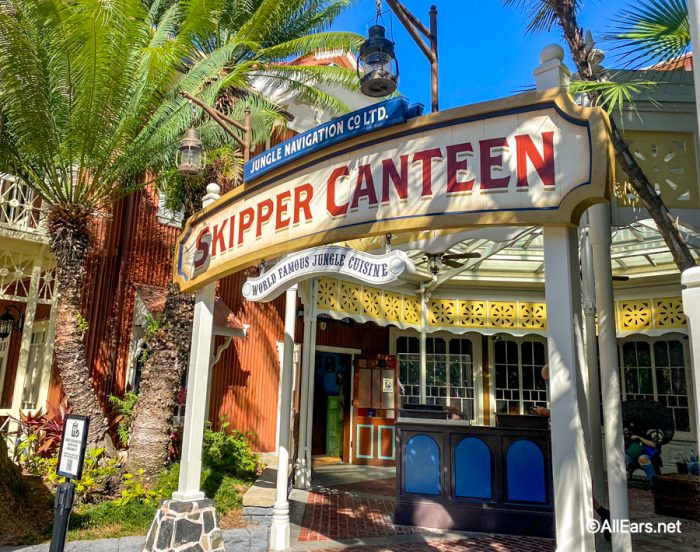 "One of the best dining experiences inside Magic Kingdom. The menu is unique and the staff is fun as well as the decor. I wish Magic Kingdom had more dining like this."
"I wish the rating for this restaurant was higher. It was my first ever dining experience in WDW and it was honestly the best! I still have dreams about the Perkins Thai Noodles as well as the dessert. While there are definitely some adventurous eats on the menu I can assure you that everything will taste delicious."
"This is great, anti-theme park food. It's probably a little too \"out there\" for some picky eaters, but when you reach the park of your trip where another hamburger seems like a death wish this is a great place to go and have some actual food. Plus, they really ham up all the kitch from the Jungle Cruise. The inside is themed so well, and the AC is always blasting."
Score: 8.12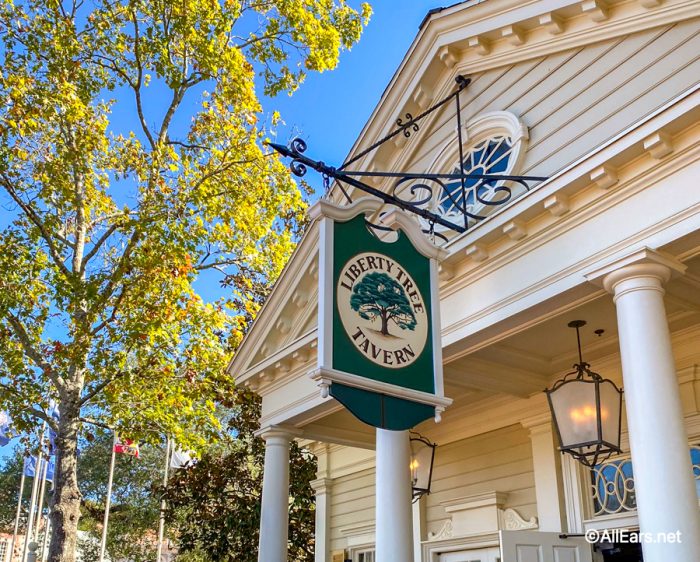 "This is a great, hidden gem of a restaurant in Magic Kingdom. It's casual, cozy, has table service AND serves alcohol. It seems to be more geared towards older crowds. The food, although not the BEST in all of Disney World, is great – classic American fare. If you're there for dinner, everyone is required to partake in the Thanksgiving style meal which is all you care to enjoy – which is fun! If possible, ask to be seated in one of the side rooms – extra cozy!"
"We have a few food allergies in our family. My husband was truly impressed with this place and what they were able to offer him and our son. Even with gluten and dairy allergies, none of us walked away hungry. We were all pleasantly full. Chef and servers were attentive and polite."
"Favorite meal of our trip, only meal of our trip we thoroughly enjoyed. First time at Liberty Tree and have recommended to others. Food was good and plentiful. Service was good."
Score: 8.36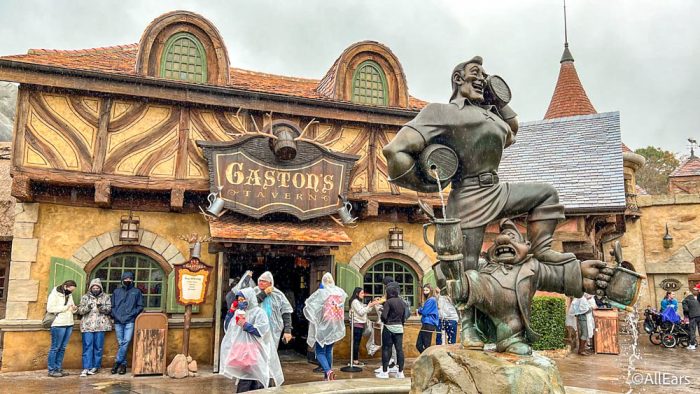 "The cinnamon roll with maple icing is to die for! Ask for extra icing—trust me! It's huge and make a great breakfast. LeFou's brew is also delicious."
"Possibly my favorite for a snack on Magic Kingdom days. Lefou's brew is so refreshing when you are walking around all day. The decorating inside is spot on to the movie as well. If you like Beauty and the Beast then Be Out Guest isn't the only place you can go. I find it cool that Gaston does a meet and greet there too."
"This is a Hidden Gem for a light meal and/or snacks. The theme is spot on and fits with the character and story well, the rooms are very well decorated with antlers and Gaston's chair and fireplace – take a picture in Gaston's chair for something fun and unique. Sandwiches are good, Cinnamon rolls are good – especially in morning. "
Rating: 8.34

/ 10
Recommended By: 94

%
Menus:

All Day

Services:

Quick Service
Score: 8.64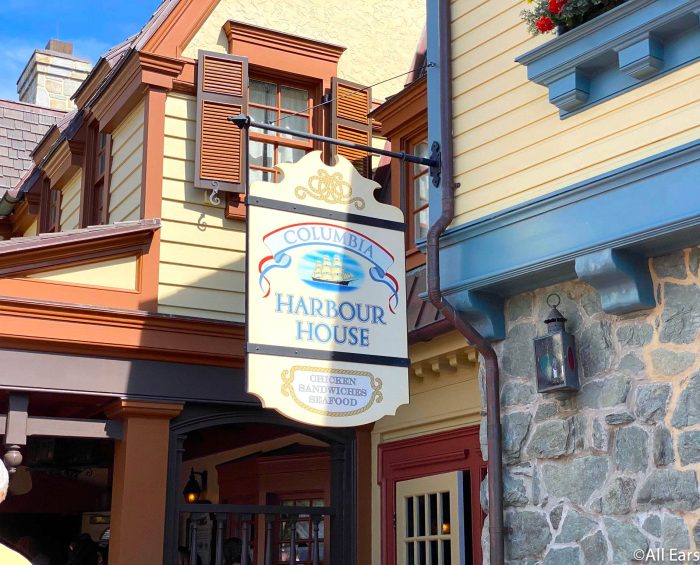 "We can't visit the Magic Kingdom and not eat at this restaurant. We are obsessed with the salmon and crave it throughout the year."
"This is our go to place for a quick bite in the Magic Kingdom. There's always something appealing on the menu and the food is consistently good."
"This is the best quick service restaurant in Magic Kingdom. The food is really good. Chicken nuggets and fried fish combo is our favorite."
Rating: 8.62

/ 10
Recommended By: 97

%
Menus:

Lunch/Dinner

Services:

Quick Service
Score: 8.75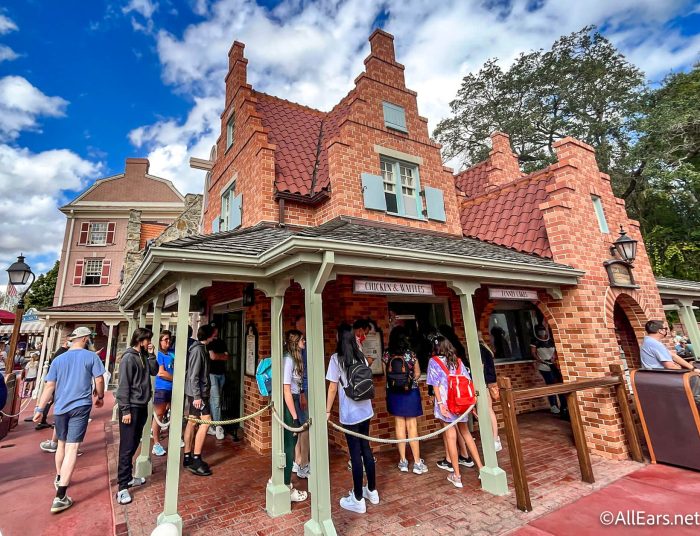 "The chicken and waffle "sandwich" here is so delicious. I dream of eating one again! And I've already had them on three separate days on two separate visits. I've tasted the sweet waffle with fruit as well, and it was also delicious."
"Once you get through the line, everything goes quickly. I got my food within 5 minutes of ordering! The funnel cake with the strawberries and the whipped cream was absolutely amazing, as was the corn dog! I will 100% go back on my next trip!"
"Sleepy Hollow is a great & convenient spot to grab a Mickey waffle. It is right inside of Liberty Square not far off the hub so it is very convenient. My sister & I got countless Mickey waffles here on our last trip (one of our favorites!)"
What is YOUR favorite restaurant at Magic Kingdom? Let us know in the comments below, and be sure to leave your own review as well!
Join the AllEars.net Newsletter to stay on top of ALL the breaking Disney News! You'll also get access to AllEars tips, reviews, trivia, and MORE! Click here to Subscribe!