We enjoy taking a spin on the technologically impressive Tower of Terror and Soarin' Around the World, but we can't pass up a chance to ride the classic Disney dark rides when we're in the parks! How else can we fall down a rabbit hole into Wonderland, sail off to Neverland with Peter Pan, or go on a daring journey with Pinocchio?
Even though these are normally slower-moving attractions, there are moments when you're sitting in your ride vehicle in the dark that are just as exciting as some of the E-ticket thrills in the parks.
We're looking at the
Disney dark ride moments

that are way more thrilling than any roller coaster!
The Evil Queen/Witch–Snow White's Scary Adventures
Disney World may have excised this terrifying audio-animatronic from the Magic Kingdom, but guests visiting Disneyland still have to contend with their version of the Evil Queen that stalks you throughout the attraction. This figure puts the scary in Snow White's Scary Adventures.
The Evil Queen in her hag form will suddenly show up at various points throughout the attraction to offer one of her signature poisoned apples to riders, usually accompanied by an evil cackle. Sure, she eventually meets her end due to her own hubris of trying to roll a boulder twice her size on a cliff, but her constant presence throughout the attraction might be the reason that your kiddos refuse to trust ever again.
Flying Over London–Peter Pan's Flight
Not all thrilling dark ride moments are designed to scare us out of our Minnie Ears. Case in point, the moment when you fly out of the Darling's nursery room in a pirate ship and over a moonlit London on Peter Pan's Flight.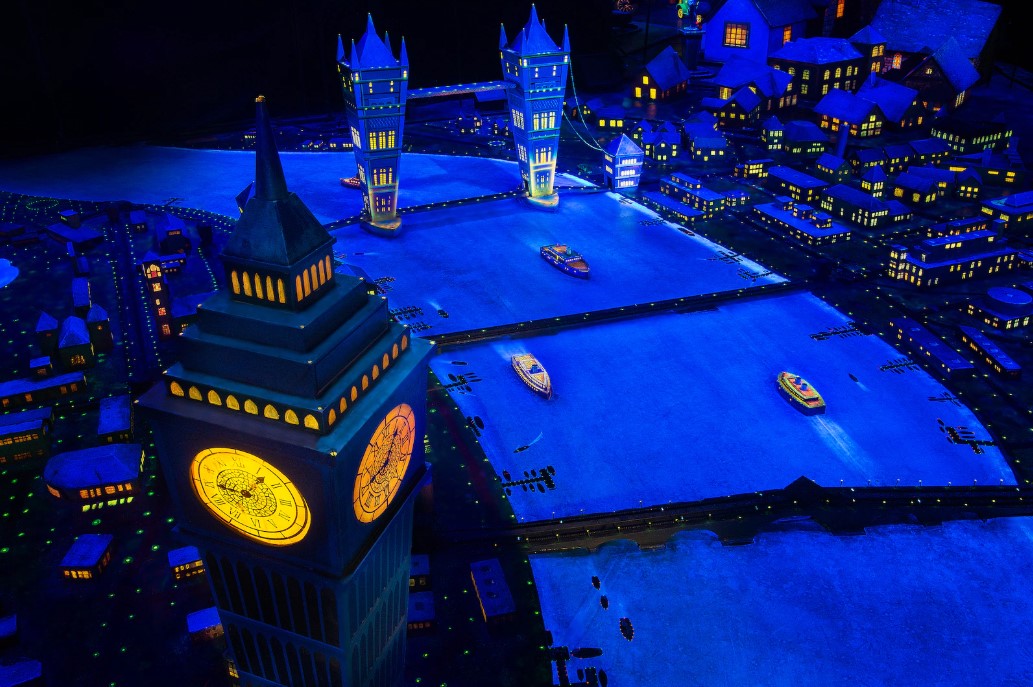 As the instrumental from "You Can Fly! You Can Fly! You Can Fly!" swells, you pass iconic landmarks like Big Ben and London Bridge as cars that look more like tiny ants motor around the city. This scene instantly takes us back to our childhood as we pass the second star on the right to Neverland. It's not a terrifying thrill, but it is a breathtaking ride moment on par with any roller coaster drop.
DINOSAUR may not be a traditional dark ride, but it takes you on a romp through a creepy crawly Cretaceous jungle at night so we're counting it. You might recognize this towering lizard as the Carnotaurus that pursues you on your time-travel rescue mission.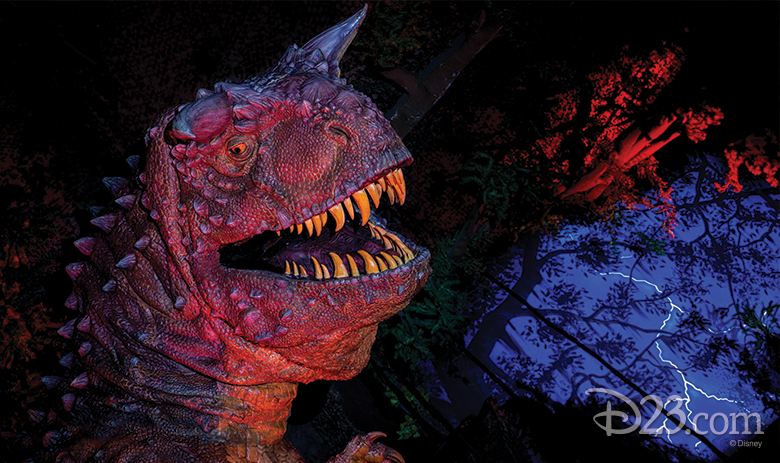 He shows up several times looking for a fresh meal, but possibly the most anxiety-driving moment is when your Time Rover stalls and the Carnotaurus appears in a flash of lightning. We're not used to things this big moving quickly, but just as soon as we peel off, the dino almost stomps its way into the side of our vehicle! Now we're glad we're separated from these beasts by a few million years.
The Devils–Mr. Toad's Wild Ride
Mr. Toad's Wild Ride may seem like a charming rollicking chase through the English countryside inspired by The Wind in the Willows, but it probably has one of the most confusing and psychologically-traumatizing endings of any Disney attraction. Entering a dark tunnel, a light from ahead signals that a train is fast approaching and knocks us down into a very hot place.
Surrounded by devils and the Judge masquerading as Satan himself, we drive through a Disneyfied version of the bad place, brimstone smell and all. Suddenly, we're back at the load area and left scratching our heads and trying to calm our kiddos down with promises of Mickey Ice Cream bars.
What is your favorite Disney dark ride moment? Let us know down in the comments!
Join the AllEars.net Newsletter to stay on top of ALL the breaking Disney News! You'll also get access to AllEars tips, reviews, trivia, and MORE! Click here to Subscribe!