Pinocchio's Daring Journey Fantasyland Disneyland
Introduction | Attraction | Touring Tips | Kids/Characters | Dining | Shopping | Interesting Facts
INTRODUCTION
When you wish upon a star…your dreams come true! Join Pinocchio on his adventures as he leaves the quiet streets of Geppetto's village to experience the excitement of Pleasure Island and the terrors of the belly of Monstro the whale.
ATTRACTION
Pinocchio's Daring Journey is located in Fantasyland next to Snow White's Scary Adventures. The queue enters the building and winds around a bit before reaching the loading area. Each car has two rows and seats up to 4 people. This is a "dark" ride where the car enters the attraction and travels through rooms representing a variety of scenes from the movie. These include Stromboli's marionette show, Pleasure Island, and Monstro the whale.
There are some nice special effects — fiberoptic fireworks in Pleasure Island and a holographic Blue Fairy in the final scene in Gepetto's workshop – but look quickly as your car enters that room or you'll miss her.
TOURING TIPS
Pinocchio's Daring Journey doesn't seem to be quite as popular as some of the other Fantasyland attractions, so its line is usually a little shorter. The line is shortest early in the day.
Some scenes are quite dark, and the appearance of being caged or eaten by a whale may be scary for some children.
The ride is about 3 minutes long.
There is no height requirement.
Wheelchair and ECV users enter the gate to the left of the attraction and must transfer to ride.
The closest restrooms are located next to the Village Haus Restaurant, along the exit to Frontierland.
KIDS AND CHARACTERS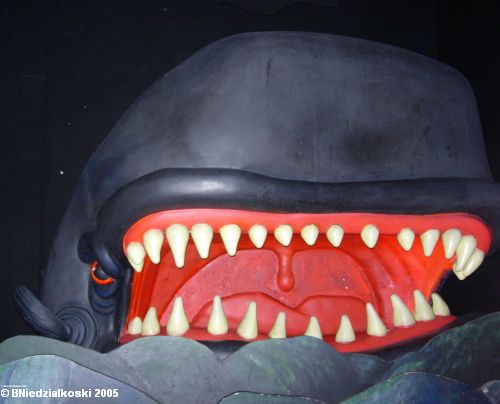 The darkness and images of this ride may be quite scary for some kids.
Some of the characters from Pinocchio make occasional appearances at the character greeting areas next to the castle and in Town Square on Main Street.
DINING
Red Rose Taverne in Fantasyland serves burgers, sandwiches and flatbreads.
Disneyland Restaurants at a Glance
Menus Around the Disneyland Resort
SHOPPING
Bibbidi Bobbidi Boutique – Prince and Princess makeovers as well as Princess clothing, dolls, toys, and accessories.
Mad Hatter sells a variety of character hats, including Mickey ears and Peter Pan hats with personalized embroidery.
Stromboli's Wagon – This cart offers candy and snacks.
INTERESTING FACTS
Pinocchio's Daring Journey was added during the "New Fantasyland" project, and opened in May 1983. The building originally housed the Fantasyland Theater.
The ride vehicles have "carvings" of different characters on the side – Cleo, Figaro, and Jiminy Cricket.
There are also versions of Pinocchio's Daring Journey in Tokyo Disneyland and Disneyland Paris.
If you have comments or tips to share with others about touring Disneyland, please email us. Thank you.