The Disney Parks continue to change, both by adding new attractions and by transforming old rides.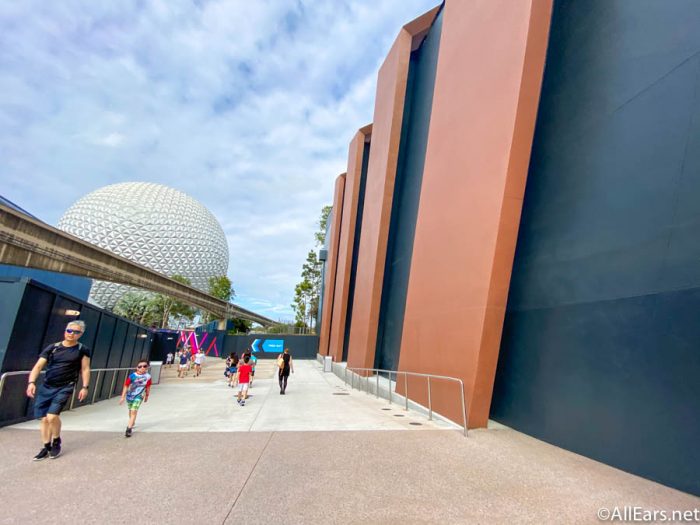 In fact, you might be surprised by how many dark rides were very different when they first opened.
Here are six Disney Parks dark rides that have significantly changed from their origins.
1. Journey into Imagination with Figment
If you've been to EPCOT, you've probably seen Figment, the purple, mischievous little dragon with insatiable curiosity. He's long been a Park icon — even playing a special role during the 2020 EPCOT International Festival of the Arts, when visitors could take part in a scavenger hunt to find classic paintings that Figment has added himself into. He remains a beloved symbol for EPCOT and the spirit of imagination, but there's much more to his story. It all started with a classic EPCOT attraction: Journey into Imagination.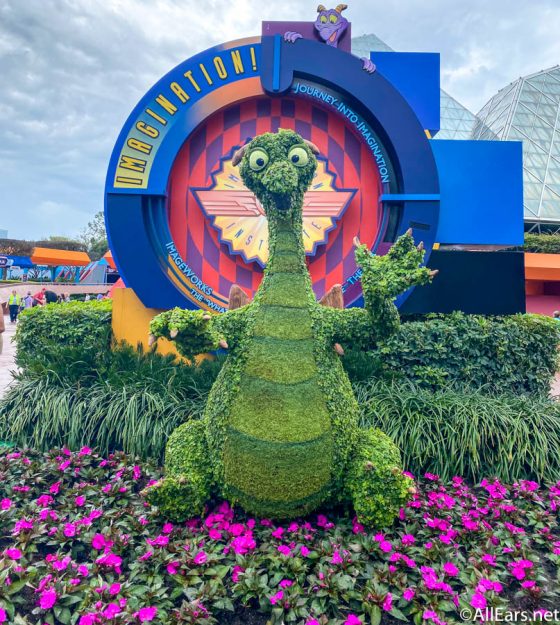 As part of EPCOT's initial design based off the World's Fair, Future World consisted of pavilions funded by various companies, each embodying a key aspect of the world and scientific progress. The Imagination pavilion, funded by Kodak, featured Journey into Imagination. Peopled by two fun characters – the wise scientist, Dreamfinder, and the lovable dragon, Figment – the ride took guests on an adventure showcasing the infinite power of dreams.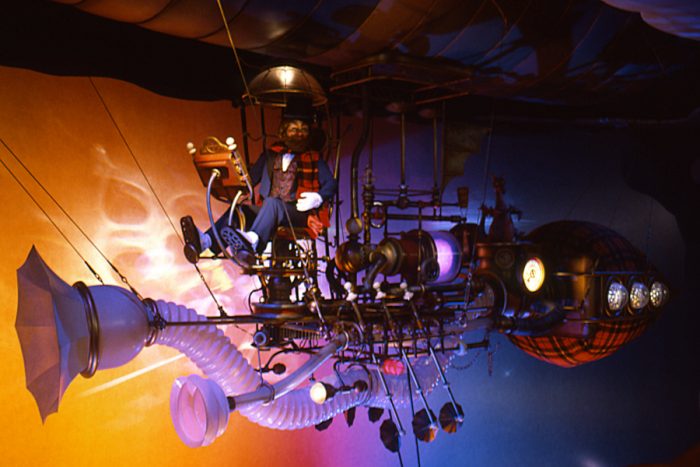 Dreamfinder used his fantastical Dream Mobile to collect dreams and then empty them into the Dreamport to form new ideas. Rooms such as Art, Literature, Performing Arts, and Science highlighted the beauty of arts and sciences while also, through Figment's various antics, amusing guests and demonstrating the importance of creativity in making your dreams possible. Together, Dreamfinder and Figment made a terrific team, combining timeless wonder with childish curiosity.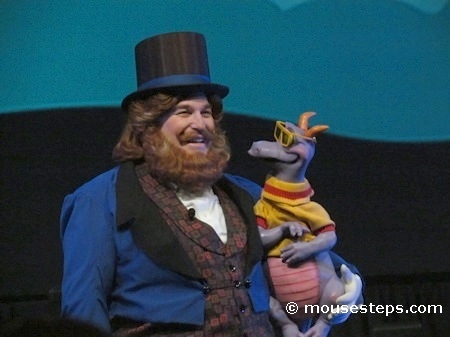 In 1999, however, Disney replaced the ride with a new version: Journey into YOUR Imagination. This ride starred the less whimsical Dr. Nigel Channing in place of Dreamfinder, and Figment only got brief cameos at the start and end of the ride. At one point, Nigel even shooed Figment away, treating him as an annoyance. Indeed, the zany feel of the original had been mostly silenced. The Sound, Illusion, Color, Gravity, and Connections themes of the lab, lacking Figment's whimsical charm, just bored riders – and angered them, since they wanted to see Figment again. Worse, the length of the ride was significantly cut, also taking away interesting gimmicks like a rotating turntable. The ride closed just two years later in 2001.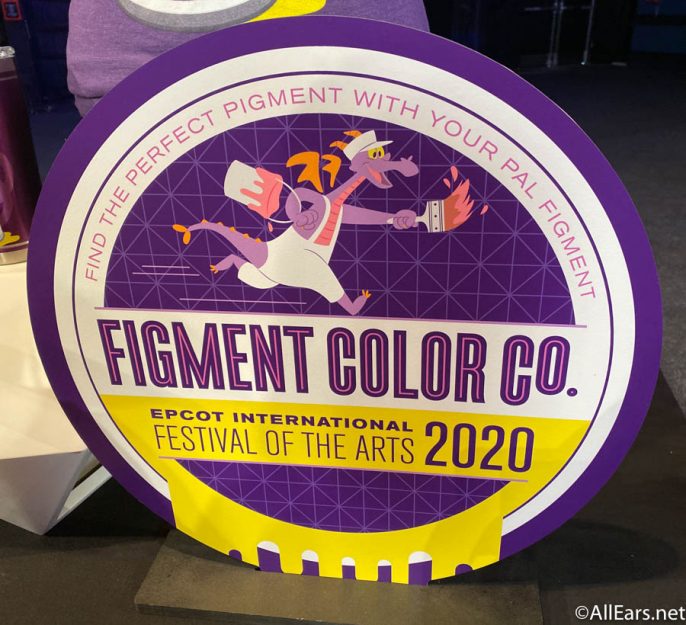 Realizing the continuing love for Figment, Disney brought him back in the third version of the dark ride: Journey into Imagination with Figment, opening in 2002. Nigel still took the place of Dreamfinder, but now Figment actively messed with Nigel's attempts for a straightforward, peaceful tour with silly, fun pranks. Ultimately, Nigel gave up and embraced Figment's and imagination's role in new discoveries. The attraction even brought back the original ride's iconic song "One Little Spark", first composed by the Sherman Brothers. Still, many fans still fondly remember the original adventure with Figment, who remains a prominent mascot at EPCOT.
2. Test Track
While Test Track today is known for its high-speed thrills, culminating in a spin along the track outside, its predecessor ride, World of Motion, was much different. World of Motion was funded by General Motors and highlighted the history of transportation through a more traditional style of dark ride. Guests boarded Omnimover-style vehicles similar to the PeopleMover and traveled all the way from the first steps of cavemen to airplanes and Walt Disney's own mass transit ideas. Throughout, a narrator explained the development of transportation. However, General Motors later asked for a new ride focused specifically on cars.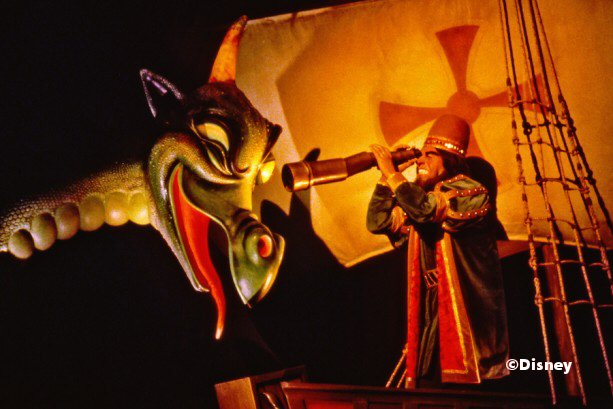 For the new car-centered attraction replacing World of Motion, Imagineers utilized a previously scrapped idea: simulating the intense crash tests and other simulations used to test cars' safety. Riders took the place of test dummies, as their cars went through tests ranging from speed bumps to sudden accelerations and stops to an [almost] head-on crash. The various tests, interspersed with voiced commentary from the testers, were exciting, creating a cross between a dark ride and a thrill ride. It was especially thrilling the first time, when you didn't know what to expect. Even the wait queue, passing through a crash dummy production area, highlighted the ride's experimental feel.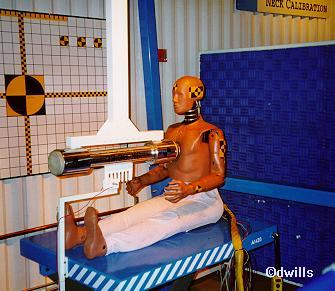 In 2012, though, Test Track's sponsor shifted from General Motors to its Chevrolet brand, and with the new sponsor came a new theme for the ride. Rather than the previous emphasis on crash tests, the new ride highlights the design stage of creating cars. Before boarding the cars, you can virtually design the build of your vehicle; though the physical rides stay the same, your design choices will affect your overall scoring at the end of the ride. And after the ride is over and you exit into Chevrolet's showroom, you can perform additional virtual tests with your personal models, highlighting the great potential for vehicles of tomorrow.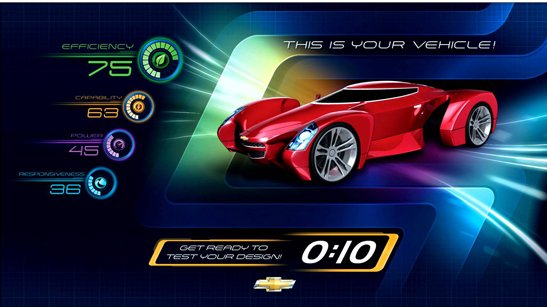 The aesthetics of Test Track's actual ride have also changed. Rather than a construction-like atmosphere, the scenery now has this abstract, virtual feel, such as a digital blizzard replacing a physical freezer room you originally drove through. In fact, entire sections of the original ride, such as a bumpy segment and the various environmental chambers, have been removed. This may be the one flaw of the current Test Track, as the abstract setting makes the adventure seem less engaging and exciting. Still, it's a must-do and a beloved attraction.
3. Frozen Ever After
The musical Frozen Ever After dark ride, located in World Showcase's Norway pavilion, is magical and fun, paying warm tribute to the Frozen movies. But before Frozen came out, the boats took riders through a much different experience, one emphasizing Norwegian chills and thrills.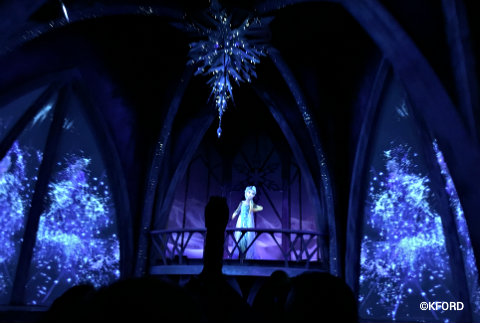 Maelstrom focused strongly on Norway's Viking folklore, particularly the legends of trolls. In the eerie darkness, guests cowered before monstrous giants of all sorts towering over them viciously. In addition, after being cursed, riders were sent hurtling in reverse before then plummeting head-first down a 28-foot waterfall. Afterward, guests had the chance to watch an educational video about modern Norway. Maelstrom was memorable and paid great tribute to Norway's rich culture, showing the brilliant potential of original content in the Disney Parks.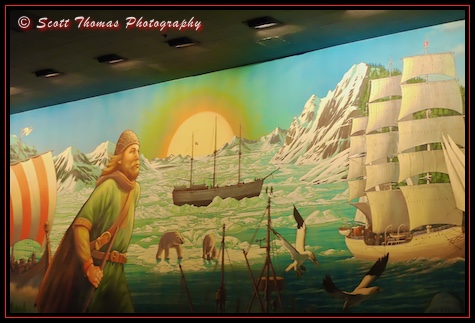 After Frozen's popularity skyrocketed, the trolls didn't stand a chance. Frozen Ever After uses the same general track as Maelstrom, and some of the unusual ride movements, such as when the boats go backward, stem from Maelstrom's set-up. Besides the new character theming, though, the ride's tone as a whole has changed. Unlike Maelstrom, Frozen Ever After celebrates the beauty of the seasons, with colorful decorations and classic songs like Let It Go. With its enchanting atmosphere, Frozen Ever After shines on its own merits.
4. Mickey & Minnie's Runaway Railway
When you enter Hollywood Studios and make your way down Hollywood Boulevard, you encounter a realistic replication of Grauman's Chinese Theatre. The Chinese Theatre has stood as a symbol for the park since then-MGM Studios opened in 1989, but for much of the park's history, the theater hosted a different ride than the current Mickey & Minnie's Runaway Railway.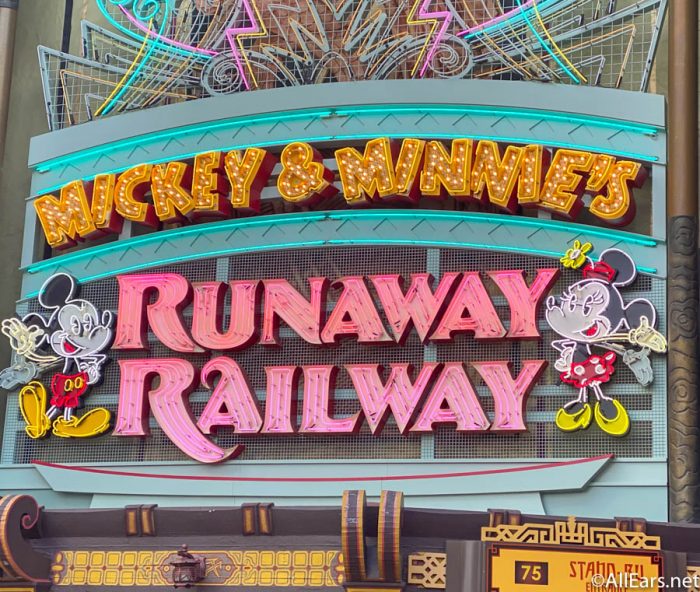 The Great Movie Ride, found inside the Chinese Theatre until 2017, was one of MGM's Studios few available attractions on opening day. It took guests on a trip through different classic movies of the 20th century. Along the way, riders encountered animatronics from the different films, with gangsters and bank robbers even potentially hijacking the ride halfway through. The Great Movie Ride was a marvel at the time, featuring the brand-new A-100 series of animatronics for more flexible movements. However, over time, the dated selection of movies reduced interest in the ride, and it finally closed in 2017.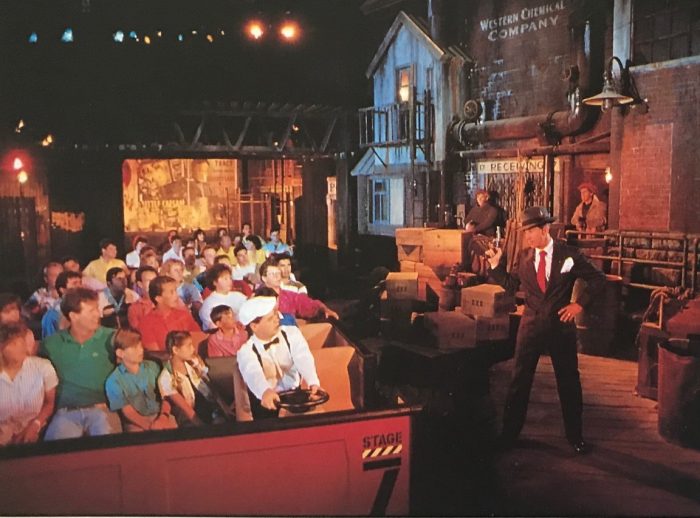 The Chinese Theatre sat without an attraction until March 2020, when Mickey & Minnie's Runaway Railway began to take guests back to the movies again – not live-action films this time but rather Mickey Mouse short cartoons! The original artwork combines modern approaches with callbacks to early animations in a colorful and entertaining tribute. Not only that, but it combines a contemporary dark ride with thrill ride elements such as being sucked into a tornado. By taking the past idea of adventuring through the movies and adding in new technology and theming, Disney has created a new timeless classic.
5. Monsters, Inc. Mike & Sulley to the Rescue!
Disney rarely lets old things go to waste, and even when replacing attractions, they still try to recycle the old animatronics, scenery, and other ride features into new attractions. One such instance happened with Monsters, Inc. Mike & Sulley to the Rescue, a replacement to Superstar Limo at California Adventure.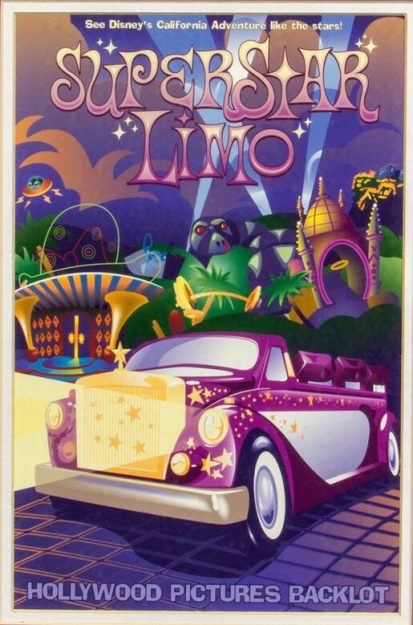 California Adventure had initially tried to theme itself after well-known California attractions. Therefore, Superstar Limo dark ride took guests through Hollywood, purportedly as a new star trying to get to an audition in time while encountering celebrities and paparazzi along the way. The ride was notoriously cheap, using flat cutouts for both scenery backgrounds and people. The celebrities shown were not advanced animatronics like at other Disney attractions; instead, they looked distinctly fake and cheesy. These factors combined with general disinterest in the California theme doomed the ride.
In 2006, as part of the effort to expand and improve the park by making it more character-heavy, Disney replaced Superstar Limo with Monsters, Inc. Mike & Sulley to the Rescue! Due to time constraints, much of the original set-up was hastily remodeled to match the new theme, both inside and out. For instance, the tacky outside of the building was reworked into Monsters, Inc. artwork and doors, and the limo cars became Monstropolis taxis. Most of all, the various celebrities were converted into Monsters, Inc. characters, leading to some interesting situations like a CDA agent doing karate moves like Jackie Chan.
6. The Seas with Nemo & Friends
As Disney has started to bring more of their branded franchises into the parks, many of EPCOT's pavilions have undergone transformations, most recently with the in-progress transformation across Future World. Even before the current overhaul started, though, Disney had already rethemed one of the pavilions: the former Living Seas attraction.
Meant to showcase the wonder of the oceans and the amazing technology that humans use to explore it, the Living Seas combined educational displays and videos with a fun tour through live aquariums. After an initial walk-through area, guests boarded the special Hydrolator elevators, which seemingly descended deep down to the ocean floor – complete with visuals on the windows around the pods. Then, visitors rode on SeaCab Omnimover cars past and under aquariums containing live fish and other aquatic creatures from across the globe. Finally, riders arrived at SeaBase Alpha, where they could view more of the aquarium, participate in educational activities, and even watch divers enter and exit the water.
Due to changing focuses at EPCOT, though, Disney gradually moved away from the Living Seas' original focus, cutting out parts of the attraction and later adding in Finding Nemo-themed activities. Ultimately, the popularity of the Nemo-themed sections led to the entire pavilion changing to a Finding Nemo attraction, albeit one still celebrating scientific exploration of the oceans. The former SeaCabs are now colorful Clamobiles that take riders through a search for Nemo. The ride combines aquarium views with Nemo-like scenery and animated, talking projections of Nemo and his fun family and friends.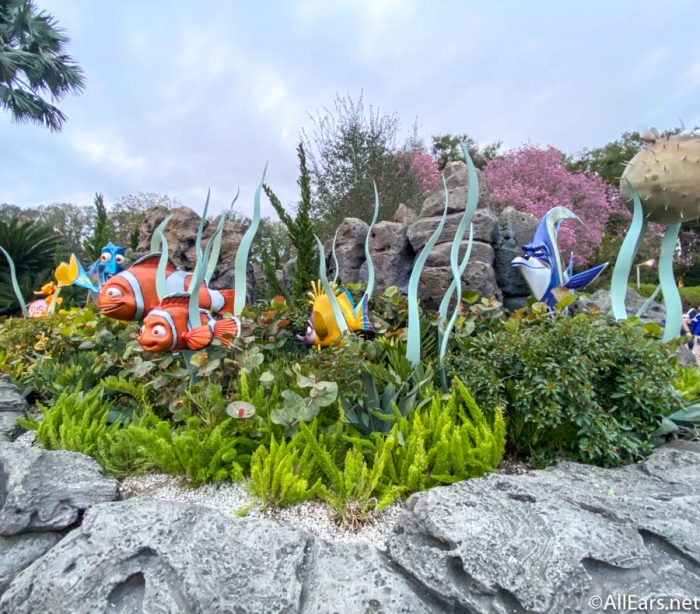 As you can see, Disney is always finding new ways to transform old dark rides and other attractions at parks into new attractions with their own unique ideas and experiences. With even more plans for updates and changes to parks in the future, we know that there's plenty to look forward to at Disney parks.
Which dark ride do you wish would go back to its roots? Let us know in the comments.
Join the AllEars.net Newsletter to stay on top of ALL the breaking Disney News! You'll also get access to AllEars tips, reviews, trivia, and MORE! Click here to Subscribe!