Regal Eagle Smokehouse is officially open for business in Epcot! We have been loving chowing down on the delicious BBQ eats in this wonderfully Muppets-themed setting.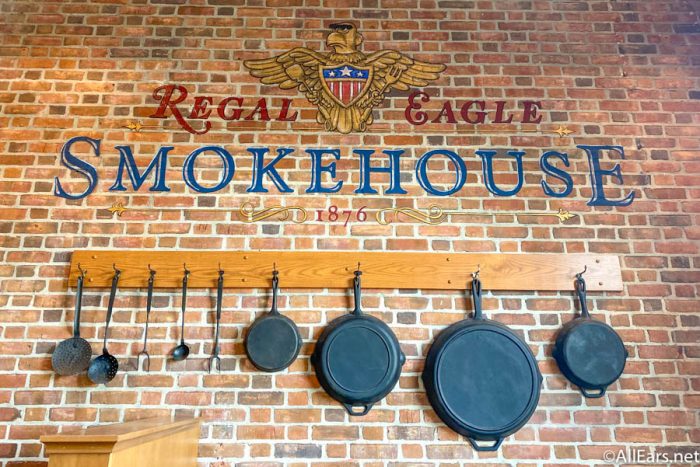 And what better way to indulge in some good ol' fashioned BBQ than pairing it with some delicious libations at the restaurant's outdoor bar?
The outdoor bar is accompanied by an entire outdoor seating area in the America Pavilion! This large outdoor patio is a welcome addition to Epcot's World Showcase, which in general does not offer a large amount of places to sit.
The outdoor seating all surrounds the very cool centerpiece of a giant meat smoker!
Regal Eagle's outdoor bar features a variety of libations, with both alcoholic and nonalcoholic options.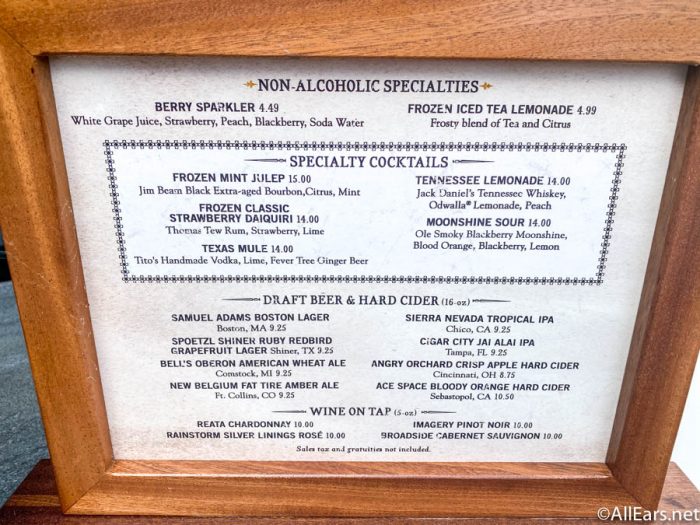 While the walk up bar is separate from the restaurant, it is not lacking in the theming that makes Regal Eagle so great!
Behind the bar, you'll notice plenty of steins, along with some American colonial themed details.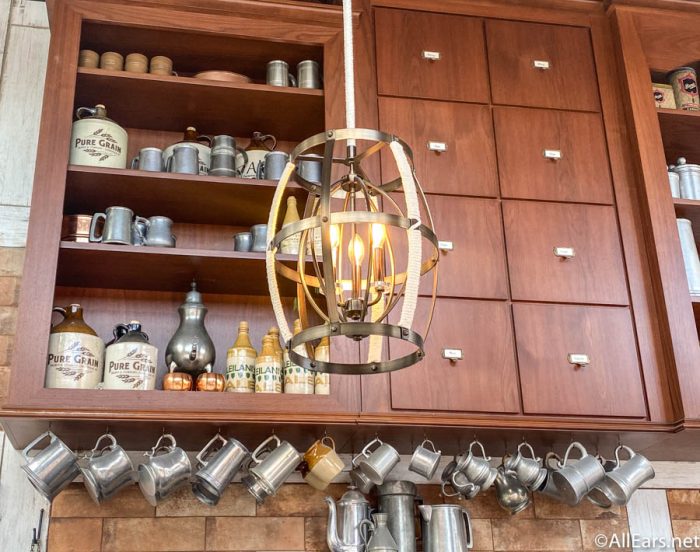 With "Craft Drafts" in the name, we knew Regal Eagle would deliver with a variety of choices! The bar features a selection of 8 draft beers and hard ciders. The list includes Spoetzl Shiner Ruby Redbird Grapefruit Lager from Texas, Cigar City Jai Alai IPA from Tampa and more, with prices ranging from $8.75 to $10.50 for a 16-ounce serving.
We tried out the Spoetzl Shiner Ruby Redbird Grapefruit Lager, which tasted particularly refreshing with our BBQ!
For cocktails, the menu consists of a variety of Specialty Cocktails, ranging in price from $14 to $15. We tested out the Frozen Mint Julep, which is perfect to cool off with on a hot day in Epcot!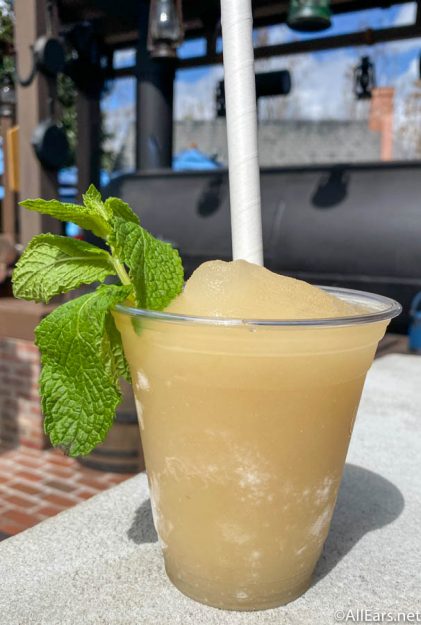 The Moonshine Cocktail was also a particular favorite — the drink was refreshing without ever being sickly sweet, a trend we found for all the drinks we tested.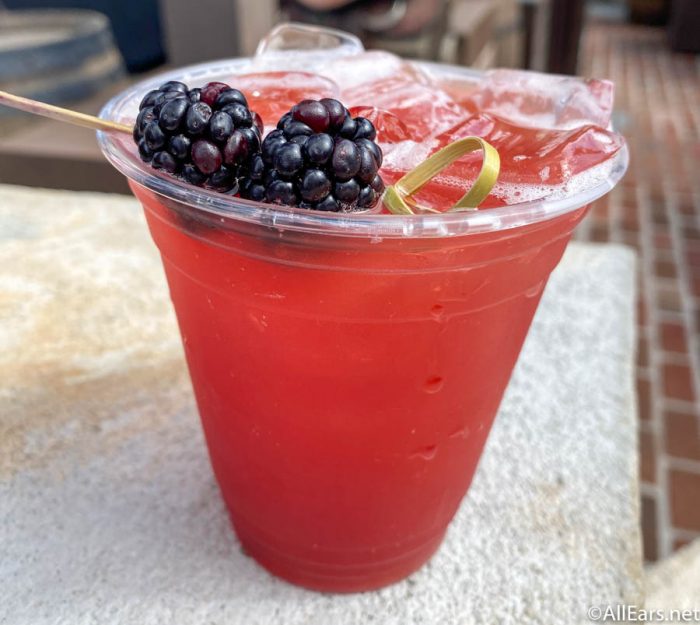 For the speciality cocktails, the Tennessee Lemonade was the only one that could be ordered both at the walk-up bar and inside the Regal Eagle main restaurant.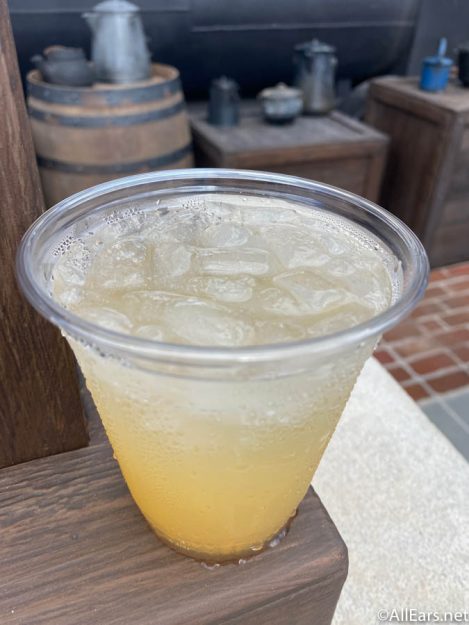 The bar also offers some delicious mocktail options on the menu! We tested out the Berry Sparkler, made from berries and grape juice and available fro $4.49. This was another one that we were surprised to find was refreshing without feeling overtly sweet!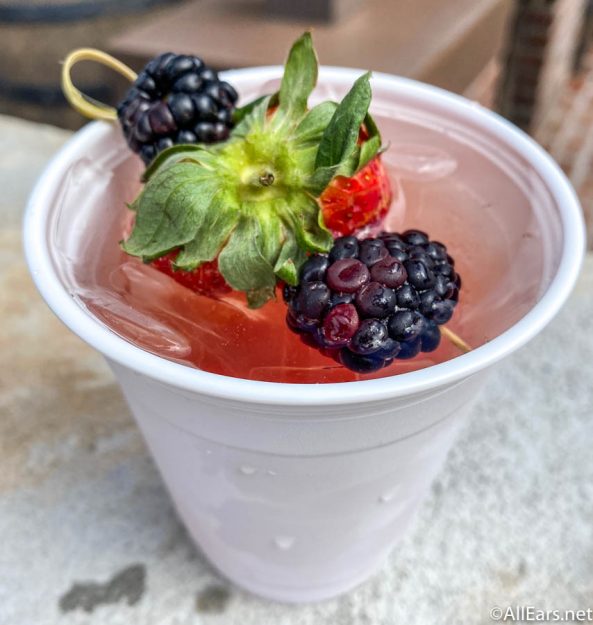 Overall, just like with the food at Regal Eagle, we were very impressed with our experience at the walk-up bar for the newest BBQ joint in Disney! The drinks were all just the right amount of sweet and refreshing, and we absolutely loved the opportunity to be able to sit and enjoy some food and drink in Epcot!
Don't forget to check out our thoughts on the new restaurant and its delicious BBQ eats here!
Are you excited to try out Regal Eagle on your next Disney trip? Let us know your thoughts in the comments!