Epcot is having another festival, which means a gallery of gustatorial delights. Festival booths around Epcot are loading up with artistic edibles, but there's a very special new edition coming for the 2020 Epcot International Festival of the Arts!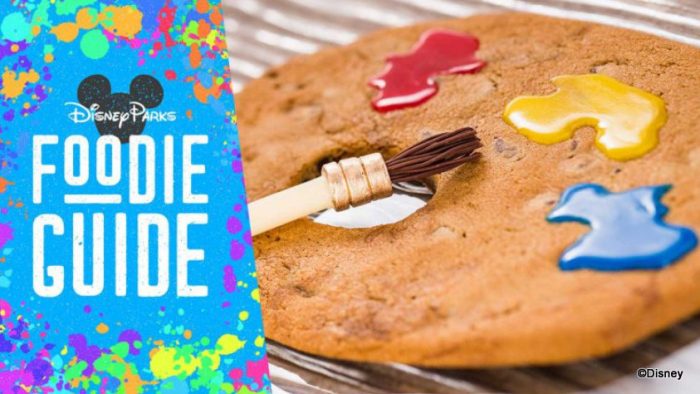 A Canadian Brunch!
The big draw this year? A brand new Brunch at Le Cellier!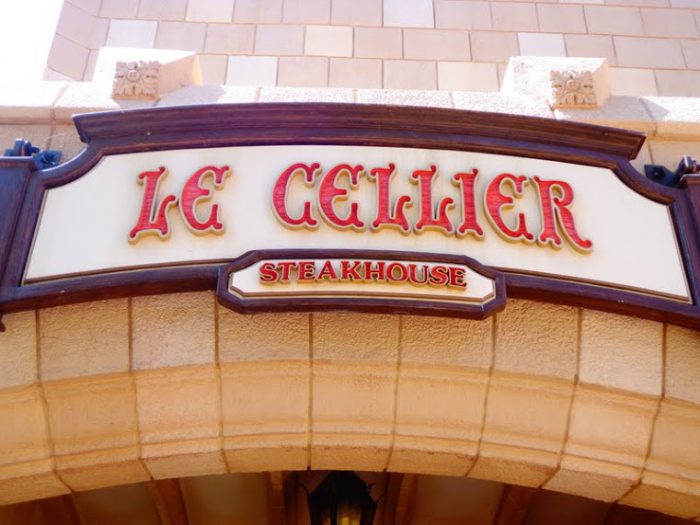 Available on weekends during the festival from 11AM-3PM , you can enjoy favorites like Cheddar Cheese Soup, Eggs Benedict, Montreal-Spiced Corned Beef Hash, Cinnamon Roll French Toast Bread Pudding, Coffee and Donuts, and Maple Creme Brulee.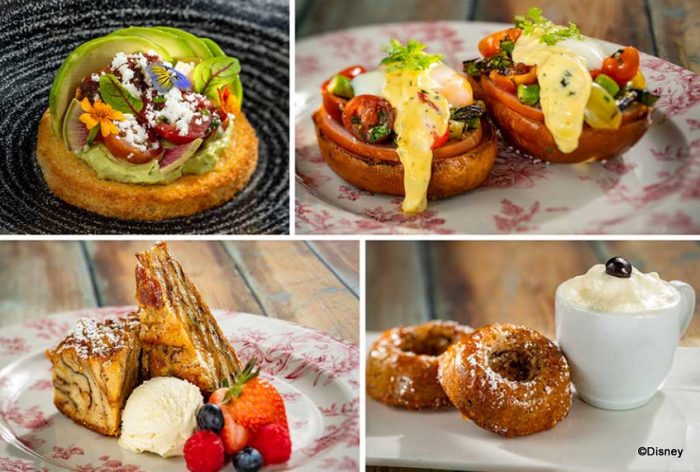 The meal is prix fixe and costs $67 for adults and $39 for children, plus gratuity and tax. You can also use two Disney Dining Plan Credits. You'll need to make a reservation through My Disney Experience to secure your seat!
Pop Eats!
Pop Art was made famous by Andy Warhol, who took familiar household images and mixed them with bright colors and unusual compositions. Pop Eats has a plethora of colorful snacks, from the Sous Vide Chicken Roulade with Apples and Sage (served with warm Brie Fondant) to the classic Pop't Art sugar cookie with strawberry filling.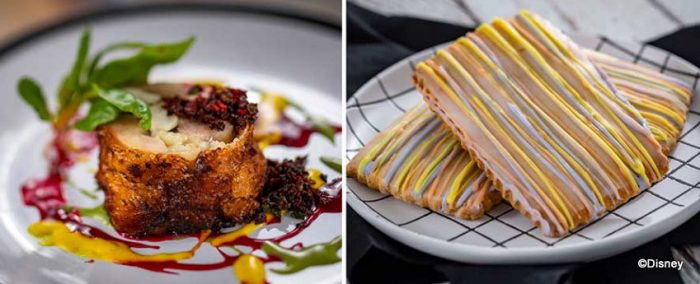 Fans of color can get the #RainbowSherbertGlitterDreamAle, which is already Instagram ready or they can raise a toast to Warhol with a Tomato Soup Can Bloody Mary.
Decadent Delights
Craving something sweet? Decadent Delights celebrates the art of dessert making. The Chocolate, Peanut Butter and Pretzel Crunch sounds simple, but the presentation is incredible, with a dash of crimson in a block of chocolate.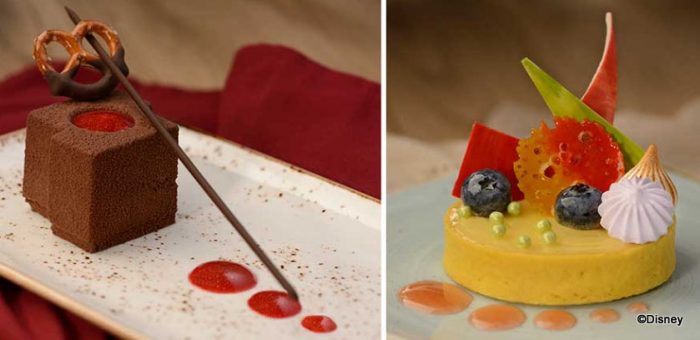 The Lemon Blood Orange Tart is topped with delicate chocolate pieces and is like a sculpture in food form!
The Deconstructed Dish
Deconstruction is when the components of a work of art are broken down or rearranged in order to have us reconsider what that category of art really is. The Deconstructed Dish does this by presenting food in ways you've never expected to see it!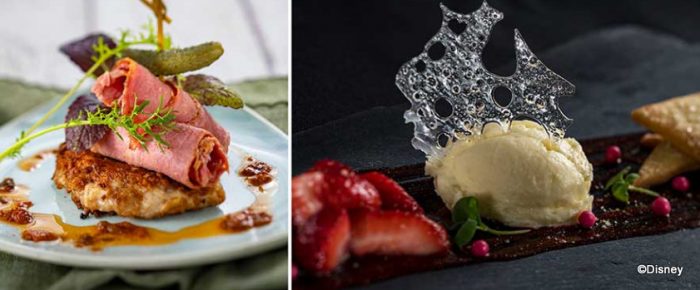 The Deconstructed Reuben has everything but the bread, replacing it with a Jarlsberg-based cake. The Thousand Island Dressing is there too, but "broken" into individual components instead of blended into a mass.
The Deconstructed Cheesecake has been whipped into a cream and garnished with strawberries and micro basil, with a side of sugar cookies as the crust.
Children (both current and former) can enjoy the Deconstructed Breakfast Mocktail, an apple chai tea shake topped with maple syrup, a waffle crisp, and candied bacon.
Refreshment Port
Refreshment Port has added another entry to its ongoing series of Festival snacks with Lobster Chips: made with lobster, bisque cheese sauce, pickled jalapenos, and citrus cream.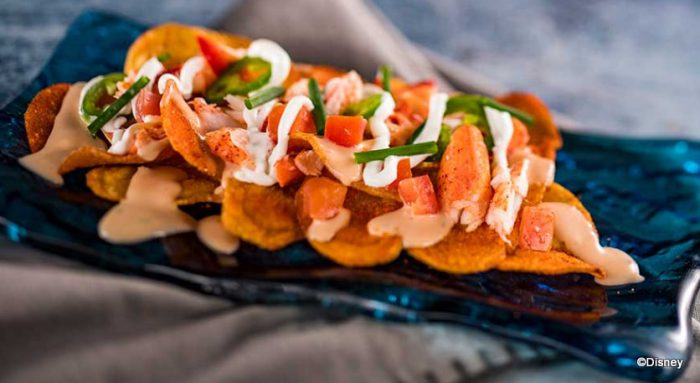 Masterpiece Kitchen
Over in Canada, the Masterpiece Kitchen is serving some classy cuisine, including this Vanilla, Rose Water, and Pistachio Panna Cotta!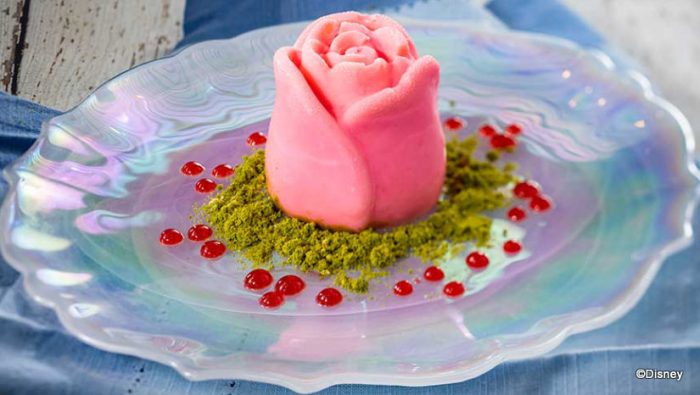 The panna cotta is also part of the Festival's Wonderful Walk of Colorful Cuisine!
L'Art de la Cuisine Française
Remy has cooked up some delectable examples of french cuisine, including creamed brie in a bread bowl, rib stuffed tomatoes, and macarons! You can also sample drinks like the Frozen French Martin.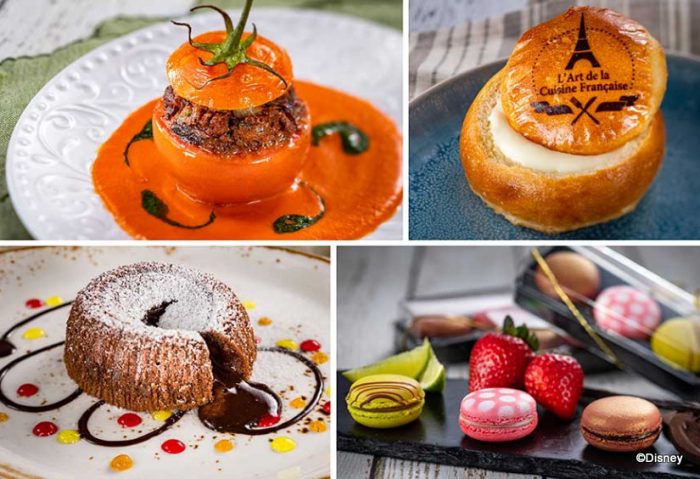 Mosaic Canteen
In Morocco,  you can try this Spiced Beef with pine nuts and dried cherries, served on hummus with a side of pita chips. Or you can enjoy a Mediterranean Flatbread with Zaatar, mozzarella and feta, and artichoke!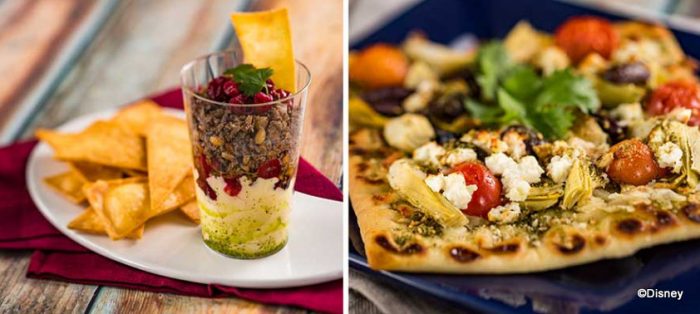 Goshiki
Goshiki means "five colors", referring to both an artistic principle and a prized coloration in Koi.

Fans of Japanese street food can try the Taiyaki, a red bean paste-stuffed pastry popular among children. If you're feeling more adventurous, why not sample a Sushi Donut made with tuna, shrimp, and salmon?
The Artist's Table
The Artist's Table sees the return of the Jumbo Chocolate Chip Palette Cookie, plus a traditional Beef Wellington.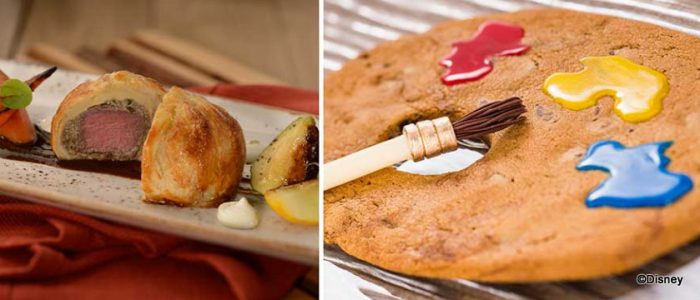 Funnel Cakes, Fief and Drum, and Block and Hans.
The American Adventure pavilion has delicious treats, like a Peanut Butter, Jelly, and Funnel Cake Sandwich with Peanut Butter Ice Cream, Marshmallow Creme, and Raspberry Glaze! Or you can enjoy a Musical Float with layered slushies and vanilla ice cream.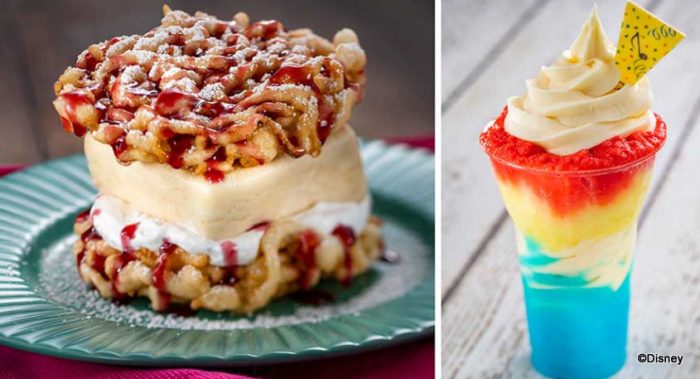 L'Arte di Mangiare
In Italy, you can enjoy a Rossini: Prosecco Mousse with Strawberry Sauce. Or you can try Pollo alla Pirandello, a chicken drumstick stuffed with ricotta and served with tomato sauce.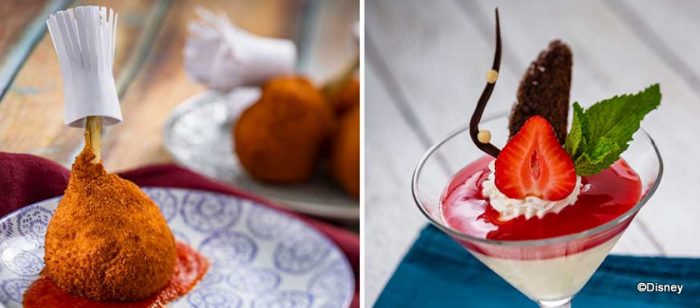 Cuisine Classique
At Cuisine Classique, you can try this Red Wine-braised Beef Short Rib with Parsnip Purée, Broccolini, Baby Tomatoes, and Aged Balsamic. Or maybe indulge in a Saint-Honoré Tart: a Caramel Cream Tart with Caramel Glaze topped with Cream Puffs.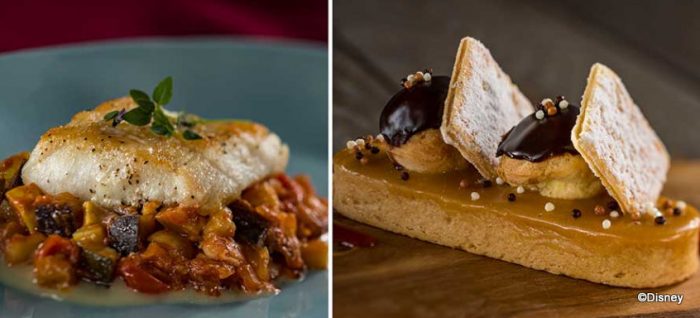 Refreshment Outpost
At the Africa Outpost, you can try a Plant-based Bratwurst with Spicy Tumeric Aioli, Coffee Barbecue Jackfruit, and Slaw. Or you could try the Popcorn Pairing Flight. Oh, and the classic Paintbrush Churro's here, too.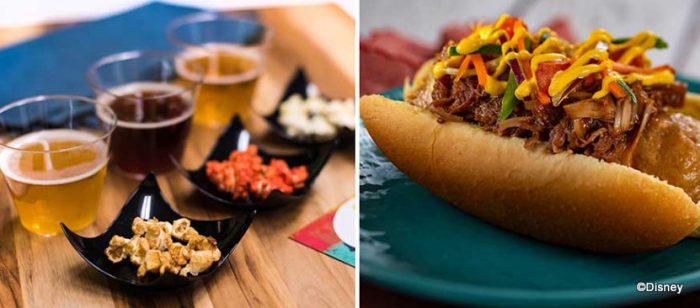 Painted Panda
In China, try the Spicy Beef Shumai and the Char Siu Pork Bun. You can also get "Panda" Bubble Tea with black and white boba!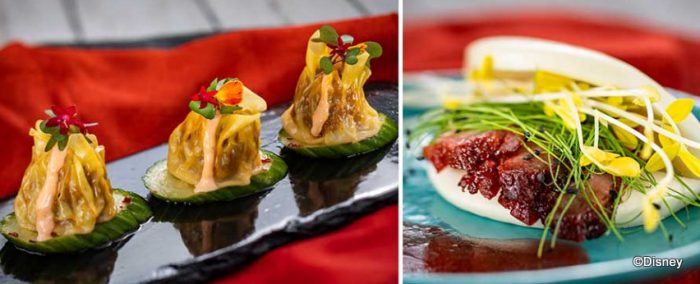 El Artista Hambriento
In Mexico, you can sample a Sopes de Barbacoa: a little volcano of beef served on a corn shell with black beans, cojita cheese, Mexican cream, and chives. Or you can get the Agave Pork Belly with pumpkin seed pesto salad.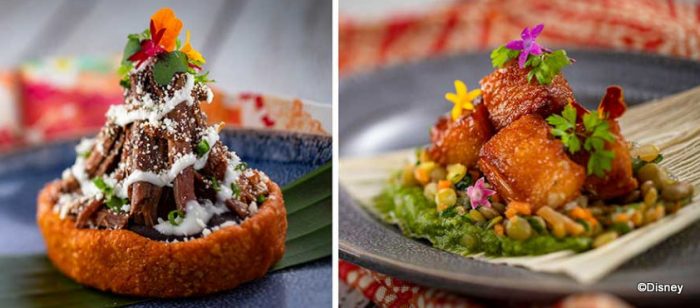 There are plenty of other snacks, like exclusive Joffery's beverages, the return of Cool Wash, and more! You can check everything out at the official Foodie Guide page.
Check out the full menus of eats and drinks coming to Epcot International Festival of the Arts here!
And find out how you can interact with the art at the Festival on our Interactive Art page!