Interactive Art Experiences at Epcot International Festival of the Arts
The Epcot International Festival of the Arts is an annual celebration of culinary, performing, and visual arts. That means you can enjoy creative dining, view inspiring performances, and appreciate fine art of all different types during a Festival that spans several weeks in January and February.
The Epcot International Festival of the Arts runs from January 17 through February 24 in 2020!
One of the most engaging aspects of the Festival of the Arts is several interactive art experiences. For 2020, these include everything from a new twist on spin art to design-your-own glass art.
Let's take a look at all the fun you can have — and the art you can create — at the Festival of the Arts!
Figment's Brush with the Masters Scavenger Hunt
Each year, the Festival of the Arts offers Figment's Brush with the Masters Scavenger Hunt. This family-friendly experience has you finding fine art pieces throughout World Showcase. First, you'll purchase a map ($6.99) that comes with stickers you'll place whenever you find one of the art pieces pictured.
The Scavenger Hunt takes you all around World Showcase with eleven spots to explore!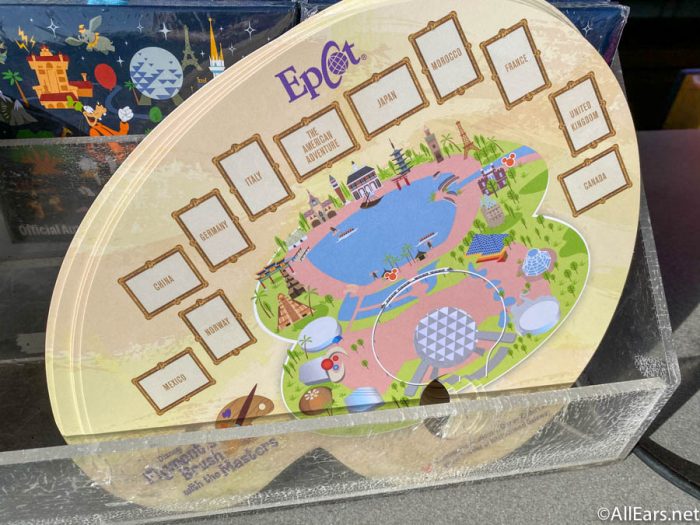 Once you've completed the Scavenger Hunt, return with your completed map, and collect your prize! For 2020, the prize is a Figment Color Co. puzzle that comes in a collectible 'paint' can!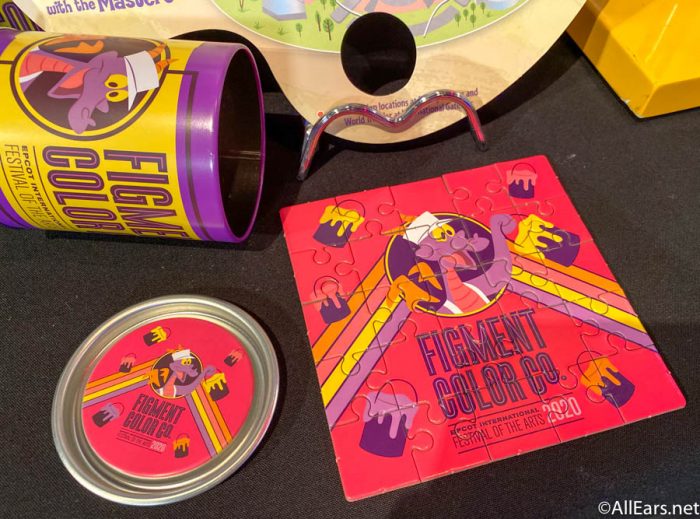 Expression Section: A Paint By Number Mural
The biggest interactive art experience is the Paint By Number Mural (located near the old Mouse Gear in Future World in 2020). This mural is comprised of thousands of small squares, each awaiting a designated color.
You'll see a cast member to get your supplies, which consist of a numbered cup of paint and a brush.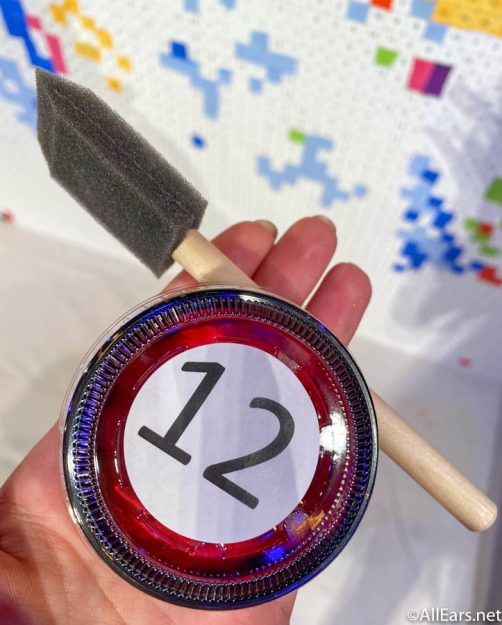 Then you'll paint your own little square on the massive mural. This year the mural depicts the Imagination! pavilion, and participants are getting a postcard featuring the artwork, too!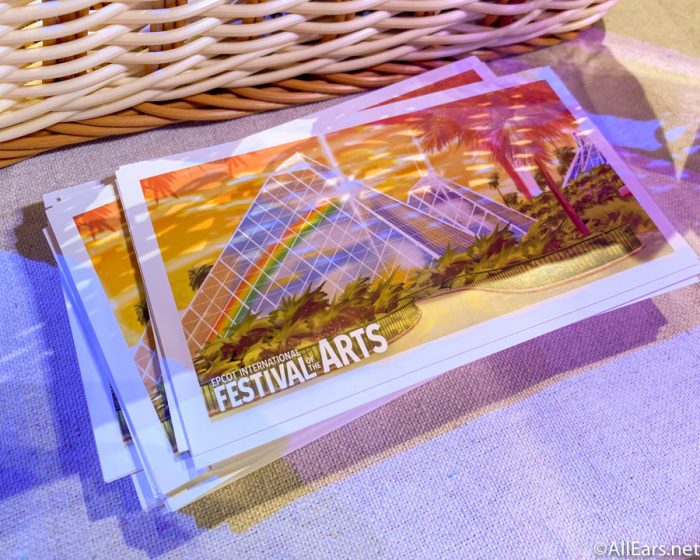 Paint By Number is a free experience, and it's a wonderful depiction of how beautiful things can be when we all work together.
Spin Art Experience
New in 2020, the Spin Art Experience is a unique way to create a nostalgic piece of art.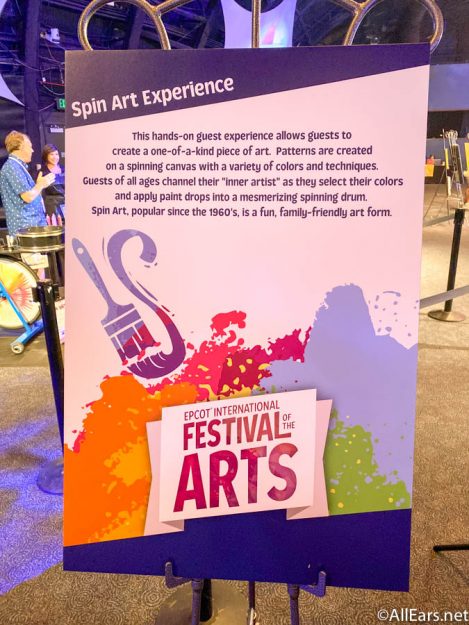 The instructions are straightforward: select four paint colors, write your name on the canvas…
…and then get on a bike! That's the spin on this Spin Art. You'll create it by pedaling on the bike, thus spinning the canvas inside the shallow drum.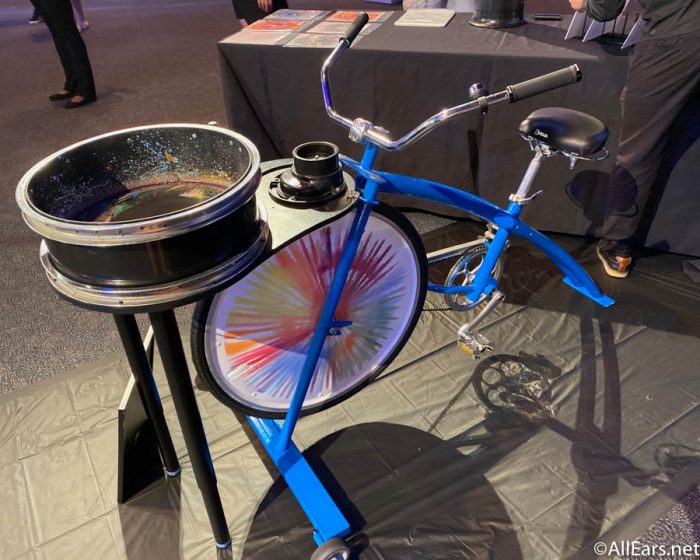 The resulting artwork is an explosion of color. And bonus: you get a little workout to justify all those bites you're enjoying at the Food Studios. 😉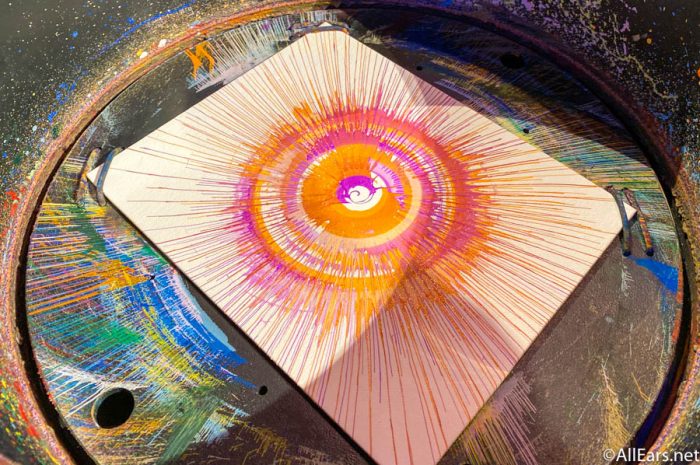 If you prefer not to bike, there is a tabletop Spin Art, too. Both cost $19 for the experience and canvas. If you want an 8×10 frame for your artwork, the full experience will cost you $25.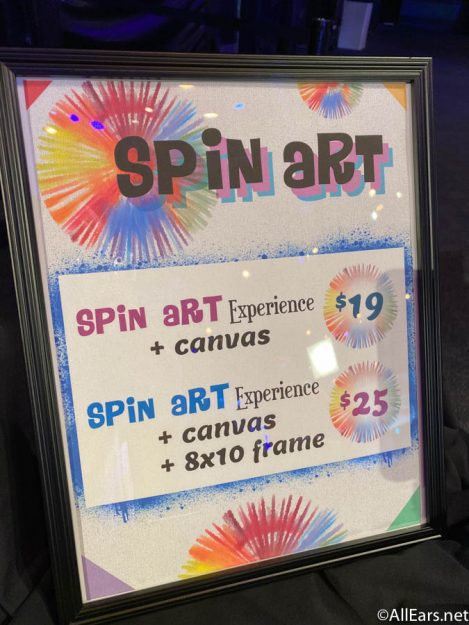 Tee Shirt Screen Printing
This year, the Festival of the Arts also offers tee shirt screen printing! Enemy Ink, a central-Florida-based business, is on hand to create your personally-designed, wearable masterpiece!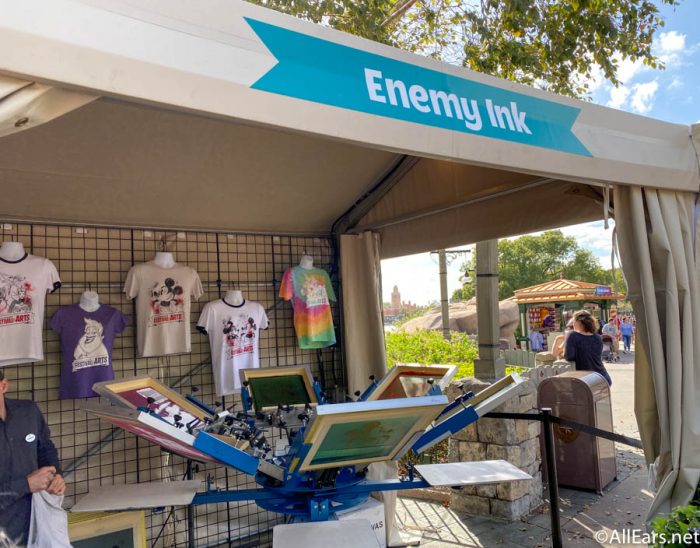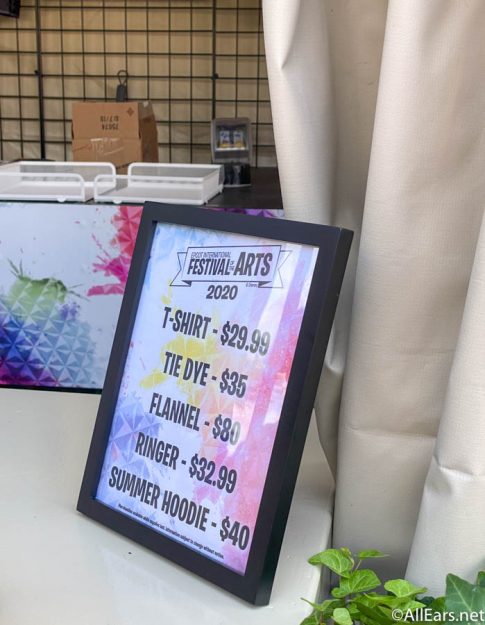 And believe it or not, when you place your order, the artists here immediately print your shirt so you can take it with you!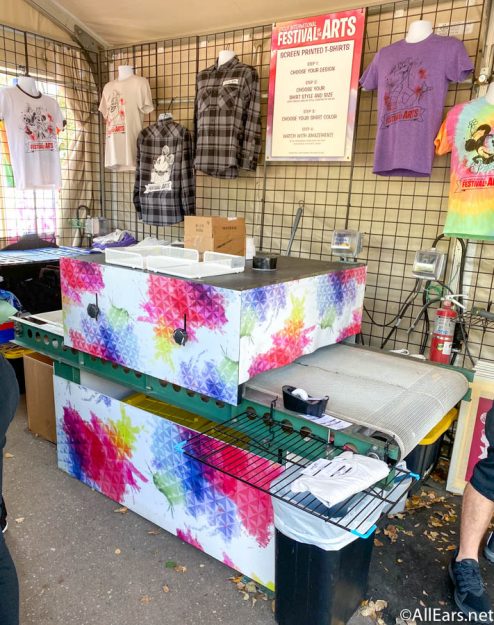 It's fun to watch this process — and you get a one-of-a-kind shirt to take with you!
Kids' Chalk Art
For some artsy fun that's kid-centric, head to Future World West for chalk art from 10AM to 4PM daily.
During this free experience kids can channel their inner artists, grab a piece of chalk, and leave their mark on Epcot!
Handimals
For guests of all ages, Handimals let you create a work of art by hand of your hand!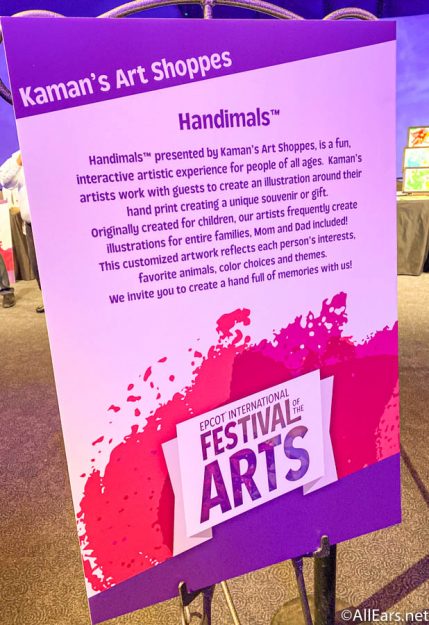 We've seen this experience at Disney's Animal Kingdom in the past, and now it's made its way to Epcot's Festival of the Arts! For a small fee (varies depending on how many guests are participating), you'll create a work of art around your handprint! These are so clever and a snapshot in time if you've got little hands participating!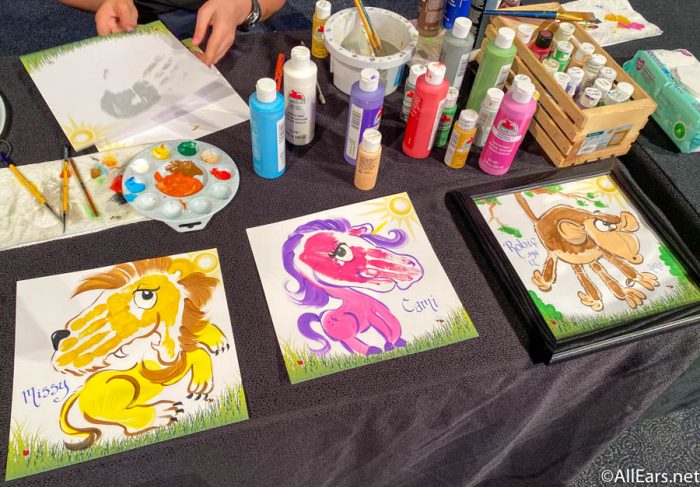 Artful Photo Ops
If you want to get really into the art, search the Park for Artful Photo Ops. These are fine art displays with a subject or more missing — and that means you get to go into the art!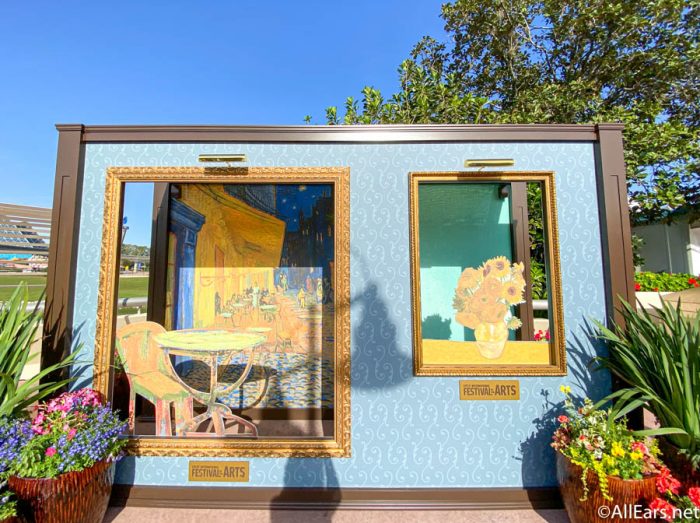 Click here for our full listing of this year's Artful Photo Ops!
Arribas Brothers Interactive Glass Art
If you want to create a work of glass art that you can bring home, visit the Interactive Glass Art experience at Glaskunst in the Germany pavilion.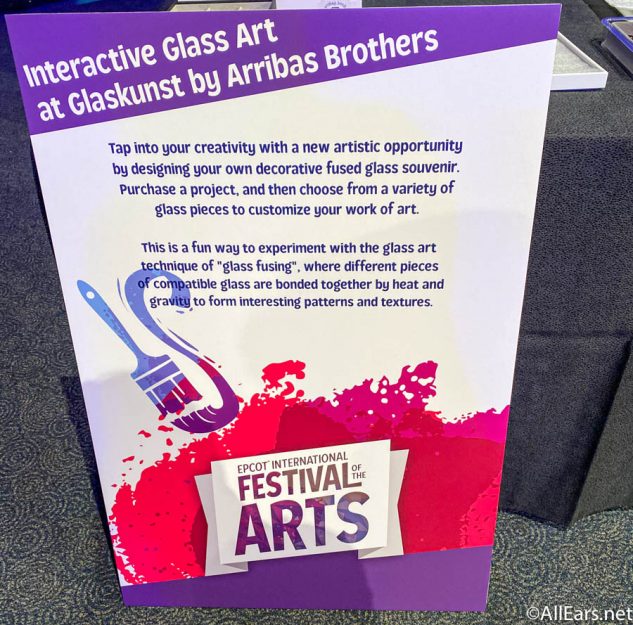 You'll purchase a project (prices vary), then select the glass you'd like to have fused into your piece. Options include everything from necklace pendants to picture frames.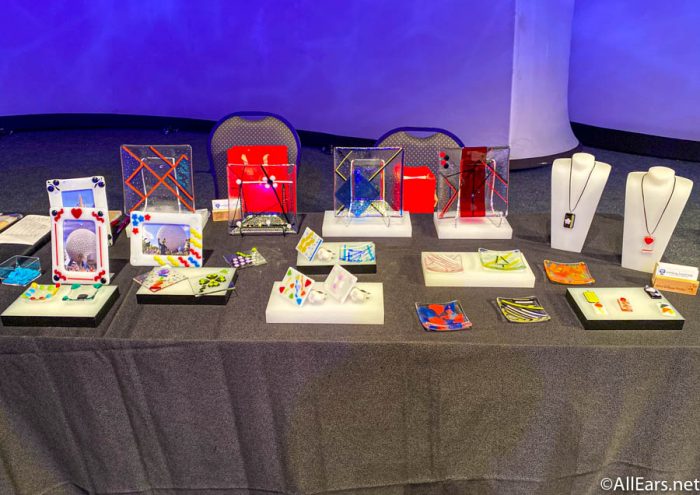 Interactive Glass Art
The artists will fuse your design, and you'll have a one-of-a-kind, created-by-you piece to take home!
Chalk Full of Character
With Chalk Full of Character, the whole family can keep track of how many chalk drawings of iconic Disney characters they can find!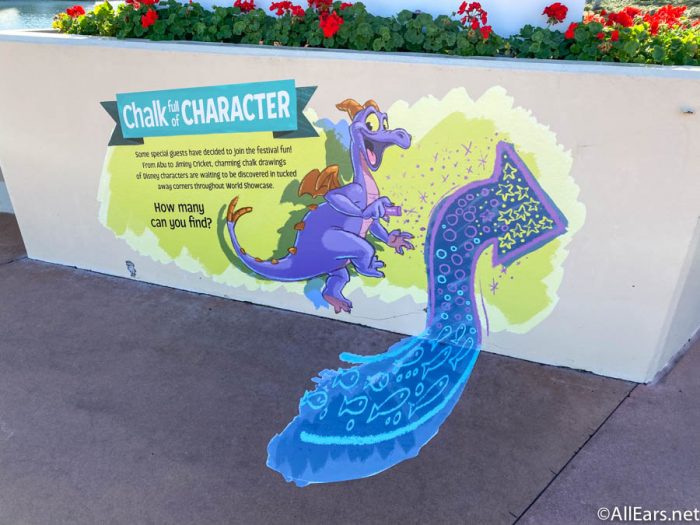 Whether you're looking for Abu, Lumiere, or Jiminy Cricket, your art search will take you into each of the World Showcase pavilions where you'll have to do some serious looking to spot your chalky friends!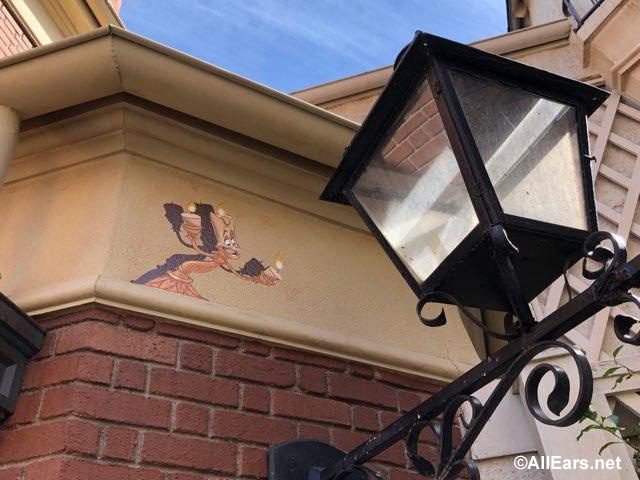 Bonus: You'll find 3D and 2D chalk art throughout the Park, too!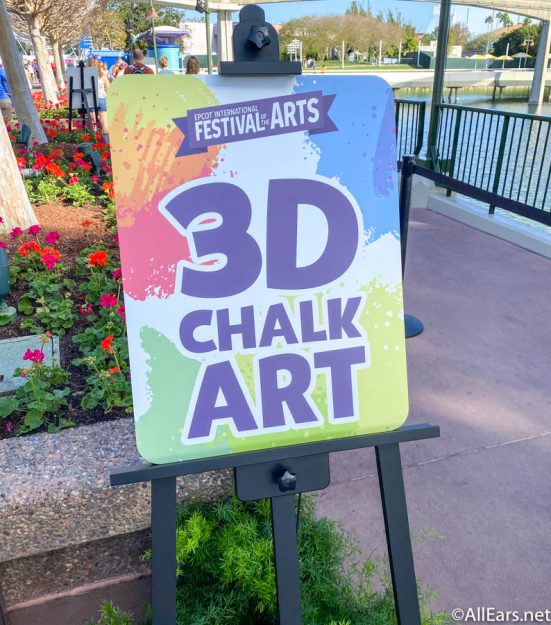 And it's… impressive.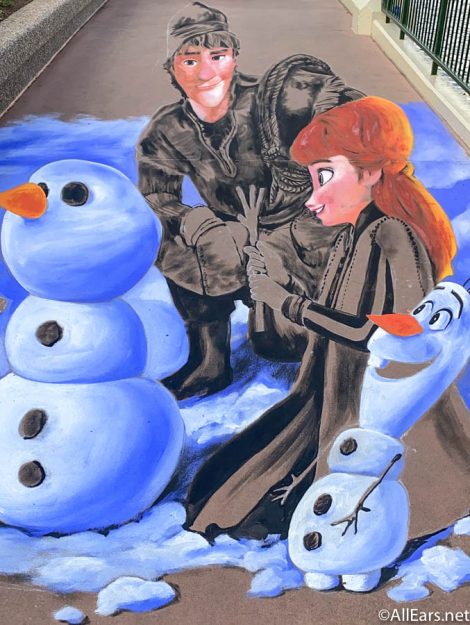 Wonderful Walk of Colorful Cuisine
If you're looking to interact with art that's made for your taste buds, the Wonderful Walk of Colorful Cuisine is just right for you! This experience is new for 2020 and requires you to try five colorful bites from the Festival's Food Studios (aka food booths). Find the page in your Festival Passport (see the full Passport here!) where you'll affix stickers each time you purchase one of the five dishes.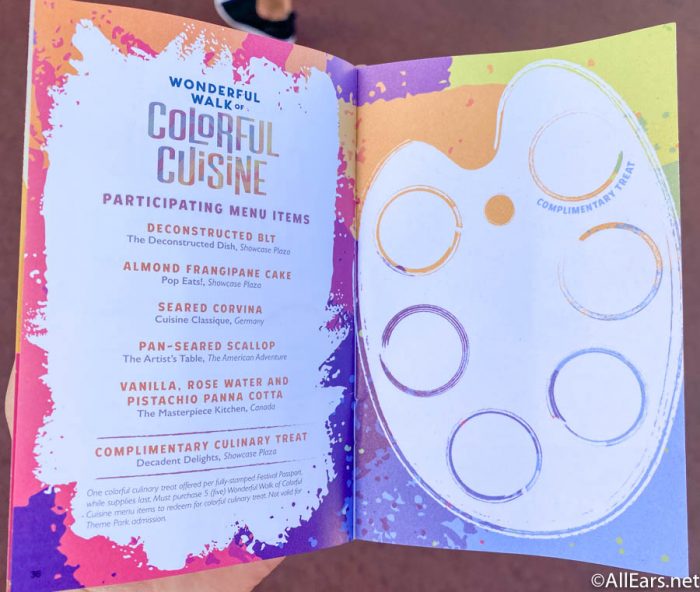 Once you've enjoyed everything from a Deconstructed BLT to a rose panna cotta, you'll return to Decadent Delights with your completed palette of stamps for a complimentary treat!
The good news is, if you plan to make multiple trips to the Festival of the Arts, you can complete your Wonderful Walk over time. Just complete the page in your Passport by February 24. (Disney notes that this is only while supplies last, so keep that in mind when you're planning.)
Animation Academy
The Animation Academy is new for 2020 and gives hundreds of budding artists the chance to learn how to draw Disney-related sketches twice a day. The Animation Academy is free, but seating for the experience is first come, first served. (For reference, there are about 300 seats available for each session.)
Disney artists will provide large-group instruction in the America Garden Theater at 12:30PM and 1:30PM each day of the Festival. The first session is described as being a little easier, so if you've got a young artist with you, that one might be more his/her speed.
Whichever session you attend,  you'll walk away with some made-by-you art and invaluable lessons on drawing animated characters!
Want to check out all the menus from the 2020 Epcot International Festival of the Arts? We've got them right here!
Get a sneak peek of the Festival of the Arts from AllEars' media preview. Click here!
Have you visited the Festival of the Arts? Click in the box below to rate and review the Festival and help other AllEars readers know if this is a must-do!