Disney's Pop Century Resort is a beloved Walt Disney World Value Resort that has a unique history, larger-than-life iconic figures, convenient transportation options, and multifaceted value.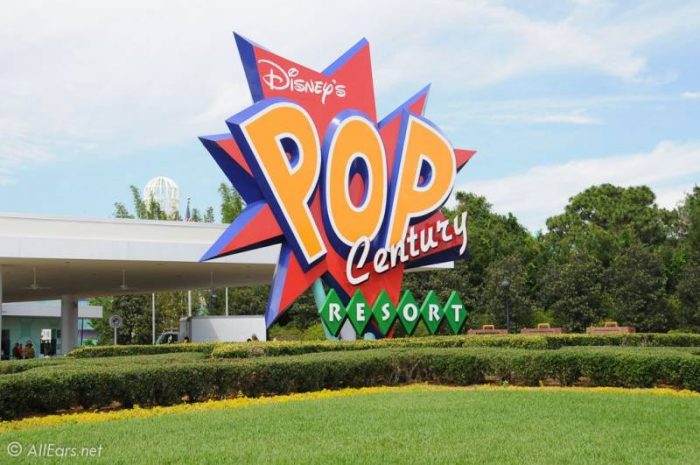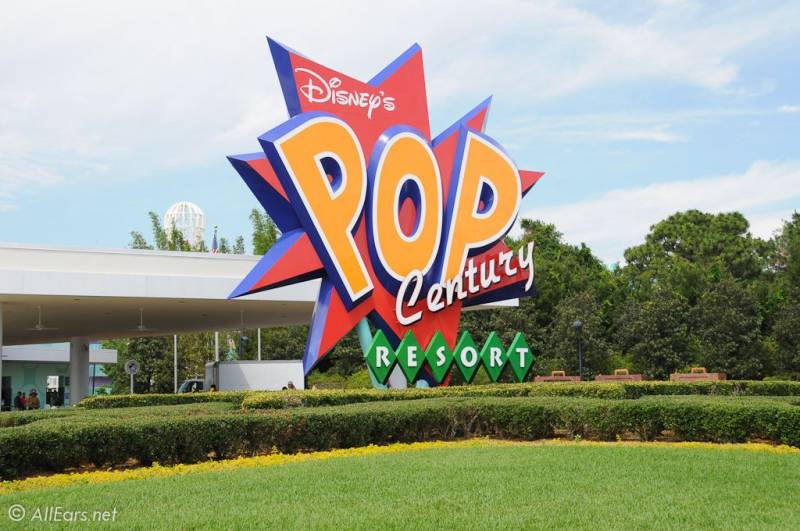 A stay at Disney's Pop Century Resort seems like a "no-brainer", but do its quirks make this budget-friendly Resort less appealing? Not at all! In fact, Pop's oddities are what we love most about it!
Today, we are sharing ten odd things we love most about Disney's Pop Century Resort.
Pop Century's Unique History
Disney's Pop Century Resort was originally supposed to have two distinct areas: The Classic Years and The Legendary Years.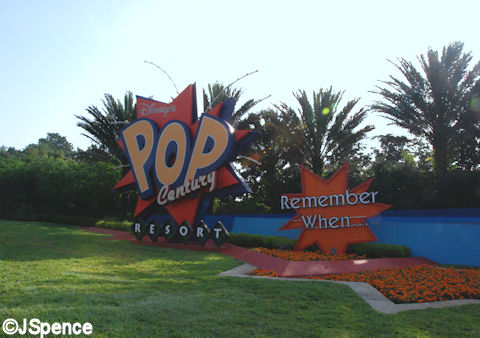 The only area we have today is The Classic Years. "What happened to The Legendary Years?" you ask? We are here to help solve that mystery!
The Legendary Years would have been located where 
Disney's Art of Animation Resort
 is today. In fact, the bridge connecting Disney's Pop Century Resort and Disney's Art of Animation is called the "Generation Gap Bridge" — because its original intention was to bridge the generational gap between the Classic and Legendary Years.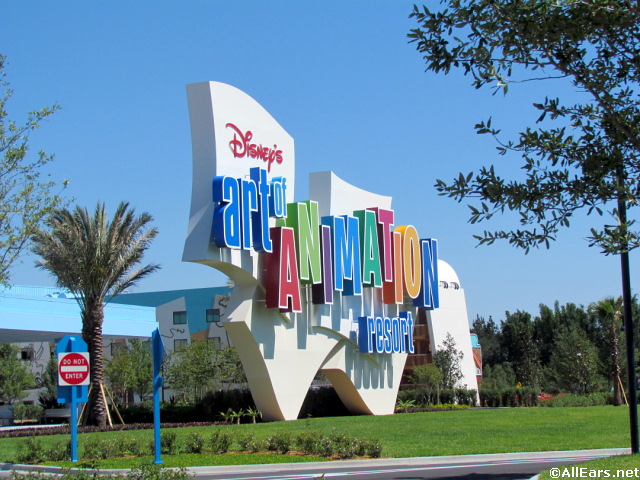 The Classic Years opened in 2003, but The Legendary Years sat unfinished and abandoned for many years due to the declining economy. It was not until 2010 that Disney announced their plan to take The Legendary Years in a new direction. They would create an entirely new Resort called Disney's Art of Animation, which would showcase four popular, animated Disney movies: The Lion King, Cars, Finding Nemo, and The Little Mermaid.
In 2012, the first phase of Disney's Art of Animation Resort was completed and opened to the public, forever leaving The Legendary Years "in the dust."
Missing Giant Bowling Pin?
1, 2, 3….9? A bowling pin rack consists of 10 pins. If you count the standing bowling pins at Disney's Pop Century Resort, there are only 9 of them. That's odd, right?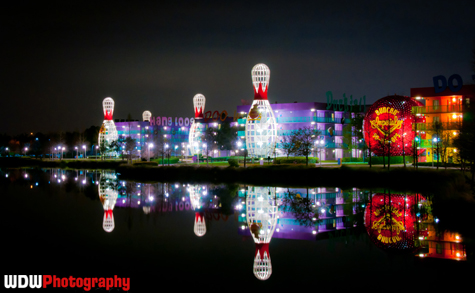 The 10th bowling pin is the Bowling Pool located adjacent to the 1950s section of the Resort! A closer look reveals the triangular lane markings that are seen on bowling alleys everywhere also surround the pool.
We must admit, these amazing details are right up our alley (pun intended)!
Are those…thumbprints?
If you take a good look at the giant Play-Doh canister adorning the 1960s area of Disney's Pop Century you'll see an adorable elephant and a cute giraffe peeking out of the top of the canister.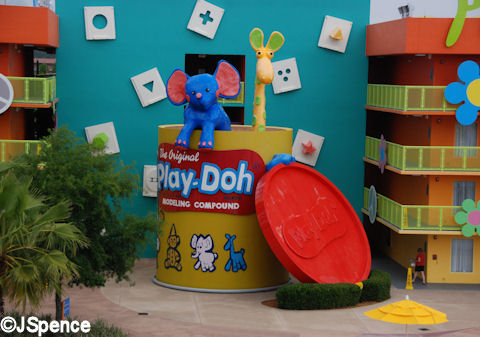 If you take an even closer look, you'll see "thumbprints" on the ears of the Play-Doh elephant. (Ever tried to make anything out of PlayDoh? Yeah, fingerprints are part of the design always!) This is another attentive detail that, frankly, we can't believe the Imagineers thought to include!
Its Cheesiness
Let's be real, Disney's Pop Century is pretty cheesy — and that cheesiness is one of our favorite things about it!
The larger-than-life 20th Century pop icons, functioning disco lights, 35-foot tall 8-track tapes, and oddly huge foosball field are cheesy as can be, but they really do POP!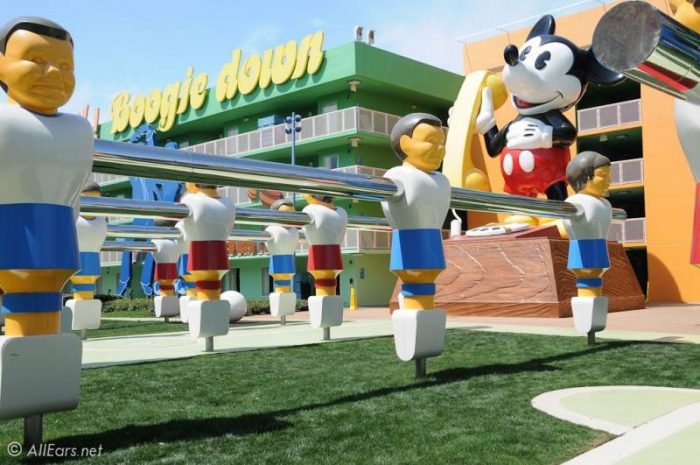 It's over the top, borderline tacky, and full of kitsch— and while many kids don't recognize a lot of the giant icons, they enjoy them anyway!
The giant Mr. and Mrs. Potato Heads, Big Wheel (suitable for children up to 877 pounds!), and Mowgli and Baloo figures always elicit huge smiles and make for great photo backdrops.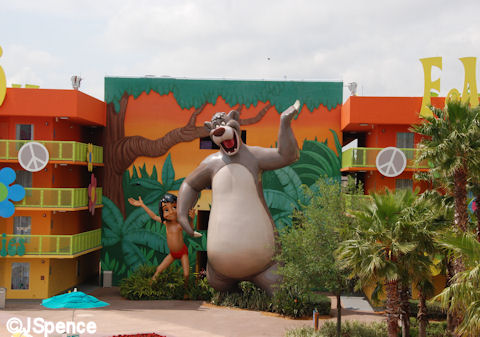 We can't get enough of this GROOVY Resort hotel!
The Tie-Dye Cheesecake
Speaking of cheesiness, one of the most "iconic" items in Disney's Pop Century Resort is not the decor; it's the tie-dye cheesecake!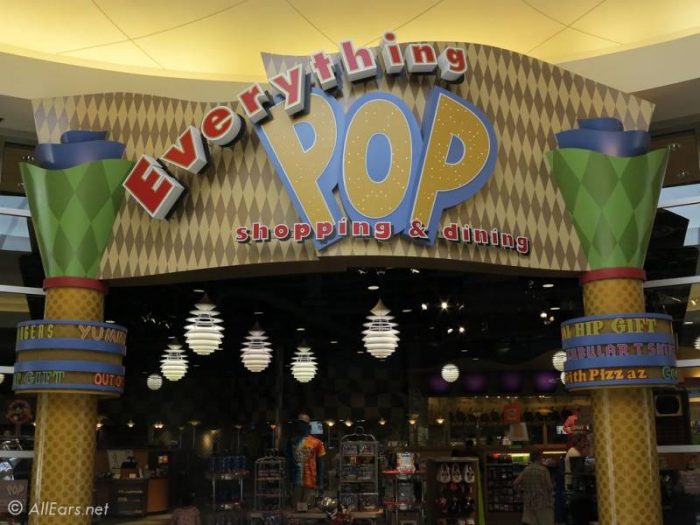 The tie-dye cheesecake has been a staple ever since Disney's Pop Century Resort opened in 2003. It's one of the few Resort hotel-specific treats found consistently at Walt Disney World Resort.
This famous cheesecake is simple; it's just a rainbow-colored cheesecake that sits atop a thin "red velvet" cake. That's all there is to it, yet it's so delicious that it has amassed a cult following! Honestly, it looks pretty odd. In fact, many reviewers describe its look as "Play-Doh"-esque. However, its look is the only odd thing about it. This dessert is absolutely DELICIOUS. It's creamy, simple, and worth POPping over to Disney's Pop Century Resort to try it for yourself!
Everything POP Shopping & Dining
Everything POP is Disney's Pop Century Resort's merchandise store and food court area. The fact that the two are connected is pretty odd.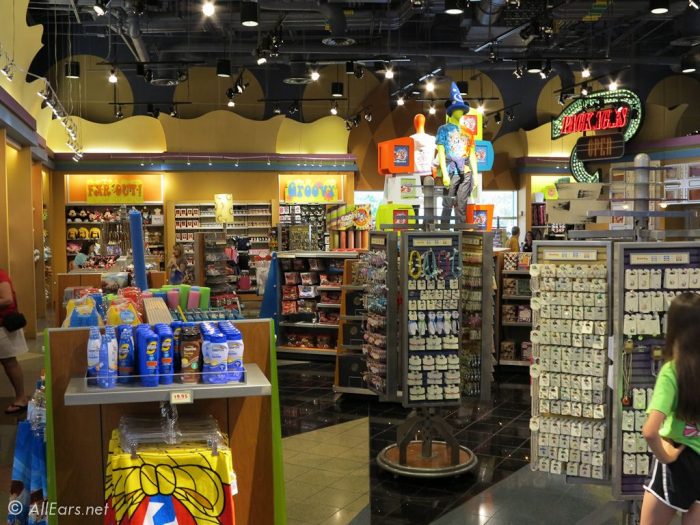 However, with how spacious and well laid-out Everything POP is, we think it was brilliant to put them together!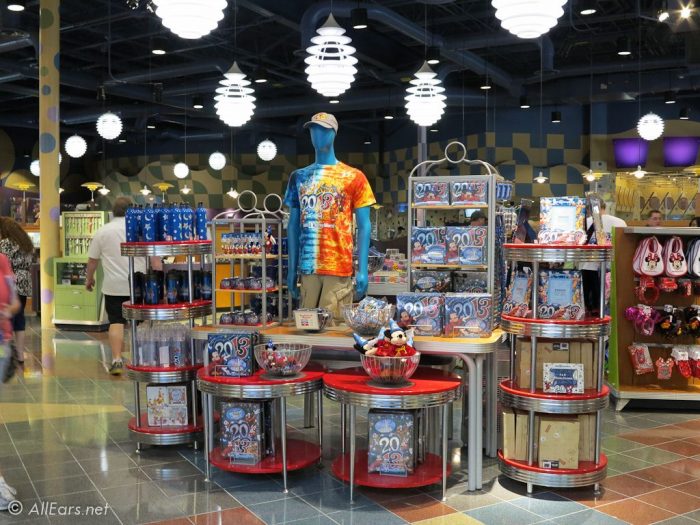 Having the shopping area so close to the dining area serves as a great distraction and place to hang-out with the kids while someone else in your party waits for the food to be ready. Also: there are bribes to eat your dinner just steps away from the table. 😉 It's great for guests looking to maximize their time while visiting Disney's Pop Century Resort.
The Museum-Like Lobby
Disney's Pop Century Resort lobby area could easily be a 1950s-1990s museum. Its walls are covered with shadow boxes that contain items representative of each decade featured in the Resort hotel.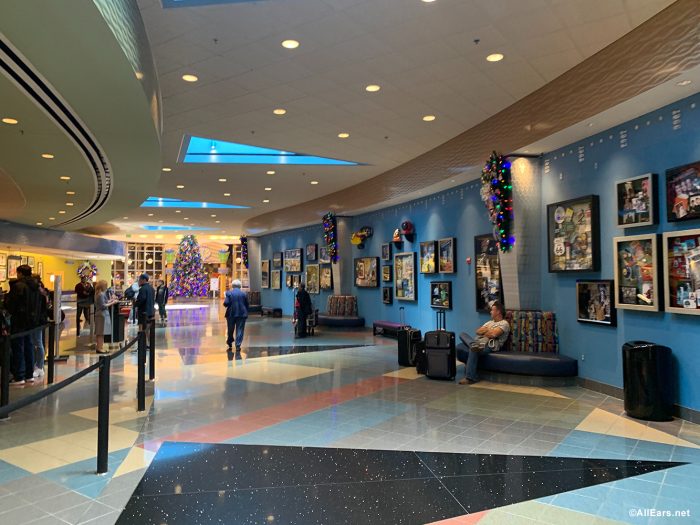 From "Where's the Beef?" plates and The Sopranos pictures to Jane Fonda's Workout Book and Elvis memorabilia, you can easily kill some time looking through these curated memory boxes.
Pop-Culture Trivia at Hourglass Lake
If shadow boxes aren't enough to satisfy the pop-culture trivia fan in you, a quick walk around Hourglass Lake should do the trick.
Along the edge of Hourglass Lake, you can find signage highlighting some of the major events of the latter half of the 20th century.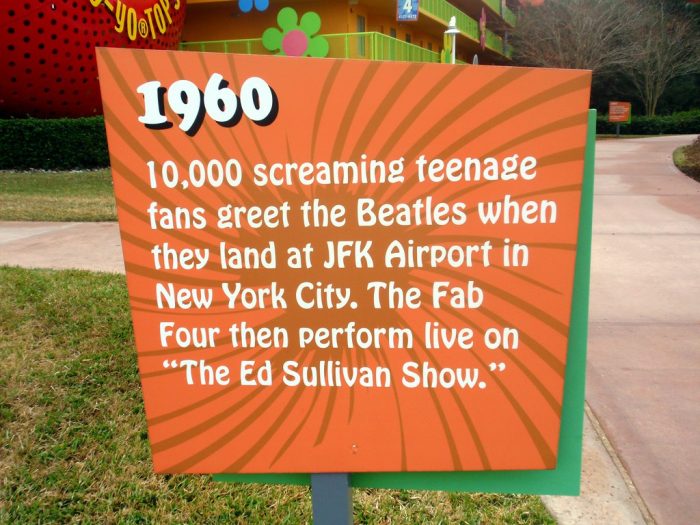 You can enjoy trivia and facts about Neil Armstrong, Barbara Walters, the Beatles, Star Trek, the Sears Tower, and so much more. This is the perfect stroll to enjoy before venturing into our next spot… .
It's Basically Two Resorts in One
Staying at Disney's Pop Century Resort is basically like staying in two Resort hotels at once. Because Disney's Pop Century and Disney's Art of Animation are connected via Generational Gap Bridge (and now share a Disney Skyliner station!), it's easy to Resort-hop between the two of them!
What does this mean for you? It means that you have multiple dining and entertainment options to check out. While guests of Disney's Pop Century Resort cannot enjoy Disney's Art of Animation pools, they can enjoy almost everything else!
This is especially great for families traveling with little ones, who may find characters from The Lion King, The Little Mermaid, Cars, and Finding Nemo more easily recognizable!
Those Odd Pull-Down Queen Beds
In 2017, Disney's Pop Century Resort started rolling out their renovated rooms. What was already regarded as one of the best Value Resort hotels on property was truly elevated to an entirely new level.
Laminate wood-look floors, modern furnishings, and in-room coffee makers were all welcome additions. The new rooms are sleek and clean!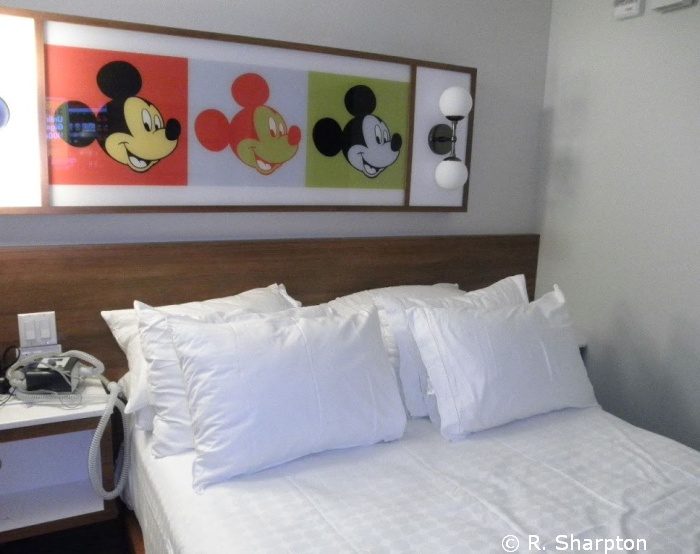 One "odd" addition was the pull-down, queen-size Murphy beds. A lot of guests thought these would be uncomfortable, like other pull-down beds on property. However, they are not! They are full-sized queen beds and offer standard sleeping comfort — even though they seem odd at first.
Another reason we love them is because they can be tucked back into the wall in the morning, making the typically small (Value Resort-sized) Disney's Pop Century rooms feel much larger! That sure sounds like a win-win to us!
Have you stayed in Disney's Pop Century Resort? What did you think about it? Please let us know in the comments below!
Join the AllEars.net Newsletter to stay on top of ALL the breaking Disney News! You'll also get access to AllEars tips, reviews, trivia, and MORE! Click here to Subscribe!