Last night, June 6, saw the debut of the Magic Kingdom's limited-time series of events known as Villains After Hours. This hard-ticket special event is a villain-themed version of the popular Disney After Hours, during which guests can spend an extra three hours in the parks after closing to take advantage of shorter wait times and low crowds.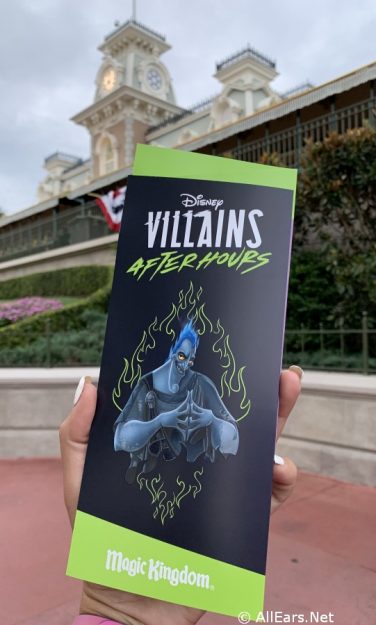 More than 20 popular attractions remain open during the event — including Seven Dwarfs Mine Train, Peter Pan's Flight, Splash Mountain, and Haunted Mansion. Guests can also nosh on snacks, such as Mickey Premium Ice Cream Bars, popcorn, and bottled drinks, which are included with your admission.
Is this villainous evening worth the extra money? Take a look at what we experienced and judge for yourself!
Check-in
The evening starts officially at 10 p.m., but as with many other hard-ticket, after-hours events, you can actually enter the Magic Kingdom as early as 7 p.m. WITHOUT using a day of your regular park admission!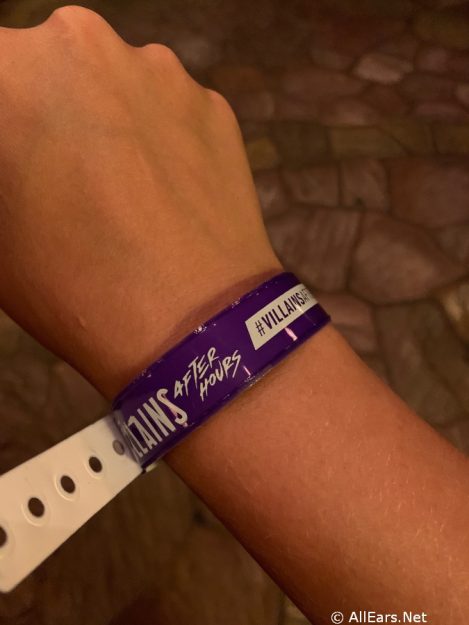 Once you check in and get your special event wristband, be sure to pick up an event guidemap, which will tell you which attractions and eateries are open.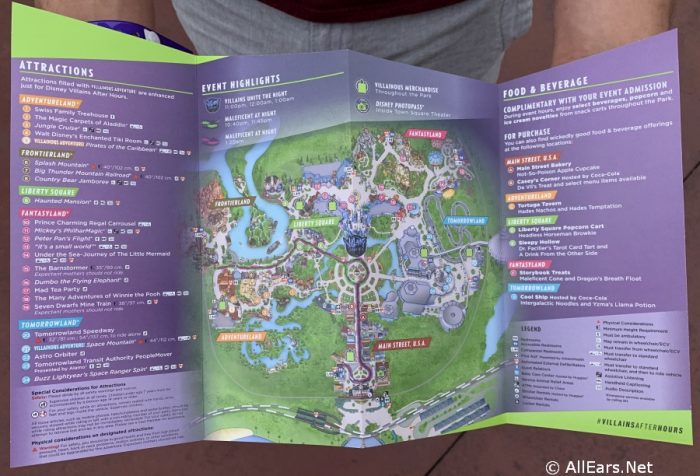 The park is decked out in menacing signage and lighting, giving off a spooky, almost-Halloween vibe.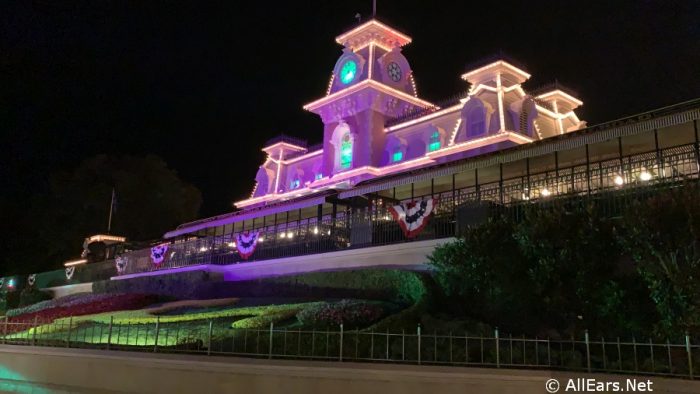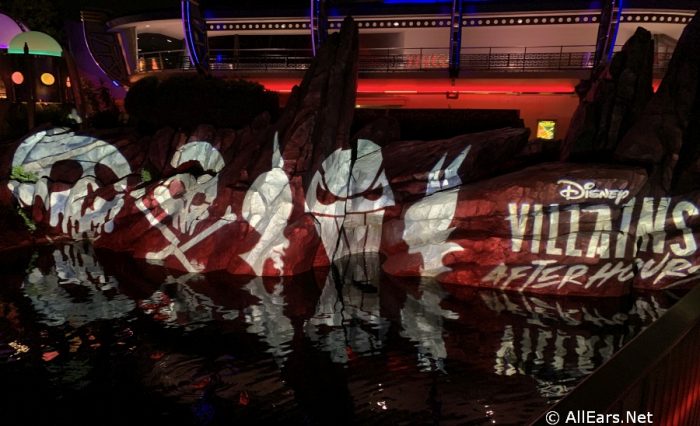 Villainous Attractions
As you can see from the map above, most attractions are running during the event, and some even have special villain-themed additions, like Pirates of the Caribbean and Space Mountain.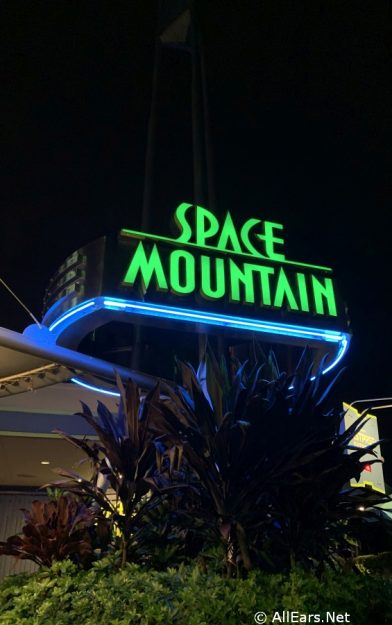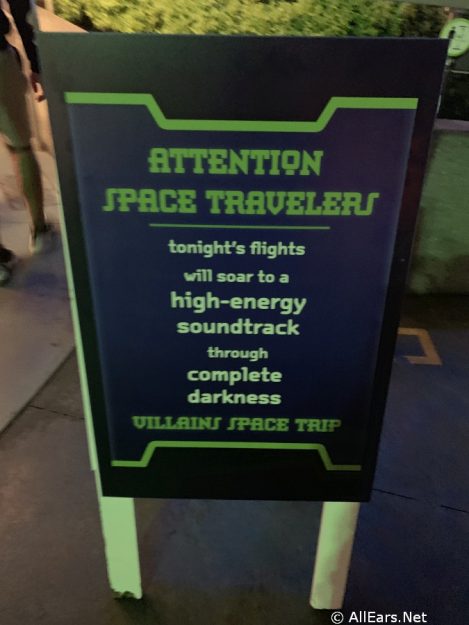 Space Mountain is run in pitch-black darkness with very cool "villainized" music, peppered with maniacal laughter that makes you want to laugh along — while looking over your shoulder!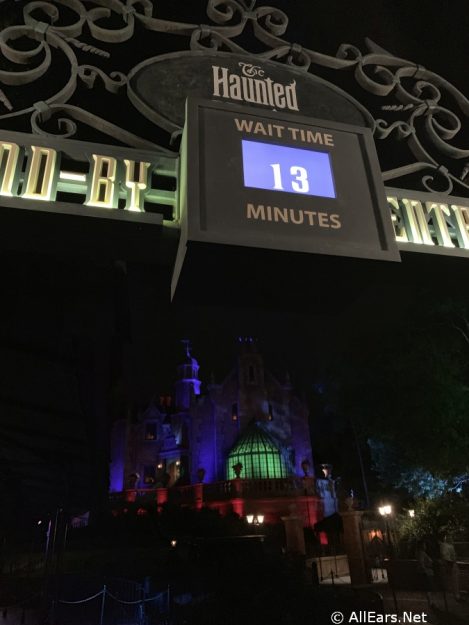 Over in Liberty Square, the Haunted Mansion had the menacing wait-time of 13 minutes! (It was basically a walk-on.)
Pirates of the Caribbean really got into the spirit, bringing out scurvy buccaneers who entertained you along the queue.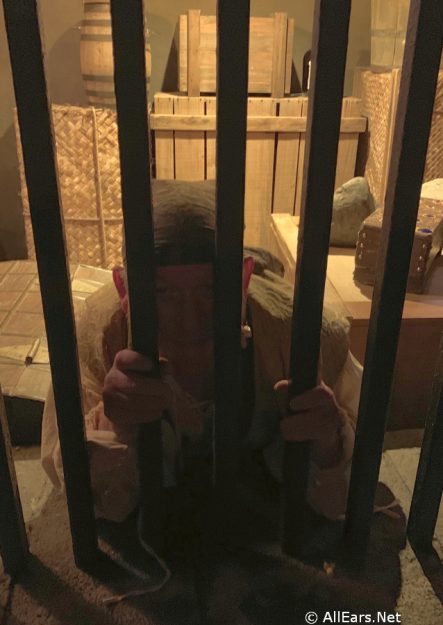 There's even the treacherous Barbossa standing on a bridge overhead during the ride, shouting down at your boat as you pass beneath him.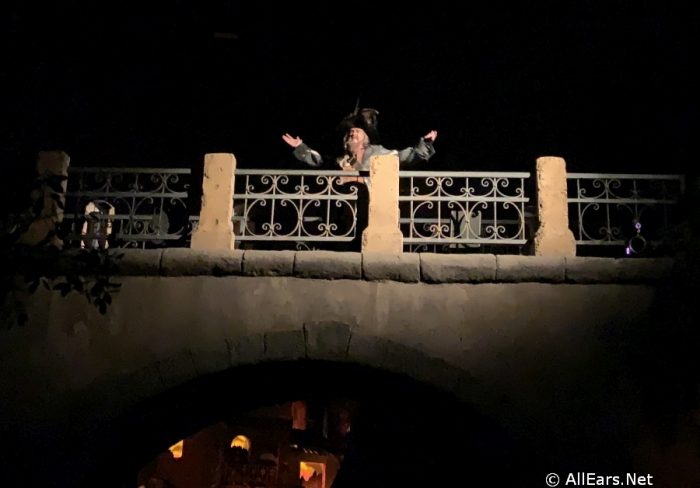 Wait times throughout the night were very reasonable to quite short — many rides, like Peter Pan's Flight, were actually walk-ons! The longest line we saw was for Seven Dwarfs Mine Train — the sign posted a 15-minute wait, but jumped to 20, then 45 as we were standing in the queue.
Villainous Treats
As mentioned at the outset, a selection of snacks and beverages is included in the price of your ticket. You can pick up popcorn or ice cream treats, as well as bottled water and Coke, Diet Coke and Sprite — as much as you'd like!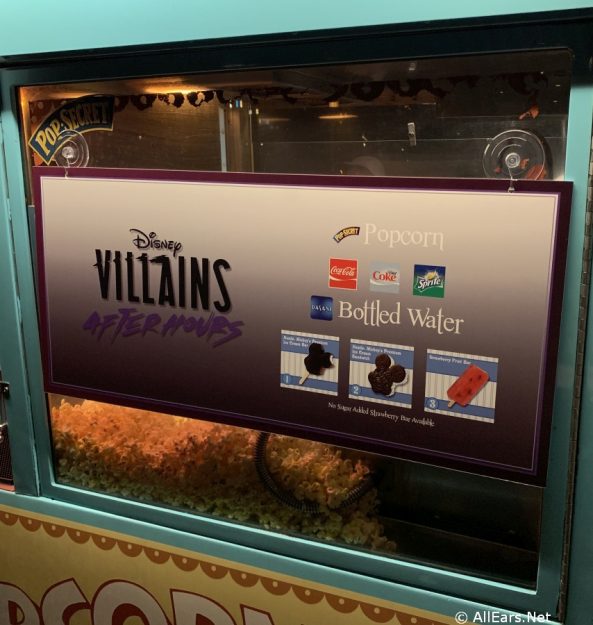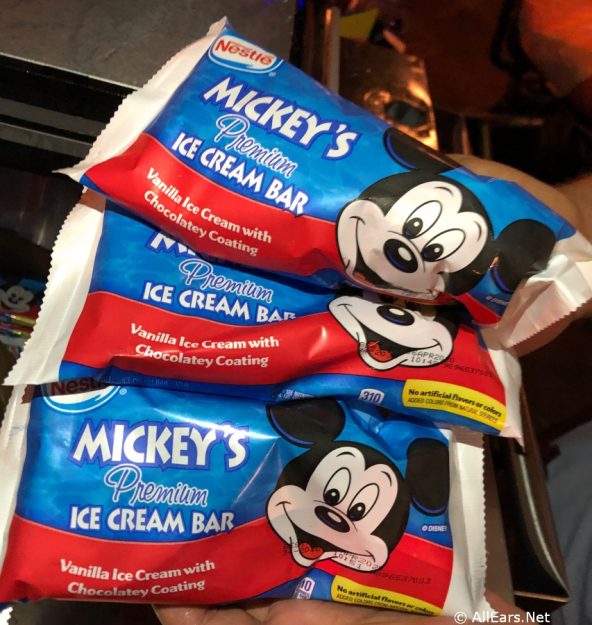 But what would a special Disney event be without specially themed treats that you can purchase? The guide map indicates where you can find a whole host of "dreadfully delightful" offerings.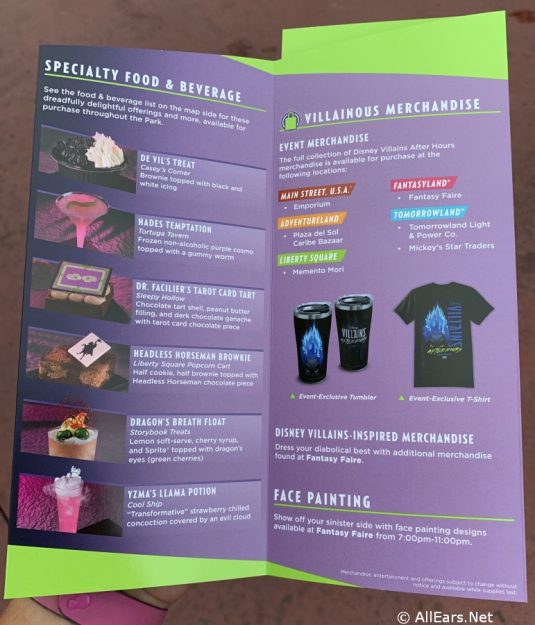 We thought Yzma's Llama Potion (strawberry Fanta) at Cool Ship Cooling Station was a lot of fun, even though its dry-ice effects of bubbling and frothing didn't photograph very well.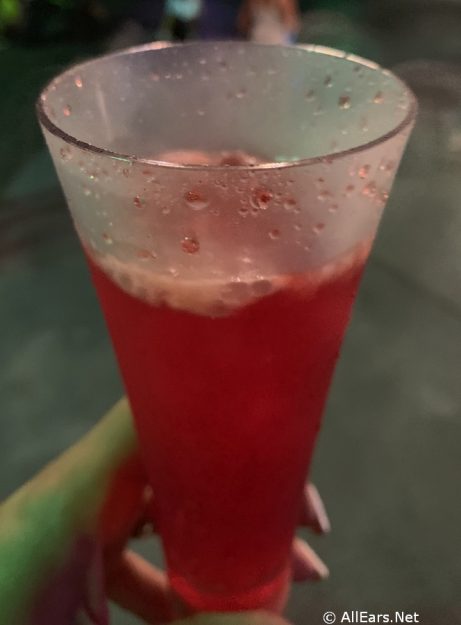 Also at Cool Ship were these very colorful Emperor Zurg's Noodles, a chilled noodle salad with snap peas, red onion, and red pepper, topped with a sesame soy sauce.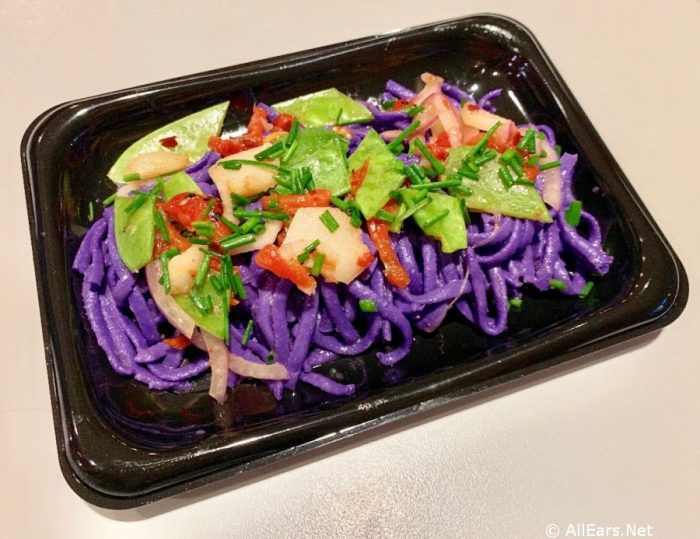 Over at Casey's Corner, you could pick up a tribute to everyone's favorite evil dog-napper, Cruella de Vil. The De Vil's Treat brownie, with its white and black frosting, conjured up images of the villainess's spiky hairdo.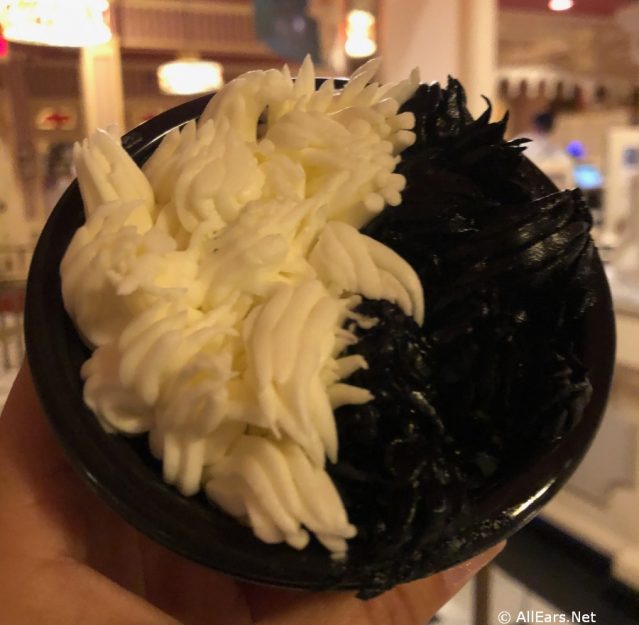 We really enjoyed the Headless Horseman "Browkie", a half-brownie, half-cookie treat topped with a white chocolate piece. You can get that over at the Liberty Square popcorn cart.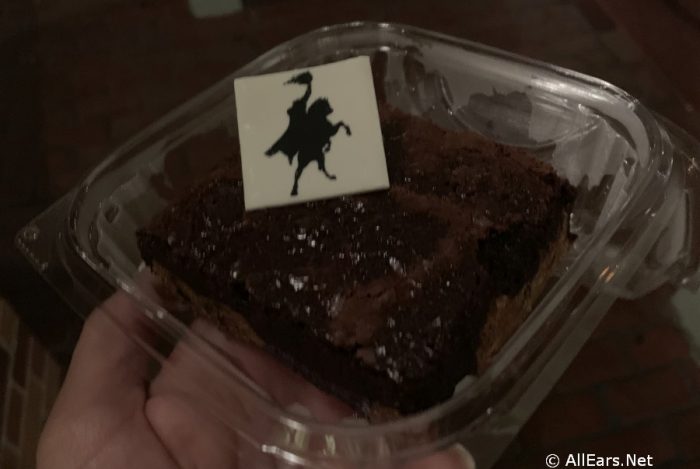 Other treats scattered around the park included a few at Sleepy Hollow themed to the "Princess and the Frog" baddie, Dr. Facilier.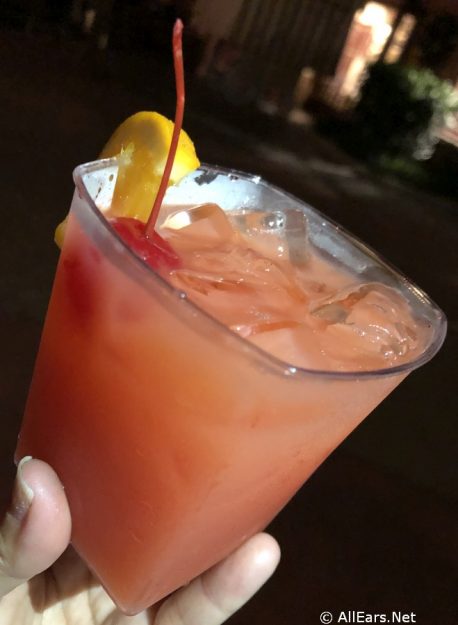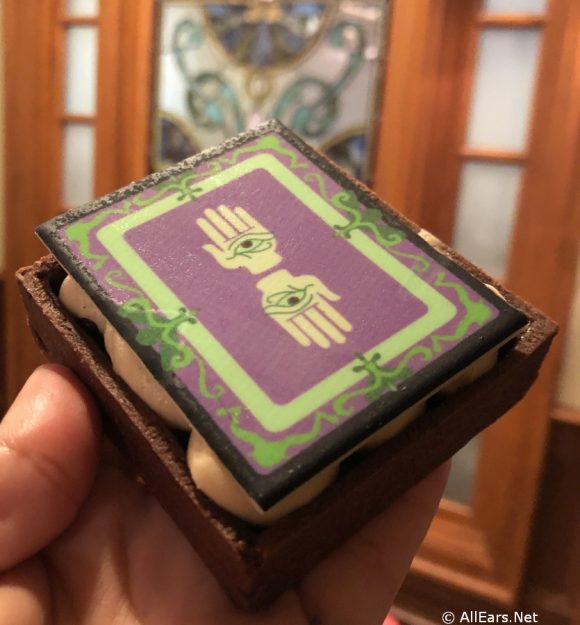 Tortuga Tavern in Adventureland offered Hades Temptation (non-alcoholic purple Cosmo), complete with a gummy worm.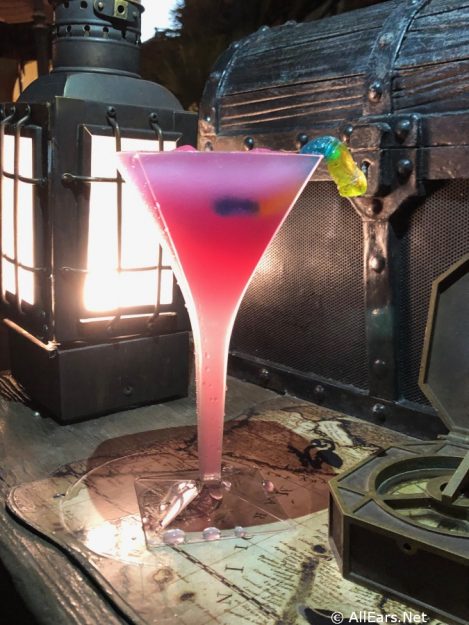 One of the most Instagram-ready goodies was the Dragon's Breath Float over at Storybook Treats. Lemon soft-serve with cherry syrup in Sprite and two ominous green cherries for eyes, plus a beautiful piece of spun sugar to represent the dragon's fiery breath. It was pretty, but honestly, we'd rather have another Mickey bar!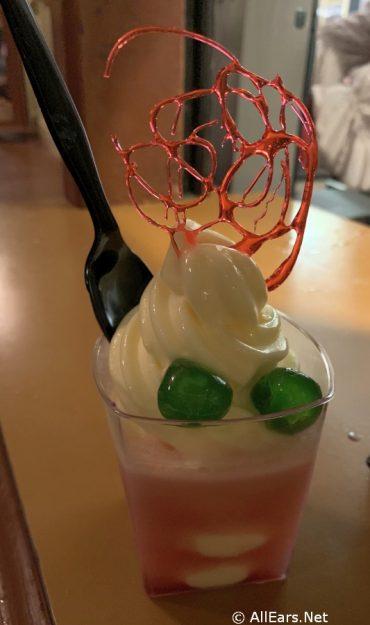 Villainous Merchandise
Hades is the star of much of the merchandise at the Villains After Hours event, with his mane of blue hair and the event's logo. Look closely, though, and you'll find other villains and maybe even Cinderella Castle "hidden" in the flames of Hades' hair.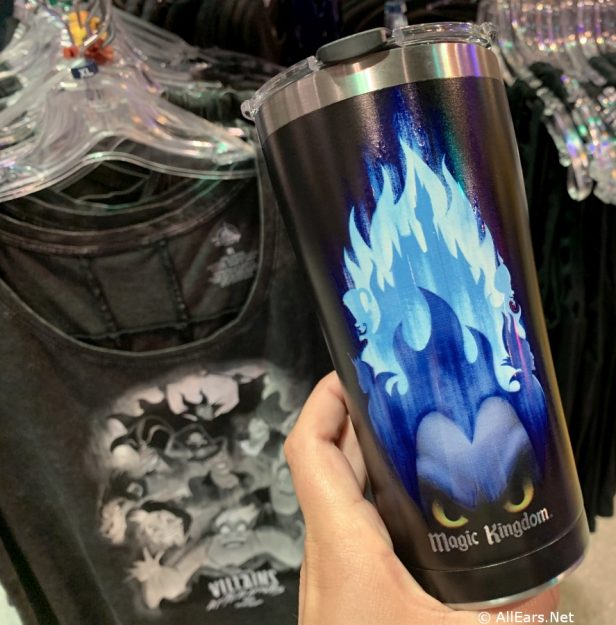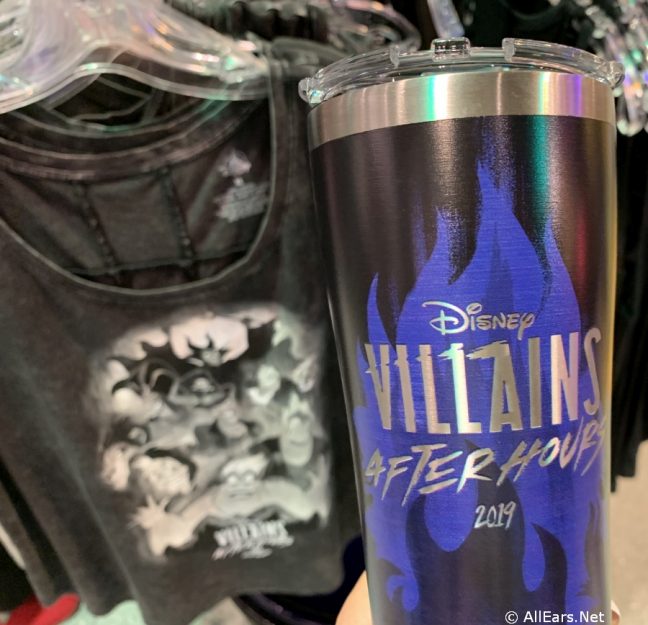 Click here to read more about the Disney Villains After Hours Event-Exclusive Merchandise.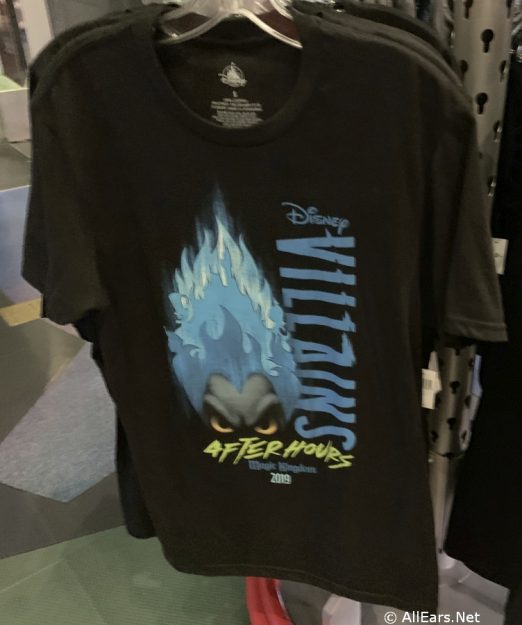 You'll also want to be sure to check out where the Disney PhotoPass photographers are stationed in the park — that's shown on the guide maps, too. In addition to taking regular photos, the PhotoPass photogs are offering a few unusual villains-themed Magic Shots, those little enhancements that make your photos super-special.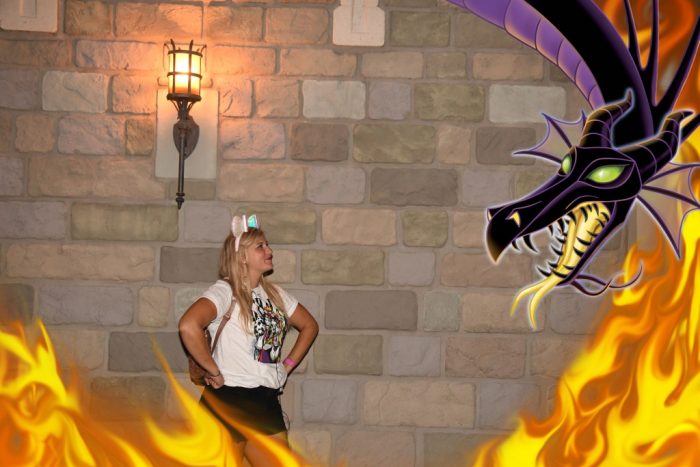 Villainous Entertainment
If you love villains, you'll definitely want to make time for the special villains-themed entertainment throughout the night.
Disney unveiled an all-new show, Villains Unite the Night, which ran on the Castle Forecourt Stage three times — at 11 p.m., midnight and 1 a.m.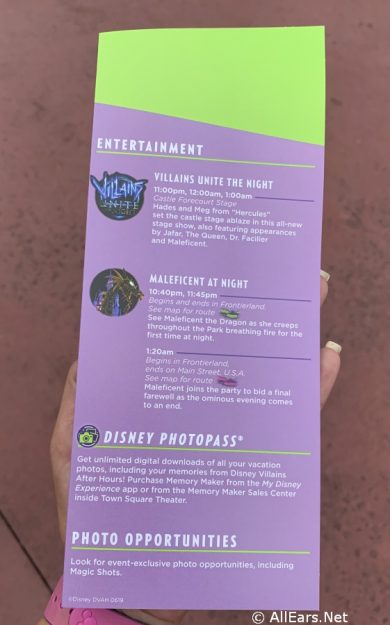 The show runs a little longer than 20 minutes and trots out an assortment of Disney bad guys and gals… and other beings.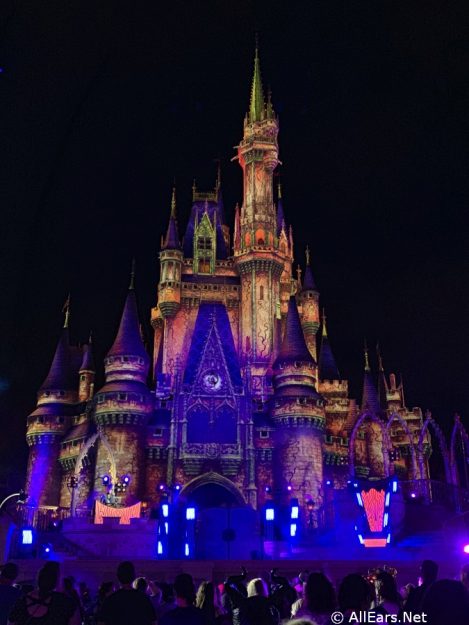 The storyline has Hades awaiting the fulfilment of a prophecy that he believes will allow him along with five other villains to rule the universe.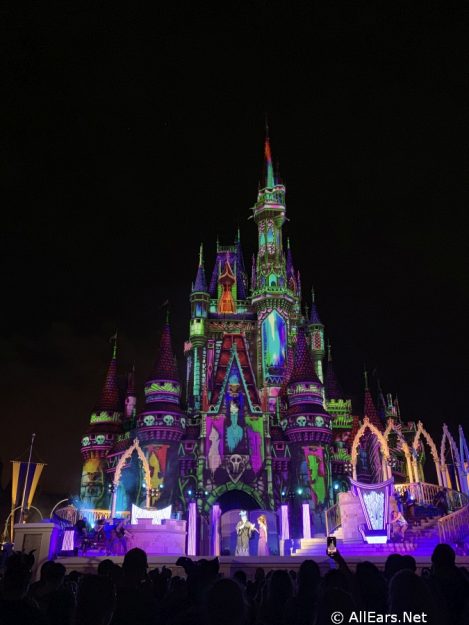 Of course, things don't go as he planned and other Disney evil-doers, being the villainous characters that they are, think they should rule instead. A show of strength and evil powers follows.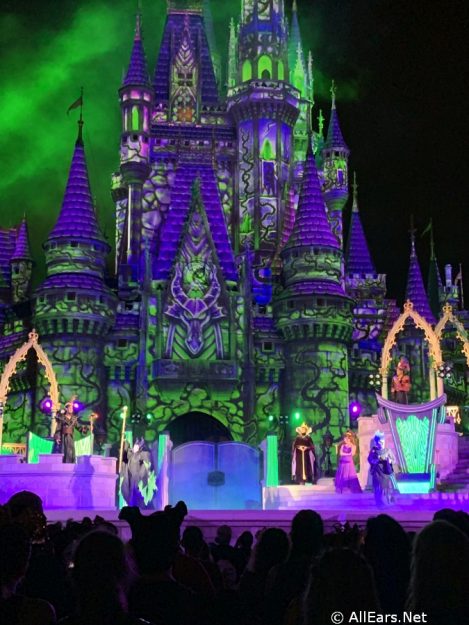 During each segment of the show as a villain appears, the castle projections change to reflect the character —  very cool. The villain then shows off his or her evil prowess in some way — by throwing fire, or fighting.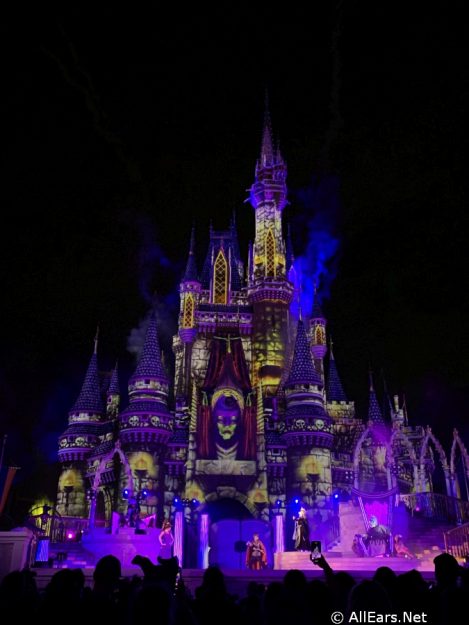 At 20-plus minutes, we felt the show ran a little long, especially given that this is just a three-hour event. We also felt that music and performances weren't quite as "villainous" as they could have been. Our pro-tip: If you really love the villains, you'll want to see this show, otherwise, skip it and take advantage of the short lines! Or, if you can stay up that late, see the last show, once the ride lines have closed.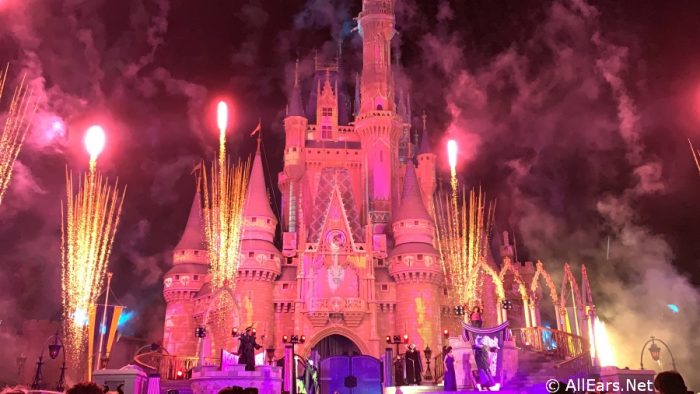 REMEMBER: The villains will be on stage ONLY; they will not be doing any meet and greets during the event.
The other very cool entertainment that you can't see anywhere else is the roaming steampunk Maleficent dragon, which normally is part of the daytime Festival of Fantasy parade.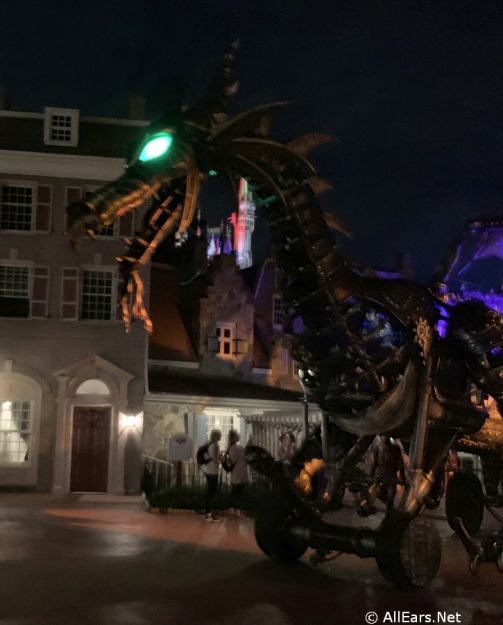 During Villains After Hours, the dragon was set loose, and took to the streets by itself several times during the evening, breathing fire and just generally menacing passers-by.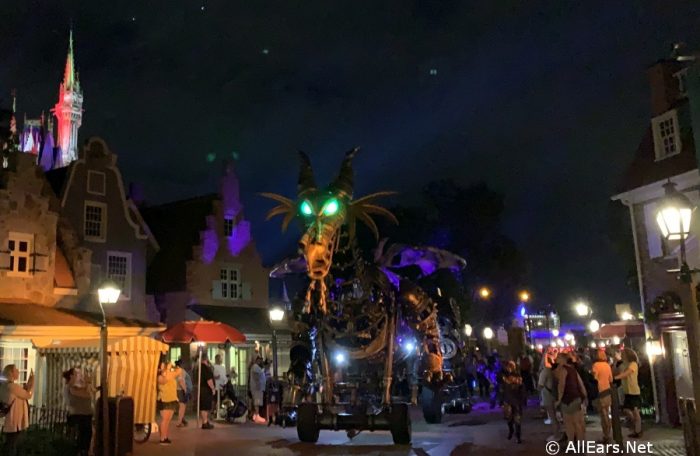 The evening closed with a final stage show at 1 a.m., followed by Maleficent parading from Frontierland and then down Main Street U.S.A. to show guests the way out starting at 1:20 a.m.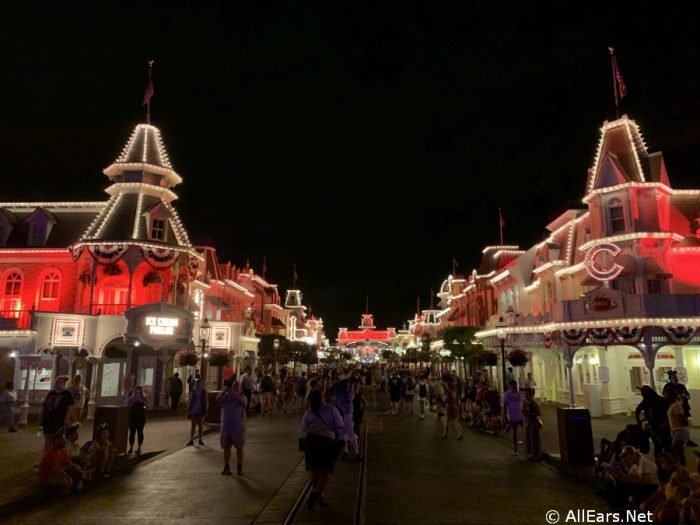 And as we exited, an assortment of Villains like Gaston, Cruella de Vil and Captain Hook, gathered on the train station overhead and shouted down typically nasty and villain-like remarks!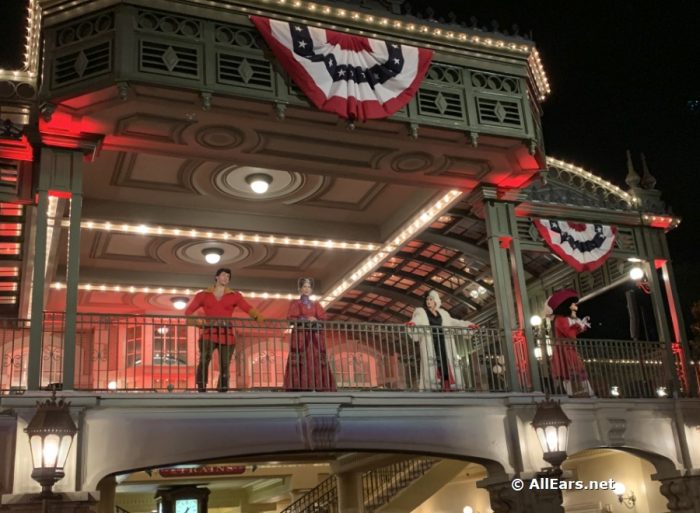 Final Thoughts
If you love the Disney Villains, you'll probably enjoy this special evening. Our biggest tip is to not worry so much about riding the rides. Instead, focus on doing all the special villains stuff, because that will actually take up a lot of time: the show (20+ minutes, plus however long you wait beforehand to grab your "spot"), waiting in line for the special merch, waiting for the food, even the Magic Shot photos.
If you're going primarily to take advantage of the low crowds/short attraction waits, then concentrate on riding the rides! You should be able to knock out almost every big Magic Kingdom attraction in the three hours, if that's your agenda. Even 45 minutes for Seven Dwarfs Mine Train is good, considering wait times during day often exceed 90 minutes.
If you're thinking about going, the remaining dates for Villains After Hours are:
Thursday, June 13, 2019
Thursday, June 20, 2019
Thursday, June 27, 2019
Monday, July 1, 2019
Thursday, July 11, 2019
Thursday, July 18, 2019
Thursday, July 25, 2019
Thursday, August 1, 2019
Thursday, August 8, 2019
Tickets for the Villains After Hours event is $139 plus tax if purchased in advance, or $144 plus tax day-of. Annual Passholders and DVC members are eligable for a $30 discount if booked in advance, making their cost $109 plus tax.
Does this villains-themed event sound like a must-do for you? Let us know in the comments if you attended, or if you plan to attend, Villains After Hours!
Be sure to follow @allearsnet on Instagram and Twitter!
Check out our YouTube Channel for reviews, news, information and more!
Click below to subscribe to the AllEars® newsletter so you don't miss any of the latest Disney news!